TriNet Zenefits is the only HR and payroll solution that provides built-in scheduling and attendance tools with all subscriptions. It's our top choice for small and midsize businesses that want payroll software with built-in time tracking.
Pros
Multiple clock-in and -out methods are available for remote and onsite employees. 
The integrated scheduling system notifies employees of new shifts, a unique feature no other HR and payroll system provides. 
Zenefits offers advanced HR benefits-management tools for small and midsize businesses.
Cons
Zenefits charges for a minimum of five employees and does not have a stand-alone payroll option. 
It has fewer third-party software integrations than Rippling and Gusto.
Customer support options fall behind competitors like ADP.
Multiple apps for scheduling, time tracking and payroll complicate workflows. TriNet Zenefits provides an integrated system that streamlines human resources while improving employee experiences. It supports several time clock methods and alerts staff when schedules come out. Best of all, attendance information and time-off requests sync with payroll, which make it our top pick for a payroll service with built-in time tracking.
Zenefits Editor's Rating:
9 / 10
Pricing

9/10

Customer service

8.8/10

Third-party integrations

8.7/10

User interface

9.2/10

Added HR tools

9.5/10
Why We Chose TriNet Zenefits for Time Tracking
As a full-service payroll and HR platform, TriNet Zenefits helps small business owners easily manage HR functions. Whereas most payroll solutions offer third-party attendance integrations or add-ons, Zenefits includes scheduling and employee time tracking features with all plans. This makes it the best payroll system with integrated time and attendance functionalities. 
Your team can clock in and out via desktop and mobile apps or onsite terminals. Employers can enable time card fraud protection or GPS to prevent buddy punching and ensure worker safety. Moreover, Zenefits' built-in compliance features notify staff when it's time for lunch or automatic breaks. It computes overtime regulations and simplifies benefits management with built-in Affordable Care Act (ACA) compliance tools. 
When it's scheduling time, your HR team doesn't need to switch applications. Instead, they can create shifts around roles or times and manage paid time off (PTO) requests from computers or iOS and Android devices. 
We were also impressed with the Zenefits mobile apps, which received high ratings on par with ADP's mobile solutions. Employees can use the mobile apps to access health insurance or flex benefits, submit time off requests, or connect with co-workers.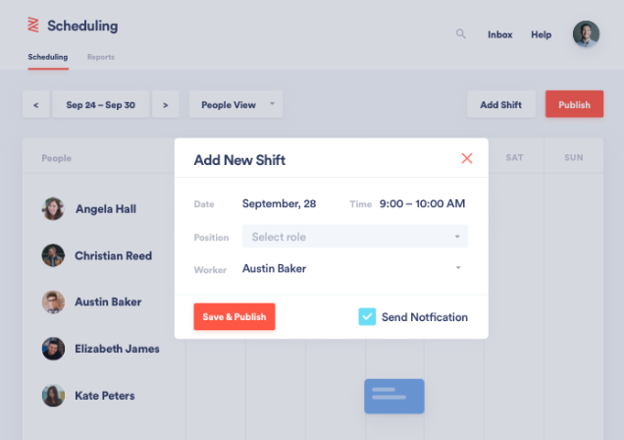 When you update or add shifts, Zenefits will inform team members of the changes. Source: Zenefits
Payroll discrepancies can lead to over or underpayments and compliance or tax issues. Built-in attendance tools sync with payroll to reduce errors. At the same time, compliance features ensure your staff understands the latest regulations.
Ease of Use
Zenefits is relatively new compared to its rivals and boasts a modern user interface. While some payroll software feels like a glorified spreadsheet, Zenefits is easy to navigate with vertical and horizontal toolbars, well-placed to-do lists, and metrics. However, since payroll is an add-on and not the main service, it isn't the first option you see when opening the dashboard. 
We wish Zenefits displayed a few more payroll details, like the upcoming amount to be debited or alerts for errors that prevent payroll processing. In contrast, ADP and OnPay place icons near employee names to make error resolution straightforward. Since Zenefits does not have automated payroll, small businesses must manually process payroll each pay period. If this is a no-go for your company, see our review of Gusto, which offers automated payroll and features time tracking on its Plus plan. 
Zenefits' main dashboard is user-friendly and displays icons for various apps like employee documents, time-off requests and attendance information. We liked how easily we could integrate QuickBooks Online or Expensify; these icons also appear on the central screen. 
We also liked that you can enter independent contractor information on the same screen as employee payroll data. Many payroll systems, including Gusto, require users to open a separate page. But Zenefits can handle in-house or agency-paid temporary and contingent workers from a single screen.
We like that the Zenefits mobile app gives employees lifetime access to paystubs, tax information and employee benefits. Several payroll providers limit this access to three years. Also, your workforce can use the app to clock in or out or schedule time off. 
TriNet Zenefits Features
As an HR, payroll and people platform, Zenefits centralizes your data and workflows. Its HR and payroll features are more than enough to allow most small and midsize businesses to manage employees, benefits and more. 
Scheduling and Time Tracking
We were impressed that Zenefits subscriptions include scheduling, time-off management and attendance tracking tools. We didn't find another payroll service that offers scheduling on its base plan. These HR functions sync seamlessly with Zenefits's payroll software, which eliminates manual data entry and reduces errors. We loved the PTO Balance Calculator and the ability to block out dates, which is perfect for retailers in need of a full staff during holidays. 
Zenefits is versatile enough to support multiple job positions, such as warehouse staff clocking in through a terminal as well as sales teams tracking hours in the field. You can configure Zenefits to monitor time spent per project or client and reimburse business expenses on employee paychecks.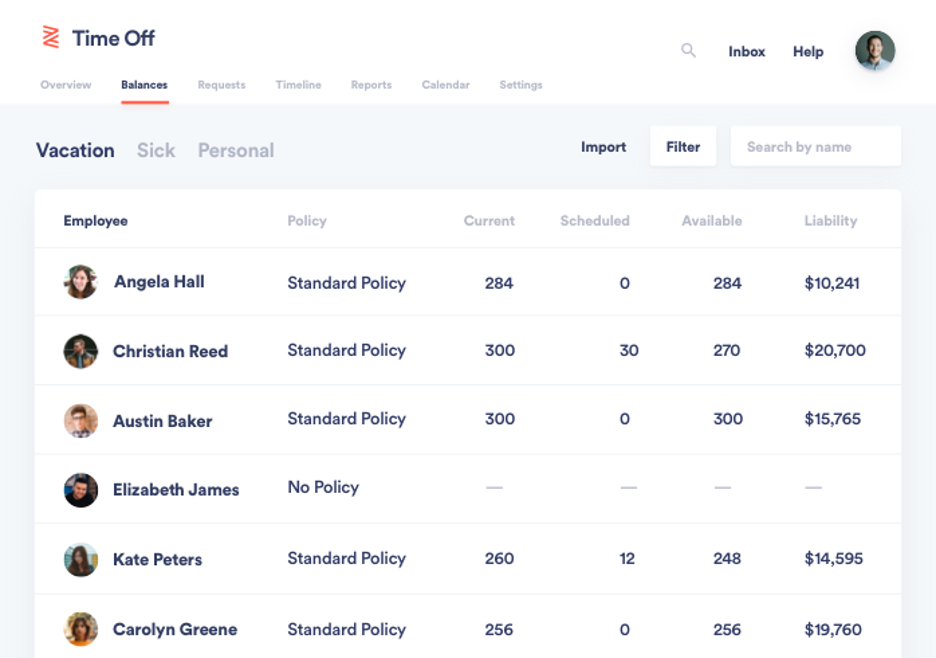 Toggle between time-off balances, requests and reports on your Zenefits dashboard. Source: Zenefits 
Hiring and Onboarding 
Several payroll solutions offer basic HR tools. In contrast, we like that Zenefits provides robust features for smooth hiring and onboarding processes. The entry-tier subscription includes customizable offer letters and background checks through Checkr. New hires can complete the onboarding process digitally by signing tax forms online, filling out direct deposit information, and choosing benefits. We appreciated the built-in account provisioning feature, which lets you assign login accounts for Slack and Salesforce.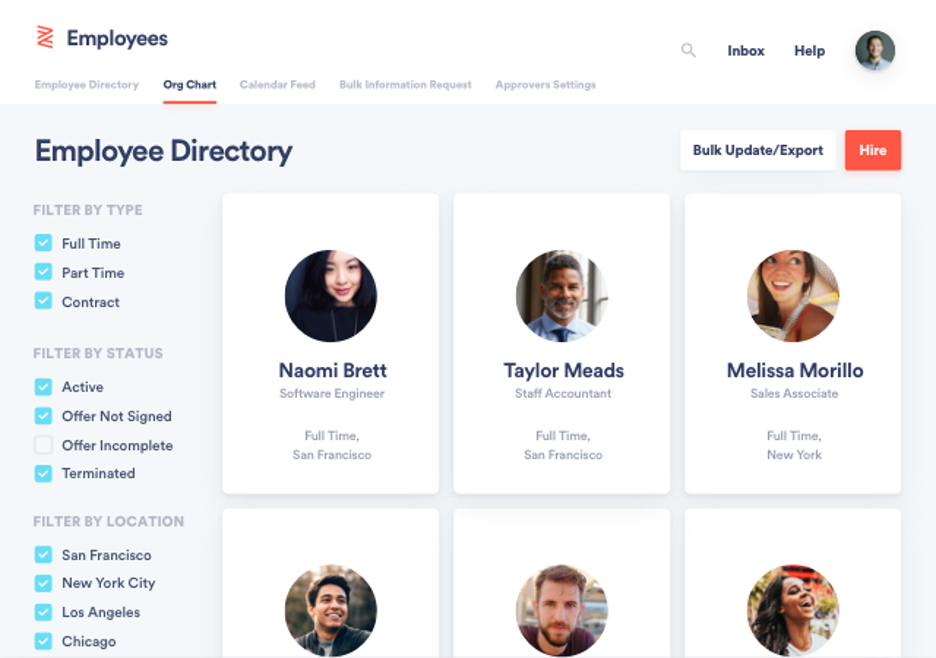 Filter your search results to see the status of offer letters. Source: Zenefits
Payroll Management
Like other full-service payroll systems, Zenefits offers unlimited pay runs, multiple pay rates, and general ledger reporting. Companies can pay employees via direct deposits or paper checks. Unlike some competitors, Zenefits doesn't provide direct deposit alternatives like payroll cards or preprinted paychecks. However, it can set aside funds for garnishments and remit payments to child support agencies, which not all payroll providers can do.
Payroll cards can help diverse workforces access funds even if they don't have bank accounts. OnPay offers payroll cards and syncs with third-party time tracking apps. Check out our OnPay review to learn more.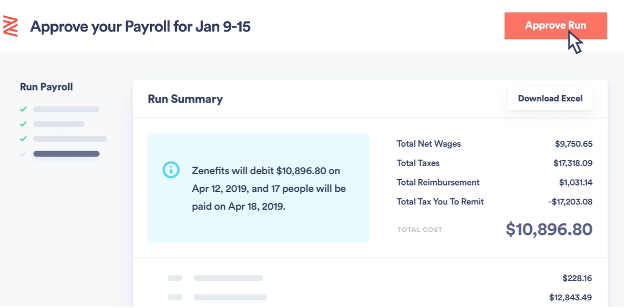 Review final calculations and approve a payroll run to submit it for processing. Source: Zenefits
Payroll Taxes and Filing
Zenefits' payroll tax filing process is on par with other providers we reviewed. It calculates the correct amounts for your federal, state and local taxes; files common payroll forms with government agencies; and remits payments on your behalf. We like that Zenefits allows companies to pay state employment taxes manually. Additionally, it gives small business owners the ability to generate W-2s, and employees can see their tax information online or in the mobile app.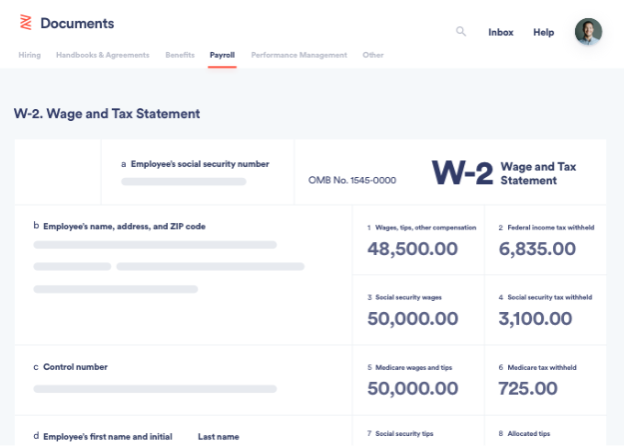 View, download and print annual W-2 statements from your Zenefits HR and payroll platform. Source: Zenefits
Compliance Assistant
Every Zenefits subscription comes with a unique compliance assistance feature. It provides custom deadline reminders, detailed explanations and a dashboard to keep your HR staff abreast of critical compliance tasks. In addition, Zenefits builds compliance tools into its HR software with automated mandatory notices for continuation of health coverage through COBRA (Consolidated Omnibus Budget Reconciliation Act) and monitoring of FLSA (Fair Labor Standards Act) overtime pay regulations. We believe this feature will save time and prevent errors for companies calculating blended overtime pay or managing multistate teams.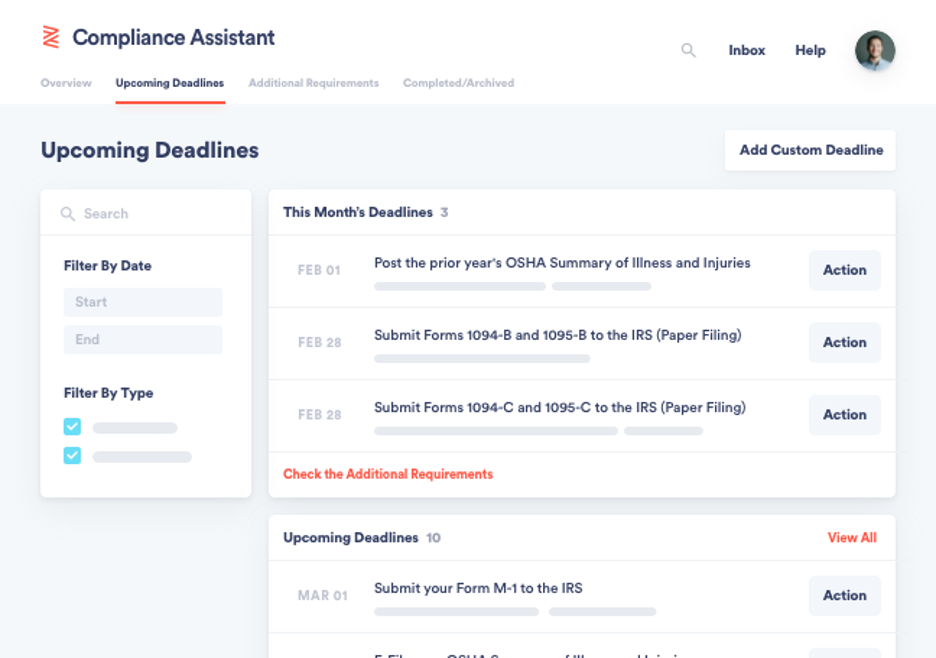 Zenefits helps HR professionals comply with regulations and add custom deadlines for tasks. Source: Zenefits
HR Tools and Employee Benefits Administration
Several HR and payroll providers have HR and benefits management tools. However, the Zenefits comprehensive toolkit stands out. Small businesses can benchmark salaries for effective compensation management strategies or post employee engagement surveys in the people hub. Employees can compare benefit plans on smartphones without scheduling a meeting with HR.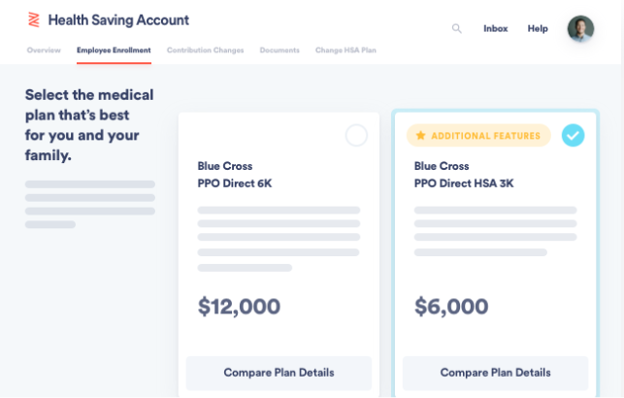 Zenefits helps relieve HR burdens by giving employees access to decision-making resources and tools. Source: Zenefits
Zenefits HR Outsourcing Features
Zenefits can operate as a SaaS or an HR outsourcing service, depending on what you are looking for. The company's preset plans and add-on functions allow you to create a customized solution with all the necessary features. If you partner with Zenefits as your HR outsourcing solution, you can take advantage of several of the following HR features to manage your employees, run payroll, and administer employee benefits.
HR Advisory Services
If you are looking for a true HR outsourcing experience with Zenefits, we suggest you add on its HR advisory services to your plan. With this add-on service, you gain access to an on-demand team of HR professionals and payroll experts that can answer your HR questions and guide you through the process. Whether you are trying to create new HR policies, handle compliance challenges, or understand employment rules and regulations, the advisory services are there to help you.
Zenefits Advisors are only available by phone or email, Monday through Friday from 8 a.m. to 5 p.m. PT. While this is somewhat standard for HR companies, it is important to take note of if your company operates during odd hours.
Recruiting and Onboarding
Every Zenefits plan comes with core HR services. These include hiring and onboarding tools, like automated offer letters (templates and customizable), comprehensive background checks, electronic tax documents (W-4s and I-9s), e-signatures, and account provisioning. Users also have access to document management capabilities for things like company policies, employee handbooks and noncompete agreements. [You could also opt to separately use one of the top background check services.]
We like that Zenefits' intuitive website and mobile apps allow for employee self-onboarding, freeing up your HR team to focus on other tasks. We found Zenefits' employee onboarding capabilities to be competitive with others in the industry. More uniquely, Zenefits offers automated workflows for tasks like promoting, transferring or terminating employees. Having an automated process for key employee events can be a great way for startups to improve efficiency, reduce errors and maintain legal compliance.
Time and Attendance, Payroll, and Taxes
Every Zenefits HR outsourcing plan includes time and scheduling features. For example, you can build employee schedules around roles or times, create PTO policies, manage time-off requests, set blackout dates, and automatically calculate PTO.
With Zenefits' in-house payroll add-on service, you can conveniently integrate this data into your payroll. The add-on service also handles your payroll processing and allows for varying schedules and pay rates, direct deposit, wage garnishments, tips reporting, and general ledger reporting. We like that Zenefits allows businesses to easily pay their workers, regardless of whether the staff comprises employees, independent contractors or a combination of the two.
Employee Benefits Administration
Zenefits provides flexibility in administering employee benefits that not all competitors offer — namely, you can use one of Zenefits' certified broker partners or your own benefits broker. This choice allows startups the opportunity to find the best broker to fit their budget. However, if employee benefits administration is your top priority, you may also want to check out our review of ADP HR outsourcing.
TriNet Zenefits Pricing Plans and Subscription Costs
Most payroll platforms charge a base rate plus a per-employee fee. TriNet Zenefits forgoes the monthly fee. It has no stand-alone payroll option because it's a people operations system. You must purchase a base package with HR tools and then add payroll. Zenefits requires a minimum payment for five employees, so you'll pay for five even if you have four employees. 
The Essentials package with payroll for a company with 10 employees costs $140 monthly with annual billing or $160 if you choose to pay monthly. On average, payroll services without built-in scheduling and attendance features (and far fewer HR tools) cost about $100 monthly. Comparable payroll and benefits solutions or professional employer organizations like Rippling or Justworks will fall closer to Zenefits' pricing. 
Zenefits base packages with annual billing include benefits administration through a unified broker partner. Each plan includes a compliance assistant and document storage. You will need to choose one base package before adding payroll. 
Here's how the versions differ:
Essential: This level costs $10 per employee monthly, or $8 monthly with annual billing. Zenefits provides auto-onboarding tools, employee management, time-off tracking, scheduling, integrations, a mobile app and an analytics dashboard.
Enhanced: The Enhanced tier costs $20 per person monthly, or $16 monthly with yearly prepayment. It includes everything in the Essential plan, plus configurable people analytics, compensation management and performance management.
Premium: The Premium plan costs $27 per employee monthly, or $21 with annual billing. It includes everything in the Enhanced plan, plus employee engagement surveys and a people hub. 
Zenefits payroll is an additional $6 per employee and $6 per active contractor monthly. Unlike competitors, the payroll package includes all advanced payroll features, such as mobile pay stubs and automated reminders. In comparison, Paychex and Square Payroll charge $5 per person, whereas OnPay costs $6; all three providers have a monthly subscription fee. 
The add-on for advisory services costs $10 per employee monthly for unlimited access to HR and payroll experts. The price is similar to what you'd pay through ADP for upper-tier packages with professional support options. Other add-ons include benefits administrations using your own broker ($5 per person monthly) and Zenefits Recruiting powered by JazzHR, starting at $35 monthly. 
Implementation/Onboarding
For the most part, Zenefits takes a hands-off approach to small business onboarding. The company is available for email, chat or phone support if you need help, but you'll likely complete the onboarding process on your own. This differs from high-touch solutions like iSolved or Aspen HR. Nevertheless, the self-service method was easy to follow and understand. 
Zenefits provides an implementation checklist, which helps you prepare to switch to an automated HR system. Before accessing the Zenefits dashboard, training center or community chat spaces, you must complete the tasks. Like other payroll tools, it takes some time to enter employee information, depending on which Zenefits services you're using. Larger organizations can request guided implementation assistance or help migrating from another payroll platform. 
Zenefits will email employees to register with Zenefits or supply additional payroll information. Likewise, you can invite your staff to download the mobile app after configuring your account. Once the checklist is complete, administrators, managers, and employees can access training videos and onboarding courses.
Customer Support
Although Zenefits has a robust training center with tons of videos and help center articles, the customer service options are more limited than some competitors. Whereas ADP and Paychex provide 24/7 customer service, Zenefits restricts its hours to 5 a.m. to 4 p.m. PT, Monday through Friday. Therefore, entrepreneurs who run payroll or handle HR tasks after business hours will be out of luck until their shop (and Zenefits customer support) opens in the morning.
We appreciated being able to contact the TriNet Zenefits team via email, chat and phone, as Gusto only offers callbacks. But longer than expected wait times and less-than-desirable agent knowledge levels are two pain points users frequently mention in reviews. This could concern less tech-savvy users or companies new to online payroll software.
If your company wants access to support 24 hours a day, seven days a week, consider ADP. In addition to extended hours, its higher-tier plans include access to business advisors, legal assistance, HR experts and marketing professionals. See our ADP Payroll review to learn more.
Limitations
TriNet Zenefits provides a one-vendor scheduling, payroll and time tracking solution. While it offers many advantages of paperless payroll, Zenefits won't meet the needs of all companies. We found that its tiered pricing model wasn't as flexible as iSolved, which lets business owners select HR products and features. (Check out our review of iSolved to learn why it's the best payroll service for plan customization.) 
We were also disappointed in the lack of third-party integrations. Rippling offers a similar workforce platform with payroll and HR modules that syncs to more than 500 point-of-sale, accounting and enterprise resource planning systems. However, Rippling lacks employer mobility, so it's not a good fit for business owners who want to run payroll from smartphones. 
Methodology
When researching the best payroll companies and software for small businesses, we spoke with vendor representatives, interacted with support agents, and tested dozens of software systems. We considered factors like ease of use, implementation, navigation and integrations with existing tools. We also examined user reviews and ratings to understand potential drawbacks. When looking for the best payroll service for time tracking specifically, we looked for built-in scheduling tools and time and attendance features that benefit employees and employers. Our goal is to help businesses choose the right payroll provider for their needs. 
TriNet Zenefits FAQs
Zenefits is SOC II certified and conducts automated vulnerability inspections. It deploys intrusion detection systems, firewalls, and security procedures that undergo stress tests by third-party experts.
Zenefits accounts with this paid add-on receive unlimited HR and payroll advisor access. Professionals answer your questions via phone or email Monday through Friday from 8 a.m. to 5 p.m. PT. They can help small and mid-sized business owners navigate challenging tax, compliance and employment-related questions.
Depending on your displayed block period, Zenefits processes payroll within two or four days. Clients can request a two-day payroll processing time by contacting the Zenefits customer care team.
Bottom Line
We recommend Zenefits for …
Organizations that want a one-vendor solution for scheduling, time and attendance tracking, and payroll.
Employers that prefer mobile apps for employees to view paystubs, benefits and tax forms. 
HR professionals interested in digitizing the hiring and onboarding process.
We don't recommend Zenefits for …
Small teams with fewer than five employees, or those looking for a payroll-only solution.
Restaurants needing support for the tip credit, tip minimum wage, reporting calculation or annual employer report. 
Small companies in search of hands-on assistance or onsite training when migrating from a different payroll platform.