ADP is our choice for the best PEO/HRO for benefits administration. ADP's HRO plans include various HR features. Additionally, ADP TotalSource is a comprehensive PEO with bundled HR features. Both provide an intuitive benefits administration process.
Pros
ADP offers comprehensive benefits at affordable rates.
The ADP platform is intuitive and easy to navigate.
ADP offers dedicated customer support.
ADP is accredited by the Better Business Bureau (BBB) and has an A+ rating.
The platform can help organizations comply with federal, state and local HR laws.
Cons
ADP doesn't list its pricing online.
ADP has a minimum employee requirement.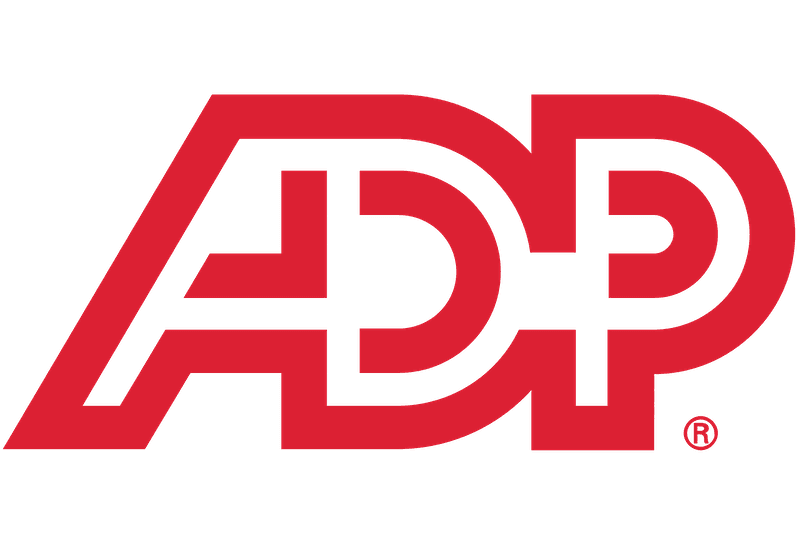 ADP is a well-regarded, popular human resources (HR) service provider that offers a wide breadth of services in 50 states. Businesses of any size can partner with ADP as their human resources outsourcing (HRO) provider or ADP TotalSource as their professional employer organization (PEO) provider. Both outsourcing partnerships offer HR services like payroll processing, payroll tax administration, workplace safety training, and employee training and development. One of ADP's most valuable services is its ability to administer top-of-the-line employee benefits (e.g., health insurance, 401(k) retirement plans, student loan repayment programs, family leave, flexible working arrangements and workers' compensation). Additionally, ADP's dashboard is easy to use, and you can integrate the platform with hundreds of third-party applications. 
ADP Editor's Rating:
9.4 / 10
Price/value

9/10

Features

9.6/10

Customizations, add-ons, and integrations

9.5/10

Ease of use

9.4/10

Customer service

9.7/10
Why We Chose ADP for Benefits Administration
We were impressed by ADP's top-notch benefits administration capabilities, which were more robust than those of competitors we reviewed. ADP is one of the most comprehensive benefits administrators on the market. It offers a wealth of Fortune 500-level benefits for employers to choose from and connects you with nationally recognized carriers with affordable rates. Since the ADP platform and mobile apps are intuitive, employees can easily manage their benefits from any location. This flexibility has become critical as more companies employ a distributed workforce.
Staying updated on federal, state and local employment laws can be challenging for any employer. We like that ADP helps employers stay on top of essential laws and regulations pertaining to employee benefits. For example, ADP can help you comply with leave laws, the Affordable Care Act (ACA) and the Consolidated Omnibus Budget Reconciliation Act (COBRA).
For these reasons and more, ADP is our top recommendation for businesses seeking a PEO or HRO service that can excel as a benefits administrator.
When you decide to offer employee benefits, determine how much you'll spend per employee so you can identify the benefits you can reasonably afford.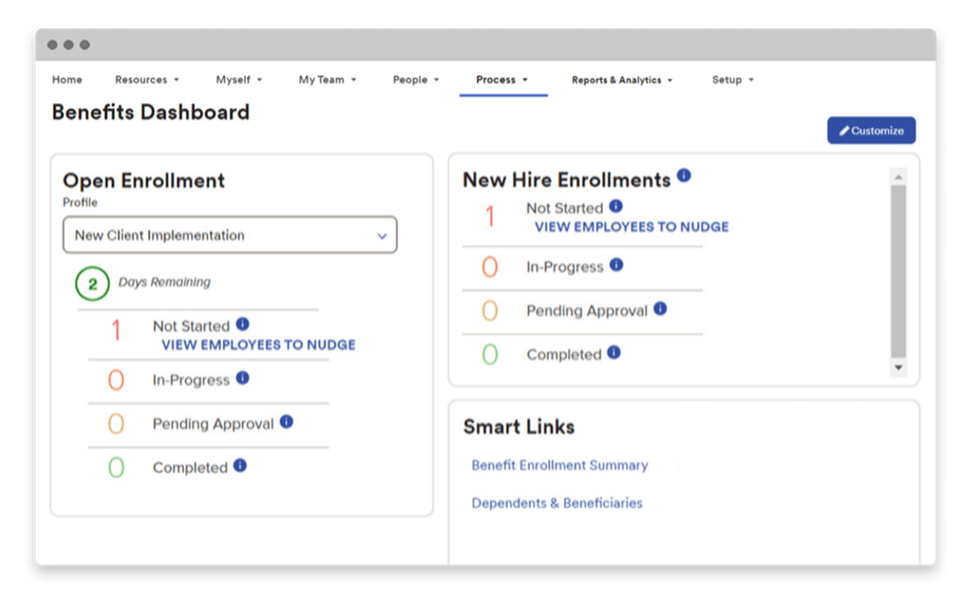 Employers can easily customize ADP's benefits dashboard. Source: ADP
Ease of Use
We found ADP's Workforce Now technology suite to be intuitive and user-friendly. It includes employee self-service features and a mobile app – features on par with other HROs and PEOs we reviewed. We like that the ADP system is easily customizable and offers many flexible tools. If you want to take further advantage of the platform, you can easily add the ADP Marketplace for third-party integration options.
We were impressed by ADP's team of HR specialists and experts on payroll, workers' compensation and other HR topics. Their support is part of what makes ADP so easy to use. While the platform is well designed, it's great to know that if you get stuck, the vendor provides advisors dedicated to walking you through any issues, including technological ones.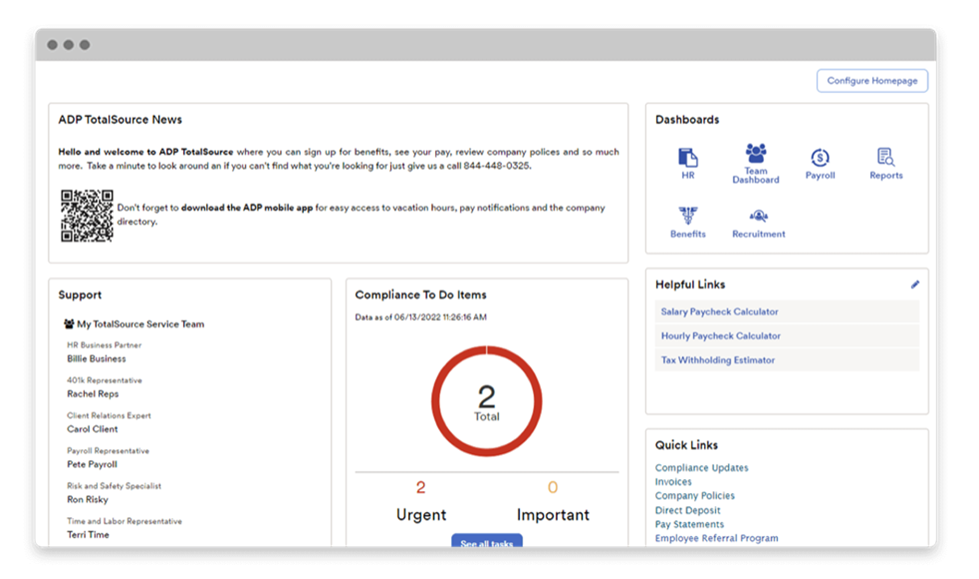 ADP's central dashboard is clean, usable and easy to navigate. Source: ADP
With ADP, you can view over 300 valuable HR reports that provide insight into your employees and company.
ADP Features
ADP offers various HR services and PEO features, including payroll processing, payroll tax administration, HR policy development, recruitment, onboarding and employee benefits administration. Here's more about what your business gets when you sign up with ADP.
Employee Benefits Administration
We were impressed by ADP's employee benefits offerings. As one of the largest HR support providers in the nation, ADP has access to top benefit options you can offer to your employees, such as health, dental, vision, and life insurance; paid time off (PTO); retirement savings plans; paid family and medical leave; flexible work scheduling; tuition reimbursement; and financial wellness services. It also offers workers' compensation insurance, an employee assistance program, and a compliance and learning curriculum.
We like that ADP has an intuitive online platform and simple dashboards that allow employees to view their benefits and make adjustments as needed. ADP also offers MyLife Advisors, a service that guides employees through making the right benefits choices. Since benefits administration and accuracy are essential, we like how ADP offers benefits invoice reconciliation and benefits invoice discrepancy reporting.
ADP advisors are available Monday through Friday to answer any benefits questions your employees may have.
HR Services
During testing, we were pleased with ADP's numerous HR services. For instance, ADP can align your recruiting process with your company mission and values, and help you attract, hire and onboard the best candidates – ensuring new hires fit your company culture. We liked that APD can help you retain top talent by offering professional development opportunities, analyzing and adjusting compensation strategies, and measuring employee engagement and turnover metrics to see where your business can improve. If needed, you can add ADP's full-service recruitment and resume search service, which is led by ADP-certified recruiters. Not many competitors offer these unique HR services. 
We also like that ADP handles routine administrative HR tasks, allowing your internal HR department to focus on other matters within your organization. This support can improve employee engagement, productivity and company culture.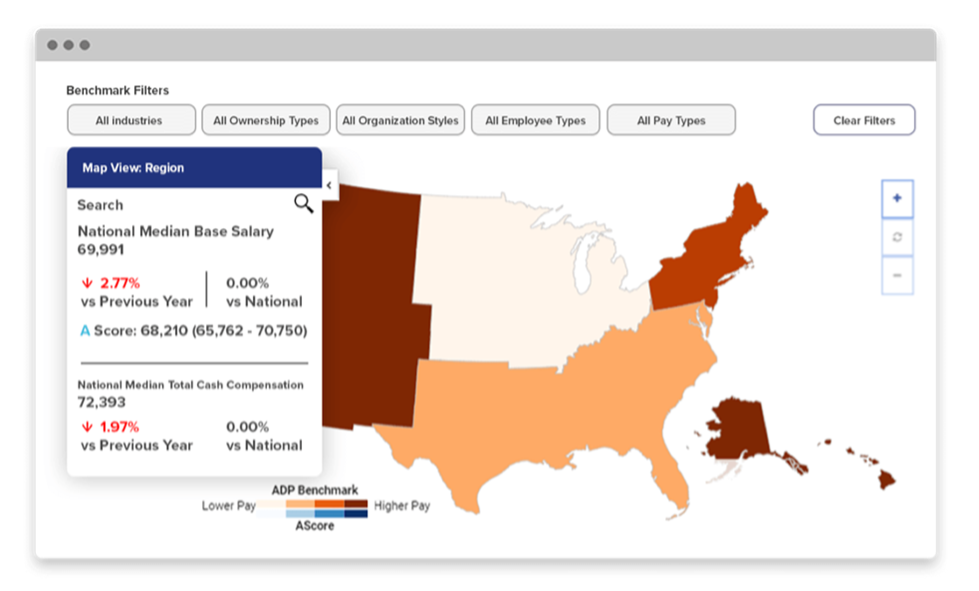 ADP offers employee benchmark information to track salary and other data. Source: ADP 
Payroll and Taxes
ADP is a major payroll and tax service provider, so its offerings in this area are unparalleled. It offers essential pay services like payroll administration and processing, multiple payment options (direct deposit and direct deposit alternatives like pay cards and checks), W-2s and 1099s, payroll tax filing, new-hire reporting, state unemployment insurance (SUI) management, wage garnishments, PTO accrual, pay adjustments (proactive and retroactive), and payroll reporting. Employees and managers can access pertinent, real-time pay information from an online dashboard or mobile app.
We were impressed by how ADP helps employers comply with pay laws. For example, it offers quarter- and year-end coordination and administration, periodic reviews of pay-related action items, and payroll compliance validations. It can also perform an audit on each payroll run before submission and provide notifications about federal and state tax and regulatory changes. 
ADP users can view and manage their pay information online and via a mobile app. Source: ADP
Risk and Compliance
We appreciated the depth of ADP's risk and compliance support. In addition to helping you comply with payroll and benefits laws, ADP can help ensure you comply with other HR requirements. For example, ADP can provide you with a workers' compensation claims specialist, help you build safety programs, and provide safety awareness training and workplace safety evaluations.
Additionally, by monitoring your HR policies, ADP can help you comply with wage and hour laws, leave laws, and OSHA, ACA and COBRA regulations. Regardless of your company's stage, ADP can help you adhere to HR rules and regulations in all 50 states. You can quickly connect with risk and HR compliance experts to be guided through federal, state and local guidelines.
We found the vendor's system and team to be comprehensive and experienced in terms of helping employers maintain legal compliance.
Employee Training and Development
We like that ADP can help manage performance, knowledge, skill sets and engagement among your employees. With performance management capabilities, you can align employee performance with company and team goals, provide continuous feedback, conduct regular check-ins and reviews, and view employee strengths and weaknesses.
We also like that the company offers on-site and virtual training sessions to help your business maintain legal compliance and improve employees' knowledge and skills. Access to a valuable employee development program can increase employee engagement, reduce employee turnover and minimize risk for your organization.
Excellent employee development is crucial for business growth. Employee growth boosts retention, satisfaction and productivity.
ADP Pricing
We'll look at pricing for ADP's HRO and PEO services.
ADP HRO Pricing and Terms
ADP offers three primary HR outsourcing plans: Comprehensive HR, Comprehensive Benefits and Comprehensive Pay. While some HR items come bundled, there are also a la carte choices so businesses can select the outsourcing features they need.
Some optional add-on services and features include the following:
Third-party integrations through ADP Marketplace and custom APIs
Talent management (recruitment, performance and compensation)
Full-service recruitment and resume search service
Premium learning package
ADP DataCloud (enhanced data insights and benchmarking)
Leadership development
Unemployment compensation management
Health and spending accounts
ADP time and attendance
401(k) retirement services
Work-opportunity tax credit
ADP HRO contracts are flexible and can range from month-to-month to multiyear terms, depending on your company's size and the features you want. Since HRO plans are customized to your business, you must speak with a representative for a price quote.
ADP TotalSource PEO Pricing and Terms
ADP TotalSource is a comprehensive PEO that offers bundled HR features like employee onboarding, running payroll, payroll tax administration, employee benefits administration, legal compliance assistance, workplace safety consulting, workers' compensation, employee learning and development, and document management. Businesses can also add features like third-party integrations, employee recruitment, data insights and benchmarking, time tracking, and employee scheduling for an additional fee.
Like some other PEOs on the market, ADP TotalSource doesn't list its pricing online. Instead, you must contact a company representative for a quote based on your business's specific PEO needs. Competitor Rippling advertises its starting price on its website. Read more in our detailed review of Rippling PEO.
ADP TotalSource has a five-employee minimum, which is common in the PEO industry but can be a problem for extremely small teams. We appreciate that the vendor doesn't require a long-term contract. You can cancel at any time with 30 days' notice.
Understanding a PEO's pros and cons is essential before partnering with a provider. While a PEO can save money and protect you from some legal risks, you may experience delayed communication and conflict resolution.
Implementation and Onboarding
The first step to implementing ADP is to reach out to a representative to find the best HRO service or PEO plan for your business. Traditional outsourced HR plans include essential HR features like payroll processing, benefits administration and compliance assistance. However, you can also opt for ADP's many add-on functions, like recruitment and time tracking.
If you want to further customize the platform, ADP offers the ADP Marketplace, a popular add-on that allows you to easily integrate the software with third-party applications. Although integrations can add a little more time to the setup procedures on the front end, they often greatly improve and streamline your HR processes in the long run.
Once you've determined an HRO or PEO plan that meets your needs, you'll work closely with an ADP representative to set up your account. You can add employee data to the platform, set up employee benefits, create company policies, and more. We found ADP's implementation process to be on par with industry standards.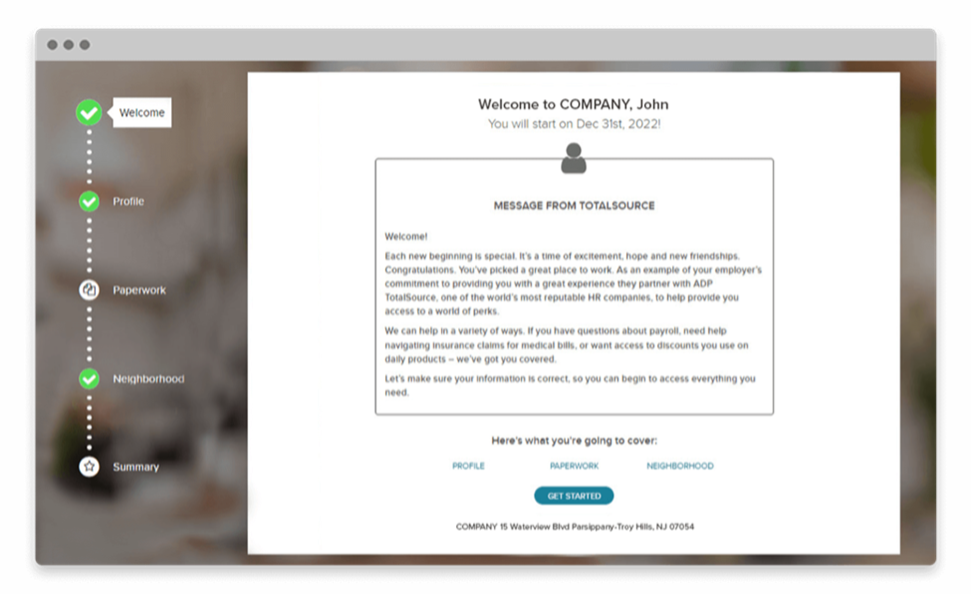 ADP makes it easy for you and your employees to get started with the platform. Source: ADP
Customer Service
We appreciate that ADP offers one-on-one support. You are assigned a strategic account manager, and ADP hosts quarterly business reviews with you. Dedicated representatives can also help with day-to-day HR functions and answer any HR-related questions. Representatives can include specialists and consultants focusing on payroll, benefits, open enrollment, workplace safety, talent and service delivery. This level of support is competitive with that of other providers in the industry.
ADP also has a resource center specifically designed for small businesses, as well as one for medium and large organizations. You can access online resources like a glossary, calculators, tax guides and forms, and webinars – similar to what other competitors offer.
We really like that ADP is accredited by the Better Business Bureau and received an A+ rating, indicating the vendor offers quality customer service.
Limitations
ADP provides excellent services. However, we identified some limitations: 
Pricing isn't listed online. One potential limitation is that ADP does not list its pricing for HRO or PEO services online. Instead, it creates customized plans for each business; you must contact ADP for a quote. Although this is becoming a trend in the industry, it can pose a limitation for business owners who want an immediate estimate of service costs. Check out our review of Zenefits HRO if you're interested in an HR solution with transparent online pricing.
ADP has a minimum employee requirement. Another potential limitation is ADP's employee minimum requirements. To be eligible for ADP TotalSource, businesses must have a minimum of five employees on their payroll. While this isn't an issue for most companies that want to partner with a PEO, it is something to consider if you're running a startup or a very small business. If you're looking for a PEO that can accommodate fewer than five employees, check out our review of Justworks.
Methodology
We researched and analyzed dozens of the best PEOs and the best HROs to identify top HR outsourcing solutions. We looked at pricing, contract requirements, bundled vs. a la carte features, minimum requirements, employee benefits administration, time-tracking tools, payroll processing and taxes, administrative HR functions, talent management features, integrations, legal risk and compliance assistance, accreditations, and customer service.
We watched product videos and conducted demos when possible. When looking for the best PEO and HRO solutions for benefits administration, we prioritized the variety of benefits options, benefits administration, payroll processing, tax administration, usability, user interface and compliance assistance.
ADP FAQ
ADP is a comprehensive HR solution that offers various HR services, including payroll processing, tax administration, employee benefits administration, time and attendance tracking, administrative HR functions, and legal compliance assistance. These services are available through general HR outsourcing (HRO) plans as well as professional employer organization (PEO) arrangements. The main difference in plans is that ADP's PEO plan, ADP TotalSource, uses a co-employment model for its PEO software and services.
ADP TotalSource is a CPEO (certified professional employment organization). To qualify as a CPEO, a professional employer organization must meet specific financial and reporting requirements established by the IRS. This certification can benefit you by offering tax benefits and financial protections, such as the CPEO's paying your federal employment taxes on your behalf.
Yes, businesses can pay their employees weekly with ADP's HR outsourcing service. ADP allows businesses to provide employees between 12 and 52 paychecks per year. The exact number of paychecks will depend on your specific business and state requirements. Standard pay schedules include weekly (52 paychecks per year), biweekly (26 or 27 paychecks per year), and semi-monthly (24 paychecks per year).
Bottom Line
We recommend ADP for …
Companies that want competitive, comprehensive employee benefits.
Companies that want an intuitive benefits administration process.
Companies looking for an HRO or PEO with an intuitive user interface.
We don't recommend ADP for …
Companies that want to see pricing online.
Companies that want a PEO solution to support fewer than five employees.