Zoho CRM Review
By Mona Bushnell
Last Modified: May 22, 2018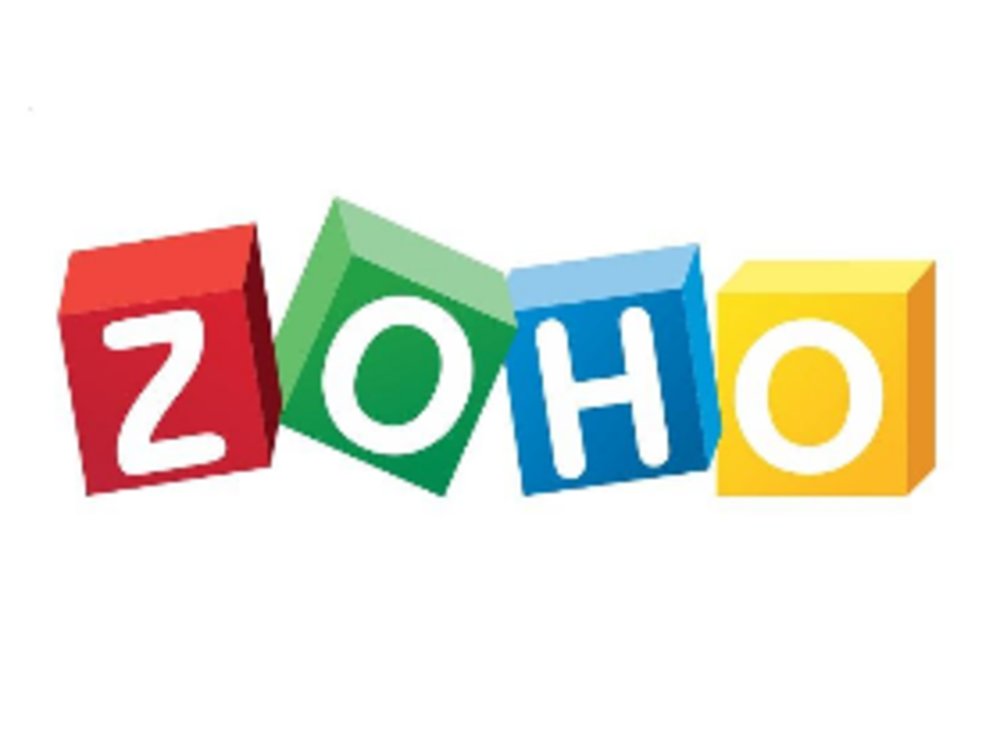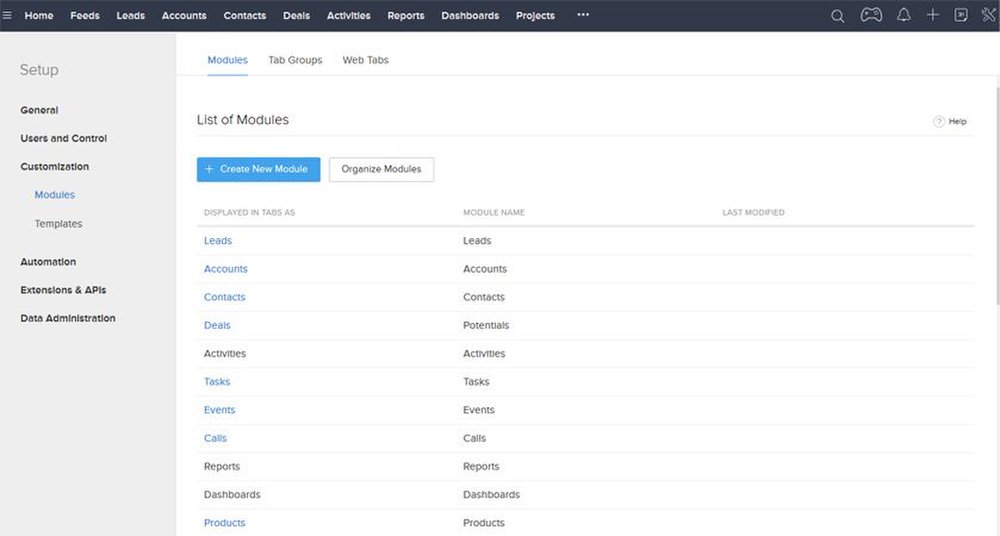 This CRM lets you customize almost any aspect of the program, so you can create your own modules and forms to suit your business.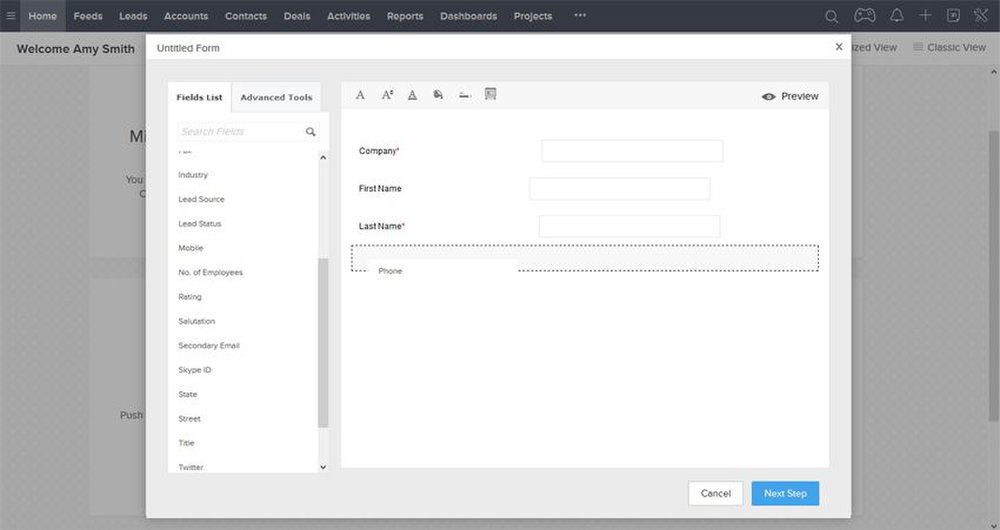 You can easily create web forms for lead generation through this CRM.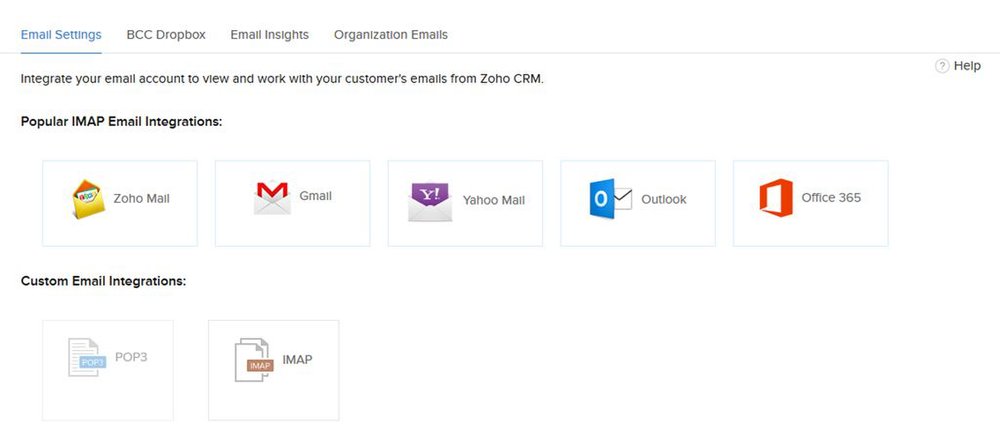 This CRM lets you integrate almost any email client so you have access to your email through the CRM.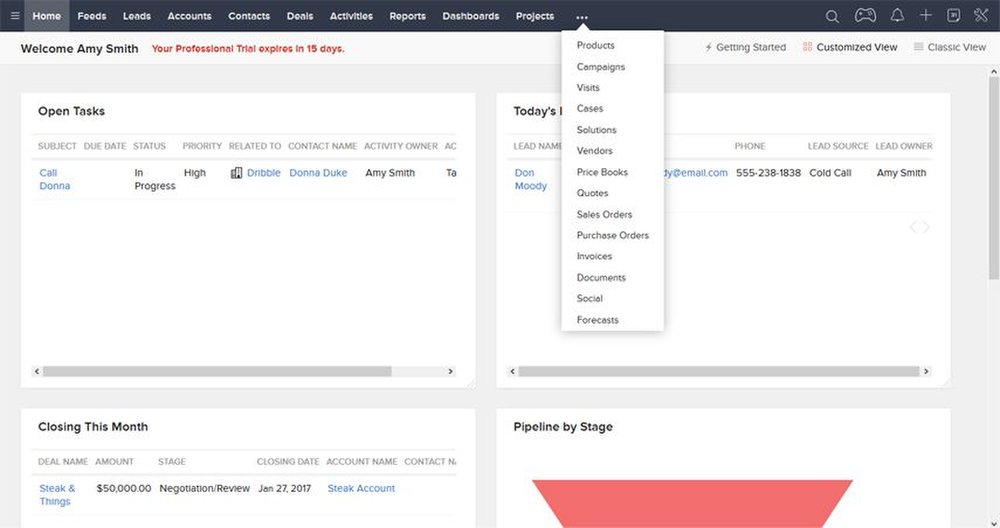 Whether you use this CRM for sales, invoicing or tracking customer support incidents, you have the tools you'll need.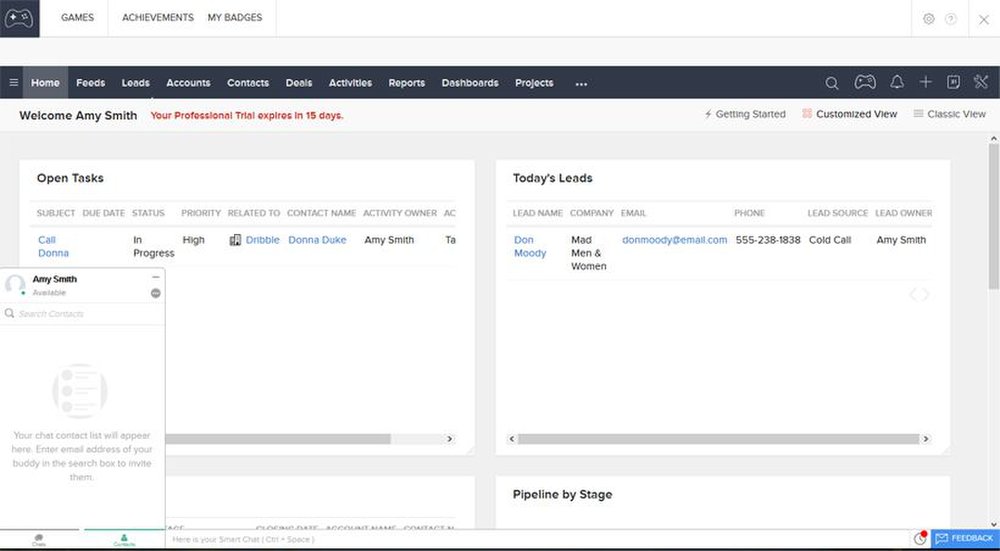 This CRM includes an instant messaging feature so you can easily communicate with colleagues from within the program.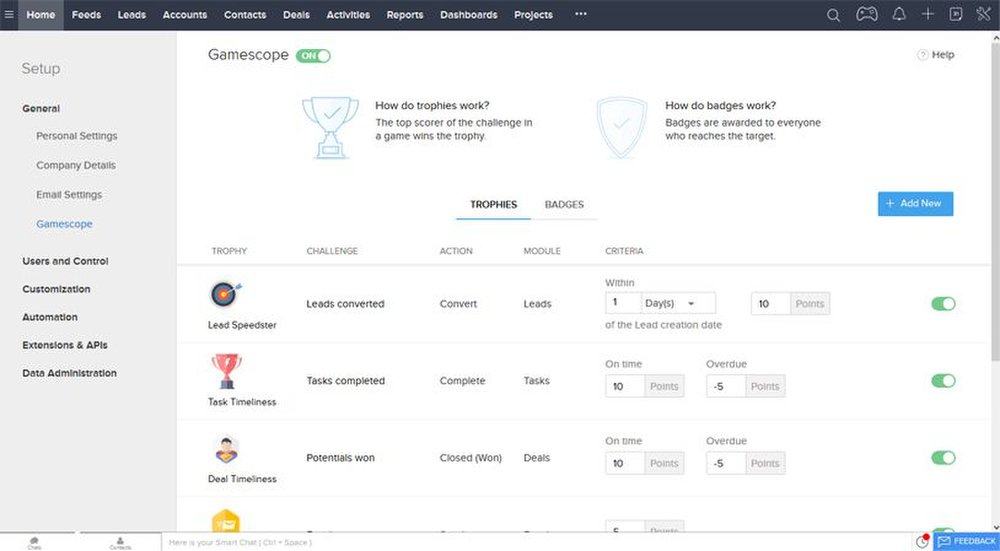 A unique feature of this CRM is the gamification of sales, support and other departments; you can challenge a colleague to convert the most leads in a week and win a trophy or badge.
Affordable and beautifully designed, Zoho CRM earns our title of Best CRM for Small Business in 2018. This breezy software-as-a-service (SaaS) solution looks and feels like a lightweight cloud product, but it packs in a surprising number of high-end features and customization options for serious business users on a budget.
View all our recommendations for CRM software on our best picks page.

Since this CRM is part of the Zoho SaaS family, it can be used on its own or in tandem with other Zoho apps and services, effectively giving small business owners the ability to build-out comprehensive cloud-based systems to manage every aspect of daily business. Zoho business products may be purchased a la carte or in bundles, like Workplace (an effective replacement for Office), Finance Plus (which offers expense tracking, inventory software, subscription management, accounting, invoicing and more), and its comprehensive IT Management suite, designed for SMB help desks. Zoho also offers HR products, app creation products and custom products.
Like the rest of Zoho's cloud suite, Zoho CRM is compatible with many popular third-party social media platforms and sports built-in collaboration features, like the shareable calendar and file repository. Unlike many customer relationship management solutions, which were built for enterprises and then scaled down for SMB use, Zoho CRM was created specifically for small businesses, and it shows. This CRM software is affordable, easy to use, and doesn't require an IT degree to implement.
Our Pick for Best SMB CRM is Easy to Implement and Use
Zoho CRM is a stellar customer relationship management solution that's surprisingly easy to implement, making it an ideal choice for small teams that want a product that works right out of the box. Of course, the more customizations you opt for and the more integrations you need, the longer the implementation process will be, but getting the basics up and running is easy, even if you don't have an in-house tech team. Zoho's online documentation takes new users through the setup process step-by-step, and while nearly all SaaS products claim to do this, Zoho really delivers when it comes to easy-to-follow guides.
The SaaS CRM provider also makes it easy to add extensions and integrations to the primary system through the Zoho Marketplace. Users can search categories like Finance, Sales, Productivity, Telephony and Collaboration to find the best extensions available or search based on specific product names or industries. Many of the extensions are available at no cost with zero coding required for integration, but some outside third-party integrations require admins to touch the Zoho CRM API. Of course, if it's an absolute necessity, you can enlist customization assistance (for an additional fee) from the Zoho team – just make sure you inquire in advance, so you can plan your implementation accordingly.
Once the setup process is complete, Zoho CRM offers users an unbelievably easy-to-use product that requires very little training. The UI is the ideal modern interpretation of a cloud business tool, combining easy to interpret menus and familiar drop-down menu layouts with a clean design and visual notifications. Across the top of the module users will see familiar options like Home, Feeds, Leads, Accounts, Contacts and so on. Once a user selects an item, filtered options automatically appear on the left-hand side of the screen, making it easy to sort and view only what's needed at the time. Meanwhile, in the upper right corner of the screen, users can keep an eye on notifications, access email without navigating away from other tasks, utilize the search function, and more. Zoho CRM also makes it easy for users to do things like create custom email templates and use existing templates, create dashboards that showcase real-time analytics, and access the document library.
Admins will find Zoho CRM intuitive to use, too. The visual interface makes it easy to create and manage groups with different permissions, even if the admins you choose have never been administrators for a software product before. From documentation and setup to daily use, it's clear that Zoho CRM was built with real small businesses in mind.
Zoho CRM Pricing - Structure and Tiers
Zoho CRM has four subscription tiers and two payment options. For each tier but the highest, users may opt to pay on a month-to-month basis (rather than annually), for a slightly higher per user-cost. Paying a higher monthly rate may be a viable option for small businesses that are wary about committing to an annual plan; however, in general, it's best to make an informed decision from the start and opt for the money-saving annual payment. To test out Zoho CRM, take advantage of the Free Edition, which is completely cost- and obligation-free for up to three users.
The Standard, which is the entry level Zoho CRM subscription, starts at $12 per user, per month, billed annually (or $15 for month-to-month). What makes this affordable starting point unique compared to other customer relationship management systems is the gradual increase at each level. For example, the next step up is the Professional level, which costs just $20 per user, per month ($25 for month-to month) and includes valuable features like email integrations, unlimited records and Google AdWords integration. Even the Enterprise level CRM is affordable, with a starting price of $35 per user, per month ($40 for month-to-month). Plus, it includes advanced features, like custom modules and buttons and conversational AI, which are typically only available at higher cost subscription levels.
There are two other levels of service offered by Zoho CRM. The Ultimate level is $100 per user, per month, and must be paid on an annual basis. It comes with advanced customer support, enhanced storage, data enrichment and dedicated database clusters. The other high-end option is called Zoho CRM Plus, which is $50 per user, and includes Zoho CRM as well as Zoho's other customer-facing products, like Zoho Social, Zoho Motivator, Zoho Survey and more.
Outstanding Features of Zoho CRM Software
Zoho CRM is a feature-rich CRM with a surprisingly affordable price tag. This is just a sampling of what Zoho brings to the table:

Great features, even at the basic level. Unlike many other tiered CRMs out there Zoho offers fantastic features, even at the basic ($12/month) level. Reports and dashboards, a document library, defined roles and profiles, scoring rules, sales forecasting tools, call center connectors and the ability to mass email are all available to standard subscribers, plus the capacity for a whopping 100,000 records.
Popular integrations and extensions in the Zoho Marketplace. No other CRM makes it easier than Zoho does to integrate all your favorite products. Through the Zoho Marketplace users can select from hundreds of broadly used products, like GoToMeeting, Twilio, DocuSign, Eventbrite, as well as more industry specific solutions, like Zadarma for phone systems or CData Excel, which allows users to change information in Excel and see it reflected in Zoho CRM.
Tons of customization options. There are some customization options available to all users, but at the Enterprise level ($35/month), users can do advanced custom views, change page layouts, add in custom buttons and conditional fields and build out custom modules. At the Ultimate ($100/month) level, users gain access to a sandbox for dev testing and a higher level of customer support. While these customization features are not unique to Zoho CRM, they are rarely an option in CRMs at this price point.
Drawbacks
The drawbacks to adopting Zoho as your CRM may not be negatives to all users, but they are worth noting. Tiered levels of service mean users may have to opt for a more expensive subscription just to get one relevant feature. For example, while the $12 level is enticing at first glance, integration with Google AdWords, social CRM features and workflows only kick in at the $20 tier. This feature is normally standard for most SaaS solutions. It should also be noted that customer service is limited to the standard work week, so if your business needs constant support, you may want to consider a competitor with more robust services.
In general, there aren't a lot of drawbacks to Zoho CRM as long as you adopt it for the right reasons. Zoho CRM is an alternative to high-cost, implementation heavy products, so don't expect it to perform exactly like one. As long as Zoho's features meet your needs, it's a safe bet, but if you want a powerhouse of a system opt for something heavier duty, like Salesforce.

Ready to choose your The Best CRM Software of 2019? Here's a breakdown of our complete coverage:

Mona Bushnell
Mona Bushnell is a New York City-based staff writer for Business.com and Business News Daily. She has a Bachelor of Arts in writing, literature, and publishing from Emerson College and previously worked as an IT technician, copywriter, software administrator, scheduling manager, and editorial writer. Mona began freelance writing full time in 2014 and joined Business News Daily in 2017. She covers business technology and reviews CRM systems.