Zoho CRM's desktop and mobile versions offer extensive contact management, team collaboration, automation and analytics for sales reps and managers no matter where they are, earning our pick for the best mobile CRM.
Pros
Zoho CRM's sales, marketing and customer service features are impressive.
Zoho's AI components are excellent. They can facilitate co-worker and customer interactions, analyze business trends, and uncover efficiency opportunities.
The vendor offers various apps and business integrations through Zoho Marketplace, so you can combine all the tools you need in one system.
Cons
Zoho's standard plan is affordable. However, it lacks crucial features — particularly regarding marketing automation.
Helpful customization options, including custom buttons and modules, page layouts and a developer sandbox, are available only on upper-tier plans.
Some users have complained about connectivity issues during busy times.
All businesses appreciate an affordable, intuitive and beautifully designed CRM platform. However, growing businesses need flexible CRM software with specific features, including customization options. Zoho CRM fits the bill perfectly, providing sales, marketing and customer service functions designed for companies coping with expansion pressures. Zoho's usability and vast customization options can reduce stress and improve performance across your sales, marketing and customer service teams. It automates many mundane, time-consuming tasks and makes crucial information available to everyone. This supremely usable platform packs a lot of power — and with its targeted AI investment, it will only get better.
Zoho CRM Editor's Rating:
9.4 / 10
Pricing/value

9.7/10

Features

9.5/10

Customization, add-ons and integrations

9.1/10

Ease of use

9.6/10

Customer service

9.3/10
Why We Chose Zoho as the Best CRM for Growing Businesses
Growing businesses face unique challenges and pressures. Ramping up employee numbers and boosting revenue while running your business can be difficult. However, marketing and selling efficiently while also growing and sustaining customer relationships is crucial. 
Zoho CRM is an easy-to-use, uncluttered customer relationship management system that can help businesses cope with expansion challenges. It's a scalable solution that will grow with your business. Zoho is easy to learn because of its intuitive user interface, and its built-in AI powers a wide range of tools, from contact and deal management to advanced data analytics. Zoho is also an omnichannel solution, facilitating customer communications. 
Setup and training time is minimal — a huge plus for a busy, growing business. Support is there when you need it from Zoho's reps and an online knowledge base. Additionally, Zoho's extensive app marketplace means you can connect the platform to many popular business tools.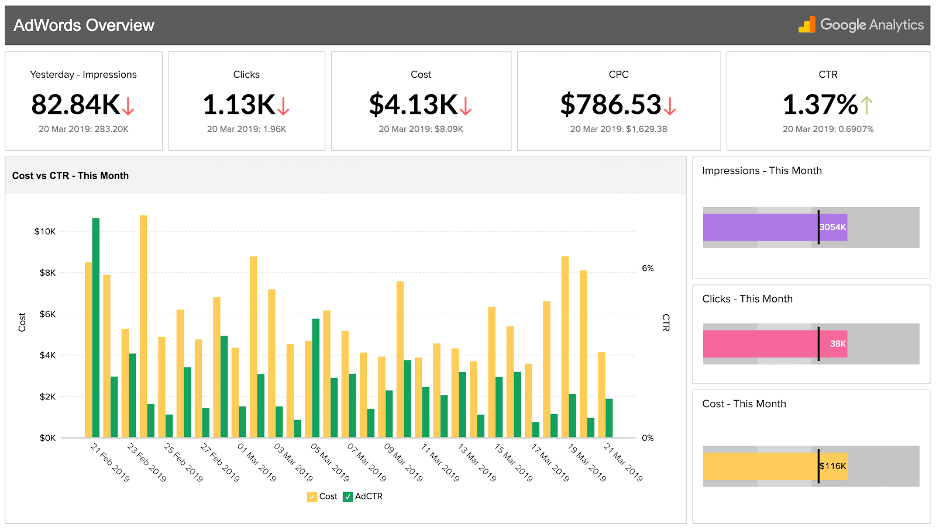 Access your Google Ads campaign performance via an executive dashboard report within Zoho CRM. Source: Zoho
Growing businesses may have trouble simultaneously managing help desk tickets, customer service and marketing. Zoho CRM Plus combines these functions into one application. When billed annually, the price is $684, or $57 per user per month.
Ease of Use
We were impressed by Zoho's pleasingly simple interface. Here are a few elements we felt added to the platform's ease of use: 
Navigation bar. The platform's navigation bar gives users immediate access to various sales-related tasks, notifications and features. A sales agent's home page defaults to current tasks and open leads, but you can customize it anytime.
No-code dashboard builder. We really liked Canvas, Zoho's no-code dashboard builder. You can create customized front ends for users and departments. Choose from an array of templates, and use drag-and-drop features to add widgets. For example, you can add the "Feeds" notification app, which allows quick communication between colleagues and is similar to Slack. 
Marketplace. The home page provides easy access to Zoho's Marketplace, from which you can add third-party apps.
Sandbox. You may have developers comfortable working "under the hood" to build custom apps and workflows. If so, Zoho CRM offers a sandbox for testing system configurations and modifications in a secure setting before deploying them into the live CRM environment. The platform helpfully offers six different APIs from REST APIs. 
Mobile apps. We like that Zoho provides mobile apps for iOS and Android — an excellent feature for businesses with remote staff and reps. Zoho's mobile apps are superbly intuitive and functional at manager and nonmanager levels, which offers growing businesses further flexibility.
Zoho's customer support team promises a response time as short as one hour, depending on the service plan. This is a particularly useful feature for businesses switching CRM systems.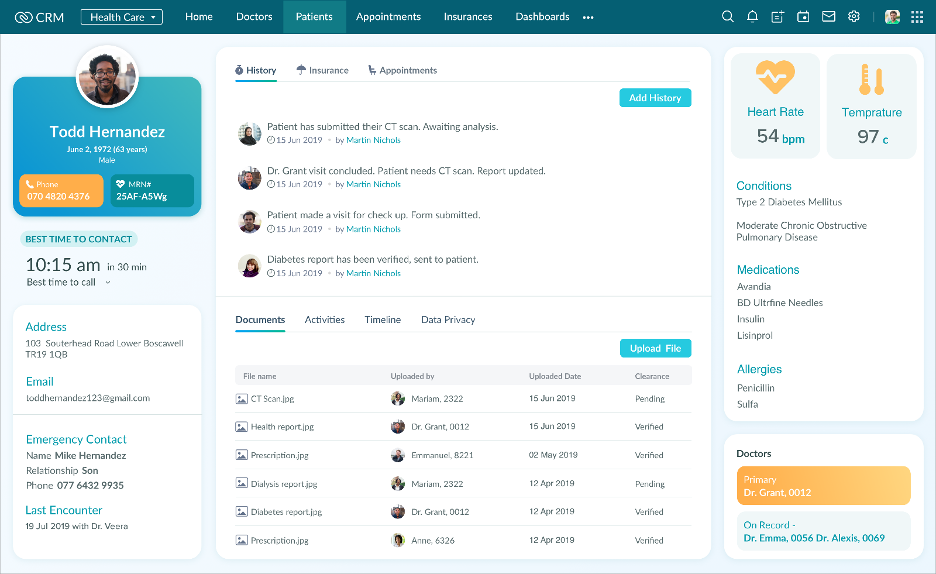 Personalize your Zoho CRM home page using Zoho Canvas — no code required. Source: Zoho
Zoho CRM Features
Zoho has many highly relevant CRM features for growing businesses, along with standard customer relationship management tools. Here are a few features we found particularly notable.
Customization
Zoho's customization options are more extensive than many competitors we reviewed. We appreciate that all Zoho CRM tiers provide customization options, including custom fields and list views. However, we were impressed by the Enterprise level, which gives you the following capabilities: 
Create advanced custom views.
Change page layouts.
Add custom buttons and conditional fields.
Build custom modules. 
At the Ultimate level, you also gain a generous number of custom modules and fields, as well as a higher level of customer support.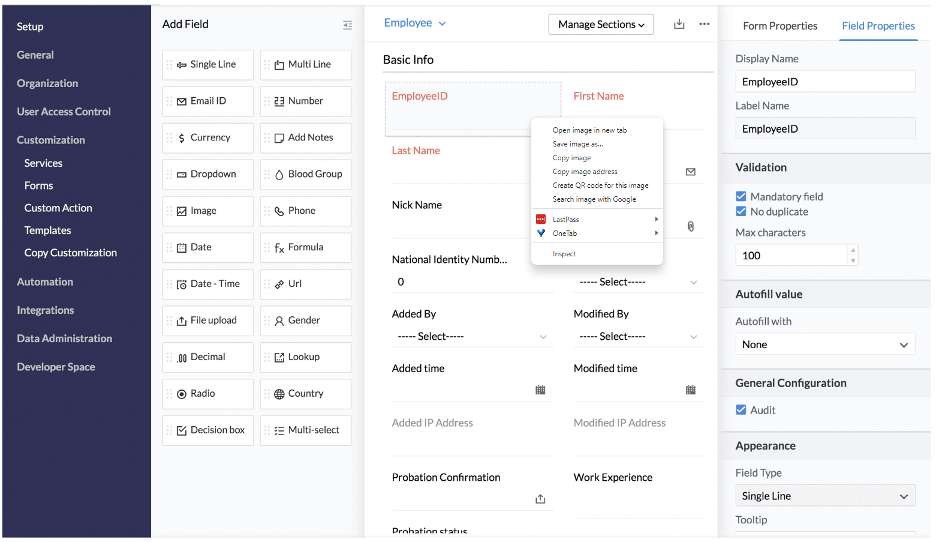 Zoho CRM's customizations are plentiful and easy to execute. Source: Zoho
Information Sharing and Automation
As companies grow, they must become proficient at lead generation and successfully converting leads. Zoho helps new and growing businesses do these things with impressive information-sharing and automation functions. 
Information-sharing. We were pleased to see that Zoho gives sales, marketing and customer service teams access to the same accurate information. This allows them to draw and share their insights, and to help each other hit targets and KPIs. 
Workflow automation. Sales managers can identify repetitive, mundane — but necessary — tasks and create workflow automations. Staff members are freed up to become more productive elsewhere. Sales managers can automate routine tasks like sending email notifications and updating client record fields as they move through the sales funnel. Your reps can see all interaction points on their screen immediately and devise the best strategy to close a sale.
Lead automation. Zoho's lead automation abilities impressed us. The CRM can capture contact details from inquiries and interactions via channels like website chatbots and social media. Then, it can make them available immediately for sales reps in the shared database. Zoho collects data from every touchpoint on the customer journey and shows your marketing team where leads drop off so they can improve the process and bring in more qualified leads for your sales team.
Automated lead scoring. We really liked Zoho's lead scoring tool. Once prospect details have been captured and analyzed, Zia, Zoho's AI tool (covered next), generates insights on which customers will likely buy which products to help your team target which leads to close first. (Another top CRM, monday.com, also has excellent lead-scoring functionality. Read our review of monday.com CRM to compare and contrast the offerings.)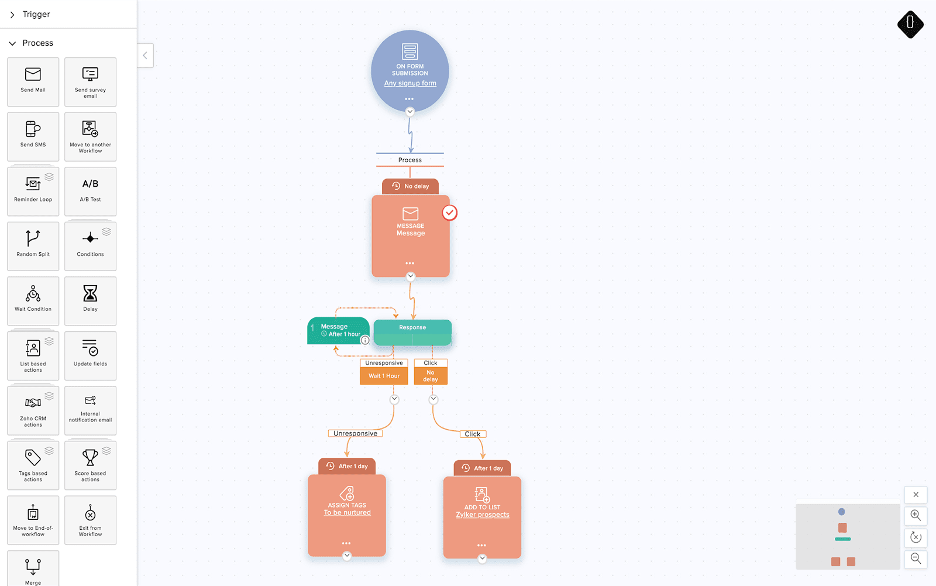 Zoho CRM makes it easy to automate email marketing campaigns when a lead signs up on your website. Source: Zoho
AI Integration
Many top providers are using AI integration to boost CRM software benefits. Zoho is no exception; it incorporates two AI tools, Zia and Creator. Both AI tools impressed us and compared favorably to competitive CRMs with AI offerings.
Zia. Zia has a ChatGPT-like interface that allows you to ask questions it responds to immediately. It has full access to your company data and can share general business intelligence as well as insights into sales team and manager performance, general productivity and customer experience levels. Zia can act as a chatbot to accurately answer customers' and visitors' technical questions online. It can also suggest how reps should handle customer support requests on live calls, route service tickets, analyze trends, make predictions, and detect anomalies in sales or support workloads. Sales teams benefit from its upselling and cross-selling recommendations and ability to fill in missing information on lead sheets.
Creator. Creator is Zoho's newer AI tool. It lets you drag and drop AI modules into a worksheet to create custom functions. For example, you can create a workflow alerting customers to their delivery status. As time passes, the apps you build will become smarter with the increasing volume of data they receive from your normal business activities. Creator has no-code and low-code versions.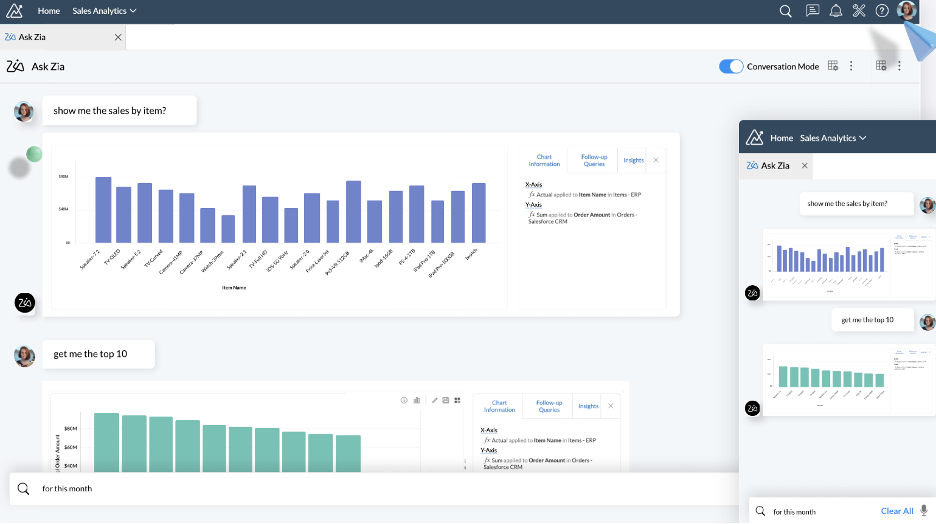 Use Zoho's Zia AI tool to gain insights into your top-performing sales staff. Source: Zoho
Omnichannel Capabilities
Omnichannel communication is a game-changer for businesses that interact with customers via multiple channels. We were impressed with Zoho's well-executed omnichannel communication options, which compare favorably with other CRM systems we reviewed. 
Zoho offers the following omnichannel opportunities:
Telephony. You can connect to over 140 VoIP phone system providers, set up call reminders, auto-log and record calls, and use call analytics to measure performance from sales and customer service teams.
Email marketing. Send and receive customer emails and run email marketing campaigns from within Zoho.
Social media. Zoho can help you organize social media posts and marketing campaigns. You can also connect directly with customers via private messaging.
Messaging apps. Send and receive messages from apps like WhatsApp and Facebook Messenger.
Website. Set up chatbots on your site and create surveys for customers and prospects.
With Zoho, all communication is presented on a unified interface; there's no need to open separate apps to communicate with customers. All interactions are stored in the system and attached to the correct contact details. The system's minimalist interface makes it easy for reps to get the information they need to close a deal, or for a service team to achieve a first-contact resolution. The system will even notify you when someone mentions you on social media or opens your email.
Zoho's omnichannel abilities are impressive and can create significant business benefits, including new sales opportunities.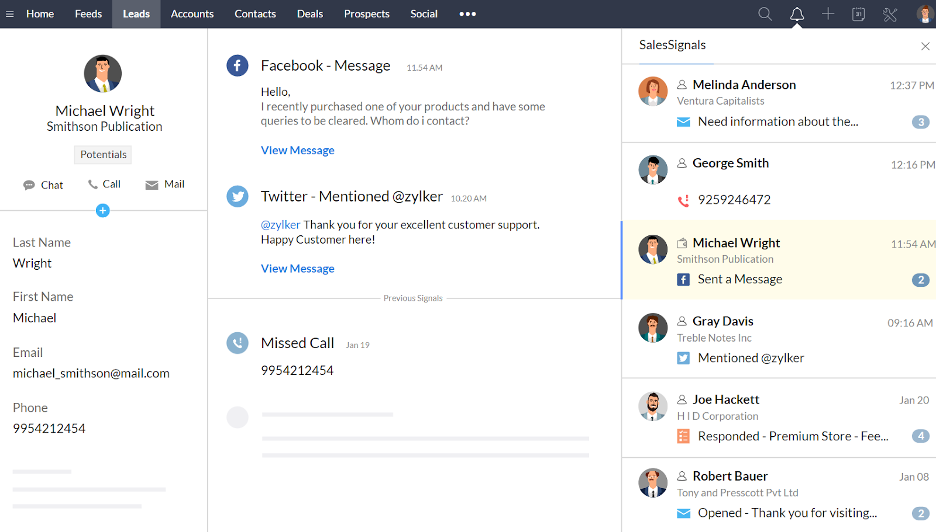 With Zoho's omnichannel functionality, you'll see all client interactions in one central dashboard. Source: Zoho
Freshbooks is another CRM with direct omnichannel integration; however, its features uniquely suit sales managers. Read our review of Freshworks to learn more.
Data Analytics
We love that Zoho offers abundant CRM metrics and analytics that take the guesswork out of strategic decisions. Custom reports and cohort metrics help business owners examine data from multiple angles by curating information from marketing campaigns, quotes, leads, deals and sales activities.
Here are a few data analytics features that stood out to us:
Anomaly Detector. Zoho's AI-powered Anomaly Detector highlights potential issues in your sales process so you don't have to look for bottlenecks. The platform's Comparator and Quadrant Analysis features can help you discover your best-performing products or sales reps.
CRM reports. Create CRM reports from scratch or use one of several templates. Then, export and share them as CSV, Excel or PDF files. Zoho's robust filtering options are impressive, allowing you to choose the data you want to extract meaningful insights.
Target Meters. We particularly liked the Target Meters feature, which lets you set targets and monitor performance in real time. Growing companies face pressure to generate as much revenue as possible to meet the rising costs of expansion. Target Meters provide insights to help them identify the most profitable areas to focus on to keep cash flow healthy.
CPQ. We also appreciated Zoho's well-executed Configure, Price, Quote (CPQ) functionality. This built-in tool helps with complicated quoting. Other CRMs offer CPQ services, but we like that Zoho's is built into the platform and is not a third-party app. Read our Oracle NetSuite review and our Pipedrive review to learn about how these platforms handle CPQ functions.
Comprehensive Basic Tier
Unlike many CRM solutions we reviewed, Zoho offers numerous popular CRM features in its entry-level plan. This feature generosity is impressive. Here are the features that standard plan subscribers can access: 
Reports and dashboards
A document library
Defined roles and profiles
Scoring rules
Multiple pipelines
Social data profile enrichment
Marketing campaigns
Sales forecasting tools
Call center connectors
The ability to send mass emails 
App Marketplace
Many CRMs we reviewed have app marketplaces. However, none make it easier than Zoho to integrate all your favorite products. 
Zoho has one of the biggest marketplaces of any CRM provider, with well over 1,000 extensions and custom apps. Users can access more than 40 in-house apps. They can also use the Zoho Marketplace to select integrations with popular apps like GoToMeeting, Twilio, DocuSign and Eventbrite and essential apps like Google Workspace, Microsoft 365, Slack, Shopify and Mailchimp. 
Additional industry-specific solutions are also available, including Zadarma for phone systems and CData Excel, which allows users to change information in Excel and see it reflected in Zoho CRM. The thirteen different app categories include marketing, employee collaboration, analytics and remote working.
Zoho's vast app options are another reason we chose it as the best CRM for growing businesses. As you grow, you'll need to add new workflows, extra capacity or additional communication channels. Everything you need is likely already on the Zoho store, ready to integrate seamlessly into the platform. Many integrations are accompanied by quick videos that give an overview of the app's functionality. We love how these make the integration process much easier. 
Our review of HubSpot CRM spotlights its similarly impressive marketplace and ease of use when integrating apps onto the wider platform.
Mobile App
We've reviewed CRMs with mobile apps that offer only basic features, like record and note access. In contrast, we were pleased to see that Zoho CRM's smartphone app includes crucial functions like analytics dashboards, team collaboration tools, map integration, voice notes and call logging. These features extend the CRM's usability to remote and mobile workers. 
We like that Zoho's AI-powered assistant, Zia, helps sales professionals complete routine or recurring tasks, including updating records, adding notes, and managing the sales pipeline. We also like that Zoho offers a well-tuned business card scanner (although it must be installed separately). The scanner allows team members to instantly capture lead information and add it to the Zoho CRM whenever and wherever they receive a business card.
Connect Zoho CRM to Zoho RouteIQ (for an extra fee) to build sales routes with optimized navigation and visualized maps.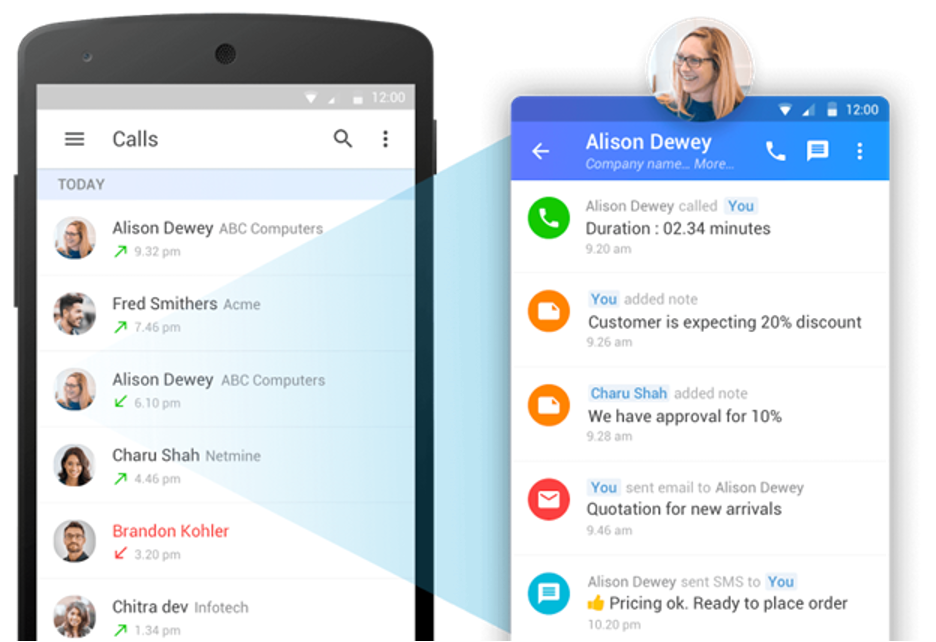 Zoho CRM's mobile app keeps a detailed record of each contact's sales activities. Source: Zoho
Zoho CRM Pricing
Zoho CRM has four subscription tiers and two payment options. For each tier — except the highest one, Ultimate — users can pay monthly, rather than annually, for a slightly higher per-user cost. Some small businesses may want to consider paying monthly if they are wary of committing to an annual plan. 
We really like that businesses can take advantage of the vendor's free edition — a completely cost- and obligation-free way to get a sense of what this CRM can do for your company. It allows up to three users and offers basic contact and deal management, email marketing, standard reports and one web form. 
All prices below apply when billed annually:
Standard: $14 per user per month. This plan includes everything in the free plan, plus 250 mass emails daily, lead scoring, automation workflows, multiple pipelines, mass email, sales forecasting, custom fields and reports, KPIs, social data enrichment, classic support level, and 1GB of free file storage.
Professional: $23 per user per month. This plan includes everything in the Standard plan, plus 500 mass emails daily, custom links, unlimited custom list views and custom reports, workflow blueprints, and Google Ads integration.
Enterprise: $40 per user per month. This plan includes everything in the Professional plan, plus 1,000 mass emails daily, custom signals, custom modules and buttons, page layouts, conversational AI (Zia), AI-powered sales insights, multiuser portals, data enrichment, and advanced analytics.
Ultimate: $52 per user per month. This plan includes everything in the Enterprise plan, plus 2,000 mass emails daily, enhanced storage and feature limits, advanced customer support, dedicated database clusters, 5GB of free file storage, and an extended 30-day trial.
On the Standard, Professional and Enterprise tiers, you can take advantage of a 15-day trial. Zoho does not charge setup fees for its service.
Even on the Standard plan, Zoho's daily email limits are generous. Read our Zendesk review to compare and contrast email limitations.
Onboarding and Implementation
We appreciate that Zoho's CRM implementation process is quick and easy, thanks to detailed instructions on the company's website and the provided sample data. A large knowledge base and an active user community can help if you run into any snags. You can also contact Zoho's customer support via email, phone or live chat. Upper-tier plans include onboarding and remote screen-sharing assistance, help configuring personalized settings and a dedicated account manager. 
Despite its many advanced tools, Zoho's desktop application is remarkably easy to learn, which removes a familiar challenge of CRM adoption. 
There are a few deployment steps required before the CRM is ready to use:
Enter the time zone, language and basic company information.
Configure the security settings.
Set user roles and permissions.
Customize the modules, record details and page layout.
Automate workflows.
Import existing data.
Most of these steps can be completed in a few days, but customization options may require additional tweaking as needs become more clearly defined.
Zoho CRM supports dozens of add-ons and integrations with the best business phone systems, tools to boost productivity, the top cloud storage providers, and more. Note that integrations and add-ons will add to your onboarding time (some integrations require paid licenses). 
If you want assistance migrating your data, email migration@zohocrm.com, and a vendor representative will contact you.
Customer Support
Zoho CRM offers four support levels: 
Basic
Classic
Premium
Enterprise
While Basic and Classic are free, the others come at an additional cost of 20 percent and 25 percent of the license fee, respectively. However, they include perks like remote assistance, product onboarding and reduced response time.  
In our customer service testing with the company, we initially found it difficult to get a clear understanding of the features included in each plan. When we reached out a second time, we had a better experience. The representative was very patient and knowledgeable and even set up a time to discuss the platform further.    
One support area where Zoho shines is digital documentation. You can find a wealth of instructions and documentation online, as well as detailed tutorials, training videos and live and on-demand webinars.
Upper-level service plans support 28 languages and multiple global currencies for businesses with international workers and customers — a bonus if your business is expanding internationally.
Limitations 
Zoho has many impressive features and upsides. However, we found a few drawbacks. 
Feature availability. Zoho CRM's tiered plans mean you may have to opt for a more expensive plan to get one relevant feature. For example, while the Standard plan may seem enticing initially, integration with Google Ads is available only with the Professional plan. If that's valuable to your company, it may be worth the expense, though the costs add up when paying by the number of users.
Slow connections. Some clients have complained about slow connections at times. While your experience may differ, this is worth keeping in mind. 
Zoho CRM is an alternative to high-cost, implementation-heavy products, so don't expect it to perform like one. As long as Zoho's features meet your needs, the software is a safe bet — especially if you prioritize mobile usability. But if you want a powerhouse system, consider opting for a heavier-duty product like the Salesforce CRM. Read our in-depth Salesforce CRM review and Salesforce comparison to learn about this solution's extensive features.
Read our review of Zoho Books and our Zoho Assist review to learn about Zoho's other popular offerings for small businesses.
Methodology
When evaluating the best CRM software, we conducted in-depth comparative research of dozens of solutions. Our product review process included customer support team communication, product functionality evaluations, attending live webinars, and assessing numerous tutorials and support materials. We also considered pricing. When looking for the best CRM for growing businesses specifically, we examined mobile app functionality, contact and deal management, sales automation, reporting and analytics, customization options, and available integrations. Our goal is to help you find the right CRM for your business.
FAQs
Zoho CRM has a free plan with basic contact and deal management features, email marketing, reporting,and lead collection. Zoho also offers a free version of the pipeline-based CRM solution Bigin for entrepreneurs and ultra-small businesses that are ready to graduate from Excel sheets, but don't necessarily require full CRM functionality. 
While Zoho offers an Enterprise plan, it is best suited for small and midsize businesses that want to track their contacts, deals and team performance while managing sales activities on the go with Zoho CRM's mobile app.
Bottom Line
We recommend Zoho CRM for …
Companies that want to seamlessly integrate customer support, marketing and IT management services with their CRM.
Small and midsize businesses looking for relatively advanced CRM functionality at an affordable price to help them scale.
Companies that want a CRM they can customize with AI, low-code and no-code tools.
We don't recommend Zoho CRM for …
Companies that need a feature-heavy CRM to manage complex customer relationships and interactions.
Large teams that need a free service plan.
Nadia Reckmann contributed to this article.