Pipedrive Review
By Mona Bushnell
Last Modified: March 12, 2019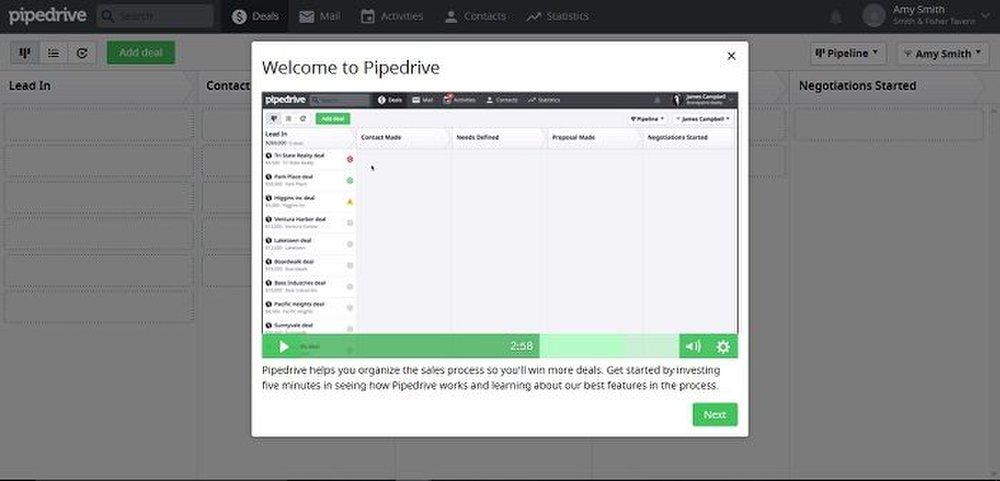 This CRM includes several help files, video tutorials and introductions for nearly every feature of this program.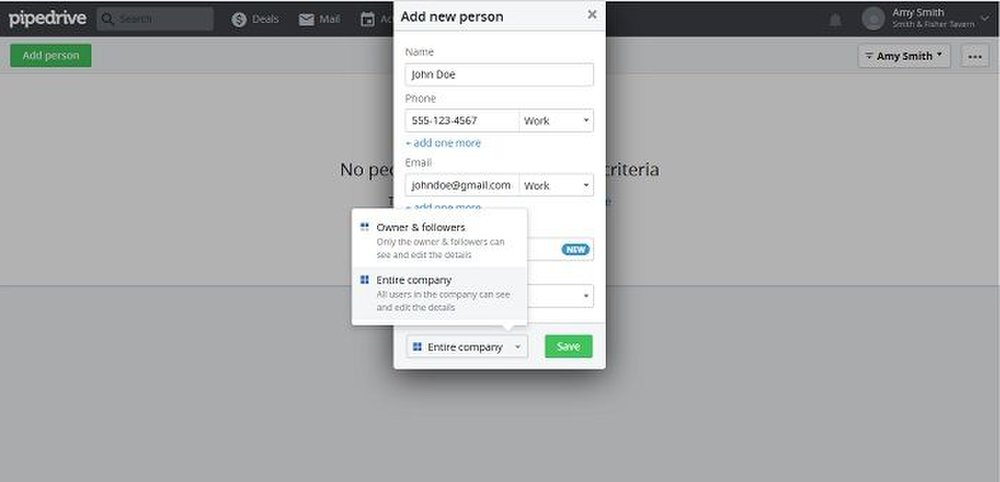 You can limit who sees your contacts when you enter a new one into this CRM.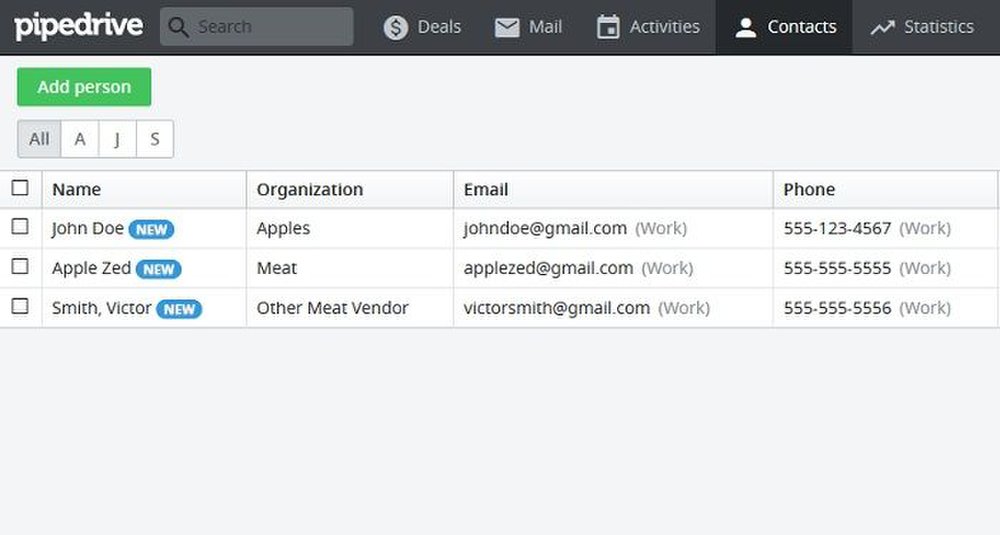 You can quickly edit several contacts with bulk editing, which saves time.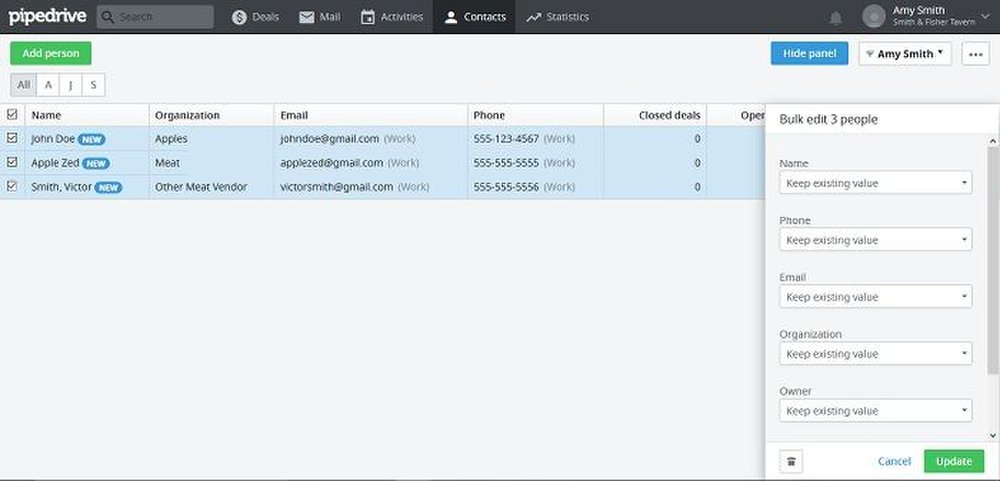 This CRM lets you customize your contact information columns so you can prioritize certain fields or information that's important to you.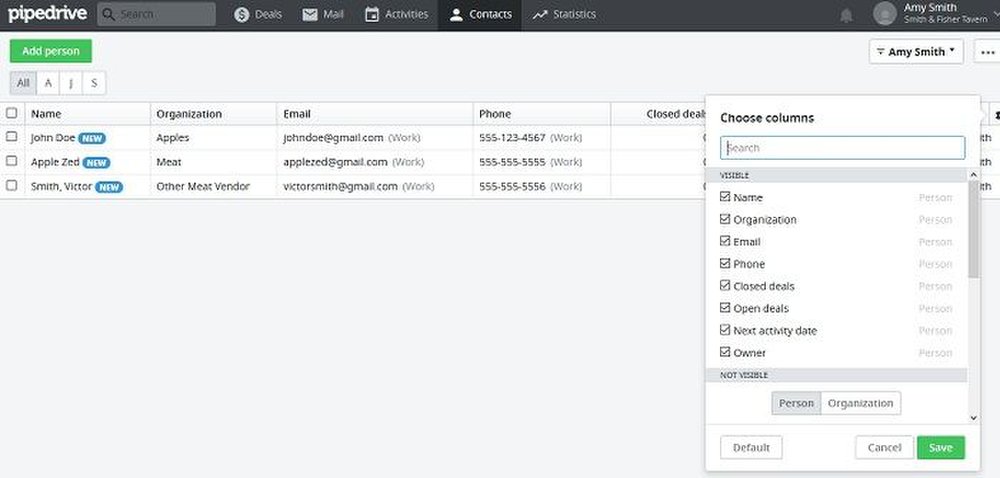 This CRM alphabetizes by the first name you enter, so be sure to start with a last name first.
Pipedrive is a sales-focused CRM that's ideal for small teams with limited tech support. Code-free integrations and built-in features like pipeline management, sales reporting and sales forecasting are all easily accessible through Pipedrive. With no contracts required and a clean UX, this CRM is simple enough to jump into using, but powerful enough to grow with your sales team.
Pricing & Terms
Pipedrive allows users to pay on a monthly or yearly basis, with annual payments offering the best bang for your buck. The entry level subscription, Silver, costs $12 per user, per month ($15 per user if paid monthly), the second tier, Gold, costs $24 per user, per month ($29 per user if paid monthly), and the top tier, Platinum, rings in at $65 per user, per month ($75 per user if paid monthly). There are no contracts when you sign up for Pipedrive, and you can upgrade your account at any time.

Features
Pipedrive is highly customizable and brings lots of features to the table. Here are a few standouts this CRM offers:
Visual sales pipeline. Pipedrive is a highly visual CRM. The sales pipeline allows users to view and track communication with clients, from seeing a list of untouched contacts and contacts made to tracking proposals that have been approved or submitted.
Reminders, notifications, alerts. Like most other high-quality CRMs, Pipedrive offers users reminders, notifications, and follow up alerts which they can receive via email within the system or on their mobile devices.
Templates. Email templates make the email marketing process easy within Pipedrive, and more templates are being added to the catalogue all the time.
Customizations. Pipedrive is highly customizable, with as many integrations available as much higher priced CRMs offer. Additionally, the drag and drop interface makes it easy to change the user view and create customized workflows that reflect your sales process.
Drawbacks
This may or may not be a drawback for your business, but Pipedrive is primarily for sales team members, and lacks some of the more robust features found in other CRM solutions. For example, it is not possible to dial calls directly through Pipedrive, and there aren't comprehensive project management tools built-in. While you can piece together extensions and integrations to make Pipedrive more powerful, it may be best to opt for a more complex CRM if your needs cannot easily be met by this lightweight solution.
Editor's Note: Looking for a CRM solution? Click the Compare Quotes button below to have our sister site Buyer Zone connect you with vendors that can help.

Ready to choose your The Best CRM Software of 2019? Here's a breakdown of our complete coverage:

Mona Bushnell
Mona Bushnell is a New York City-based Staff Writer for Business News Daily and Business.com. She has a B.A. in Writing, Literature, and Publishing from Emerson College and has previously worked as an IT Technician, a Copywriter, a Software Administrator, a Scheduling Manager and an Editorial Writer. Mona began freelance writing full-time in 2014 and joined the Business.com team in 2017.