Monday.com's diverse feature set helps you manage the customer journey from lead capture to post-sale follow-up activities, while allowing you to modify the software to fit your particular needs, making it our top choice for the best customizable CRM.
Pros
You can easily customize your CRM workspace (including lead scores, labels, dashboards and pipelines) to run and grow your SMB.
Team members can create custom workflows that automate repetitive tasks, such as sending notification emails, advancing deals and changing contact statuses.
monday has a built-in API and an extensive set of integrations, allowing you to further customize the CRM.
Cons
The vendor sells in seat increments. For example, if you have 43 staff members, you must purchase either 40 or 50 seats.
monday Sales CRM has many add-ons. New CRM users may want to focus on specific needs initially before exploring advanced options.
Some customization features require knowledge of IF-THEN Excel-type formulas.
The Basic plan has limited lead and deal management features and no email functionality. The Standard plan offers more but doesn't allow many monthly actions.
Many small and midsize businesses (SMBs) need a customer relationship management (CRM) system that offers a middle ground between basic functionality and a complex, enterprise-scale solution. monday's CRM achieves this balance perfectly. It's easy to use, affordable and flexible enough to scale with your business as needed. The user-friendly interface provides controls for improving sales, marketing and customer service. monday's wide-ranging functions assist with contact management, lead generation and sales pipeline management, and its built-in omnichannel communication feature is well executed. monday offers fully customizable labels, dashboards, templates, workflows, forms, quotes and widgets, making this CRM a great fit for SMBs that want to improve performance.
monday Sales CRM Editor's Rating:
9.5 / 10
Pricing/value

9.6/10

Features

9.6/10

Customization, add-ons and integrations

9.8/10

Ease of use

9.3/10

Customer service

9.1/10
Why We Chose monday as the Best CRM for SMBs
SMBs rely on their marketing and sales teams to bring in quality leads and close sales. monday Sales CRM provides a wealth of features to help sales and marketing managers support and get more from their teams. For example, you can create customized workflows and automations to significantly reduce administrative tasks, enhance team collaboration and streamline client communication.
We were impressed by the interface's user-friendly, drag-and-drop functionality, which makes it easier for sales managers with complex sales funnels to create workflows. You can create multiple pipelines for various products and campaigns, as well as customize on-screen dashboards to see real-time charts, graphs and tables to monitor the deals in your pipeline. 
Marketing teams can use monday to track campaigns and content marketing. The strategic planning tool is particularly useful, as it provides everyone with a clear roadmap for future campaigns and team responsibilities. There's also a handy library of email marketing templates that sales and marketing teams can use to generate leads and close sales.
monday Sales CRM provides highly flexible CRM software and an intelligent platform with a thoughtful user interface. It offers a range of options for business owners who are looking to improve efficiency, performance and profitability. For these reasons and more, monday Sales CRM is our choice for the best CRM for SMBs.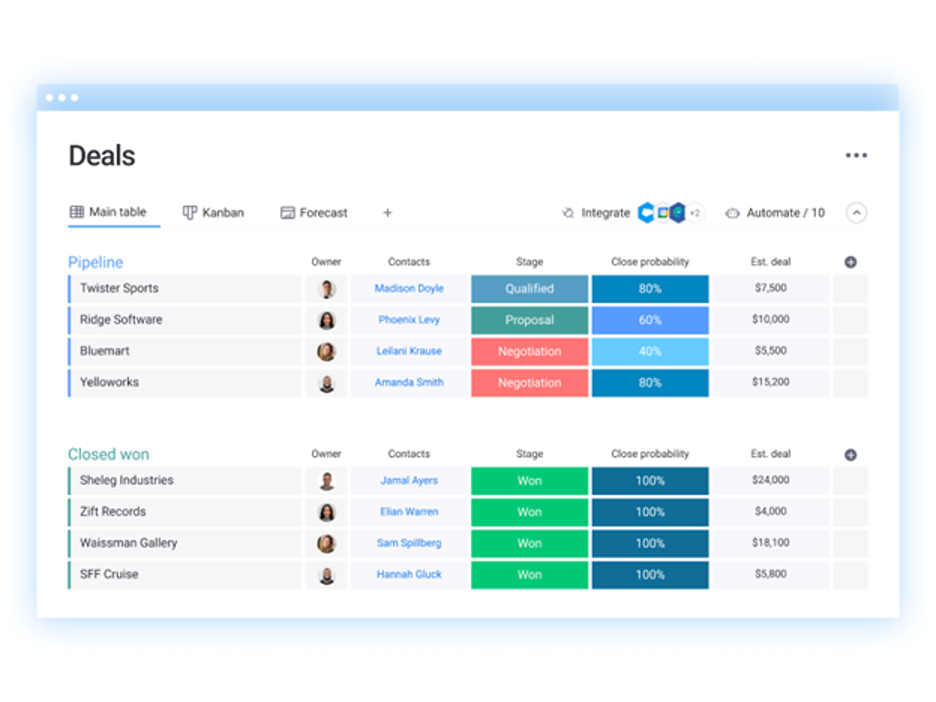 See all current deals in monday Sales CRM's Kanban view. Source: monday.com
Ease of Use
A successful CRM implementation requires easy-to-use software. SMBs often operate with limited IT resources and don't have time for extensive employee training on complex systems. Fortunately, monday Sales CRM offers ease of use right out of the box. 
Here are a few of the features that make monday Sales CRM easy to use:
Customer data management: We found monday's customer data management functionality excellent. Everything is neatly arranged into folders representing different departments or aspects of the sales process. Each folder contains customizable dashboards for tracking customers and leads, cross-departmental projects, campaigns, budgets, timelines and more. It can be challenging for SMBs to get a holistic view of business processes, so owners and managers will find this functionality particularly valuable.
Customizable dashboards: Set up and customize dashboards to suit your business's needs. 
Template-based dashboards and pipelines: Alternatively, use templates to create new dashboards and sales pipelines quickly. (This feature is similar to rival Zendesk's smart list templates. Read our Zendesk review to compare these features.) Template choices include project management, workflow tracking, customer onboarding, support ticket management, invoicing and billing tools, and marketing campaign management. 
CRM-specific templates: We liked monday's CRM-specific templates, which help team members organize contacts, manage leads and create optimized workflows. We also like that monday offers a dedicated CRM template for real estate agents, a sales enablement kit and a sales material repository. 
Business app integrations: We appreciate that business app integrations are easy to set up with monday. Most can be added in a few clicks from the integration center;  no coding is required. In addition to popular choices such as Mailchimp, Slack and Zoom, you can connect to an extra set of apps through Zapier, find additional options in the connected marketplace, or use monday's open API.
Extensive online resources: We like that monday requires virtually no training. However, users who run into glitches or want to learn more can access the company's extensive online resources, a community forum and a dedicated dashboard in the app. You can also find video tutorials and a monday Academy offering interactive courses and webinars.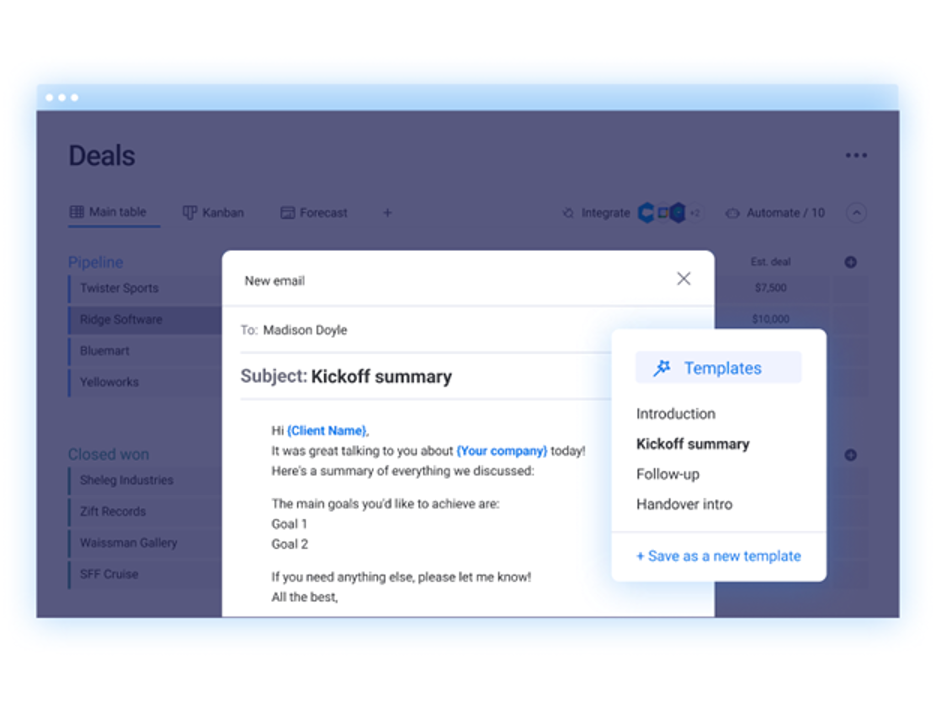 monday Sales CRM provides easily customizable email marketing templates. Source: monday.com
When you import spreadsheets from Excel, Google Sheets, Trello and other popular platforms, monday will keep the original structure automatically. This makes it easier to migrate your data if your SMB is switching CRM systems.
monday Features
monday offers a host of valuable CRM features and tools that help SMBs improve their organizational efficiency as well as their sales, marketing and customer service teams' performance.
Workflow Automation
Automated workflows are an essential CRM feature that businesses use to ensure no details fall off the radar. They give teams more time to focus on their work rather than on updating CRM databases. We like how monday helps businesses use workflow automation to send emails and notifications, advance contacts and deals along the sales process, create reminders and tasks, and facilitate team management. For an SMB, these automations can significantly reduce the time spent on administrative tasks, thereby allowing teams to focus on improving customer relationships and closing deals.
You can choose from an extensive list of predefined automations or create your own using trigger-condition-action formulas. Each dashboard has a set of default automations. For example, you can decide to automatically send a custom email to a newly qualified lead or define the logic for moving deals between pipelines.
Creating automated workflows requires a basic understanding of formulas. If you prefer a CRM with drag-and-drop functionality for automated workflows, read our review of HubSpot and Hubspot comparison.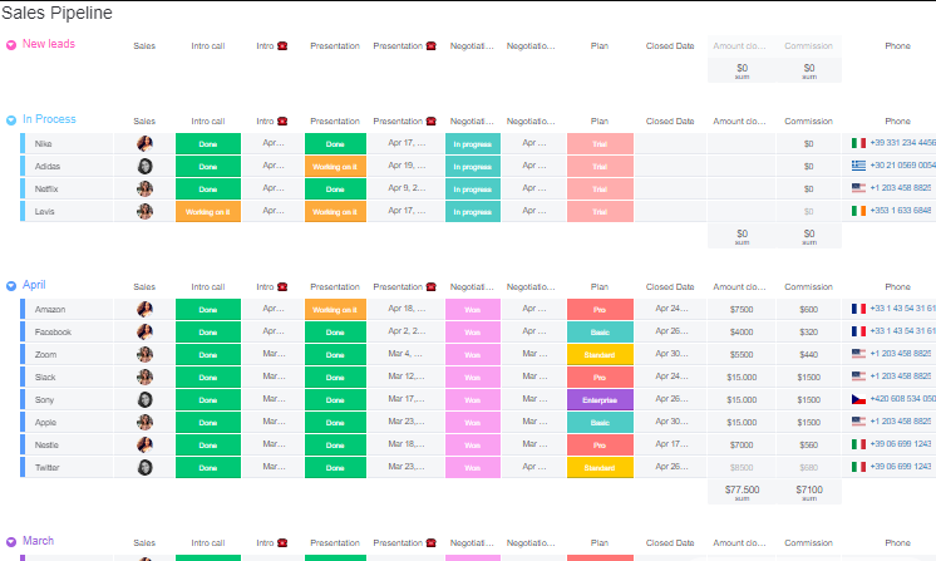 Users can access a handy pipeline management template to track progress and see their next actions. Source: monday.com
Full-Cycle Lead Management
Many CRMs stop helping after a sale is closed, forcing companies to deploy secondary software or other systems to manage post-sale activity. We appreciate that monday helps businesses manage the entire customer journey, including lead generation, invoicing, contracts and onboarding. You can mark a prospect's or customer's stage in the Status column — for example, "qualified," "closing" or "follow-up."
We like that you can create custom dashboards to reflect your business's internal structure and set up custom automated workflows so contacts effortlessly advance through the stages. This functionality makes monday ideal for many business types and industries, from real estate to software development.
We also like monday's lead management features, including the ability to merge duplicates when you're importing leads from two or more sources or working with colleagues on a shared board. Disjointed data in different files is a big problem for many SMBs, and monday solves this problem well.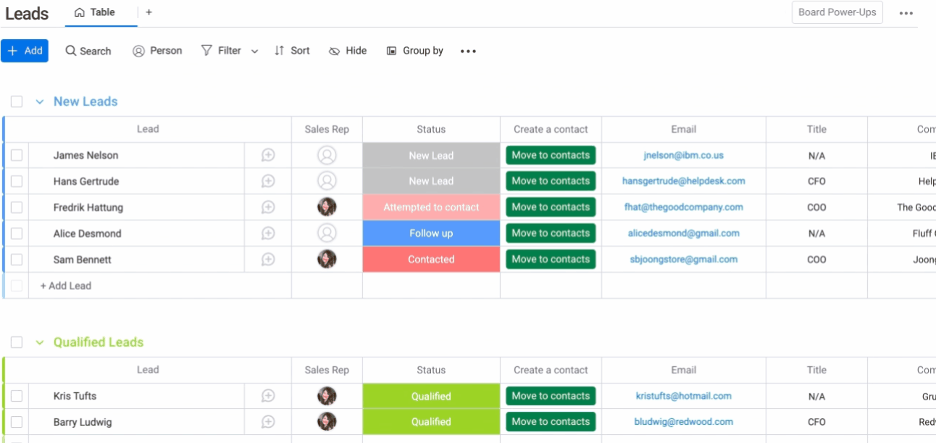 monday Sales CRM's lead-management dashboard is clear and intuitive. Source: monday.com
Data Visualization 
CRM software is great for capturing and managing customer information. However, its real value for SMBs is the ability to use that data to improve decision-making and develop actionable business strategies. 
We were pleased to see that monday offers several ways to view data and share it internally or publicly. 
Kanban view: monday's Kanban view is excellent for drag-and-drop deal management.
Files view: The Files view organizes documents and images for easy access. 
Gantt view: The Gantt view identifies timelines and dependencies at a glance.
Cards view: The Cards view gives you a visual snapshot of key item information.
monday's data visualization functions allow you to do the following: 
You can add as many views and dashboards as you like, so you can visualize the data that matters most to your business's success.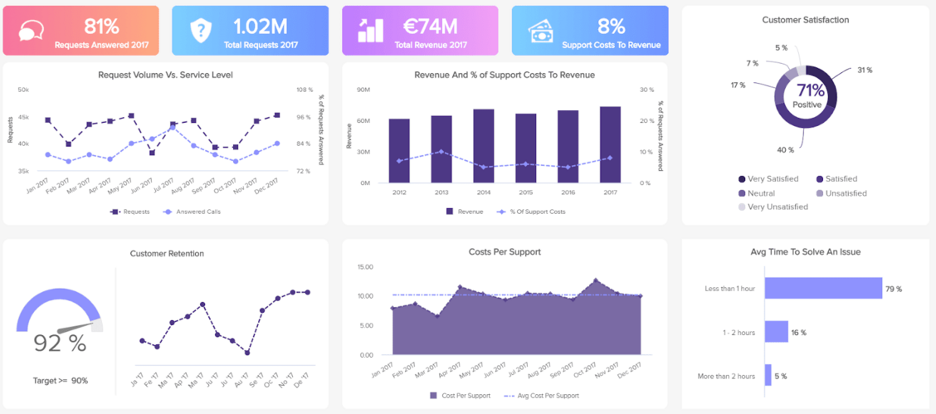 Capture and manage all of your leads in one central location. Source: monday.com
Team Collaboration
Teams and departments often rely on each other to accomplish their work, so everyone must have access to the same information. We were impressed by monday's team collaboration features. For example, ready-made templates and customizable dashboards provide a single point of communication to keep everything on track and improve productivity. 
We also like that SMBs can provide guest access to specific boards and files, making monday a great choice for companies that work with freelancers, contractors or hands-on clients who want to collaborate in real time. Additionally, users can set a work status to indicate whether they're working from home, out sick, on a break, or in a meeting. This visibility ensures smooth and uninterrupted employee collaboration.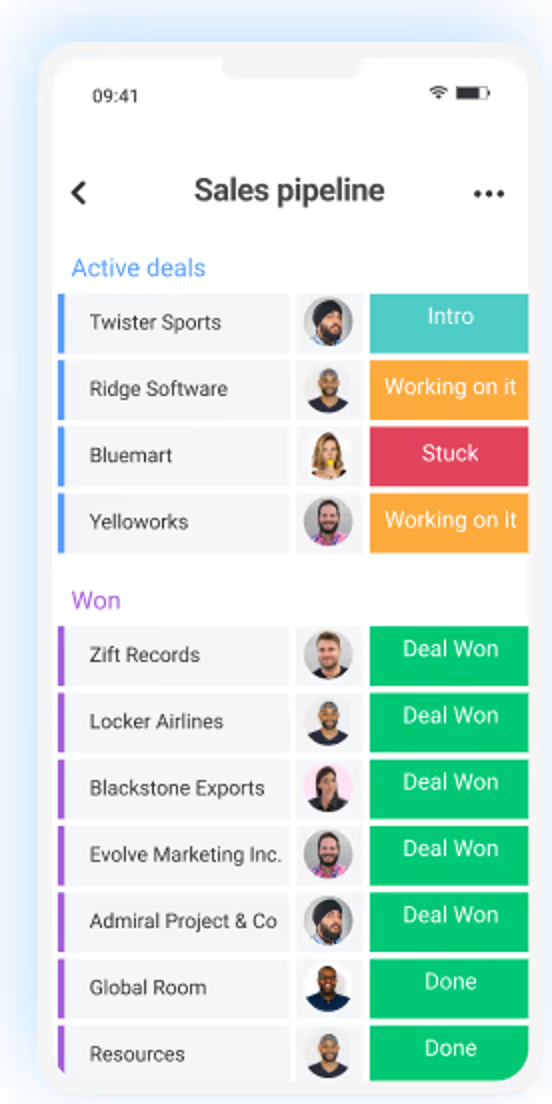 monday Sales CRM's mobile app features built-in collaboration tools. Source: monday.com
monday includes collaboration features in both the desktop version and the mobile app, making the CRM an excellent choice for companies with remote work plans.
Customizable Sales Workspace
monday's customization options help businesses create a CRM that reflects their sales process and fits their specific needs. Here are some of our favorite customization features:
Custom dashboards: We were impressed that users can create custom dashboards for each team or sales stage. They can add as many as 10,000 rows and 200 columns per board. (For enterprise plans, the number rises to 20,000 and 300, respectively.) These custom dashboards neatly arrange all relevant data, such as leads, accounts, opportunities and activities. 
Color-coded labels: Many CRMs we reviewed let you create custom labels for deal stages or opportunity priority levels. However, we like that monday lets you color-code these labels to make it easy to grasp key information at a glance.
Custom widgets: We like that monday lets you populate dashboards with custom widgets that can display calendars and timelines, pending tasks, your sales team's workload, KPIs and targets, and any other information that's relevant to your business. For a sales manager who's under pressure to perform, having live insight into forthcoming activities, sales pipelines and co-worker performance will make it much easier to spot improvement opportunities. 
Lead scoring: monday's customizable lead-scoring function is exceptionally useful, helping managers and reps identify the prospects who are most likely to become customers.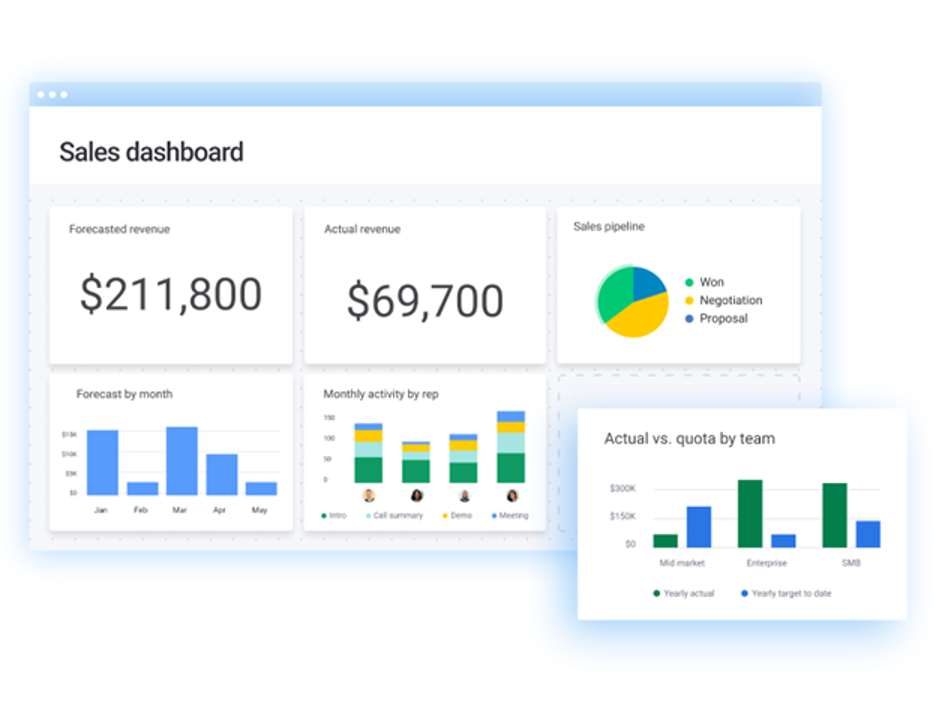 monday allows you to create custom dashboards to accommodate your key CRM data. Source: monday.com
To add some fun to your sales management, visualize your deals as wandering llamas, and turn them green once the deal is closed. Who said sales management had to be all work and no play?
Integrations
We really liked monday's extensive library of integrations. Here are some examples of what the integrations allow you to do: 
Connect the software to Slack, Zoom or Microsoft Teams to facilitate real-time communication and messaging
Attach and share files from OneDrive, Box or Dropbox
Integrate Google's suite of business apps directly into your dashboards
Access integrations with HubSpot, Mailchimp and Hootsuite.
Use the Email & Activities app to track recent lead conversions and updates and set up custom activity triggers for smart workflow automations.
If you can't find the app you need, use monday's integrations with Zapier and Make, which act as gateways to thousands of additional options. 
Although monday's marketplace boasts 150 apps, it doesn't match the extensive selection featured in our Freshworks CRM review.
monday Pricing
monday offers a range of affordable service plans. Its pricing is structured by the number of "seats," or users, but there's a three-user minimum across all tiers. You can choose monthly or annual billing; there's an 18 percent discount when you opt for the annual plan.
The prices listed below represent three seats, billed annually. 
Basic: This plan costs $30 per month and includes unlimited read-only viewers, contacts and customizable pipelines, as well as 5GB of file storage.
Standard: For $42 per month, this plan includes everything in Basic, plus two-way email syncing with Gmail and Outlook; quotes and invoices; Gantt, timeline and calendar data views; guest access; up to 250 automations and 250 integrations per month; and 20GB of file storage.
Pro: For $72 per month, this plan includes everything in Standard, plus private boards; sales forecasting and CRM metrics; time tracking; chart and workload views; email tracking; up to 25,000 automations and 25,000 integrations per month; and 100GB of file storage.
Enterprise: This plan requires you to call for a quote. It includes everything in Pro, plus enterprise-grade security, advanced CRM reporting, lead scoring, team quotas, up to 250,000 automations and 250,000 integrations per month, and 1TB of file storage.
Note that monday used to offer a free plan that allowed two users and limited functionality, but the company discontinued this option. However, monday does offer a 14-day free trial. 
Pricing Considerations
As mentioned, pricing is determined by seat per month. However, you must purchase seats in specific increments: three seats, five seats, and then increments of five up to 30. You can then choose 40, 50, 100 or 200+ users. So, if you have 110 users, you must decide which 10 people won't get access or pay for 200 to have access. 
Businesses with more than 100 or 200 team members may do better with an enterprise-targeted platform. Check out our review of Oracle NetSuite CRM to learn about a suitable enterprise platform. 
Onboarding and Implementation
monday makes CRM implementation straightforward. You can use the cloud-based software anywhere with internet access. All of the technical heavy lifting is done behind the scenes, so new users can log in, create new boards from scratch or with a template, and begin adding tasks. 
Customers who prefer a computer-based work environment can download monday's desktop app for Mac or Windows and follow the same setup process to get started. We like that SMBs don't have to invest in an expensive server to host the platform and service user requests; everything happens in monday's cloud. 
We also like that data migration is simple. You can upload Excel or CSV files, or use the import wizard to get data from platforms such as Basecamp, Jira, Trello and Asana. 
monday offers a video-driven Getting Started course that you can access via the CRM. Paid assistance is available through monday's partnership program for businesses that need additional setup support or training. Pricing varies by the services needed, team size and other factors. Contact monday for a quote. Companies can also pay for staff to take specific monday training courses on topics such as core usage, API, sales CRM and admin certification.
Customer Support
monday's customer support is comparable to the service from many CRM competitors we reviewed. It offers the following: 
24/7 email customer support with all plans
A self-service resource center filled with tutorials, guides and other reference materials
Blogs
A community forum 
You can request a callback from a service rep. However, only the billing team is available to speak with you over the phone. monday is currently a long way from the 24/7 phone support that impressed us in our review of Salesforce CRM and Salesforce comparison.
Additionally, monday offers daily live webinars on how to use the software and optimize its features. Live and on-demand webinars are currently offered in English, Spanish, French, German, Portuguese and Hebrew. The company is in the process of rolling out a chat support option.
monday's Enterprise plan also includes a dedicated customer success manager to assist with onboarding and training. The plan includes continued personalized support for the duration of the subscription.
The customer service department was helpful and friendly when we contacted monday to learn more about onboarding and training options. A representative responded immediately with detailed information on how to get a quote and learn more about the company's partnership training program.
Limitations 
There's much to like about monday Sales CRM's SMB features and functionality. However, we identified a few limitations to consider: 
Complex pricing: While monday's software is easy to understand, the company's pricing structure is surprisingly complex. It changes based on the number of seats, which is fairly standard for CRM software — but instead of calculating pricing based on precise user numbers, the company makes customers choose in increments of three, five, 10, 15, 20 and so on. Those tiers change the price of individual plans accordingly, making it a bit challenging to select a plan that aligns with your budget and accommodates enough team members.
Potential customization overload: monday is extremely customizable, allowing users to shape every aspect of the CRM to their needs. However, the product's greatest strength can be a downside; some users may spend more time tweaking settings than actually using the software. Some businesses may be better served by a CRM system designed for a specific purpose. As an example, see our review of Pipedrive and Pipedrive comparison, which is designed specifically for sales automation.
Required understanding of functions and formulas: A big part of customization is dependent on the use of IF-THEN formulas. While monday offers support materials to facilitate the process, newcomers who are unfamiliar with functions and formulas might find this aspect of the CRM somewhat challenging.
Methodology
When evaluating the top CRM solutions, we conducted extensive comparative research of dozens of software solutions in the CRM category. Our product review process included viewing software demos, corresponding with customer support teams, conducting hands-on feature evaluations, and assessing numerous on-demand webinars, tutorials and support materials. When looking for the best CRM system for SMBs specifically, we assessed scalability and flexibility and focused on features such as contact and deal management, sales enablement, workflow automation, team collaboration, data analytics and available integrations. Our goal is to help you find the right CRM for your business.
monday FAQs
monday started as a project management solution but has since developed a suite of focused products, including a sales CRM. It also has marketing and software management platforms. The platforms can be interconnected, providing a holistic business management solution.
monday offered a free plan that accommodated two users, but the company discontinued that option in 2022. However, students and nonprofits can contact the company to see if they qualify for a free or discounted version of the software. monday also provides a 14-day free trial.
monday's Basic tier will suit many entrepreneurs and small teams who are seeking essential contact and deal management features. However, individual users may be better served by a CRM with a generous free tier, like Zoho. (Read our Zoho review to learn more.)
Bottom Line
We recommend monday Sales CRM for …
Small and midsize businesses that are looking for an inexpensive and effective way to manage marketing and sales pipelines.
Sales teams that are looking to manage the entire customer journey in one place.
Companies that want greater visibility into the performance of their sales, marketing and customer service teams.
We don't recommend monday Sales CRM for …
Businesses that don't want to deal with formulas and functions when customizing their CRM.
Solopreneurs and business owners who need a CRM for a set number of seats.
Nadia Reckmann contributed to this review.