Effective customer relationship management can make or break business success. But with so many CRM solutions to choose from, selecting the right platform is crucial. HubSpot and monday Sales CRM are popular CRM software packages with robust lead handling, marketing and analytics features. We'll evaluate their pricing, integrations and functionality to help your organization find the right CRM software for its business goals and budget.
HubSpot vs. monday Comparison
HubSpot and monday are competitive in several essential CRM features that are crucial to sales-driven companies. 
Lead Handling
HubSpot and monday include features to engage prospects and help them become customers. 
HubSpot
Lead capture and management: We like that HubSpot makes it easy to capture leads through different channels with website forms, live web chat software and mobile device widgets. Each new lead generates a CRM record with details like interaction type and specific interests.
Customer interaction tracking: HubSpot records and tracks all customer interactions across various stages and channels. This feature is handy for marketers and sellers who gain valuable insights into landing pages and campaign effectiveness. Tracking interactions also details where and when prospects drop out of the sales funnel.
Insightful lead quality scoring: We were impressed by HubSpot's dynamic lead scoring system that updates prospect records in real time based on actions (and inactions) that you define. The lead-nurturing tools are also highly customizable; you can trigger specific workflow automations based on lead scores and other attributes.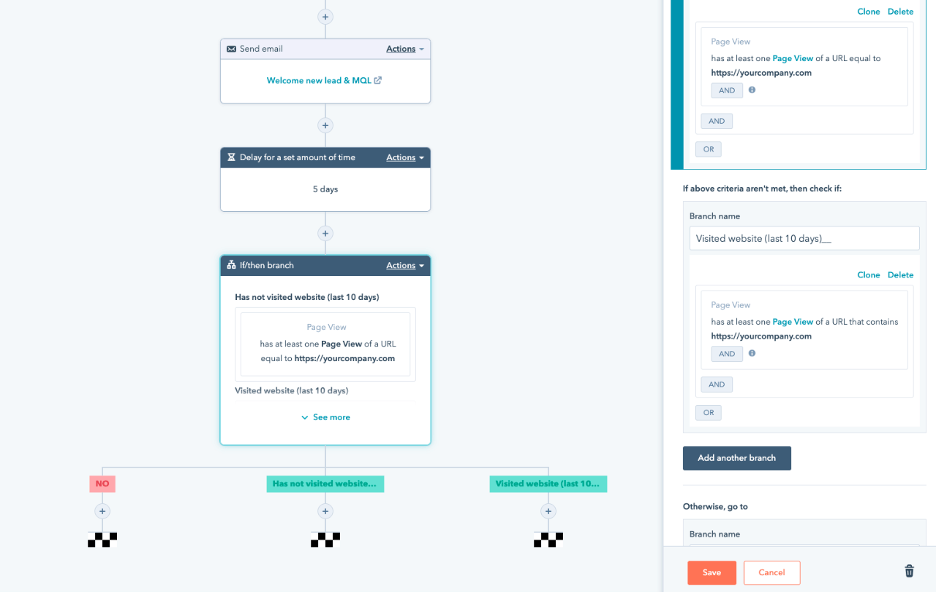 Setting up lead management automations in HubSpot is straightforward. Source: HubSpot
monday
Automated lead management: We appreciate monday's user-friendly approach to working with leads. You can choose from preset automations or make your own using trigger-condition-action rules. You can use automations to send reminder emails, advance deals through your pipelines, and create contact reminders for sales reps.
Lead scoring: monday has a customizable lead scoring function that helps managers and sales reps identify and prioritize prospects primed for successful lead conversion. Set your own rules for how monday scores leads.
Customer journey management: We like how monday manages the entire customer journey, from lead generation through invoicing, contracts and client onboarding. 
Winner
HubSpot handles lead management better, primarily because it's one of the platform's core use cases. While monday has capable lead-gathering and nurturing tools, HubSpot's features are more flexible and provide deeper insights into the customer journey at all stages.
Communications Platform
HubSpot and monday centralize conversations with customers and colleagues across email, voice, messaging, and more on one dashboard for better communication.
HubSpot
Email client: We were impressed by how easily HubSpot connects to Gmail, Outlook and other email providers so you could send and receive emails within the platform. Other features we like include email templates, snippets and shared inboxes for better internal communications.
VoIP: Choose the HubSpot VoIP service or integrate with your existing provider to run campaigns and win customers over the phone. Reps can make calls from their browser; HubSpot's AI-driven call recording and transcription service is impressive.
Text and messaging integrations: We like HubSpot's built-in SMS features and additional messaging integrations. You can connect with customers via private messaging apps like WhatsApp and Facebook Messenger.
Use HubSpot's Campaigns tool to facilitate outbound messaging campaigns, track individual rep performance, and measure campaign ROI overall.
monday
Email apps: Though monday Sales CRM doesn't include a built-in email client, you can easily integrate Gmail, Outlook and other email services. You can send, receive, and manage emails and sync calendars without leaving the platform.
Voice integration: monday makes it easy to execute outbound phone campaigns via apps like PhoneBurner, Zoom and Aircall. Reps can access contacts, add notes, set follow-ups, and record and log conversations.
Unified platform: With monday, you can plug in Twilio for SMS and create automations to trigger SMS notifications. You can even analyze chat data or connect with customers directly on Facebook or WhatsApp through additional integrations.

monday makes it easy to set up integrations with email clients like Gmail. Source: monday
Winner
HubSpot's email marketing, telemarketing, and SMS and messaging app integrations make it the better platform for one-on-one and group conversations with colleagues and customers. monday's communication tools are excellent and suitable for nearly all SMBs; however, they don't have HubSpot's level of sophistication.
Marketing Campaigns
Managing marketing campaigns is critical for lead generation and brand awareness. 
HubSpot
Email marketing: We like HubSpot's email marketing platform. It includes a drag-and-drop editor, free and paid goal-based email templates with customizable layouts and calls to action, and A/B testing options. The Smart Content AI feature, which helps you tailor emails to different market segments, impressed us.
Telephone marketing: HubSpot is ideal for telemarketing teams. It helps managers set rep goals, track rep performance, measure campaign ROI, and host outbound campaigns when connected to the right apps. The impressive AI transcription feature enriches customer records with valuable information.
Text and social campaigns: HubSpot provides built-in or third-party gateways for text message marketing campaigns. We also liked its social media marketing integrations with Facebook Ads, LinkedIn, chatbots and more. These integrations help you manage ad campaigns, social media updates and live chats from your monday boards.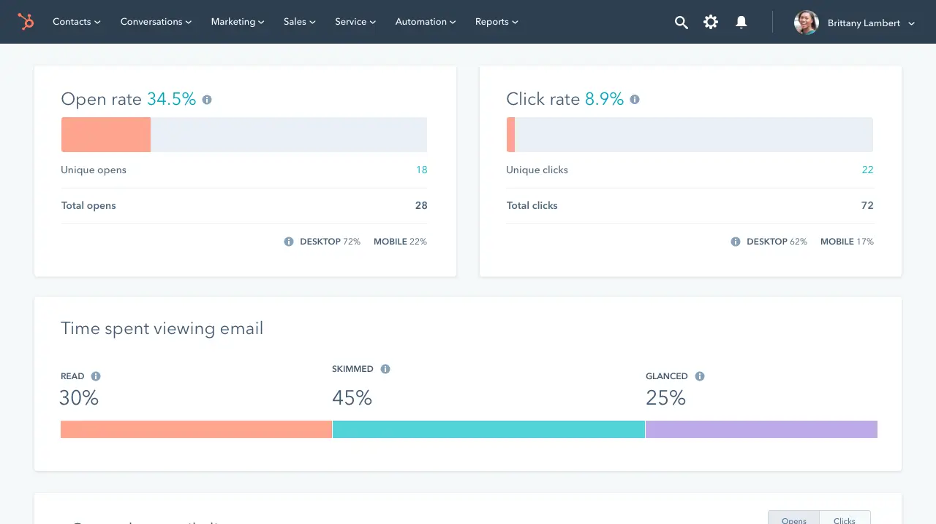 HubSpot provides detailed information on email marketing campaign engagement. Source: HubSpot
monday
Email marketing: Unlike HubSpot, monday relies on third-party apps for email marketing. You can use connected apps for email marketing design via drag-and-drop elements like text, images, buttons and more. You can also use templates and themes to create professional-looking emails.
Telephone marketing: Running telemarketing campaigns from monday requires an integration with PhoneBurner, which syncs with your customer database and provides auto-dialer functionality. You also get click-to-dial, two-way synced databases, unlimited contact synchronization, and disposition-tracking integrations.
Text and social campaigns: Use the Twilio app and SMS templates to run text message campaigns with monday. We like the included social media planning tool and templates; you can plan content and track campaign performance.
Winner
Both platforms rely heavily on third-party apps for external marketing, but that's true of most CRM systems. HubSpot has more built-in functionality; its sheer range of apps means you can access all necessary options. On the other hand, many SMBs may prefer monday's comparative simplicity and board-based system.
Reporting and Analytics
Reporting and analytics transform data into actionable business intelligence. 
HubSpot
Attribution reports: We like how easy HubSpot makes linking revenue and other metrics to specific customer interactions using the platform's attribution reports. These reports offer valuable insights into how customers move through the sales funnel and which advertising channels perform best.
Sales forecasting tools: HubSpot provides sales forecasting tools that use set deal stages in the same sales process; these tools can estimate a sale's likelihood and value. Related tools help companies identify high-demand products and effective sales channels.
Insight into sales tunnel problems: We were impressed at HubSpot's ability to pinpoint sales funnel progression issues, showing you where leads drop. We also like how managers can share objections with marketing and sales teams to further refine the sales funnel.
monday
Customizable dashboards: We were impressed that monday lets you populate and tailor dashboards with custom widgets, displaying calendars, timelines, tasks, KPIs and more. 
Data visualization: monday's excellent data visualization functions impressed us. You can create charts for tracking specific KPIs and monitor team workload; managers gain a comprehensive view of performance and progress.
KPI tracking: monday's KPI tracking offers live insights into sales pipeline stages and co-worker performance, making it easier for sales managers to spot training opportunities and reward success. And its excellent visualization tools help managers stay informed and make decisions using real-time data.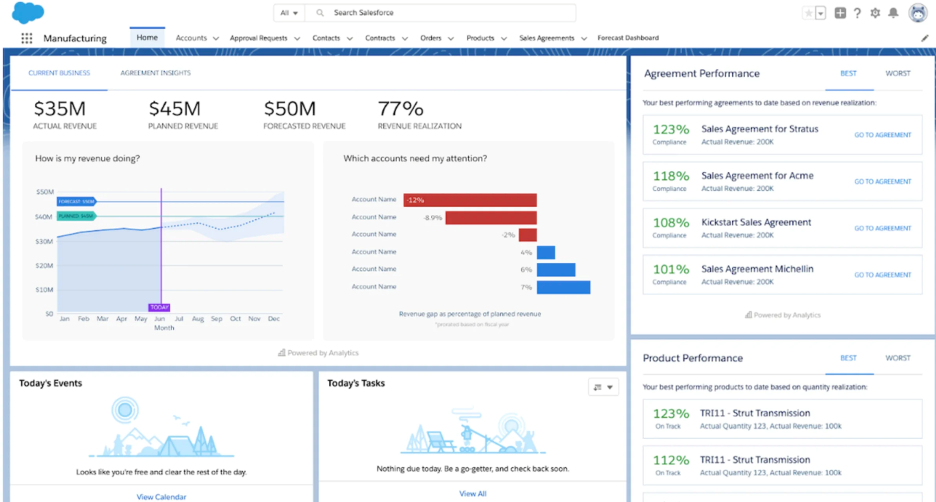 monday's customizable dashboard features helpful data visualizations. Source: monday.com
Winner
HubSpot edges out monday in this category. monday's broad overview and customizable insights are impressive, as are its tailored stage-based dashboards and strong data visualization tools. However, HubSpot offers more focused, actionable data that directly affects sales and marketing strategy. 
HubSpot offers a data migration and import service for new clients that makes switching CRMs less challenging.
Integrations
Expanding functionality via apps and APIs is commonplace for CRMs today. 
HubSpot
Large app marketplace: We were impressed with HubSpot's marketplace, which offers over 1,000 apps users can browse by various criteria. As you'd expect, many sales and marketing apps help you customize the platform for your specific business needs.
APIs and webhooks: HubSpot has an excellent API (both RESTful and GraphQL), which is great for everything from straightforward data transfer and updating to syncing between different systems. Webhooks are also available to alert you of key changes in your HubSpot account.
Integrations and extensions: We were impressed by HubSpot's Data Sync for easy data coordination across various platforms. We also liked its Projects tool for creating interface extensions in the CRM. You can also use Zapier and Make to create custom interactions.
monday
Wide app selection: We like monday's wide selection of around 150 tools to streamline real-time communication and task management. We found integrating the platform with tools like Slack, Zoom and Microsoft Teams easy.
Zapier and Make: Connect monday to a much wider range of apps like e-commerce websites and customer service software via Zapier and Make. You may need a coder or programmer to carry out some integrations.
API platform: monday's open API and extensive integrations impressed us. Its software development kit (SDK) makes it much easier for technical teams to run API queries.
Winner
HubSpot has a clear advantage with its sales and marketing focus, market share, webhooks and API, and users have many options. monday is part of a broader ecosystem; although it has far fewer apps, it matches HubSpot in range but not numbers.
If vast integrations are crucial to your CRM choice, check out our review of Salesforce CRM. This platform offers the most integrations of any CRM we reviewed.
Pricing
Software costs and plan options make a big difference for budget-conscious buyers. 
HubSpot
HubSpot has a free tier with generous tools for marketing, sales, operations and more. We'll detail its paid plans below. Prices reflect monthly charges with an annual commitment. You can opt for month-to-month pricing, but you'll pay up to 40 percent more. 
Plan

Price

Features

Starter

$30 monthly for two users; $25 for each additional user.

HubSpot branding removed from live chat, email marketing, forms and landing pages
1,000 properties per record
10 dashboards with 10 reports each
25 active lists and 1,000 static lists
Document storage
Email retargeting tools
Form automation
Payment processing
Sales automation
Sales content analytics
Two deal pipelines

Professional

$1,600 for five users
$100 for each additional user
One-time $3,000 onboarding fee.

Includes everything in the Starter tier, plus: 

A/B testing
Contact center attribution
Customer reporting
Deal and company scoring
Dynamic personalization 
SEO analytics

Enterprise

From $5,000 monthly for 10 users 

Includes everything in the Professional package, plus 10,000 marketing contacts and additional tools.
There's quite a price jump from HubSpot's Starter tier to its Professional service plan. However, the Professional subscription delivers valuable sales and marketing features that make it worth the cost for the right businesses. 
monday
monday has per-seat (or user) pricing; every tier has a minimum of three seats. We've listed monthly pricing for three seats with annual billing (monthly billing is up to 18 percent more).
Plan

Price 

Key Features

Basic

$30 per month

One-board dashboard
Unlimited free viewers
5GB storage 
Unlimited items

Standard

$42 per month

Includes everything in the Basic plan, plus:

Guest access
Five-board dashboard
Timeline and Gantt views 
Calendar view

Pro

$72

Includes everything in the Standard plan, plus:

Time tracking
Private boards
Chart view 
10-board dashboard

Enterprise

Call for a quote

Includes enterprise-level features like enhanced security and CRM reporting.
Even at the Pro level, monday Sales CRM is much cheaper per head than HubSpot for the vast majority of companies. Note that monday used to offer a free tier with limited features for up to two users. It has discontinued this option but does have a 14-day free trial. 
monday's CRM platform is part of a broader ecosystem that includes monday Work Management (for managing projects and workflows) and monday Dev (for development and product teams).
Winner
The winner here depends on your needs and focus. HubSpot's Starter plan and monday's Basic plan are both $30 per user. But when you add more features, monday becomes notably less expensive, especially for smaller teams. Many SMBs don't need HubSpot's level of complexity and customization, making monday the clear pricing winner.
However, HubSpot has a broader range of marketing-specific features. HubSpot's higher price shouldn't deter businesses focused on revenue generation and customer service. 
FAQs
Is monday similar to HubSpot?
monday is similar to HubSpot in that both can help you improve your sales and marketing efforts. While HubSpot specializes in sales and marketing features, monday also helps you organize your business and simplify processes across your entire company.
What is the difference between HubSpot and monday?
HubSpot specializes in helping companies improve their sales and marketing performance and, to a lesser extent, their after-sales service. monday does this too, but not as thoroughly and comprehensively. monday is also part of a work management and development ecosystem designed to help companies become streamlined and more efficient.
Is monday the best CRM?
Every business is different and requires a CRM that meets its unique needs. monday is best for SMBs that want to improve and streamline sales and marketing, internal organization, and development projects.
Which CRM is better than HubSpot?
HubSpot is ideal for companies that want better results from their sales and marketing teams. However, larger businesses might prefer a more complex system. Check out our Oracle Netsuite CRM review for an example of a more comprehensive system.