Social media has provided multiple platforms where businesses can brand, advertise and ingratiate themselves with their audiences. A strong social media presence can strengthen your company's reputation and visibility while offering a window into your competitors' strategies and activities. 
Today, social media marketing is a crucial element of any business's marketing plan. We've created a step-by-step guide to help businesses develop an effective social media marketing strategy, including pitfalls to avoid and tips to ensure successful social media marketing campaigns.
How to create a social media marketing strategy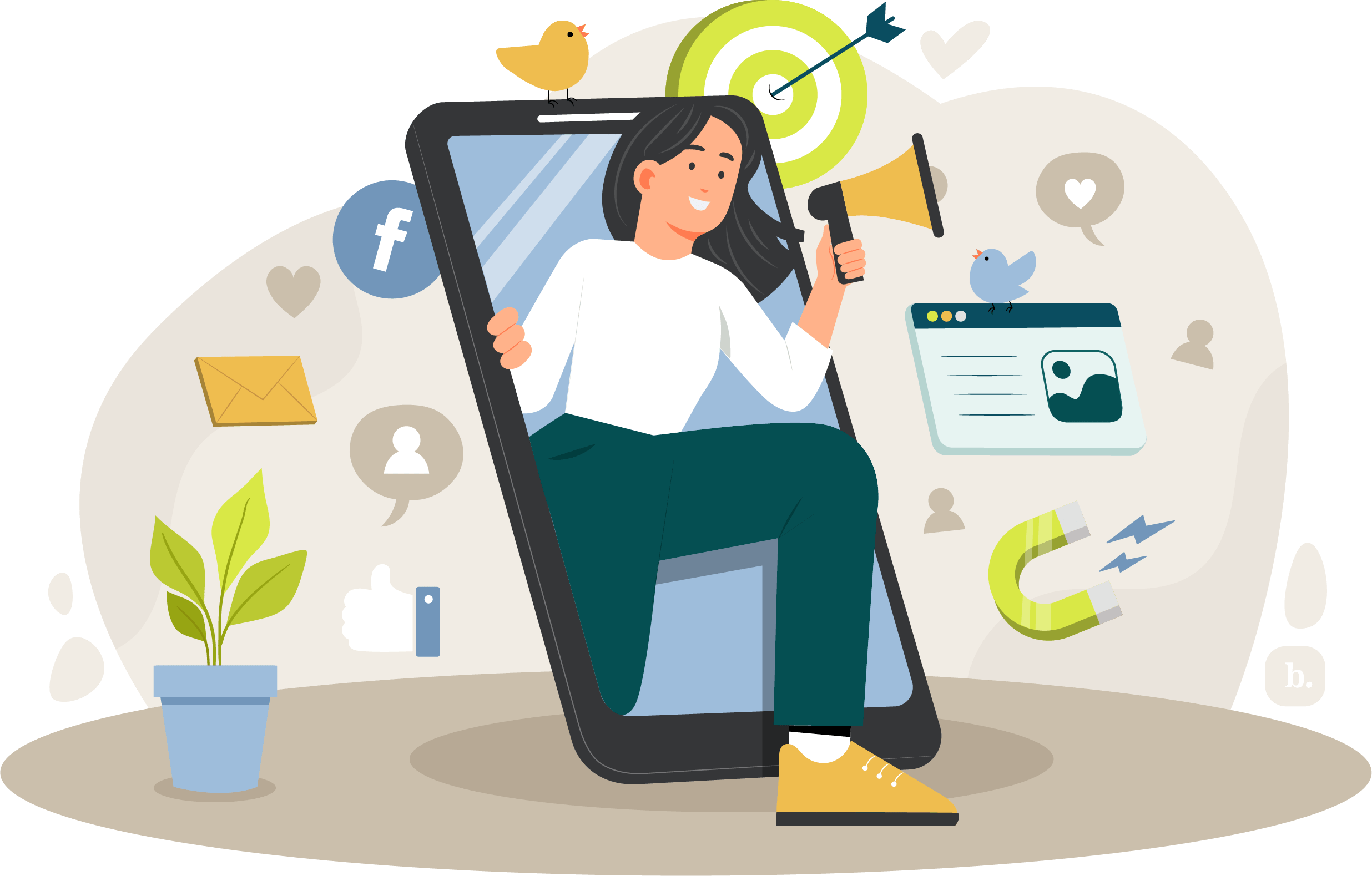 There are seven steps involved in creating a successful and effective social media marketing campaign. Social media marketing is relatively straightforward. However, conducting research and ensuring your strategy suits your business and goals is crucial. 
Follow these steps to set up your social media marketing strategy for success. 
1. Evaluate your business and social media marketing goals.
Examine your business and see what – if anything – you're already doing with social media marketing. Next, determine your social media marketing goals. Setting business goals will inform your social campaign's direction and help you stay on target.
A helpful way to organize your goals is the one-year, five-year, and 10-year format, where you outline where you'd like to be with your social media in one, five, and 10 years. You can adjust this method for shorter periods of time if you prefer.
2. Research your audience to inform your social media content.
Before connecting with your audience on social media, it's crucial to understand who they are and what they need. Thoroughly research your target audience so you can formulate posts and content that address their needs. 
Consider your existing audience, the people you're trying to reach, and how you would classify them according to market segments. Your research will guide your content and ensure a receptive, engaged audience.
Collect survey data from current customers and prospects to better understand their needs, desires and pain points so you can create content that matches their interests.
3. Determine which social media platforms are right for your business.
Using multiple social media accounts is often crucial for reaching your audience. However, there are a lot of social platforms, and not all of them will be right for your business's culture and offerings. 
Here are some of the social media platforms businesses use: 
YouTube
Facebook
Instagram
Pinterest
Twitter
LinkedIn
Tumblr
TikTok
Snapchat
Each social media platform has a demographic that comprises most of its users. For example, professionals and B2B businesses tend to congregate on LinkedIn, while TikTok and Snapchat users tend to be Gen Z and young millennials. Unless you're targeting everyone, you don't need to establish a social media presence on all available platforms. 
When selecting the right social media platforms for your business, consider these strategies: 
Find where your audience spends time online. Consider your business type and where your target audience spends time online. For example, nearly 50% of those over the age of 65 are Facebook, according to the Senior List. So, if you operate a walking cane company, you'll want to focus on Facebook and avoid TikTok. B2B marketers may want to concentrate on LinkedIn and avoid Pinterest. 
Consider platforms you like. If you run a small business, you can think personally, according to personal branding and online business coach Darlene Hawley. "Start with you – what platform do you like to spend time on?" she said. "If you enjoy the platform, then you're more likely to keep showing up, building relationships and engaging with your ideal clients." Using a platform you like also means you're more comfortable with it and understand its nuances, which can go a long way in ensuring engagement.
Consider how many platforms you can commit to. Digital advertising specialist Ashley Monk advised considering your marketing team's scope. She suggested asking yourself, "How many platforms can myself or my marketing team commit to creating quality content for?"
Consider the platform that works for your business type. Your industry or niche may make your social platform choices obvious. "For a smaller brick-and-mortar company such as a boutique, channels such as Instagram that are visually engaging and encourage trends are effective," Monk said. "But for larger brands such as Target, a multichannel approach is essential to engaging a wider reach."
4. Create unique and engaging content on your social platforms.
Before you post on social media, spend time lurking and sharing other posts to get a feel for the platform's culture and how users interact. When you're ready, use your audience research to inform your content, and observe how your audience engages with various content types. 
5. Include your followers to bolster your social media marketing.
Your followers are your most critical social media marketing resource. They will decide your campaign's success or failure by either engaging and sharing your content, or ignoring it.
To include your followers and build engagement, encourage user-generated content. For example, ask them to share pictures and videos of your products in use and post them on your accounts. Here are a few other ideas for building engagement with followers: 
Setting up hashtags specific to your brand
Reposting users' content about your brand
Hosting competitions and giveaways
Highlighting positive customer reviews
Requesting customer feedback via social channels
6. Schedule your posts to keep your social campaign organized.
Once your social media marketing gets going, you might have trouble remembering what posts are going on what platforms, and when they're appearing. To stay organized, consider hiring a social media manager or use intuitive social media management tools. 
You can use social media management tools to write captions, prepare photos and videos, and schedule posts. Some even have centralized dashboards where you can view all your platform content and analytics. This also makes it easy to repurpose your content for different platforms to save time and expand your reach.
7. Analyze your results to inform your campaigns going forward.
If followers are your most important resource, analytics are a close second. Analytics data allows you to measure and improve your marketing ROI and see if your efforts are helping you meet your goals. 
Track key social media metrics, such as engagement, reach, followers, impressions, video views, profile visits, mentions, shares, tags and reposts. Use these metrics to tweak your social media marketing strategy or help you decide on new campaigns. 
Many social sites have platform-specific analytics tools, including Facebook, Twitter, Google and Instagram, or you can use your social media management tool's analytics to track your entire social presence.
Why is social media marketing important?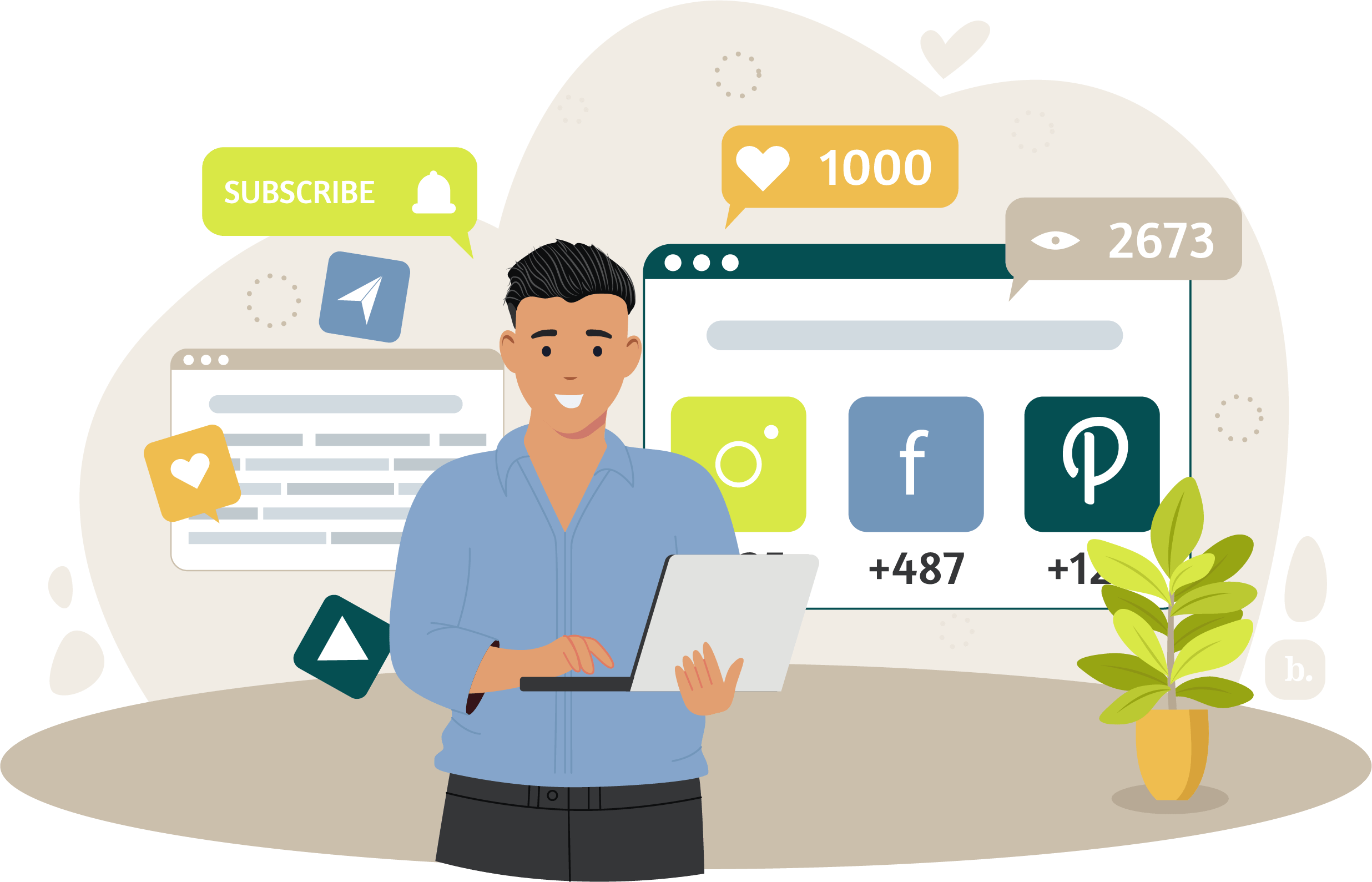 Social media marketing has become necessary for all modern businesses that wish to connect with customers where they are – online. Other social media marketing benefits include the following:
1. Social media marketing increases brand awareness. 
According to Statista, there were over 4.59 billion people on social media in 2022. That means 4.59 billion opportunities to get your brand in front of new customers. Social media increases brand awareness through engagement. You're increasing brand awareness if you create a business page for your company and engage with other social media posts. Social media can also increase your website's traffic through posts, shares, and comments.
"[Social media] is one of the best word-of-mouth tools out there," said Jon Lee, CMO at ana tomy. "All you need to do is get your audience to share to their friends, [and] if you plan your campaign content correctly, you can do that."
2. Social media marketing boosts lead generation and conversion.
Promoting and sharing content on social media is a great way to generate more sales leads and successful lead conversions because you're actively promoting content to people who have already indicated interest. 
Facebook and Instagram have also added a shopping feature that allows social media users to buy directly from a business without leaving the app. This feature helps businesses easily close sales by reducing customer friction and making purchasing easy and convenient. 
3. Social media marketing builds personal relationships with customers.
Customers' desire for genuine interaction is a huge driver of social media marketing's popularity. Before social media, customers felt distant and detached from brands. Social media lets brands and businesses connect directly with customers, giving them a more human touch. Companies can participate in social media trends, chat with customers, and share their human side.
4. Social media marketing helps businesses analyze the competition.
If you're on social media, chances are, your competitors are also there. Social media gives businesses a unique opportunity to see what competitors are doing and what's working for them – and to learn from their mistakes. 
Pay attention to competitors' social media marketing campaigns, how they interact with customers, and how they promote their products or services. This lets you ensure your campaigns are unique to your brand.
"Starting with a competitive analysis may help you discover some holes in your competition's strategy and show you channels they may be missing out on," said Jason Myers, senior vice president of public relations & social media marketing at The Content Factory.
5. Social media marketing gives businesses more brand authority.
A regularly updated online presence goes a long way toward establishing your business as a brand authority. Additionally, regular customer interaction shows you're committed to your customers and care about their satisfaction. Social media makes it easier to resolve customer issues, and since your commitment is visible, prospective customers will feel more comfortable doing business with you.
What about sponsored and paid content?
Because so many social media users report regularly engaging with brands as well as friends, the use of sponsored or paid content has skyrocketed.
Usually identifiable by phrases like "paid post," "presented by," "sponsored by," "promoted" or "advertisement," sponsored content is any content that a sponsor pays a publisher, company or influencer to create and distribute on their social media channels. Sponsored content differs from traditional advertising because it aims to fit in with the regular content on a given social media platform.
Sponsored content can be an excellent mutually beneficial arrangement: The advertiser pays for the content, and the other brand, influencer or account shares it. However, if you are considering sponsored content, remember that social media users tend to be sensitive to posts that feel overly "salesy" or don't fit in with the account's regular content. 
Here are some guidelines to help you find success with sponsored content:
Ensure it adds to the user experience instead of disrupting it.
Don't promote anything that doesn't make sense for your brand or business.
Try to match the tone, look and feel of your other content.
Commit to working with brands that you can fully support.
The same general guidelines apply if you want your content shared as sponsored content by another brand or influencer. Carefully consider who you choose to post your sponsored content, and ensure they match your company's general values and goals. This will make the content seem natural and not out of place on users' timelines or feeds.