Let's look at the basics of the social media platform and explore tips on expanding your brand and engaging with your target audience.
What are Instagram best practices?
Instagram and its algorithms can be complicated. There are many guidelines, best practices and tips available for getting the most out of your efforts to market on the app. It's essential to go through these tips and best practices and find the ones that make sense for you and your business.
Committing to doing it right is one of the most important aspects of taking your brand to Instagram. This could be the difference between success and failure, since you must appease both the algorithm and your followers.
Follow these 15 best practices to set yourself up for success.
1. Post consistently.
You don't want to be an account that shows up on a user's feed and makes them wonder, "Who's that?" To avoid this, set a posting schedule, and stick to it.
While there is no magic number of times to post each week, following industry trends can help you stay consistent. Take a peek at what is working for your competitors and what falls flat.
Keep a close eye on Instagram Insights or your own analytics for times when your engagement seems highest, and aim for those times.
2. Don't overpost.
A major Instagram faux pas is sharing multiple photos as individual posts one after the other. This reads as out of touch and can irritate users, since all those individual photos will show up on their feeds and leave them wondering why you didn't just put them all together in one post.
Consider varying your posting style. Try a reel, story or how-to post to keep your followers entertained and increase your chances of reaching new leads.
3. Only post quality content that makes sense for your brand.
The name of the game for Instagram is quality over quantity. Carefully consider what you post and why. Ask yourself these questions:
How does it relate to your brand? 
Will your followers like and engage with it? 
What purpose does it serve for your business? 
You can use your Instagram analytics to see which content performs best with your audience.
4. Tell stories.
Since Instagram has become so big, it's easy to tell when a user or brand is just "doing it for the Gram," not because they have a genuine message to share. Focus on telling your story through images, video and text, and seek connections with your audience. 
Be memorable. When followers feel an emotional connection to your content, they are more likely to engage and become a faithful social media audience.
5. Know your brand.
To sell your brand, you have to know it inside and out. Like any social media app, Instagram has its own culture and etiquette, so part of your initial marketing plan should be to figure out how your brand fits into that culture.
6. Be visually consistent.
Users will expect visual consistency when they click your brand page. This doesn't mean your Instagram needs to look like one big advertisement, especially since today's users gravitate toward more organic content. 
However, visual consistency is something you should think about and determine early on. What kind of look or vibe do you want your profile to give off? Moody? Bright? Organic? Natural? Whatever you choose, the vibe should be consistent with the rest of your company branding and recognizable to your Instagram followers.
7. Be choosy with hashtags.
Hashtags can make the difference between your post rising to the top of a feed and being buried in a sea of other posts, so it's important to learn which ones work for you and your brand. Overly generic or popular hashtags, like #holiday and #fashion, can send your posts into oblivion, as they will compete with millions of other posts. 
Instead, use industry- or brand-specific hashtags that are easy for users to find and help your content stand out. According to the "creators" Instagram feed, a good number of hashtags to use is three to five per post. While Instagram allows up to 30 on a standard post, a wall of hashtags under your posts can look desperate and unprofessional.
According to a 2022 report by Statista, Instagram user engagement decreased when posts had more than five hashtags.
8. Take advantage of user-generated content.
User-generated content is every marketer's dream. It creates an engagement opportunity for users, reduces costs for your business, and shows users that your brand listens to and values customers. 
Try creating a branded hashtag that followers can use to submit content; then repost applicable and appropriate content to your business page for all to see. Some great examples of user-generated marketing campaigns are Starbucks' #RedCupContest and Coca-Cola's #ShareaCoke campaign.
9. Use Stories for lighter content.
Instagram Stories is a great place for your brand to show a little more personality, day-to-day content or personal tidbits about your business. Stories live on your profile for only 24 hours and can include photos or video clips with music, text, GIFs or stickers layered on. 
Try livestreaming company events or doing employee takeovers for a day.
10. Use Instagram to boost your website traffic.
Instagram allows you to include one clickable link in your profile bio, meaning anyone who accesses your Instagram page is provided the link to your website. You can also insert a link with a "swipe up" call to action in your Instagram Stories, and any Instagram ads you purchase will also have a link to your website.
11. Apply SEO to your Instagram strategy.
While search engine optimization (SEO) and Instagram may not typically go together, applying SEO practices to boost your Instagram presence can go a long way, especially as Instagram becomes increasingly competitive.
There are two main SEO-related areas of your Instagram account: your account handle and your account name. Your handle is your @, which you should make short, memorable and applicable to your business.
Your account name appears under your profile picture and should reflect your account handle and industry. When people search Instagram for you, your account name is what will typically show up.
Along with optimizing your handle and username, you should consider adding relevant keywords to your bio and captions, writing alt text for your photos, asking followers to tag you, and using a social media analytics tool.
12. Be selective about influencers.
If you are considering Instagram marketing with influencers, it's important to consider whom to work with very carefully. No two influencers are the same, and each comes with their own unique audience and areas of expertise. 
This is where knowing your brand and how that translates to Instagram is handy. Influencer marketing can be highly effective, since a given influencer can reach thousands of users with just one post, relevant hashtag or story highlight.
13. Explore Instagram advertising.
With Instagram's advertising program, you can create campaigns to attract users at all sales funnel stages as part of your Instagram marketing strategy. Instagram users have a high engagement rate with ads, and ad recall is 2.8 times higher on Instagram than on other social platforms. Learn more about advertising on Instagram here.
14. Maintain your brand's voice across all content.
Ensure that your Instagram posts and stories align with the rest of your business's communication style. Your social media content should be an extension of your business's culture and voice, so a drastically different communication style can be jarring for your customers. 
To help ensure consistency, develop a set of branding guidelines for all of your promotional materials, including advertisements, internal documents and social media marketing.
15. Engage in the comments.
One of the best ways to build engagement on your posts is to be engaged yourself. Respond to customers' comments as much as possible. This will help build your credibility by showing that you care about what your customers have to say and that you are using social media for a good reason. 
Stick to your branding guidelines to maintain a consistent voice. Lululemon's Instagram page is an excellent example of a consistent voice in comment responses.
Instagram success stories
The following companies are doing social media the right way. Their social media marketing is on point, and they have experienced unprecedented growth in a short period. Use their strategies as inspiration to create your own Instagram posts that keep your customers engaged and coming back for more.
Freddy's Frozen Custard & Steakburgers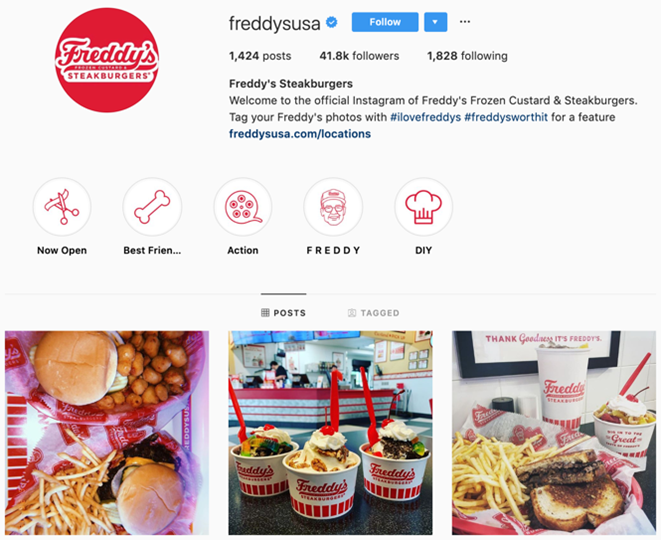 Source: Freddy's Steakburgers' Instagram
The chain restaurant Freddy's uses a simple strategy to increase its followers and improve brand awareness: posting as many delicious food photos as possible. The company allows the menu to speak for itself while also having fun with the Instagram Stories feature by highlighting interactions with founder Freddy Simon. This grounds the restaurant and makes followers feel like part of the restaurant's family.
NASA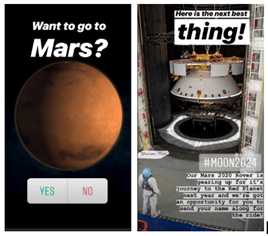 Source: NASA's Instagram
NASA's social media team has utilized Instagram Stories to interact with visitors. The content is easy to understand and delivered in a fun way to appeal to all ages. Instead of posting complex space news, NASA uses great visuals to draw in the audience.
America's Test Kitchen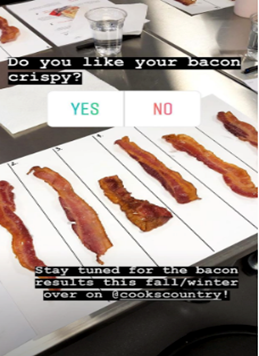 Source: America's Test Kitchen's Instagram
America's Test Kitchen has found success on Instagram by using polls to its advantage. One poll asked visitors whether they preferred crispy or noncrispy bacon. The company includes its handle to increase followers after users view the poll. The brand also uses eye-catching food visuals in all of its polls and other posts to increase clicks.
Tentsile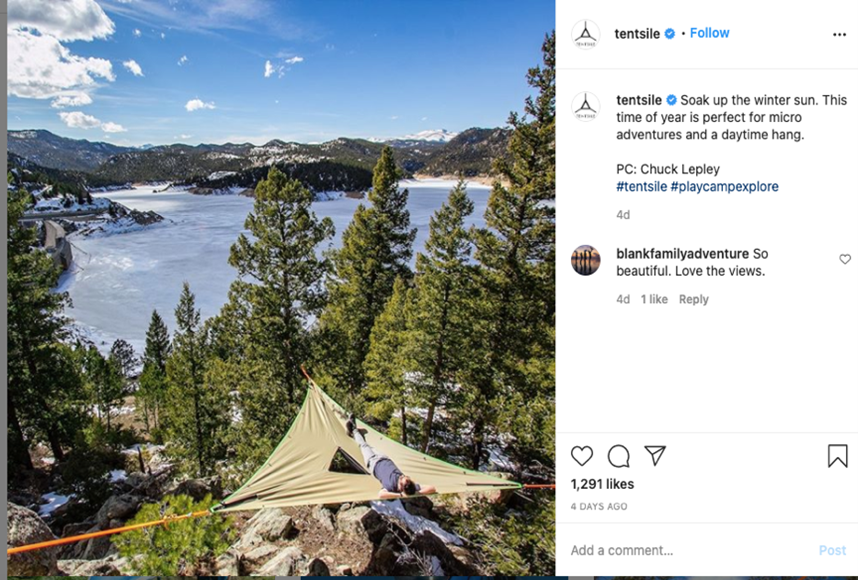 Source: Tentsile's Instagram
This outdoor-gear retailer engages users by showing stunning locations within product placements. The marketing campaign aims to make Instagram users want to share in these experiences. Another great way that Tentsile is making connections with social media users is by sharing user-submitted photos on its Instagram page. Visitors feel a greater impact when they know a photo hasn't been staged by a company.
GoPro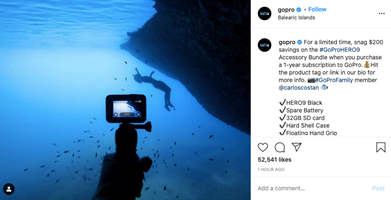 Source: GoPro's Instagram
Another company that uses stunning imagery for its products is GoPro. Its Instagram posts are informative, showing exactly what types of photos you can take with GoPro cameras. The company also uses its posts to highlight any special sales.
Julie Thompson contributed to this article.