QuickBooks Online Review
By Lori Fairbanks
Last Modified: October 27, 2018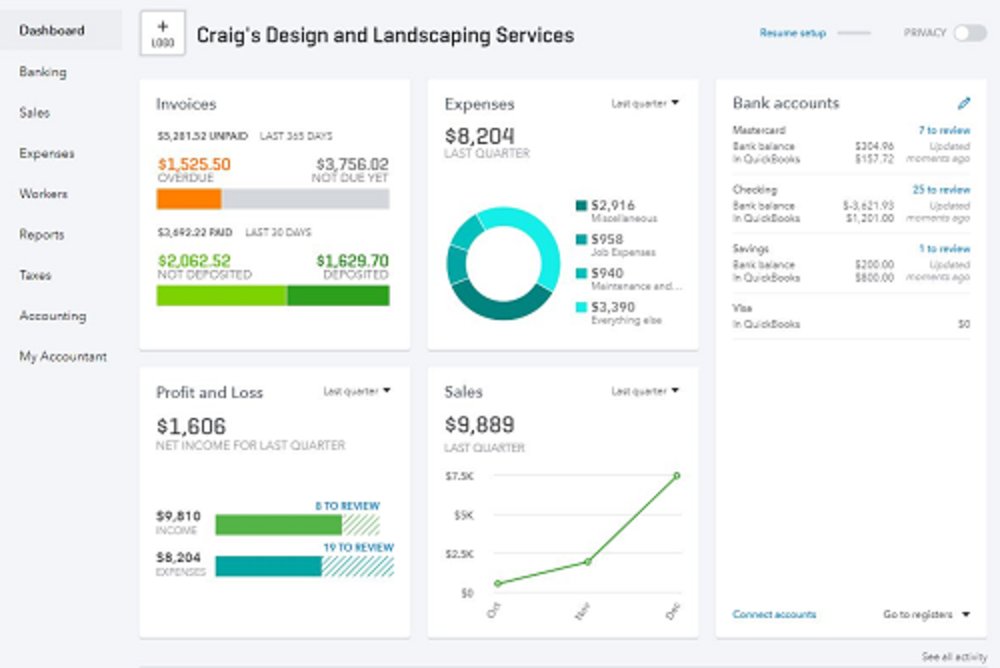 The dashboard displays an overview of income and expenses. You can click any section of a graph to see more information on it.
In the advanced settings menu, you can turn on time tracking, set your home currency and choose a format for dates and numbers.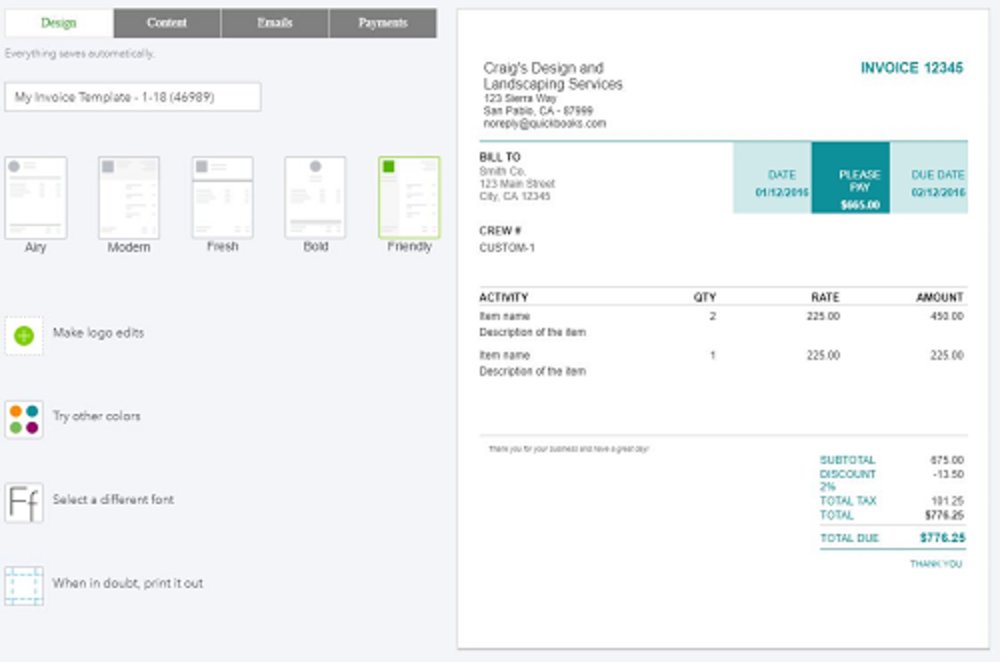 To customize your documents, you can add your logo, then choose a template and accent color.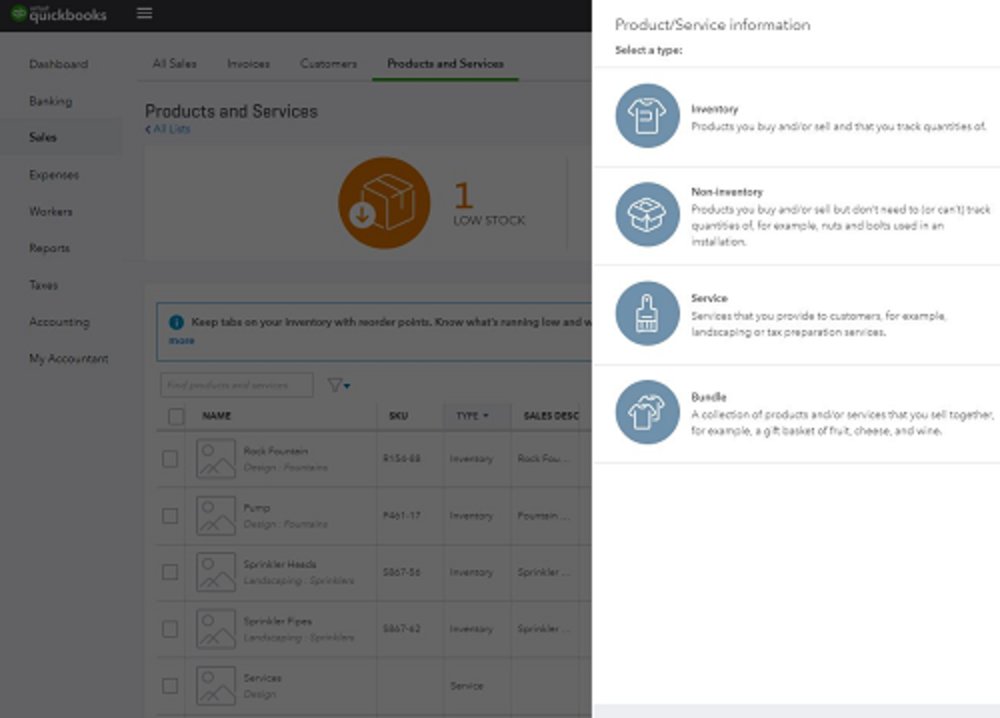 With the Plus plan, this accounting software can track inventory. You can bundle popular inventory items and services together to save the time of invoicing them separately.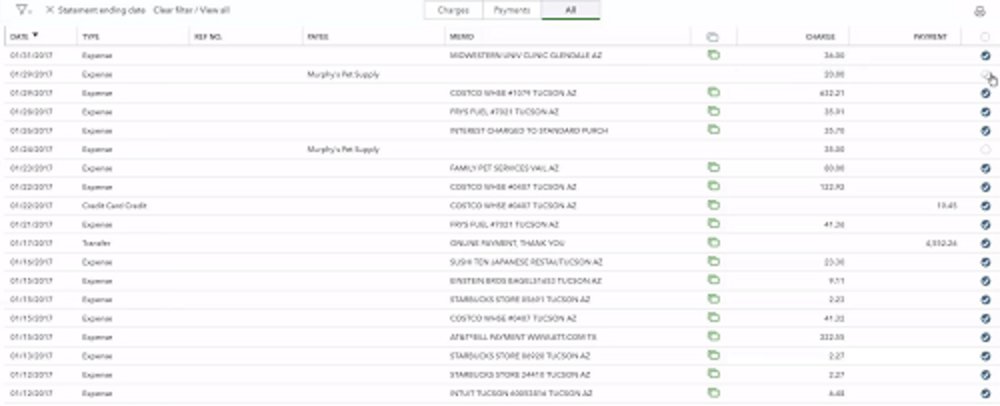 When you reconcile your accounts, the software saves you time by automatically checking off matching transactions.
QuickBooks Online from Intuit is the best small business accounting software we reviewed. It has both accounts receivable and payable features, and it can track projects and inventory, making it a great choice for nearly every business type. If you want to customize the software with additional features, you can choose from hundreds of apps that integrate with this system. QuickBooks Online is updated monthly, and Intuit provides details on its blog about the improvements and new features of each update.

Pricing
QuickBooks Online is competitively priced, offering a plan for self-employed workers and three small business plans. You can add payroll features to the small business plans for an additional monthly fee, and you can choose between a 50 percent discount for the first six months of your subscription and a 30-day free trial.
The Self-Employed plan costs $10 per month and is for a freelancer or independent contractor. It can track income, expenses and mileage, and it has invoicing and reporting features.
The Simple Start plan costs $15 per month and is for a single user. It includes features for invoicing, income and expense tracking, and reporting.
The Essentials plan costs $35 per month, supports three users, and includes all Simple Start features plus time-tracking and bill management tools.
The Plus plan costs $50 per month, supports five users and includes the previously mentioned features, along with the ability to create purchase orders, manage inventory and pay independent contractors.
Ease of Use
This online accounting software, like many of its competitors, is easy to set up. You answer several questions about your business, and it customizes the program based on your answers. After you set up your account, the software prompts you with basic tasks to get started.
Attractive, intuitive interface: Most action items are quickly accessible from the tabs on the side menu or the quick menu that opens when you click the plus sign in the upper right corner of the screen.
Interactive dashboard: The dashboard shows several graphs that give you an overview of your sales over time, income, expenses, and profit and loss. You can click on the images to drill down on that particular set of information. You can also customize the date range for each graph.
Easy invoice customization: You can select from five templates, 18 colors and four fonts in three sizes. You can upload your logo and choose where to place it on the page and how large you want it to be. You can set header and footer text as well as a message to your customers. You can also choose to include an account summary on the bottom of your invoice, which could be useful if you'd rather not send out monthly statements.
Timesaving Features
Good accounting software should save you time and automate tedious tasks. QuickBooks Online has several timesaving features:
It converts estimates to invoices with a single click.
You can track and invoice billable hours and expenses, and include unbilled charges on your recurring invoices.
It can link related documents together automatically. For example, it adds a note on the invoice that there's a linked transaction, and you can click on it to see the type (such as an estimate or billed time), date and amount of that transaction, along with a link to open that document.
You can create recurring invoices and schedule automatic payment reminders.
You have the option to accept invoice payments online by setting up QuickBooks Payments or add an integration for a third-party payment processor, such as PayPal or Square.
Smart reconciliation tools identify and automatically match your bank transactions with those you've entered into the software. You can also create banking rules to further streamline reconciliation.
Mobile apps, available for both Android and Apple devices, show an overview of your business and allow you to create invoices, capture receipts and reconcile transactions on the go.
Other Features
Generate many different reports, including aged receivables and a general ledger. Set your frequently used reports as favorites to make them easy to find.
Manage inventory and vendors, and create purchase orders. QuickBooks Online can handle an unlimited number of inventory items. You can add images of inventory items and bundle together products or services that are frequently sold together.
Track inventory. When you create estimates, invoices or purchase orders and add a product, you can see how many of that particular item you have in stock.
Manage fixed assets, track bills and print checks.
Additional Considerations
Ongoing business education is available through the company's Resource Center, which features articles, video tutorials and step-by-step guides. For customer support, you can contact the company via phone or live chat. A user forum and training classes are also available through the company's website.
QuickBooks Online uses bank-grade security to protect your data, and you can opt in to two-factor authentication. You can set user permissions to control the access of employees you invite to the system, and the software includes an audit log that tracks every login and logout as well as every change made to your files.
This accounting software is suitable for businesses with one or multiple locations, and it can also track classes if your business is organized by department.
Nonprofits in need of accounting software can use the small business plans, and you can use the statements feature to send end-of-year donation letters noting summaries to your donors.
Drawbacks
Some features are only available in the midlevel (Essentials) and premium plans (Plus).
You can't upgrade the Self-Employed plan, so if your business is growing or you think you might hire an employee soon, you'll want to choose one of the small business plans.
The small business plans don't include a mileage-tracking tool, so if you need this feature for your employees, you'll need to find an app for it that integrates with the system.
You'll need multiple subscriptions if you run multiple businesses, though a discount is available and you can use the same login information for them.
The plans limit the number of users, so keep in mind how many users will need to access the software when selecting a plan. Your accountant receives free access and doesn't count as a user.
QuickBooks Online is one of the best accounting software applications we reviewed. It can meet the needs of most small and midsize businesses, including those with multiple locations and departments. It's affordable, includes nearly every accounts receivable and accounts payable feature we looked for in our testing, and has multiple timesaving tools.

Ready to choose your Best Accounting Software and Invoice Generators? Here's a breakdown of our complete coverage:

Lori Fairbanks
Lori Fairbanks has years of experience writing and editing for both print and online publications. After graduating from Brigham Young University with a Bachelor of Arts in English, she worked as an editor for Creating Keepsakes magazine and then as a freelance writer and editor for a variety of companies, including marketing firms and a medical university. She now writes for Business.com and Business News Daily.