QuickBooks Online from Intuit is our pick for the best accounting software for small businesses. It has a range of diverse features and a user-friendly interface that makes it easy for small teams to navigate.
Pros
QuickBooks Online's leading market position means most accountants will be familiar with the software.
The software integrates with more than 650 business apps, including Amazon Business, Square, Shopify, PayPal, QuickBooks Time, Fathom and SOS Inventory.
QuickBooks Online's comprehensive feature set includes multiple built-in reports, such as aged receivables, general ledger, profit and loss, and trial balance.
The platform is regularly updated with new and advanced features and tools. Up next for the solution is the addition of AI.
Cons
You can't easily upgrade the Self-Employed plan. If your business is growing or you think you might hire an employee soon, you'll need to choose one of the Small Business plans.
You'll need multiple subscriptions if you run multiple businesses.
The plans limit the number of users; keep in mind how many people will need to access the software when you select a plan.
Small business accounting is a crucial element of starting and operating a company. Small businesses need a diverse array of features and integrations at an affordable price point to help them manage their finances. For many years, QuickBooks has been the leading accounting and bookkeeping solution for small businesses. It's an affordable, one-size-fits-all product that's packed with features, supports multiple integrations, and is easy to set up and use. For these reasons, QuickBooks Online from Intuit is our pick for the best accounting software for small businesses. 
Intuit QuickBooks Online Editor's Rating:
9.4 / 10
Payments

9.5/10

Automatic invoicing

9.5/10

Third-party integrations

9.0/10

Mobile app

9.5/10

Customer service

9.5/10
Why We Chose QuickBooks Online as Best for Small Businesses
When it comes to small business accounting solutions, QuickBooks is the clear market leader in the industry, and for good reason. Most small business owners aren't accountants or bookkeepers and need straightforward accounting tools that meet their needs and preferences. 
While QuickBooks alternatives may be best for specific use cases, we found that QuickBooks Online's breadth makes it the best overall pick for small businesses that need a one-size-fits-all solution from a widely recognized brand. QuickBooks Online gives you everything you need to support your operations, including accounts receivable and accounts payable features. 
QuickBooks Online lets users track projects and inventory, making it an excellent choice for nearly every business type. It offers a range of service tiers that allow you to scale up as your business grows. And if you want to customize the software with additional features, you can choose from hundreds of apps that integrate with QuickBooks Online.
We also like how QuickBooks continues to innovate and add new features and tools to its platform. For example, more recent additions to the system include Commerce Accounting. This allows businesses to easily connect online sales channels, such as Amazon, Shopify and eBay, to QuickBooks. This helps reduce the amount of manual data entry needed.  
Additionally, in September, QuickBooks will unveil how it is adding AI to its platform. We are excited to see how this enhances an already robust solution.
QuickBooks Online can help small business owners avoid typical accounting mistakes like overstating cash flow, forgetting to pay invoices, and incorrectly tracking income and expenses.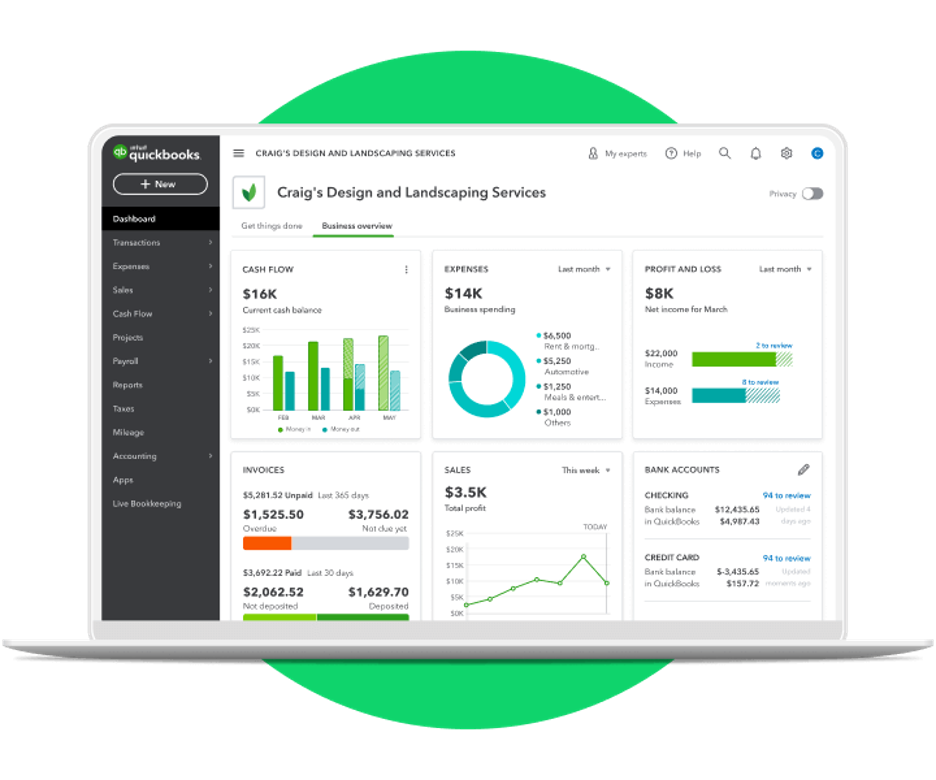 QuickBooks Online is a full-featured accounting solution that tracks income and expenses and helps you stay ready for tax season. Source: Intuit
Ease of Use
After testing QuickBooks Online, we think users will have an easy time navigating and learning the software. Although QuickBooks Online's feature-packed user interface can sometimes feel a bit busy, we found the layout logical. GAAP accounting can be confusing for people without accounting expertise, but QuickBooks includes many data visualization tools to make it easier. The dashboard shows several graphs with overviews of your sales over time, income, expenses, and profit and loss data. Click on the images to drill down into each data set. We like that you can customize the date range for each graph.
We were also impressed by how easy it is to customize invoices and forms. QuickBooks gives you several templates, accent colors, fonts and font sizes to choose from; you can also upload and position your logo or brand image. We like that you can choose which information to include in the header, select which columns to include in the body of the invoice and edit their labels and widths, customize the text, and add a message to your customers in the footer.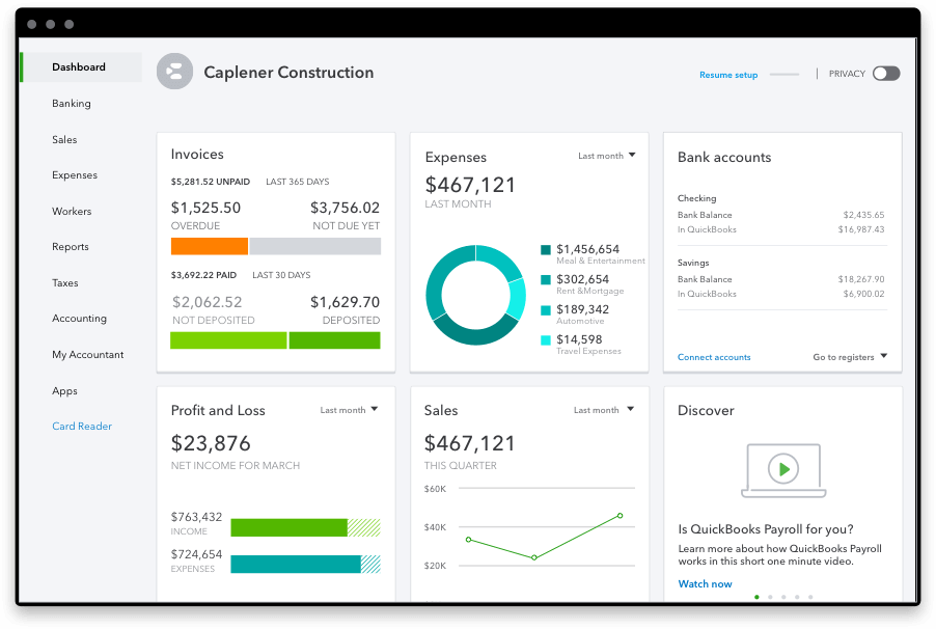 The QuickBooks dashboard provides a helpful overview of some key financial metrics. Source: Intuit 
QuickBooks Online Features
Starting a business is stressful. However, good accounting software will help you save time by automating tedious, error-prone tasks. QuickBooks Online stands out among the competition for its high-level accounting software features, including the following: 
Automation
We were impressed by QuickBooks Online's automation tools, which stand out among some competitors we reviewed. Don't know how to reconcile a business bank account? QuickBooks features automatic bank feeds that import your business checking account and credit card transactions and smart reconciliation tools that identify and automatically match your bank transactions with those you've entered into the software. You can create banking rules to further streamline reconciliation and categorization. 
We like that QuickBooks can automate payment reminders, recurring invoices and bill payments. It automatically backs up your data to the cloud, saving you the time it would take to do it manually.
One new feature we really like is the ability to match transactions in QuickBooks with foreign currency bank accounts. In an increasingly globalized environment, this is a valuable feature for businesses that operate abroad. 
Invoicing
Creating professional invoices could be the difference between your business getting paid and your invoice being ignored. For this reason, we appreciate how thoroughly QuickBooks handles invoice creation. Its invoicing features are more robust than those of many competitors we reviewed.
QuickBooks Online's excellent invoicing functionality includes the following: 
Mobile device optimization: We like that QuickBooks invoices are optimized for mobile devices. You can quickly create and send invoices from the QuickBooks browser version and mobile app. Another cool feature: QuickBooks supports an app that allows you to invoice directly from Gmail.
Invoice payment button: If you set up online payments through QuickBooks Payments or a third-party processor like PayPal or Square (read our Square review to learn more), you can add a payment button to the invoices. That makes it quick and easy for your customers to pay.  
Estimate creation: We like how you can create estimates using QuickBooks Online – a unique feature. Once a customer approves an estimate, you can convert it to an invoice with a single click. The software automatically links related documents to keep your billing organized and prevent duplicate invoices.
Recurring invoices and payment reminders: Additionally, you can create recurring invoices and schedule automatic payment reminders. The software lets you track and invoice billable hours and automatically includes unbilled charges on your recurring invoices.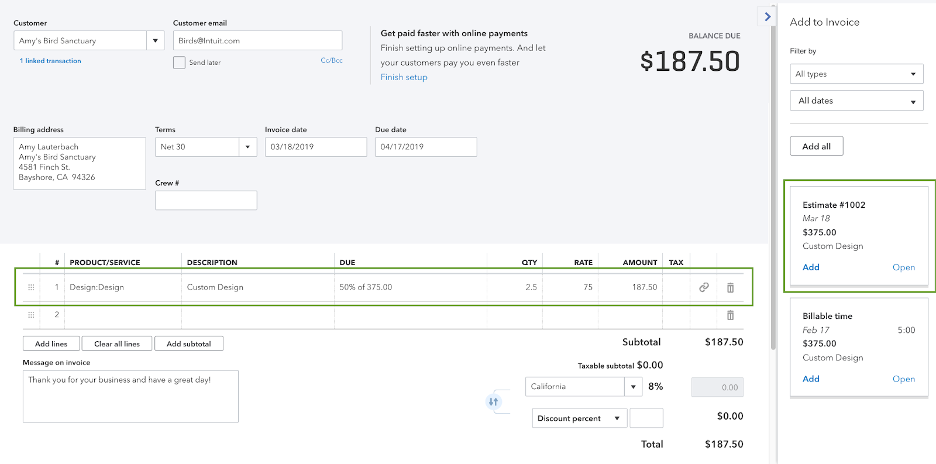 QuickBooks Online lets you invoice customers for partial payments to keep project payments organized and connected. Source: Intuit
Inventory
We were impressed by QuickBooks Online's inventory features. Plus and Advanced plan users can manage inventory and vendors and create purchase orders. You can add images of inventory items and bundle products or services frequently sold together, saving you from having to enter them on an invoice separately. You can also track inventory, and the software shows you how many of a particular item you have in stock when you're creating estimates, invoices and purchase orders. This feature is extremely helpful for businesses that maintain extensive inventories.
We like that the software alerts you when it's time to reorder inventory. Once your inventory arrives, QuickBooks converts the purchase order into a bill. You also get on-demand reports, giving you real-time insight into which products are doing well and which are languishing.
If your business has complex inventory needs, you may find value in one of the best POS systems, which have extensive inventory management tools.
Mobile App
We like that QuickBooks Online's mobile app gives you an overview of your business activity and allows you to accomplish multiple accounting tasks wherever you are. View dashboard data, create and send invoices, accept payments, capture receipts and attach them to expenses, reconcile transactions, view customer information, and message customers from the app.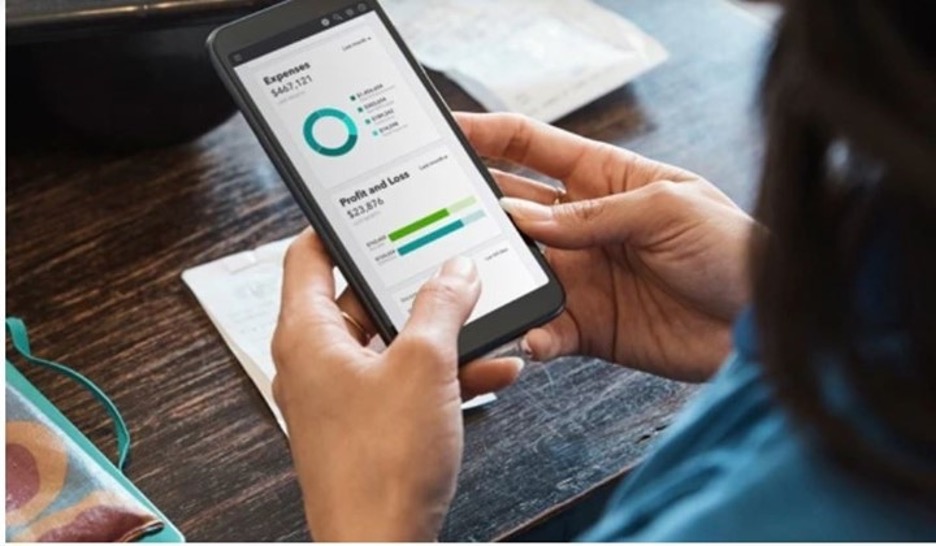 QuickBooks' mobile app makes it easy to manage your business on the go. Source: Intuit 
Reporting
QuickBooks Online shines when it comes to report generation, outperforming many competitors. QuickBooks Online has multiple built-in reports, including aged receivable reports, general ledger reports, profit-and-loss statements, balance sheets, and trial balance reports. We liked that you can set frequently used reports as favorites to make them easy to find; the software can automatically run reports and email them to you on a schedule you create. The insights in these reports can help you leverage data analytics to make better business decisions.
Third-Party Integrations
QuickBooks Online's extensive third-party integrations set it apart from many of its competitors. Instead of manually exporting and importing data between QuickBooks and your other business programs, you can automatically sync data between systems. QuickBooks integrates with top POS systems, the best e-commerce platforms, the best CRM software, project management solutions, payroll systems, and more.  
QuickBooks integrates with more than 650 business apps, including Amazon Business, Square, Shopify, PayPal, QuickBooks Time, Fathom and SOS Inventory. 
Check out your in-depth QuickBooks Time review to learn about this top time and attendance system for businesses with mobile workforces.
Security
We appreciate that QuickBooks Online uses bank-grade security to protect your data and that you can enable two-factor authentication. You can also set user permissions to control the access of employees you invite to the system. The software includes an audit log that tracks every login, logout and file change. These safeguards should help you prevent employee accounting fraud. 
QuickBooks Online Pricing
QuickBooks falls on the higher end of the cost spectrum compared to other accounting software packages we reviewed. At a minimum, you'll pay $20 monthly for the basic Self-Employed package. The most popular plan, which includes inventory tracking, clocks in at $90 monthly. 
Several competitors we reviewed offer many of the same basic features at much lower price points. However, at the higher end, it's tough to beat QuickBooks Online's array of features and widespread use among accountants. 
QuickBooks regularly offers discounts, so be sure to inquire about introductory offers before purchasing. The prices we've listed below reflect monthly costs without discounts.
Small business subscriptions
Self-Employed plan: The Self-Employed plan costs $20 per month and is geared toward freelancers and independent contractors. This bare-bones plan includes income and expense tracking, receipt organizing, quarterly tax estimating, basic reports, and miles tracking.
Simple Start plan: The Simple Start plan costs $30 monthly and is designed for a single user. It includes everything in the Self-Employed plan, plus cash flow analytics, tax deductions, sales tax calculation and 1099 preparation tools.
Essentials plan: The Essentials plan costs $60 monthly and supports three users. It includes all Simple Start features, plus time tracking and bill pay and management tools.
Plus plan: The Plus plan costs $90 monthly and supports five users. It includes all Essentials features plus the ability to track project profitability and inventory. This is QuickBooks Online's most popular plan.
Advanced plan: The Advanced plan costs $200 monthly and supports 25 users. In addition to the features in the Plus plan, it includes one license of Smart Reporting powered by Fathom, up to 20 classes, on-demand online training, a dedicated account team, and the ability to automate workflows and restore company data.
You can add payroll features to a small business plan for an additional monthly fee. A demo allows you an up-close view of the software before committing. 
QuickBooks also offers Desktop Pro Plus for $549 per year and Desktop Premiere Plus for $799 annually. (There's also an Enterprise version, but you must call for pricing.) However, the QuickBooks desktop versions lack many of the features available in the cloud-based version, so carefully review the details before deciding. 
If you're deciding between QuickBooks Online and QuickBooks Desktop, you should understand some major changes. QuickBooks Desktop is no longer available as a one-time purchase. You'll need an annual Pro, Premier or Enterprise subscription. And Intuit strongly recommends that all customers move to QuickBooks Online.
QuickBooks Live Bookkeeping
A QuickBooks live bookkeeping service is available to QuickBooks Online customers. There is a charge for an accounting cleanup and onboarding for the first month, the cost of which is determined by sign-up month, tax filing status and your business's start date. After that, you'll be charged monthly based on your average monthly expenses over three consecutive months:
If your monthly average is up to $10,000, the service costs $200 per month.
If your monthly average is $10,001 to $50,000, it's $300 per month.
If your monthly average is $50,001 or more, it's $400 per month.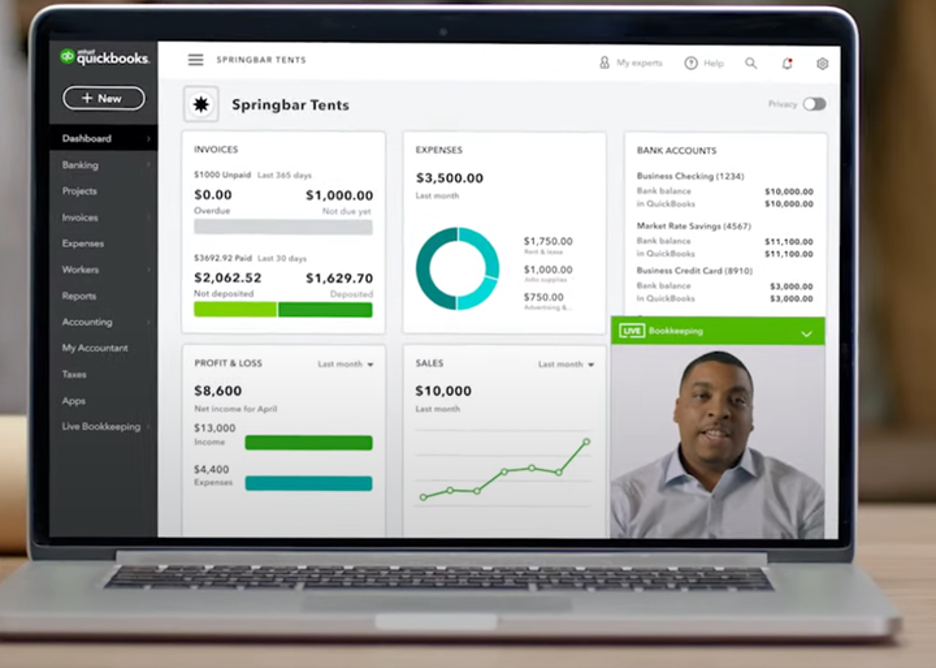 With QuickBooks, you get access to a live accountant who can work with you in real time. Source: Intuit 
Implementation and Onboarding
We really like how easy QuickBooks Online is to set up. On the QuickBooks website, you can start by taking a quiz to match you with the best plan. The brief survey asks several questions about your business needs, including which features you'd like as part of your software package and the number of employees on your payroll. At the end, QuickBooks will present its recommended plan. We found this setup feature to be a nice value-add other competitors we reviewed don't offer. You can also speak to a QuickBooks representative directly for more one-on-one help.
Once you set up your account or free trial, connecting your bank account to QuickBooks takes only a few minutes. If you need additional help, you can purchase a one-time session with a bookkeeper, who will walk you through setting up your chart of accounts, connecting your bank accounts and automating processes. Although this feature costs extra, we like that less tech-savvy business owners have the option of in-person assistance at a relatively low price point. 
Customer Service
In an age when many cloud-based software solutions skimp on customer service, we like that QuickBooks offers its customers multiple support resources. You can contact the company for help by phone or live chat, search the company website's knowledge base, or ask questions in the community forum. You can also watch tutorial videos or webinars and enroll in training classes. The company posts information about new features and software updates each month on its blog, along with articles of interest to small business owners.
If you want in-person assistance, QuickBooks gives you access to local certified QuickBooks ProAdvisors who can give you one-on-one help with using the software for your business. Compared to some of the lower-priced options we reviewed, QuickBooks users certainly get their money's worth when it comes to customer service.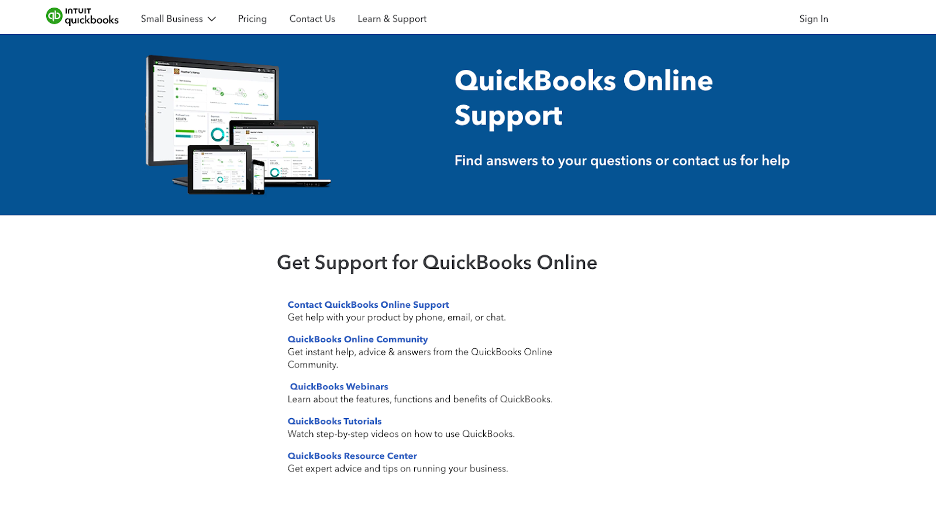 QuickBooks Online offers multiple online support options for customers, including an online community and tutorials. Source: Intuit
Limitations
Although QuickBooks is by far the leading accounting software solution, it does have a few limitations: 
Upgrading from the Self-Employed plan is challenging. One potential downside of the QuickBooks pricing system is that you can't easily upgrade from the Self-Employed plan – the lowest-cost subscription at $15 per month. Although upgrading is technically possible, the process requires you to download your data and reimport it into QuickBooks after the update. This is much more complexity than we would like from the market-leading accounting software provider. 
The software may lack niche features. QuickBooks is a more generalized, one-size-fits-all solution than some of our other best picks. The software lacks some of the niche features that e-commerce businesses or those that process many physical transactions may want. Businesses that must track time for billable hours might want to look into our FreshBooks review and FreshBooks comparison, while those focused on enterprise resource planning might appreciate our review of Oracle NetSuite.
Accounts payable has limitations. QuickBooks also lacks the comprehensive vendor network that would make it an effective player in the accounts payable space. Processing accounts payable is a vital part of running a business, so small business owners may want to consider software that supplements QuickBooks' capabilities. 
Check out our review of Melio to learn about an accounting solution that can supplement QuickBooks on the accounts payable side.
Methodology
We researched and analyzed dozens of the best accounting and invoicing software solutions to help small businesses choose the right accounting software for their needs. We reviewed payment and invoicing capabilities, integrations, mobile apps, report generation capabilities, supported user counts, and customer service. We also assessed pricing and free trial availability. Our information sources included the company's website and software demos. Additionally, we studied user reviews for independent opinions on the software's pros and cons. When looking for the best accounting software for small businesses specifically, we focused on value, user-friendliness and how the software's features would make small business owners' lives easier. 
QuickBooks Online FAQ
QuickBooks Online is an accounting software package designed to manage bookkeeping, inventory, taxes, bank account reconciliation, budgeting, expenses, and other business and financial functions.
QuickBooks features an intuitive user interface and isn't difficult to navigate. However, users who aren't tech- or accounting-savvy may require additional support, which QuickBooks offers.
QuickBooks helps business owners keep records according to the double-entry accounting system (i.e., debits and ). You may still need to hire an accountant to proofread your records and verify that you comply with tax laws and regulations.
Bottom Line
We recommend QuickBooks Online for …
Business owners who want a software package that is widely recognized and used by accountants and bookkeepers. 
Businesses that need their accounting software to integrate with many different third-party apps. 
We do not recommend QuickBooks Online for …
Businesses that can't afford to pay at least $15 per month for accounting software. 
Niche businesses (such as those in e-commerce) that require more specialized solutions instead of a mass-market, one-size-fits-all software package.