QuickBooks Time Review

Jeff Hale
business.com Contributing Writer
Updated Jul 01, 2022
It can be difficult and tedious to keep accurate and up-to-date records of the time your employees work when they are out of the office. To operate successfully, businesses with mobile employees must overcome issues such as failure to clock in or out accurately and intentional time theft. QuickBooks Time helps to solve or mitigate many of these potential problems with time tracking software and scheduling tools that keep accurate records of your workers and their assigned tasks. QuickBooks Time gives managers and employees the features and tools they need to track their time and projects from iOS and Android devices as well as laptop and desktop computers. The company also offers excellent customer support for administrators and employees alike. 

QuickBooks Time
The Verdict
QuickBooks Time offers a standout set of advanced features for clocking in and out, tracking work and managing an entire workforce conveniently from a mobile device or computer.
QuickBooks Time Editor's Score: 9.6/10
| | |
| --- | --- |
| Ease of use | 9.9/10 |
| Features | 9.6/10 |
| Integrations | 9.6/10 |
| Pricing | 9/10 |
| Customer service | 9.9/10 |
Why We Chose QuickBooks Time for Mobile Workforces
We selected QuickBooks Time as our best pick for mobile workforces because it is clearly designed to support workers who perform their jobs across a variety of sites or customer locations. Features such as geofencing and GPS tracking make it easy for remote workers to remember to clock in and out when arriving at or departing their job sites for any reason. 
Once an employee has clocked in, managers can track the employee's location throughout their shift and receive regular updates throughout the workday. At a glance, managers can see who's on the clock, which location they're at and even which project or task they're working on at any given time. Managers can also use built-in employee scheduling tools to instantly assign new tasks from their mobile device. Employees are notified immediately, so they know where they're expected to be and when.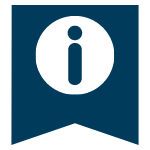 FYI: QuickBooks Time makes it easy to ensure that your team members are abiding by your company's attendance policies.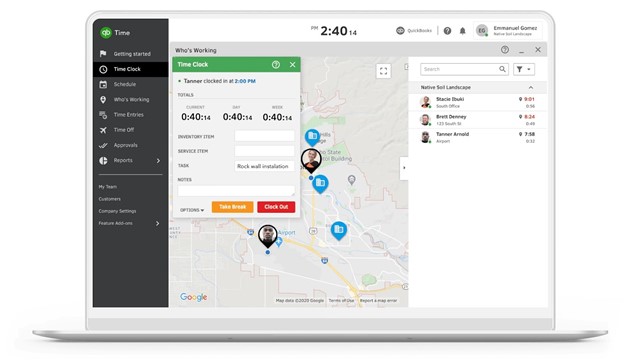 What We Like About QuickBooks Time
QuickBooks Time's geofencing makes it easy for employees to remember to clock in and out with a high degree of accuracy when they arrive at or depart the job site.
The system's ability to track jobs, projects and tasks alongside hours worked can help improve projections and efficiency.
What We Don't Like About QuickBooks Time
The inclusion of a base monthly fee in addition to the standard monthly employee fee is not common among similar service providers.
The photo capture feature does not work the same across all devices.
Ease of Use
Above-average customer support, a representative-assisted setup and an intuitive interface across devices contribute to making QuickBooks Time an incredibly user-friendly time and attendance system. 
The cloud-based software is easy for employees and managers to access through the browser-based dashboard and iOS or Android app. With the app, offsite and mobile employees can clock in and out, add relevant notes or attachments, view their schedules, request time off, check current or future paid time off (PTO) balances, and edit timesheets when permitted.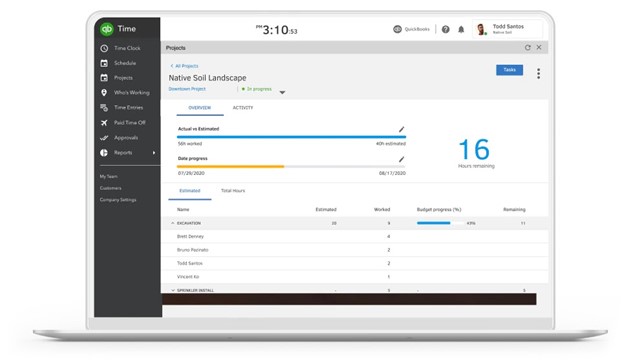 Businesses can also improve their operations by managing and tracking time against projects or tasks to accurately predict project requirements and staff them appropriately. Managers can compare budgeted hours to actual hours worked, monitor progress, track hours on specific tasks and run real-time reports to improve communication and accuracy and boost profitability. According to QuickBooks, customers can add 11% more billable time to their invoices by tracking every second worked.
Features
QuickBooks Time has impressive features and tools for tracking time and scheduling employees. The software makes time tracking especially easy and accurate with GPS tracking, timesheets, photo clock-in, custom alerts, two-way communication and multiple timecard options. We found it particularly valuable that the software also supports scheduling for employees, jobs and shifts.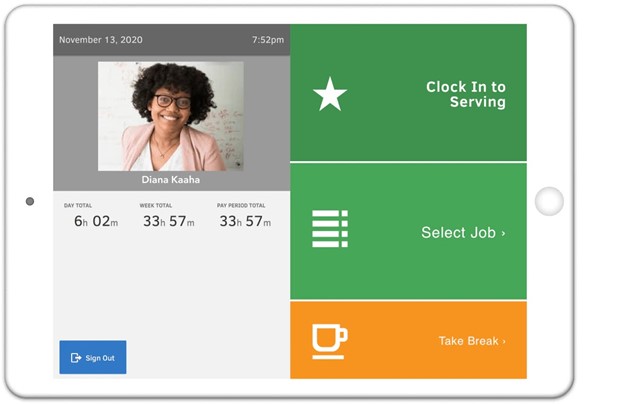 Time Kiosk
This tablet-based tool serves as a digital punch clock for employers that want to provide a centralized device for clocking in and out. We like that employees can track time at the job site with their four-digit PIN, which is bolstered by a photo capture feature to help prevent time theft and buddy punching. Employers can also add a location to each device to let administrators and managers see where each timesheet originates. We found that it takes only around 20 seconds for an employee to sign in, clock in and sign out using the kiosk.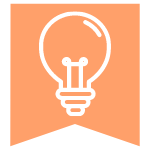 Tip: You can use the photo capture option as a replacement for true time and attendance biometrics in an effort to prevent employees from clocking in and out for each other.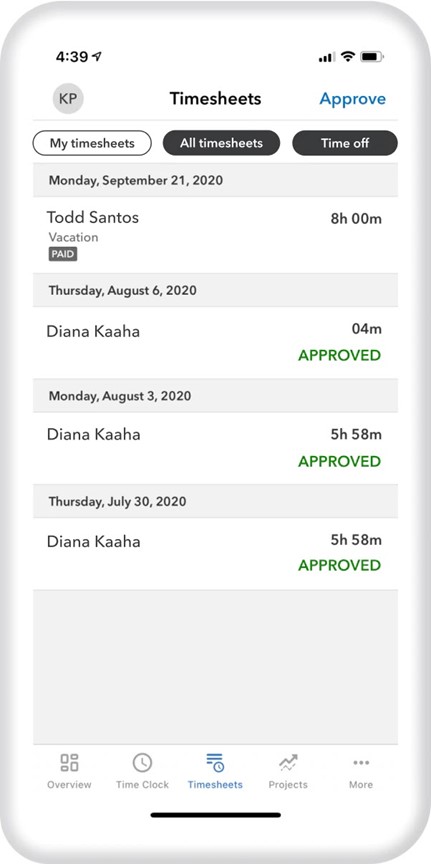 PTO Tracker
You can automatically track and manage your employees' time off with custom paid and unpaid time-off policies. Employees can request time off by a specific hour or day and see current or future time-off balances at any time. If you allow it, your employees may also enter their time off directly into the system without going through an approval process. 
Administrators can submit bulk time off for teams, locations or individual employees simultaneously. QuickBooks Time also includes custom notifications to alert employees and managers throughout the request and approval process.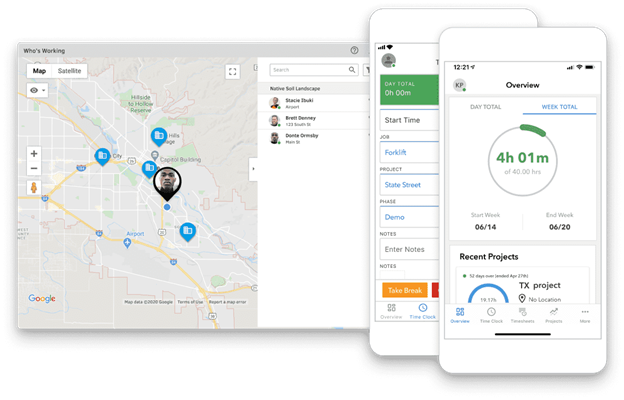 GPS Time Tracker
We like how easy QuickBooks Time makes it to track remote and offsite workers. Once your employees clock in, the app logs their exact location and provides updates throughout their shift. You can use this feature for real-time coordination, mileage tracking and geofence tracking that reminds employees to clock in and out from the job site when they arrive and depart. Although a lot of time and attendance systems offer geofencing, few offer the ability to track workers' locations in real time throughout the day. 
On average, the QuickBooks Time mobile app uses 5MB of data per month. According to QuickBooks, 95% of mobile app customers use less than 30MB of data each month.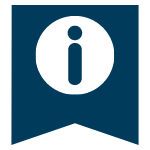 FYI: QuickBooks Time does not record the locations of employees when they're clocked out.
Pricing
QuickBooks Time is available through two subscription levels. Both plans require a flat monthly fee and a per-employee monthly fee. Most competitors, by contrast, charge based only on the number of employees or users. All plans include one administrator account, comprehensive scheduling capabilities and expert support over the phone or online. 
Premium: The entry-level Premium plan costs $20 per month, plus $8 per user per month. It includes a mobile app with GPS, job and shift scheduling, time-off management, photo attachments, payroll, invoicing, unlimited live customer support and more.
Elite: The Elite plan costs $40 per month, plus $10 per user per month. This plan includes everything in the Premium plan, as well as mileage tracking, geofencing, timesheet signatures, advanced project tracking and more.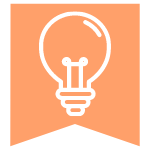 Tip: We recommend taking advantage of QuickBooks Time's 30-day free trial, which is longer than average for time and attendance systems.
Implementation/Onboarding
Of the time and attendance systems we examined, QuickBooks Time was among the easiest to implement. A support specialist is available to assist your account administrator in getting everything up and running quickly. If you prefer to tackle the setup on your own, you can use the software's Getting Started feature to walk you through the steps of setting up your company, onboarding team members, tracking projects and preparing for payroll. If any employees run into issues with setting up their accounts, QuickBooks representatives will be ready and able to offer support on an individual basis. 
Customer Support
QuickBooks Time's customer support is stellar. Whereas many competitors offer support only through email and chat, QuickBooks has unlimited phone and live chat support on weekdays from 9 a.m. to 9 p.m. ET for both administrators and employees. 
During our interactions, we were pleasantly surprised by the high level of support and lack of sales pressure we received before we had committed to a contract. In addition to the excellent customer support, QuickBooks offers several valuable self-help and expert-assisted resources, including quick-start guides, webinars, training courses, videos, articles and even the option to outsource your bookkeeping duties for an additional fee.
Limitations
One drawback of QuickBooks Time is that it charges a monthly base fee for an administrator's account, which was relatively uncommon among the time and attendance software we reviewed. Depending on the plan you select, you can expect to incur an annual charge of $240 to $480 for your administrator's account. While this may not be a significant expense for most businesses, it is notable for calculating the total cost for your company. Cost-conscious businesses may want to consider lower-priced options, such as When I Work or OnTheClock. You can learn more in our review of When I Work.
Another limitation is that the photo capture feature is available only for the onsite Time Kiosk; it would be nice to see it offered to all mobile app users. The current user interface is optimized for iPads and tablets in landscape view (1024 x 768 pixels), which doesn't make for the best experience on smartphones.   
What Is Time and Attendance Software?
Time and attendance software provides a fast, accurate and easy way for employees to record their hours worked using any computer, mobile device or digital time clock. These robust systems replace wall-mounted punch clocks, paper timesheets and unreliable spreadsheets for in-house and remote employees. Beyond the ability to accurately record billable hours with detailed information on the work accomplished, all time and attendance systems feature native support or integrations with popular payment software and tools to automatically handle payroll and even help file taxes in many cases. 
Methodology
Our editorial team spent weeks researching and testing the best time and attendance systems. We tested each platform using the widely available free trials, paying special attention to each system's ease of use, features, integrations, pricing and customer service. In the end, we found nine worthwhile time and attendance systems for businesses of all sizes to consider and identified providers for a wide range of use cases, such as for automation, hybrid teams, employee productivity and scaling businesses. When looking specifically at solutions for businesses with mobile workforces, we paid close attention to the options for clocking in and out remotely, as well as the geotracking and geofencing capabilities.
FAQs
Are TSheets and QuickBooks Time the same?
Yes, TSheets was rebranded as QuickBooks Time; they are the same product in terms of core functionality and overall user experience. 
Is QuickBooks Time tracking free?
You can take advantage of QuickBooks Time's 30-day free trial and allow your employees to clock in and out through the mobile app for Android and iOS devices. After the trial period ends, you will need to pay for one of the two product subscription plans to continue using the service. 
Bottom Line
We recommend QuickBooks Time for …
Businesses with large mobile workforces.
Businesses that want to track offsite workers.
Businesses that already use Intuit's accounting, bookkeeping, payroll, inventory management or other software solutions.
We don't recommend QuickBooks Time for …
Businesses that are looking for the lowest-cost scheduling software.
Businesses with especially complex and highly customized time and attendance requirements.

QuickBooks Time
The Verdict
QuickBooks Time offers a standout set of advanced features for clocking in and out, tracking work and managing an entire workforce conveniently from a mobile device or computer.

Jeff Hale
business.com Contributing Writer
Jeff Hale is a writer and editor based in San Diego with a background in business development and marketing. He has identified new market opportunities for Fortune 500 companies and developed communications strategies and digital branding for tech startups and small businesses. Jeff covers emerging technologies and business solutions with a focus on efficiency and growth. He holds a Bachelor's degree in English from the University of California, Irvine, and an MBA from Chapman University.