QuickBooks Time offers a standout set of advanced features for clocking in and out, tracking work and managing an entire workforce conveniently from a mobile device or computer.
Pros
QuickBooks Time's geofencing feature makes it easy for employees to remember to accurately clock in and out when they arrive at or depart from a job site.
The system's ability to track jobs, projects and tasks alongside hours worked can improve projections and efficiency.
You can set hours tracked through QuickBooks Time to automatically sync with your payroll system and other business software.
Cons
QuickBooks Time charges a monthly base fee, which isn't very common among similar service providers.
The photo-capture feature doesn't work the same way across all devices.
It can be difficult and tedious to keep accurate and up-to-date records of the time your employees work when they're not in the office. To operate successfully, businesses with mobile employees must overcome issues like failure to clock in or out accurately and intentional time theft. QuickBooks Time helps solve or mitigate many of these potential problems with time-tracking software and scheduling tools that keep accurate records of your workers and their assigned tasks and locations. QuickBooks Time gives managers and employees the tools they need to track their hours and projects from mobile devices as well as laptop and desktop computers. For these reasons and more, QuickBooks Time is our choice for the best time and attendance solution for mobile workforces.
QuickBooks Time Editor's Rating:
9.5 / 10
Price/value

9/1/10

Features

9.7/10

Customizations, add-ons and integrations

9.6/10

Ease of use

9.7/10

Customer support

9.4/10
Why We Chose QuickBooks Time for Mobile Workforces
We selected QuickBooks Time as our top time and attendance system for businesses with mobile workforces because it is clearly designed to support workers who perform their jobs across a variety of sites or customer locations. Features such as geofencing and GPS tracking make it easy for remote workers to remember to clock in and out when arriving at or departing their job sites.
Once an employee clocks in, managers can track the employee's location throughout their shift and receive regular updates. At a glance, managers can see who's on the clock, which location they're at, and even which project or task they're working on at any given time. This level of mobile oversight is more comprehensive than other time-tracking systems we reviewed. Managers can also use built-in employee scheduling tools to assign new tasks from their mobile devices. Employees are notified immediately, so they know where they're expected to be and when.
QuickBooks Time makes it easy to ensure your mobile team members are abiding by your company's attendance policies.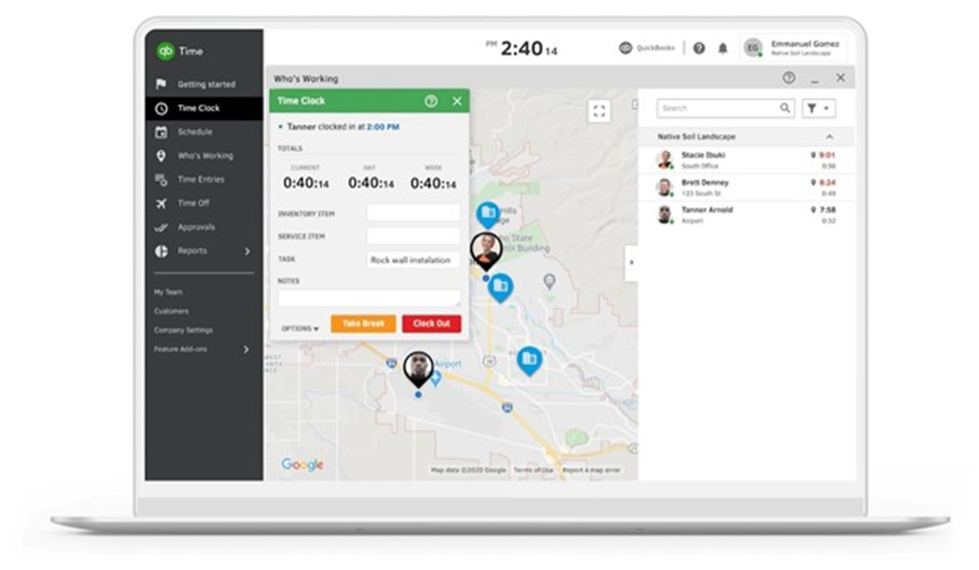 Managers can use QuickBooks Time to check time clocks and see who's working. Source: QuickBooks Time
Managers can also use built-in employee scheduling tools to assign new tasks from their mobile devices. Employees are notified immediately, so they know where they're expected to be and when. While employee scheduling features like these are sometimes offered as add-on solutions by competitors, we like that QuickBooks automatically provides them to every user.
Employee schedules can be accessed from desktop and mobile devices. Source: QuickBooks Time
Ease of Use
When we tested QuickBooks Time, we were pleased with the easy setup and intuitive user interface. We found the platform to be user-friendly for both managers and employees. The cloud-based software is simple to access from both the browser-based dashboard as well as the iOS or Android app. With the app, offsite and mobile employees can clock in and out, add relevant notes or attachments, view their schedules, request time off, check current or future paid time off (PTO) balances, and edit timesheets when permitted. QuickBooks Time can send reminders to employees to ensure they're clocking in and out correctly.
Businesses can also improve their operations by using QuickBooks Time to track and manage time against projects or tasks to accurately predict project requirements and staff them appropriately. Instead of manually tracking projects, managers can easily compare budgeted hours to actual hours worked, monitor progress, view hours spent on specific tasks and run real-time reports to improve communication and accuracy. That improved accuracy will boost profitability in the long run.
QuickBooks users can run reports to make informed workforce decisions. Source: QuickBooks
We also like that QuickBooks Time can integrate with more than 750 third-party applications, which allows businesses to automate and streamline a variety of HR and finance functions. However, if HR automation is of utmost importance, you might also want to check out our review of Rippling.
Features
QuickBooks Time offers impressive features and tools for tracking time. The software makes this especially easy and accurate with GPS tracking, timesheets, photo clock-in, custom alerts, two-way communication and multiple timecard options. We found the system's support scheduling for employees, jobs and shifts especially valuable.
Time Tracking
QuickBooks Time Kiosk is a tablet-based tool that serves as a digital punch clock for employers that want to provide a centralized device for clocking in and out. We like that employees can track time at a job site with their four-digit PIN, which is bolstered by a photo-capture feature to help prevent timecard fraud and buddy punching. Employers can also add a location to each device to let administrators and managers see where each timesheet originates. We found that it takes only about 20 seconds for an employee to sign in, clock in and sign out using the kiosk. [See the equipment needed to track employee attendance.]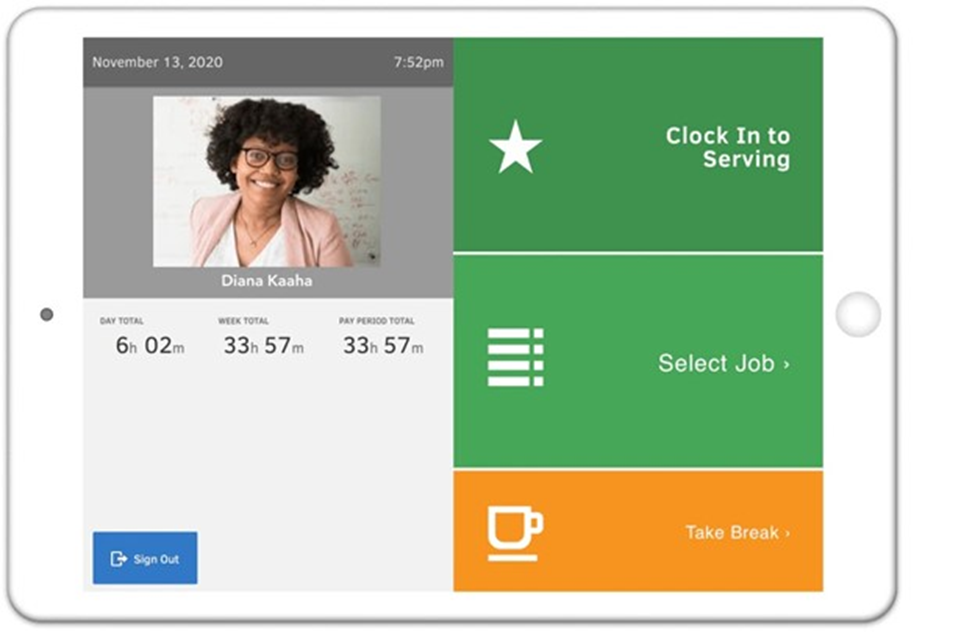 The Time Kiosk tool shows a logged-in user with the photo-capture feature enabled, allowing you to actually see the employee when they clock in at a job site. Source: QuickBooks Time
To prevent employees from clocking in and out for each other, you can use QuickBooks Time's photo-capture option as a substitute for true biometrics authentication.
QuickBooks also lets workers clock in and out via QuickBooks Workforce (formerly the QuickBooks Time mobile app), available on iOS and Android devices. The app can populate mobile timesheets even if the employee doesn't have cell coverage at the time they're punching in or out. If you want to simplify time tracking for an offsite work crew, QuickBooks allows crew managers to clock team members in or out all at once. These advanced mobile capabilities can be especially valuable for mobile teams out in the field, yet not every competitor offers them.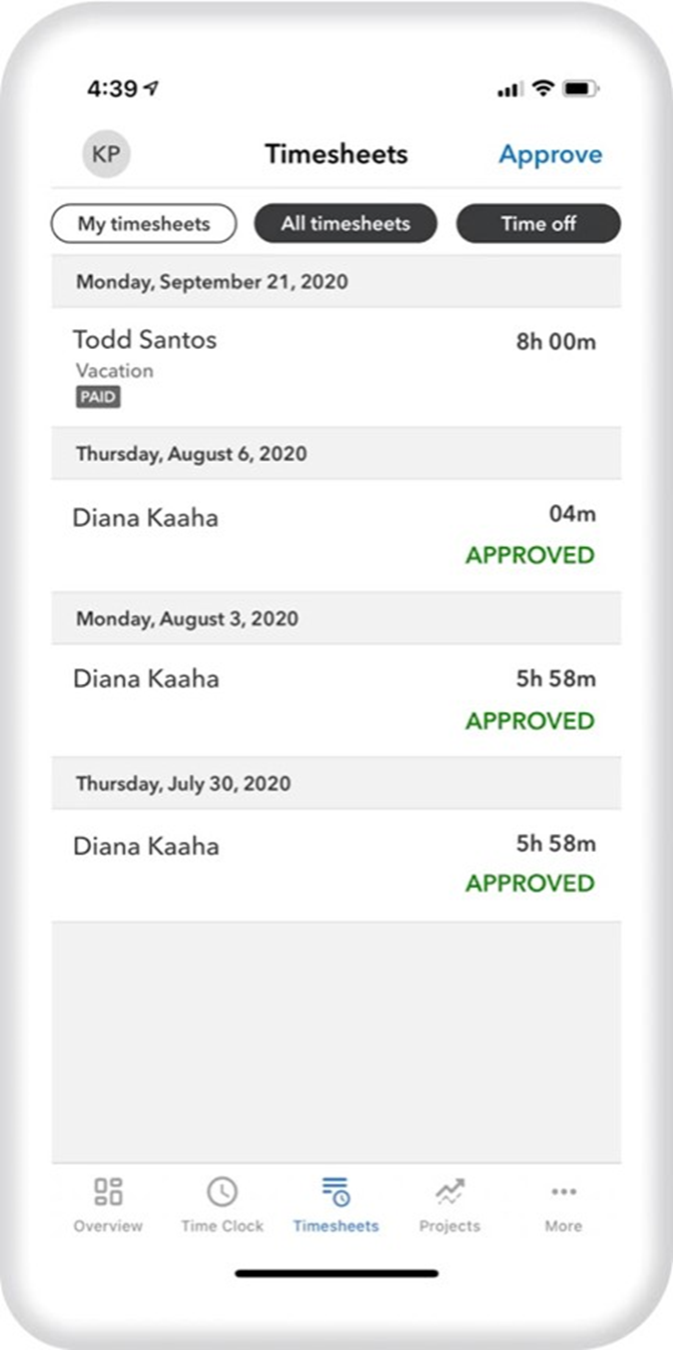 This view shows the timesheet and PTO approval screen from a manager's mobile device. Source: QuickBooks Time
Location Tracking
When testing the QuickBooks Time platform, we liked how easy it is to track remote and offsite workers. Once employees clock in, the app logs their exact locations and provides updates throughout their shifts. You can use this feature for real-time coordination, mileage tracking and geofence tracking that reminds employees to clock in and out from the job site when they arrive and depart.
Managers can even access a map view to see which employees are actively working on each location and project. Although many time and attendance systems have geofencing tools, few offer QuickBooks Time's ability to track workers' locations in real time throughout the day. We found this feature to be especially useful for employers that need additional oversight of their mobile workforce. [Find out how GPS tracking can save your business money.]
QuickBooks Time only records the locations of employees when they're clocked in.
Job Tracking
Job tracking is growing in popularity, especially with companies that employ mobile and contract workers. When we tested QuickBooks Time, we found that it allows users to track time against projects and tasks. With estimated versus actual hours tracked, employers can better plan how to staff certain roles and accurately pay workers for billable hours. QuickBooks also offers a project activity feed so users can track the progress of each project. This could eliminate the need for separate project management software.
Also, since QuickBooks Time easily integrates with other QuickBooks services, employers can streamline their payroll and invoicing functions for each project or job. Learn more in our detailed Intuit QuickBooks Payroll review.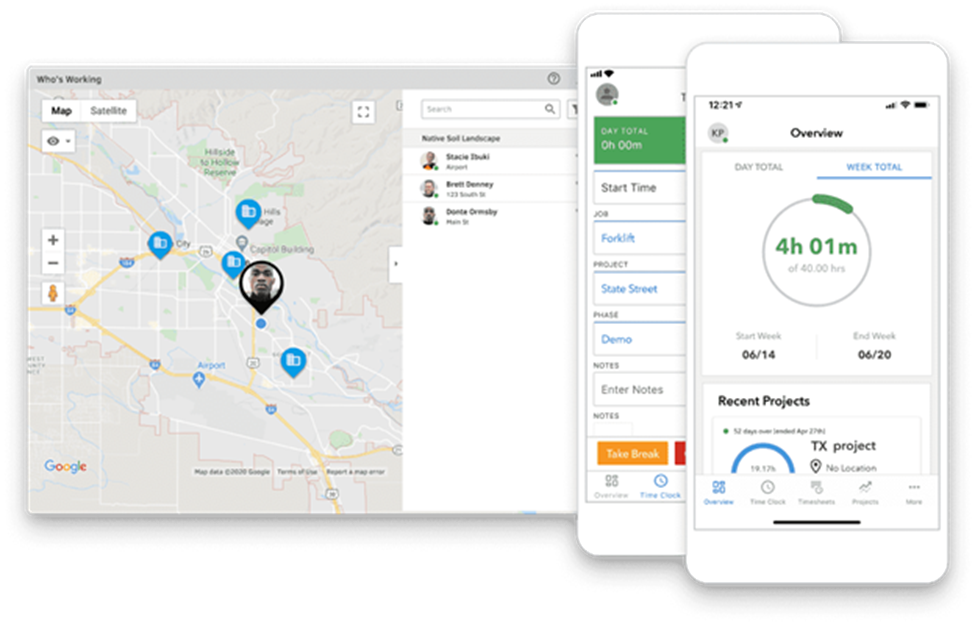 QuickBooks Time's GPS Time Tracker shows who's working on which job sites at any given time.
Source: QuickBooks Time
PTO Tracking
You can automatically track and manage employee time off with custom unpaid time-off and PTO policies. Workers can request time off for a specific hour or day and see current or future time-off balances at any time. You can also allow employees to enter their time off directly into the system without going through a request and approval process.
Administrators can submit bulk time-off requests for teams, locations or individual employees simultaneously. You can also set up custom QuickBooks Time notifications to alert employees and managers throughout the request and approval process. We found this feature to be competitive with other platforms on the market.
Pricing
QuickBooks Time offers two subscription levels. Both plans have a flat monthly fee and a per-employee monthly fee. Most competitors, by contrast, charge based only on the number of employees or users. Here, the monthly base fee covers one administrator account, comprehensive scheduling capabilities and expert support over the phone or online. Otherwise, the plans differ as follows.
Premium:

This entry-level plan costs $20 per month, plus $8 per user per month. It includes a mobile app with GPS, job and shift scheduling, time-off management, photo attachments, payroll, invoicing, unlimited live customer support,

customized reports, alerts and notifications,

and more.

Elite: This enhanced plan costs $40 per month, plus $10 per user per month. It includes everything in the Premium plan plus mileage tracking, geofencing, timesheet signatures, advanced project tracking and more.
If you don't want to pay a base monthly fee, read our review on Time Doctor. The time tracking vendor charges on a per-employee basis, with monthly and annual plans.
We recommend taking advantage of QuickBooks Time's 30-day free trial, which is longer than average for time and attendance systems.
Implementation/Onboarding
Of all the time and attendance systems we examined, QuickBooks Time was among the easiest to implement. A support specialist is available to help your account administrator get everything up and running quickly. For example, their free guided setup can help you setup your payroll, job codes, time off details, and more. We found this to be a valuable element to the implementation process.
If you prefer to tackle the setup on your own, you can use the software's Getting Started feature to walk you through the steps of setting up your company in the system, onboarding team members, tracking projects and preparing for payroll. If employees run into issues setting up their accounts, QuickBooks representatives are ready and able to offer support on an individual basis.
Customer Support
QuickBooks Time's customer support is somewhat of a mixed bag. For example, we like that QuickBooks has unlimited phone and live chat support; however, some user reviews say customer support can be tough to get ahold of at times. If you're looking for more personalized dedicated support, we suggest looking at a Rippling plan with its add-on HR Help Desk feature. Read our Rippling review to learn more.
In addition to its customer service options, QuickBooks offers several valuable self-help and expert-assisted resources, including quick-start guides, webinars, training courses, videos and articles. This knowledge base was competitive with other time-tracking vendors we reviewed.
Limitations
One drawback of QuickBooks Time is that it charges a monthly base fee for an administrator's account, which was uncommon among the time and attendance software we reviewed. Depending on the plan you select, you can expect to incur an annual charge of $240 to $480 for your administrator's account. While this may not be a significant expense for most businesses, it is notable when calculating the total product cost for your company. Cost-conscious organizations may want to consider our review of When I Work instead, as it's a lower-priced time-tracking option.
Another drawback is that the photo-capture feature is available only for users of the onsite Time Kiosk; we would like to see it offered to all mobile app users. Also, the current user interface is optimized for iPads and tablets in landscape view (1024 x 768 pixels), which doesn't make for the best experience on smartphones.
Methodology
We researched and analyzed dozens of time-tracking providers to identify the best time and attendance systems on the market. We watched product videos and conducted demos when possible. We also tested each platform using widely available free trials, paying special attention to each platform's ease of use, integrations, pricing, mobility, hardware and customer service options. We looked at features like time-off tracking, employee scheduling, GPS tracking, geolocation capabilities, job tracking and costing, payroll integration, notifications and alerts, and reports.
When searching specifically for time and attendance solutions for businesses with mobile workforces, we especially focused on options for clocking in and out remotely, as well as job tracking, GPS tracking and geofencing abilities. Before making a purchase decision, we recommend also taking a look at these things to consider when choosing a time clock.
FAQs
Yes, TSheets and QuickBooks are the same. TSheets was rebranded as QuickBooks Time, and now they are the same product in terms of core functionality and overall user experience.
No, time tracking with QuickBooks Time is not free, but you can take advantage of the vendor's 30-day free trial and allow your employees to clock in and out through the QuickBooks Time platform, or via QuickBooks Workforce, the QuickBooks mobile app available on Android and iOS devices. This trial period is longer than what most competuitors offer. After the trial period ends, you'll need to pay for one of the two product subscription plans to continue using the service.
Bottom Line
We recommend QuickBooks Time for …
Businesses with large mobile workforces.
Companies that want to track off-site workers.
Organizations that already use Quickbooks' accounting, bookkeeping, payroll, inventory management or other software solutions.
We don't recommend QuickBooks Time for …
Businesses looking for the cheapest scheduling software.
Companies with especially complex and customized time and attendance requirements.