This article will help you choose between these two big-name accounting brands. We evaluated FreshBooks and QuickBooks on several important criteria, including price, invoicing capabilities, customer service and third-party integrations. 
FreshBooks vs. QuickBooks Comparison
In this section, we will dive into the differences between FreshBooks and QuickBooks, including how they compare on pricing, invoicing capability, customer service, mobile app features and third-party integrations. 
Pricing and Plans
FreshBooks Pricing 
FreshBooks currently offers four paid service plans based on a business's number of clients. It does not offer any free versions of its software:
The base Lite plan costs $17 per month, which is higher than many competitors, including QuickBooks at $15 per month. 
A 30-day free trial is available for new customers. FreshBooks offers introductory discounts on a regular basis.
You can save 10 percent on a FreshBooks subscription by paying an annual lump sum, rather than monthly.
There is an $11 monthly charge per user for additional users. When utilizing FreshBooks Payments for accepting credit card payments online, each transaction incurs a fee of 2.9 percent plus 30 cents. For those who prefer to accept credit card payments by phone and in person, FreshBooks offers Advanced Payments, which carries a cost of $20 per month, in addition to 3.5 percent and 30 cents per transaction.
Here is a breakdown of each service plan:
| Plan | Monthly cost | What's included |
| --- | --- | --- |
| Lite | $17 | Five billable clients, time tracking, invoicing, unlimited estimates and invoices and mobile app |
| Plus | $30 | 50 billable clients, recurring invoices, payment reminders and late fees, reports and double-entry accounting |
| Premium | $55 | Unlimited clients, additional reporting capabilities and client tracking |
| Select | custom | Dedicated account manager, dedicated support and tailored onboarding |
QuickBooks Pricing 
QuickBooks offers five paid plans geared toward small and medium-sized businesses. Like FreshBooks, it does not offer a free tier:
The basic Self-Employed plan costs $15 per month while more advanced tax preparations features are included in the $30 Simple Start plan. 
Like FreshBooks, QuickBooks also offers a 30-day free trial. 
While most business applications have transitioned entirely to cloud-based software in recent years, QuickBooks is unique in that it still sells an old-fashioned desktop version. Desktop Pro Plus and Desktop Premiere Plus go for $549 and $799 per year, respectively. 
Additionally, QuickBooks Online offers various bundle deals with other Intuit software products such as QuickBooks Payroll. [Read more in our full review of QuickBooks Payroll.]
| Plan | Monthly cost | What's included |
| --- | --- | --- |
| Self-employed | $15 | Income and expense tracking, receipt organizing, tax estimating, basic reports and miles tracking.  |
| Simple Start | $30 | One billable user; cash flow analytics, unlimited invoices, tax deductions, sales tax calculation and 1099 preparation tools. |
| Essentials | $55 | Three users; time tracking and bill pay and management tools. |
| Plus | $85 | Five users; project management and inventory tracking tools. |
| Advanced | $200 | 25 users; one Smart Reporting license, 20 classes, online training, dedicated account team and workflow automation tools.  |
Winner
Comparing the pricing for FreshBooks and QuickBooks isn't straightforward because much depends on what features you prioritize and how much you want to spend. Overall, we give QuickBooks the edge on pricing because its base plan is less expensive. Unlike FreshBooks, QuickBooks doesn't set limits on the number of customers. We would also note that QuickBooks allows you to invite your accountant on the $15 Self-employed plan while FreshBooks users must upgrade to the $30 Plus plan to access this feature. 
QuickBooks also doesn't charge separately for additional users, and its most advanced plan allows for a total of 25 people from your business to access the software. FreshBooks only provides access to multiple users for an additional monthly fee of $11 per user. This makes QuickBooks a better choice for small businesses with multiple employees that need to access the accounting system. 
If your business prioritizes time tracking, FreshBooks is likely the better choice because it includes time tracking on all of its paid plans. Meanwhile, QuickBooks only includes time tracking on the $55 Essentials plan. 
QuickBooks offers various discounts on accounting software if you bundle with other Intuit products, such as TurboTax and QuickBooks Payroll.
Invoicing 
FreshBooks Invoicing Capabilities 
FreshBooks distinguishes itself from competitors with its strong emphasis on invoicing:
Sending professional-looking invoices helps you get paid faster. With FreshBooks, you have the freedom to personalize the design of your invoices and align them with your business's branding. 
Our testing of FreshBooks' invoice design tools revealed them to be remarkably user-friendly and intuitive.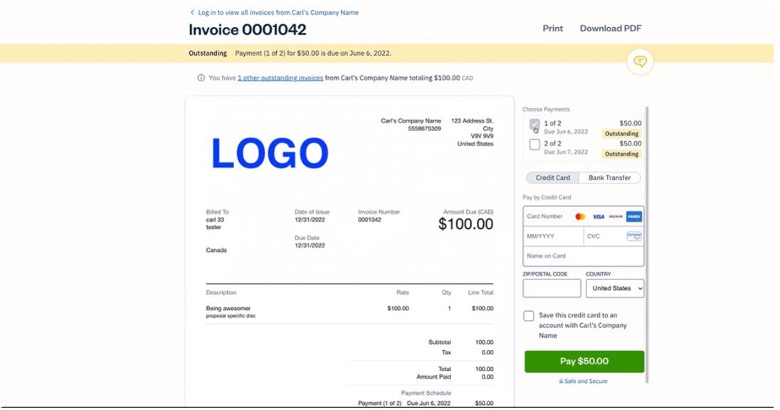 This screenshot shows your invoice from the customer's perspective. Source: FreshBooks 
Within the FreshBooks app, you can include billable time in your invoices, enabling you to bill customers and receive payments directly from your job site. This convenience eliminates the need for a separate time clock app.  
Converting estimates and proposals into invoices is a breeze with just two clicks, making FreshBooks particularly beneficial for contractors seeking swift sales closure.
Another standout feature is the in-house payment software, which significantly simplifies the payment process for invoices. With a click of a button on an email invoice, customers are directed to a web page where they can enter their credit card details. Alongside this, FreshBooks offers various other invoicing tools, such as recurring invoices, payment reminders and the option to apply interest and late fees on overdue invoices. 
QuickBooks Invoicing Capabilities 
QuickBooks' invoicing features are more robust than many competitors in the accounting space:
QuickBooks invoices are optimized for mobile devices. You can create and send invoices from either a desktop browser or mobile app.
You can set up online payments through the in-house QuickBooks Payments system or a third-party processor like PayPal or Square.
Estimates can be converted into invoices quickly and easily. 
You can create recurring invoices and schedule automatic payment reminders as well as track time through the QuickBooks Time add-on and invoice billable hours.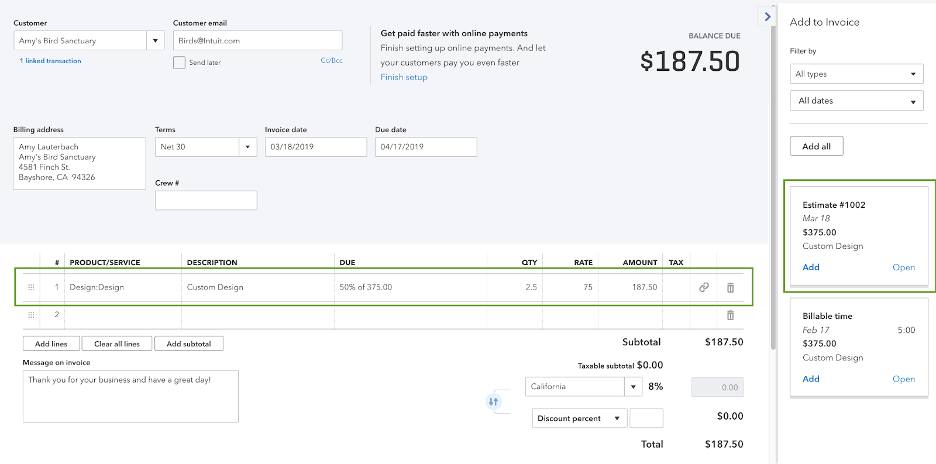 QuickBooks allows you to invoice customers for partial payments, as shown in this screenshot. Source: Intuit
Winner
FreshBooks and QuickBooks are very similar in terms of invoicing capabilities. We give the edge to FreshBooks based on its user-friendliness and abundance of built-in features. Unlike QuickBooks, which offers a separate service for time tracking, FreshBooks includes time tracking tools. The one downside of FreshBooks is that it limits your monthly invoices on lower pricing plans while QuickBooks offers unlimited invoices on all plans. 
You can sync time tracking with invoicing on FreshBooks, allowing you to convert billable hours into an invoice.
Customer Support 
FreshBooks Customer Service 
FreshBooks provides email, live chat and phone support for customers. 
Customers can query an automated chatbot with basic questions, although its capabilities are limited. 
Webinars, blog posts and e-books are available on FreshBooks' website. 
FreshBooks scores a 4.3 out of 5 for customer service on Trustpilot. 
QuickBooks Customer Service 
QuickBooks provides email, live chat and phone support for customers.
A community forum exists to provide advice from other QuickBooks users and company representatives. 
Webinars, video tutorials, blog posts and training classes are available on QuickBooks' website. 
Certified QuickBooks ProAdvisors can give you one-on-one help with using the software
QuickBooks' parent company Intuit scores a 1.2 out of 5 for customer service on Trustpilot. 
Winner
Again, QuickBooks and FreshBooks offer similar options for customer service. However, the Trustpilot scores show clearly that FreshBooks wins on support. Actual users report feeling mostly pleased with FreshBooks' customer service while QuickBooks fares poorly with user-generated feedback. That said, QuickBooks does offer dedicated account representatives for its highest-paying customers.
Mobile App
FreshBooks Mobile App Features 
The FreshBooks mobile app is available for iOS and Android. 
Key features include time tracking, instant invoicing, receipt capture, invoice status and a customer messaging system. 
The FreshBooks app is rated 4.7 out of 5 on the Apple App Store and 4.4 out of 5 on the Google Play Store.  
QuickBooks Mobile App Features 
The QuickBooks mobile app is available for iOS and Android. 
Key features include dashboard data, invoicing, payments, receipt capture, expense tracking, transaction reconciliation and a customer messaging system. 
The QuickBooks Accounting app is rated 4.7 out of 5 on the Apple App Store and 4.1 out of 5 on the Google Play Store.
Winner
QuickBooks' mobile app contains more accounting-specific features for you to run your business from a smartphone, making it the clear winner compared with the more invoice-focused FreshBooks app. The only downside of the QuickBooks app is its relatively mediocre rating on the Google Play store, although the iOS version scores highly. 
Third-Party Integrations
FreshBooks Integrations
FreshBooks integrates with more than 100 third-party business applications, including a number of well-known brands: 
Indeed
BigCommerce
Zoom
WooCommerce
Zendesk
Expensify
Google Workspace
WordPress
Constant Contact
Slack
Dropbox
Microsoft Outlook
Gusto
Zapier
QuickBooks Integrations
QuickBooks integrates with more than 750 third-party business applications, including the following well-known apps and ecommerce platforms:
Amazon
PayPal
Square
Etsy
Shopify
eBay
SOS Inventory
Gusto
Expensify
BILL
Microsoft Excel
WooCommerce
Zenefits
Zapier
Winner
QuickBooks' number of third-party integrations puts it far ahead of FreshBooks and most other accounting software applications. While there is some overlap in third-party integrations, we would note that both FreshBooks and QuickBooks include some syncing options that the other doesn't. We recommend that you make a list of the business productivity apps that you use most often and check for compatibility on the QuickBooks and FreshBooks app stores.