An invoice is not a binding legal document, yet it is still one of the most important documents you will ever create. It's a bill for the services you provide or products you sell. You obviously realize that you need to invoice your customers to receive payment for the goods or services you provide, but what should your small business's invoices actually look like?
The invoice template you choose needs to be professional and clear – after all, it directly affects when you receive payment and on what terms the payment is made. A study by Fundbox found that U.S. small businesses were owed $825 billion in unpaid invoices. If you're ready to create professional invoice templates to ensure you get paid for the products and services you provide your customers, you need to utilize these 10 critical elements.
1. A standout header
This point seems obvious, but it's very important. Make sure to label your document as an invoice in the header so your customer knows what it is when they receive it. Use a bold, large font. When you label the document, you make it crystal clear that this document is the invoice and that the dollar amount listed is what the customer owes. It's common for businesses to send out multiple papers with the invoice, and when the invoice doesn't clearly state that it's an invoice, it might get tossed aside or thrown away and go unpaid.
2. Your company's information
Small business invoices need to include your business's legal name, street address, email, phone number, and (if applicable) fax number. Make sure all the information is listed at both the top and bottom of the invoice. Double-check that all of your information is listed accurately, in case the customer needs to contact you to pay with a credit card by phone, email you with questions or mail a check to your business address. Incorrect information will not only make you look unprofessional, but it will also make it difficult to receive payment.
3. Your customer's name and contact information
Make sure the customer's name and title are clear and spelled correctly. Include the customer's contact information, such as their email and physical address, on the invoice.
4. Invoice sent date and due date
In addition to your company's information, you need to include the date the invoice is issued and the date the payment is due. Spell it out for your customers! Also, let them know the new total they will owe if they pay after the due date. These dates can help if there is ever any confusion about when an item was sold or when service was rendered. You never know when you might find yourself in a position where you have to look back and confirm dates of services or product shipment.
5. Invoice number
Include other identifiers on the invoice, such as an invoice number unique to the transaction. The invoice number is the second most important element after the amount of money that is due. You can assign each invoice a number in various ways. It's common for a business to list invoices in chronological order. When invoices are numbered, it makes things much easier if you have to search for a document in a paper file or on the computer. Numbering invoices is just another way to help you get paid on time.
If your clients aren't paying, check out our recommendations on how to improve your invoice collection process.
6. Breakdown of products and services provided
You need a section on the invoice that breaks the bill down for the customer. It can be as specific or generic as you prefer, as long as it is easy for the customer to understand. Make sure to list the following:
Name of the good or service provided
Date the good or service was provided
Rate charged for the good or service provided
Quantity of the good or service provided
You might want to add a section to elaborate on the descriptions of the items or other information to explain what is listed on the invoice. This may include additional materials that were purchased to complete a job or additional hours that an employee worked.
7. Terms of the transaction
The terms of payment are extremely important to include on your invoice. Payment terms depend on your industry, preference, and relationship with the customer. It's also vital to clearly state what the penalties and fees will be if the terms are not met. List the available payment methods to make sure your customer knows how they can pay in the most convenient way for them; they may not know you accept payment via PayPal, for example. One of the many ways to improve customer retention is to make things simple for them.
8. Itemized fees
If there are handling fees, taxes for purchased goods, or any other money the customer needs to pay, you need to list each as a separate line item so your customer knows what they are being charged for. This is also helpful when your business needs to apply fees to different budgets to ensure your books balance.
9. Total amount of money due
This point may seem silly to mention, but it's the most crucial. Make sure you clearly state the total amount the customer owes, with all taxes included. Display it prominently on the invoice in bold to ensure your customer is clear on what they need to pay. Don't make them hunt for the amount they owe.
10. Any notes for the customer
While the items above are the essentials, you may want to include other things. An important one is a message field. This is a great place to write a brief note to the customer and thank them for their business. Every business owner should know that a customer wants to feel valued, and customers who feel valued turn into loyal customers, so use the message field on the invoice to extend a sincere thank-you. You can also use this field to make reference to the project, especially if there was something unique about what you did for the client.
In this era of texting, you might also want to send a heads-up text message to let your clients know that an invoice is on the way.
Editor's note: Looking for the right accounting and invoice-generating software for your business? Fill out the below questionnaire to have our vendor partners contact you about your needs.
Bonus: Design elements
Pay attention to the design of your small business invoice. Just like everything you send out, your invoice is a reflection of your brand. At the very least, it should include your logo. If you can, use your color scheme and signature fonts.
At this point, you might be thinking, "This is a lot of information just to create an invoice." Luckily, there are many free downloadable templates out there in case you don't already use a system that offers an invoicing feature. This is the solution I use for my small business invoice needs. [Read related article: Best Invoicing Software for Small Businesses]
Creating and sending invoices is often a laborious process, but it's part of running a small business. An invoice is proof that you provided services or goods. Invoices also give your business some legal protection if you're challenged with a tax audit and allow you to verify your business's reported income. 
Whether you're a new or long-standing business, there are some things your invoices must include. If you have some doubts about how to issue correct invoices, use this basic information to help ensure your invoice is paid promptly and in full.
Invoice samples
As a busy small business owner, you may not have time to design an invoice from scratch. You need something that is easy to read and won't be overlooked by customers. It also has to be easy to create and recreate. There are many invoice samples available on the internet that support a variety of software programs, including Word, Excel, Google Docs, and Google Sheets.
Accounting software usually has built-in invoicing tools. You can often send the invoices to your customers directly from the software, or you can download it to your computer and email it yourself. The good ones include all the pertinent information discussed above.
Here's a sample invoice from Wave Financial's free invoicing software: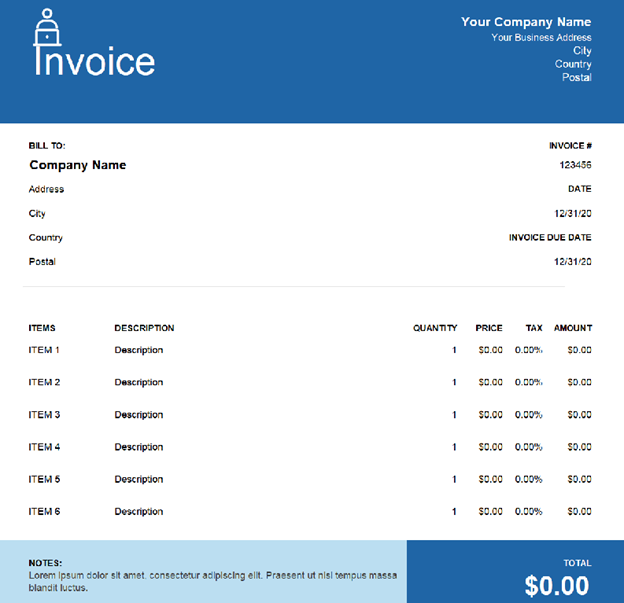 Invoice templates and resources
There are many useful resources available to help small business owners craft invoices – whether you want to create your own or automate the process. Here's a list of popular templates, invoicing software, and other options available to small businesses:
FreshBooks, the popular accounting software provider, has free invoice templates on its website that you can download into Word, Excel, Adobe PDF, Google Sheets, or Google Docs. FreshBooks' cloud-based accounting software enables business owners to automate invoicing. [Read our review of Freshbooks for more in-depth information.]
Sage, a cloud accounting software company, also provides free access to invoice templates on its website. Like FreshBooks, it lets you automate invoicing through its cloud-based accounting software.
Microsoft makes invoicing easier for business owners by offering free invoice templates on the Office website. With several templates to choose from for Word and Excel, business owners can create custom invoices.
Wave Financial offers free invoicing software in addition to its accounting software. You can send the invoices you create for your customers through the Wave website or download them into Word, Excel, Adobe, Google Docs, or Google Sheets. Through its online service, you can create invoices, set alerts and reminders, and process payments.
QuickBooks by Intuit, one of the biggest accounting software companies, includes invoicing in its toolbox, allowing small businesses to create invoices and accept payments through QuickBooks Online for as low as $12.50 a month. Invoices are customizable, and you can send batch and recurring invoices, track the status of your invoices, and send payment reminders. [Read our review of QuickBooks for more information.]
Zoho Books is online accounting software with invoicing tools that let you create, send, track and collect invoice payments. Zoho also offers free invoice templates and invoicing software, which has a free tier that supports up to five customers. If you need to invoice more customers than that, you can upgrade to a paid tier.
Invoice Ninja offers a free tier of its invoicing software that comes with some of the features other vendors charge for. Invoice Ninja was built with freelancers and small businesses in mind, enabling them to easily create and send invoices and accept payments.
Donna Fuscaldo contributed to the writing and research in this article.