AthenaCollector, athenahealth's billing service, shines in reporting and optimizing clients' processes. Using data from more than 160,000 healthcare organizations, it coaches clients to outperform benchmarks set by the network's highest performers.
Pros
The system automatically leverages the athenahealth network to update its billing rules engine in real time based on the experiences of all clients, keeping pace with payer preferences and changes.
The vendor's software and consultants provide insight and visibility into your financial and clinical performance.
You can compare your practice's data to that of similar healthcare organizations.
Cons
The vendor doesn't offer medical coding services, which means you must maintain a certified medical coder on staff or seek third-party assistance.
The company would not disclose a typical cost range for its system, only that it charges a percentage of monthly collections – which doesn't tell us much because that's the standard pricing model for medical billing services.
The athenahealth team doesn't manage denials for certain types of claims.

Healthcare organizations are increasingly data-driven businesses that rely on thorough reporting and analysis to make decisions. When it comes to medical billing, there's a lot to keep track of, so reporting prowess is crucial – particularly for new practices. Athenahealth's athenaCollector not only enables exceptional reporting at the individual practice level, but also benchmarks practices against similar organizations on its network. Using this data, the vendor takes a consultative approach to medical billing services, proactively helping organizations optimize their billing processes and grow their business. For this reason, athenaCollector is our pick for the best medical billing service for new practices.
athenaCollector Editor's Rating:
8.7 / 10
Pricing/value

7.5/10

EMR/PMS

9.0/10

RCM process

8.0/10

First-pass claims rate

9.5/10

Customer service

9.5/10
Editor's note: Looking for the right medical practice management solution for your business? Fill out the below questionnaire to have our vendor partners contact you about your needs.
Why We Chose athenaCollector for New Practices
AthenaCollector, athenahealth's medical billing service, is our choice for the best medical billing software for new practices because its medical billing portal is intuitive and easy to use, and the system is designed to ensure your practice is maximizing operations and revenue, laying the groundwork to grow your business. Along with a wide range of customizable reports, the platform also delivers real-time analytics to help you compare your performance against athenahealth's network of more than 150,000 healthcare organizations so you know how to improve your practice. The vendor also coaches you on how to get closer to that level of optimization, which is ideal for healthcare leaders eager to learn and improve.
For revenue cycle management (RCM), athenaCollector uses its billing rules engine (fed by data from its network) to help you stake a 94% first-pass resolution rate for your claims. That statistic is lower than most competitors we reviewed but still higher than the industry average. Athena's experts submit claims and post payments, and you can track their performance through detailed, on-demand reports. At the same time, the athenaCollector workflow dashboard streamlines all your claim- and appointment-related tasks in a single view, helping you keep on top of your RCM objectives.
If your practice drops below baseline performance, your athenahealth account manager uses the analytics to recommend corrective actions. For example, if your cash flow is disrupted because your most important claims are spending more days in accounts receivable (DAR), the vendor can pinpoint where the delay is occurring and help you get things moving again. We found no other medical billing service with such a benefit, and we believe new practices trying to get off the ground and stabilize revenue will find this particularly advantageous.
The consultative approach you get with athenahealth's athenaCollector will help improve your billing process based on insights from the most successful practices in the vendor's network. As a result, your new practice will benefit from greater collections, reduced DAR and increased time for your staff to focus on other priorities.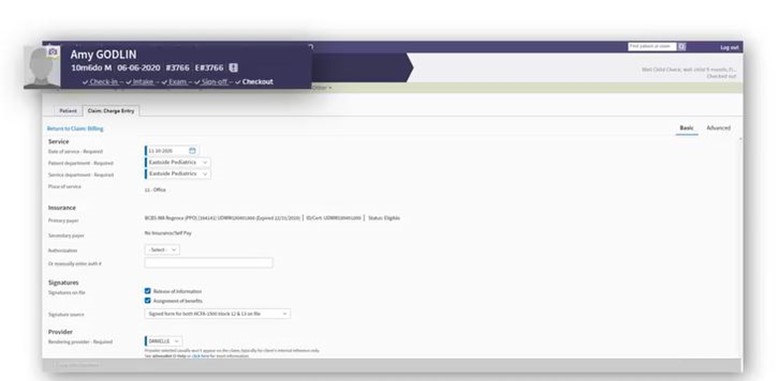 AthenaCollector users need to do charge entry and coding themselves before the vendor will scrub claims. Source: athenahealth
Ease of Use
There's a steeper learning curve with athenaCollector and the rest of the athenahealth system than you'll find with most medical software and billing services. The platform, while comprehensive, isn't the most user-friendly or intuitive. There are a lot of drop-down menus, and it can take several steps to complete some basic tasks. 
That said, the electronic medical record (EMR) side of the software suite is clunkier than the performance management side, and it's the latter you'll be using to execute the billing process. Fortunately, the billing portal itself is much easier to use than other components. Plus, athenahealth's standout customer service team can provide consistent support and even role-based training so you can master the ins and outs of the platform. However, if ease of use is your top concern, we recommend checking out our review of AdvancedMD for an alternative solution. 
athenaCollector Features
AthenaCollector functions as a practice management system and a medical billing application, where you can schedule appointments and verify patients' insurance. The software also includes a reporting system that helps you track your claims.
Claim Scrubbing
Athenahealth doesn't manage medical coding services or charge entry, so you will need to have your own medical coders on staff to begin the RCM process. Only then will the vendor's qualified billers use their continuously updated rules engine to scrutinize your claims for inaccuracies. Once done, these experts submit your claims to clearinghouses or directly to the appropriate payer and post payments. The special athenaCollector billing rules engine speeds up your claim process by using data from across the athenahealth network to catch claim errors and correct them before they affect your bottom line.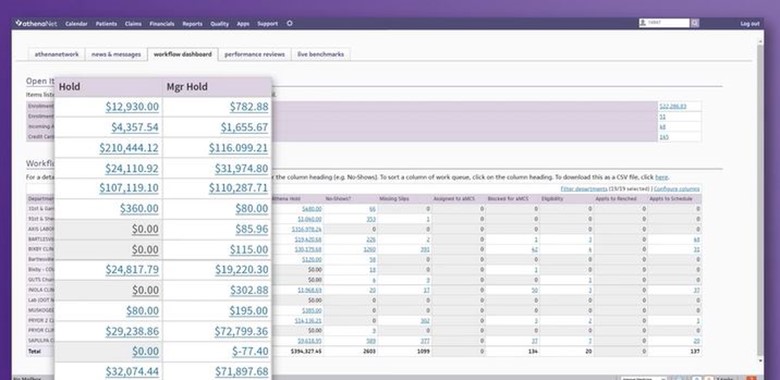 AthenaCollector shows what funds are on hold as claims go through the denial process. Source: athenahealth
Denial Management
Athenahealth's denial management process covers most rejected claims, claiming a first-pass resolution rate of more than 94% (with roughly 20 million claims submitted by athenahealth each quarter). With its services, the company says healthcare organizations can achieve a 6% increase in collections, a 32% reduction in days in accounts receivable and 8% fewer no-shows than providers that do the billing themselves. That said, the vendor leaves some denials for practices to handle themselves, which may be challenging, especially for new practices.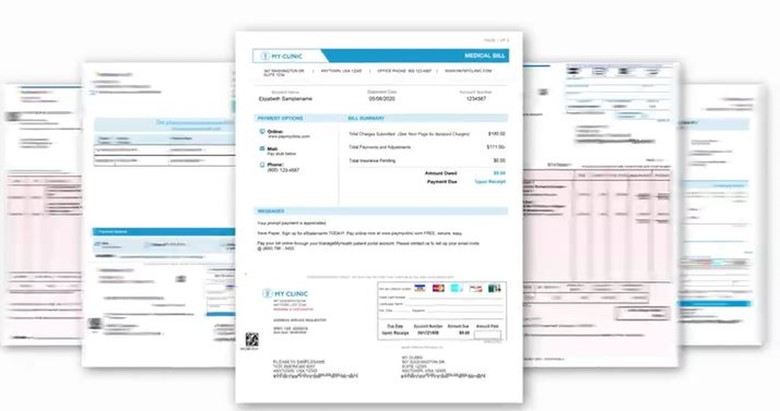 Patient statements outline exactly how much the patient owes your practice. Source: athenahealth
athenaClinicals
AthenaCollector users get full access to athenahealth's EMR system, called athenaClinicals. AthenaClinicals surfaces real-time data and insights from across the vendor's network of 140,000 clinicians. Providers can collaborate on patient care plans with fellow healthcare organizations, sharing patient records through its secure Carequality and CommonWell connections. Providers can also access patient records on the go through the athenaOne integrated app and gain actionable insights to help drive more revenue with the system's informative dashboards. [See the best medical software.]
Your healthcare IT platform and medical billing service must integrate seamlessly. Billers work within your medical practice management software, and full visibility into their process is essential for healthcare administrators.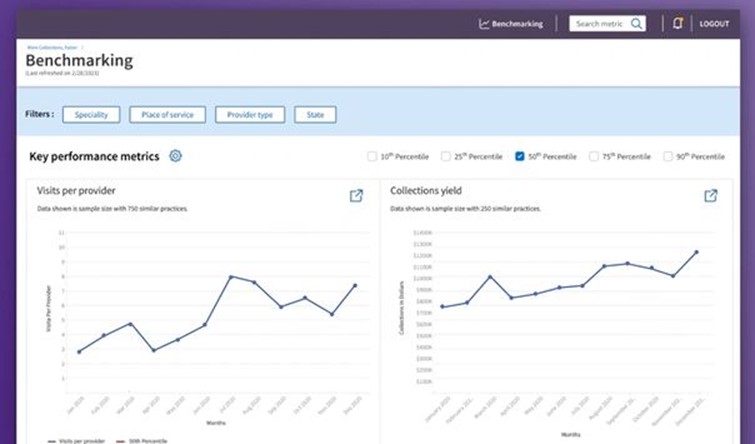 Athenahealth's analytics tools let you monitor your financial performance and compare your practice to others in the vendor's network. Source: athenahealth
Reports
We really liked that you can get complete visibility into your practice's performance through athenahealth's detailed reports. You can also use athenaCollector's dashboard to track key metrics, establish benchmarks and get support from the vendor's experts and network so you can improve your organization's financial performance.
A comprehensive library pulls data across the EMR system and practice management software before populating the information in pregenerated reports on the dashboard. These reports can be scheduled for regular or on-demand delivery. You can also use athenahealth's custom reporting tool to create and design your own reports. Check out our review of athenahealth's medical software to learn more.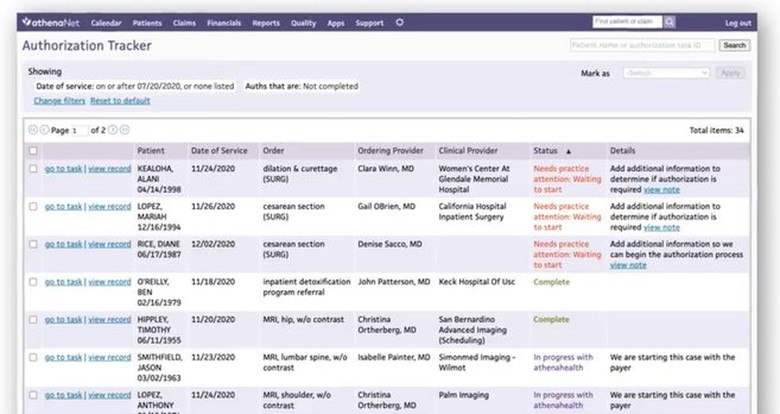 AthenaCollector's Authorization Tracker makes it easy to see which claims have insurance authorization and which ones need your attention. Source: athenahealth
athenaCollector Pricing
Athenahealth charges 7% to 8% of your monthly practice revenue for its athenaCollector billing services. A company representative would not give a rate for its platform, but clearinghouse fees are built into the percent-based model. Some other medical billing services we examined charged these fees on top of the percentage of collections.
While athenahealth is one of the only vendors that would not provide clear pricing, the company did share some of the criteria it uses to determine pricing for its medical billing services.
Practice size: The number of care providers in a practice generally influences the percentage that athenahealth charges. More providers typically means more claims but also more complexity, so how much it pushes pricing up or down is determined on a case-by-case basis.
Practice specialty and billing complexity: Every medical specialty has different billing needs; some are more straightforward, while others require more time and attention. More complex specialties (such as mental health, which often requires additional authorizations from insurance providers) cost more than simpler ones.
Claims volume: The volume of claims can also impact the overall cost of athenahealth's medical billing service. There are discounts for larger claims volumes.
Value of claims: The overall value of the claims could affect the rate too. The vendor gives discounts for high-value claims, especially in bulk.
On the plus side, athenahealth is the only medical billing service we reviewed that allows practices to cancel their contract whenever they choose.
Implementation and Onboarding
New practices can get set up with athenaCollector and the rest of the athenahealth suite fairly quickly. That's because newly opened healthcare organizations have much less data to import than more established practices. So, in this case, being a new practice is an advantage that speeds up the implementation process from up to three months to only about four weeks.
The onboarding process pairs your practice with one of athenahealth's Customer Success Managers. This person remains your point of contact even after implementation is complete, ensuring you always have a communication line open for technical support, consultative guidance and anything else you need to make the most of the software's capabilities. You can also enjoy unlimited in-person training, and in contrast to some competitors, this training and ongoing consultations are free.
athenaCollector Customer Service
Athenahealth provides 24/7 live customer service through chat, email, web support or phone, on top of hosting a robust library of online guides that include deep dives into specific customer success resources and eLearning videos. The Customer Success Manager is also on hand to help you improve your practice's financial efficiency and work through technical issues.
More than that, you get more immediate face-to-face support than with some of the other vendors we reviewed. Athenahealth representatives will come to your medical office to discuss your options face-to-face – and to return (free of charge) if you need additional guidance. That level of personal support is something few other medical billing companies offer.
However, while athenahealth cites a customer satisfaction rating of over 95% and says that 87% of issues are resolved within one business day, we've picked up that wait times for support can be extensive.
Limitations
Athenahealth doesn't manage charge entry and coding, meaning practices have to either outsource that aspect of medical billing or handle those tasks in-house before submitting their claims through athenaCollector. For information on a medical billing service that does offer coding, see our DrChrono review.
Additionally, athenahealth refuses to accept responsibility for processing certain denials, although we haven't received a clear explanation on which types of denied claims it refuses to accept. That could be a problem for practices that rely on the vendor to review and submit their claims and would prefer it to handle any issues that arise.
Finally, athenahealth was unwilling to provide a ballpark price for its services, only giving us a look at some of the factors that influence pricing.
Methodology
We spent hours investigating medical billing services, including athenahealth's athenaCollector. This examination involved software demonstrations, phone interviews and customer service calls. We also analyzed customer service reviews available on the internet, including those featured on the Better Business Bureau website. To determine our best pick for new practices, we looked at each vendor's certified coding and billing staff, customizable reports, and available support and guidance. We chose athenaCollector as the best medical biller for new practices because, between the company's consultants and data-driven software, the system is set up to help healthcare organizations succeed and reach the next level – perfect for newly opened offices.
Frequently Asked Questions
No. Athenahealth does not offer medical coding services. This means you cannot fully outsource your practice's RCM process to athenahealth and must keep a medical coder on staff or find a separate service to perform the coding. This isn't necessary with all medical billing companies, however. Kareo's medical billing partners, for example, include medical coding in their services. You can learn more in our Kareo review.
Yes, athenahealth maintains certified medical billers and coders on its staff. While the company does not perform coding, the certified coders can thoroughly scrub claims with the help of athenaCollector's rules engine, which is updated in real time based on the experiences of every organization billing on the network.
Bottom Line
We recommend athenahealth's medical billing service for …
Data-driven healthcare organizations that need dynamic reports and industry benchmarks.
Practices that want professional guidance on how to optimize their finances.
Healthcare organizations with multiple locations or complex billing.
We don't recommend athenahealth's medical billing service for …
Healthcare organizations that need end-to-end help with RCM, particularly with medical coding.
Practices that need a holistic RCM outsourcing service.
Offices that need help scrubbing and resubmitting denied claims.