DrChrono is a low-cost medical billing company that offers RCM services from medical coding to denial management. It is an intuitive solution with good customer support and a strong first-pass claims rate, which makes it a great option for new practices.
Pros
DrChrono manages the entire billing process, from charge entry to denial management, with a first-pass claims rate of 96%.
The software includes a live-claims feed with claim data and status, along with informative reports.
DrChrono's billing services and medical software are budget-friendly.
Cons
Some key features, like electronic prescribing of controlled substances, are available only at higher pricing tiers.
You're required to use DrChrono's electronic medical record system, whereas most competitors only require clients to use their proprietary medical practice management software.
There is no phone support, and it can take a long time for e-tickets to be addressed.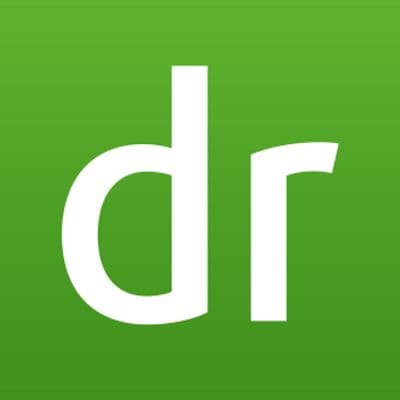 Medical practices, like many businesses, shy away from excessive upfront costs but don't want to sacrifice quality, especially when it comes to the billing process. Fortunately, DrChrono is a medical billing service and healthcare IT company that offers a low-cost solution that makes it easy for healthcare organizations to execute the billing process without spending large sums of money. The vendor has a first-pass claims rate of 96%, which means quicker collections, and unlike some of the other medical billing services we reviewed, DrChrono manages the entire revenue cycle management (RCM) process. For these reasons, we picked DrChrono as the best medical billing service for practices prioritizing workflow.
DrChrono Editor's Rating:
8.6 / 10
Pricing/value

9.0/10

EMR/PMS

8.5/10

RCM process

9.0/10

First-pass claims rate

9.6/10

Customer service

7.0/10
Editor's note: Looking for the right medical practice management solution for your business? Fill out the below questionnaire to have our vendor partners contact you about your needs.
Why We Chose DrChrono for Workflow
We chose DrChrono as the best medical software for workflow because of its 96% clean claims submission rate (among the best in the industry), a higher than 96% rate on claims paid in 60 days and over $3 billion in claims processed by DrChrono's internal RCM services to date. 
DrChrono's case studies indicate that businesses using its medical billing service saw their cash flow improve by around 40%. Importantly, none of this comes at a significant upfront cost to the healthcare organization. 
Beyond its intuitive and straightforward healthcare IT suite, DrChrono offers a complete RCM service that manages the medical billing process from charge entry to denial management. In contrast, some of the other services we reviewed pick up the process only after the practice has performed charge entry and medical coding. Outsourcing this entire process is particularly valuable for practices looking to save on staffing costs. It also ensures a seamless billing process with a straightforward workflow, which is one of the aspects we most appreciate about DrChrono.
DrChrono's reasonably priced billing service helps you with all RCM processes, from medical coding to denial management. It is an intuitive solution with a strong first-pass clean claims rate, making for a smooth, hassle-free experience.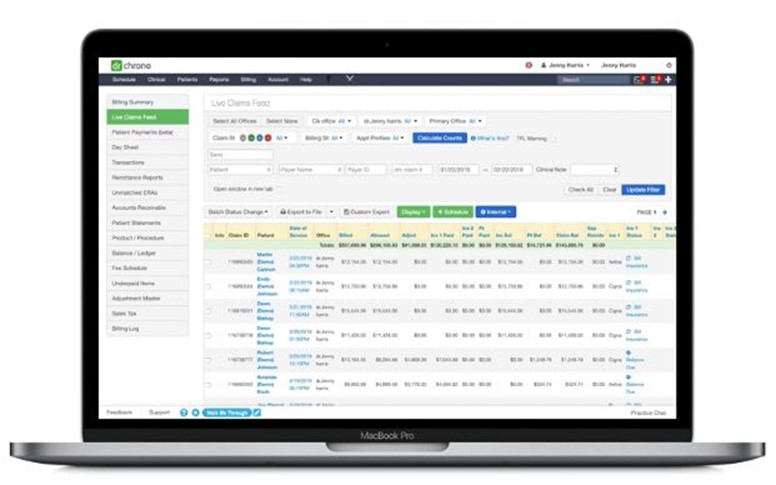 DrChrono's "Live Claims Feed" lets you track where claims are in the billing process. Source: DrChrono
Ease of Use
One of the reasons DrChrono is the best medical billing service for practices concerned about workflow is because its system is so easy to use. The platform is incredibly streamlined, with straightforward top-bar navigation that takes little time to learn. When completing tasks, each step blends seamlessly into the next, making it simple to get the billing process started. 
Once DrChrono's team takes over, carrying out the nitty-gritty of RCM, you can move on to using the medical software to complete other activities just as easily. For comparison, our review of AdvancedMD stresses how much that competitor's billing service stands out for ease of use, but at a higher cost than DrChrono, and it also requires practices to do medical coding themselves. DrChrono does it all for you.
DrChrono Features
Because DrChrono requires practices using its billing services via its practice management software (PMS) to also use its electronic medical record (EMR) system, you get a robust solution capable of handling virtually all operations for your healthcare organization.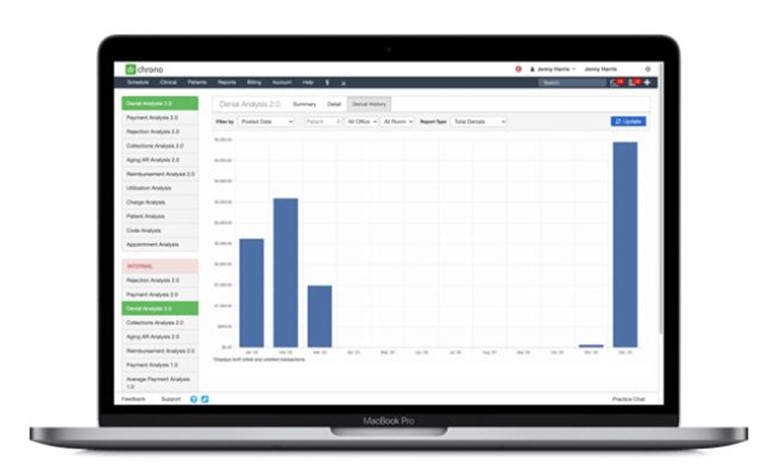 The DrChrono team will handle any denied claims, which you can keep track of in the practice management module. Source: DrChrono
Billing
DrChrono's medical billing service takes over the entire RCM process, beginning with charge entry and claims coding. The company submits claims through Change Healthcare, TriZetto and Carisk Partners clearinghouses. All clearinghouse fees are included in the percentage of annual net collections you pay the vendor. This includes the initial paperwork needed to establish the EDI and/or ERA connections between DrChrono's system and payers.
Before submitting each claim, DrChrono scrubs it to catch potential errors that could lead to a denial by payers. Once a claim is forwarded to the appropriate payer, DrChrono monitors it until it is paid, at which time funds are deposited directly into the provider's bank account after the company takes its fee. If any claim is denied, DrChrono's billers and coders will revise and resubmit those claims within 25 days of receiving notice from the payer.
DrChrono touts a 96% clean claims rate, 48-hour turnaround on denials and guaranteed practice profitability. Its billing dashboards help users review reports and graphs, giving providers the transparency that helps them know what's working in their practice's finances and what can be improved. The vendor says its services are available for practices of any size across all specialties, although our research indicates that most of DrChrono's clients are small offices with one to 10 employees and between $1 million and $10 million in revenue. 
DrChrono excels at working with new, small and growing practices. It is a cost-effective and straightforward solution for getting your practice off the ground and scaling with you as your needs expand. Rival athenahealth is also ideal for new practices because of its consultative approach. Get the details in our detailed athenaCollector review.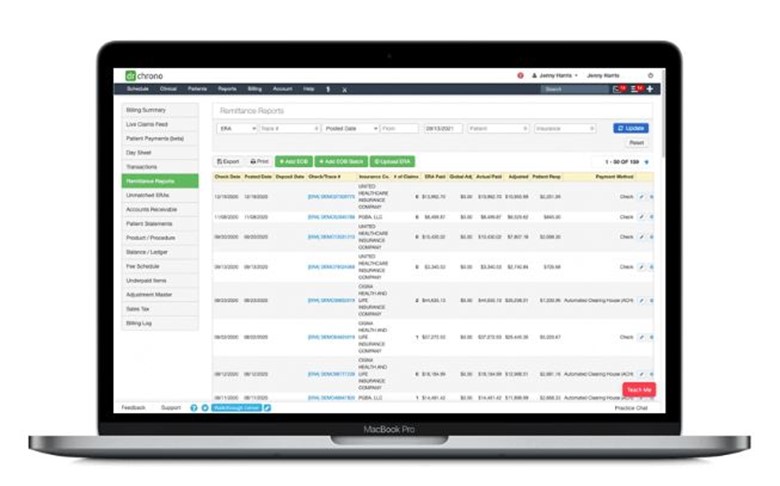 DrChrono uses Change Healthcare, TriZetto and Carisk Partners clearinghouses for remittance. Source: DrChrono
Medical software
DrChrono's electronic medical records system is simple and effective. It includes a user-friendly interface, a scheduling tool, a clinical encounter module, and a comprehensive list of patients and their insurance providers. You get access to all of its capabilities, including the patient portal and insurance eligibility app. There's a smooth and consistent workflow experience between providers and staff and easy-to-use tools that automate regular tasks. 
As noted above, DrChrono's RCM services also include access to the company's integrated practice management module, through which the billing team creates and processes your claims. The platform can be accessed anytime, anywhere on iPad or iPhone, or online.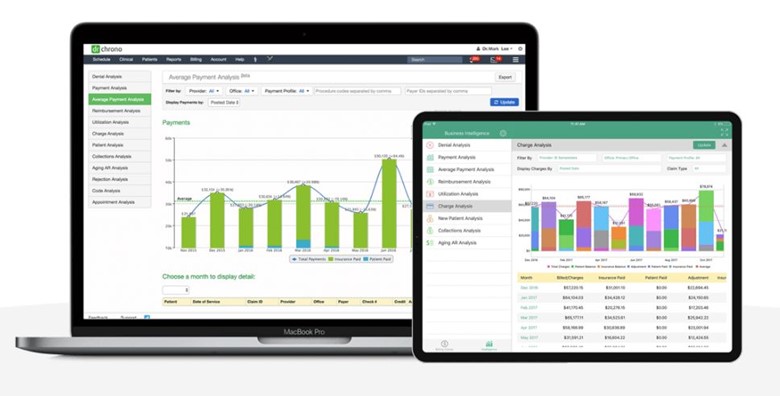 Color-coded charts make it easy to monitor your practice's finances. Source: DrChrono
Reports
When it comes to reporting, all data stored within the DrChrono EMR system and PMS can be used to generate custom reports. These reports are available on demand and based on real-time data, containing the most up-to-date information. Reports can include data on the number of claims submitted, the dollar value of individual claims, the dollar value of claims paid, the number of denied claims and the number of claims adjudicated after revision and follow-up from DrChrono's billing team.
In most cases, it's best to use a single, integrated EMR and PMS system for a seamless workflow. DrChrono's platform is a great choice for practices looking for an all-in-one solution.
DrChrono Pricing
DrChrono offers its services in four different plans. Here's how they break down in terms of the medical billing features they include:
Prometheus: Custom billing codes, billing profiles, auto-generated superbills and auto-generated CMS 1500 forms
Hippocrates: Everything in the Prometheus plan, plus real-time insurance eligibility checks
Apollo: Everything in the Hippocrates plan, plus integrated claim management features and some claims submission tools
Apollo Plus: Everything in the previous plans, plus advanced business intelligence tools
If you want insurance eligibility checks, we suggest you start with the Hippocrates plan.
Regardless, DrChrono asks interested customers to contact them for pricing since plans are customized for individual practices.
Here are the criteria DrChrono considers to determine specific pricing for each client:
Monthly collections: You'll be charged either a monthly minimum (set during contract negotiations) or a percentage of your monthly collections, whichever is higher.
Patient encounters: Pricing varies based on how often you see patients.
Specialty: Because practice billing and coding rules vary by specialty, DrChrono takes your practice's focus into account.
Number of providers: Your number of employees (including physicians, nurses and other staff) influence the quote too.
On top of the base fee, DrChrono typically charges between 4% and 8% of monthly collections, which is in line with other medical billing services we reviewed. While the vendor limits upfront costs, it should be noted that DrChrono charges fees for exceeding plan limits, for paper statements and for migration of certain data. That said, we love that the company offers a 30-day free trial to try out the service.
DrChrono typically requires practices to sign a contract of at least one year, depending on their claims volume. Practices with a smaller volume may need to sign for a longer term. Still, this requirement is less restrictive than those of some other vendors we investigated.
Implementation and Onboarding
We really appreciate that DrChrono includes implementation and onboarding in its subscription price, whereas a lot of rivals tack on additional charges to get set up. As if that isn't appealing enough, the "getting started" process is a lot faster than with a lot of other medical billing services; you could be ready to go in just 30 to 60 days.
As part of implementation and onboarding, you'll be matched with a dedicated account manager. This representative can lead one-on-one training sessions, answer technical questions and provide guidance on customizing the DrChrono system to best suit your organization. This person also acts as your point of contact for any problems you encounter as you are getting things set up. A lot of the top medical billing services we reviewed offer this, but it's not a given in the industry. 
DrChrono Customer Support
DrChrono relies on a help-desk ticket system and live chat to provide customer service. While many competitors also have a live chat option, they usually give assistance by phone as well – something DrChrono doesn't offer. Still, there are other options, such as videos and support documentation, that are helpful alternatives.
However, many customer reviews of DrChrono's customer service suggest it leaves a lot to be desired. Multiple complaints on Trustpilot, for example, claim help tickets often go unresolved and that repeated exchanges are often required before progress is made. This is where working with a rival vendor like athenahealth can really come in handy; the company is well-known for its stellar customer support, as noted in our roundup of the best medical software.
best medical billing services on the market, we spent hours researching and analyzing different vendors, including DrChrono. This process included software demonstrations, phone interviews and customer service calls. We also spent time digging into customer service reviews, including those listed on the Better Business Bureau website. To select the best medical billing service for practices concerned about workflow, we took into account ease of use, RCM features and integrations. We found DrChrono to be the best pick, so much so that we also named it the best medical software for billing. See our full review of DrChrono's medical software to learn more. 
Frequently Asked Questions
Yes. DrChrono manages the entire RCM process, including charge entry and medical coding. This is especially useful for practices that want to control costs by outsourcing billing to certified medical coders and billers employed by a third party, as these positions can be expensive to fill in-house. If this is important to you, be sure to also check out our review of Kareo. Kareo partners with medical billers to provide coding for its clients.
DrChrono charges between 4% and 8% of monthly practice collections for its medical billing service. This range is average for the medical billing services we reviewed. In addition, you'll also have to pay to use the vendor's medical software.
Bottom Line
We recommend DrChrono's medical billing service for …
Practices looking to outsource all their RCM needs.
Small practices that want to keep their EMR/PMS and RCM services simple.
Healthcare organizations in need of a competitively priced solution that offers core functions.
We don't recommend DrChrono's medical billing service for …
Large or complex healthcare organizations that need advanced features.
Practices that anticipate relying heavily on customer support.