Sometimes even the easiest-to-use medical software isn't enough. What if you want more support? That's where athenahealth comes in. This medical software vendor sets itself apart by providing practices with hands-on guidance and the custom insights they need to improve their offices. Its consultation-driven approach and detailed reporting tools allow medical professionals to ensure they are consistently on track for success and to receive assistance when operations are falling short. For these reasons, athenahealth is our pick for the best medical software for customer service.
Athenahealth Features
Although athenahealth scores low on the usability front, its medical software contains essentially all of the features necessary to operate your practice, collectively known as athenaOne. This includes scheduling tools, a patient portal, billing management, charting and in-depth reporting.
Medical Practice Management Software Features
Athenahealth particularly shines in reporting and managing the business end of medical practice operations. These are some of the key features.
AthenaNet
Access to athenaNet, the vendor's network of roughly 135,000 healthcare providers and 100 million patients, is a primary benefit of partnering with athenahealth. The company utilizes this network to constantly update its billing engine of more than 40 million rules to identify common denials and changes in payer policies, as well as to provide advice to medical practices on how to boost their performance. The company monitors top performers in the network to help struggling medical practices replicate the top performers' models when key performance indicators drop off, which is a helpful feature for new or small practices.
Reporting
Athenahealth maintains a robust reporting module that goes well beyond the functionality of any other medical software we reviewed. You can view weekly or monthly reports and customize them in virtually any way. The amount of data that can be filtered is almost overwhelming (in a good way) – a major positive for practices that want to improve by leveraging data-driven insights.
The vendor delivers detailed real-time reports and analytics collated from their network of clinicians. Recent solutions include a stand-alone health module for delivering real-time data on points of care and financial insights from the providers in its network.
The workflow dashboard for the reporting tool features dozens of key metrics tracking your medical practice's performance. These include information about collections by payer, days in accounts receivable and common reasons for denials. Quarterly, an athenahealth customer success manager schedules a meeting with you to review these reports and find opportunities to improve your key metrics – something the other medical software we reviewed did not offer and one of the reasons the vendor stands out for customer service. The dashboard also displays your practice's performance against the athenaNet average so that you can regularly see how your practice compares to similar practices that use the athenahealth medical software.
The system also monitors front-office information, such as canceled appointments and no-shows. You can use this information to improve the way you send appointment reminders and set scheduling policies. The software even tracks the most common codes you send to payers and the collections you bring in from them, thus helping you identify your most lucrative revenue streams. Anytime you fall below athenaNet's benchmarks in any of these areas, a customer success manager offers to arrange a meeting to address the issue. This type of consultative approach is uncommon throughout the medical software space and thus distinguishes athenahealth even more when it comes to customer service.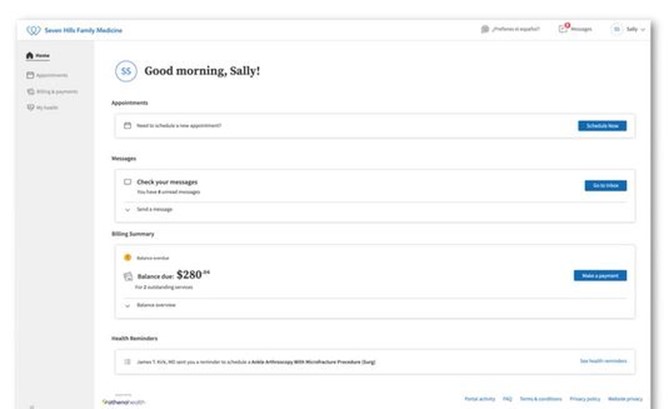 The patient portal clearly lets patients know their current balance.
Source: Athenahealth
Patient Portal
Athenahealth's practice management software has a patient portal where patients can request appointments or prescription refills and send secure, HIPAA-compliant messages. The portal also allows patients to update their demographics, preferred pharmacy, current medications and allergy information. Staff can use the patient portal to request payment on outstanding balances, facilitate debt collection and send appointment reminders. Any updates a patient makes to their information via the portal will be pushed through to the electronic medical record (EMR) system for review by clinical staff. This is a standard feature we found across most of the medical software providers we reviewed.
Through the patient portal, practices can target outreach campaigns to specific subsets of patients. For example, patients with an upcoming annual physical can receive customized messages from the practice through the portal. Patients can also offer feedback or answer surveys in the portal, helping the practice improve the patient experience. The patient portal can be branded with the practice's logo and color scheme, making it feel more like your organization's website than athenahealth's. [Read related article: How to Use Customer Feedback to Your Advantage]
One of the top features of athenahealth's extensive medical practice management software is the athenaNet reporting module, which offers benchmark targets based on data collected from more than 100,000 providers in the vendor's network.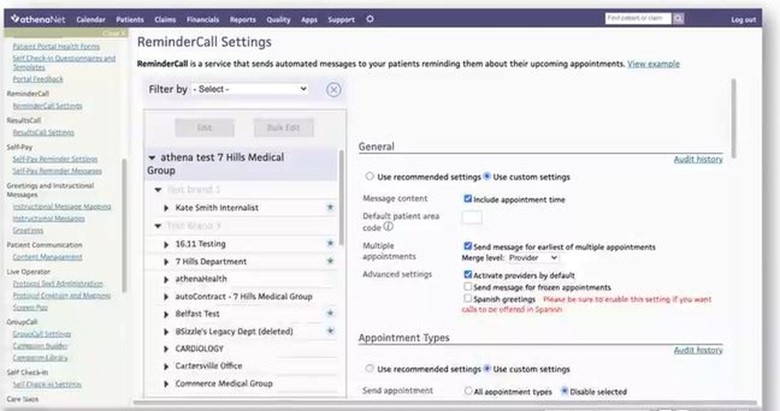 Practices have the option of customizing appointment reminders.
Source: Athenahealth
Appointment Scheduling
Athenahealth's scheduling tool has a central dashboard that provides an overview of scheduled appointments alongside patient and billing information. The calendar view makes it easy to set new appointments and register new patients on the spot. To set a new appointment, select a patient from the list of registered patients, and choose the desired date and time. The calendar displays scheduled appointments by provider or location. Once an appointment is scheduled, recurring reminders can be sent directly to the patient by text, email or phone. Athenahealth offers A/B testing to determine which method of reminder is most effective for your patients, which is a feature that not all medical software vendors offer.
When a patient arrives for their appointment, they can be checked in through the scheduling tool. This involves the patient filling out or updating missing information and completing any intake forms associated with their appointment type. This process can be expedited with athenaCapture, which takes a snapshot of the patient's documentation, such as a driver's license or insurance card. The information on these documents can be pulled directly from the card and imported into the system automatically. You can set custom fields in the scheduler and flag them as mandatory. The appointment cannot move forward until the mandatory fields are filled out.
Insurance Eligibility Verification
Once a patient is checked in, their insurance information appears on the user's screen, along with their expected copay and deductible. Front-office staff can capture any copayments or outstanding balances directly at the point of care, improving patient collections and minimizing the days in accounts receivable. This is an essential feature we looked for in all of our medical software evaluations.
We like that athenahealth can also manage payment plans for patients who can't pay on the spot by allowing them to set up an auto-debit schedule with the approval of your medical practice. Additionally, the software monitors the efficiency of your registration and scheduling process by identifying bottlenecks and slowdowns. If there are inefficiencies, athenahealth not only alerts you, but also provides recommendations for optimizing the process.
Billing
Athenahealth's billing tools, called athenaCollections, are highly effective and rely largely on athenaNet to help providers optimize their financial performance beyond what many medical software companies offer. However, when you sign up for revenue cycle management and medical billing services, you are still required to keep an in-house medical biller – a drawback for any medical billing service. This staff member is specifically responsible for the creation of E&M codes and charge posting.
At that point, athenahealth takes over, pulling patient insurance information to review ICD-10 and CPT codes, and scrubbing claims before submission. The vendor scrubs claims within eight seconds of receipt and promises most claims will be paid in two or three business days. Athenahealth has certified coding specialists who conduct deep dives into denials, which frees providers to focus on operating their practice. The company cites a 93% first-pass acceptance/resolution rate.
For every percentage point below 95% of unposted claims not worked out within three days, athenahealth reimburses your medical practice 2% of the value. Similarly, if it doesn't manage 95% of denials within 10 business days of a rejection notice, the company refunds you the value of those claims. Athenahealth staff also monitor your contractual agreements with payers to ensure you're being paid what you're owed. Once per quarter, the vendor sends payers bills for the balances of underpaid claims. Moreover, any claims paid out at $0 are pursued daily by the company's billing staff.
EMR System Features
Despite the slight learning curve, athenahealth offers useful functions for both clinical and office staff. Here are the core features of the athenaClinicals EMR solution.
Calendar
Front-office staff and providers can view the calendar in a daily, weekly or monthly format. You can also use the quick reference tabs to see how many scheduled patients are currently in the office and how many encounters have already occurred, as well as view outstanding appointment requests by unscheduled patients and any lab or imaging orders that are available for review.
The scheduling tool lists each patient, the time and type of their appointment, and the current status of their visit, along with their name, age and profile picture. You can click these tiles to view more detailed patient information. AthenaClinicals also maintains a portal where patients can access the system remotely to obtain their lab results, request and schedule appointments, seek prescription refills, and make payments online.
The portal also allows patients to communicate securely with their providers. The athenahealth team can work with your practice to boost patient enrollment and use of the portal, which can be accessed via desktop or any iOS device.
Each provider can customize the calendar to appear in the format that is most useful to them, allowing them to focus on their current patients while the staff maintains a holistic view of the schedule.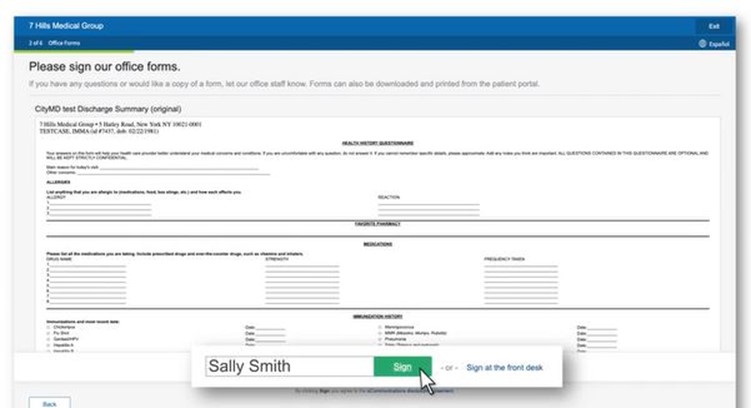 To save time, patients can complete intake forms online in advance of their appointment.
Source: Athenahealth
Intake
During patient intake, providers can review a checklist on the left side of the screen, which includes information like family history, medical history, allergies and medications. Patients can also be placed into a specific exam room. This useful feature, which not all medical software vendors offer, helps guide providers through the encounter.
We especially like the "Vitals" tab, which allows midlevel providers to record vitals or automatically import vitals from a connected medical device. Providers can also review a 13-month medication history through athenahealth's integration with Surescripts. During intake, a Merit-Based Incentive Payment System (MIPS)/Medicare Access and CHIP Reauthorization Act of 2015 (MACRA) tool runs in the background so clinical staff members know what information or procedures are required to qualify for "Meaningful Use" standards.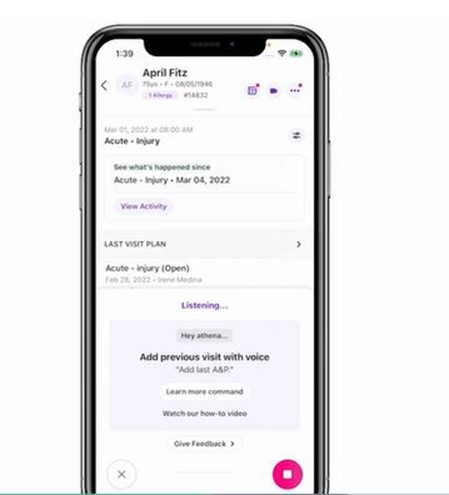 Dictation capabilities allow providers to use voice-to-text to take notes and complete other tasks during encounters.
Source: Athenahealth
Clinical Notes
During an exam, nurses and doctors operate within the patient's chart. Here, providers can view more detailed information about individual patients, including allergies, medications, problems and diagnoses. Patient vitals captured on intake appear on the right side of the screen, along with a history of their last visit and any recent activity, such as prescriptions filled.
In the charting tool, it's easy to view different types of patient information. Providers can cycle through tabs that display each area of information, including any previous notes. This feature also allows providers to use templates, free text or voice to record information about the encounter. Templates are customizable and can be tethered to different appointment types. For example, providers might use one custom template for a consultation and another for a follow-up. Providers can customize templates for patients with recurring visits for specific conditions.
By clicking the "Medications" tab, you can review a patient's active medications and medication history. Athenahealth's insurance eligibility check shows prescriptions that have been refilled recently. You can also order new prescriptions and check if they could negatively interact with existing medications or patient allergies. Similarly, under the "Labs" tab, you can review any recent lab results a patient might have received or order new lab tests directly within the system.
One strong aspect is that patient chart layouts are largely customizable; you can modify the view as if each text box of information under each tab were an individual widget. This customization allows you to adapt athenaClinicals to your workflow, even if other staff members at your practice use the system differently. We also appreciate that providers can consult with other clinicians in the athenahealth network and use athenaTelehealth to deliver virtual care.
Athenahealth's EMR system, athenaClinicals, offers customizable templates and notes, which can be useful for providers to tailor the system to suit their preferences.