Large medical practices have a lot to keep track of, like managing appointments across multiple locations and keeping tabs on high volumes of outstanding claims. The right medical software can help. AdvancedMD has the easy-to-use tools large practices need to handle these tasks and more. Plus, with the vendor's add-on menu, practices can adopt the functions they need without paying for the ones they don't. AdvancedMD's implementation period is on a par with the industry standard and includes guided training. For these reasons, AdvancedMD is our pick for the best medical software for practices concerned about ease of use.
AdvancedMD Features
AdvancedMD's features include practice management, EHRs, medical billing, patient engagement tools, telemedicine functionality, patient charts, reputation management, financial analytics and business intelligence reporting. The vendor lets you build your own package and decide which features to include in your subscription based on your practice's needs.
While this a la carte model can be appealing, AdvancedMD charges for certain features that, fundamental as they are to practice management solutions, should be included. Charging for them makes this software expensive for startups and providers with limited means. On the other hand, practices with larger budgets can benefit from the flexibility of AdvancedMD's add-on features.
Medical Practice Management Software Features
AdvancedMD offers a fully integrated medical practice management and billing platform. Top medical billing services are also available for practices that want to outsource their revenue cycle management (RCM). Here are some of the significant features in AdvancedMD's medical practice management software.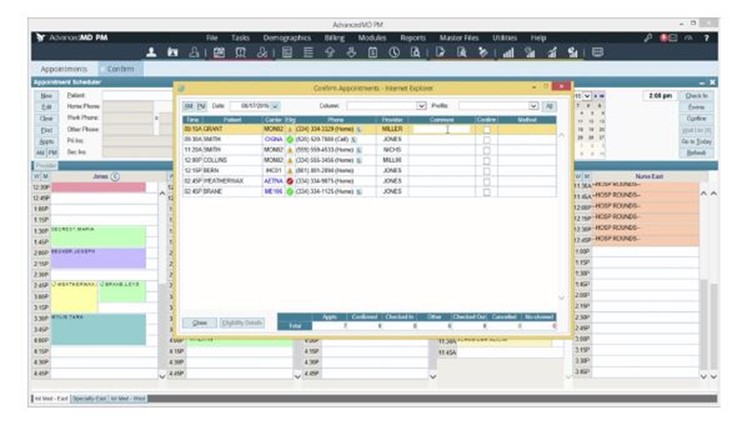 The scheduler makes it easy for users to set, view and confirm appointments. Source: AdvancedMD
Scheduling
We liked the AdvancedMD scheduler's user-friendly drag-and-drop interface, which allows staff to set new appointments on a color-coded calendar that can be organized by provider, location or other custom filters. Staff can view the calendar in a daily, weekly or monthly display. Upon setting an appointment, staffers can register new patients or ensure their existing information is up to date.
We also liked that you can easily run batch insurance eligibility checks once appointments are set or verify eligibility on a patient-by-patient basis. Most competitors offer this critical tool, allowing front offices to save time and prune last-minute cancellations and no-shows.
On the provider side, a schedule snapshot shows their appointments for the day. We found it neat that the daily snapshot displays the location of a patient's appointment for practices with multiple locations. You can hover over a set appointment for quick facts about the patient, including their name, address and insurance. The quick-view format also shows the type of appointment the patient is scheduled for and clinical notes from any recent visits.
Another helpful feature that few rivals offer is AdvancedMD's appointment waitlist. Staff can fill open time slots in the event of canceled or rescheduled appointments, as well as manage wait lists and assign new appointments based on a patient's availability.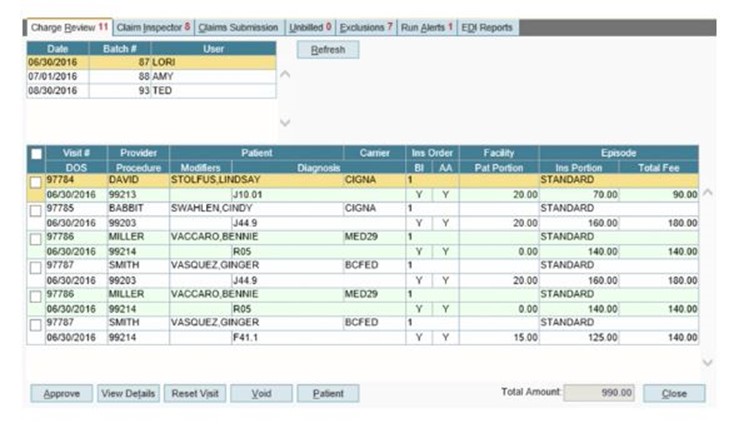 When completing billing activities in AdvancedMD, the tabs at the top of the screen flag how many items there are to review. Source: AdvancedMD
Billing
The AdvancedMD billing module, aptly described as "built by billers for billers," offers powerful RCM tools. AdvancedMD integrates with Waystar and TriZetto clearinghouses, and clearinghouse fees are included in the software's subscription price. The software contains ICD-10 and CPT code libraries for convenient, rapid and accurate reference.
Once providers submit their invoices, the charges are pushed through to the billing module. If you handle your billing in-house, your coders and billers can review the charges to generate claims and submit them through the clearinghouse. With AdvancedMD's billing services, you have access to a team of certified billers and the company's claims scrubbing software, which guarantees a minimum 96% first-pass resolution rate. To learn more, read our full review of AdvancedMD's medical billing services.
The system is transparent, enabling authorized stakeholders and team members to review communications from payers. This way, you can also manage denied or rejected claims and revise them before submitting them. AdvancedMD integrates with credit card processors for patient copays, debits and card payments during office visits. [See the best credit card processors for your business.]
The software's mobile functionalities for billing (and patient management) include an app where providers can simultaneously check their schedules, notes, patient schedules and comprehensive patient face sheets on the go. OneChart helps you see all patient notes when making collection calls, while a built-in claims inspector function of 5 million edits catches potential coding errors to prevent claims rejection. An add-on service helps you eliminate your billing burden with an MDS Medical medical billing plank.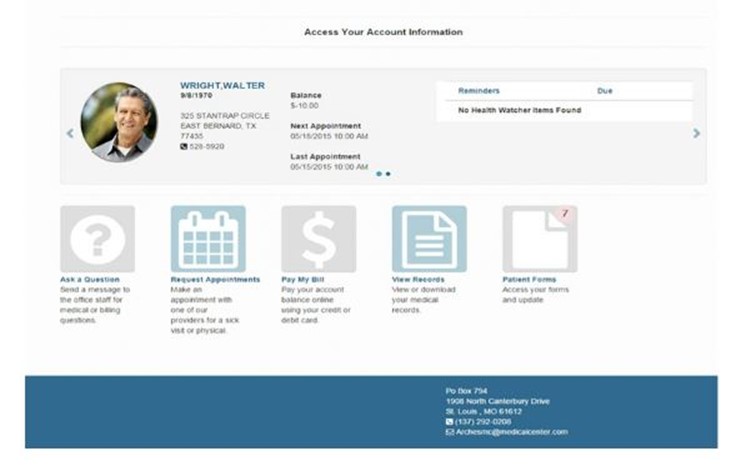 The patient portal allows patients to submit questions and view their medical records. Source: AdvancedMD
Patient Portal
The AdvancedMD patient portal automates administrative tasks and provides two-way video telemedicine functionality. Users can streamline patient communications, prescription orders and renewals, patient payments, online appointment requests, and more. Users can also accomplish these tasks via AdvancedMD's mobile EHR iOS app, which helps providers see patient details in real time, check insurance eligibility, send paperless faxes and more.
Patients can use the portal to ask for prescription refills, send messages to your office and pay bills online. They can also request appointments, giving their preferred date and time. Patients will have access to their medical history and see reminders for upcoming visits.
Reporting
AdvancedMD offers advanced reporting capabilities that provide insight into your practice's financial performance, daily operations and clinical statistics. The full suite is called AdvancedInsight. You can customize the reporting, adding sections such as "missed visits." These reports are configurable and scalable to 99 columns, with customized email templates for email newsletters, among other options.
A financial dashboard displays easily digestible information that can be filtered by provider, insurance payer, facility location and date range. Reports can also be filtered by collections, claims and more to give administrators a clearer picture of where practice revenue comes from. You can export reports to PDF and Microsoft Excel, as well as customize the financial dashboard to show your essential key performance indicators. The data is mapped out in easy-to-understand bar and line graphs.
You can configure the dashboards to show financial trends, such as your practice's monthly performance, the leading payers for your practice and the number of days patient bills spend in accounts receivable. We appreciate that the reporting – more than 150 standard and nearly 500 custom financial reports – can also be generated and delivered to user inboxes on a recurring basis.
EMR Software Features
AdvancedMD's electronic medical record (EMR) software includes a wide range of tools you can access in multiple ways. Here are some of AdvancedMD's major EMR features.
Dashboard
The AdvancedMD dashboard provides a bird's-eye view of your practice's clinical operations. Using unique "donut filters," which you can customize based on the information you want to see first, the dashboard displays data about charge slips, clinical notes, prescriptions, documents, images, lab results, pharmacy requests and more. For example, the HealthWatcher donut filter alerts providers to patients who need to regularly visit their practice. Its features allow you to set recurring visits, list the reasons for each visit and automate reminders to patients – all without leaving the dashboard. You can also use the dashboard to navigate to your inbox to see incoming and outgoing messages.
Appointment Scheduler
We like that AdvancedMD's scheduler is a customizable, color-coded calendar that you can filter by provider, location, visit type and more. It can populate in a daily, weekly or monthly format, providing an overview of how many patients the practice is seeing. These are standard features we looked for in every medical software platform we reviewed.
You can set all new appointments directly in the scheduling tool. AdvancedMD also enables integrated telemedicine appointments via a secure connection. Once the appointment is set, you can send intake forms to the patient. Patients will be notified that they have received certain medical forms via the secure patient portal, or they can fill them out on an iPad when they arrive at the office for their appointment.
You can also check patients in and out with just two clicks directly in the scheduler. When you're checking a patient in, the screen displays a feature that allows you to assign them to a specific exam room and notify providers that they are ready to be seen.
Providers can also review ePrescriptions, pull in insurance information, message patients and communicate on HealthWatcher with features that include automated patient reminders and HIPAA consent sheets. The status of a patient's coverage is automatically checked every 14 days, while lab alerts are flagged red for easy follow-up.
Encourage patients to engage with the patient portal to save time on scheduling appointments and to avoid cancellations and no-shows.
Clinical Notes
With AdvancedMD, you can tie specific note templates to certain appointment types. For example, if a patient is coming in for a consultation, you can set the necessary templates to pull up automatically when you select that appointment type.
The toolbar displays a timeline feature, which shows a patient's medical history. It includes details of their past appointments, notes, lab orders and prescriptions. You can also drag and drop to connect items and review multiple data points simultaneously.
A quick view of each patient card shows the patient's risk factors, the summary of any healthcare plans based on their recent visits (which you can double-click for details), problems the patient is experiencing and current medications. The cards also include educational material you can send patients through the patient portal to review on their own time.
AdvancedMD integrates with Surescripts to check patients' insurance and see which prescriptions they have filled in the past year. This feature is common but not universal in the medical software space, and it is highly useful for keeping tabs on patients' medications. That information can be downloaded and imported into the EMR, so even if it's the patient's first time at your practice, all of their medication history will be available. AdvancedMD also integrates with DrChrono for electronic prescriptions of controlled substances. See our review of DrChrono to learn more.
Patient Encounter
Once the patient is checked in and placed in a room and a nurse has captured their vitals, you can update the patient's status to "Ready for Doctor" with a single click. Any intake forms they filled out before the visit will be available in the EMR. Nurses can add to these intake forms if needed.
The "Exam" tab allows you to pull up the notes associated with the patient's appointment type. We appreciated that notes are customizable to suit your practice's workflow. You can add information to notes by typing, dictating through software such as Dragon or M*Modal, or using acronyms and hotkeys.
You can add ICD-10 diagnosis codes to the note with the help of a "pick list." The full library of ICD-10 codes is also available, enabling you to search for codes if needed. After you fill out and save an exam note, you can export it to AdvancedMD's practice management module for billing.
AdvancedMD allows patients to post starred reviews of their visits that get shared across social channels. Find out how to effectively manage your online reputation.
Telemedicine
AdvancedMD also offers telemedicine appointments, which are available via a secure, HIPAA-compliant two-way video functionality. Since the start of the COVID-19 pandemic, telemedicine has become an integral and expected part of medical software, and we looked for that option in all of our medical software reviews.