AdvancedMD offers a full suite of powerful software and thorough medical billing services at a competitive cost. With an organization-wide first-pass claims rate of 98.4%, AdvancedMD is our best pick for medical billing service for large practices.
Pros
The platform has extensive code libraries for reference.
There's smooth integration with clearinghouses. 
The system is highly customizable.
Cons
AdvancedMD does not offer medical coding services, which means you must maintain a certified medical coder on staff.
The service may not be compatible with specialties such as physical therapy and behavioral health.
AdvancedMD is more expensive than most other options, with additional costs for add-ons and training.

Healthcare organizations need a medical billing partner that can handle their claims with ease and provide full visibility into the process in real time. They also need access to a software platform that is scalable enough to meet their needs with straightforward functionality. AdvancedMD offers a top medical billing service that includes access to a robust healthcare IT suite, including an electronic medical record (EMR) system and medical practice management software with powerful, easy-to-use tools and total transparency into outsourced billing. For these reasons, AdvancedMD is our choice for the best medical billing service for practices that are concerned about ease of use.
AdvancedMD - MBS Editor's Rating:
8.5 / 10
Pricing/value

8/10

EMR/PMS

8/10

RCM process

8/10

First-pass claims rate

9.6/10

Customer support

9/10
Editor's note: Looking for the right medical practice management solution for your business? Fill out the below questionnaire to have our vendor partners contact you about your needs.
Why We Chose AdvancedMD for Ease of Use
We chose AdvancedMD as the best medical billing service for ease of use because the platform is clear and straightforward. The navigation is color-coded, and the workflow is logical and intuitive, making it easy to use for revenue cycle management (RCM) and other tasks. There are extensive code libraries for reference, and all claims are handled by the vendor's internal back-end team, which organizes your records in prioritized worklists, giving you visibility throughout the entire claims submission process.
The platform also provides almost-certain first-pass acceptance by payers because it leverages the same claims scrubber used by its preferred clearinghouse partner, Optum. This means any issues that would be flagged by Optum's system are captured by AdvancedMD before submission, thereby increasing the likelihood that claims make it through to payers and are accepted the first time they're submitted. Most other medical billing services maintain a rules engine, but not all are so closely linked to the clearinghouse that will process the claims. Syncing the claim scrubber with Optum improves the odds that claims submitted through AdvancedMD are accepted by the clearinghouse and gives AdvancedMD an appealing advantage in usability and efficiency.
Rejected claims are submitted within three days, while unpaid claims are followed up on within 40 days, thus helping you recoup more of what you're owed and get paid faster. AdvancedMD's RCM service comes with its EMR and practice management software as one package, so you can get an all-in-one suite that serves virtually all aspects of operating your office.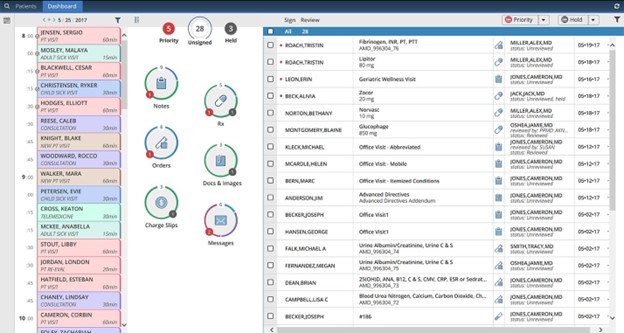 AdvancedMD's "donut" filters show you what areas of your practice need attention, thus helping you increase efficiency. Source: AdvancedMD
Ease of Use
Usability is exactly why AdvancedMD stands out for both medical billing and medical software. We love that the color-coded navigation gives users visual cues for each section of the platform. The workflow is uncomplicated and, once you're trained on the software, quite logical. The user-friendly features add to AdvancedMD's flexibility.
Like most systems, the more you customize it, the steeper the learning curve. But it's easy to get up to speed on AdvancedMD's intuitive functionality thanks to the available hands-on training, webinars and self-guided educational tools. You'll grow to love the software's shortcuts and "donut" filters, which make medical processing and other operations much more efficient.
Features
With the exception of medical coding, AdvancedMD offers the ideal features healthcare organizations need in a medical billing service.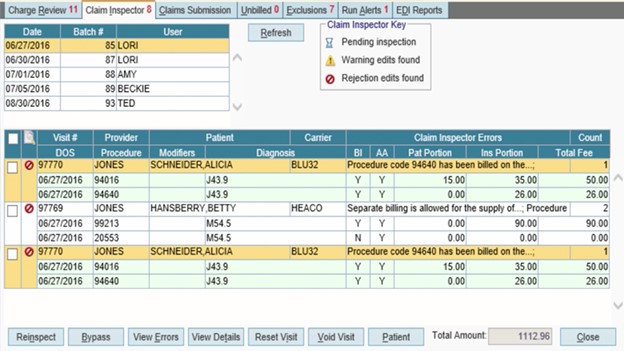 AdvancedMD scrubs your claims after your team codes them, indicating which ones need editing. Source: AdvancedMD
Claim Scrubbing
Because AdvancedMD doesn't offer medical coding services, your practice must code all claims before sending them through the system, at which point the vendor's certified billers will scrub your claims and submit them to insurers. All of AdvancedMD's billers have at least three years of experience in the industry, while 10% to 20% of the company's billers are also certified coders.
That high level of training and the team's dedication partly explain why AdvancedMD can guarantee you – in writing – an incredibly high 97.6% first-pass claims rate. This means the likelihood your claim is denied is much lower than with other companies, and you'll almost certainly get compensated faster than you will with competitors. In the rare event your claim is denied, the certified billers will turn around these claims within 14 days. AdvancedMD also follows up on outstanding payments within 40 days from the date the claim was filed or from when the patient statement was sent.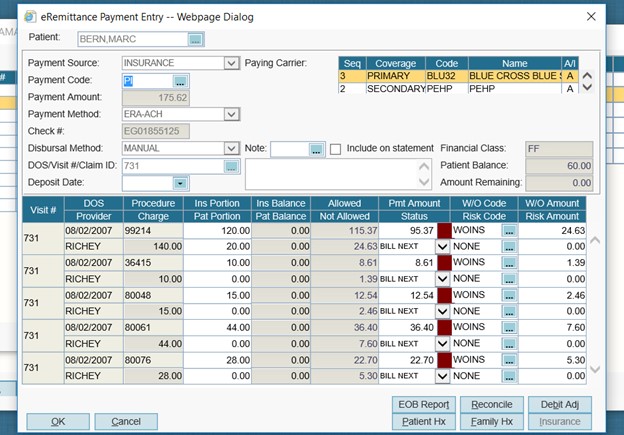 The remittance screen displays what a patient's insurance company has agreed to pay your practice. Source: AdvancedMD
Remittance Review
When AdvancedMD receives electronic remittance advice (ERA), which describes why payers 
denied or underpaid claims, the service stores the ERA in the easy-to-access eRemittance Review tool that you can use to see where claims went wrong or why the amount was underpaid. What's more, AdvancedMD will revise the claim as necessary and keep submitting it until it is accepted and paid. The vendor is also committed to following up on outstanding balances, as noted above.
Scalability
AdvancedMD serves around 40,000 practitioners across 13,000 practices and 850 medical billing companies. Its clients range from small, independent practices to large, multidepartment providers, but the average client is a large independent company with about 30,000 encounters per month. The company processes around 9.5 million insurance claims a month and is one of the most scalable services we found in our investigation of medical billing services. This is a flexible vendor that can work with smaller practices but also excel at revenue cycle management for large practices. In other words, as your organization grows, the AdvancedMD platform can grow with you.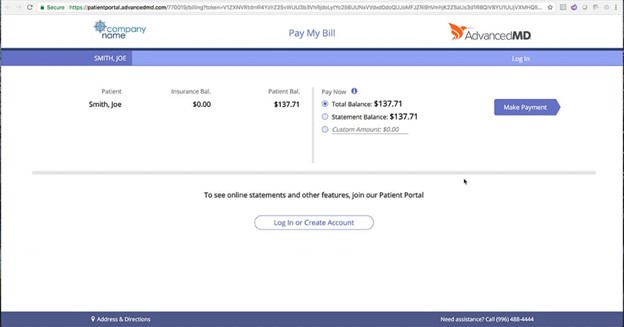 Patients can make payments through the patient portal, which is included in the AdvancedMD software suite. Source: AdvancedMD
AdvancedMD Medical Billing Service Pricing
AdvancedMD's medical billing service comes paired with its EMR system and practice management software as one package. However, you have two options for ensuring this medical software suite is best suited for your practice:
Customized Bundle: With this package, AdvancedMD helps you build a billing platform that matches your needs. This option tends to be more expensive than the Preconfigured Bundle (described below), though it often comes with a 30% discount. AdvancedMD will give you a customized quote that takes into account the exact RCM services, EMR and practice management features your practice will use.
Preconfigured Bundle: With this option, you get AdvancedMD's core EMR and medical practice management package, along with the company's RCM services, without the 30% discount. The base rate is $485 to $729 per month per provider for unlimited transactions or $1.47 to $2.18 per encounter.
Like most medical billing services, AdvancedMD charges a net monthly collection of 3% to 8%. In contrast, some rivals charge as little as 2% or as high as 9% of monthly collections. AdvancedMD's rate depends on factors such as practice size, practice specialty and intricacies of the billing process. There are also fees for certain add-on features.
Practices must commit to a one-year contract. However, that's better than most medical billing services, which often require contract terms of at least two years.
Medical billing companies generally determine pricing based on an organization's unique situation and the scope of services required. To get a precise quote, the service provider will have to examine your historical collections data.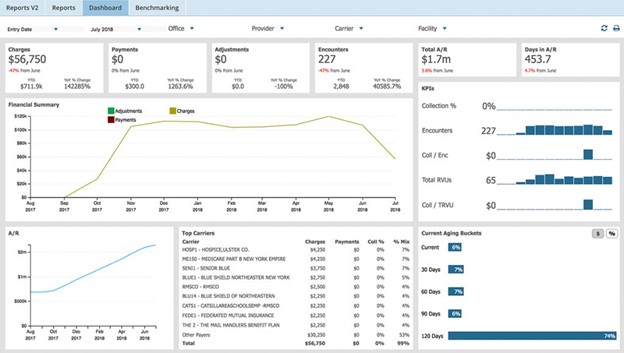 AdvancedMD provides reports that show your practice's financial state. Source: AdvancedMD
Implementation/Onboarding
There are multiple implementation packages you can choose from when you get started with AdvancedMD. The company offers webinars and self-guided training materials for tech-savvy teams, but those who want hands-on training to get up to speed quickly should consider one of the higher-tiered implementation plans.
One participant: You can join a group of five to 10 other AdvancedMD clients and get one week of group certification training, for a cost of $1,995.
Two participants: This option allows two participants from your practice to join the group training, although you can get $700 off each additional registration. In other words, the price is reduced to $1,295 per person.
Four participants: This group training is ideal for teams and costs $5,000.
If you prefer to have a private training session that is customized for your organization, you can have up to nine attendees participate for a charge of $10,000.
Unless your team is already familiar with the AdvancedMD system, it is wise to opt for hands-on, live training sessions. While that means higher upfront costs, it could save you money in the long run by helping your staff be more productive and ensuring they know how to use the software effectively from the start.
Customer Support
AdvancedMD's customer support is available free of charge. There is a 24/7 help desk where you can contact a support representative any time you experience a problem with the software – something that sets AdvancedMD's customer service apart from competitors we reviewed. 
Additionally, AdvancedMD has a self-service customer portal called Hub, where you can get insightful help and support, discuss AdvancedMD products, post feedback, suggest new ideas, and talk with peers about your practice and workflow. All customer support is handled in-house and provided on an ongoing basis after your practice completes the implementation process and training.
Our own customer service experience with AdvancedMD, which included a discovery call and a demonstration of the healthcare IT platform, was exceptional. After we connected with a representative for the demonstration, we requested follow-up information about the healthcare IT platform and medical billing service, which we promptly received.
Limitations
AdvancedMD's costs are slightly higher than competitors', with add-on products that could be included in their basic package but are instead priced separately. To prevent surprises down the road, make sure you know what you're buying and implementing. For a low-cost alternative, see our review of DrChrono, which offers medical billing services with lower upfront expenses.
Furthermore, because AdvancedMD requires practices to do their own medical coding, you need to have a staffer in-house to code all of your claims before submitting them. That's both time-consuming and an additional expense for your organization. DrChrono, on the other hand, handles coding for you.
Methodology
We spent hours researching and analyzing medical billing services, including those offered by AdvancedMD. Our research included software demonstrations, phone interviews and customer service calls. We also examined customer service reviews, including those listed on the Better Business Bureau website. When choosing our best pick for ease of use, we examined criteria such as navigation, claim scrubbing tools and the usability of the company's healthcare IT platform. Based on those factors, we chose AdvancedMD as the best option for healthcare organizations focused on ease of use.
AdvancedMD Frequently Asked Questions
No, AdvancedMD does not perform medical coding. This means practices cannot fully outsource the RCM process to AdvancedMD and must maintain a medical coder on staff or find a separate service to perform the coding. Some other medical billing service vendors we reviewed, like DrChrono, do perform medical coding.
Yes, AdvancedMD employs certified medical billers and coders. Although the company does not perform coding, its certified coders can thoroughly scrub claims and identify coding errors and fix them before submitting claims to the clearinghouse. This kind of quality control contributes to AdvancedMD's 97.6% first-pass claims rate.
Bottom Line
We recommend AdvancedMD's medical billing service for …
Practices with in-house medical coders.
Healthcare providers in large practices who are willing to spend extra on training.
We don't recommend AdvancedMD's medical billing service for …
Healthcare organizations that need medical coding services.
Small practices that need a holistic RCM outsourcing service.