Tebra offers a choice of independent medical billing partners and helps find the best fit for its healthcare IT clients. Tebra does not directly provide revenue cycle management services.
Pros
Tebra works with a number of medical billing partners that cover a wide range of specialties.
Billing data can be accessed from a single screen, with the software well integrated with other parts of Tebra medical suite.
The platform requires minimal training to use.
Cons
Tebra doesn't directly offer managed billing services, instead involving a third party in the relationship.
Pricing is difficult to estimate without investigating all the available billing partners to choose from.

Tebra, a healthcare IT vendor that offers intuitive software, facilitates a managed billing service that allows practices to track claims through the payment process. Although Tebra does not directly provide revenue cycle management (RCM) services, it works with affiliate medical billing companies that serve its clients. Tebra's billers cover a wide range of specialties, and all integrate with Tebra's cloud-based medical software. The company also enables an à la carte approach to medical billing, in which practices can outsource all or part of their billing process. With its transparent procedures and streamlined platform, Tebra is the best medical billing service for tracking claims.
Tebra - MBS Editor's Rating:
8.6 / 10
Pricing/value

8.5/10

EMR/PMS

9.0/10

RCM Process

8.0/10

First-pass claims rate

9.5/10

Customer support

8.0/10
Editor's note: Looking for the right medical practice management solution for your business? Fill out the below questionnaire to have our vendor partners contact you about your needs.
Why We Chose Tebra for Tracking Claims
We chose Tebra as the best medical billing service for tracking claims because its functionalities help medical providers automate and track payments, seamlessly submit claims to clearinghouses and collect outstanding bills from patients. If you opt for Tebra's self-managed billing, the software helps you clearly follow your claims from charge submission to payment posting. Color-coded alerts let you quickly identify the status of claims, track everything and get paid. There's minimal training needed, and the system is intuitive and simple to use.
The billing application has a built-in rules engine that scrubs your claims for inaccurate codes before submission. That library is built on feedback from Tebra's entire client network, thereby going beyond the usual common code errors found in most databases. This claims scrubber, along with other tools for tracking and alerting you to inaccuracies in claims, makes Tebra a confidence-booster when processing claims on your own.
You can also rest assured your claims will have a high first-pass acceptance rate if you sign up for Tebra's outsourced billing. In this case, one of the third-party medical billers partnered with Tebra will handle coding, scrubbing and submitting your claims. You'll still get insights via the Tebra software on where your claims are in the revenue cycle management process, even though Tebra itself isn't the team doing the processing. You can also go the hybrid route, using managed billing for some tasks while completing other parts of the process with your in-house team.
Tebra doesn't directly handle revenue cycle management and instead relies on third-party partners, which can complicate your decision on whether or not to invest in it. If you want a vendor that processes the claims itself, consider athenahealth or AdvancedMD. For more information, see our review of athenaCollector and our AdvancedMD review.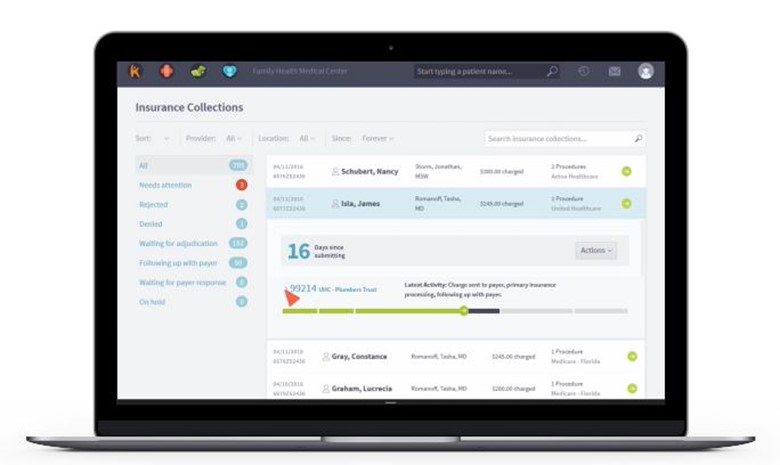 Tebra makes it easy to track claims through the billing process. Source: Tebra
Ease of Use
Many healthcare IT platforms are difficult to use or require hours of training. Tebra, by contrast, is easy to use. Although your staff could benefit from one-on-one training or the dozens of hours of content available through Tebra University, a new user can accomplish basic tasks by clicking around and examining the software's tools for the first time. As an integral part of monitoring managed billing services, this ease of use is important to any practice that wants to not only stay on top of its outsourced billing, but also run useful financial reports to identify where processes can be optimized.
Features
Tebra's billing assistance comes in two forms: its intuitive front-end services where you do your own billing and its optional add-on where you defer to the company to outsource your revenue cycle management. You can also combine these methods, based on your organization's specific needs.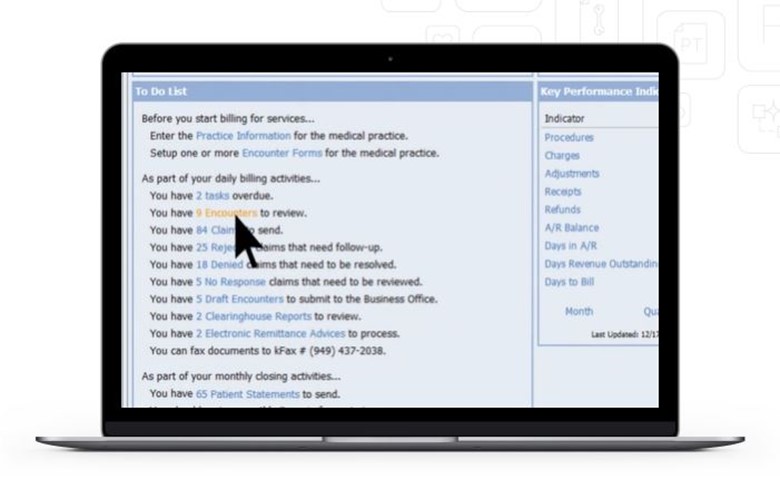 Tebra's To Do List feature tells you exactly where your attention is needed when you manage billing yourself. Source: Tebra
Self-Managed Billing
To manage your own billing, Tebra's Robotic Process Automation comes with automated billing solutions that reduce manual, repetitive tasks and help improve your RCM. There's electronic admittance advice (ERA)-automated processing, where all rules and codes you insert are automated. An Unapplied Payment solution follows up on outstanding claims, while a Smart Connector feeds real-time and updated patient demographic and financial information into your Tebra dashboard for accurate patient info.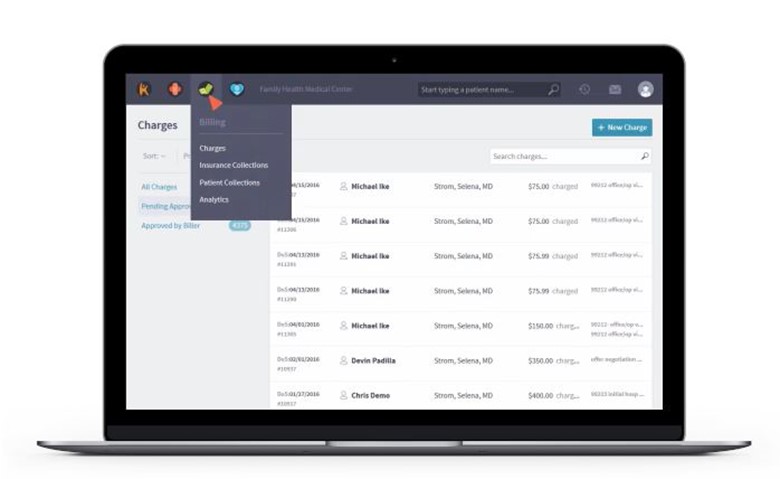 It's easy to stay on top of insurance collections and patient collections when you manage billing through Tebra. Source: Tebra
Outsourced Billing
If you want to use the outsourced billing (also known as managed billing), Tebra assesses your needs and matches you with a trusted independent billing company that will optimize your reimbursements. Partners are matched based on criteria such as the practice's specialty, practice size, claim volume and billing complexity. 
Tebra offers separately priced packages for its managed billing model. So instead of having to outsource most or all of your RCM, you can choose to split your package and outsource, say, just coding or denial management, which makes the package more affordable. This is a unique deal and may be appealing. Identify the billing item you need the most help with, and Tebra will help you find the right partner to work on the issue and show you how to improve that weakness. That's worth the investment, particularly if you're a beginner and/or struggling healthcare organization. This pricing structure may also be worth your while if your practice needs to cut back on its budget or find less costly help for your many divisions.
Tebra also helps outsource all billing operations, from charge entry and coding to denial management and patient follow-up. Then, it refers you to the partner that best meets your practice's needs. The most comprehensive outsourcing plan includes charge entry, coding, claims scrubbing, submission via a clearinghouse, rejection management, denial management and follow-up. It also includes patient statements and collections, as well as potential out-of-pocket expenses.
The trade-off of working with an external biller, of course, is that it invites a third party into the mix. That means there's another vendor aside from Tebra that you need to deal with. On the other hand, Tebra's transparency and seamless integration with billing partners assure that you can monitor the activity of these third-party mediators in real time, the same way you would track the claims if you were processing them yourself.
Tebra maintains a first-pass claims rate of greater than 95% across its billing partners, which is on par with the industry standard.
Tebra's claims scrubber is regularly updated with the errors and denials its other clients experience. As a result, the service remains up to date with clearinghouse and payer policies, improving the first-pass claims rate.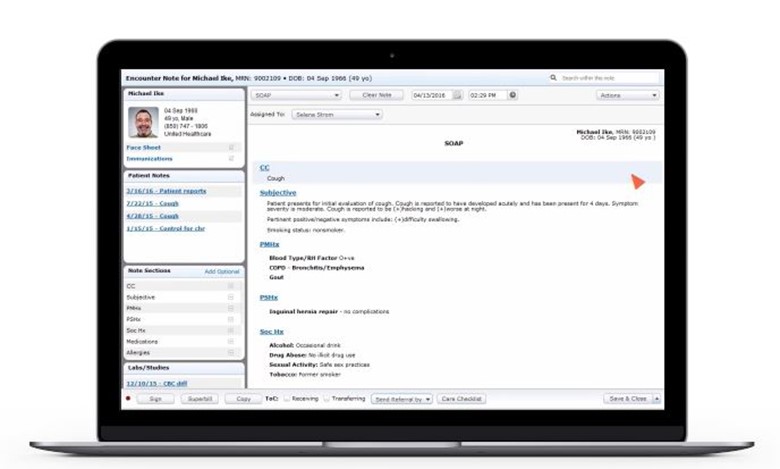 Practices can use the Tebra Clinical module to manage patient care. Source: Tebra
Medical Software
Tebra offers an end-to-end user-friendly experience with its Clinical, Billing, Managed Billing and Engage modules. The Clinical hub helps you write notes and prescriptions, code encounters and manage patients in Tebra's fully integrated, cloud-based electronic health records (EHRs). Billing supports your in-house billing team, while Managed Billing is the add-on if you choose to outsource. With Tebra Engage, you get automated marketing and front-office tools to help you build your brand online and connect with patients. 
Tebra Pricing
For the straightforward self-managed billing service, Tebra charges as it does for its EHR on a per provider per month basis. There's also a one-time implementation and setup fee, an annual fee per authorized user, and a one-time application fee for e-prescribing controlled substances. Tebra would not supply us with specifics or general details on pricing. They prefer to work with each client individually to get a better understanding of their needs. That allows them to create a solution that best fits their need and budget.
If you outsource billing, the pricing depends on which of Tebra's billing partners you choose to work with. For this, you should expect to pay a percentage of the monthly collections. Factors that influence the rate include your practice specialty, claim volume and billing complexity. Billing clients receive access to Tebra's complete healthcare IT suite, which is included in the monthly percentage cost. Tebra refers you to its Solution Consultants for a consultation to determine the best package for your organization's needs.
In all cases, clients have free access to Tebra University, a self-guided educational and training program that can help your practice improve collections and teach you how to gain as much as possible from using Tebra. 
For clearinghouses, Tebra uses Gateway and Capario. Unlike some of the other medical billing services we reviewed, Tebra doesn't charge clearinghouse fees. You also don't need to complete paperwork for eligibility verification.
Clearinghouse fees aren't always included in the monthly percentage a billing service charges. Practices on a budget will appreciate that they won't have this extra cost with Tebra.
Implementation/Onboarding
As noted above, Tebra has a one-time implementation and setup charge per provider, but that's followed by free training, which is a significantly better deal than you'd get with a rival like AdvancedMD. You'll be paired with a dedicated customer success coach who will work with you through the implementation and onboarding processes. Your team can also enjoy one-on-one training or opt for self-guided learning through Tebra University. The overall setup can take four to six weeks, but staffers should need much less time to get comfortable with the system.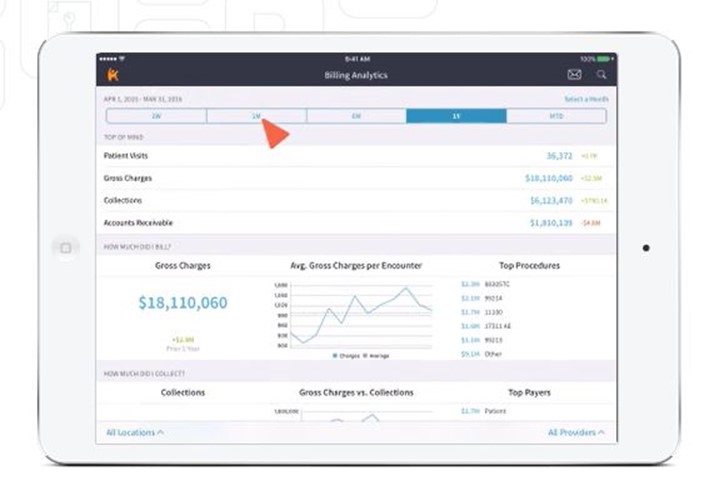 Tebra has analytics tools that give insight into your practice's financial performance. Source: Tebra
Tebra Customer Support
One of Tebra's customer success coaches is paired with your practice for free for the first 60 days. Once a month, this representative helps you review your practice's data and find opportunities to improve collections as well as eliminate practice inefficiencies. The rest of the time, customer help is always available via phone or email. For billing concerns in particular, clients are encouraged to call the customer support team.
Limitations
If you outsource your billing instead of managing it yourself, Tebra's biggest shortfall is the intrusion of a third-party vendor into the mix, meaning you'll work with one more company to complete the billing process. Of course, instead of seeing this as a drawback, you could happily view it as an extra set of hands.
Apart from that, Tebra's system can be slow, especially when uploading documents, and the customer support is outsourced, which can feel impersonal. In contrast, competitor athenahealth is known for its hands-on, customized customer service. We also noticed Tebra has a significant amount of negative reviews on the Better Business Bureau website, many of which it hasn't addressed.
Methodology
When investigating the best medical billing services, we spent hours researching and analyzing different products on the healthcare market, including Tebra. This process entailed participating in software demonstrations, phone interviews and customer service calls. We also sorted through customer service reviews, including those featured on the Better Business Bureau website. To determine the best medical billing service for practices prioritizing claims tracking, we examined each software's user interface and user experience, billing process and transparency. Based on these factors, Tebra stood out as the top option. [Learn more about this vendor in our review of Tebra's medical software and our overview of the best EMR medical software.]
Frequently Asked Questions
Tebra does not directly perform medical coding or billing services but instead partners with companies that offer these services. Tebra's software can be used to monitor these third-party medical billers in real time.
Tebra requires a one-time setup fee of $500 per provider for clients that sign up for its managed billing service. This fee is separate from the percentage of monthly collections charged for revenue cycle management.
Bottom Line
We recommend Tebra's medical billing service for …
Practices that want to be able to choose from multiple billing partners capable of coding.
Small medical offices that want to handle their billing in-house.
Healthcare organizations that want their billing partially self-managed and partially outsourced.
We don't recommend Tebra's medical billing service for …
Practices that want to limit the number of people involved in the billing process.
Large organizations with high volumes of claims.