Merchant One is a full-featured credit card processor and our choice for the best credit card processor for flexible pricing. Instead of taking a one-size-fits-all approach, Merchant One works with each business to create a custom pricing plan.
Pros
Merchant One's pricing model provides rate flexibility and includes free equipment.
Merchant One's customer service is highly rated in an industry often known for poor support.
Merchant One receives user scores on TrustPilot. There are more than 6,000 reviews on the platform, and Merchant One has a 4.9/5 rating.
Cons
Merchant One doesn't manufacture its own hardware; you'll need another vendor for POS equipment.
You're locked into a three-year contract and may need to pay a fee for early termination.
Merchant One checks all the boxes for businesses seeking a top credit card processor. It provides an intuitive platform, various payment options, and an easy application and approval process. The platform integrates with hundreds of third-party apps and boasts high customer satisfaction ratings. We were most impressed by Merchant One's flexible pricing options. It works with businesses to find an appropriate custom pricing model for their needs. 
Merchant One Editor's Rating:
8.9 / 10
Pricing and fees

9.5/10

Customer service

9.7/10

Third-party integrations

9.4/10

Payment options

8.5/10

Added POS tools

7.5/10
Why We Chose Merchant One as the Best Credit Card Processor for Flexible Pricing
We like that Merchant One doesn't take a cookie-cutter approach to pricing. Instead, it tailors pricing to each client's unique needs. The company works with merchants to create custom pricing and packages, allowing nearly any small business to accept credit card payments. Other credit card processors we evaluated didn't offer this pricing customization, making Merchant One our choice for the best credit card processor for flexible pricing. 
In addition to its flexible pricing model, Merchant One offers a well-rounded and robust feature set, making it an excellent option for many small businesses.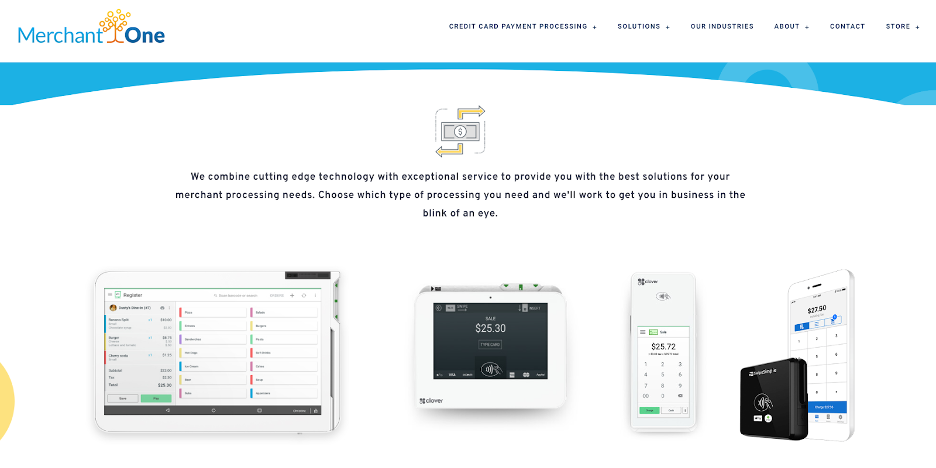 Merchant One can facilitate credit card payments via terminal swiping, smartphones, and tablets. Source: Merchant One
Ease of Use
We tested Merchant One's credit card processing functionality and found it intuitive and easy to use. Merchant One's modern user interface features a logical layout with tabs for credit card payments, checks, invoices, reports, and more. 
We like that Merchant One's main dashboard displays key tools like the virtual terminal, reporting functions, and customer lists prominently (see the screenshot from our demo below). Its virtual terminal makes entering customer information and accepting credit card payments seamless and straightforward. We feel that business owners and their teams will learn Merchant One's system quickly and immediately get up to speed.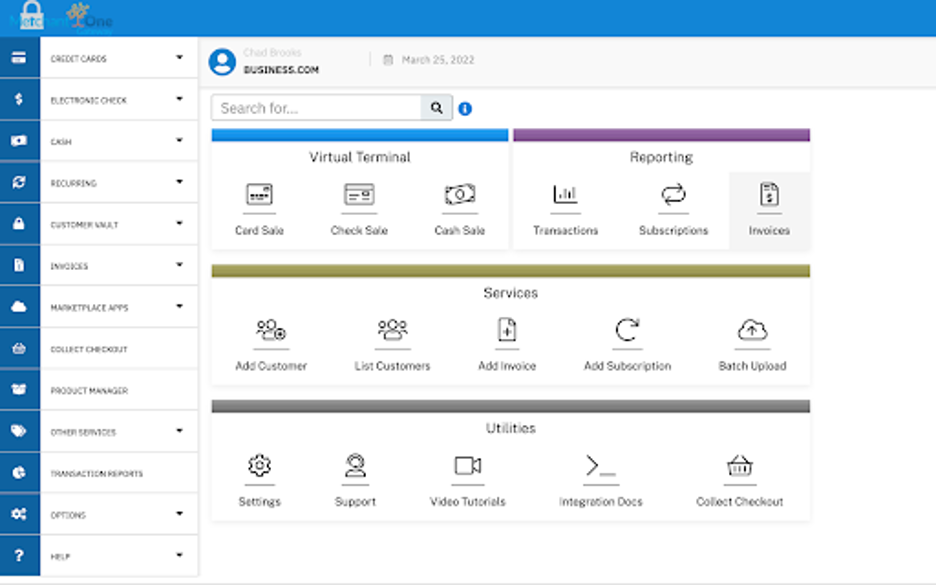 This screenshot shows Merchant One's sleek user interface. Source: Merchant One
Merchant One Features
In addition to flexible pricing, Merchant One offers several useful credit card processing tools. Here's an overview of the best features. 
Virtual Terminal 
We found Merchant One's virtual terminal intuitive to learn and use. Businesses can use Merchant One's virtual terminal to enter customer transaction data in a web browser – a feature businesses that accept credit card payments over the phone will find particularly helpful. You can also use the virtual terminal to accept ACH payments. 
The screen capture below shows the user interface for Merchant One's virtual terminal. Compared to virtual terminals from other processors such as Clover, we found that Merchant One's form is a little busier. However, Merchant One will store customer information securely in the "customer vault" for easy access and recurring payments.
This screenshot shows how Merchant One's virtual terminal can be used to manually enter customer information. Source: Merchant One
Reporting
Many credit card processors provide small business data analysis features. In our testing of the software, we found that Merchant One generated quality summaries of sales data, transactions, recurring payments, invoices and more. This data gives you insight into what's happening in the company by drilling down into the data, allowing you to keep abreast of your business's finances. One downside we found is that Merchant One doesn't produce graphs, which could hinder some business owners that prefer data visualization. 
E-commerce
We were impressed by Merchant One's tools for setting up an online store. Other credit card processors that we reviewed, including Stax and Helcim, integrate with several online shopping carts. Merchant One's credit card processing software, on the other hand, integrates with over 175 online shopping carts. This gives business owners a lot of flexibility around what shopping cart software they can use for their websites. 
You can also build your own hosted checkout and "buy now" buttons. Like Helcom, we appreciate that Merchant One also provides an open API for developers to build their own custom solutions. Merchant One's e-commerce website security tools include credit card fraud detection and payer authentication. 
Integrate Merchant One into one of the best e-commerce platforms and shopping cart software solutions, including Volusion and 3DCart.
Integrations
Merchant One offers an integrations portal that allows merchants to easily integrate their payment system with over 300 applications. This is fewer than Clover, which boasts over 500 integration options, but still far ahead of most other credit card processors. 
The ability to integrate with other business applications can greatly streamline your life. For example, you can integrate your payment system with the best accounting and invoicing software like QuickBooks; the best CRM software like Salesforce, Zoho and HubSpot; and other business software tools. We were impressed by the breadth of Merchant One's compatibility with third-party apps. Merchant One also boasts an open API, a significant benefit for merchants that want to create custom workflows between the Merchant One system and third-party apps.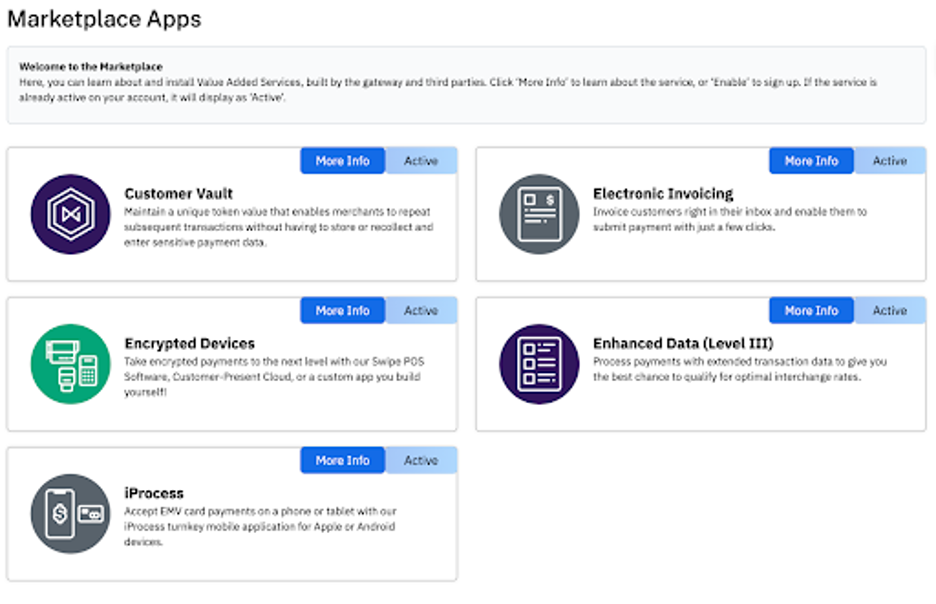 Merchant One offers a wide selection of integrations. Source: Merchant One
Hardware
Unlike some competitors such as Clover and Square, Merchant One doesn't manufacture its own hardware. Like a number of other credit card processors, Merchant One is an authorized reseller of several POS devices, including the Pax S80, Pax S500, FD-130 and Verifone VX-520. Merchant One also offers Clover devices, including the Clover Station, Clover Mini, and Clover Flex. 
The company offers some of these terminals for free when you sign a three-year contract. However, we should note that some competitors such as Payment Depot offer free POS devices without locking you into a contract. 
Payouts
It goes without saying that business owners prefer to get paid sooner rather than later. Merchant One's payout time is similar to that of competing credit card processors, which means that you won't need to worry about cash flow issues from slow processing times. Customers can expect payouts from Merchant One to arrive in their bank account within two to three business days. For an additional fee, the company offers next-day funding. Only Chase's credit card processing software offers same-day deposit, which you can read more about in our review of Chase Payment Solutions. 
Merchant One Pricing
We found Merchant One's pricing plan to be a good fit for business owners seeking a flexible pricing pan. While most credit card processors make you choose from preset plans, Merchant One's processing rates differ dramatically based on your business type. For that reason, you must work with the company to obtain a precise quote. While this may not work for businesses that are looking for transparent pricing, the ability to create a tailored pricing plan could save money for others. 
The processing rate that you get from Merchant One depends on various factors, including which cards and payment methods you want to accept, ticket sizes, monthly volume, whether you buy or lease equipment, and if you need a POS system. Merchants can also choose a free payment gateway or a free credit card terminal. 
When it comes to Merchant One's credit card processing fees, you'll pay the following: 
Monthly subscription fee: When you subscribe to the base plan, you'll pay $6.95 per month. This monthly fee is much lower than what many of Merchant One's competitors charge. When researching credit card processors, we found that most charge at least $15 per month, while some charge $100 or more in monthly fees. 
Annual membership fee: Keep in mind that there is also an annual membership fee of $99.
Per-transaction fees: Merchant One also charges a fee that consists of a small percentage of the transaction, depending on the transaction type:
Keyed-in transactions: For credit cards you manually enter into a POS terminal or virtual terminal, the processing rate will range from 0.29 percent to 1.99 percent per transaction.
In-person transactions: For debit and credit cards that are swiped, tapped, or dipped into your card reader or POS terminal, Merchant One will charge 0.29 percent to 1.55 percent per transaction.
Early termination fees: When you sign up for a Merchant One account, you agree to a minimum three-year term. You may get hit with an early termination fee if you cancel before your contract ends, depending on whether you opted for the free gateway (no fee) or the free Clover Mini or station POS equipment (fee included). You would be charged an early termination fee only if you have the upgraded Clover equipment and cancel within a year. In this case, you will be charged either $295 or $25 for each remaining month in your contract, whichever is greater. There is no early termination fee with Merchant One if you choose the free gateway, a free non-Clover terminal or the Clover Go. In addition, there is no early termination fee if you purchase the Clover Mini or station.
PCI compliance fee: The PCI compliance fee is included in your $6.95 monthly fee. Merchant One uses a third-party PCI compliance company and gives merchants full access to that company's PCI compliance portal. We find it helpful that Merchant One sends merchants reminders periodically to ensure they stay on top of their PCI compliance tasks and stay abreast of credit card payment processing laws and rules. If Merchant One discovers you're not PCI compliant, after a two-month grace period, a monthly noncompliance fee of $36.18 will be assessed until the problem has been fixed.
Gateway fee: You can choose either a free gateway or a free credit card terminal. The gateway fee is $5 per month if you get the free terminal. If you get a mobile reader – for example, if you must accept credit card payments on a mobile phone – there is no gateway fee.
Merchant One may assess a chargeback fee in some instances. You can help avoid chargebacks with clear product descriptions, shipping information and refund policies.
Implementation and Onboarding
Merchant One boasts a high approval rating, and we appreciate that Merchant One can serve many businesses. For example, if you need a credit card processor for a high-risk industry or have a low credit score, Merchant One may still work with you. Unlike many other credit card processors, Merchant One does not have a list of business types it will automatically reject. Indeed, the company told us that any legitimate business can be approved. Merchant One states on its website that it has a 98 percent approval rate. 
Note that certain high-risk businesses may be charged a deposit of $500 each for Visa and Mastercard ($1,000 total) to register with those credit card companies.
We like that Merchant One's application and approval process is quick and easy for business owners. You first complete the initial application online, then speak on the phone with a rep to discuss your business and specific credit card processing needs. Merchants can usually start taking payments that same day. 
If you buy a Clover POS system from Merchant One, the company will help you set it up and provide training and in-house support.
Customer Service
We found Merchant One's customer support options quite robust compared to competitors'. You can reach the company 24/7 by phone, which is impressive considering that many other processors maintain limited hours for phone support. There is also email service and text-based support. However, unlike some competitors, Merchant One doesn't have live chat support, a blog or a knowledge base. 
Merchant One provides dedicated account managers – a standout customer support offering and likely why customers rate the company highly on support. In addition, the platform has a help center that offers various guides and video tutorials on how to use the system and take advantage of all it has to offer.
We were impressed that Merchant One earns high customer satisfaction scores on independent review sites. The company scores a 4.9 out of 5 on Trustpilot, indicating that many customers are pleased with the help that they receive from Merchant One. While many competitors we reviewed fared poorly on third-party review sites, many customers praise Merchant One's customer support.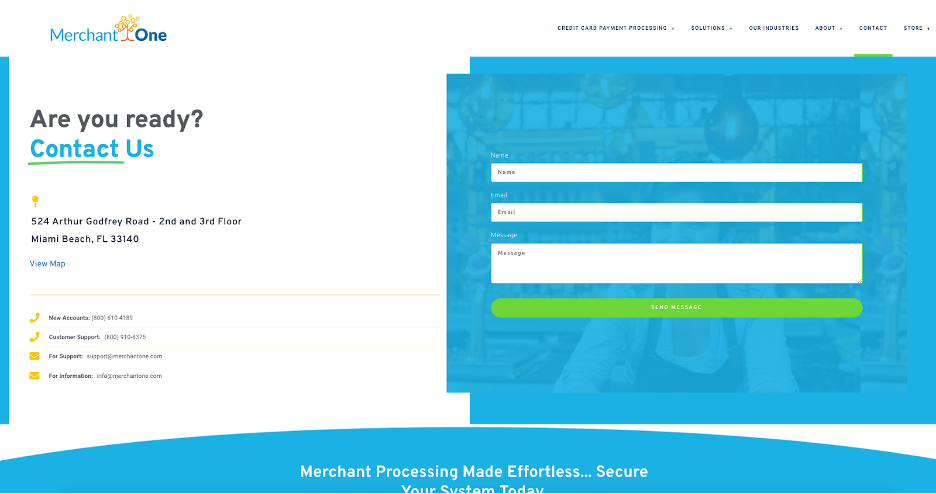 Merchant One offers 24/7 phone support. Source: Merchant One
Limitations
Despite its general flexibility, Merchant One locks clients into a three-year contract and charges a high early termination fee of $25 for each remaining month in your contract. However, the majority of merchants are not subject to the early termination fee. If you prefer a credit card processor that doesn't lock you into contracts or charge an early termination fee, you may want to consider Helcim. Read our in-depth review of Helcim to learn more.
Merchant One also doesn't manufacture its own hardware, so businesses must research another vendor for their POS system needs. The company's software also lacks some of the high-powered tools offered by competitors. For example, the reporting module generates tables only and doesn't produce graphs for easy visualization. Business owners that want an integrated hardware/software system could consider alternatives such as Clover, Square or Helcom. 
Unlike Clover and Square, Merchant One also doesn't have a mobile app. This could hinder you if your goal is to run your business through a smartphone. 
If you're interested in a credit card processor that offers a mobile app, check out our Stax review.
Methodology
We researched and analyzed the best credit card processors to find the right services for small businesses. Our investigation process included viewing demos, accessing free trials, carefully examining user reviews and interacting with each vendor's customer service team. We looked at the usability of each company's hardware and software offerings and evaluated how fair the contract terms are to merchants. Furthermore, we scrutinized the rates and fees charged by each processor. When considering flexible pricing specifically, we paid particular attention to how willing the providers were to customize their pricing options. 
FAQs
Merchant One was acquired by payments giant Fiserv in 2023.
You can cancel Merchant One, but you may need to pay an early termination fee, depending on your contract.
Merchant One does not currently have a mobile app.
Bottom Line
We recommend Merchant One for … 
Businesses seeking flexibility and custom solutions around pricing.
Business owners that value in-person customer service. 
We don't recommend Merchant One for …
Business owners that want an integrated POS and credit card processing solution. 
Customers that prefer to conduct business on their smartphones via an app.