Stax Review

Jennifer Dublino
business.com Contributing Writer
Updated Oct 31, 2022
When you're searching for a top credit card processor, it can be challenging to keep track of all of the various fees involved. That's why some businesses prefer a pricing model that bundles everything into one price. Stax does just that. Stax offers a subscription-based pricing structure that makes it easy to understand how much you will be paying each month. It provides three levels of monthly plans paired with low wholesale payment processing rates, and merchants can choose the plan that gives them the back-end functionality they need. Its pricing structure, easy-to-use interface and multiple customer support options help make Stax our choice as the best credit card processor for subscription-based pricing.

Stax
The Verdict
Stax offers subscription-based wholesale pricing. It also provides processing software for keyed-in payments, reporting, ACH processing, and invoicing with various levels of functionality, depending on the plan.
Stax Editor's Score: 8.4/10
| | |
| --- | --- |
| Pricing | 6/10 |
| Contract | 8/10 |
| PCI compliance fee | 8/10 |
| Early termination fee | 10/10 |
| Quick deposit | 10/10 |
Why We Chose Stax for Subscription Pricing
With Stax's subscription pricing, you'll pay a fixed cost for your credit card processing, making your costs predictable. You can choose the subscription plan with the functionality your business needs.
We also like the automatic card updater feature, although it is available only in the most expensive subscription package. In addition, the online payment form for your customers automatically displays the payment option with the lowest processing rate first, which is a thoughtful feature.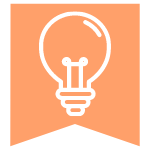 Tip: Learn more about fees you can expect to pay in our complete guide to small business credit card processing fees.
What We Like About Stax
With the subscription model, your monthly credit card processing costs will be predictable.
If you get the highest package, Stax automatically updates your customers' credit card information when their cards expire, resulting in fewer declines.
Its software is easy to use and full of helpful features, including various payment options for your customers.
What We Don't Like About Stax
If you only process a low volume of monthly credit card sales, the subscription fee will not be cost-effective for you.
It has a laborious application, approval and launch process compared to other processors.
Ease of Use
When testing out the Stax platform, we found the interface intuitive. We like how it allows you to take payments in multiple ways, including by phone, online payment form, e-commerce solution, text message, individual invoice, and recurring subscription or membership program.
The software gives you access to an analytics dashboard that shows you at-a-glance sales data, which you can use to gauge how your business is doing. You can see your annual gross and net sales, month-over-month sales trends, the dollar value of an average sale, how many customers you've served and transactions you've processed over the past 30 days, and even your hourly sales activity, which can help you plan staffing levels. It also shows you how many of your customers are new or returning and calculates the lifetime value of your repeat customers. We liked this detailed reporting, which is usually reserved for POS systems.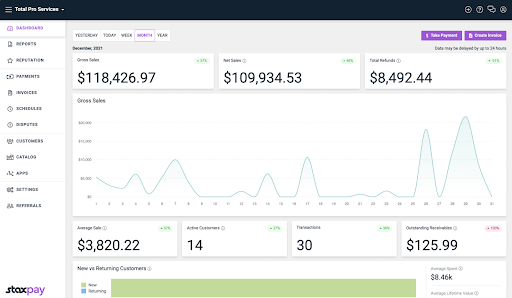 The Stax dashboard has a couple of outstanding features. Your web payment forms will automatically display the cheaper (to the merchant) payment method first to encourage customers to pay this way, thereby saving you money. Web payment forms are mobile-friendly. Another aspect we liked is that the system informs you in real time when a customer has paid an invoice, which eliminates the added step of checking periodically, as you would normally do with other payment processors.
Stax is continually enhancing its merchant dashboard based on its merchants' feedback and requests, so it is likely to keep getting better. We appreciated this responsiveness to merchant needs, which is not shared by every payment processor.
We were also impressed with how Stax makes it easy to show off your brand identity. Merchants can add their social media links to invoices and receipts and, for an additional $10 per month, customize the look of invoices, web forms and receipts to be consistent with the company's branding.
Features and Services
Stax offers a number of services and features that businesses of all sizes will find valuable.
Payment Options
Stax sets you up with a merchant account. With it, you can accept American Express, Discover, Mastercard, and Visa credit and debit cards and digital wallets such as Apple Pay. In addition to letting you accept credit cards and digital wallets, customers can pay with electronic checks (ACH) at a cost of 1%, up to a maximum of $10 per transaction.
Automatic Card Updater
A feature we found especially valuable is the automatic card updater, which interfaces with credit card brands to update expiration dates for customer cards on file, resulting in fewer declined charges. This isn't something we saw other credit card processors offer.
Processing Equipment Options
If you already own a credit card terminal, Stax might be able to reprogram it for you so that you can continue using it. Otherwise, you can purchase a terminal from Stax that accepts chip cards and mobile wallets such as Apple Pay and Google Pay. Stax also integrates with hundreds of third-party POS systems, so if you have existing equipment, it will likely work with Stax processing.
If you need a mobile credit card reader, Stax sells one that connects via Bluetooth and is also compliant with EMV and NFC. The company doesn't post its equipment pricing online, so you'll need to speak with a sales rep for a quote. If you're an online merchant, Stax can integrate with your existing shopping cart, and it offers you a selection of payment gateways.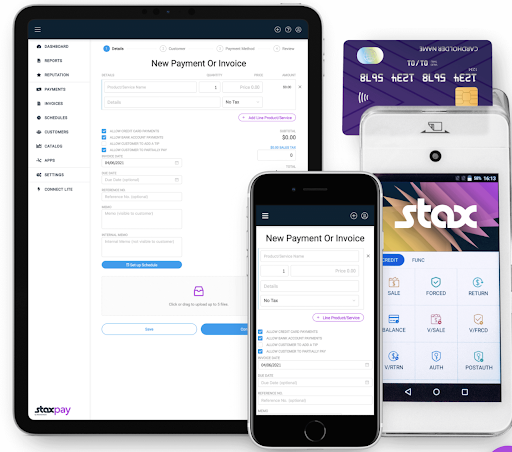 Virtual Terminal
You access the virtual terminal through Stax's dashboard using any computer, tablet or phone with internet access. With it, you can manually key in credit card information to process a transaction, invoice your customers, schedule recurring payments, track inventory and issue receipts.
Integrations
Stax integrates with multiple business applications so that you don't have to manually enter the details of your sales into your other systems. It also has an API available for businesses that want a custom solution. Here are some of its available integrations:
Security
Although there's no separate PCI compliance fee with Stax, you're still required to comply with PCI data security standards and complete the self-assessment questionnaire each year. Some businesses also need to have quarterly vulnerability tests on their systems to maintain compliance. Stax ensures that the equipment it sells you is PCI compliant. It's also EMV compliant so that you can accept chip cards properly and avoid counterfeit fraud liability.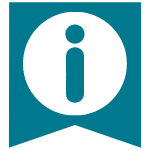 Did you know? PCI compliance is just one of several payment processing regulations all businesses should know about.
Pricing and Terms
Stax posts the rates for its subscription packages and lists the services each one includes on its website.
Rates and Fees
Stax offers a monthly subscription rate plus interchange rates with an additional per-transaction fee of $0.08 to $0.15, depending on how you accept the payment.
Cards accepted in person using an EMV credit card terminal cost 0% + $0.08 per transaction above interchange.

Cards accepted in person using a mobile credit card reader or online using a shopping cart, API or the virtual terminal cost 0% + $0.15 per transaction above interchange.
There are several levels of subscriptions. You can stick with the least expensive plan or level up to get more software support and reporting.
Plan
Monthly fee
What it includes
Growth
$99

"Lite" dashboards and analytics that show your gross and net sales by month, track your refunds, and run reports for deposits, reconciliation, and fee statements
Virtual terminal that you can use to key in payments you accept over the phone or by mail
ACH payment processing
Free terminal or mobile credit card reader

Pro
$159

All features in the Growth plan
Basic dashboards that show more details on your sales data and run additional reports
Invoice generator with email and text options
Hosted checkout form
Basic customer management features
Integrations with third-party software, including "lite syncs" with QuickBooks Online

Ultimate
$199

All features of the previous plans
Premium dashboards that allow you to dig deeper into your sales data and run more reports
Ability to schedule payments and invoices and to set up recurring invoices
One-click shopping cart
Catalog management tools
Data exports
Auto-updater for cards on file
Access to a dedicated account manager
Other Fees
If a customer initiates a chargeback by disputing a charge and requesting their money back, you pay a $25 chargeback fee. There's a hefty $54.99 PCI noncompliance fee if you fail to establish compliance with required security measures. There is also a fee of $25 if you do not process at least a certain amount per month.
The company offers add-on services, but it doesn't disclose the prices on its website. You'll need to call the company and speak with a sales representative to find out how much they will cost to add to your account. These are some of the add-ons:
Same-day funding
Pro QuickBooks Online sync
Advanced customization
Terminal protection plan
One-click shopping cart
All-in-one reporting for businesses with multiple locations or payment channels
Equipment Costs
Each Stax membership level comes with a free terminal or mobile reader. It's difficult to find Stax's equipment descriptions and prices online. The company says that it sells equipment for "close to cost." We found that prices for the Dejavoo Z8, Z9 and Z11 range from about $100 to $350.
Up to now, Stax sold only regular credit card terminals such as the Dejavoo Z8, but it is about to offer Clover equipment, including POS systems as well. Prices for Clover products have not yet been released. Stax is also compatible with third-party equipment, including POS systems other than Clover.
Payouts
Once you begin processing, the company can clear the account and deposit the money from your transactions into your business bank account the next day, which is faster than the average two-day turnaround. Same-day funding is available, but it costs extra.
Terms of Service
Stax's contract is a three-year agreement that automatically renews for successive three-year terms. However, there is no cancellation fee, so in essence, it is a month-to-month contract. Although you can cancel your account at any time without penalty, you must submit a written notice of your intent to cancel 30 days in advance. If you received a free terminal and then decide to cancel your agreement, you must return that equipment or face a $499 charge.
As you would with any credit card processing company, you'll want to read the application and contract carefully before you sign anything. Verify that the prices, fees and terms you're quoted are consistent with those in the contract.
The company posts the terms and conditions of its contract on its website, which is helpful, but you'll notice that it's the standard processing contract with the usual three-year, automatically renewing term that carries an early termination fee (the contract calls it an "early deconversion fee") with liquidated damages.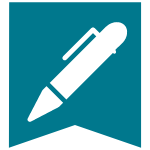 Bottom line: It's crucial to confirm that the month-to-month terms with no cancellation fee are included in the application or that you receive a written waiver.
Implementation and Onboarding
As with most credit card processing companies, you should apply for a Stax account about two weeks before you need to begin accepting payments. Stax's application is online, and the rep we spoke with said it takes about five minutes to fill out. After submitting it, the company can review it and set up your merchant account within two days, which is standard for this industry.
You'll need to submit some basic information, such as your business license, Social Security number and tax ID. You'll also need to provide a voided check and previous processing statements if you're switching to Stax from another processor. After approving your application, Stax will ship your equipment, which should take four or five days to arrive.
The equipment is plug and play, so you can begin processing as soon as you receive it. However, to be sure that you have no problem getting up and running, Stax provides each new merchant with a dedicated person to help set up the account, software and hardware, and give support for the first 90 days.
Customer Support
When you need support, you can contact the company's customer service by live chat, email or the help ticket form on its website. Businesses using the Ultimate plan work with dedicated account managers. If you are a new merchant, you will also have access to a dedicated setup manager for help.
On the company's website, you can find a searchable knowledge base with articles and step-by-step instructions on product updates, chargebacks, PCI compliance, how to use various software features and technical support issues. The company also has a blog that it regularly updates with articles about payment processing and other topics of interest to small businesses.
Limitations
Although Stax has a unique pricing structure and some of the lowest rates we've seen, its monthly fee may be high for some businesses, so you'll need to calculate whether you'll save enough on processing fees for it to be a good deal for your business. If you are looking strictly at cost, you may want to consider Payment Depot, which has lower monthly rates. Learn more in our review of Payment Depot.
The terms and conditions document that Stax uses is a standard three-year processing contract with an early cancellation fee and liquidated damages clause, so you need to make sure the advertised month-to-month terms with no cancellation fee are stated on the application before you sign it.
What Is Credit Card Processing?
Credit card processing is everything that goes on behind the scenes between the time that a customer hands you a card as payment and you receive the money in your account. This process occurs whether the purchase is made in person, online, over the phone or by mail. To be able to accept credit cards, your business needs to be set up with one or more providers, which will charge you on a per-transaction basis and sometimes include a monthly fee.
You will also need software and, for in-person sales, card processing hardware. Payment processing hardware comes in different forms, including POS terminals and systems and fixed and mobile credit card readers. Many credit card processors also allow businesses to accept other forms of payment, including digital wallets such as Apple Pay and Google Pay and sometimes ACH (electronic checks).
Methodology
We spent 30 days researching 11 different credit card processing companies. We looked at the usability of each company's hardware and software offerings, how fair the contract terms are to the merchant, and whether the products and services are geared toward any particular type of business by industry, size, or other characteristic. We also scrutinized the rates and fees so that merchants can easily compare companies and determine which is best for their ticket size and volume. Finally, we tested each company's customer service to rate it on response time and ease of use.
When looking specifically at subscription models, we considered the various levels of subscription offerings, the costs involved, and how those costs made understanding fees easier for businesses.
Stax FAQs
How do Stax's equipment costs compare to those of other credit card processors?
Stax's prices for its terminals are comparable to those of other processors, although some other credit card processors, such as Merchant One, are more generous with their free equipment. You can learn more in our review of Merchant One.
Is there an early termination fee if I change my mind?
Yes and no. If you accept a free terminal and cancel your service, there is no early termination fee unless you fail to return the terminal, in which case you will be charged $499 – more than the original cost of the equipment. However, if you return the equipment or have accepted only a free mobile reader, there is no fee to cancel your service.
How is Stax's customer service?
We sent an email to customer support and got no reply. However, Stax does provide up to three levels of customer service: new-customer setup, regular customer service and, at the highest level, a dedicated account manager.
Bottom Line
We recommend Stax for …
Businesses that sell over multiple channels.
Established small businesses.
Businesses with monthly credit card sales of at least $5,000.
We do not recommend Stax for …
Startups.
Merchants with low monthly volumes of credit card payments.
High-risk businesses.

Stax
The Verdict
Stax offers subscription-based wholesale pricing. It also provides processing software for keyed-in payments, reporting, ACH processing, and invoicing with various levels of functionality, depending on the plan.

Jennifer Dublino
business.com Contributing Writer
Jennifer Dublino is a prolific researcher, writer, and editor, specializing in topical, engaging, and informative content. She has written numerous e-books, slideshows, websites, landing pages, sales pages, email campaigns, blog posts, press releases and thought leadership articles. Topics include consumer financial services, home buying and finance, general business topics, health and wellness, neuroscience and neuromarketing, and B2B industrial products.