Stax offers subscription-based wholesale pricing. It also provides processing software for keyed-in payments, reporting, ACH processing, and invoicing with various levels of functionality, depending on the plan.
Pros
Stax is equipment-agnostic, so you can use its processing software with many different POS systems.
The subscription-based model doesn't take a cut of your business's revenue.
Cons
Stax doesn't manufacture its own hardware, and you'll need another vendor for POS equipment.
Stax charges some optional additional fees on top of its regular pricing for specific circumstances.
Stax offers an equipment-agnostic credit card processing platform that stands out from competitors by allowing businesses to use any POS hardware they choose and easily integrate third-party apps. Additionally, it offers low wholesale payment processing rates and features a subscription-based three-tier pricing structure that makes it easy to understand your monthly payments. Stax allows merchants to choose a plan that gives them the back-end functionality they need. 
Stax Editor's Rating:
9 / 10
Pricing and fees

9.4/10

Customer service

9.2/10

Third-party integrations

9.5/10

Payment options

9.3/10

Added POS tools

8.0/10
Why We Chose Stax as the Best Credit Card Processor for Integration
We appreciate that Stax's credit card processing services are platform-agnostic. Several credit card processors we reviewed take a "walled garden" approach to their services, which means you can't run their software on other POS devices, and their POS devices can't run other processors' software. In contrast, Stax gives businesses a choice about their hardware and POS system. We like that Stax's flexibility extends to its subscription tiers. It offers several subscription levels that let businesses select the features they need. Additionally, Stax easily integrates with third-party apps. 
Stax doesn't lock customers into a specific solution — something we see as a significant differentiator between Stax and its competitors. Its flexibility is the primary reason we chose Stax as the best credit card processor for integration.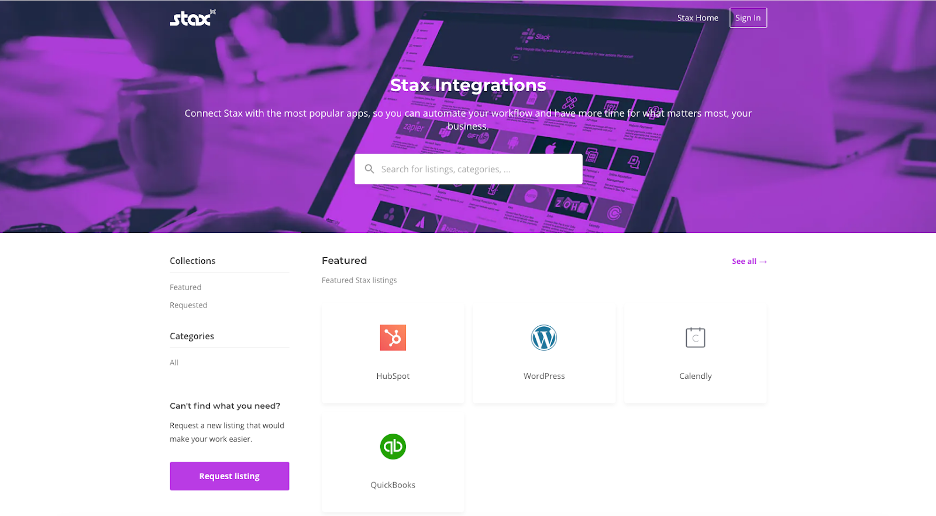 Stax's extensive app integrations include QuickBooks, HubSpot and WordPress.  Source: Stax
Ease of Use
We tested the Stax platform in-depth and found the interface intuitive. The data analytics dashboard displays at-a-glance sales data you can use to gauge how your business is doing. You can easily see your annual gross and net sales, month-over-month sales trends, the dollar value of an average sale, how many customers you've served, and transactions you've processed over the past 30 days. We like that you can even see hourly sales activity, which can help you plan staffing levels. 
The Stax dashboard also shows how many of your customers are new or returning customers and calculates the customer lifetime value of repeat customers. We appreciate this detailed reporting — usually reserved for POS systems — that many competitors don't offer.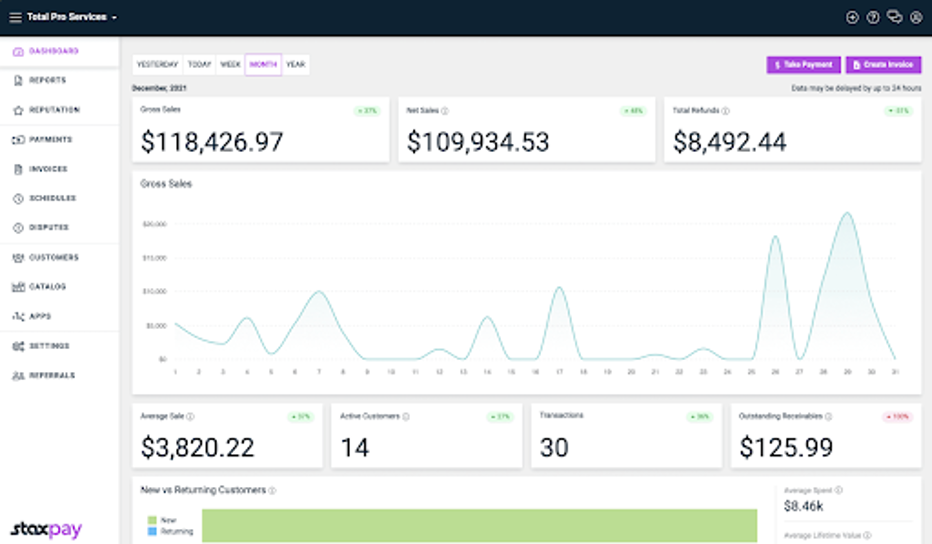 The Stax dashboard provides key sales metrics at a glance. Source: Stax
Top Stax Features
Stax offers various services and features businesses of all sizes will find valuable, especially those seeking flexibility and integrations. Here's an overview of Stax's key features. 
Virtual Terminal 
Customers access the virtual terminal through Stax's dashboard using any computer, tablet or phone. Manually enter credit card information via the virtual terminal to accept credit card payments over the phone. We like that you can also use the virtual terminal to invoice customers, schedule recurring payments, track inventory, and issue receipts.
Reporting
Small business data analysis can provide critical insights into what's happening in your business — and we appreciate that Stax's reporting feature makes that job easier. You can access reports on payment methods, sales, item categories, and more. You can also access details within a specified date range and view real-time reporting.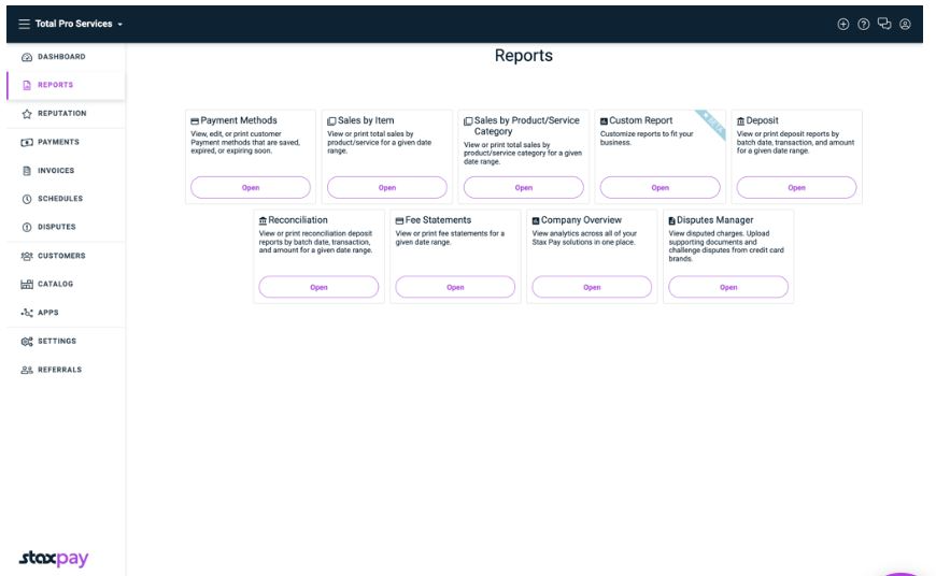 Stax's reporting helps you track what's happening in your business. Source: Stax
E-Commerce
We like that Stax can help you set up an online storefront with pre-existing templates — an excellent option for business owners without web design skills. Tech-savvy customers can use Stax's developer tools to build custom shopping carts to integrate into an existing online store. Stax integrates with popular payment gateways like BigCommerce, Magento, Shift4Shop, WooCommerce and Salesforce.
Integrations
We found that Stax shines when it comes to integrations. Stax integrates with multiple business applications so you don't have to enter sales details into your other systems manually. It also has an API available for businesses that want a custom solution. Built-in integrations include QuickBooks accounting software, CRM software like Keap and Salesforce, and POS systems including Revel Systems, ShopKeep and Vend. Stax also integrates with some of the best e-commerce platforms and shopping cart software like BigCommerce, Shopify and WooCommerce.
Mobile App
Not all credit card processors include a mobile app, so many businesses will find the Stax Pay mobile app helpful. You can pair the Stax Pay mobile app with a mobile reader to accept credit card payments on a mobile phone. Use the app to enter card details or swipe/dip and send receipts and invoices to customers. You can also perform other POS functions, such as accepting tips, applying discounts and issuing refunds. We like that all transaction information syncs with the Stax platform so you can review everything later in the browser version. 
Invoicing
We like how Stax makes invoicing straightforward and personalized, allowing you to manage cash flow for your business. Customize professional invoices with drag-and-drop fields, memos, and tax rates and send them via email or text. Set up recurring and scheduled invoices, and track payments at all stages so you know when you've been paid and when an invoice is still pending. (You'll need at least the Pro plan tier to access the invoice generator.)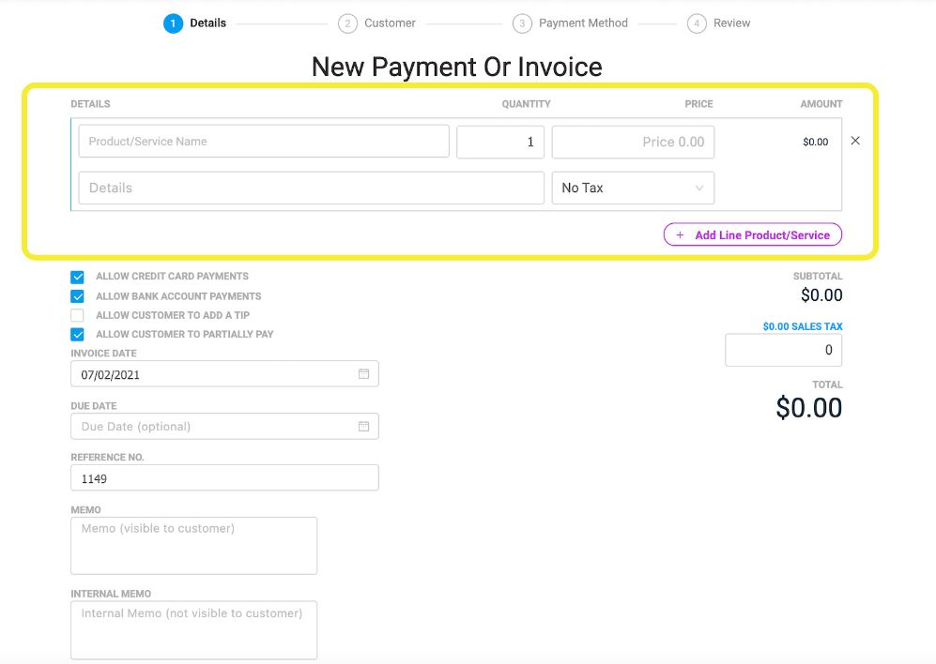 With Stax, you can send invoices via email or SMS. Source: Stax
Security
Although there's no separate PCI compliance fee with Stax, you must still comply with PCI data security standards and other credit card payment processing laws and rules. You must also submit a PCI compliance self-assessment questionnaire annually. Some businesses must conduct quarterly vulnerability tests on their systems to maintain compliance. Stax's equipment is PCI- and EMV-compliant; you can accept chip cards properly and avoid counterfeit credit card fraud liability.
Hardware
Each Stax membership level comes with a free terminal or mobile reader. Part of Stax's appeal is that its credit card processing software can run on various systems. Although Stax doesn't manufacture its own hardware, it does resell equipment from other vendors. The company says it sells equipment for "close to cost." We found that prices for the Dejavoo Z8, Z9 and Z11 are reasonable, ranging from about $100 to $350. Stax software is also compatible with Clover hardware and other third-party POS systems. 
Payouts
We like that Stax can deposit the money from your transactions into your business bank account as soon as the next business day — faster than the average two-day turnaround. Same-day funding is available for a fee. 
Stax Pricing
Not all credit card processors are transparent with their pricing. We appreciate that Stax presents its processing fees in a straightforward manner. 
Stax offers three plans on a monthly subscription basis.
Growth. $99 a month. The Growth plan includes "Lite" dashboards and analytics that show your gross and net sales by month, track your refunds, and let you run reports for deposits, reconciliation and fee statements. You can use the virtual terminal to key in payments you accept over the phone or by mail.
Pro. $159 a month. The Pro plan includes all features in the Growth plan, plus dashboards that show more sales data details. You can also run additional reports. This plan also grants you access to the invoice generator with email and text options, a hosted checkout form, basic customer management features, and integrations with third-party software, including "lite syncs" with QuickBooks Online.
Ultimate. $199 a month. The highest-tier plan includes all features of the previous plans, plus premium dashboards that allow you to dig deeper into your sales data and run more reports. You can also set up recurring invoices, create a one-click shopping cart, use catalog management tools, and more. This tier also gives you access to a dedicated account manager. 
Processing Fees
In addition to its monthly subscription fee, Stax charges a small fee for credit card processing. This consists of a per-transaction fee of $0.08 to $0.15, depending on how you accept the payment.
EMV credit card terminal: $0.08 per transaction above interchange
Mobile credit card reader or online: $0.15 per transaction above interchange
Additionally, unlike some other credit card processors, such as Clover and Square, Stax does not take a cut of your revenue.
Other fees include the following:
Chargeback fee. If a customer initiates a chargeback by disputing a charge and requesting their money back, you pay a $25 chargeback fee.
Noncompliance fee. You'll be charged a hefty $54.99 PCI noncompliance fee if you fail to establish compliance with required security measures. 
Below-quota processing fee. There is also a fee of $25 if you do not process at least a certain amount per month.
The company also offers add-on services for a fee, including same-day funding, Pro QuickBooks Online syncing, a one-click shopping cart and more. Speak with a sales representative for a customized quote. 
A few ways to prevent chargebacks include having clear product and service descriptions, straightforward refund policies, and well-defined shipping expectations.
Implementation and Onboarding
As with most credit card processing companies, you should apply for a Stax account about two weeks before you must begin accepting payments. We like that Stax's application is online and takes about five minutes to complete. After you submit it, the company will review it and set up your merchant account within two days.
You'll need to submit some basic information, such as your business license, Social Security number and tax ID. You'll also need to provide a voided check and previous processing statements if you're switching to Stax from another processor. After approving your application, Stax will ship your equipment, which should take four or five days to arrive.
The equipment is plug-and-play, so you can begin processing immediately. However, to be sure you have no problems getting up and running, Stax provides each new merchant with a dedicated representative to help set up the account, software, and hardware and to give support for the first 90 days. This is an impressive and helpful feature many credit card processors don't include. 
Customer Support
Businesses can contact the company's customer service by live chat, email or the help ticket form on the Stax website. Businesses that sign up for the Ultimate plan work with dedicated account managers. 
We like that new customers can access a dedicated setup manager for help — a benefit we haven't seen from other major credit card processors we reviewed. Another nice support feature: You can find a searchable knowledge base on the company's website, which provides articles and step-by-step instructions on product updates, chargebacks, PCI compliance, various software features and technical support issues.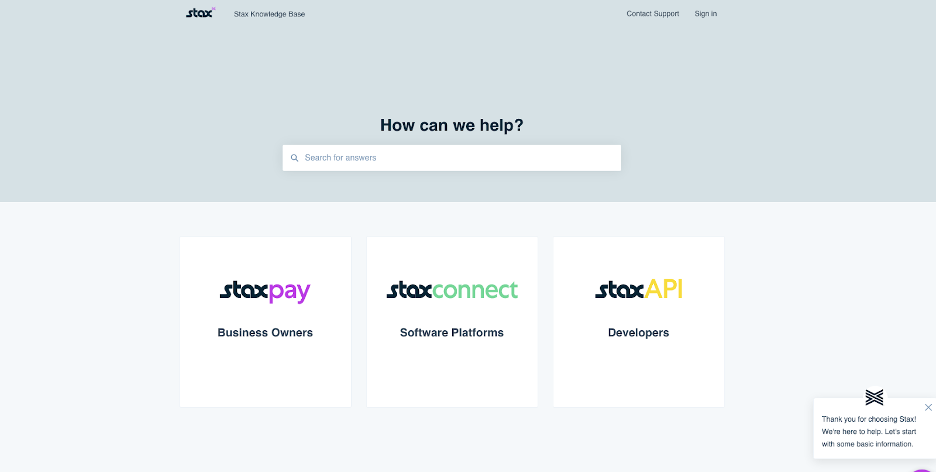 The Stax Knowledge Base is a robust resource for customer self-help. Source: Stax
Limitations of Stax
While Stax has a unique pricing structure and some of the lowest rates we've seen, its monthly fees may be high for some businesses. If you are looking strictly at cost, consider Payment Depot, which has lower monthly rates. Check out our review of Payment Depot to learn more.
We like that Stax is compatible with all types of POS equipment, but the company does not offer its own proprietary hardware. This means you must purchase hardware from another vendor, although Stax does offer some free equipment for new customers. Also, Stax charges several fees that some other competitors we reviewed do not. 
Methodology
We researched and analyzed leading credit card processors to find the best ones for small businesses. We looked at demos and took advantage of free trials. We also carefully examined user reviews and interactions with each vendor's customer service teams. We evaluated each company's hardware and software offerings and how fair the contract terms are to merchants. Furthermore, we scrutinized and compared the rates and fees each processor charges. To identify the best credit card processor for integration, we paid particular attention to equipment compatibility and third-party app integrations. 
FAQs
Fattmerchant changed its name to Stax in 2021. 
You can cancel Stax anytime for free, but you must return any free equipment.
Yes, all of Stax's technology is PCI-compliant, ensuring you don't need to worry about keeping your payments secure.
Bottom Line
We recommend Stax for …
Businesses seeking flexibility in their POS hardware.
High-volume businesses that want to avoid credit card processors that take a cut of their revenue. 
We don't recommend Stax for …
Business owners that want an integrated POS and credit card processing solution. 
Businesses on a budget that may not be able to afford the monthly subscription fees.