Many successful retail stores still use old, bare-bones checkout systems. While these work well enough for basic transactions, they don't offer much insight into how your business could be streamlined. Point-of-sale (POS) systems designed with retailers in mind are loaded with reporting functionality to increase sales and minimize waste.
If your retail establishment has recently transitioned from basic checkout to a feature-rich POS system, or if you're simply considering doing so, this guide can serve as an introduction to basic reports that many retailers find useful.
Editor's note: Looking for the right POS system for your business? Fill out the below questionnaire to have our vendor partners contact you about your needs. 
What is a POS report?
A POS report is generated through the data collected during each sale you make. At a minimum, the data tracked by a POS system will include transaction totals and items purchased during each transaction. However, POS reports can also provide valuable insights to businesses. For instance, POS systems can generate a report for each individual employee's transactions. This helps managers instantly access sales figures to calculate who is making the most sales. POS reports are also a tool to compare figures at locations. For instance, if you're a franchise owner and note that one store is not performing well, you can troubleshoot the issue early on by relying on the POS report data. 
A POS system does so much more than accept payments at the point of sale. It can give you a ton of actionable information through reporting tools.
8 Types of POS Retail Reports 
POS reporting can be very basic or extremely robust. But there are several reports that all of the best POS systems offer. 
1. Sales reports
This report is vital for retailers. It gives you a summary of sales activities for the day, week, month, or a specified period. It typically tells you the volume of sales, type of products sold, new customers you added, and your costs. Through our QuickBooks review, we found it offers sales reports that let you see sales by customer, sales shipped to a specific address, and pending sales among other things.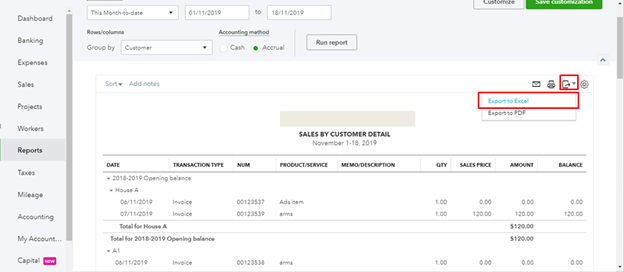 2. Employee reports
Employee reports are another big one for retail businesses that have to balance staffing with demand. These reports can help you determine which employees are selling and which aren't. You can put your top salesclerks on the floor during busy periods to maximize sales. They can also be used to calculate commissions and bonuses. 
3. Inventory reports
Inventory reports are extremely important for retailers if they don't want to be stuck with excess inventory of slow-selling products and not enough stock of the popular ones. The POS inventory reports enable you to track your inventory to determine which products, colors and sizes are selling and which aren't. You can set alerts when inventory falls below a certain threshold. 
Running an inventory report on your POS can help you spot sales trends and avoid overstocking on products you can't sell.
4. Store sales report
Most POS systems let you view sales data in real-time and also let your run reports on past sales to spot trends and patterns. You can view store sales based on dates, times and even hours. That can help you make better staffing, inventory and store hours decisions. With many of the POS systems, you can also run individual sales reports on specific employees to identify the ones struggling and in need of some help and more easily reward your top earners.  
5. Itemized cost and profit analysis report
Identifying top sellers is easy, even without specific reporting software, but the items that sell in the largest quantities aren't necessarily the ones netting you the most profits. POS retail reports break down sales in terms of the itemized cost for you, retail markup percentage or amount, and profit.
Having this information laid out in a readable format makes it much less labor-intensive to find the dead weight in your inventory and identify major money makers that may have flown under the radar. These types of reports can also help retail store owners adjust costs and prices or locate new suppliers as needed.
6. Inventory management reports
Retail POS systems make inventory management a breeze. Inventory management reports allow you to track stock based on SKUs, even across multiple locations. Inventory management isn't just for maintaining existing inventory but also for tracking quality. In a good inventory management system, you can see how many damaged goods you've received from different vendors, and how often you've had to send things back. Identifying low-quality suppliers is key to maintaining high retail standards.
Many systems also have automatic email options based on inventory numbers, so you can receive updates when highly desirable items are running low and reorder them immediately. The ability to look back at inventory ups and downs over the course of several months or a year makes it much easier to plan inventory and identify buying trends.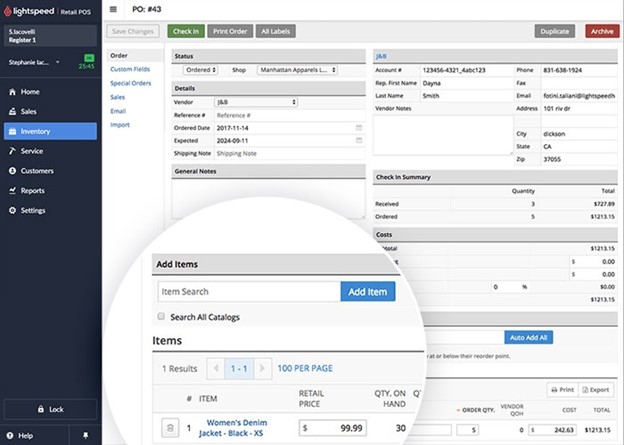 7. Customer reports
Customer reports allow you to view valuable customer data such as contact information, order and reservation history, and loyalty program details. Customer reports can be a valuable tool for earning repeat customers and maximizing sales, since they allow you to send out personalized marketing emails and reward customers for their loyalty or special occasions. 
8. Store comparison reports
For small business owners who have multiple retail locations, reports that provide side-by-side comparisons are invaluable. You might find that one of your shops sells more of a certain type of product than the other, or that each shop experiences peak sales at different hours or times of the year.
Comparisons also help you see the differences in your staff at various locations and identify weaknesses and strengths on your sales team. You might find, for example, that the top three sellers at one branch outsell the top three at your other branch by double. If that's the case, you may want to pair your most gifted sales associates with others who show promise but need improvement.
Naturally, the type of retail establishment you own will determine the role reports play in your business. A women's fashion boutique will have different patterns and tendencies than a used car dealership or a furniture store, and because of this inherent variation, many POS systems allow users to build highly customized reports.
Don't get overwhelmed by all the POS reports you can run. Focus on the ones that matter most to you and forget the rest.
What are the best POS systems to generate reports? 
When it comes to generating reports, a handful of POS vendors stand out from the pack. They provide robust reporting from sales to inventory and don't charge extra for it. They are easy to run, can be customized, and are automated, saving you precious time. While all of our best POS systems offer reporting capabilities, we found through our analysis that some did better in that area including Square, EposNow, and TouchBistro. 
Take Square for starters. Our Square review shows that it offers all the reporting tools you'll need to run your business and make informed decisions. With Square's reporting tools, you can get information about sales based on locations, employees and items. You can run reports on customers, inventory, and employees. Square's Dashboard app lets you track your sales on a mobile device. 
Our EposNow's review revealed it too offers robust reporting tools like Square, but it prides itself on enabling you to run reports on what matters most to your business and bottom line. You can run detailed reports on promotions versus gross margins and stock alerts compared to sell-through to name a couple. 
Our review of TouchBistro found that it is another POS vendor that focuses on offering reporting tools and functionality specifically to restaurants. This POS system provides customers with more than 50 different reports they can run on their restaurant. It includes everything from sales to customer preferences.