With no fees, competitive rates and pay-as-you-go service terms, Square is our pick as the best credit card processor for growing businesses.
Pros
Square includes a wide range of free features and business management tools with its software.
The hardware is affordably priced compared to competitors.
The application process is straightforward, and there are no hidden service fees.
Cons
High-volume businesses may pay more with Square than they would with other processors.
Square's POS hardware can't be used with other credit card processors.
Some users have complained about issues with customer service.

We chose Square as the best credit card processing service for startups because it doesn't charge monthly or annual account maintenance fees. Businesses only pay Square's flat-rate transaction fees, which makes it affordable for even very small businesses to accept credit card payments. Square also includes a full suite of point-of-sale (POS) features and can be augmented with add-on services and integrations, which allows you to implement more functionality as your business achieves profitable growth.
Square Editor's Rating:
9.1 / 10
Pricing and fees

8.7/10

Customer service

8.5/10

Third-party integrations

9.5/10

Payment options

9.5/10

Added POS tools

9.5/10
Why We Chose Square as the Best Credit Card Processor for Startups
Square is one of the most straightforward credit card processors we reviewed. Many competitors charge various fees on top of their standard credit card processing fees, so we were impressed that Square keeps things simple with flat-rate interchange-plus pricing. 
Square is willing to work with almost any business, including businesses that processors consider high-risk — and finding a credit card processor for a high-risk industry can be a challenge. Moreover, Square's well-known POS hardware and software are user-friendly and integrate seamlessly with the best e-commerce platforms as well as hundreds of third-party applications. 
We found that Square provides an outstanding payment solution for businesses just getting off the ground, which makes it our choice for the best credit card processor for startups.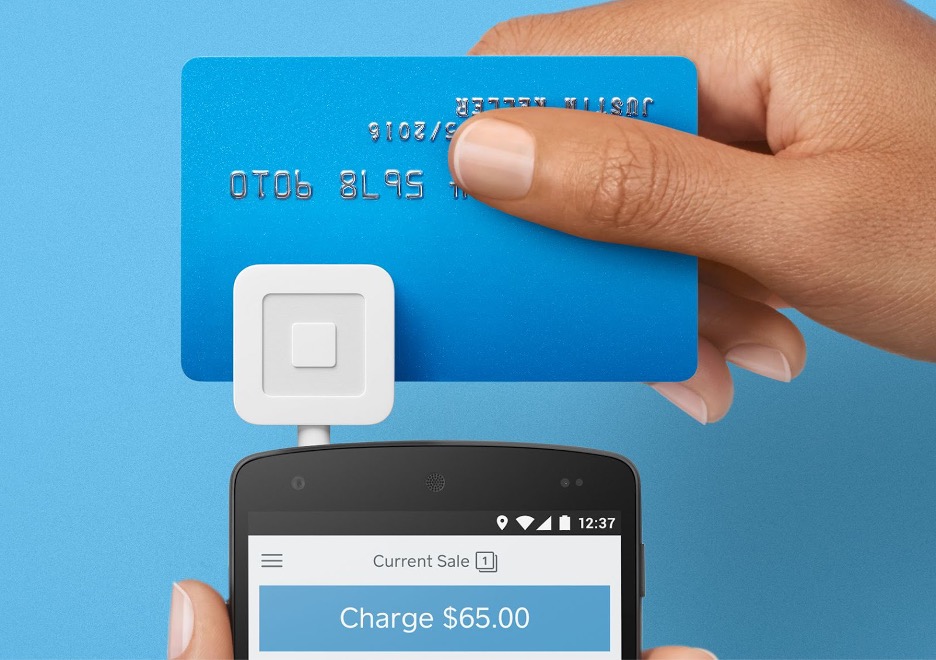 Square makes accepting credit cards easy for even the smallest businesses. Source: Square
Ease of Use
We found Square's user interface easy to navigate and intuitive during our review. The main dashboard is set up logically with separate tabs for reports, transactions, employee management and more. The home page displays key statistics business owners will find valuable, including gross sales and top-selling items. Popular tools like the virtual terminal and invoicing functionality are in the sidebar for quick access. 
We feel that business owners and their teams won't have to contend with a steep learning curve to get up and running with Square's software. 
Additionally, Square's hardware is well known among small businesses for user-friendliness. We like that Square's hardware is ready to go right out of the box, and minimal setup is needed to start accepting payments. Similarly, the Square POS app makes it easy to accept payments with a mobile phone while on the go by connecting Square hardware. It's also an excellent setup for accepting mobile payments in restaurants.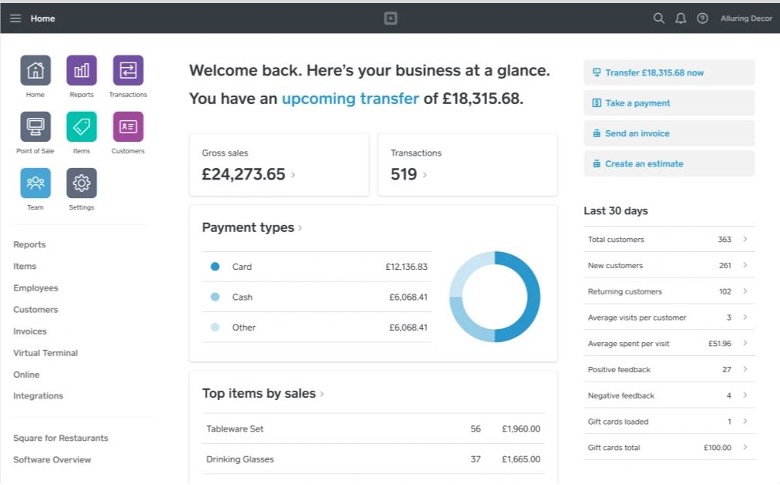 Square offers a feature-packed modern interface. Source: Square
Square Features
Square's features are well-suited for startups and small businesses just getting off the ground. Here's an overview of the features we found most valuable during our review. 
Virtual Terminal 
Square's virtual terminal allows you to accept credit card payments and record cash transactions from your laptop or desktop computer. We feel this is an excellent tool for businesses that must manually enter card details to accept credit card payments over the phone. We like that you can save customer information in the virtual terminal for recurring payments, which should help subscription-based businesses streamline their operations. 
Inventory Management
Square's free software lets you manage and monitor your business's inventory. You can import and export your inventory list using CSV spreadsheets and add SKU numbers and other modifiers. We were impressed that Square lets you set alerts when inventory falls to a preset level, helping you stay on top of ordering and avoid issues with both insufficient and excess inventory. We believe this feature is particularly useful for businesses that sell physical goods.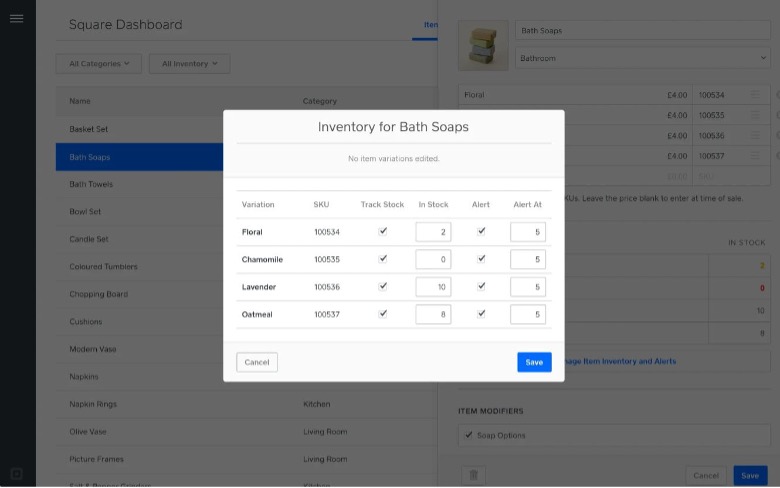 Square allows you to set alerts when your inventory hits a certain level. Source: Square
SMS Invoicing
We love that you can use Square's virtual terminal to send invoices via business texting. Customers can click a link and use their smartphones to pay on the spot. In an age where business is increasingly conducted on mobile devices, we believe this feature will help startups reduce friction and secure sales more easily. 
Reporting
Small business data analysis helps you gain insight into what's happening in your business, and Square's reporting feature provides various data analytics reports and tools. We liked that Square's preset reports help you track general sales trends, payment methods, sales of individual items, sales by employee, taxes, disputes and more. Square's advanced reporting capabilities allow you to generate custom reports and drill down into your business's data.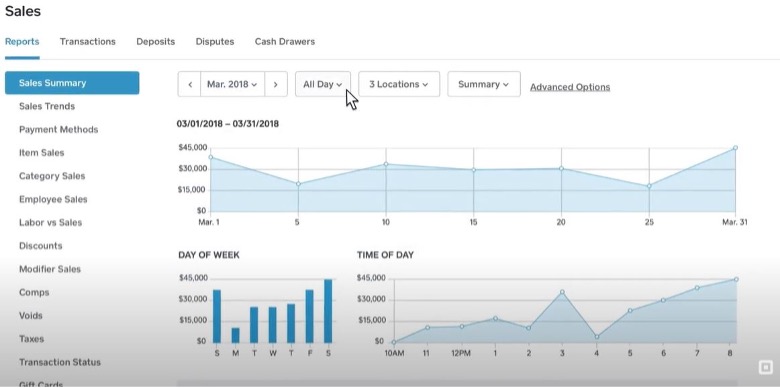 Square's reporting feature provides data-based insights into your business. Source: Square
E-Commerce
Square includes a free e-commerce kit that integrates with its POS and credit card processing tools. You can use Square's plug-and-play templates to easily set up an online storefront with no web design skills. Square also offers payment links for online checkout even if you don't have a website; you can also add Square payments to an existing website. 
Integrations
We were impressed that Square features over 350 integrations — one of the highest numbers among credit card platforms we reviewed. For example, you can connect with the best accounting software platforms like QuickBooks, Xero and Zoho Books. Other integrations include Wix, WooCommerce, Linktree, ZipRecruiter, DoorDash and many more. 
Security
E-commerce website security is crucial. Fortunately, all Square products are PCI-compliant, and the company charges no extra fees for this benefit. Square also manufactures all its hardware with end-to-end encryption. This is an important consideration for business owners that want a secure solution right out of the box with no additional compliance concerns. 
Payouts
According to Square's standard transfer schedule, payments will arrive in your bank account within one to two business days for transactions recorded Monday through Thursday. If you choose to have funds instantly deposited into your account instead of waiting the standard one or two days, the fee is an additional 1.5%. 
Square POS System
Square is well-regarded among small businesses for its ecosystem of integrated POS software and hardware. The company's many POS products and services include card readers and terminals, a highly-rated mobile app and industry-specific features. We like that these tools work well together, and that small business owners won't face a big learning curve implementing Square's POS system. Here is an overview of the most exciting Square POS features. 
Hardware
Square is well known for its budget-friendly POS hardware lineup. The most basic product is the Square magnetic stripe reader, which can plug into a smartphone's charging port or headphone jack to take credit card payments. Other products include the Square Reader for contactless and chip payments, Square Terminal and Square Register.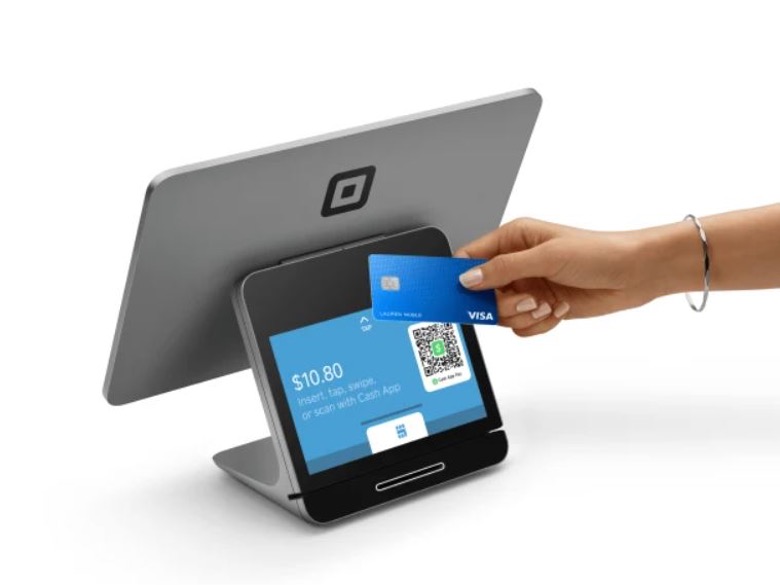 Square's POS devices are affordable and integrate with the company's software.  Source: Square
Mobile App
Square's free mobile app turns your smartphone into a POS system, which allows you to accept payments on your phone. You can also use the app to create and send invoices, manage inventory, and view reports. Square's mobile app scores an impressive 4.8 out of 5 on both the Apple and Google app stores, underscoring how much customers value this tool. Not all of Square's competitors have a mobile app, such as Merchant One, making this feature a plus for mobile-focused businesses. 
Online Ordering
Square offers several sets of plans (both free and paid) for businesses to sell, take orders and accept appointments online. The free suite of tools includes a website builder, integration with Square POS, fulfillment tools, social media integration, various payment options and more. We especially like that Square includes unlimited items as part of its free suite — many e-commerce website builders allow just a handful of items for sale on their free tiers. 
Gift Cards
Square's gift card tool helps merchants offer physical and digital gift cards easily. You can choose from numerous templates or upload your own; Square's software can manage and redeem your business's gift cards. 
Retail and Restaurant POS 
Square stands out for offering a few industry-specific features to help brick-and-mortar retailers and restaurants. The retail POS software allows you to accept nearly every payment type, both in-store and online. You can also use Square's tools to accept exchanges and returns at your store. 
For restaurateurs, Square offers a pickup and delivery system and the ability to accept payments tableside, at a cashier and online. Another useful feature is the ability to keep track of customer orders at the POS and sync them with Square's kitchen display system.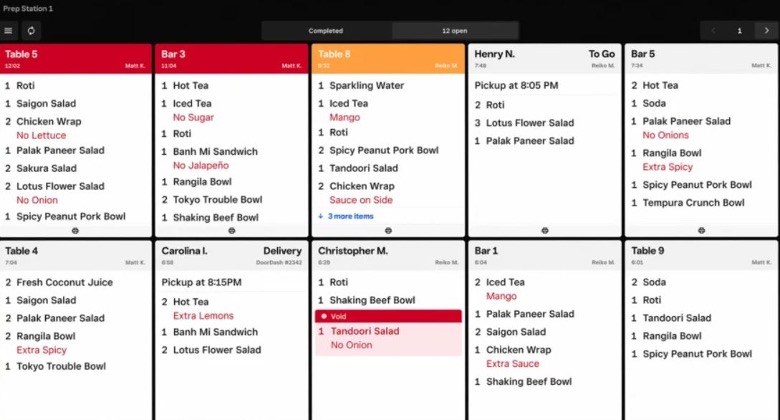 The kitchen display system syncs POS with what cooks see behind the scenes. Source: Square
Square Pricing
We were impressed that Square's basic tier software is free and includes all the features discussed here. Retailers, restaurants and services-based businesses can upgrade to Square's paid tier to access more advanced inventory management, reports, employee management and more features. These plans range from $29 to $69 monthly, plus processing fees. 
Larger businesses may qualify for customized pricing. To qualify, you must process more than $250,000 annually, and your average sales ticket must be larger than $15.
Processing Fees
In addition to monthly or annual software and hardware solution costs, Square charges transaction fees for credit card processing. This consists of a flat percentage of the transaction amount plus a small fixed fee. These fees depend on the type of transaction and may be slightly lower if you are a paid subscriber. 
For credit cards, debit cards, and contactless payments you accept in person, you'll pay one of the following fees:
Cards accepted using a Square Reader, Square Register, Square Stand, Square Terminal or Square for Restaurants: 2.6% + $0.10
Cards accepted using Square for Retail Plus or Square Appointments (paid version): 2.5% + $0.10
For payments you accept without the card in hand, such as online, invoice and recurring payments, you'll pay one of the following transaction fees: 
Cards accepted using Square Invoices or the Square Online Store: 2.9% + $0.30
Cards accepted using the Square Online Store Premium Plan: 2.6% + $0.30
Cards you manually key in using Virtual Terminal or the Square Point of Sale App, as well as recurring payments using cards details stored in Card on File: 3.5% + $0.15 
Chargeback Protection
Unlike some competitors, Square doesn't have a chargeback fee. However, Square will assist you in resolving the issue. If a customer initiates a chargeback, you must promptly respond to Square's information request with appropriate documentation. The company will put a hold on the disputed funds; it can take 90 days for your customer's bank to review the claim and issue a verdict.
You can help prevent chargebacks by listing accurate product and service descriptions, comprehensive refund policies, and well-defined shipping expectations.
Hardware Costs
Square's hardware options are impressive. You can choose from several Square card reader models and purchase processing hardware one piece at a time or as a bundle. At a minimum, you need a mobile device with the free Square POS app installed and the free card swiper to accept cards. You may also want to consider upgrading to an EMV-compliant reader that accepts chip cards to protect yourself from counterfeit credit card fraud liability.
Here are the card readers Square offers:
Square Reader for magstripe. The first one is free. Additional mobile credit card readers cost $10 each. The company mails this card reader to you when you open your account. It connects to your smartphone or tablet via the headphone jack or Lightning connector to accept magstripe cards.
Square Reader for contactless and chip. $49, or $78 with a charging dock. This is a wireless device that connects via Bluetooth. You can use it to accept Apple Pay, Google Pay and Samsung Pay, as well as contactless cards and EMV chip cards. It ships with a free magstripe reader so you can accept every payment method.
Square Stand for contactless and chip. $149. This stand turns your iPad into a countertop checkout station. A magstripe card reader is built into the unit; it connects to the included contactless and chip reader and dock.
Square Terminal. $299. Square's newest card reader is an all-in-one terminal. It has a built-in screen so you don't need your own smartphone or tablet. It also has a built-in card reader and a receipt printer.
Square Register. $799. This countertop model has one touchscreen for you and one for your customer. It also has built-in card readers that accept every payment type: magstripe cards, chip cards, contactless cards, Apple Pay, Google Pay and Samsung Pay. Square's POS software is preinstalled.
Accessories. Pricing varies. You can connect accessories to your card reader to create a countertop POS system. Options include barcode scanners, cash drawers, receipt printers, docks, cases and stands. Square is also compatible with some third-party hardware accessories and posts a list of compatible models on its website.
Financing is available for higher-priced items. The Square Register costs $39 per month on a 24-month installment plan, and the Square Terminal costs $27 per month on a 12-month plan.
Square will send you a free magstripe reader when you sign up to help you create a mobile POS system.
Implementation and Onboarding
We like that signing up for Square is straightforward. It only takes a few minutes to complete the application online for Square's processing services, and all you need is some basic information about you and your business. There are no credit checks, and you don't have to submit any documentation, such as your previous processing statements or marketing materials. Square approves applications quickly, and you can start accepting payments in as little as five minutes. 
Your free Square card reader can take up to 10 business days to arrive. If you need the device immediately, it is available to purchase at many electronics retailers. 
Customer Support
Square merchants can call the company during extended business hours, from 6 a.m. to 6 p.m. PST, Monday through Friday. Today, many companies have transitioned to automated support systems, so we like that business owners can get a human on the phone if they need help. If you like to research solutions yourself, Square's website also offers a searchable knowledge base with detailed information, including FAQs and step-by-step instructions. Other resources include how-to guides, articles on popular small business topics, a blog and a community forum.
Search Square support online for detailed information and instructions. Source: Square
Limitations
We found that Square lacks some of the customer service features its competitors offer. It doesn't offer a dedicated account rep or 24/7 phone support. If your business keeps irregular hours and you run into an issue, this could lead to frustrating wait times. 
Square's POS hardware is also incompatible with other credit card processors' software. One alternative is Clover, which builds some of the most widely used small business POS hardware [read more in our review of Clover.]
Some merchants report having their funds or accounts frozen. This is a fairly common complaint for mobile credit card processors that are merchant aggregators because they tend to be more risk-averse than the full-service processors that provide merchant accounts. If Square flags a transaction as suspicious — such as an abnormally large sales ticket — it may hold your funds. In addition, if your business offers items on Square's list of prohibited goods and services, your account may be closed without notice.
To reduce your likelihood of experiencing these issues, we recommend reading Square's terms of service before signing up for an account to ensure the processor is a good fit for your business. 
Methodology
We researched and analyzed leading credit card processors to find the best credit card processors for small businesses. We looked at demos, took advantage of free trials, carefully examined user reviews, and interacted with each vendor's customer service team. We evaluated each company's hardware and software offerings and how fair the contract terms are to merchants. Additionally, we scrutinized and compared the rates and fees each processor charges. To identify the best credit card processor for startups, we paid particular attention to affordability, the breadth of free features, and ease of application and setup.
FAQs
Funds generally appear in your account within one to two business days. Transactions before 8 p.m. EST will be reflected in your bank account the next business day. Transactions posted on Friday before 8 p.m. EST will post to your bank account by Monday morning.
Square's reserve (a pool of your funds held for a specific time for chargebacks) can reach up to 30% for some businesses, which is higher than the industry average.
Yes, although you must purchase additional hardware to accept contactless payments.
Bottom Line
We recommend Square for …
Startups seeking an affordable credit card processing and POS solution. 
Brick-and-mortar businesses like retailers and restaurants, as well as appointment-based businesses.
We don't recommend Square for …
Larger businesses seeking the lowest processing rates. 
Business owners that require extensive customer support. 
Skye Schooley contributed to this article.