Square Review
By Lori Fairbanks
Last Modified: June 12, 2018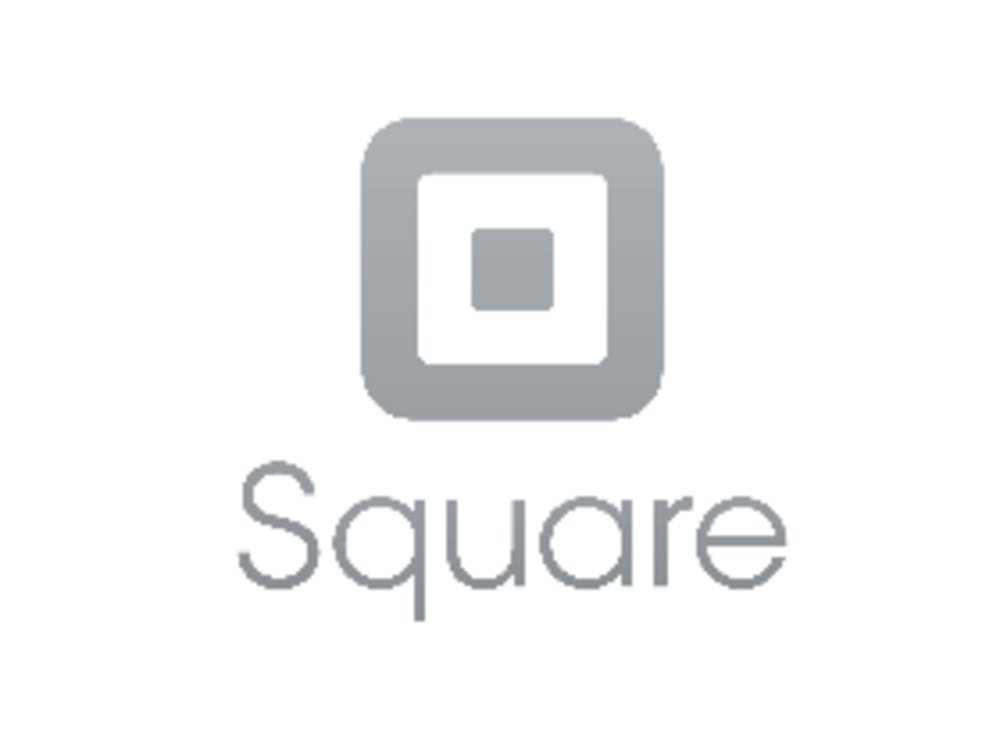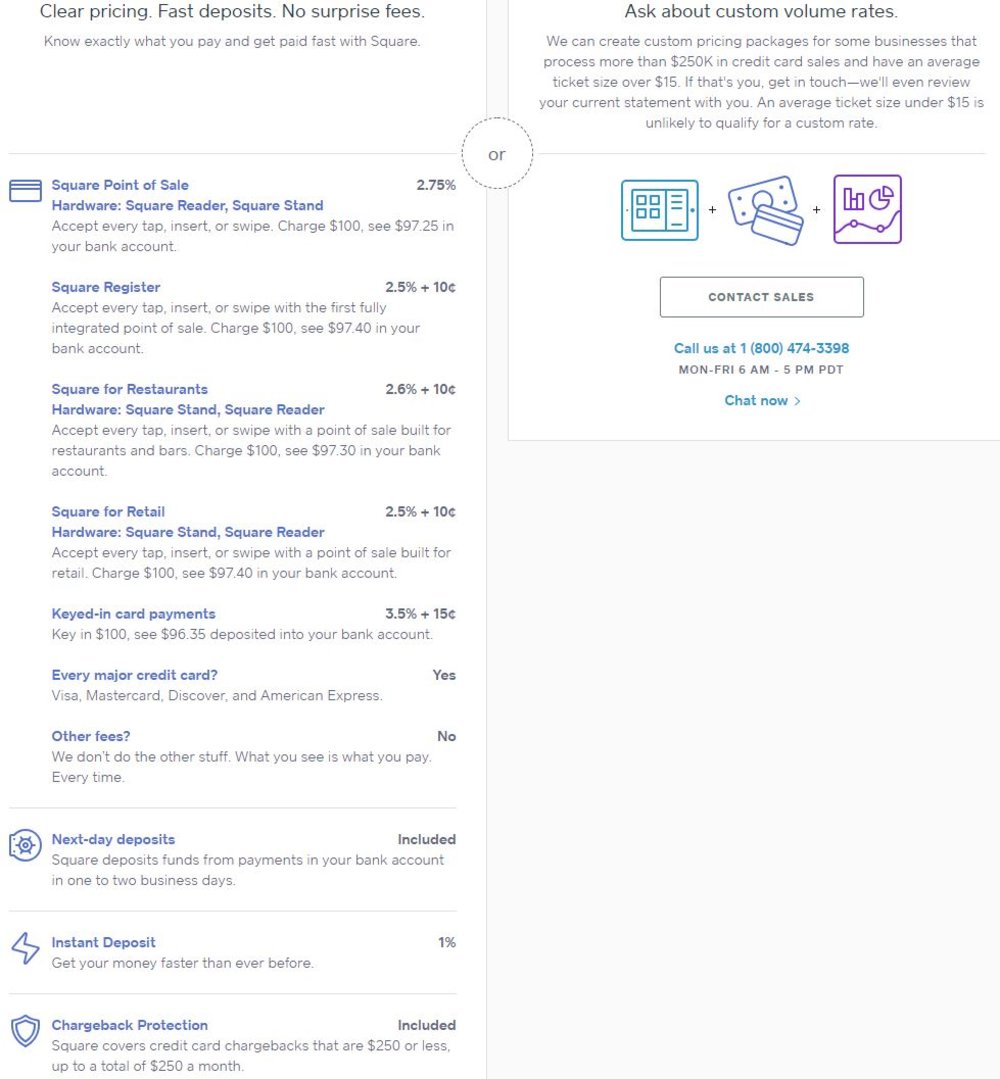 You can easily find all of Square's rates and fees on its website.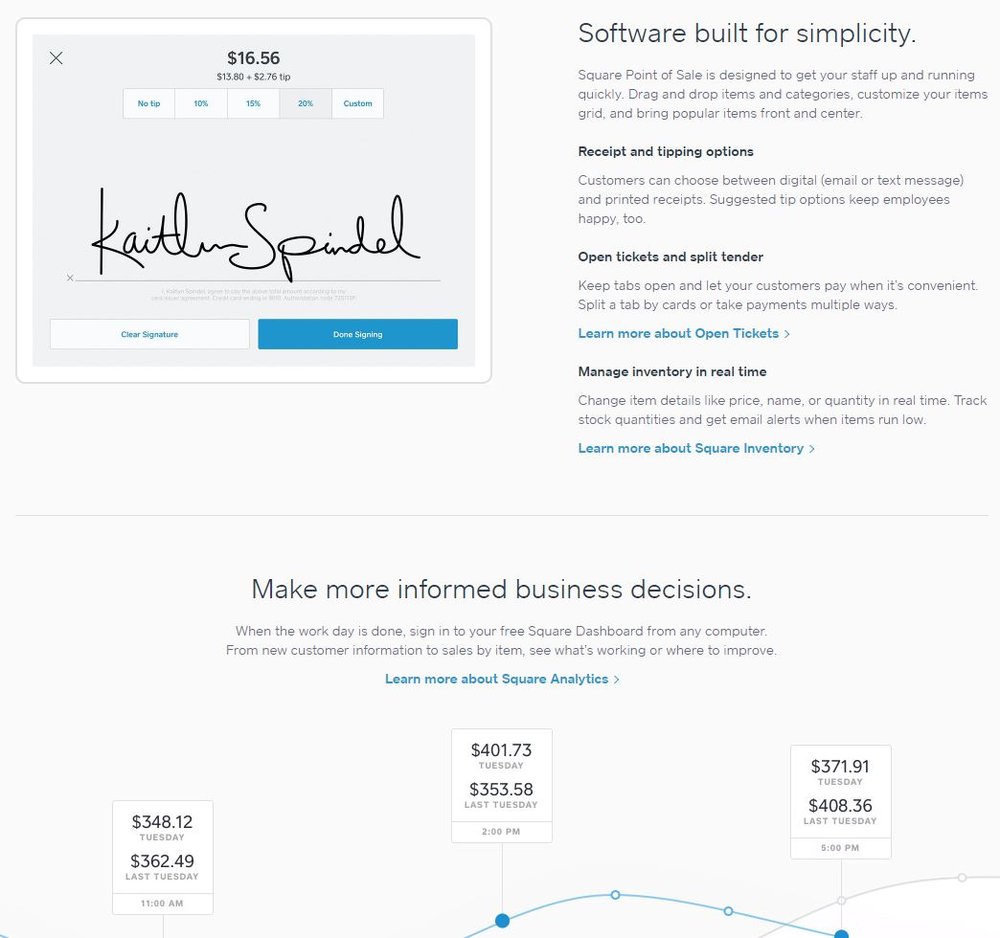 Square's free payment app, called Square Point of Sale, includes a full suite of features to help you run your business.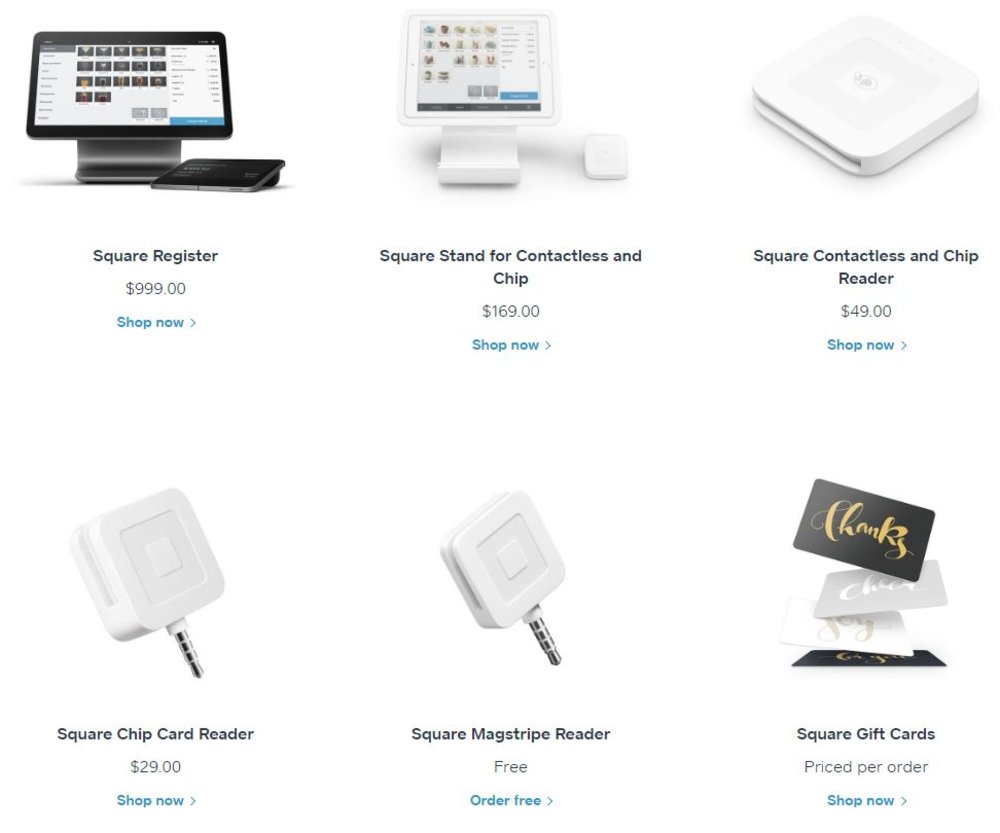 When you sign up for a Square account, you receive a free magstripe card reader, but you should purchase one that accepts chip cards.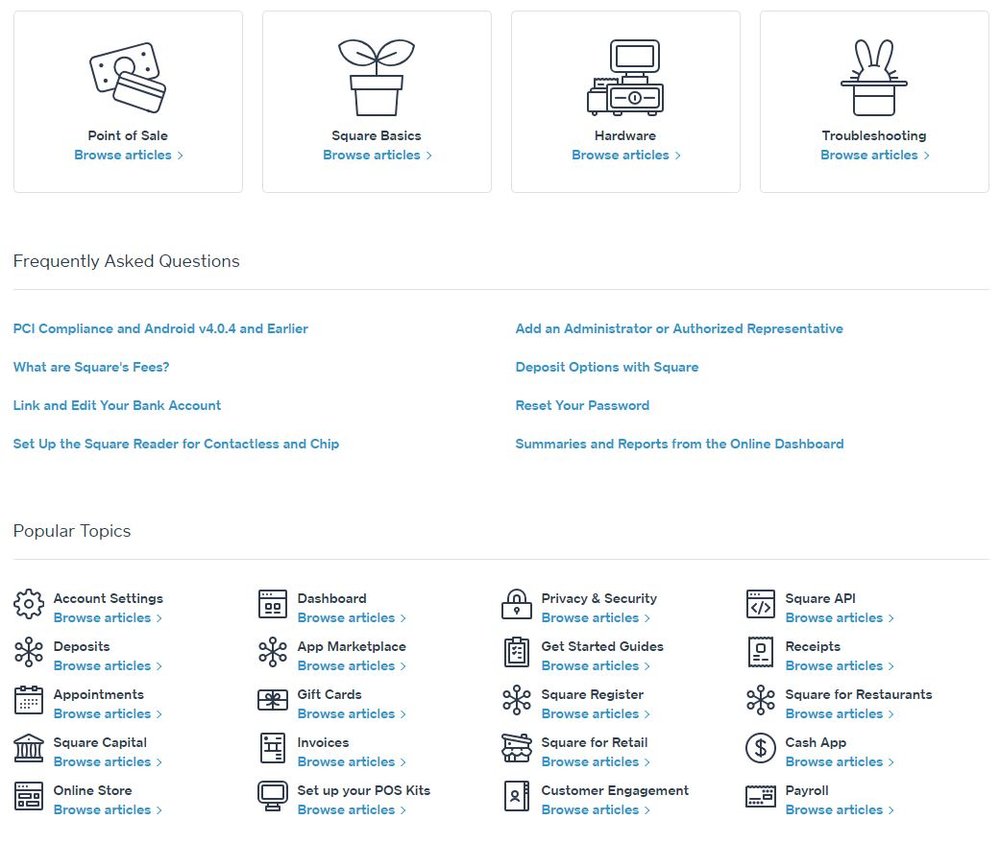 Square has an extensive collection of user support resources on its website.
Square is one of the biggest names in mobile credit card processing, providing its services to small business merchants and individual sellers in the U.S., the U.K., Canada, Australia and Japan. We chose Square as the best low-fee credit card processor because it doesn't charge any of the monthly or annual account maintenance fees that most companies charge, such as statement, gateway and PCI compliance fees. All you pay are its flat-rate transaction fees. It doesn't have a chargeback fee either, which is unusual, even among mobile credit card processing companies.
Visit our best picks pages to see all of our recommendations for credit card processing companies and mobile credit card processors.

We also picked Square as the processor with the best mobile credit card processing app, because it works on both Apple and Android phones and tablets. Also, even though it's free, it includes a full suite of point-of-sale features and can be augmented with add-on services and integrations.
Pricing and Terms
A big part of Square's appeal is that it makes credit card processing accessible, with an application that can be completed in minutes, a free app and a free credit card swiper for each account, no contract, and simple flat rates. You can find complete details about its simple pricing plan on its website. The flat rates make it easy to estimate how much you'll pay the processor each month.
Square doesn't distinguish between card types; it charges the same rate for debit, credit, rewards and corporate cards. Card brands are treated likewise, so you pay the same rate whether your customer pays using Visa, Mastercard, Discover or even American Express. If your customers prefer to pay using rewards, business, international or American Express cards, you may save money by using Square. Here's how its rates work:
2.75 percent: Cards and contactless payments you accept in person using a card reader
3.5 percent plus 10 cents: Cards accepted in person using Square Register
2.9 percent plus 30 cents: Cards accepted online, including invoices
3.5 percent plus 15 cents: Cards you manually key in or recurring payments using cards on file
Custom rates are available. To qualify, you must process more than $250,000 annually, and your average sales ticket must be larger than $15.
Square doesn't charge any fees. You only pay the processing costs. You don't have to pay a monthly fee or a PCI compliance fee, nor must you meet any monthly minimums. If you opt to use Square's online store to create a website, you aren't responsible for payment gateway costs. It has a user agreement instead of a lengthy contract, which means there aren't any termination fees and you can close your account at any time without penalty if the service isn't working out for your business. Square's lack of fees makes it an attractive option if your company operates on tight margins and may not do enough in sales to justify the fees other companies charge.
Here's a list of fees other companies charge that you won't pay when you use Square as your processing company:
Application or setup
Monthly fee (sometimes called a statement fee)
Monthly minimum processing requirement
Gateway setup
Monthly gateway fee
Annual fee
PCI compliance
Early termination or account closure
Chargeback
Optional Fees
Although there are no additional fees for Square's regular processing plan, there are some optional services that cost extra. For example, if you choose to have your funds deposited into your account instead of waiting the standard one or two days, it costs an additional 1 percent. If you choose to add extra services or third-party integrations to your system, there may be monthly subscription fees.
Features
Even though it's primarily known as a mobile credit card processing company, Square offers processing solutions to brick-and-mortar and online businesses as well. Here are some of the features it offers.
Easy Application and Setup
You can sign up online for Square quickly, as it only requires the last four digits of your Social Security number and some basic information about your business. There aren't any credit checks, and you don't have to submit any documentation, such as your previous processing statements or marketing material. It approves applications quickly, and you may be able to start processing the same day you register, sometimes in as little as five minutes.
Keep in mind that until you receive your card reader, you pay the higher, keyed-in rate. It can take up to 10 days for your free card reader to arrive, but if you need it in a hurry, you can purchase one at a local electronics or office supply store.

Free Point-of-Sale Software
The company's payments app, Square Point of Sale (formerly Square Register), is compatible with both Apple and Android phones and tablets. It's free to download and includes a full suite of POS features to help you run your business. Here are some of the things it can do:
Accept debit and credit cards, mobile wallets, cash, paper checks, and gift cards
Open and split tabs
Set discounts and taxes
Issue refunds
Prompt customers for tips, with suggested tip amounts
Manage customer information and feedback
Print, email or text receipts
Send invoices and accept payments online
Manage inventory and track quantities in real time
Show sales data and create reports
Integrate with third-party business solutions such as accounting software
Processing Equipment Options
Square gives you several models to choose from for to processing hardware, and you can purchase it a piece at a time or as a bundle. At minimum, you need a phone or tablet with the free app installed and the free card swiper to accept cards, but you should upgrade to a reader that accepts chip cards to protect yourself from counterfeit fraud liability. Here are the card readers Square offers:
Square Magstripe Reader: Free. The company mails this card reader to you when you open your account. It connects to your phone or tablet via the headphone jack. With it, you can accept magstripe cards.
Square Chip Card Reader: $29. This model also connects via the headphone jack. It has two slots, one for magstripe cards and one for chip cards.
Square Contactless and Chip Reader: $49. This is a wireless device that connects via Bluetooth. With it, you can accept Apple Pay, Google Pay, contactless cards and EMV chip cards. It ships with a free magstripe reader, so you can accept every type of payment.
Square Stand for Contactless and Chip: $169. This stand turns your iPad into a countertop checkout station. A magstripe card reader is built into the unit, and it connects to the included contactless and chip reader and dock.
Square Register: $999; rates are discounted to 2.5 percent plus 10 cents. This countertop model has one touchscreen for you and one for your customer. It also has built-in card readers that accept every payment type: magstripe cards, chip cards, contactless cards, Apple Pay, Google Pay and Samsung Pay. Square's POS software is preinstalled on it.
Accessories: Pricing varies. You can connect accessories to your phone, tablet, or stand via USB or Bluetooth. Options include barcode scanners, cash drawers, receipt printers, docks, cases and stands.
Instant Deposit
Square normally takes one or two days to transfer the money from your transactions into your bank account. However, it gives you the option of instantly depositing your funds for an additional 1 percent. Alternatively, you can schedule deposits, which also costs 1 percent.
Chargeback Protection
Not only does Square not have a chargeback fee, it also offers up to $250 per month of chargeback coverage. To qualify, you must follow Square's best practices, and the entire transaction must be less than the $250 limit. If a customer initiates a chargeback, you must promptly respond to Square's information request with appropriate documentation.
Additional Considerations
Add-on Services
You can augment the Square Point of Sale mobile credit card processing app with additional business services. Third-party integrations are available through the App Marketplace, and the company offers several apps of its own as well. Here are some of the ancillary services available from Square.
Appointments: This app comes with a booking website that syncs with your personal calendar, so your customers can schedule and reschedule appointments with you online. It's free for individuals, and in-person transactions cost 2.75 percent. Businesses with employees pay 2.5 percent per transaction and $50 per month for 2-5 users or $90 for 6-10 users.
Invoices: With this app, you can digitally send invoices to your customers for free. Your customers can then pay online using a credit or debit card. It costs 2.9 percent plus 30 cents for each payment you receive.
Marketing: You can promote your business by sending email campaigns to your customers using this app. It also tracks your results. This costs $15 per month.
Payroll: Square's payroll services include time tracking, direct deposits and automatic filing. If you're only paying contractors, it costs $5 per contractor per month. If you have employees, you pay $29 per month plus $5 per employee.
For Square's retail and restaurant merchants that need advanced, industry-specific solutions, it offers the following alternatives to its Point of Sale app.
Square for Retail: This app is for merchants that need retail-specific POS software with advanced management tools. It costs $60 per month per location and 2.5 percent plus 10 cents per transaction.
Square for Restaurants: This restaurant-specific POS software has advanced features for managing both the front and back of house. It costs $60 per month per location and 2.6 percent plus 10 cents per transaction.
Online Processing Solutions
If you want to accept credit cards online, Square gives you multiple options.
You can accept payments through the Square Appointments booking website and online invoices (see above).
You can create a basic website using Square Online Store. Like many of Square's other services, it's free to use when you use Square as your processor.
If you already have a website, Square has integrations for many popular e-commerce platforms and shopping carts, or you can use Square's API to connect to your account and add a Square checkout button.
Business Financing
Once you've established a processing history with Square, it gives you access to Square Capital, which can provide your business with a merchant cash advance and fund it as soon as the next day.
Drawbacks
Square lacks some of the customer service features we looked for. It doesn't offer live chat, a dedicated rep or 24/7 phone support. Square merchants can call the company during extended business hours, from 6 a.m. to 6 p.m. PT, Monday through Friday. If your business keeps irregular hours and you run into an issue, you'll have to email the company instead, which may be frustrating.
If you like to research solutions yourself, you'll find Square's website helpful, as it offers multiple resources. It has a searchable knowledgebase that provides detailed information with step-by-step instructions. It also has how-to guides, FAQs, articles on popular small business topics, a blog and a community forum.

Some merchants report having their funds or accounts frozen. This is a fairly common complaint for mobile credit card processors that are merchant aggregators, since they tend to be more risk-averse than full-service processors that provide merchant accounts. If the company deems something about a transaction suspicious, such as an abnormally large sales ticket, it may hold your funds. If your business offers items on Square's list of prohibited goods and services, your account may be closed without notice, as it violates the company's user agreement.
Editor's note: Looking for a credit card processing solution for your business? Click the Compare Quotes button below to have our sister site BuyerZone connect you with vendors that can help.

Ready to choose your The Best Mobile Credit Card Processing Solutions of 2019? Here's a breakdown of our complete coverage:

Lori Fairbanks
Lori Fairbanks has years of experience writing and editing for both print and online publications. After graduating from Brigham Young University with a Bachelor of Arts in English, she worked as a magazine editor and then as a freelance writer and editor for a variety of companies, including marketing firms and a medical university. She now writes for Business.com and Business News Daily about financial systems and services for small businesses, such as accounting software, credit card processing and point-of-sale systems.