With labor scheduling, time clock and payroll processing features, Brilliant is our choice for the best POS system for employee management. Brilliant provides detailed insights into busy times and team performance and is a cost-effective solution.
Pros
Brilliant POS provides labor scheduling, time clock, and payroll processing features that simplify employee management.
Users can access myriad detailed insights into busy times and team performance.
At only $69 for a card reader, Brilliant POS is an excellent option if you're just starting a business.
Cons
Brilliant POS doesn't offer many app integrations.
Software compatibility might be an issue when using Brilliant POS.
Brilliant is our choice for the top point-of-sale (POS) system for employee management because it makes business operations easier by focusing on organization and automation. Its inventory management features also shine, since it has no limits on SKUs. Additionally, Brilliant POS's customer service is excellent, offering 24/7 support 365 days a year. Brilliant has a strong focus on detailed analytics, providing robust insights to steer improvements and changes.
Brilliant POS Editor's Rating:
9.2 / 10
Price/value

9.3/10

Features

8.9/10

Customizations, add-ons and integrations

8.8/10

Ease of use

9.5/10

Customer support

9.3/10
Why We Chose Brilliant POS for Employee Management
Our detailed analysis of Brilliant POS found its employee management tools to be a step above the competitors we reviewed. The POS system's built-in labor scheduler is integrated with its payroll service, allowing business owners more control and automation over employee schedules, hours, wages and payroll. You can easily export this data for your accountant or bookkeeper to review if necessary. We like that Brilliant gives detailed insights into your business's busiest times of the day and week. Furthermore, it provides detailed analytics on team performance for any given day. 
We also appreciate that Brilliant gives business owners complete control over which employees can access specific areas of the POS system. This access control can prevent theft and ensure employees see only the details they need to do their jobs. Unlike some competitors, Brilliant provides a 24/7 support line you and your team can access for assistance. 
With Brilliant's employee management features, business owners can focus on growth and high-level tasks instead of administrative work that can bog down their productivity.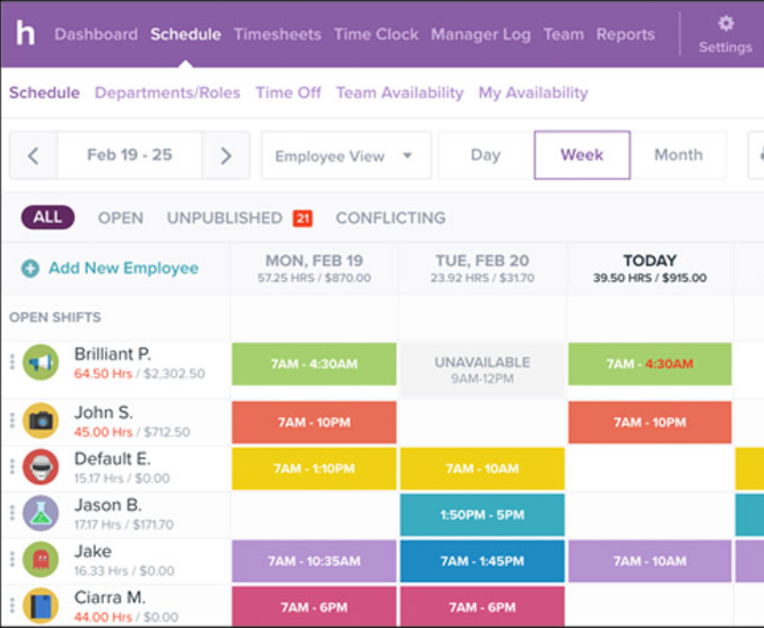 Brilliant's labor scheduler is intuitive and easy to use. Image Source: Brilliant POS
Ease of Use
Brilliant POS has an excellent employee training investment ROI. We like how easy the Brilliant POS system is for new employees to learn. Your team likely won't need more than a few minutes to understand how to clock in and out and view hours worked and paid. If your business sells products, Brilliant's bulk feature lets you include all your store items in the system. From there, you can easily see what products are selling quickly or languishing on the shelves. With so many features packed into the system, we feel many types of businesses in various industries can use Brilliant POS.
Brilliant had simplicity in mind when designing its platform. It aimed to create an easy-to-use system all business types can learn quickly. You can customize the user-friendly interface to suit your business requirements. Even if you're not tech-savvy, you shouldn't have a problem navigating the system — and if you run into issues, you'll be able to take advantage of Brilliant's fantastic support team. 
Features
While POS system features vary widely, Brilliant POS earned a spot on our POS system recommendation list because of its broad feature set. Here are a few features that will appeal to a wide range of businesses.
Inventory Management
We like that Brilliant's intelligent inventory management system keeps track of products at the item level. You can set alerts when stock runs low, program reorders when stock reaches a specific limit, and manage all vendor relationships in the same interface. We especially like that Brilliant doesn't limit how many SKUs you can have — unlike some competitors. With better inventory management, you'll never have to worry about running low on products or the risk of overstocking.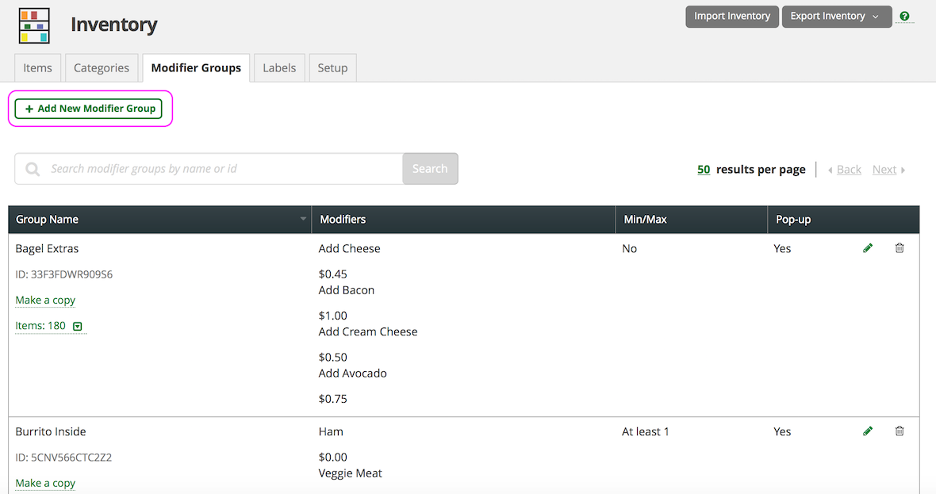 Brilliant's inventory management features make it easy to keep track of products at the item level. Image source: Brilliant POS
Inventory management is an essential POS system feature. Others include shortcut keys, a wide array of payment options and customer management tools.
Mobility
Mobility is crucial in retail POS systems. Brilliant uses mobile technology so you can meet customers on the sales floor. That means they won't have to run around wondering where the nearest cashier is when they're ready to pay. The best restaurant POS systems also prioritize mobility. With Brilliant POS, your customers can pay for their meals directly from the server at the table. 
Additionally, we like that you can use Brilliant's mobile-based hardware option to track business operations like purchases and inventory wherever you're located.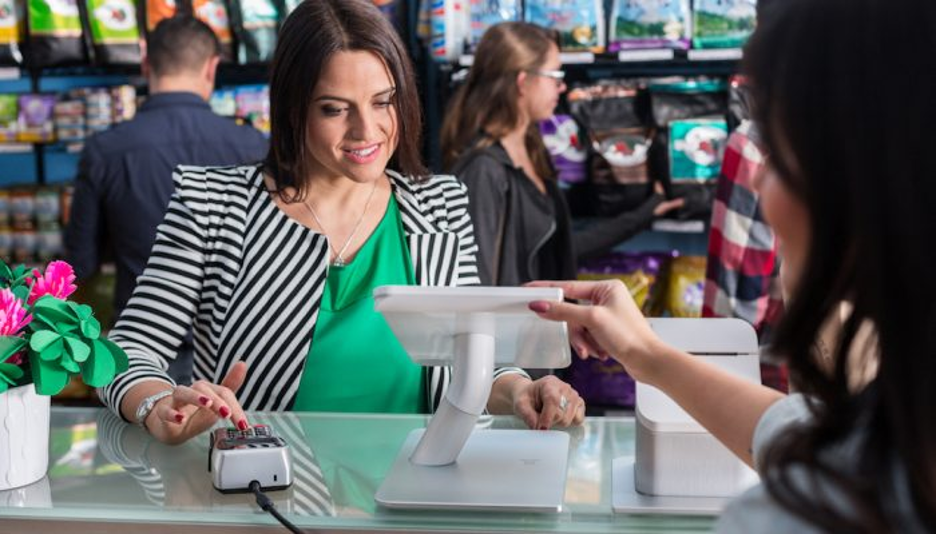 Brilliant's mobile technology allows you to meet your customers where they are. Image source: Brilliant POS
Customer Profiles
The ability to create customer profiles is another Brilliant POS feature we really liked. Brilliant also facilitates customer loyalty programs and can issue points through rewards cards and process redemptions. Another handy feature we appreciated: You can view customers' shopping habits and send out customized incentives for future purchases. 
Interface
We appreciated the organized and clean Brilliant POS interface. Some competitors have a more confusing setup. You can customize Brilliant's system to display a specific screen when employees log in. The back-end dashboard is just as easy to use as the front-end. Because all business operations run from a single platform, the Brilliant POS interface isn't as complicated as some other systems. 
Support
Unlike many competitors, Brilliant provides a dedicated account manager when you initially sign up. Additionally, Brilliant provides efficient customer service. We like that Brilliant provides straightforward and clear instructions for accessing assistance. Even email support requests will be answered in less than three hours. Reviews repeatedly mention customers' satisfaction after receiving customer support from a Brilliant agent. 
Reporting and Analytics
We were impressed by Brilliant's reporting and analytics capabilities. You can use Brilliant's cloud reporting to analyze POS reports anywhere you have internet connectivity. Because Brilliant's reports are so detailed, you can use them to make informed decisions to help grow your revenue. 
We also liked the amount of detailed sales data Brilliant offers. You're able to view hourly transactions by item, customer and category. You can also see which items are selling and which have been sitting still.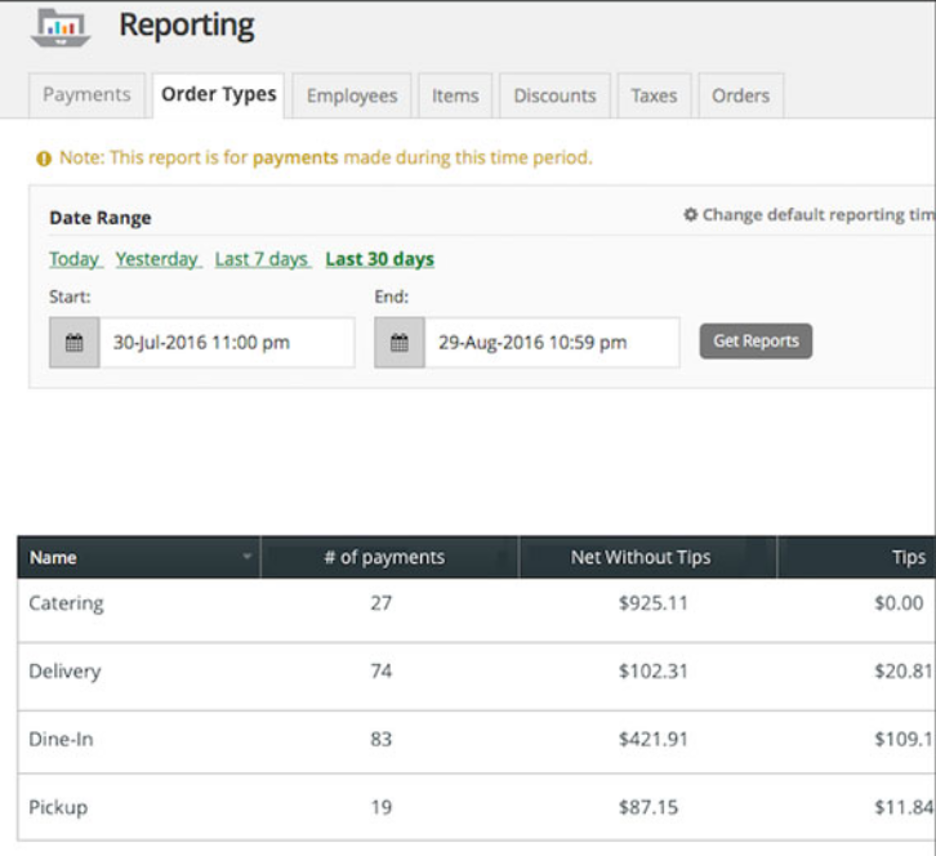 Brilliant's detailed analytics reports let you view transactions, hourly sales, categories, items, customers and more. Image source: Brilliant POS
Pricing
Brilliant offers several pricing packages for its Clover hardware products.
Here's a breakdown of Brilliant's pricing plans:
Plan

Starting price (monthly)

Features and services

Payments Plus

$4.95 for the first device

$7.95 for additional devices

Clover app market
Set employee shifts and permissions
Accept all types of payments
Store and send text and email digital receipts
24/7/365 support

Register Lite

$14.95 for the first device

$9.95 for additional devices

Includes all Payments Plus plan features
Inventory management
Order management
Account manager assistance with training and setup
Increased Clover app market accessibility

Register

$49.95 for the first device

$14.95 for additional devices

Includes all Register Lite plan features
Advanced item and order management features like item level variants
Complete access to the Clover app market
Table management, menu modifiers, kitchen printer and weight scale connectivity

Cash Register Express/Restaurant Pro Express

One-time payment of $799

Advanced inventory management
Employee schedules/permissions
Cloud reporting
Built-in loyalty and on-house customer accounts
Customized training
Supports larger screen
Table management, menu modifiers, kitchen printer and weight scale connectivity
You'll receive the following with all plans:
Setup/training. After you receive the POS system, you'll be scheduled for an initial setup and training session to guide you through everything. You'll also be able to access unlimited one-on-one training throughout the life of your account.
Account manager. You'll get a dedicated account manager to ensure your business takes full advantage of Brilliant's features.
Offline functionality. Even if your internet connection fails, you'll be able to process transactions.
Cloud analytics. Review reports and analytics for insights anywhere around the globe. 
Some of the hardware costs are as follows:
Clover Station Duo: $1,999
Clover Mini: $749
Clover Flex: $749
Clover Station Solo: $1,849
Clover Go "All-In-One:" $149
Clover Cash Drawer: $119
Clover Barcode Scanner: $189
Clover Label Printer: $299
Clover Kitchen Printer: $396
Clover Integrated Scale: $499
Clover Mini Swivel: $149
Clover FD40 PinPad: $299
Clover Go All-in-One Stand: $49
Implementation/Onboarding
One of the nicest things about Brilliant's implementation and onboarding process is the dedicated account manager who will guide you through everything. While some competitors also provide this feature, many don't highlight it as much as Brilliant does. 
Brilliant promotes its system implementation as straightforward and seamless. Once set up, training employees shouldn't take more than a few minutes. We like that you can customize each employee's dashboard to display only what they need to see, making the onboarding process as stress-free as possible. 
Customer Support
We like that Brilliant doesn't shy away from providing transparent contact information on its website. With some other POS systems, you must dig deep through their websites to discover how to contact support for assistance. In contrast, Brilliant aims to boost customer satisfaction. For example, on its home page, you'll find four areas where you can contact support, including a phone number listed twice, a chat box where you can reach out for help, and an area where you can email questions or concerns. 
Additionally, you'll have access to 24/7/365 customer support. We're also impressed that customers can schedule a live demonstration before even considering Brilliant as a POS system. 
We'd like to highlight that Brilliant is accredited with the Better Business Bureau and holds an A+ rating. Across customer reviews, it holds a strong 4.94/5 rating. These ratings demonstrate that the company is active and serious about resolving customer concerns. Some of the other POS system competitors we've reviewed either aren't active on BBB or don't have as high a rating as Brilliant.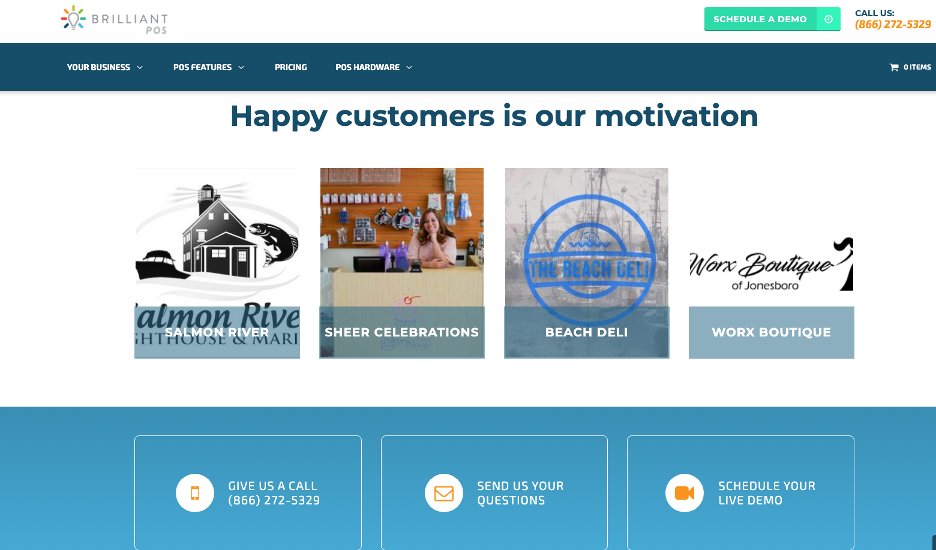 Brilliant POS focuses on customer happiness by offering various ways to contact support. Image source: Brilliant POS
Limitations
While there are many good things to say about Brilliant, the system does have a few drawbacks. For example, while it integrates with software like QuickBooks, Get Seller and BevSites, it may not be the right solution if you're looking for a POS system with extensive integrations. Check out our review of Epos Now or our Lightspeed review to learn about POS systems that focus more on integrations. 
Additionally, Brilliant's software compatibility might be a problem for companies with existing POS systems. For example, you can only run the Clover software Brilliant uses on Clover hardware. That means if you have a completely different system, you'd have to migrate everything over, which could be a drawback for some businesses. 
Methodology
We researched and analyzed dozens of POS systems to identify the top solutions. We examined pricing, contracts, hardware, platform compatibility, must-have POS features, reports, payment processing, integrations, usability and customer support to help businesses choose the right POS system for their needs. We watched product videos and got hands-on experience with demos when possible. We also analyzed websites, spoke with vendor representatives, and compared customer reviews. When deciding on the best POS system for employee management, we prioritized the following features:
Ease of building employee schedules
Employees' ability to clock in and out of shifts
Statistics on payroll and wages
QuickBooks integration
Team performance
If you're seeking an excellent POS system for the restaurant industry, check out our review of TouchBistro.
FAQs
Brilliant POS will work well in various industries, including the following:
Retail businesses
Bars and restaurants
Quick-serve establishments
Grocery stores
Salons
Brilliant utilizes Secure Sockets Layer (SSL) encryption. That means your data will be encrypted at the terminal before it's uploaded to the cloud.
Brilliant is a highly customizable solution that allows you to adjust the system to fit your specific business needs. You can customize menus, receipts and accessibility for employees.
Check out various types of POS systems before committing to determine if the solution you choose fits your needs and budget.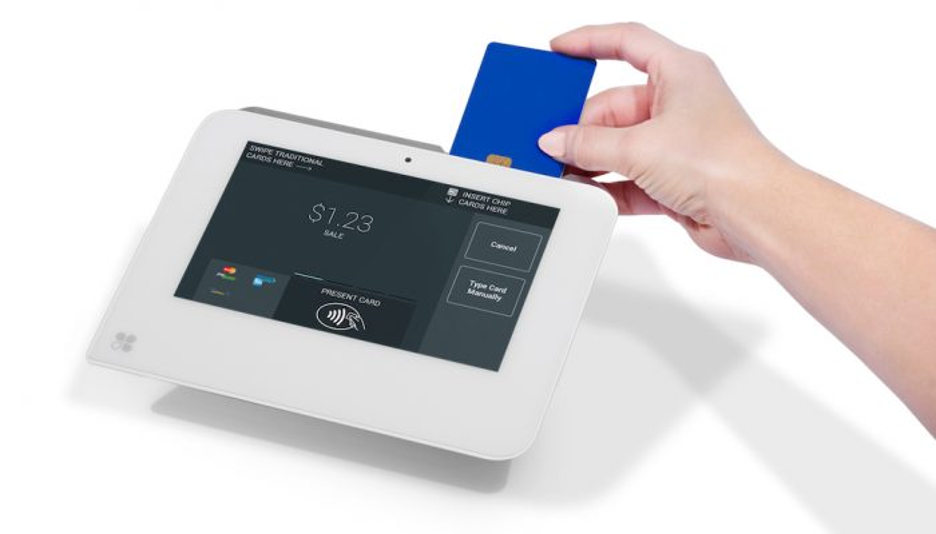 Card readers provide faster transactions that can result in an overall better customer experience. Image source: Brilliant POS
Bottom Line
We recommend Brilliant for …
Businesses that want to automate and simplify employee management.
Companies that want detailed analytics to help them scale and expand.
Startups that require significant support.
We don't recommend Brilliant for …
Companies that require many integrations and cross-platform functionality.
Companies that already have a POS system set up and in place.