TouchBistro is our pick for the best restaurant POS system. TouchBistro is a versatile, customizable and affordable iPad-based restaurant POS system with impressive features to help manage menus, orders, inventory, payments and staff.
Pros
TouchBistro is a restaurant-specific POS system.
TouchBistro is a hybrid POS system; the software resides locally on a server, while data is stored in the cloud. This allows you to access data and run reports from any browser.
Users can customize the POS to automatically prompt food modifiers and upsells. These features can increase sales and enhance the customer experience.
TouchBistro offers valuable add-on features like online ordering, reservations, loyalty programs and gift cards.
Cons
TouchBistro is an iPad-specific POS system that won't work with Android devices.

If you're looking for the best restaurant point-of-sale (POS) systems, TouchBistro is our number one choice. It's suited for restaurants of all sizes and types, whether you have a single store or multiple locations. It's affordable, provides transparent pricing, and offers abundant features for food-service purveyors, including inventory management, customer loyalty programs, online ordering and reservations. TouchBistro also enables tableside ordering and payment processing, which up the order-taking process while creating a safer environment that puts customers and staff at ease.
TouchBistro Editor's Rating:
9.4 / 10
Pricing/value

9.3/10

Feature

9.7/10

Customizations, add-ons and integrations

8.8/10

Ease of use

9.7/10

Customer support

9.3/10
Why We Chose TouchBistro for Restaurants
TouchBistro was one of the only hybrid POS systems we reviewed. Hybrid POS systems combine the flexibility of cloud-based POS software with the reliability and stability of a locally installed connection. Restaurants will continue to operate on a server if they lose internet power during a dinner rush – this can greatly impact your restaurant's bottom line.
We like that TouchBistro POS is specifically made for restaurants instead of trying to cater to all industries, like many other retail POS systems we evaluated. This focus allows TouchBistro to offer restaurant-specific tools, including drag-and-drop table management, customizable menu dashboards and ingredient-level tracking. TouchBistro also has features that make life easier for servers and bartenders, including seat management, forced modifiers, upsells and various bill-splitting options. While these features may not be relevant to a retailer, they're incredibly helpful for restaurant employers and can streamline your overall operations.
TouchBistro impressed us as a reliable POS system that streamlines restaurant management, reducing operational headaches and allowing restaurant owners to focus on excellent, efficient customer service instead.
TouchBistro is also an excellent bar POS system, with many built-in features bar owners will appreciate.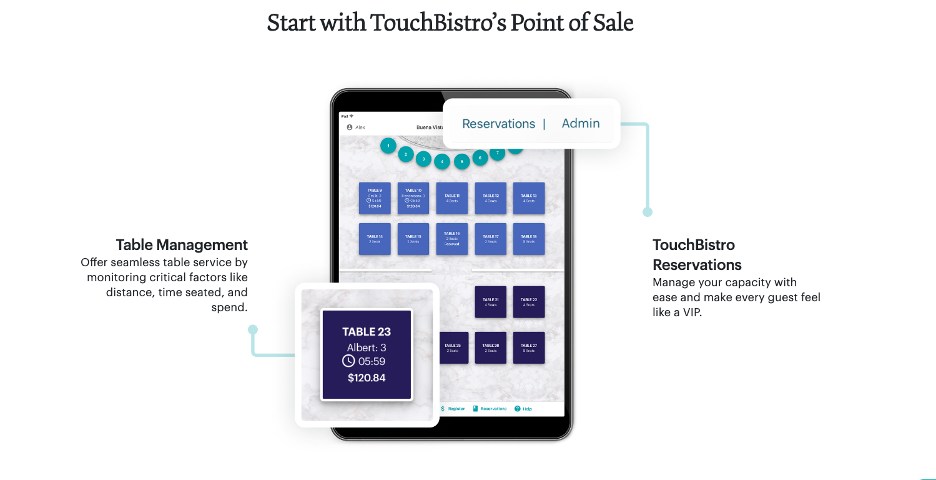 TouchBistro handles table management, reservations, seat management and more to ease restaurant employees' headaches. Image source: TouchBistro
What We Like About TouchBistro
What We Don't Like About TouchBistro
TouchBistro is an iPad-specific POS system that won't work with Android devices.
TouchBistro no longer offers digital menu boards or kiosks.
The TouchBistro Reports to Go app for employers is somewhat limited compared to the standard TouchBistro dashboard.
Ease of Use
When testing the software for ourselves, we were impressed by TouchBistro's ease of use and seamless customizability. It's one of the most straightforward POS systems we evaluated. Restaurants of all types and sizes will be able to quickly modify the platform to meet their specific needs. 
When anaylzing this platform, we really liked TouchBistro's unique add-on features that handle reservations, online ordering and customer loyalty programs. These functions help restaurants take their customer service to the next level. Additionally, we liked that businesses can easily set up the TouchBistro POS dashboard to match their menu and table layout.
While all the best POS systems allow a degree of customization, we found TouchBistro's customizations to be next-level. Restaurants can effortlessly customize forced menu modifiers and upsell items, simplifying the serving process for wait staff. We found that TouchBistro's mobile POS functionality allows for easy tableside ordering and checkout. Servers can also view helpful information tableside, including ingredient lists, allergy information and menu item images — we really appreciated this capability, as not all competitors offer it. 
Because TouchBistro is so easy to learn and use, it's ideal for restaurants with high employee turnover rates. New staff members can learn the system in under an hour, and navigation is extremely user-friendly for anyone who's used an iPhone before.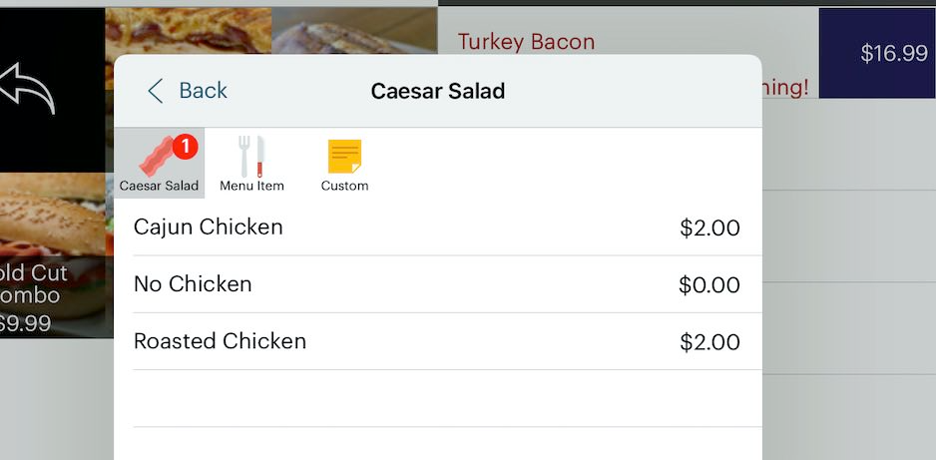 TouchBistro's customized forced menu modifiers simplify the serving process for wait staff. Image source: TouchBistro
Features
TouchBistro is a leader in the restaurant POS market for a good reason: Its vast feature set supports the industry comprehensively. Additionally, we like that TouchBistro updates its software frequently, regularly adding new POS system features and enhancements.
Here are some of TouchBistro's impressive features. 
Restaurant Management
TouchBistro is a server-friendly system that makes it easy to manage the floor during busy times. When trying out the software, we liked that its drag-and-drop table-management tools simplify creating a floor plan that mimics your restaurant's layout, which can help you efficiently manage tables and seats while maximizing occupancy. During our testing, we also liked the robust tracking tools providing detailed restaurant performance information. For example, an employer can record how frequently tables turn over and better evaluate staff efficiency.
Online ordering was another restaurant management tool that impressed us about the TouchBistro  platform. Restaurants can take orders via their website and move them into the TouchBistro POS system. We appreciate that guests can place online orders for ASAP pickup or delivery and schedule future orders — not all competitors offer this functionality. In April, TouchBistro also released an update so companies can now brand their online ordering page.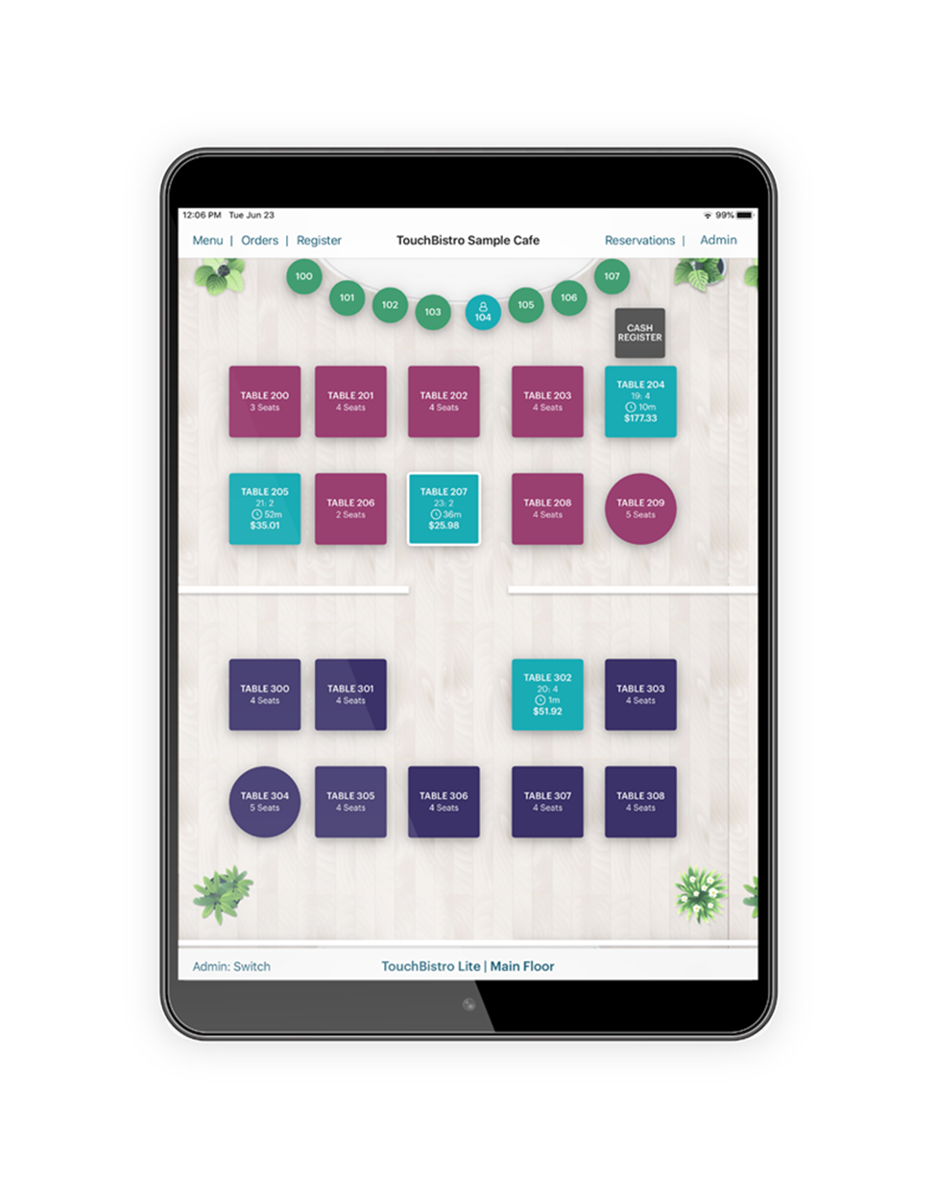 TouchBistro allows restaurants to create floor plans that mimic their physical spaces. Image source: TouchBistro
Employee Management
Instead of having a one-size-fits-all-employees POS system like some other vendors we came across in our research, TouchBistro lets you create user profiles for each employee and assign them to staff roles. We like that this functionality gives you total control of the information and features your staff can access. For example, you may only want hosts to make reservations or just managers to comp meals.
We were impressed by TouchBistro's data-based employee management. You can run reports on staff members to find the best performers based on sales. This tool makes it easy to run staff competitions to encourage servers to offer upsells. The POS system also has a built-in time clock and in-app messaging to help you communicate with employees. 
We also liked TouchBistro's scheduling tools. It provides a free fillable employee scheduling template to determine staff availability, organize split shifts, ensure coverage, and record overtime hours. Touch Bistro also integrates with 7shifts to help with scheduling. Employee scheduling management can be a key factor for some restauranteurs, since restaurant employees often work varying shifts each week.
Inventory Management
We found TouchBistro's inventory management functionality among the industry's best. It helps customers manage inventory down to specific ingredients used in each dish. It can flag items you're running low on and automatically remove items from the menu when you're out of a specific ingredient. You can add inventory using a barcode scanner or enter items manually. We like the system's ability to see how much each menu item costs based on its ingredients. This data can help restaurant owners determine which parts of the menu stay and which must go.
We found that the initial inventory setup process requires some time and patience when manually adding ingredients, recipes and associated menu items. However, once the initial work is done, stock levels are updated automatically as customers place their orders. This level of inventory management can streamline kitchen and restaurant management functionalities, as it reduces the need to track ingredients by hand each night.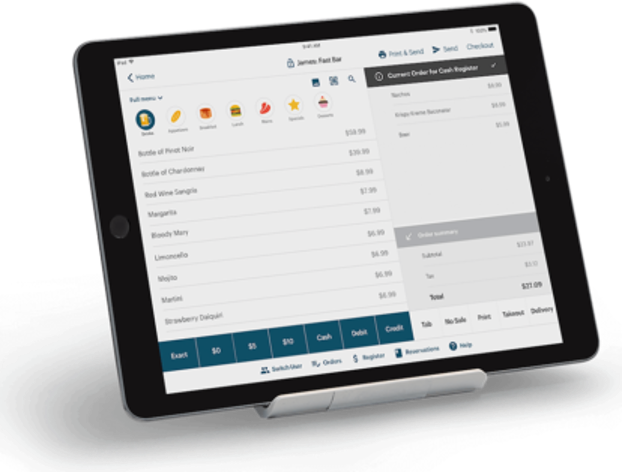 TouchBistro's inventory management features are among the best in the industry. Picture credit: TouchBistro
Customer Management and Loyalty Programs
Excellent customer management is essential if you want to earn repeat business and customer loyalty. TouchBistro excels in these areas with its customer accounts feature, which allows you to record customer preferences, view purchase histories, and manage balances.
We also liked that TouchBistro makes creating and using loyalty programs easy. Collect customer data to offer branded loyalty, gift cards and other rewards. While most POS system competitors offer some customer loyalty features, we were impressed that TouchBistro offers two programs: TouchBistro Loyalty and TouchBistro Loyalty Premium. Here's a breakdown of these loyalty program add-ons.
| Loyalty program | Monthly cost | Services and features |
| --- | --- | --- |
| TouchBistro Loyalty | $99 | Customer relationship management platform, digital loyalty accounts for all customers, customer web app with restaurant branding, marketing tools to design and distribute targeted promotions via email, multiple reward options, and detailed marketing and rewards reporting |
| TouchBistro Loyalty Premium | $179 | Everything in the lower plan, plus customer feedback, marketing automation and in-app messaging |
Reporting
During our research, we were impressed by TouchBistro's POS reports. TouchBistro stores reporting data in the cloud, which makes it easy to access. You can access these reports even when you're away from the restaurant. 
TouchBistro has roughly 85 detailed reports, including ones on these metrics:
Total sales
Menu items, categories and promotion sales
Customer behavior and spending patterns
Statistical summaries
Payments and payment types
Shifts, staff tips and activity
Discounts, deletions and voids
Taxes and accounting
Inventory tracking (by ingredient)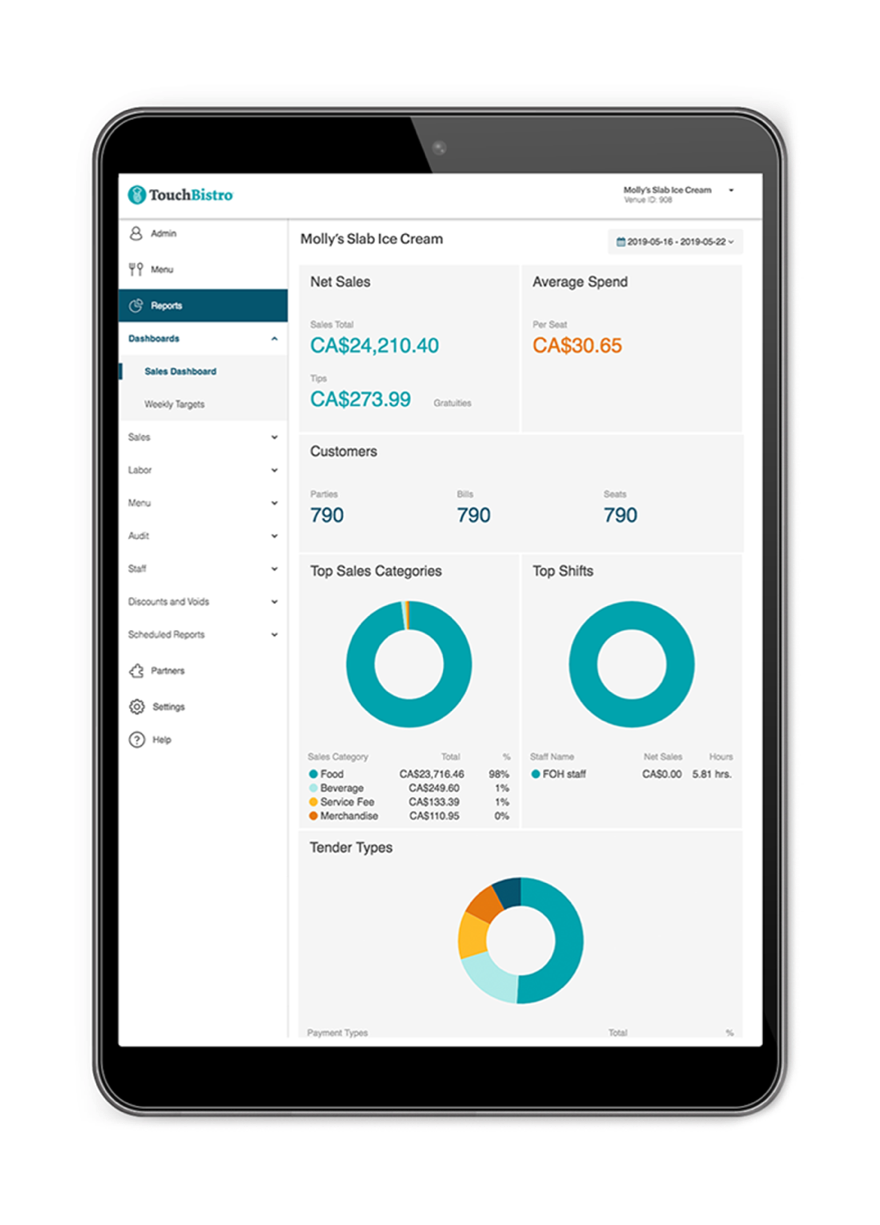 Use TouchBistro's detailed POS reports to make informed business decisions. Picture credit: TouchBistro
Mobile App
TouchBistro's mobile app, TouchBistro Reports To Go, is specifically geared toward reports. This is great for employers and managers who want to review daily sales data and reports on the go. However, employers should remember it's not intended to be a full-service mobile POS system, like some competitors offer. Its functionality is limited in comparison to the standard TouchBistro POS dashboard.
TouchBistro's mobile app lets you view POS data for multiple restaurants simultaneously. This is ideal for restaurant owners opening new locations or who already have multiple sites.
TouchBistro Pricing Plans and Subscription Costs
In regard to POS system costs, we appreciate that TouchBistro is transparent with its pricing. Its website clearly lists its POS plans' starting costs and add-on services. This transparency makes it easy for restauranteurs to quickly estimate how much they might spend on their POS system based on their needed features. In contrast, some competitors aren't as upfront about their pricing.
Here are TouchBistro's starting prices:
POS license: $69 per month
Online ordering: $50 per month
Reservations: $229 per month
Gift cards: $25 per month 
Loyalty program: $99 per month
Marketing: $99 per month
TouchBistro also gives you access to TouchBistro Payments (powered by Chase), its in-house payment processing service. 
Although TouchBistro is transparent with its POS charges and fees, additional hardware fees may apply.
Implementation/Onboarding
We were impressed by TouchBistro's easy implementation and onboarding, particularly its seamless customizability. You can add functions like reservations, online ordering, gift cards and loyalty programs. You can also easily modify features like table layout, menu setup, and forced modifiers for each dish or drink. Keep in mind that while modifying your system is straightforward, setting up and customizing your system will take time, as it does with any new restaurant software.
Once your system is set up, training employees should be straightforward and quick. We like that the POS dashboard is intuitive and user-friendly, so the learning curve isn't steep. Setting up forced modifiers within the system can reduce the overall time you spend training employees on the menu. We were also impressed that you get a dedicated onboarding manager to help guide you through everything to ensure your system is set up correctly — not all competitors provide this service.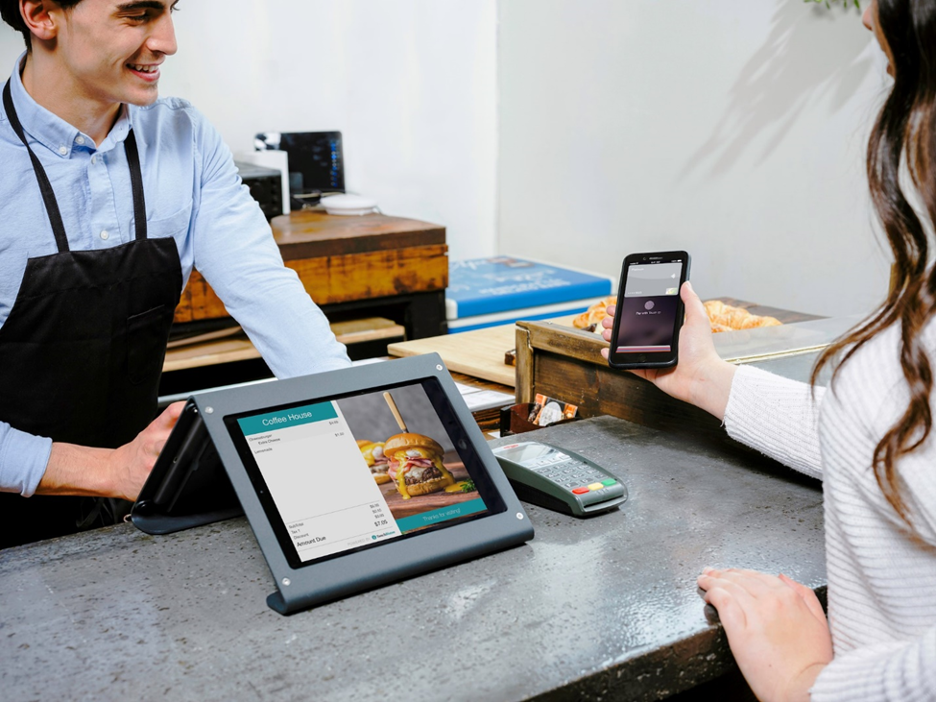 TouchBistro POS systems are easy to implement and customize. Image source: TouchBistro
Support
TouchBistro offers 24/7 customer support, which is on par with the industry standard. You can contact a representative by phone, email or chat. You can also access a wealth of POS system knowledge via TouchBistro's searchable support hub. From the support hub, you'll find articles, videos, workshops and a VIP community willing to help out. TouchBistro is always updating its software with new features and performance enhancements, so we like that it offers a user tutorial on how to keep the app updated.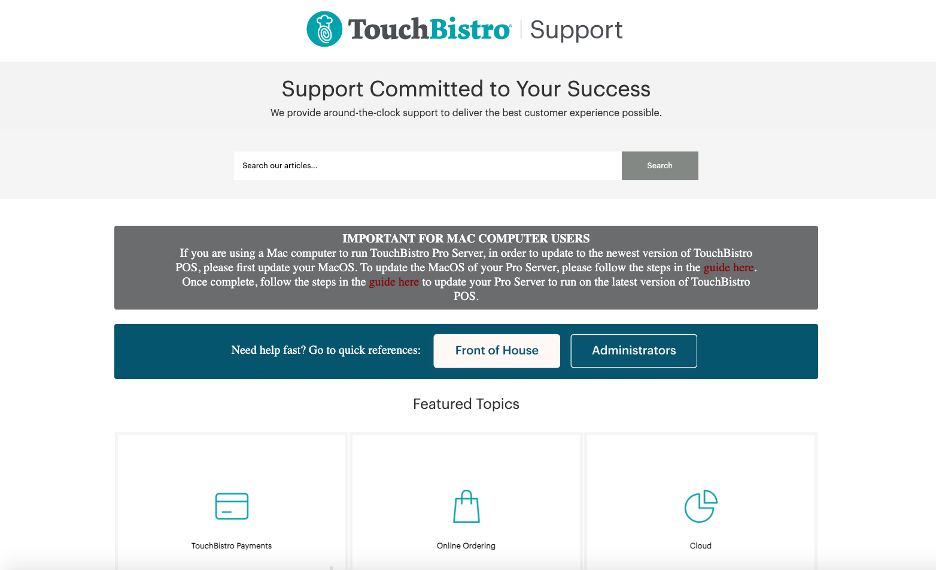 TouchBistro's website offers extensive troubleshooting resources. Image source: TouchBistro
Limitations
We discovered a few TouchBistro limitations in our research. 
No BBB accreditation. TouchBistro is not currently accredited with the Better Business Bureau and therefore has an F rating. While businesses aren't required to seek BBB accreditation, this status is worth noting. Additionally, a number of customer complaints have been filed. While these complaints may not accurately represent the service you'll receive from TouchBistro, this is also worth noting. If you're a stickler for businesses with BBB accreditation, check out our review of Brilliant POS, which boasts an A+ rating.
Limited integrations. We found that TouchBistro doesn't have as many integrations as some competitors. However, it does have options for accounting, analytics, inventory management, online ordering, payment processing, staff scheduling and payroll.

If you are looking for a POS solution that boasts hundreds of integrations, you may want to check out Square or Lightspeed. You an check out our full

Lightspeed review

.

No kiosks or digital menu boards. TouchBistro doesn't offer digital menu boards or kiosks. This isn't a dealbreaker for most companies because the POS platform offers various other hardware options, but it's something to consider. If your food service business needs a self-service kiosk, check out our review of Toast.

The restaurant-focused POS provider offers a mobile POS solution with various hardware options.
Methodology
We researched and analyzed dozens of POS systems to identify the best industry solutions. We examined pricing, contracts, hardware, platform compatibility, must-have POS features, reports, payment processing, integrations, usability and customer support to help businesses choose the right POS system for their needs. When looking for the best POS system for restaurants specifically, we prioritized features like inventory management, customer management, loyalty programs, table management, usability and customization.
FAQs
TouchBistro is a POS system designed specifically for restaurants. It caters to various restaurant niches, including full service, quick service, family style, fine dining and fast casual. It is also suitable for coffee shops, cafes, food trucks, bars and clubs, breweries, wineries, and bakeries.
TouchBistro is a hybrid POS system, taking advantage of both server- and cloud-based benefits. The software runs from an onsite server. However, when you ring up sales, your POS data is stored in the cloud. This enables you to access your sales data from anywhere on any device with an internet connection.
Bottom Line
We recommend TouchBistro for …
Any size or type of restaurant (e.g., full service, quick service, cafes, bars, food trucks or breweries).
Restaurants that need a hybrid POS system.
Restaurants looking for advanced inventory management features.
Restaurants that want flexible payment processing options.
Restaurants in need of a server-friendly platform that's easy and quick to learn.
We don't recommend TouchBistro for …
Companies in the retail space.
Restaurants that want an Android-based POS platform.
Restaurants that need digital menu boards or kiosks.