Sage Business Cloud Accounting is cloud-based accounting software that's simple to set up and use and has an open API, which is ideal for customization. We love that business owners can create their own integrations for a customized solution.
Pros
Businesses can create customized solutions through Sage's open API.
Sage is less expensive than many other accounting software applications we reviewed.
Sage maintains an active community forum so you can get help from experts and fellow users.
Cons
Sage doesn't have the option to create recurring invoices, which may be inconvenient if you offer subscription products or services.
You can't schedule automatic payment reminders with Sage.
Sage doesn't let you track billable hours and add billable expenses.
Looking for more options?
Check out The Best Accounting Software for Restaurants in 2023 business.com recommends.
Sage Business Cloud Accounting provides business owners with all the small business accounting tools needed for financial tracking. This cloud-based software has an open application programming interface (API), allowing businesses to create unique integrations and customized solutions. Additionally, because most small business owners aren't accountants or bookkeepers, we appreciate that Sage is intuitive, easy to set up and use and provides robust customer support. 
Sage Business Cloud Accounting Editor's Rating:
9 / 10
Payments

9.0/10

Automatic invoicing

8.25/10

Third-party integrations

8.5/10

Mobile app

9.0/10

24/7 customer support

10/10
Why We Chose Sage Business Cloud Accounting as the Best for Customization
While some business owners want straightforward, plug-and-play accounting software, others require a more customizable product. Unlike many competitors we reviewed, Sage Business Cloud Accounting (formerly Sage One) offers an open API, allowing businesses to create tailored solutions while integrating seamlessly with other business software. 
We appreciate that Sage provides many fundamental accounting software features, including bookkeeping and invoicing, for an affordable price. However, we were impressed that Sage supports complex business processes via the software's open API. Thanks to Sage's active developer and user forums, software developers and business owners have numerous resources to help them get the most out of Sage's integration capabilities. For these reasons, Sage is our choice for the best accounting software for customization. 
The accounting API from Sage is a RESTful API, which exposes the data and functionality driving the cloud computing-powered Sage Business Cloud products.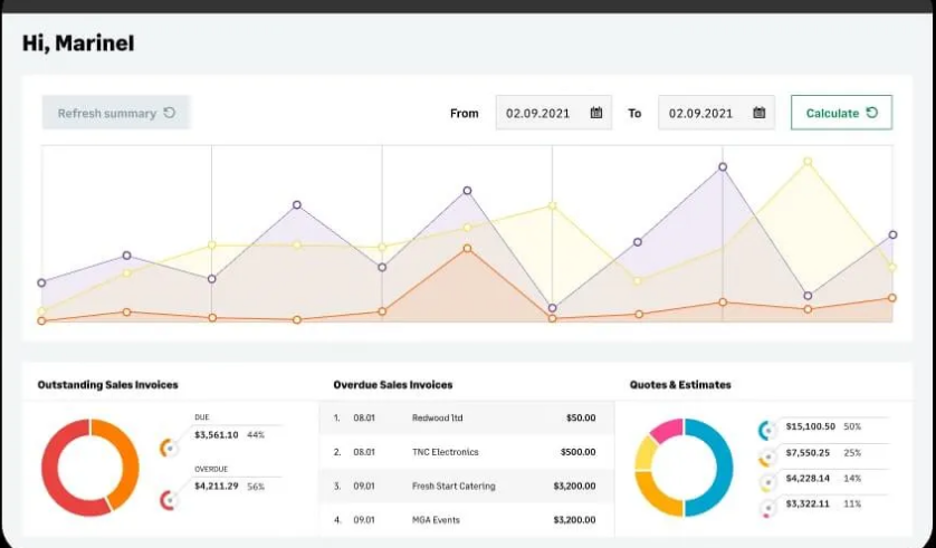 Sage helps businesses take control of their finances with automation, customized solutions and remote access. Source: Sage
Ease of Use
During our testing process, we found Sage Business Cloud Accounting relatively straightforward to learn. We particularly liked its user interface design. Although it's not as sleek and minimalist as some of the other top accounting software we reviewed, Sage's dashboard is easy to navigate and displays vital business statistics. We liked that your cash flow position, overdue invoices and top customers are always visible. You'll see drop-down menus for sales, purchases, contacts, products and services, banking, reporting and more at the top of the screen. 
Unlike many other accounting software packages we reviewed, Sage is highly customizable while remaining accessible to less tech-inclined business owners. Innovation-minded users will appreciate that Sage allows software developers to leverage the open API to create tailored solutions. Although this customizability doesn't necessarily mean the software is easier to use, it does make Sage incredibly valuable for tech-savvy business owners. 
Features
Sage Business Cloud Accounting offers a wide range of valuable features, including the following.
Open API
We were impressed that Sage Business Cloud Accounting features an open API, allowing different software solutions to communicate and integrate. Sage competitors we reviewed didn't have this customizability. With an open API, software developers can build innovative solutions for business owners with real-time access to their accounts. 
Sage's ability to support complex business processes through integrations is almost unparalleled. We particularly liked that developers can create their own Sage-powered apps at no cost. All users must do is register on Sage's developer website. Integrating your accounting software with other essential business tools is a huge advantage.
Invoicing and reconciliation 
We liked that Sage's Accounting plan lets you create quotes and estimates and convert them into invoices with a single click. If you want to offer customers the option to pay their invoices online, you can connect a Stripe payment account to the software. (See our review of Stripe for more information.)
You can also connect your business checking account, credit card accounts and business savings account to your Sage Business Cloud Accounting software. The system then downloads your transactions automatically. Its smart bank reconciliation tool matches your bank transactions automatically to those you've created in the software — an incredibly helpful feature because reconciling a business bank account is tedious.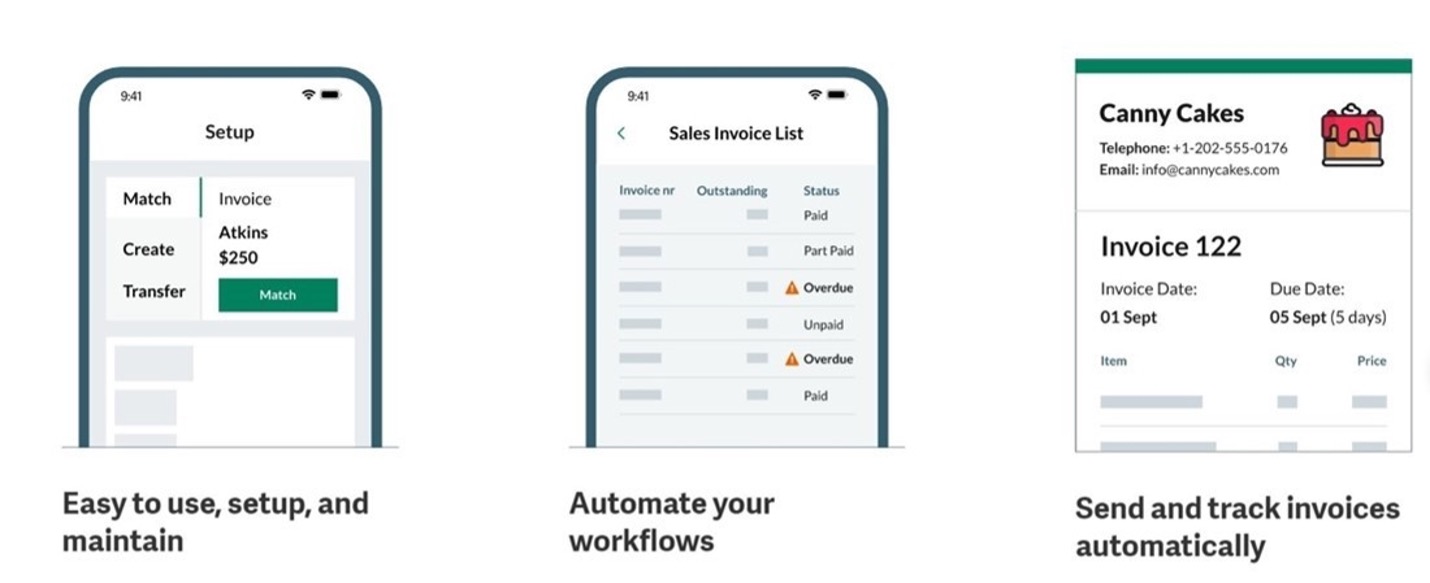 Sage Business Cloud Accounting makes it fast and easy to create and send invoices from a computer or mobile device. Source: Sage
Custom invoices
We liked that Sage provides nine product- and service-based invoice templates. You can also add or customize sections, such as document headings, logos, brand images, branding color and themes, terms and conditions and more. A professional-looking small business invoice is critical to getting paid, so we appreciate that you can customize the look of your invoices easily to match your company's branding. 
Mobile app
Not every accounting package has an accompanying mobile app, so we liked that Sage provides a robust app. Sage's mobile app lets you create and send invoices, take pictures of receipts, record expenses and view graphs of your financial performance. We appreciate how Sage helps you keep tabs on your business and quickly accomplish accounting tasks while on the go.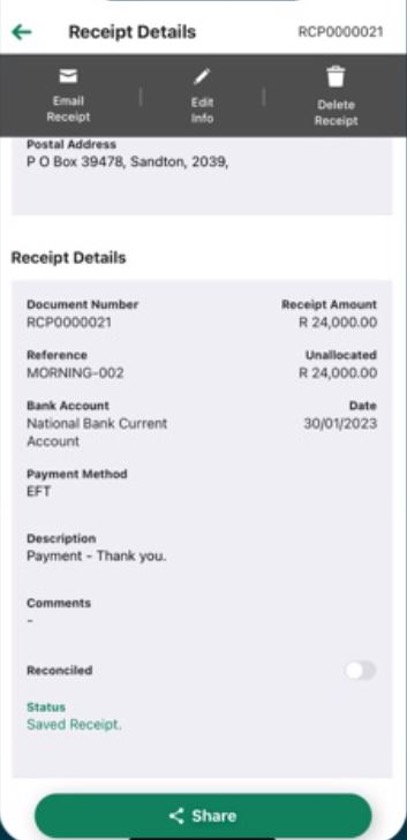 Sage's mobile app lets you scan receipts on the go. Source: Sage
Inventory
We liked Sage's inventory-tracking features, which can be incredibly helpful to businesses that sell products. Set reorder quantities and adjust stock quantities manually as needed. You can enter items into the system manually or import them in bulk with a spreadsheet — a time-saver if you carry many items or customized products. Sage also lets you set multiple prices for each item and add categories and descriptions.
If your business has complex inventory needs, consider using one of the top point-of-sale (POS) systems that can sync inventory automatically, create product variations and bundles and issue low-stock alerts.
Sage gives you an accurate view of your stock levels and helps you save time managing inventory. Source: Sage
Financial reporting
We were impressed that Sage offers more than 20 financial reports you can run to analyze your business' financial health. These reports include profit and loss statements, balance sheets, trial balance reports, general ledger reports and accounts receivable aging. From the reporting menu, select the star icon next to the reports you use most often to find them quickly under the Favorites tab later. We found Sage's reporting capabilities notable because organized financial reports make it easier to leverage your business' data and generate insights about what's going on under the hood. 
Integrations
We like that the Sage Marketplace offers nearly 40 integrations that let you connect it to various other solutions, including your POS system and customer relationship management software. While other accounting software we reviewed offered more integrations, Sage's open AI is a unique advantage that allows developers to integrate nearly any other business program. As such, you can customize the product exactly as you wish.
If you're interested in accounting software with numerous integrations, check out our review of Xero. Xero integrates with more than 1,000 third-party business apps — among the most of any accounting software package we reviewed.
Pricing
We like that Sage Business Cloud Accounting's pricing is highly competitive, falling on the lower end of the many accounting software solutions we reviewed. As with other highly rated accounting software, you pay a monthly subscription fee for the software. 
Sage Business Cloud Accounting is available in two service plans:
Sage Accounting Start: Sage Accounting Start costs $10 per month and supports a single user. It includes a bank feed, invoicing, expense management and reporting. Mobile apps are available for iPhones, iPads and Android phones.
Sage Accounting: Sage Accounting costs $25 per month and supports multiple users and companies. It has all the Accounting Start features, plus bill tracking and simple inventory management. It allows you to create quotes and estimates. You can also use it to forecast cash flow and upload expenses automatically. 
Tracking expenditures to see where you can save money is vital for freelancers and those just starting a business, so we appreciate that Sage's pricing is manageable. Sage also provides generous discounts — sometimes up to 70 percent off for half a year. Be sure to check Sage's website or ask a sales representative about introductory offers. 
Implementation/Onboarding
We like that Sage offers a 30-day free trial — which is on the longer end among the accounting software packages we reviewed. We also appreciate that the trial version is full-featured and doesn't require a credit card for sign-up. You can speak with a sales representative by phone for a more personal touch as you get used to the product. 
As with the Sage competitors we reviewed, you can set up your Sage Business Cloud account online in just a few minutes. When you first log in, you're greeted with a "Getting Started" checklist on the Summary menu that lists tasks you must complete. You can customize features to your preferences so they're compatible with your work style. 
Another cool feature we liked is that Sage provides step-by-step instructions for migrating your existing accounting data to the Sage Business Cloud Accounting system, creating a seamless transition for users switching from another accounting platform. 
Customer Support
Whereas many cloud-based software solutions skimp on customer service, we were impressed by Sage's many customer support resources:
Sage City: We especially liked the online forum called Sage City, a 24/7 interactive community where you can talk with peers, partners, Sage experts and other Sage users about issues, tips and ideas. On Sage City, you can share questions and problems and receive responses from Sage's support team as well as other users. There is also a developer forum specifically for those creating software integrations for Sage.
Online reference materials: All the vendor's product reference materials and guides are available on the Sage knowledge base. 
Sage University: Sage University offers training courses to help new small business owners and the newly self-employed get the most out of the software. These online classes give you a comprehensive understanding of the program and offer general advice for running a business.
One-on-one support: If you prefer to speak with an expert directly, Sage lets you chat with customer support agents Monday through Friday from 9:30 a.m. to 5:30 p.m. Eastern time. You can also schedule a one-on-one session with an expert during that time frame for additional guidance.
Limitations
Although Sage Business Cloud Accounting has many advantages for users who want extensive customization abilities, we found a few drawbacks in the entry-level version of the software: 
No recurring invoices: There isn't an option to create recurring invoices, which may be inconvenient if you offer subscription products or services. (If you're looking for accounting software that excels at invoicing, consider FreshBooks. Read our FreshBooks review to learn more about what this vendor offers.) 
No automatic payment reminders: The software can't schedule automatic payment reminders for nonpaying customers, although you can send clients a monthly invoice statement instead.
No billable hour tracking or adding billable expenses: You can't track billable hours and add billable expenses to invoices. This means you must keep your hours organized through a separate platform. You can manually enter billable time and expenses on invoices, but there isn't a built-in feature streamlining these tasks and you can't attach receipts to invoices.
No purchase orders: Sage doesn't create purchase orders. This may not be a major issue if you're self-employed, but it would be a helpful feature if you sell products.
There are workarounds for many of Sage Business Cloud Accounting's limitations and you can learn about other users' solutions through Sage's community forum. However, you might not want to take the time to figure out alternative methods if those missing functions are critical to your operations.
Tech-savvy business owners should read our review of Zoho Books to learn more about another accounting software product that allows extensive customization for automating processes.
Methodology
We researched and analyzed dozens of the best accounting and invoicing software solutions to help small businesses choose the right accounting software for their needs. We evaluated software features like payment and invoicing capabilities, integrations, mobile apps, report generation, supported user count and customer service options. We also assessed pricing and free trial availability and studied user reviews for independent opinions on each software's pros and cons. When looking for the best accounting software for customization, we focused on how easy it is for developers to innovate and integrate the product with other business software.
FAQs
Yes. Sage One was renamed Sage Business Cloud Accounting in 2018.
As a cloud-based program, Sage Business Cloud Accounting is accessed via an internet connection and web browser or mobile app. There is no software to install.
Both Sage Business Cloud Accounting and QuickBooks contain a robust set of features geared toward small businesses. One difference is that QuickBooks offers more invoicing tools — but at a higher price. Check out our detailed QuickBooks Online review to learn more.
Bottom Line
We recommend Sage Business Cloud Accounting for …
Innovative, tech-savvy business owners or those who can hire software developers to take advantage of Sage's open API for creating custom solutions.  
Budget-conscious business owners who want a less-expensive accounting and invoicing solution that still includes a decent set of features.
We don't recommend Sage Business Cloud Accounting for …
Business owners who send many recurring invoices. 
Companies that need to track billable hours and add billable expenses to invoices.
Businesses that sell physical products and need to create purchase orders.