FreshBooks Accounting Software Review and Pricing
FreshBooks is the ideal accounting software for small businesses that generate lots of invoices. You can create professional invoices in seconds, track and bill expenses, send automatic reminders, and much more. For these reasons, we recommend FreshBooks as the best accounting software for invoicing.

FreshBooks Accounting Software and Pricing
The Verdict
FreshBooks has all the features you need to manage clients and projects, create and send invoices, and accept online invoice payments, making it our pick for the best small business invoicing software.
FreshBooks Editor's Score: 9.1/10
| | |
| --- | --- |
| Payments | 9.5/10 |
| Automatic invoicing | 9/10 |
| Third-party integrations | 9.5/10 |
| Mobile app | 8.5/10 |
| 24/7 customer support | 9/10 |
Why We Chose FreshBooks as the Best for Invoicing
Compared with the other top accounting software we reviewed, we were particularly impressed by FreshBooks' invoicing capabilities. When testing the software, we found it extremely easy to create and send professional invoices. With FreshBooks, you can set up recurring invoices, schedule automatic payment reminders, and accept credit and debit card payments online.
We also like that FreshBooks monitors the status of invoices after you send them, showing you when customers receive and view them. It tracks billable time and expenses, allowing you to add them to invoices. This capability makes FreshBooks a terrific option for freelancers and self-employed professionals, as well as agencies and firms that provide professional services.
What We Like About FreshBooks
It is easy to track time and send invoices via the mobile app.
FreshBooks' robust project management features are ideal for service-based businesses.
FreshBooks offers customized, branded invoices that can be sent at specified intervals.
What We Don't Like About FreshBooks
The mobile app can't generate reports on the go.
FreshBooks offers a few inventory management features.
There are no batch-invoicing shortcuts.
Ease of Use
Ease of use is one of FreshBooks' benefits. In our judgment, business owners won't have any trouble learning to use the software. The user interface is attractive, easy to navigate, and clearly labeled. The main dashboard displays vital business information and statistics, including unpaid invoices, profit, revenue, and expenses. Unlike some alternatives we reviewed, the main dashboard widgets are fixed, although the information displayed within them can be customized.
On the left side of the screen, you will find a menu of FreshBooks' main features. Each feature's individual screen is well designed for simplicity and ease of use, with color-coded buttons and text that help direct the user's attention.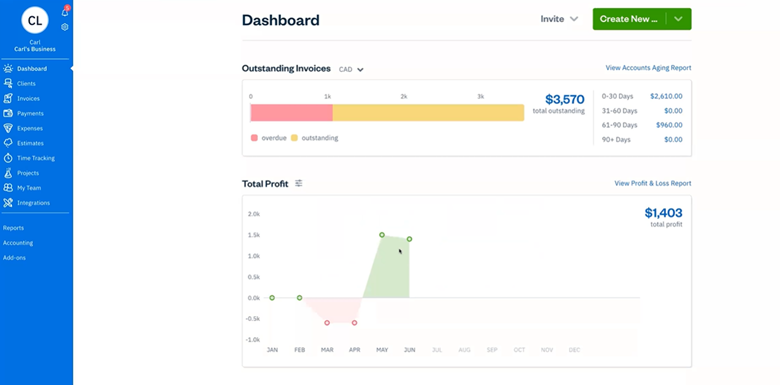 Features
FreshBooks has several features to make your accounting tasks easier and faster. Here is a rundown of the software's strongest points from our test run, especially those related to invoicing:
Custom Invoicing
A professional-looking invoice is critical to getting paid, so we like that you can quickly customize the look of your invoices to match your branding. Simply upload your logo; then choose a template, font, and accent color. You can also customize your payment terms, add a note to your customer, request a deposit and create a payment schedule.
With FreshBooks, you can convert estimates and proposals to invoices in two clicks. We found that it's easy to duplicate and modify past invoices instead of creating new ones from scratch.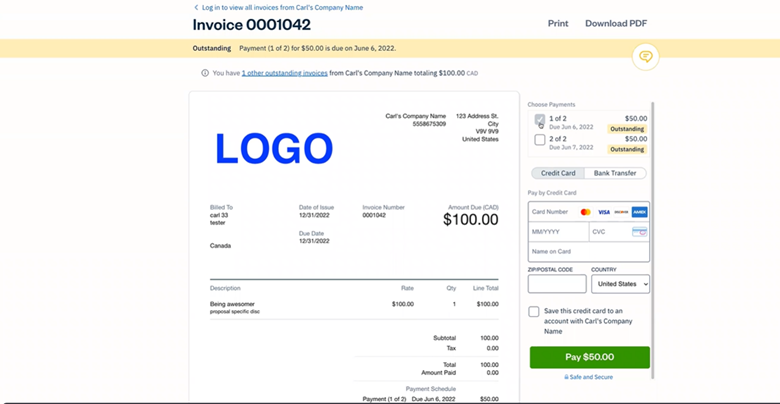 Time Tracking
In our opinion, one of FreshBooks' coolest features is the time-tracking tool on the mobile app. You can add billable time to an invoice on the spot, thus enabling you to bill a customer onsite. Additionally, you can easily add billable expenses to invoices, rather than using clunky manual methods, such as tracking time on a separate sheet of paper or a spreadsheet. To us, this tool solidifies FreshBooks' superior invoicing capabilities.
Payments
FreshBooks Payments can sync to a Stripe or PayPal account, allowing users of those platforms to track payments through FreshBooks. You can email invoices and receive updates when your clients view and pay them. Your customers can click a button on the invoice to pay it, thus eliminating the time it would take for paper invoices to arrive in the mail and helping you get paid faster.
Recurring Invoices
FreshBooks conveniently allows you to schedule recurring invoices to go out weekly, monthly, annually, or as frequently as you choose. You can send automatic payment reminders before or after the due date to encourage customers to pay their bills promptly. You can also set up the software to automatically apply late fees to past-due invoices, as either a percentage or a flat fee.
Mobile App
We were impressed with FreshBooks' mobile app, which assists with time tracking and on-the-spot invoicing. Using FreshBooks' mobile app, which is available for iOS and Android, you can create invoices immediately after meeting with a client. You can also use the app to capture receipts, chat with customers and check the status of an invoice.
Bookkeeping
Like other popular accounting software, FreshBooks connects to your business bank and credit card accounts and automatically imports your expenses each day. Bank reconciliation is also available. The Premium and Select plans use double-entry accounting and allow you to create a chart of accounts and run new reports, such as a general ledger, a balance sheet, and a trial balance.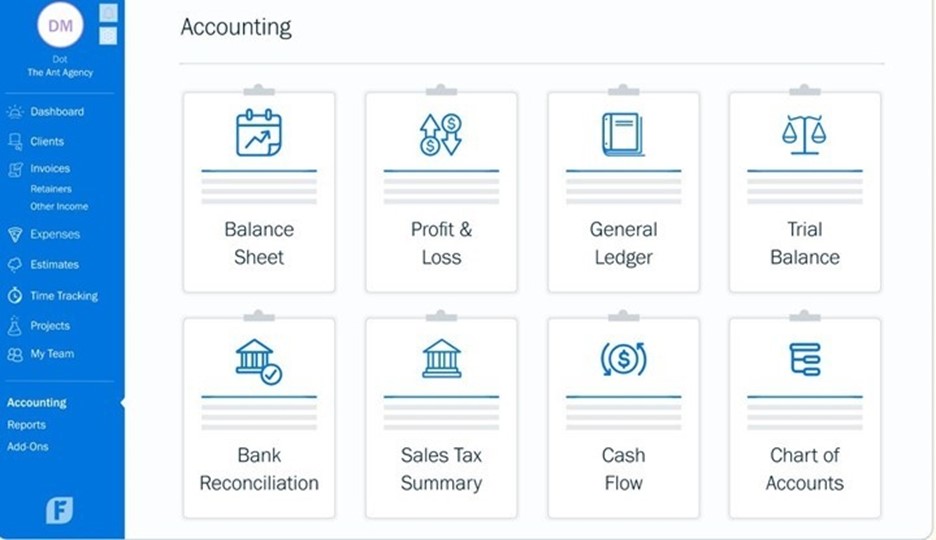 Project Management
We were impressed by FreshBooks' project management tools, which allow you to manage projects and base your billing on an hourly or flat rate. A time budget shows how much time remains on a project, how much of your tracked time is unbilled, and how many days are left until the project's due date. You can also monitor how many hours your team members spend on each project, as well as share files and discuss the project.
Reports
FreshBooks can generate a variety of reports, including profit and loss statements, sales tax summaries, accounts aging and expense reports, invoice details, payment collected, and time-entry details. After running reports, you can email or print them, or export them to Excel.
User Permissions
You can invite business partners, employees, contractors, and accountants to your FreshBooks account. Their user role determines the information they can access. Your business partners can access everything except integrations. Employees can access their projects, tracked time and expenses. Contractors can view only projects that you allow them to see, and they can track time toward those projects. Accountants can see your dashboard, reports, expenses, and invoices, but they cannot create invoices.
Pricing
Compared with other accounting software we reviewed, FreshBooks' pricing falls on the higher end of the spectrum. FreshBooks currently offers four plans, or tiers, based on a business's number of clients.
FreshBooks regularly offers discounts, so be sure to ask about any introductory offers before you purchase. Here is a breakdown of the plans and their monthly rates without discounts:
Lite: The Lite plan costs $15 per month for up to five billable clients. You can connect the software to your bank account, track time, and accept invoice payments online. There's no limit to the number of estimates and invoices you can send (though, again, you are limited to five clients), and you receive free access to the FreshBooks mobile app.
Plus: This plan costs $30 per month for up to 50 clients. With this tier, which FreshBooks says is its most popular plan, you can charge late fees and send recurring invoices, automatic payment reminders, and proposals. You can run financial reports, including double-entry accounting reports for your general ledger, trial balance, and chart of accounts. With this plan, you can invite your accountant to collaborate, without incurring an additional user fee.
Premium: FreshBooks' Premium plan costs $55 per month and supports up to 500 clients. This tier includes everything in the Plus plan, as well as more reporting and client-tracking capabilities.
Select: The Select plan is best suited for businesses that bill at least $150,000 each year or have more than 500 clients. Pricing is customized, so you'll need to speak with a sales agent who can give you a quote for your specific needs. In addition to all of the features in the Premium plan, FreshBooks gives you a dedicated account manager.
Note that if you pay for FreshBooks annually instead of monthly, you can save 10%. We also like the generous 30-day free trial, which allows you to sample all of FreshBooks' features before you subscribe.
Each additional user costs $10 per month. This applies to business partners, contractors, and employees you add to your account. FreshBooks Payments, which allows you to accept payments online, costs 2.9% plus 30 cents per transaction. Alternatively, you can connect your Stripe account to the system. Advanced Payments, an add-on service that gives you a virtual terminal that lets you accept payments over the phone and in person, costs $20 per month plus 3.5% and 30 cents per transaction. Your clients can authorize recurring payments when you have this add-on.
Implementation and Onboarding
We found it extremely easy to set up FreshBooks. There's a generous 30-day free trial period; impressively, no credit card is required to open a trial account. You simply enter your email address and create a password, and then click a link in a confirmation email. After the free trial ends, you need to select one of FreshBooks' paid plans to continue using the software. Your data from the free trial will be stored until you decide to upgrade.
Like other accounting software we reviewed, FreshBooks is 100% cloud-based, so there isn't any desktop software to install. You can also access FreshBooks from a mobile app. However, this also means that an internet connection is necessary to use the software.
Customer Support
Whereas many cloud-based software companies skimp on customer service, FreshBooks offers multiple support resources. We like that you can contact the company for help by phone, email, or live chat, or search the knowledgebase on FreshBooks' website. You can also access webinars, blog posts, and free e-books that go into more depth about how to use the software.
FreshBooks' website features an automated chatbot that can assist with basic questions. During our test run of the FreshBooks website, we found that the bot easily answered inquiries about pricing but struggled with more nuanced questions. Prospective customers who have further questions can contact a sales representative by email or phone.
Limitations
While FreshBooks excels at time tracking and project management, the software lacks the robust inventory tracking and vendor management offered by similarly priced alternatives, such as what we found in our review of QuickBooks. Business owners with more complex inventory needs might want to read our review of Xero, which recently beefed up its inventory automation features.
Another missing feature is batch-invoicing shortcuts, which would be useful when you need to bill multiple customers for the same service at the same rate. FreshBooks' mobile app, though excellent for invoicing, doesn't run reports. We found generating reports on the go via a mobile browser to be an extremely clunky task.
To pay and receive payment via FreshBooks, you must use third-party integrations with services such as Stripe and PayPal, which means you have to sign up for additional apps. Moreover, FreshBooks lacks the comprehensive vendor network that would make the software an effective player in the accounts payable space. Processing accounts payable is a vital part of running a business, so small business owners may want to consider software that supplements FreshBooks' capabilities.
Methodology
To generate our quantitative score and use case, we reviewed software features such as payment and invoicing capabilities, the number of integrations, any mobile apps, report generation, supported user count, and custom service options. We also assessed pricing and the availability of free trials. Sources of information included in this review were gleaned from the company's website and software demos. Additionally, we studied user reviews to get independent opinions on the software's pros and cons. For invoicing specifically, we focused on factors such as ease of use, customization, and the ability to send an invoice both on the spot and as a recurring item.
FAQs
Can FreshBooks replace QuickBooks?
FreshBooks offers many of the same bookkeeping features as QuickBooks for a similar price, making it a QuickBooks alternative to consider. However, FreshBooks focuses more on invoicing features, giving it an edge over QuickBooks in that area.
What is FreshBooks used for?
FreshBooks is a cloud-based accounting software application. With FreshBooks, you can easily create and send invoices from a mobile device, as well as track time and manage projects.
Is FreshBooks easy to learn?
FreshBooks' user interface is very intuitive, with an easy-to-navigate dashboard that displays key statistics.
Bottom Line
We recommend FreshBooks for …
Business owners who want a simple alternative to old-fashioned, manual methods of tracking billable hours.
Businesses that frequently send branded, customized and/or recurring invoices.
Businesses that focus on services rather than on physical goods.
We don't recommend FreshBooks for …
Businesses that carry a lot of inventory or have complex inventory needs.
Business owners who want their accounts payable and bookkeeping all in one software package.
Business owners who want to run reports on their mobile device.

FreshBooks Accounting Software and Pricing
The Verdict
FreshBooks has all the features you need to manage clients and projects, create and send invoices, and accept online invoice payments, making it our pick for the best small business invoicing software.
business.com editorial staff
Community Member
The purpose of our community is to connect small business owners with experienced industry experts who can address their questions, offer direction, and share best practices.