FreshBooks Review - Invoice Generators and Accounting Software
By Lori Fairbanks
Last Modified: December 10, 2018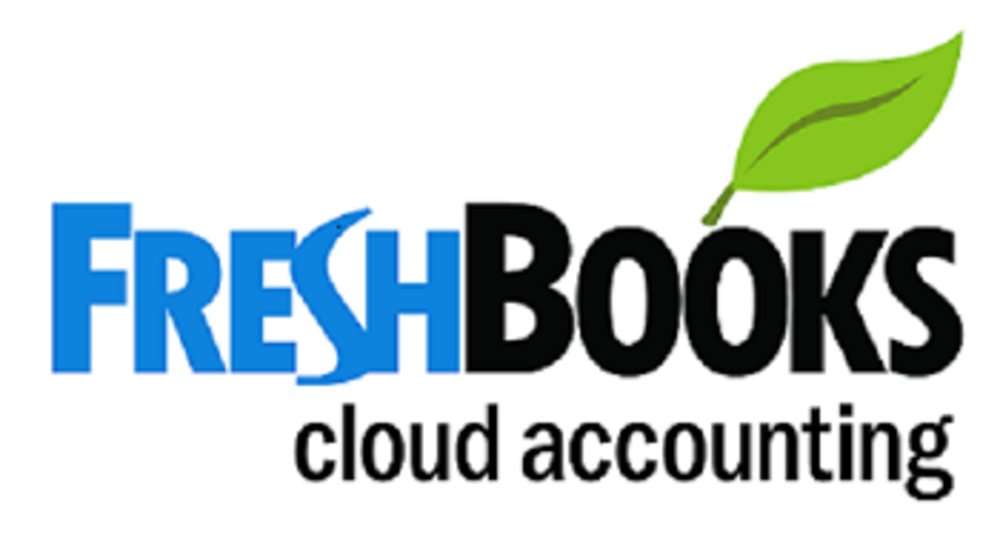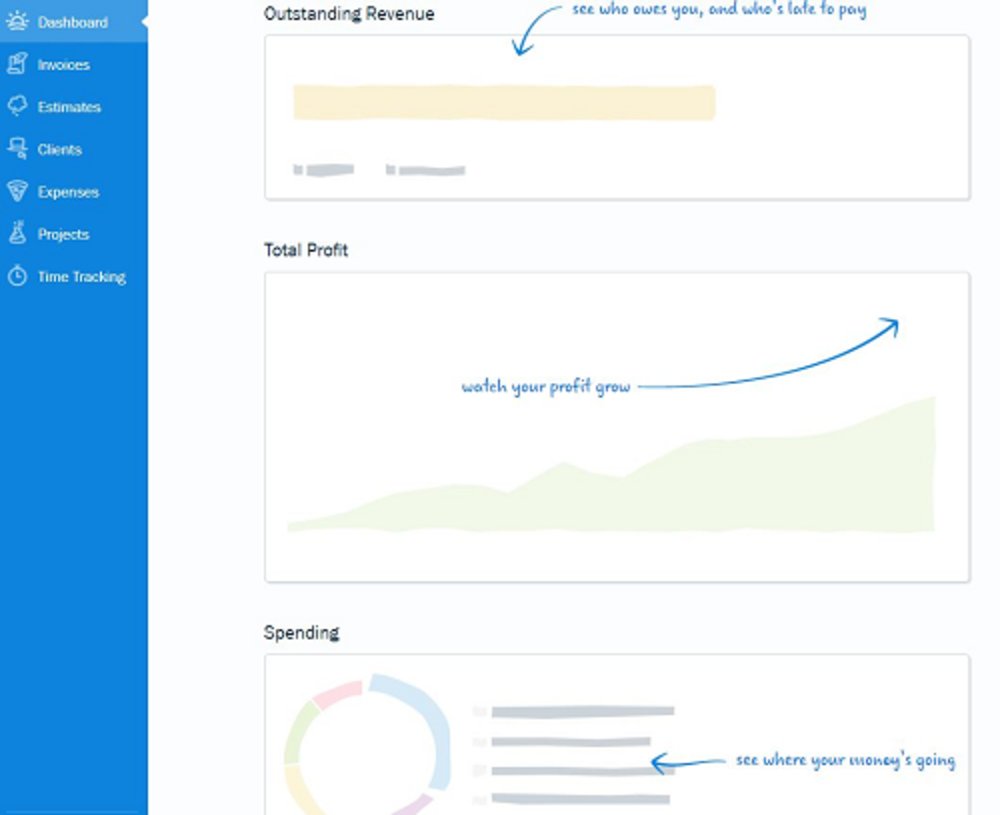 The dashboard is clean and shows you an overview of your income and expenses. The tabs on the left sidebar are clearly labeled, making the software easy to navigate.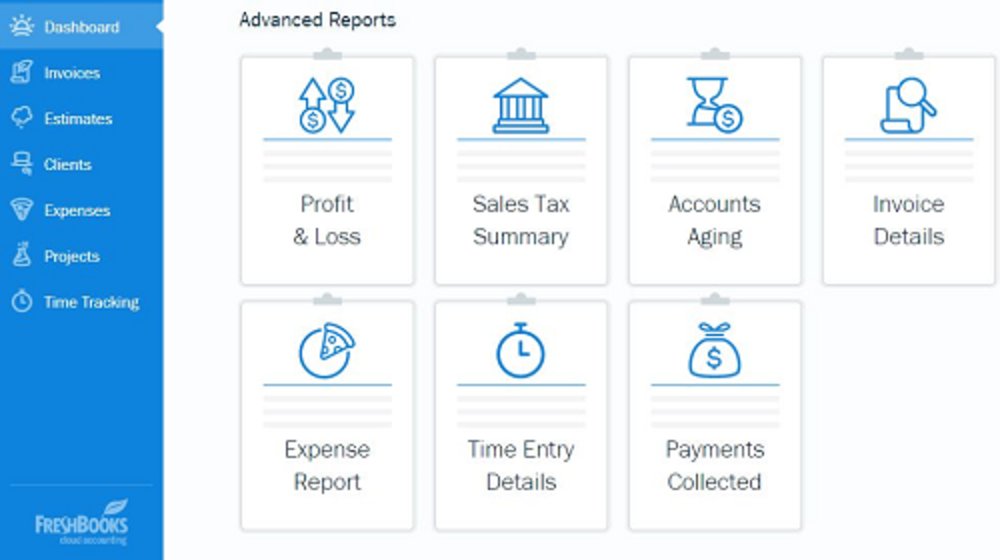 Reports are located at the bottom of the dashboard. Seven options are available, including profit and loss, accounts aging, and expense reports.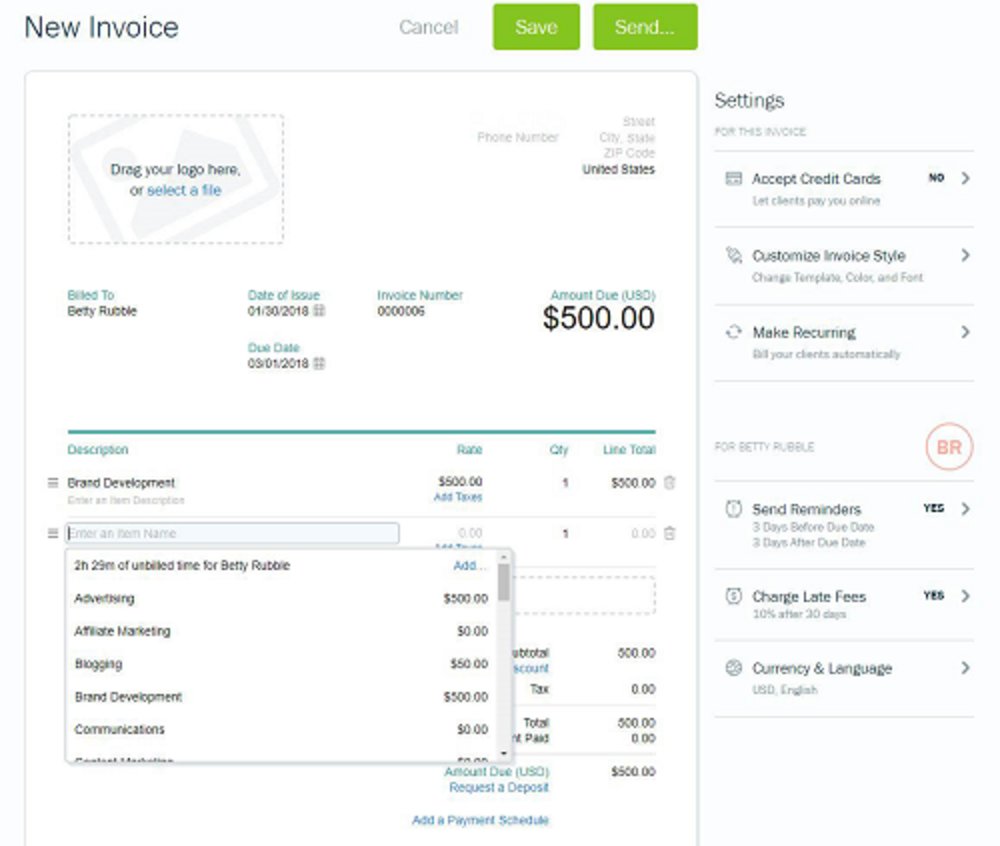 When creating invoices, you can add tracked time or expenses, add a payment schedule, and request a deposit.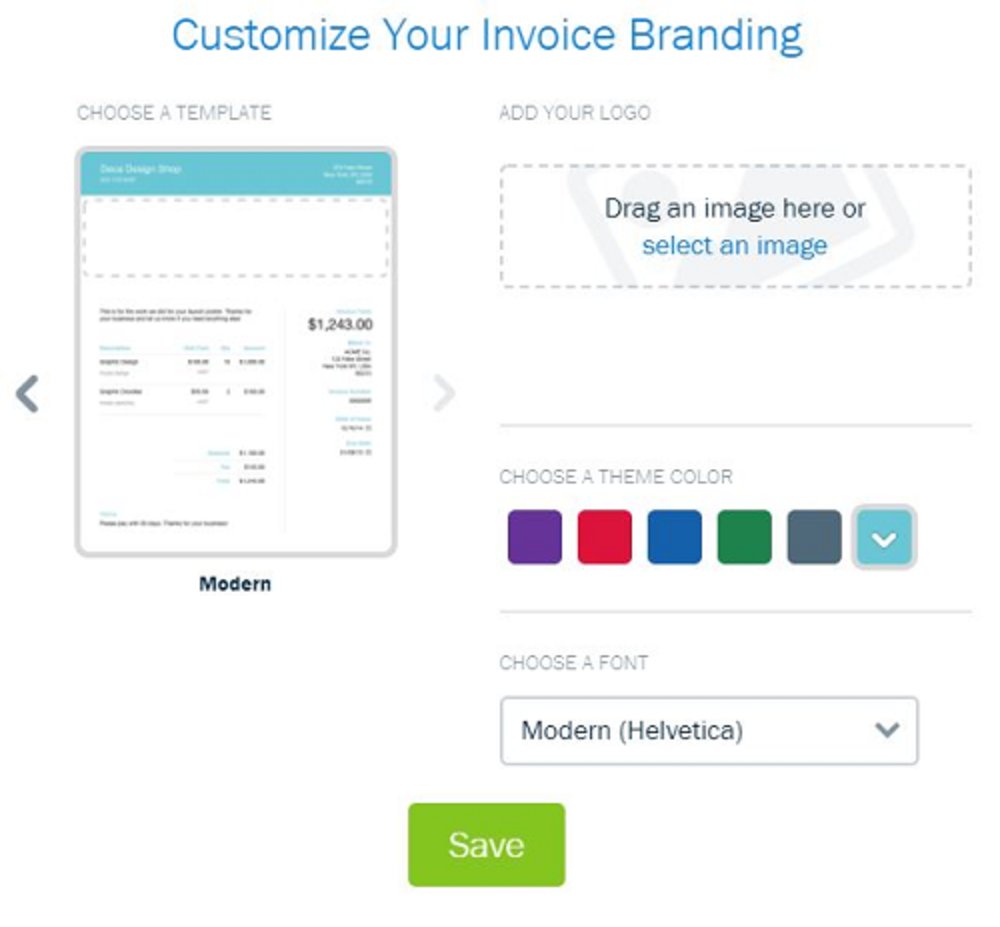 Customizing invoices is easy, though basic. You can choose between two templates and fonts, and add an accent color and your logo.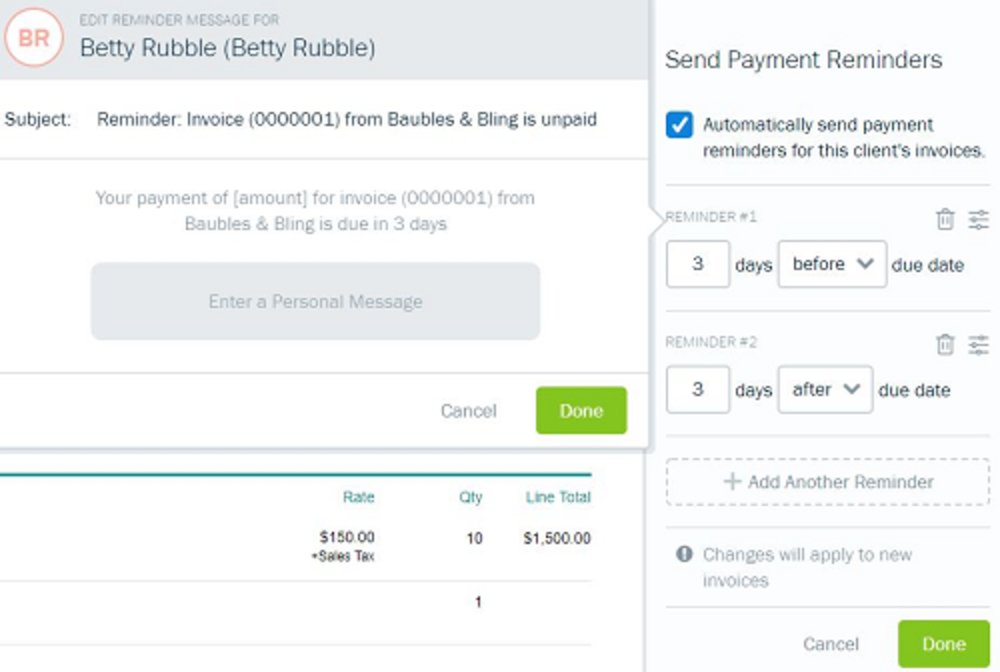 From the invoice screen, you can set up payment reminders. You can send them before, on or after the invoice's due date.
When it comes to accounting software that makes invoicing easy, FreshBooks is our top choice. It allows you to set up recurring invoices and automatic payment reminders, and accept credit and debit card payments for your invoices online. It monitors the status of invoices after you send them, showing you when customers receive and view them. It tracks billable time and expenses, and allows you to add them to invoices, making it a terrific option for freelancers and self-employed professionals as well as agencies and firms.

Pricing
FreshBooks is competitively priced and offers three pricing plans, based on the number of clients you're working with. Although the top two plans include all features, the Lite plan is missing some of the more advanced invoicing tools.
The Lite plan costs $15 per month and lets you bill up to five clients. It lacks proposals, recurring invoicing, automatic payment reminders and late fees.
The Plus plan costs $25 per month. You can to bill up to 50 clients with this plan, and it includes all features.
The Premium plan costs $50 per month. All features are included with this plan, and it allows you to bill up to 500 clients.
If you want to add employees to the system, it costs an extra $10 per month per employee.
If you use FreshBooks Payments to accept payments online, it costs 2.9 percent plus 30 cents per transaction. Alternately, you can connect your Stripe account to the system.
Ease of Use
Setting up an account with FreshBooks is a quick process, requiring minimal steps. The interface is clean, organized and clearly labeled. On the dashboard, you can see an overview of your outstanding invoices, total profit, expenses and advanced reports. The left sidebar makes it easy to navigate the software, and you can use the Create New shortcut at the top of the screen to start creating invoices, estimates, expenses and customer profiles.
The invoice and estimate screens have a WYSIWYG interface, making invoice creation a simple process. You can add new customers, products and services as you go, which is a useful feature – some programs require you to add that information before you begin creating invoices or they don't save the information you've manually added. FreshBooks saves this data so you don't have to manually enter it again on future invoices.
Customizing the look of your invoices couldn't be easier. You add your logo and choose from two templates, two fonts and five colors – or use the color picker to select any color you want. You can also customize your payment terms and add a note to your customer. While the templates look professional, FreshBooks has fewer customization options than many of the other services we reviewed, which may be a downside if adding visual flair to invoices is part of your brand identity.
Timesaving Features
Here are several ways FreshBooks can help you accomplish your accounting tasks faster:
Convert estimates and proposals to invoices in two clicks. You can also easily duplicate and tweak past invoices instead of creating a new one from scratch.
Send invoices electronically and monitor their statuses. You can see when invoices have been viewed and paid.
Schedule recurring invoices to be sent weekly, monthly, annually or as frequently as you choose. You can set the number of occurrences and allow customers to save their credit cards to make automatic payments.
Send automatic payment reminders before, on or after the due date to encourage customers to be prompt with their invoice payments.
Schedule the software to automatically apply late fees to past due invoices, as either a percentage or a flat fee.
Accept invoice payments online, which eliminates the time of waiting for a check to arrive in the mail.
Use FreshBooks' mobile app, available for iOS and Android, on the go to create invoices, capture receipts, chat with customers and check invoice statuses.
Connect your business bank and credit card accounts to FreshBooks for the software to import your expenses automatically each day.
Other Features
Request a deposit and create a payment schedule directly on your invoices.
Track time, mark it as billable and add invoices in just a few clicks. You can also easily add billable expenses to invoices.
Manage the time spent on projects. You choose an hourly or flat-rate project. You can set a time budget and see how much time you have remaining on the project, how much of your tracked time is unbilled, and a countdown of days until the project's due date. You can monitor how many hours your team members spend on each project, and also share files and discuss the project with them.
Generate financial reports to track various aspects of your business finances, including profit and loss, sales tax summary, and accounts aging. Other reports examine revenue per client, expenses, revenue and tracked time. After running reports, you can email, print or export them for Excel.
Over 60 integrations are available, allowing you to connect this accounting software to other business services and systems.
Additional Considerations
You can invite contractors to projects for free. Contractors can view only the projects you've added them to, and they can track time toward those projects and invoice you for their time. Contractors cannot view and create invoices for the client, view the dashboard or generate reports. If you want them to have that level of access, you'll need to add them to your account as employees, which costs $10 per employee per month.
When you electronically send invoices, your customers can click on a link to view and print the document or sign up for a client account, which allows them to save, view, and comment on the estimates and invoices you send them. If you've created a project for this client, a client account allows them to comment on the project and share files.
Multicurrency billing is available, which is a helpful feature if your client base is international. With FreshBooks Payments, you can also accept payments in international currencies. You can choose to format invoices in either English or French.
Customer support is available via phone and email. You can call the company Monday through Friday, from 8 a.m. to 8 p.m. ET. The company's website has a knowledgebase and blog, and the company offers a get-started webinar.
Drawbacks
There aren't any batch invoicing shortcuts, which would be useful if, for example, you're invoicing multiple customers for the same service at the same rate.
Its invoice customization options are more limited than those of many of its competitors.
There isn't an Apple Watch or smartwatch version of the mobile app.
Although most features are available on the mobile app, you can't view reports or manage team members. If you need to do these things on the go, you'll have to use a browser to access your account, which is less convenient.
It isn't well suited for businesses with inventory, as it lacks features for inventory tracking, vendor management and purchase ordering.
FreshBooks is capable accounting software that makes invoicing easy. It has multiple timesaving features such as automated payment reminders and recurrent billing, and it allows you to accept invoice payments online. Although it lacks inventory tracking and vendor management, it has time-tracking and project features that make it ideal for service- and project-based firms and entrepreneurs.

Ready to choose your Best Accounting Software and Invoice Generators? Here's a breakdown of our complete coverage:

Lori Fairbanks
Lori Fairbanks has years of experience writing and editing for both print and online publications. After graduating from Brigham Young University with a Bachelor of Arts in English, she worked as an editor for Creating Keepsakes magazine and then as a freelance writer and editor for a variety of companies, including marketing firms and a medical university. She now writes for Business.com and Business News Daily.