Oracle NetSuite is an ERP platform that includes a robust and intuitive financial management solution. It can keep track of your business' financial data and automate all your accounting functions, earning our best pick for ERP accounting software.
Pros
NetSuite uses modular pricing, so you pay only for what you need.
The software is ideal for operations on a global scale, making it a great choice for small businesses that are rapidly scaling into midsize or large businesses.
NetSuite is a widely recognized ERP brand, with more than 31,000 businesses around the world using the software.
Cons
The high price point and steep learning curve are more appropriate for businesses with substantial resources at their disposal than small operations.
There is no free trial, and potential customers need to contact Oracle NetSuite directly for a pricing quote.
Oracle NetSuite is our pick for the best accounting software product that includes enterprise resource planning (ERP). NetSuite has been a leading brand name in the ERP space for many years. Your business can use it to keep track of your financial data and automate all of your accounting functions. But more importantly, you can use NetSuite's full ERP solution to manage complex business functions on a global scale.
Oracle NetSuite Accounting Software Editor's Rating:
9.2 / 10
Payments

10/10

Automatic invoicing

9/10

Third-party integrations

9/10

Mobile app

10/10

Customer service

8/10
Ease of Use
As an integrated software solution used to manage HR, sales, marketing, and supply chain, NetSuite goes far beyond simpler accounting and bookkeeping software. Unsurprisingly, NetSuite was far more complex than mass-market solutions, such as what we found in our review of QuickBooks. Like most of the best accounting software solutions we reviewed, NetSuite displays key business metrics on the main dashboard. As shown below, it's a very busy interface packed with tools and drop-down menus
We found that while NetSuite's ease of use might eclipse that of other ERP solutions, it obviously isn't as user-friendly as basic solutions geared toward small businesses. NetSuite's complexity means that many business owners may need to consider hiring a consultant to help them navigate the software and make full use of its capabilities. That said, the steep learning curve belies extremely powerful tools and capabilities that you simply won't get with cheap alternatives.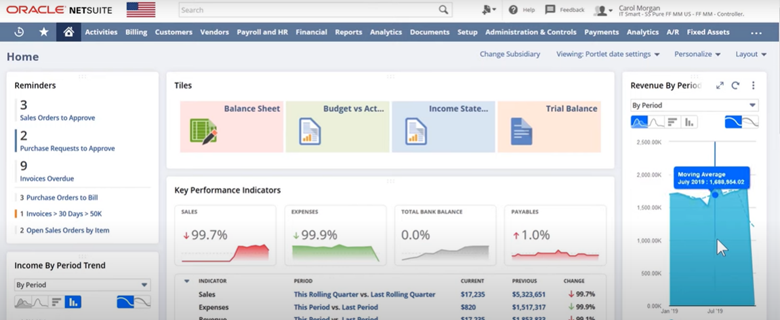 Oracle NetSuite Features
If you plan to use Oracle NetSuite as part of a larger ERP solution, you can integrate your accounting processes with other functions, such as inventory management, for a complete view of your business's income and expenses. Here is an overview of the key features of Oracle NetSuite's accounting solution.
Financial Process and Operations Management
NetSuite helps businesses design and implement financial processes with their accounting software. It provides the ability to seamlessly connect accounting functions with management systems. Managers have real-time access to their financial data, giving them the ability to create reports or address delays.
Its general ledger gives organizations the ability to input and monitor all of their financial data in a customizable ledger. Through the general ledger, users can report functionality, enhance audit trials and create support for new management.
NetSuite's accounts receivable and payable features integrate all financial data into an easy-to-use system that functions automatically. They also have management programs for taxes, fixed assets, cash, and payments.
Billing
If you have multiple clients, vendors, or partners, NetSuite can streamline your billing infrastructure. It gives you control and flexibility over your billing process through a centralized framework that includes transactions, subscriptions, and projects that go directly to the billing engine. The billing function also allows you to create and manage subscriptions and recurring billing.
Revenue Recognition
NetSuite helps you comply with accounting standards to report financial results in a timely manner. The revenue recognition services enable you to schedule, calculate and report revenue on financial statements swiftly.
Financial Planning and Reporting
Through its planning and budgeting functions, NetSuite can help you plan for your business's financial future. One really cool function is that NetSuite can use your business's data to forecast revenue and what-if scenarios, as well as produce budgets. The system can also take your current data in future projections and generate reports.
Global Account Management and Consolidation
Running your business internationally or introducing your products and services into an international market can present challenges. Through NetSuite's financial engine, you can manage your business finances across your organization globally. We like that the software comes with multiple language interfaces that can help you bridge communication or language gaps.
NetSuite also offers a multicurrency management system that supports over 190 currencies. The software automatically calculates the exchange rate for real-time conversion. It also provides a variety of payment options to resolve international transactions seamlessly.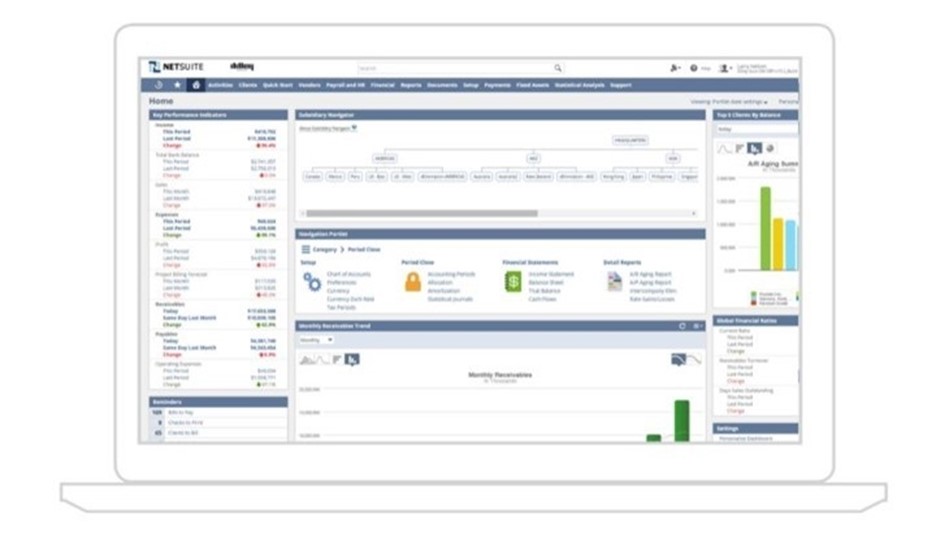 Government Risk and Compliance
NetSuite helps organizations set up and monitor their systems so that they comply with their company's government risk and compliance (GRC) programs. It provides the ability to change systems as your company scales and is audit ready so that any financial issues can easily be viewed and investigated. NetSuite complies with regulatory requirements such as ASC 606, GAAP, and SOX.
The program can also transform your GRC program in real time by establishing a sustainable risk management and compliance process. This feature can save businesses money in the long run, as it can predict major issues.
Integrations
As an ERP platform, Oracle NetSuite offers seamless integration with all modules (accounting, inventory management, customer relationship management (CRM), human capital management, etc.) available on the platform. NetSuite integrates with many leading business software providers and offers open APIs for new integrations.
To integrate NetSuite with other business software, a dedicated implementation team is available for an additional fee. The team can also develop additional integrations and project management planning.
Warehouse Management
One unique feature is Oracle NetSuite's warehouse management and fulfillment module, which helps businesses control inbound logistics, outbound logistics, and warehouse inventory management. Using NetSuite, businesses can generate and send purchase orders to their suppliers. They can also set high-priority tickets to an "expedite" list for faster processing.
Outbound logistics tracks goods leaving the warehouse, which are shipped directly to stores or consumers. This tool includes a "pick, pack, and ship" feature, which informs warehouse employees and distribution employees that a product is ready for transport. As an item moves through the warehouse, Oracle NetSuite updates its records to reflect the accurate number of quantities remaining in your inventory.
"Supply chain distribution" and "logistics" mean two different things, although the two terms are often used interchangeably. Logistics is the process of planning how products will get to their destinations, while distribution is the actual process of getting them there.
Inventory Tracking
Logistics tools are dependent upon accurate inventory management, which incorporates barcoding, batch, and serial tracking to determine where items are located in a warehouse. We were especially impressed by how seamlessly the process fits together. When employees scan a received product into the storage facility, they move it from the loading dock to the appropriate lot, aisle, and bin. Once placed, an item is scanned again, and Oracle NetSuite automatically updates its records with the location of the item and the date and time it was scanned.
Inventory Auditing
Once an item is stored in the warehouse, Oracle NetSuite regularly alerts staff to perform "cycle counts," or inventory audits. These audits reconcile the actual quantity of stock in storage with the records maintained by Oracle NetSuite's inventory-tracking tool. Oracle NetSuite's auditing features are also designed to streamline inventory audits by cataloging products based on their value, quantity, and specific characteristics, like color, size, material, and type.
Order Management
The order-management tool helps warehouses ensure an adequate quantity of each item is always on hand without over-ordering and ending up with deadstock, or products that cannot be sold promptly. NetSuite automatically analyzes historical sales and logistics data to determine optimal reordering points for each product, replenishing stock to an optimal threshold when it runs low. NetSuite also accounts for lead times identified through the inbound logistics tools, factoring in how long it takes suppliers to fulfill new orders and adjusting the minimum quantity accordingly.
Multiple-Location Management
Oracle NetSuite also includes a multi-location management tool, which we found useful for a warehouse that supplies several locations. Through lot tracking, bin tracking, and serial tracking, you can monitor the flow of goods across your entire business in real-time, and NetSuite automatically adjusts optimal stock levels to support demand across all your locations.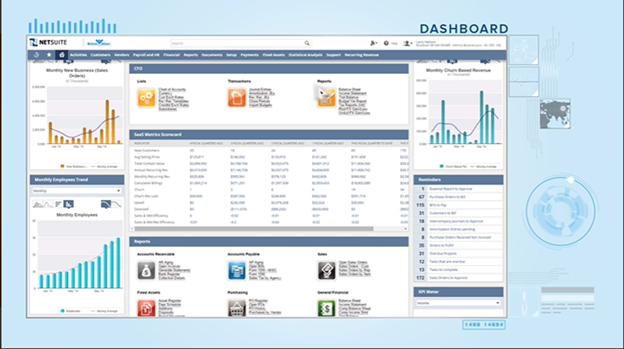 Oracle NetSuite Pricing
Oracle NetSuite's platform consists of inventory management, financial management, point-of-sale, CRM, and employee management software. Depending on the specifics of your business – such as the size of your company, its revenue, and the modules you require – the price can vary greatly.
To get an accurate price estimate, you'll need to speak with an Oracle sales representative, who will prepare a custom quote for you based on your company size, industry, and specific needs. Based on our research, the platform starts at approximately $99 per user per month plus a $999 monthly licensing fee. While this base price can be used as an estimate, your costs may vary significantly.
Oracle NetSuite may not be the best choice for small businesses with more basic accounting and bookkeeping needs. Midsize, scaling, large and international businesses are better positioned to benefit from Oracle NetSuite's ERP platform. If you're running a larger company, NetSuite's integrated ecosystem can save you time and money that would otherwise be spent acquiring and integrating a hodgepodge of software solutions from a variety of vendors.
Implementation and Onboarding
During our research into NetSuite, we found that onboarding isn't the simplest process. As with pricing, you will have to contact Oracle NetSuite's sales team for a free product tour. You can also view a variety of product-specific demos on NetSuite's website. However, unlike most of the other software packages that we examined, NetSuite does not offer a free trial.
Implementing NetSuite as a brand-new user likely won't be a walk in the park for most business owners. An entire cottage industry of consultants exists solely to assist businesses with implementing NetSuite and tailoring it to fit their needs. Although businesses that use NetSuite are generally larger and can probably absorb these extra costs, it's something to keep in mind for anyone considering NetSuite.
Customer Service
Oracle NetSuite provides extensive customer service for all of its software, including accounting systems. It also provides education services, where users can learn about the software they're using and get up to speed on any new features or versions of their products. These services come in the form of both documents and online classes.
Real-time support for industries, as well as individual users, is available 24/7. The chatbot on NetSuite's website can provide users with simple explanations or connect them with a customer service representative.
If you are a smaller business or on a tight budget, consider investing in a dedicated accounting software solution that can be integrated with your other systems and keep track of your finances.
Limitations
With such a comprehensive set of features, Oracle NetSuite's major limitation is not so much the software itself. In our view, the drawbacks are the high price point and steep learning curve. Implementation is likely to take a very long time; it may take months, or even years, to fully master the software and its abilities. It is not the most user-friendly system, despite a very wide feature set. This means that Oracle NetSuite is not an appropriate choice for small businesses with limited resources, but it is a great choice for established businesses with lots of resources.
Small business owners with less complex needs might want to consider lower-priced alternatives for their accounting and bookkeeping needs. Aside from QuickBooks, our FreshBooks review found that software great for handling invoicing, while our review of Zoho Books revealed it to be a fantastic tool for automating processes.
Read our review of Xero to learn about an alternative software package that we believe is a solid fit for a growing business.
Methodology
To generate our quantitative score and use case, we reviewed software features such as payment and invoicing capabilities, the number of integrations, mobile apps, report generation, supported user count, and customer service. We also assessed pricing and the availability of free trials. Sources of information included in this review were gleaned from the company's website and software demos. Additionally, we studied user reviews for independent opinions on the software's pros and cons.  For ERP specifically, we focused on how the breadth of the product creates a unified system that will help businesses meet complex challenges.
FAQs
Oracle NetSuite is an ERP platform with numerous modules to manage financials, HR, inventory, supply chains, and more.
The Oracle Corporation acquired NetSuite in 2016; the software package is now formally known as Oracle NetSuite.
Potential customers will need to contact Oracle for a quote, although $99 per user per month plus a $999 monthly licensing fee is a ballpark figure.
Bottom Line
We recommend Oracle NetSuite for …
Growing midsize or large businesses (or small businesses making that transition) that require a more powerful, all-in-one ERP solution.
Businesses with the resources to support Oracle NetSuite beyond its monthly costs, such as hiring consultants to assist with training and implementation.
We don't recommend Oracle NetSuite for …
Small businesses without the resources or budget to accommodate NetSuite.
Businesses that want to avoid the steep learning curve that comes with a complex but powerful solution such as NetSuite.