Textedly has one of the cheapest per-message rates among the top text message marketing providers. You can easily build subscriber lists, and sending messages is straightforward, making this platform ideal for companies with simple texting needs.
Pros
Textedly is one of the cheapest per-message text services.
The platform has a fluid user interface.
It has dozens of useful integrations via Zapier.
Cons
The lower-tier packages include very few keywords.
Some simple actions take three clicks when they should take one.
More complex subscriber segmentation is challenging.
Textedly offers the second-lowest per-text messaging rates among text message marketing services. It's not as feature-rich as other platforms, but it is reasonably user-friendly, though you have to pay for some of the tools that other providers include for free. Fortunately, it's easy to build your list of subscribers and send out individual and group messages. You can even have real-time text conversations with customers. Textedly is a great choice for companies with simple texting needs. See all of our recommendations for the best text message marketing services to compare and contrast Textedly with other vendors.
Textedly Editor's Rating:
7.6 / 10
Pricing

10/10

Ease of use

8/10

Functionality

5/10

Segmentation

5/10

Customer service

8/10
Why We Chose Textedly for Simple Texting Needs
If you're looking for a text message marketing system that can handle the basics, Textedly is worthy of consideration. What it can do, it does well and cheaply. Like some fancier platforms, it's capable of using Zapier to integrate with other software and apps you're using for your business. However, of all the providers we reviewed, Textedly has the fewest built-in features.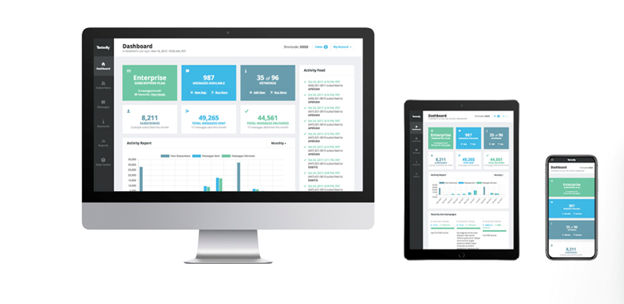 Of course, not every company needs a wealth of advanced features in a texting application. Some simply want a solution that will help them build subscriber lists and send out occasional offers to customers. Plus, it's hard not to recommend Textedly purely on price. On its lowest plan, the cost per text is $0.02. If you sign up for 4,200 texts per month for $50, you'll be paying even less – $0.012 per text. In some cases, Textedly charges 75% less than rival vendors. For these reasons, Textedly is our best pick for businesses with simple texting needs.
Textedly's per-message rate is the second cheapest on the market, behind Twilio, but Twilio is more of a development platform, while Textedly is ready to use out of the box.
Ease of Use
You control Textedly via the in-browser dashboard, as seen in the image above. The layout of the screen is neat but busy. From the navigation menu on the left side, you can access your subscriber section, send messages, view message history, add and delete keywords, add new numbers, view reports, and enable voice calls.
When you select some of the features, a filtering option appears next to the navigation bar, which makes the screen feel cluttered. Although the platform is easy to use overall, some tools are hard to find, and then when you do find them, it's not clear how to actually use them. The interface is quite refined and user-centric, but it could benefit from some more development to increase its intuitiveness.
If you want to migrate your contacts from another text message marketing service, you have to ask Textedly for permission first. When you have the vendor's go-ahead, you can upload your current subscriber list via a CSV file. This could be simplified with an online signing tool.
Textedly's online learning library could also be better. Many non-technical clients will have to contact customer support to get help, as the "Advice and Answers" section contains just 32 articles, most of which will be puzzling to those with little or no technical or marketing experience. There is a "Best Practices" blog post and 10 helpful videos on YouTube, which strangely aren't linked to the control panel.
At this time, Textedly doesn't have a mobile app. To organize campaigns while on the go, you'll need a large tablet or laptop with a SIM card. In contrast, as we pointed out in our review of SimpleTexting, that competitor not only has a mobile app, but one that offers the same functionality as the desktop version of its system, making it an appealing option for small businesses.
Textedly offers a 14-day free trial with 50 messages and one keyword. This is a great way to determine if the system's limited functionality is enough for your business.
Textedly Features
Textedly may not be as feature-rich as its rivals in the text message marketing space, but it comes with the critical functions businesses need to message existing customers and potential clients.
Keywords and Templates
You can use Textedly to invite people to subscribe to your marketing messages based on the types of products or services they're interested in. Develop keywords that reflect your offerings (like "manicure" if your business is a nail salon) and encourage subscribers to use them when they opt in to receive texts. It took us just 60 seconds to set up a new keyword. You'll choose the keyword you want to use, set the number of texts you want to send to subscribers per month and compose an opt-in message. 
You can draft a welcome message yourself or use a template. However, the template tool is a bit frustrating on Textedly. You can't write something new and then simply tick a box to make it a template for future use; instead, you have to go to the "Manage Templates" section three clicks away. There are 65 templates to choose from, but they're not linked to this part of the dashboard. Template inconveniences aside, we were impressed by how fast and easy the keyword system is to use, though very few keywords are included with Textedly's lower plans.
Messages and Campaigns
When you select "Messages," you'll see a list of the messages and campaigns already sent. Sending a new message or setting up a campaign is easy. Just click on "New message" at the top of the screen. If you want to send a message to one person, search for that particular subscriber on the page. One-on-one messaging with clients is a great way to use texting as a customer service channel. You can also add new subscribers in this area as well.
To send a campaign, tick the boxes next to the keyword subscribers you want to target. Then choose whether you want to send the campaign immediately or at a later point. Unfortunately, unlike other solutions we reviewed, Textedly doesn't allow you to turn this new campaign into a recurring one in this section – you have to go elsewhere on the platform for that.
You can also have live text chats through Textedly. This two-way communication with customers and potential clients helps increase engagement on a personal level. It can get people through your doors, figuratively or literally, in the first place and keep them coming back. Select "Inbox" from the "Messages" screen to see messages you've received and respond to them from the same page. You can set up desktop alerts on Chrome, Firefox and Safari to find out about new messages as soon as they come in.
You can send both SMS and MMS messages through Textedly, a service your clientele would likely welcome.
Subscription Management
Textedly handles grouping subscribers based on keywords very well. You can also add multiple tags to individual subscriber records to find them more easily. You can do this manually or by uploading a CSV file. To save yourself work down the line, it's best to tag each new contact as they subscribe. If you don't and some time passes, you'll have to search through your list and add them manually to each relevant record. This could take a long time and is far from ideal for complex segmenting.
Finding subscribers via tags is simple, as Textedly's filtering tool is quite powerful. However, you can't save lists you've created through search, which is annoying. You'll have to remember what you put in each search field and run the same exact search again to get the same group of subscribers to send a message to. This also makes segmentation harder.
Analytics
Compared with its rivals, Textedly's marketing analytics capabilities are very limited, offering minimal data on the number of texts sent and received. You can examine your overall activity on a weekly or monthly basis or by keyword. That's it, but this will be enough for many businesses with simple texting needs.
Apps
You can add additional features to Textedly in the "App Tools" section. The company charges for many of these, while they're free with other providers. However, as Textedly is substantially cheaper than most vendors, this is probably an important source of income for it. As you can see in our review of EZ Texting, some providers charge for these functions monthly, but, with Textedly, you pay a one-time fee that helps limit the expense and contributes to the service's overall affordability.
Native apps, meaning the ones written by Textedly themselves, include the following (note that the last one is free!).
| | | |
| --- | --- | --- |
| App | Function | One-time fee |
| Automatic replies | Send an automated message to someone who texted your business. | $36 |
| Personalization | Add custom fields to your SMS and MMS messages. | $28 |
| Instagram texting | Allow people to text you directly at your Instagram business profile. | $70 |
| Drip campaigns | Send a delayed sequence of messages to subscribers after they join your list. | $135 |
| QR codes | Generate QR codes for use on websites, printed literature, displays, and social media, linked to specific keywords. | Free |
Beyond that, Textedly can integrate with Shopify via Zapier. You can also use Zapier to link Textedly with the following applications:
Customer service platforms like Zendesk and Help Scout
Highly rated email marketing services like Mailchimp and Constant Contact
Accounting solutions like Xero and QuickBooks
Social media sites like Twitter and Facebook
Workplace automation software like Microsoft Teams and Slack
Textedly Pricing
Textedly offers 13 plans, all of which include free incoming messages. As with many texting platforms, you're paying for the number of outgoing texts you send. During the 14-day free trial, you can send 50 messages and use one keyword. Otherwise, the packages are as follows.
| | | | | |
| --- | --- | --- | --- | --- |
| Plan | Keywords | Monthly price | Texts with monthly billing | Texts with annual billing |
| Bronze | 1 | $24 | 1,000 | 1,200 |
| Plus | 2 | $39 | 2,000 | 2,400 |
| Enterprise | 3 | $50 | 3,500 | 4,200 |
| Elite | 4 | $70 | 5,000 | 6,000 |
| Business | 6 | $140 | 10,000 | 12,000 |
| Silver | 7 | $210 | 15,000 | 18,000 |
| Premium | 10 | $350 | 25,000 | 30,000 |
| Pro | 13 | $500 | 35,000 | 42,000 |
| Gold | 15 | $700 | 50,000 | 60,000 |
| Platinum | 20 | $1,400 | 100,000 | 120,000 |
| Diamond | 20 | $2,100 | 150,000 | 180,000 |
| Champion | 50 | $2,800 | 200,000 | 240,000 |
Instead of providing a discount for paying annually instead of monthly, Textedly gives businesses with annual billing 20% more texts per month. For example, with the Bronze plan, if you opt for yearly billing, you will get 1,200 texts instead of 1,000. 
Five hundred additional texts are available for $20, and extra keywords are $5 per month (plus a $6 telecom surcharge). Note that while you can upgrade your plan at any time, you can't downgrade, which is an unfortunate drawback.
After Twilio, Textedly is the cheapest provider we reviewed.
Implementation and Onboarding
Registering for Textedly is quick and straightforward. We received a welcome email and text within 60 seconds of logging in. That was quickly followed by a helpful email advising us what a keyword is and why we should immediately set one up.
If you want your employees to operate the platform, adding new users is easy. Go to your account settings and click on the "New User" button at the top of the screen. For each new user, you can choose whether to allow them to see your billing history, update credit card details or upload to the account. This is great for limiting access to employees who only need to send text messages on the company's behalf and don't need to know more confidential business information.
There is no software you need to download to use Textedly. As with all the other text message marketing platforms we looked at, you can't reconfigure the look or functionality of the dashboard. But with Textedly being as basic as it is, that isn't necessarily a hindrance.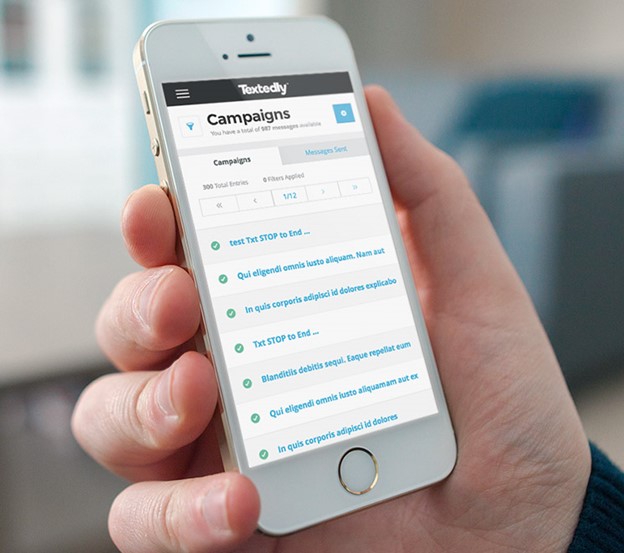 Customer Service
Textedly's support teams are available by phone, web chat, email form and text message between the hours of 8 a.m. and 5 p.m. CT on weekdays and 9 a.m. and 2 p.m. CT on weekends. Pay careful attention to the time zone, as Textedly's customer service operates on Central Time when most vendors go by Eastern Time. Still, the weekend availability is a plus. 
You can use SMS polling via text message to run contests and giveaways and collect customer data.
Limitations
Textedly lacks many of the nifty features provided by its competitors. Despite that, it has built a workable and fairly usable platform that, by adding apps and integrations, could rival the best solutions on the market. Many business owners, however, lack the technical know-how to integrate apps, meaning they'd either have to pay a developer to do it for them or miss out on these capabilities.
Textedly charges for additional monthly texts and keywords, which could add up over time. It also allows account upgrades only, not downgrades, so you need to make sure you don't sign up for an account level with way more text messages than you actually need. You won't be able to switch to a lower plan if you do.
Methodology
We spent several weeks researching the top text message marketing services to determine the best solutions. As part of our analysis, we looked at ease of use, features, pricing, customer support and integrations. To determine the best service for simple texting needs, we specifically examined whether the platforms contain the functionality to run successful but uncomplex campaigns, their pricing, and the number of message templates they provide.
Textedly FAQs
Textedly was founded in 2015 by Alessia Jordan and currently operates out of offices in Los Angeles and Nashville.
Cold texting is illegal, unlike cold calling and cold emails. It's also against Textedly's terms and conditions. Under the Telephone Consumer Protection Agency (TCPA), as enforced by the Federal Communications Commission (FCC), all businesses must get prior consent from consumers before sending them marketing messages. [Related article: Text Message Laws Every Business Needs to Follow]
To cancel your account with Textedly, go to your user account settings on the Textedly dashboard or email help@textedly.com.
Bottom Line
We recommend Textedly for …
Very small businesses with simple texting needs.
Larger businesses with multiple branches or departments where each branch or department wants to send promotional messages to its own customers.
We don't recommend Textedly for …
Companies that want maximum functionality right out of the box.
Businesses that need a platform with a sophisticated API to incorporate a texting application into their own software ecosystem.