Like most Americans, you probably send and receive text messages on a daily basis in both your personal and work lives. However, you might not be sure exactly how an SMS differs from an MMS. The two terms are often used interchangeably, but they're actually two different ways to send text messages. 
At the simplest level, an SMS is a text message and an MMS is a text message with an accompanying picture, video or audio file. In 2021, Americans sent and received about 2 trillion SMS and MMS messages, according to Statista.
The first-ever SMS was sent by software programmer Neil Papworth, then aged 22, to his co-worker Richard Jarvis on Dec. 3, 1992 for UK network Vodafone. The message stated, "Merry Christmas."
What is SMS?
SMS stands for Short Message Service. An SMS is a stand-alone text message containing nothing but text. You can't send pictures, video or audio files with an SMS message — and each message is limited to 160 characters.
SMS is one of the oldest texting technologies. Although the technology behind it has changed little in the last 30 years, SMS is still widely used and businesses consider it an important communications tool.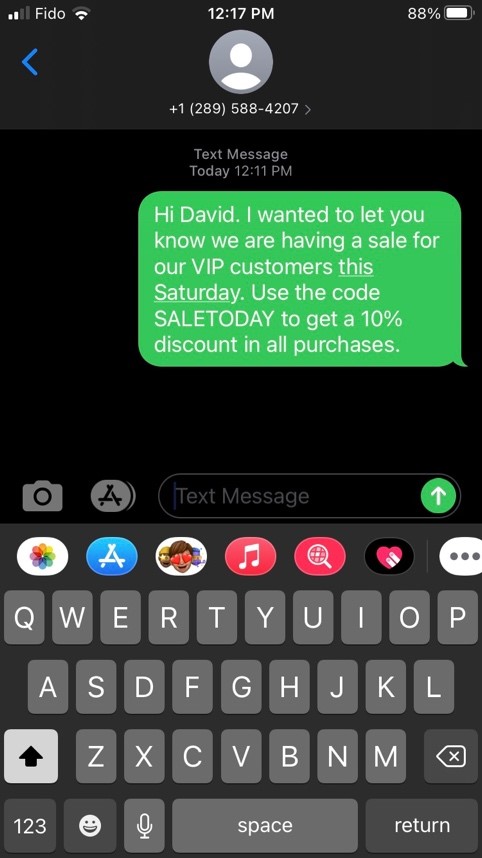 What is MMS?
MMS stands for Multimedia Messaging Service. It launched in 2002 but didn't become popular until around 2010 when smartphones began outselling old-fashioned feature phones. It uses similar technology to the SMS protocol, but allows you to send and receive text with additional media like images, GIFs, videos, audio clips and so on.
There is no technical limitation on the number of text characters in an MMS. However, many providers impose limits on the number of characters — although these limits still permit far more than the number you can send with an SMS.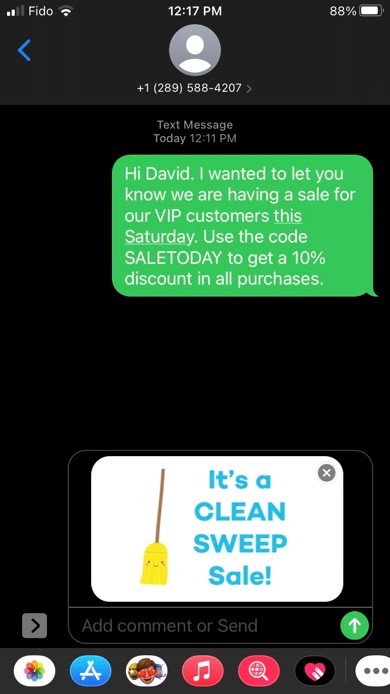 SMS vs. MMS pros and cons
You can use MMS and SMS to market to your customers. Each service has its pros and cons. Depending on your use case, one might be more suitable than the other.
Advantages of SMS
Because SMS messages have a 160-character limit, they are typically short and concise, which makes them easier for the recipient to understand.
Sending an SMS message costs less than sending an MMS message.
Most U.S. mobile phone service providers offer unlimited texting plans, so your subscribers will not have to pay to send or reply to SMS text messages.
Disadvantages of SMS
The 160-character limit of SMS restricts what you can say in marketing text messages. You can send longer messages but, depending on the recipient's service provider and handset, your message may be broken up into smaller messages, which can annoy the receiver.
SMS messages do not allow you to send videos, photos or in some cases, emojis. This limits how creative you can be, which means that your message could get lost in the crowd of other text messages your customers receive.
Advantages of MMS
You can send much longer messages within an MMS (subject to the specific service provider's texting restrictions). This means you can share more deals and offers with subscribers, as well as monitor how they respond through trackable links back to your website.
MMS enables you to include pictures and videos in your messages, which may help grab recipients' attention. You can also be more creative with your messaging by including audio files, emojis, GIFs and more.
Disadvantages of MMS
MMS messages cost more to send than SMS messages. If you want to use MMS instead of SMS, expect to at least triple the marketing budget you allocate to texting.
Some people don't have MMS messaging enabled in their cell phone plans, so they won't be able to receive your messages.
You might need to hire someone to create the photos or videos for your MMS messaging, which will add to the costs of a texting campaign.
SMS vs. MMS FAQs
What is SMS and MMS marketing?
Businesses can use SMS and MMS to send offers and incentives to customers, similar to email marketing and postal marketing campaigns.
How popular is SMS?
In America, 81.6 percent of the adult population, or 270 million people, own a smartphone, according to Zippia. All of these users are capable of sending and receiving SMS messages. Typically, people check their phones about 96 times each day, which breaks down to once every 10 minutes.
About 60 percent of consumers respond to text messages within a minute or two, as reported by the SimpleTexting SMS marketing report. More than half of them would like to get a text message every other week from their favorite businesses.
Email marketing campaigns can grow a small business, but they fall well behind text message campaigns in terms of performance. SMS open rates can hit as high as 98 percent, said CTIA. In comparison, email garners more than 20 percent, according to Statista. SMS gets a 45 percent response rate compared to email's 8 percent, reported SMS Global.
What happens if an SMS exceeds the 160-character limit?
If your SMS message is longer than 160 characters, it will be broken into several messages, depending on the length of the text message. Most carriers will chain the messages so that they arrive in the proper order.
How are SMS and MMS different from iMessage or WhatsApp?
WhatsApp, iMessage, WeChat, Facebook Messenger and similar messaging apps are Over The Top (OTT) applications. They send and receive messages via the internet rather than the cellular network. Recipients must download the relevant app to their smartphone or mobile device. 
Some smartphones come with preloaded OTT applications, like iPhones with the iMessage system. Each app has its own protocols for sending and receiving messages, uses various platforms, and has different network requirements.
When you send a message using iMessage to an iPhone, iMessage is the default delivery service. If an iPhone user does not have iMessage, the default is SMS. A text sent on an iPhone displays in different colors depending on whether it was sent via iMessage or SMS.
OTT applications are free to use, which makes them more cost effective than SMS and MMS. They are sometimes preferable to MMS for sharing multimedia files as they have much larger file size limits. They also offer more features like group messaging, message broadcasting, and audio and video calling.
However, OTT applications can only communicate with each other so you can't send a WhatsApp message to someone using WeChat, for example. Conversely, you can send SMS and MMS messages to anyone with a mobile device.
What is better to use for mobile marketing?
SMS is ideal when you want to send short messages containing only essential information. For example, if you run a text-to-join campaign and expect lots of sign-ups, SMS will be less expensive. SMS is also effective for sending the following types of transactional messages:
Order confirmations
Delivery tracking messages
Appointment reminders and updates
Password resets and two-factor authentication (2FA)
If cost is a factor, then you should send SMS messages, since MMS is more expensive. Sending MMS messages requires your carrier to send much more data than a standard SMS message. If your cell phone plan has inclusive SMS and MMS messages, MMS messages often count for two or three SMS messages. So, if you have 1,000 text credits a month, you could send out 1,000 SMSs but probably no more than 333 MMSs.
MMS campaigns, however, enjoy 300 percent higher engagement rates than an SMS campaign, according to Bloomreach. MMS messages are eight times more likely to be shared on social media channels than SMS messages, as reported by Simple Texting. Given how MMS messages are more effective for marketing purposes, you might want to use this option for certain types of digital marketing:
Demonstrating current or new products
Offering a coupon
Running a competition
Inviting subscribers to an event
> Learn More: SMS Marketing vs. Mobile Marketing: Where, When and How to Use Them
What are the best text message marketing services for SMS and MMS?
SMS and MMS marketing surged in popularity during and after the COVID-19 pandemic. Text marketing platforms make SMS and MMS promotional campaigns easy to run. They allow you to collect customers' cell phone numbers, segment them into different interest groups, and send campaigns at a much lower rate per message than your cellphone airtime provider offers.
Our list of the best text message marketing services provides a breakdown of 12 of America's leading providers.
Give your SMS and MMS campaigns the best chance of success by following proven text message marketing strategies like letting customers know about new offers, updates on new and back-in-stock items, and special promotions. Always give your audience a good reason to visit your premises or website.
David Gargaro contributed to this article.