SimpleTexting is a user-friendly text message marketing platform ideal for small businesses that want to increase sales. It has lots of useful features, and the vendor will build most integrations for free for companies on its higher-tier monthly plans.
Pros
SimpleTexting offers free help to build custom integrations for customers using 7,500 messages per month or more.
It's very easy to segment your subscriber database for more targeted marketing.
The system has the most thorough analytics tool we've seen on any text messaging platform.
Cons
Although SimpleTexting's system is smooth and intuitive as a whole, certain functions might be difficult for new users to understand.
The help center could be a lot more helpful than it currently is.
It doesn't have many options for intermediate pricing; the packages jump from small and inexpensive to large and costly quite abruptly.
Text messaging can have a transformative effect on small businesses. Connecting with customers via their cell phone is often more effective than email marketing. SimpleTexting allows you to build and segment databases of subscribers so you can send specific messages to different customers to drum up sales. Price-wise, SimpleTexting is competitive, and it's a well-designed, easy-to-use, full-featured platform. To help its small business clients, the vendor will even create custom integrations with other applications you use to run your company – something no other provider we reviewed offers. For these reasons, we've picked SimpleTexting as our top pick for small businesses seeking the best text message marketing system.
SimpleTexting Editor's Rating:
8.6 / 10
Pricing

8/10

Ease of use

9/10

Functionality

9/10

Segmentation

9/10

Customer service

8/10
Why We Chose SimpleTexting for Small Businesses
SimpleTexting is extremely user-friendly and includes a wide range of valuable features that small business owners can use to make business texting more successful for their companies. There are less expensive versions of SimpleTexting available, but its $229 package in particular makes the platform hard to resist.
While $229 per month may seem pricey – that's $2,748 over the course of a year – the plan includes 7,500 texts per month, unlimited keywords and dozens of tools. As your business grows, you'll need more complex software and systems to run it well. SimpleTexting will, in most cases, create custom integrations between its platform and the solutions you use for no extra charge.
Having the type of connected system SimpleTexting's developers created could give your company a competitive edge. That's why we've selected SimpleTexting as the ideal text message marketing supplier for small businesses.
Ease of Use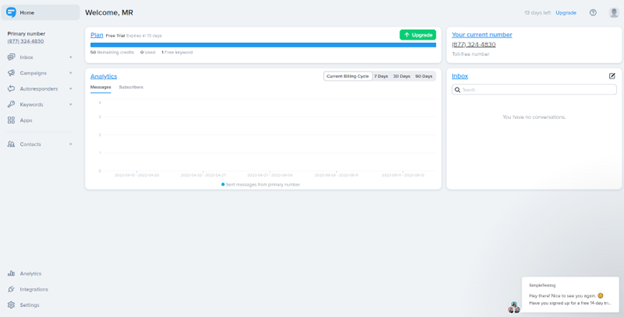 The image above shows SimpleTexting's in-browser dashboard. The navigation menu on the left has links to your inbox, campaigns, autoresponders, keywords, apps and contacts. Beneath those are links to the analytics section of your account, developer integrations (including webhooks and Zapier) and the settings area. You can add new team members and toll-free numbers in that last section.
SimpleTexting's user interface is particularly appealing. New users won't have any trouble understanding what everything on the page does. For example, consider the campaigns feature. If you click on "Campaigns" in the left navigation bar and select the "New campaign" button, you see the following screen.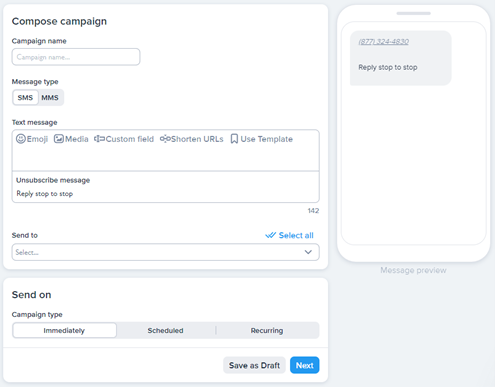 The text message you want to send previews on the right as you type it on the left. You can use templates directly in the message field, shorten URLs (to give you more characters to play with) and add custom fields, like a person's name, to personalize your messages. You then simply select the list(s) you want to send your message to and tell SimpleTexting whether you want to send it now, once at a later time or on a recurring basis.
Where jargon is used on the dashboard, a question mark icon is often placed next to it. Place your cursor over it, and a brief explanation appears, often with a link to the company's knowledge base. This is a great asset, but the knowledge base is far from comprehensive, and the terminology on many pages will likely confuse new users. Still, we like the industry-based how-to guides showing how, for example, retailers can make the most of text message marketing. The page of short videos showing you how to use the platform's different features is well executed too.
Are you migrating contacts from another messaging platform? If so, the syncing process is easy. Select "create a new list" in the "Contacts" menu. Then click "Add contacts" and drag over a CSV file (like an Excel file). Now, map each column to a field (telephone number, first name, last name, email address, etc.). Before you can text subscribers for the first time, be aware that your contacts will receive a free compliance text to ensure they want to receive text messages from your business.
Eight useful apps are built into the SimplyTexting dashboard. Unfortunately, the number of native integrations is limited, but they do include big names like Salesforce, Mailchimp, HubSpot, Slack, Zoho CRM and Shopify. Zapier allows you to connect to many more third-party programs, but you need to know how to use it. That's where SimpleTexting's offer to build custom Zapier integrations for your business is particularly handy. [Learn more about Mailchimp in our look at the best email marketing services.]
SimpleTexting provides a mobile app so you can use its text messaging services on the go. Unlike many competitors, the mobile app offers the same functionality as the platform. It also benefits from a well-designed, user-driven and simple interface – more reasons why SimpleTexting stands out for small businesses.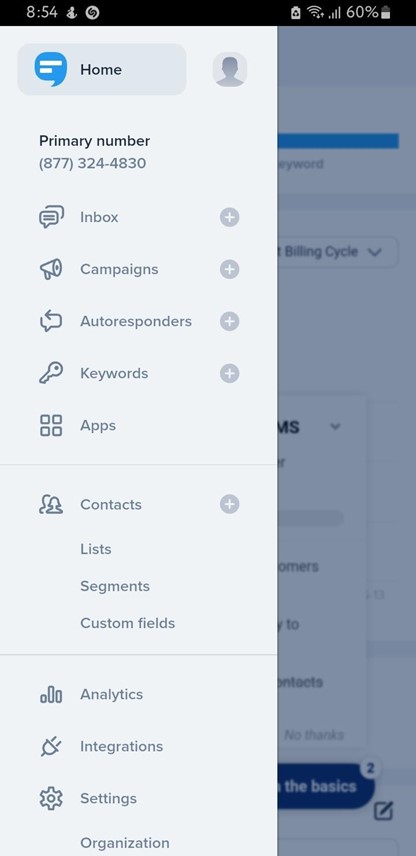 SimpleTexting Features
SimpleTexting's features include the expected, like keywords and segmentation, and the extra-appealing, such as custom-built integrations and in-depth analytics.
Free Zapier Custom Integrations
One of our favorite SimpleTexting features is that, in most cases, the vendor will create custom Zapier integrations from scratch for your business at no charge if you're on the $229 monthly plan or higher. Depending on how many integrations you add, you could save a fortune in developer fees if you don't know how to use Zapier yourself. No other text message marketing platform offers this, and it's an incredible asset for merging the different software applications you use to run your small business. 
Inbox History and Two-Way Interaction
When you click on your inbox, you can see all the messages customers have sent you. Click on a specific message and you'll see all previous and ongoing conversations you've had with that particular client. To start a new conversation, simply click the button in the middle of the screen. You can add emojis and links to your message, and we like how easily you can implement templates without leaving the current screen. What's more, you can have ongoing interactions with customers and message back and forth in real time. This allows you to answer questions in a timely manner, pitch a particular product or service in the moment, or otherwise build a relationship with a client – all critical components if you want to increase sales.
You can add notes to a conversation record to let colleagues know something about the customer that they can't glean from the text exchange.
Segmenting
The way you can segment subscribers with SimpleTexting is smart. First, you decide whether you want to create segmented lists from all of your contacts or the contacts on specific lists you've already made. Then you can choose to segment subscribers based on when they joined your list, how they joined (web form, Mailchimp, Zapier or an Excel file) or even whether they've clicked on a short URL in a previous text campaign. 
If you want to send texts to subscribers who aren't on your email newsletter list, that's possible too. It took us a little while to understand how this works, but we eventually got the hang of it even though the instructions on using this feature could have been more clearly written.
Custom Fields
You can capture additional information about subscribers, such as their age or ZIP code, using custom fields. That's very useful when analyzing information about your audience or targeting specific customers. For example, if you have multiple locations, you could create a custom field so that subscribers receive messages only from the location closest to them.
Keywords
Segment customers from the start by inviting them to text a keyword that reflects their interests. Adding keywords is easy with the SimpleTexting platform. You can set a different autoresponse for each keyword (see more on autoresponding below), letting subscribers know how often you'll text them with offers and information each month. This is preset to four instances, but you can change this.
SMS and MMS Campaigns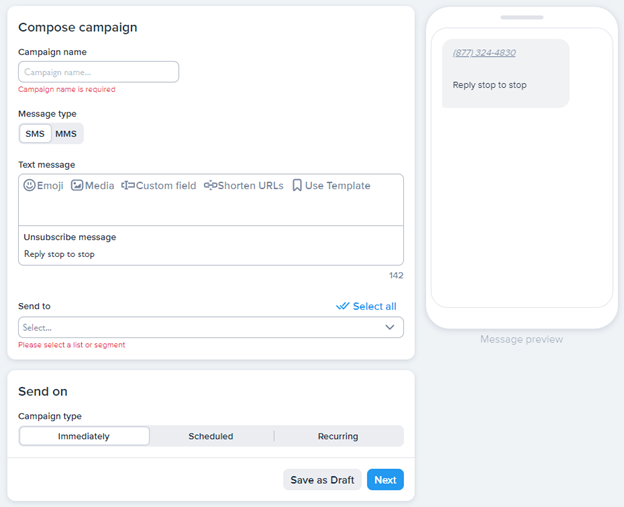 As with all text message marketing platforms, you can use the SimpleTexting system to execute marketing campaigns via SMS messaging and MMS messaging. To start a new campaign, create a message, choose the list(s) of subscribers you want to send to and then send it. You can schedule the campaign to be distributed immediately or after a specific length of time. You can also set a campaign to be recurring without having to navigate to a different part of the platform, something other texting solutions we reviewed make you do. Campaigns are great for driving sales for a particular product or service.
Autoresponders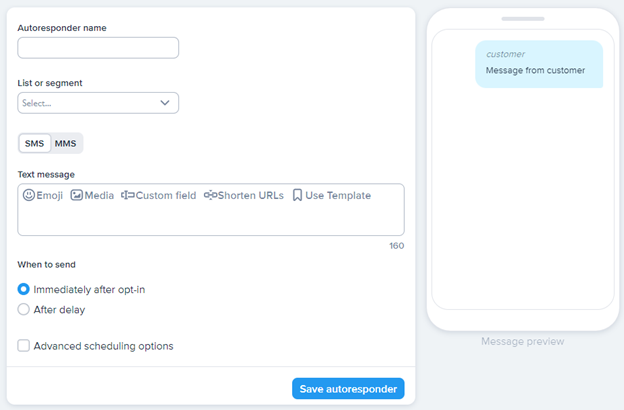 SimpleTexting allows businesses to set different autoresponses for subscribers based on the lists they appear on in your contacts. These are great to set up for when you can't respond right away. To get started, simply select the list you want to create an autoresponder for. You can personalize your response by including the customer's name. Then you can set whether your reply will be sent right away, after a short delay or on a specific date. 
Using SimpleTexting's autoresponder is a great way to ensure customers receive a reply during busy times without replying to individual messages yourself.
Analytics
SimplyTexting's comprehensive analytics dashboard shows the number of responses and unsubscribes to individual campaigns, autoresponders and API messages against the number of text messages sent. You can choose the time frame that you want the analytics function to create statistics for. We appreciate that you can also monitor subscriber growth over time, broken down by list, segment, keyword, web form and clients shared with Mailchimp.
One feature currently in beta and unique to the SimplyTexting platform is the ability to measure campaign performance according to the individual team members responsible for specific campaigns. This is useful for evaluating employee performance and is another aspect that sets this product apart from alternatives. [See more tools for measuring employee performance.]
List-Building Tools
If you're going to invest in a text messaging platform, you want to have a robust subscriber base – or at least one that you're trying to grow. To solicit subscribers, you can use SimplyTexting to create cell phone opt-in web forms to be featured on your website, on your social media accounts and in your email signature. The form can allow the new subscriber to specify which messaging list they want to join. Other information collected is up to you.
We especially liked the birthday text function, through which you can invite people to text you with their date of birth. An autoresponse will go out acknowledging receipt, and, on your subscriber's special day, they'll receive a "happy birthday" text from you. This is a nice touch when it comes to using text messaging as a customer service tool.
Appointment Reminders
You can set up appointment reminders using SimpleTexting, Zapier, and either Google Calendar or the Acuity Scheduling app. Full instructions for setting up this integration are provided, but for businesses on a high enough plan, it's probably better just to ask SimpleTexting to do it for you free of charge.
SimpleTexting Pricing
SimpleTexting offers the following price points based on how many texts you wish to send per month and whether you want to pay monthly or annually. Companies paying annually get a 20% discount on the monthly price. Custom packages are available for businesses sending more than 50,000 messages a month.
Texts per month
Monthly price
Monthly price if paid annually
Features
500
$29
$23.20

Free incoming SMS messages
MMS messaging
Unlimited contacts
Free phone number
Support 7 days a week
Unlimited keywords
Rollover credits (texts)
5 users

1,000
$49
$39.20
2,000
$79
$63.20
3,000
$109
$87.20
7,500
$229
$183.20

All of the above
Dedicated account manager
Custom integrations with 400+ apps

25,000
$549
$439.20
50,000
$899
$719.20
All subscribers get a toll-free number at no extra charge when they sign up with SimpleTexting, but you can choose to connect a local number for an existing landline or VoIP number instead. Shortcodes are available starting at $1,000 each.
SimpleTexting provides a 14-day free trial. We highly recommend that you take advantage of it to ensure this is the best platform for your company.
SimpleText's pricing is about average for the market, but it becomes a lot cheaper than some other services (see our review of ProTexting and our review of EZ Texting for examples) when you send at least 25,000 messages per month. We also suggest checking out our Textedly review, as its cost per text is 33% cheaper than it is with SimpleTexting's 50,000-text plan.
Implementation and Onboarding
Setup is easy with SimpleTexting. You'll get an email from the vendor's team a few minutes after registering, complete with tips on using the platform's most popular features.
As the product's name suggests, inviting employees to join the system and send texts is, well, simple. Select "Team" from the "Settings" menu and then click on "Invite Team Member." You have the ability to designate each person as a member or manager – the difference is that managers can alter platform settings. You can also decide whether a new team member can access all contacts or just contacts from assigned lists.
There's no software to download for SimpleTexting, making implementation effortless. But you can't configure the dashboard's functionality or appearance, which is a drawback of every text message marketing platform we reviewed.
Customer Service
SimpleTexting's customer service team is available via web chat from 8 a.m. to 12 a.m. ET Monday to Friday and 10 a.m. to 5 p.m. ET on weekends. You can also call the vendor between 9 a.m. and 9 p.m. ET on weekdays and 10 a.m. and 5 p.m. ET on weekends. This is more availability than what is offered by some rivals, which typically have customer support only during normal weekday business hours in the Eastern Time Zone. In contrast, our review of Podium noted that that provider doesn't take phone calls at all.
Limitations
To make SimpleTexting even more suited for small businesses looking to grow, the vendor and its clients alike could benefit from having some intermediate plans. Currently, the jumps between the number of texts per month are too great. For example, a business would have to expand significantly to suddenly need 7,500 texts per month when it was recently using 3,000. SimpleTexting can be great for scaling businesses, but it's unrealistic to expect a company to grow that fast.
Since the custom-built integrations are such a unique feature, we have to stress that this service isn't available for businesses buying one of the plans with fewer than 7,500 texts. Of course, SimpleTexting is already ahead of the game merely by offering free customization, since its rivals don't, but there is nothing stopping a company from paying for the $229 package when it wants a custom-built integration and then downgrading when it's been completed.
We'd also love it if SimpleTexting's help center were easier to navigate and digest. Some of the answers could be rewritten so that non-technical, non-marketing people can more easily understand them. Additionally, we would really like to see the help function integrated into the dashboard so that users don't have to open a new browser tab, find the search page and start seeking help from there.
One clever way to use text message marketing is SMS polling. You can text subscribers a question and use the answers to guide strategic decisions about your products and services.
Methodology
We spent several weeks researching the top text message marketing services to determine the best solutions. As part of our analysis, we looked at ease of use, features, pricing, customer support and integrations. To determine which text messaging service is best for small businesses, we specifically examined whether the affordability for SMBs, the level of support and the ease of use.
SimpleTexting FAQs
SimpleTexting is not free. Plans start at $29 per month for 500 texts. However, you can take advantage of a free trial for 14 days to see if the service is right for your business.
There are laws governing text message marketing, specifically the Telephone Consumer Protection Act (TCPA) and the Controlling the Assault of Non-Solicited Pornography and Marketing Act (CAN-SPAM). SimpleTexting operates in compliance with these laws, and your business should as well.
You cannot send a text to a customer without receiving their prior consent, in accordance with the TCPA. That's why many text message marketing platforms require businesses to confirm they have permission from subscribers to send them messages.
Bottom Line
We recommend SimpleTexting for …
Small businesses that want to use text message marketing to grow sales.
Companies looking to automate actions through custom integrations.
Organizations ready to explore new marketing avenues.
We don't recommend SimpleTexting for …
Larger businesses with more complex communication needs.
Companies that want a text messaging platform with a significant number of built-in integrations.