Podium is ideal for local businesses that want to combine text message marketing and online review management in one platform. You can run SMS campaigns, have video conversations and encourage customers to post positive reviews to bolster your brand.
Pros
Unlimited text messages are a part of every Podium plan.
Podium's deep connectivity with Google and other review platforms is impressive, as is its ability to ask customers directly to join your text message marketing lists after they leave a review.
It has various tools to encourage people to subscribe to your messaging list.
Cons
Podium doesn't integrate with Yelp, one of the most popular review platforms.
The inability to automatically group subscribers by keyword means more manual work and is a puzzling omission for such a well-thought-out dashboard.
It's somewhat hard to find answers among all the links in Podium's online help center.
Looking for more options?
Check out The Best Text Message Marketing Services of 2023 business.com recommends.
To win the business and loyalty of your community, you need to stay in touch with your local customers, tempt those who haven't tried your services yet with great offers, and persuade your regulars to leave positive online reviews of your company so new clients choose you over your competitors. With Podium, your business can leverage the power of local reviews and text messaging on the same platform, driving sales and increasing brand loyalty in the areas where you operate. That's why we've chosen Podium as the best text messaging provider for businesses serving local markets.  
Podium Editor's Rating:
8.4 / 10
Pricing

8/10

Ease of use

9/10

Functionality

9/10

Segmentation

8/10

Customer service

8/10
Why We Chose Podium for Businesses Serving Local Markets
Podium is a great text message marketing provider for established single- or multi-location businesses that rely on local customers and the goodwill of the community for the bulk of their sales. According to a study by Trustpilot and Canvas8, 89% of consumers consult reviews before spending money with a business. With Podium, you can manage your online reviews across multiple platforms directly through its system. That's clever enough, but its integration with messaging services, particularly SMS and MMS, makes Podium unique in the review management marketplace.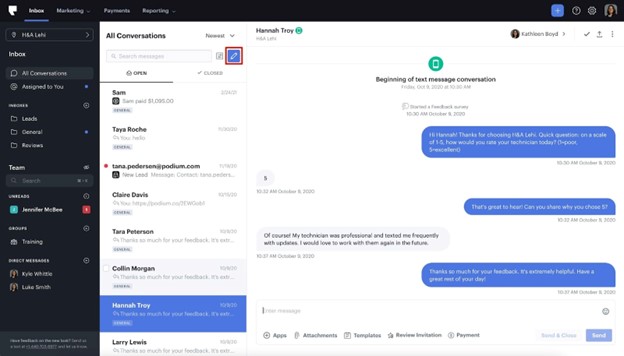 You can use the system to solicit reviews from customers by text, email, Instagram and more. See a Google review you don't recognize? Reach out to the reviewer directly via Podium, thank them for the review, and invite them to join your texting list. With lots of other useful features on top of this neat capability, we found Podium to be the best pick for businesses that serve local markets and need text messaging marketing services.
Google has been a part-owner of Podium since an investment in 2017.
Ease of Use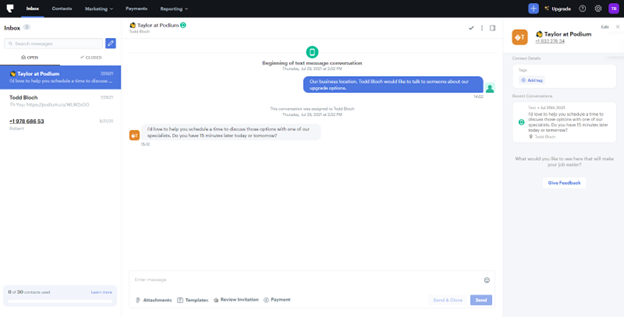 When you log in to Podium, you're greeted by your inbox, where you can check any incoming messages you haven't seen yet and reply to customers. From the top of the screen, you can access your contacts, marketing area, payment dashboard and campaign reports. An always-on blue button gives you immediate access to five of Podium's most popular features. This tidy and uncluttered layout makes for a very pleasant user experience overall.
To get started with Podium when you already have a contact list, you can upload a CSV file containing up to 100,000 contacts or rows. You have to tick a box to confirm each contact has agreed to receive promotional messages, but it's truly that simple to sync. In fact, the process is a lot faster here than it is with many of the other text messaging platforms we reviewed.
We also like how a link to the site's knowledge base is permanently placed in the top navigation bar. The knowledge base has three sections – to improve your ease of use, "Getting Started" is particularly worth your time. The information in this section helps you set up seven of the software's most popular functions, including adding chat widgets, taking payment by text, uploading contacts and adding team users.
Podium smartly separates 136 custom-built integrations into five industry sectors for easy identification – automotive, healthcare and dental, retail and hospitality, home services, and financial and professional services. It would be great to see this organization across other sectors in the future. Public APIs are available for companies wishing to develop their own integrations.
Salesforce, HubSpot, QuickBooks, Shopify and WooCommerce have all developed native applications for Podium. Just off the main user dashboard is a small area for editing the built-in automation template, which is easy to use even if you consider yourself nontechnical. You can connect to 4,000 more apps via Zapier too. If these integrations appeal to you, check out our review of Salesforce and our HubSpot CRM review to learn about their specific offerings.
While the breadth of integrations is impressive, they aren't included in Podium's basic "Essentials" package. You'll have to pay for a higher plan to take advantage of the offered apps.
Features
Podium comes with a bevy of intuitive features, depending on the service level you choose for your business.
List-Building Tools
Podium supports keywords, which allow subscribers to join texting lists for products and services they're interested in. For example, a fashion boutique might choose "BAGS" or "SHOES" as keywords. A subscriber chooses the keyword of most interest to them, after which you can send them relevant offers. However, unlike its competition, Podium doesn't automatically group new subscribers by keyword. Instead, you have to manually put a tag on a user's listing to indicate which campaign they came from after they've joined. This is a surprising annoyance and makes building messaging lists more complex than it needs to be.
On the other hand, creating website widgets to increase messaging sign-ups took us just 20 seconds. Podium will install the widget directly onto your site if you have logins you can share, or the vendor can email you the code and installation instructions instead. Other list-building tools, such as QR codes, are available, as are pop-ups and social media links. The company has a great video on building your subscriber numbers, with suggestions like having a dedicated laptop in your store where people can sign up and capturing cell phone details from clients who've just bought something.
Contact Management
You can click on the Contacts tab to see a directory of your subscribers, including each one's name, their cell number and email address, the date the record was created, and any tags you've assigned to that contact. When you click on a contact's name, their history appears on the right side of the screen, including previous conversations and any reviews they've left for you. You can also add, delete, or amend tags, which help you segment customers for future marketing campaigns and request payment from them.
Text Marketing Campaigns
Podium is one of two platforms we reviewed that helpfully include their marketing templates on their campaign pages. Podium has four sets of templates available – coupon codes, product promos, service promos, and icebreakers to let customers know you're now textable.
You can start new marketing campaigns and check out old and scheduled ones by selecting "Marketing > Campaigns." Once you click the button to create a campaign, all you need to do is name the campaign, select the subscribers to send it to, write your message, and set a time for the campaign to go out.
Multifunctional Inbox 
We love how Podium has one inbox where you can access text, email, webchat, Instagram and Facebook messages. You can use the software to communicate with customers directly on Spotlight Search, Apple Maps, Google Maps, Google search results and web-based Podium contact forms.
Google's partial ownership of Podium offers exciting possibilities. If someone clicks the Message button on your Google Business Profile, their message appears in your Podium inbox, as do messages from Apple Maps users who do the same. If someone finds you on Spotlight Search, they can message you directly, as can users who tap on the message bubble next to your phone number on iOS devices.
Custom and Template Responses
Responding to messages is more intuitive on Podium than on other platforms we investigated. Extra functions included under the text box, like adding attachments, make responding quicker too. You have the option to write your own custom response or to take advantage of a template if you need inspiration.

You don't even need to leave the page to access the templates, unlike with most rival systems. It would be even better, though, if Podium allowed you to make the message you're working on now a template for future use, perhaps by adding a check box next to the other message-related features.
Review Management
In addition to responding to messages and reviews, you can use Podium to encourage clients to leave a review. Just write a short message to the customer and click "Review Invitation." The recipient will see a short URL in their message that takes them to a webpage where they can leave a review. The default option is for a Google review.
In the Reporting section of the dashboard, you can check where reviews are coming from and what your overall rating scores are on each platform. We like that you can also directly message customers who have left a review to ask them to opt in to your text message lists. [Learn how to respond to online reviews.]
You can connect many different review sites to Podium and manage them in the app – but Yelp isn't yet an option.
Video Chat
Let's say you run an antique store and want to promote something particularly rare to subscribers. After you send a marketing text about it, a potential client texts you back, saying they want to see the item but can't make it into your store today. They don't want to lose the chance of buying it, so time is of the essence for them. Suggest a video call in your reply. If they agree, Podium will send them a link to initiate a video chat straightaway. Neither you nor your customer needs to download any software to make the call, making this feature even more appealing.
Payment Processing
You can request credit and debit card payments from customers via text from your inbox. The text you send contains a link to Podium's dedicated secure payment page, which shows the amount of money you're requesting and allows customers to settle up. If you accept payments this way, the processing fees are as follows.
| | | | |
| --- | --- | --- | --- |
| Payment method or feature | Essentials plan | Standard plan | Professional plan |
| Payment via link sent by text | 2.7% and $0.30 | 2.6% and $0.30 | 2.5% and $0.30 |
| Card-present transactions (U.S. only) | 2.2% and $0.15 | 2.2% and $0.15 | 2.1% and $0.15 |
| Keyed-in transactions | 2.9% and $0.30 | 2.9% and $0.30 | 2.9% and $0.30 |
| ACH transfers (U.S. merchants) | 0.7% ($1 min., $5 max.) | 0.7% ($1 min., $5 max.) | 0.7% ($1 min., $5 max.) |
| Fraud protection (optional) | 0.65% | 0.65% | 0.65% |
Analytics
The Analytics dashboard provides details on your inbound sales leads, the median time it takes your team to respond to messages, and the total number of conversations by month and year. Unlike with other platforms, there's no option to set a custom date range to run reports. That said, you can also run reports on your online reviews and payments from customers in Podium. You even have the option to track how well individual employees are doing with Podium, helping you identify training opportunities.
Pricing
Podium doesn't charge per text; all three package levels allow unlimited text messages. The plans differ based on the number of users they allow and the features they do (Y = yes) and don't (N = no) include. In addition to the three options below, Podium offers a free Starter program that gives you access to some of the software's capabilities on a small scale.
| | | | |
| --- | --- | --- | --- |
| Feature | Essentials | Standard | Professional |
| Monthly price | $289 | $449 | $649 |
| Number of team members | 3 | Unlimited | Unlimited |
| Text message marketing campaigns | Y | Y | Y |
| Basic segmentation | Y | Y | Y |
| Payment from customers' cards via text | Y | Y | Y |
| Custom message templates | Y | Y | Y |
| Campaign analytics | Y | Y | Y |
| Texts, phone calls and social media messaging in one place | Y | Y | Y |
| Records of all customer and transaction information | Y | Y | Y |
| Automatic text messages to encourage reviews after purchase | Y | Y | Y |
| Chatbot on your site that collects customers' cell numbers | Y | Y | Y |
| Automated audience segmentation | N | Y | Y |
| Campaign sending based on which page a subscriber has visited on your site | N | Y | Y |
| Event-triggered messages such as reminders, feedback requests and review invitations | N | Y | Y |
| Integrations | N | Y | Y |
| MMS picture messages | N | N | Y |
| Auto-responses to FAQs | N | N | Y |
| Auto-assignment of messages to available team members | N | N | Y |
| Auto-assignment of messages to team members by topic | N | N | Y |
If you only want to use text message marketing on a small scale and aren't interested in gathering online reviews, Podium might not be the best option for you price-wise. With ProTexting, 1,000 texts would cost $49, but 1,000 texts on Podium would set you back at least $289 per month.
Implementation and Onboarding
Account setup for Podium is simple and free. On the vendor's website, click "Get started now." A pop-up will appear for your email address, desired password and cell number. Next, you'll choose your plan level. If you want to try the service before spending money, select the Starter option for no-charge, limited access.
If you already know Podium is right for your business and want to begin onboarding your team, this is one of the easier platforms we've reviewed for adding extra users. Simply go to your account settings, select "Users," and then click "Invite users." A pop-up then appears where you can enter employees' email addresses or phone numbers. You can assign each new user as a supervisor or staff member.
What makes implementation even easier is that you control Podium in your web browser. You don't need to download separate applications to use the platform.
Customer Support
Podium's initial point of customer service is your dashboard inbox. You simply send the vendor a message if you need assistance. There are no customer service telephone numbers or email addresses for requesting support, which may strike some business owners as odd. Fortunately, you normally get quite a fast response through your inbox – during standard business hours, that is. On one occasion, we messaged the company at 4:30 a.m. ET and got no response. Although AI chatbots are far from perfect, it would be nice if Podium added one to deal with customer service requests outside of regular business hours.
The knowledge base has a section with 33 short, easy-to-follow videos. However, its Help section is a page of links that often lead to more pages of links. When you finally find your answer, the articles are helpful, so it's disappointing that they are so buried.
Limitations
Podium doesn't integrate with Yelp, which is somewhat shocking when you consider the review site's popularity. While there are plenty of alternatives to Yelp, this could sway you to a competing text messaging vendor if Yelp is a big part of your marketing strategy. It's worth noting that Yelp forbids businesses from asking for reviews, which may be why it's absent from the Podium platform.
The minimum Podium package costs $289 a month. If all you want to do is text, there may be cheaper options out there with the features you need. It might be better for very small or brand-new businesses to start off with another texting platform and use other approaches to gather reviews.
Most text messaging marketing platforms initially group subscribers by the keywords they opt in with, but Podium doesn't. Instead, you have to keep an eye out for the keyword the customer uses and then tag them with that keyword in your inbox, which can be frustrating. An automatic tagging feature would save a lot of time in organizing contacts and building subscriber lists.
Methodology
We spent several weeks researching the top text messaging service providers to determine the best solutions. As part of our analysis, we looked at ease of use, features, pricing, customer support and integration options. To determine the best text messaging service for local markets, we specifically examined how granular list segmentation could be, campaign analytics, and tools available to help a business build a subscriber list.
Podium FAQs
Podium Starter is a free version of the system. It includes the following capabilities:
30 conversations per month
Requests for Facebook and Google reviews
30-message campaigns
Payment from customers via link sent by text
Textable phone number with voice-to-mail
Limited webchat
Podium does have a mobile app, but its functions are limited to messaging and reviews. This makes the desktop interface more user-friendly, depending on the task you want to complete.