Zoom is a great option for companies small and large with webinar and video conference needs. It boasts a strong slate of features and an inexpensive price tag.
Pros
Zoom's phone service easily scales as small businesses grow.
The video conferencing tools work equally well across multiple devices.
Businesses can mix and match Zoom Phone plans.
Cons
Zoom's customer service pales in comparison to other leading VoIP providers.
The free video conferencing software doesn't offer dial-in phone numbers.
There are fewer team collaboration tools than RingCentral provides.
Top-rated voice-over-internet-protocol (VoIP) services offer video meeting tools on one or more plan tiers. Zoom Phone is the best unified communications platform for video conferencing due to its familiar user interface, high participant capacity and flexible calling plans. It lets small businesses mix and match plans, offering excellent value for phone customers. Learn about the video and VoIP features we tested and how they stack up against the competition.
Zoom Editor's Rating:
8.9 / 10
Pricing/value

9.5/10

Features

9/10

Customizations, add-ons and integrations

9/10

Ease of use

8.5/10

Customer support

8.5/10
Why We Chose Zoom for Video conferencing
Increasingly, companies use online meetings to connect with clients, vendors and staff. As a result, the best business phone systems today include video conferencing capabilities. Even so, employees often resort to using the Zoom meeting app because it's more familiar than their phone app. We love that Zoom's VoIP plans close this gap by incorporating internet-based voice calling into its free video communications platform. 
Zoom Phone subscriptions start at $10 per user and integrate with the Zoom meeting platform. It supports 40-minute video conferences with 100 participants, far more than the 10 people allowed by Dialpad. We appreciate being able to merge VoIP and video calls or seamlessly switch between channels. Users can instant message co-workers or collaborate during a whiteboard session and, unlike with RingCentral, the whiteboard tool works in breakout rooms; you can even have up to 50 separate rooms.
Organizations that want to get the most out of their video conferences should choose the Zoom One Business Plus package. It increases your conference capacity to 300 participants and adds cloud recording storage. We like that Zoom still keeps the price reasonable — it's only $25 per user, per month, less than what other VoIP providers like RingCentral or Nextiva charge for entry-tier subscriptions. For these reasons, Zoom can't be beaten if you're looking for a phone system with top-of-the-line video conferencing abilities.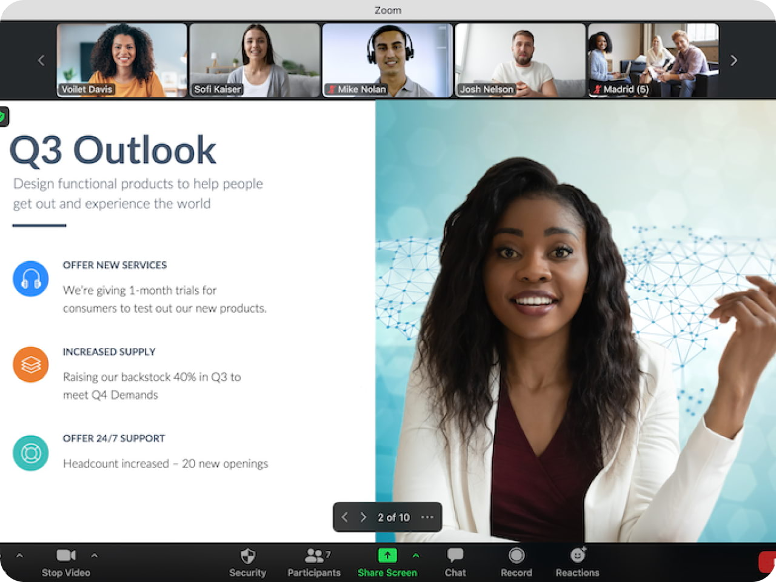 You can share slides while presenting to meeting attendees. Source: Zoom
Zoom Phone usage grew more than 100 percent year over year, with the company reporting it surpassed 5.5 million seats by the fourth quarter of 2022.
Ease of Use
Zoom uses one application for its phone, chat and video services, so you can download the desktop client or mobile app and enjoy access to all features. Tools for the phone system will appear in the navigation menu once you upgrade to one of the paid Zoom Phone plans. Users can also access most features via Zoom's web portal without downloading software. 
We like that Zoom Phone users can use a mobile app, desktop client, plug-and-play VoIP phones or analog devices for inbound and outbound calls. Regardless of the device used, Zoom places icons for each tool across the top of the screen. It provides tips during navigation, which helps first-time users. 
Basic functions are relatively intuitive; even nontechnical team members can understand how to make and receive calls or start a Zoom meeting. Simple tasks like call forwarding aren't complicated, and you can use the default setting for many tools. 
However, if your company is switching from a landline to VoIP service, there could be a learning curve, especially on the administration side. If this could be an issue for your team, we recommend checking out our review of Ooma as it's very user-friendly and provides basic video calling functionality.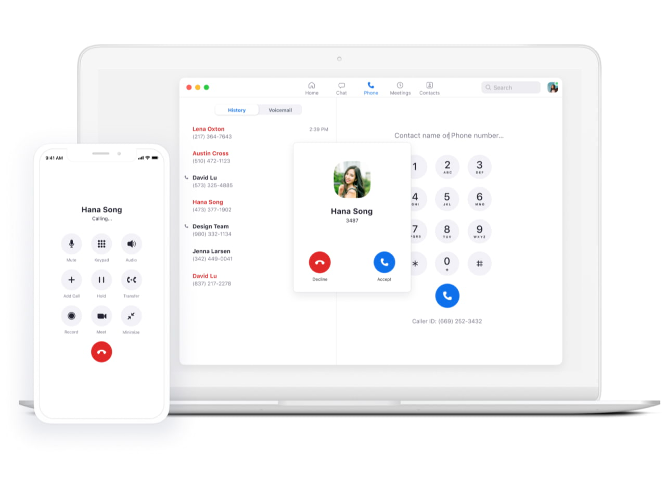 Zoom's streamlined apps work well on desktops and cell phones. Source: Zoom
Zoom Phone Features
The right business tools improve customer experiences while breaking down communication barriers between employees and departments. Explore our favorite Zoom Phone features for small companies below.
Video conferencing
While this feature is relatively common on cloud PBX phone systems today, many lock virtual meeting tools behind more expensive plans. We love that all Zoom Phone subscriptions integrate with the vendor's free video software. There are waiting rooms, automated captions and a screen-sharing feature. Zoom allows unlimited conferencing for 40 minutes with 100 attendees. The capacity increases to 300 people for 30 hours for Zoom One Business Plus users. The platform even supports streaming to YouTube and Facebook, which competitor 8×8 also offers.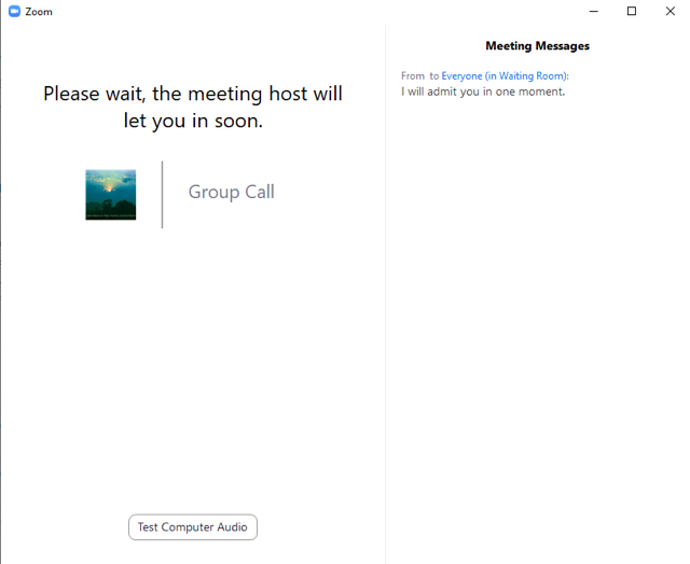 You can personalize your waiting room with a custom message. Source: Zoom
Team Collaboration Tools
Zoom Phone and several alternatives provide collaboration spaces. Although RingCentral is our top pick for businesses interested in team activities, we appreciate that Zoom offers similar tools. We like the editable whiteboards, which you can work on solo or with others during a meeting. Users can share files, images, GIFs and emojis in team chat channels. Still, check out our review of RingCentral to learn why we prefer it for collaboration.

Create and share whiteboards in the Zoom app. Source: Zoom
Call Barge, Monitor and Whisper
These are advanced features typically found in call center systems or higher-priced VoIP phone solutions. Impressively, Zoom Phone includes call barge, monitor, whisper and takeover with all subscriptions. Leaders can monitor real-time inbound and outbound phone calls for on-the-spot tips or training. If needed, a supervisor can give instructions to an employee without the customer hearing (in other words, they "whisper") and even take over a call to resolve an issue. 
Call recording and monitoring tools can help you assess employee skills. Coach your team members during calls and then use the recordings to reinforce the lessons. This one-two training punch can help your team provide excellent customer service.
Auto-Attendant
Companies benefit from using a virtual receptionist and most business phone systems offer them. However, Zoom Phone gives you more routing options than other VoIP providers. You can send calls to another user, a common-area phone, another auto-receptionist or a call queue. Alternatively, the auto-attendant can transfer calls to an external contact, various voicemail inboxes or Zoom Rooms. Also, we appreciate the option to turn any line into an information center, where users can listen to a prompt and then hear a custom audio message.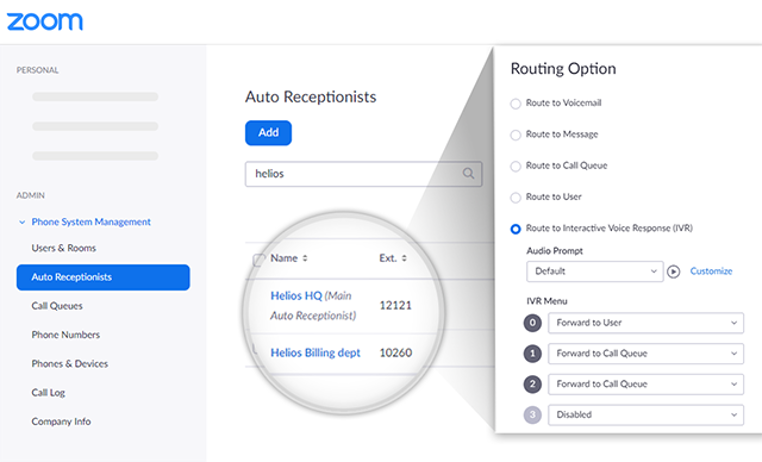 You can name your auto-attendant and choose routing options. Source: Zoom
Call Management
Cloud-based phone systems typically offer basic call management features for handling incoming calls. Zoom Phone supports standard call handling functions, including call forwarding, call parking and call transfer. In addition, users can delegate calls to an assistant and ring multiple devices.
Call management features enable businesses to deliver efficient customer service. Use metrics to track waiting times, unanswered calls and more, then tweak your call flows to improve caller experiences.
Integrations
VoIP and third-party software integrations vary by provider. Some, such as RingCentral, connect to hundreds of business tools while others, such as Ooma, are more limited. We like that Zoom integrates with Salesforce, so you can see a pop-up with customer information before picking up the phone. The platform also connects to Slack, Microsoft Outlook, Google Calendar and Gmail. For companies with contact center software, the Zoom Phone service works with Twilio, Five9 and Talkdesk. [Twilio and Five9 are both on our list of the best call center services.]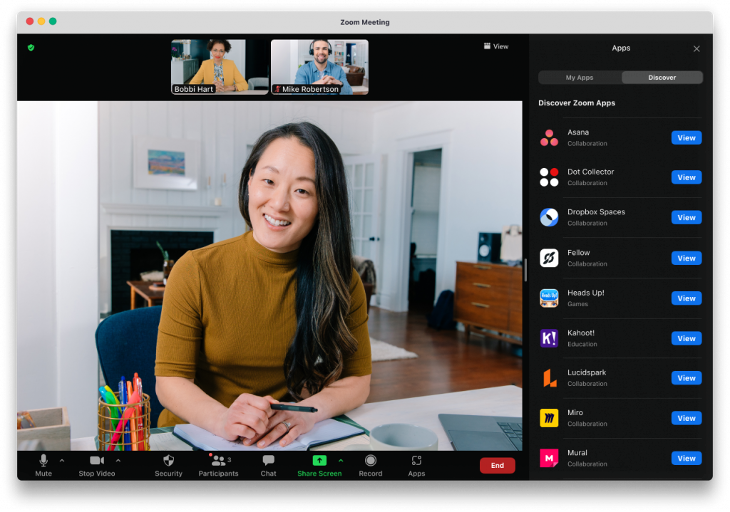 Click "Discover" in your Zoom app to view available integrations. Source: Zoom
Zoom Phone Pricing
Zoom Phone takes a different approach to subscriptions than rival VoIP providers. Instead of locking advanced features behind more expensive tiers, Zoom Phone plans include calling functions and free Zoom meeting tools. The vendor offers three monthly packages starting at $10 per user for metered services (where you pay per outbound minute). Best of all, we love that companies can mix and match metered and unlimited calling packages to save money. 
Subscriptions for Zoom One, which is the vendor's more advanced product, feature paid meeting tools with VoIP services. We recommend the Zoom One Business Plus subscription for companies needing advanced video capabilities for 10 to 99 users. It costs $25 per user, per month, or $250 per user with annual billing, which is cheaper than entry-tier plans from several competitors. 
An organization can save $3 to $15.99 per user monthly by choosing Zoom's Business Plus option instead of RingCentral, 8×8 or Nextiva. The savings rise substantially with annual prepayment for 10 seats, costing $459.60 to $859.20 less than these alternatives. Large organizations (100 or more users) can request a quote for Zoom One Enterprise. This package increases your conference capacity to 500 participants and includes unlimited cloud storage.
Here's how the Zoom Phone and Zoom One plans differ.
Service Plan

Price (cost per user per month)

VoIP Features

Video conferencing Features

United States & Canada Metered (Zoom Phone)

$10

U.S. or Canadian phone number
Domestic short message service (SMS)/multimedia messaging service (MMS)
Extension-to-extension calling
Pay-per-minute for outbound calls
Unlimited inbound calls

Free plan features only
40-minute meetings with 100 participants
Three whiteboards
Video recordings saved locally

U.S. & Canada Unlimited (Zoom Phone)

$15

U.S. or Canadian phone number
Domestic SMS/MMS
Extension-to-extension calling
Unlimited outbound calling
Unmetered inbound calling

Free plan features only
40-minute meetings with 100 participants
Three whiteboards
Video recordings saved locally

Pro Global Select (Zoom Phone)

$20

Direct dial number in one of over 40 countries
Unlimited regional calling
Extension-to-extension calling

Free plan features only
40-minute meetings with 100 participants
Three whiteboards
Video recordings saved locally

Business Plus (Zoom One)

$25

Unlimited outbound calling
Extension-to-extension calling

30-hour meetings with 300 participants
Unlimited whiteboards
10 GB cloud storage
Toll-based dial-in  numbers
Translated captions

Enterprise (Zoom One)

Custom quote

Extension-to-extension calling

30-hour meetings with 500 participants
Unlimited whiteboards
Unlimited cloud storage
Translated captions
Toll-based dial-in numbers
Zoom offers several add-ons for Zoom Phone and Zoom One subscriptions. A customer favorite is the Zoom Phone Power Pack. It costs $25 per user, per month, and provides enhanced call queue analytics and team SMS. Zoom Phone customers can also add a toll-free number, cloud recording storage, conference room connectors and unlimited international calling to 19 countries. 
However, the unlimited international calling option adds $12 per user monthly to the Zoom Phone unlimited calling plan, totaling $27. In comparison, GoTo Connect charges $32 for unlimited calling to 52 countries and 150 video meeting participants. Learn why it's a great choice for global communication in our GoTo Connect review.
Implementation/Onboarding
New users receive an email with a link to set up their Zoom Phone service. Once they select their country, time zone and PIN, they can customize voicemail settings, choose an emergency address and configure business hours. After that, they can use Zoom's desktop client or mobile app to make and receive calls. The vendor's onboarding guide, which includes a video, walks you through each step and offers guidance for advanced topics like delegating calls and creating block lists. 
Administrators have quite a few more steps to go through, but we appreciate that Zoom has an admin implementation tutorial with step-by-step instructions for adding users, assigning numbers and adjusting account level settings. The auto-attendant and interactive voice response system require advanced configuration, as does setting up call queues and multiple sites.
Customer Support
Zoom Phone's customer support options are more complex than other VoIP services. All users have access to self-service tools, while Business Plus and Enterprise plan administrators can submit web tickets or reach agents via live chat. But phone support is only available to businesses with monthly subscription plans that cost $200 or more. Other leading VoIP providers, such as Nextiva and Ooma, provide 24/7 phone support and do so regardless of your package.
That said, Zoom's self-help tools are among the most comprehensive we found. These include a searchable knowledge base, a chatbot for troubleshooting technical issues and an active community forum. The learning center provides free on-demand courses and short videos.
If your business doesn't have a dedicated VoIP system administrator, consider a phone service with more customer support options. For one possibility, see our review of Nextiva, which offers live chat, help tickets and phone support.
Limitations
While Zoom Phone has many excellent attributes, we found it difficult to navigate the vendor's website and choose a service plan. The company isn't forthcoming about customer support options, and it's challenging to understand what features and services come with Zoom Phone versus paid Zoom One subscriptions. We preferred Ooma's approach because the provider uses plain language and has comprehensive plan documentation that makes it easy to understand the offerings. 
Zoom also lacks built-in artificial intelligence meeting tools. We would like to see features like Dialpad has — that system can capture important moments and action items, allowing businesses to generate insights from voice and video conversations. Look at our review of Dialpad to learn in detail how it differs from Zoom. 
Methodology
We assessed dozens of business phone systems and spent hours and hours testing various services. Our evaluations looked at ease of use, basic and advanced features and pricing. We interacted with customer service teams and performed various tasks, from creating breakout rooms to brainstorming over whiteboards, to thoroughly examine how each system worked. To determine the best solution for businesses prioritizing video conferencing, we considered meeting capacity limits, video tools, time restrictions, usability and costs. Explore other factors to keep in mind in our guide to choosing a business phone system.  
FAQs
Zoom is a publicly traded company that offers one platform for internet-based calling and video conferencing tools. Zoom Phone is one of Zoom's products that provides metered and unlimited VoIP calls.  
Millions of people use Zoom meetings to stay connected with co-workers and friends. Since it's widely used, people feel comfortable interacting on the platform. This familiarity gives the vendor a competitive edge with its Zoom Phone product. Furthermore, with the addition of internet calling, users can save money and complete many business tasks on the Zoom platform.
Meeting disruptions, often referred to as Zoom bombing, are less prevalent in 2023, thanks to changes the company implemented and actions users take. Zoom upped its rewards for bug bounties (compensating qualifying users for identifying security flaws) and encouraged users to enable security options, like end-to-end encryption and waiting rooms.
Bottom Line
We recommend Zoom Phone for …
Organizations that hold many large video conferences.
Small and midsize businesses with remote employees.
Companies with dedicated IT teams.
We don't recommend Zoom Phone for …
Small teams switching from landline to cloud-based phone systems.
Companies that make a lot of international phone calls. 
Businesses that want free 24/7 customer support.