8×8 is an excellent business phone system for growing your business at scale. It features one of the least expensive entry-level plans and scales to call center software without switching platforms, so it's ideal for small businesses looking to expand.
Looking for more options?
Check out The Best Business Phone Systems of 2023 business.com recommends.
The best communication services support companies as they expand their workforce and customer base globally. The 8×8 X-Series is our top choice for a business phone system if you're scaling your organization. It provides unlimited voice calling to 14 or 48 countries (depending on your package) and allows network administrators to mix and match subscriptions for sales representatives, supervisors and call center agents. Both large and midsize businesses benefit from considering 8×8 when exploring the top business phone systems. 
8x8 Editor's Rating:
8.8 / 10
Pricing/value

9/10

Features

9/10

Customizations, add-ons and integrations

9/10

Ease of use

8.5/10

Customer support

8.5/10
Why We Chose 8×8 for Growing Businesses
As a business expands, job roles and locations change. The 8×8 X-Series provides key communications features that large organizations and small businesses need, including audio conferencing, video meetings and a multilevel auto-attendant. We like how you can mix and match plans to give individual employees the tools they need while saving on subscription and international calling costs. 
Companies can scale their communications suite to provide multilingual chat support and meet the demands of increasing call volumes by adding contact center services. Integrations with highly rated CRMs (customer relationship management software) allow a sales team to efficiently reach clients and document interactions. 
8×8's Experience Communications as a Service (XCaaS) platform relies on Voice over Internet Protocol (VoIP) technologies and has a desktop client and mobile app. Its admin console improves operational visibility, while the front desk app lets receptionists route calls to anyone in the company's global directory. 
Unlike other unified communications providers, 8×8 X-Series subscriptions offer a direct inward dial phone number or virtual number for more than 120 countries. All plans provide call center features like hot desking and ring groups — which means 8×8 has everything you need to keep your workforce connected as your company grows.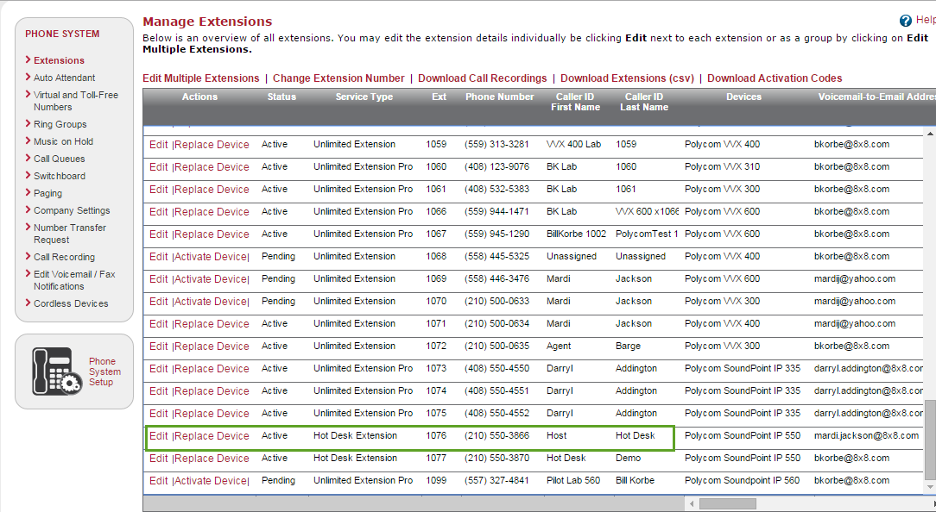 Use hot desking for employees that rotate among desks and shifts. Source: 8×8
Explore different types of business phone systems to find solutions that grow with your company. Always plan for end-user and administrator training before you deploy a VoIP service.
We like that 8×8 allows users to add a custom status message in addition to standard presence data. It also syncs to your calendar. You can select which message to display when you have an event. The team messaging and chat room feature is less customizable than RingCentral's, but we didn't have problems creating messages, adding attachments, or opening new public or private chat rooms. Check out our RingCentral review to see how it compares to 8×8.
8×8 X-Series Features
With advanced features and administrative controls, businesses can give employees access to additional functionality by enabling optional 8×8 functions by user, department or company. We like that all subscriptions include internet faxing, unlike RingCentral's offering. Below, explore the 8×8 X-Series tools designed for growing companies.
Multilevel Auto-Attendants
8×8's multilevel automated receptionist supports complex call flows common with larger organizations. Most VoIP providers include a virtual receptionist with base plans but lock multilevel attendants behind higher-priced tiers. We love that 8×8 includes this feature with all subscriptions. We also appreciate 8×8's built-in configurations for alternate menus, allowing administrators to immediately switch to a substitute auto-attendant during an unplanned event affecting phone service. You can designate alternate menu greetings and call-forwarding rules to ensure business continuity, even if one or more of your locations cannot accept calls.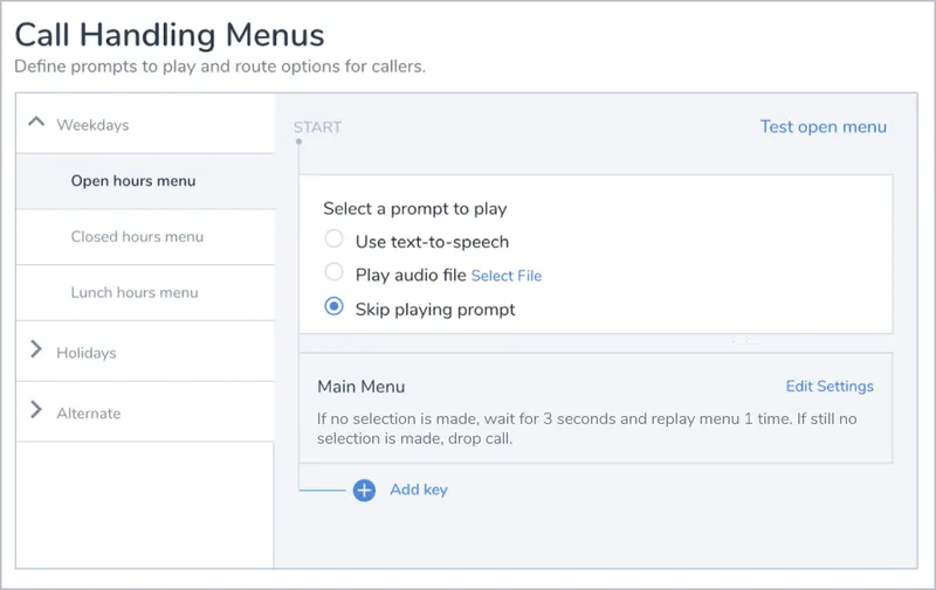 You can personalize caller experiences with 8×8's auto-attendant. Source: 8×8 
Multisite Support
Many internet-based phone systems work across multiple locations depending on the provider and plan. 8×8's multisite support sets it apart from competitors because the platform's Configuration Manager can automatically generate a new branch so administrators don't have to start from scratch. The ability to view and control all branch phone systems from a single application ensures consistency and helps with quality management as a company expands.
8×8 uses patented technology that routes calls to the nearest data center automatically. This improves call quality, even if you're a continent away from your customer.
Cross-Platform Team Messaging
Although many VoIP services include team messaging as a standard feature, 8×8 goes above and beyond with its multiplatform team chat tool. It uses Sameroom, a messaging relay service, to pull conversations from external chat platforms, including Slack, Telegram and Fleep, into the 8×8 Work app. Like other business phone systems we reviewed, 8×8 team chat spaces support file sharing, private and public rooms, and one-click video and voice calls. [Check out the most effective apps for internal communications.]
Integrations
Integrations are vital for scaling a business efficiently. Most VoIP services support connections with Google Contacts or Microsoft Outlook, but few include CRM integrations on entry-tier plans. In contrast, we love that the 8×8 X-Series integrates with 60 programs, including feature-rich CRMs like HubSpot. 8×8 Voice for Microsoft Teams is an add-on for business communications plans and is standard on its contact center packages.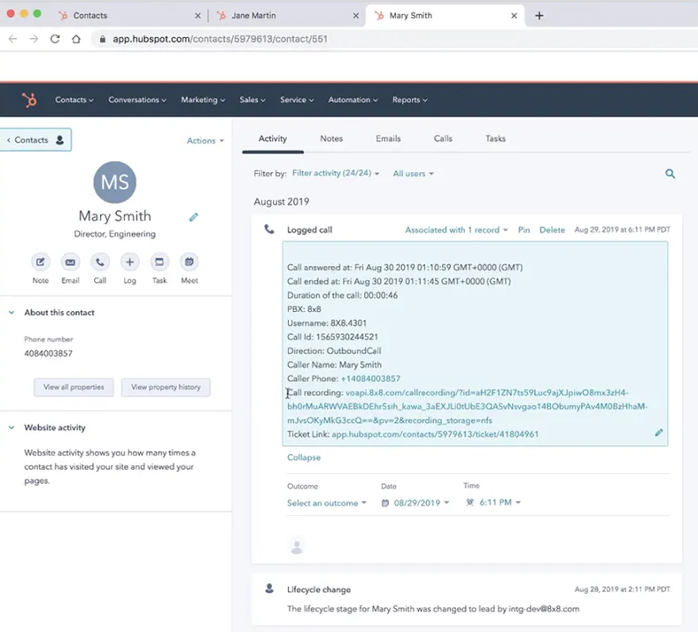 You can save time by automatically logging 8×8 calls in HubSpot. Source: 8×8
8×8 recommends using the 8×8 phone app for Microsoft Teams integrations, which lacks some features found on the 8×8 Work apps. If your employees rely on Microsoft Teams, see our Nextiva review and Nextiva comparison; the Teams integration comes free with Nextiva's Enterprise plan.
Audio and Video Conferencing
Many VoIP phone services offer audio and video conferencing features, but few include conference calling on entry-tier plans. 8×8's VoIP solution, including the lowest-level package, has a 500-person video and audio conferencing limit, compared to 1,000 audio conference attendees with RingCentral and up to 500 video participants on Zoom. It provides plenty of features for interactive meetings, such as screen sharing, breakout rooms, live emoji reactions and instant polls.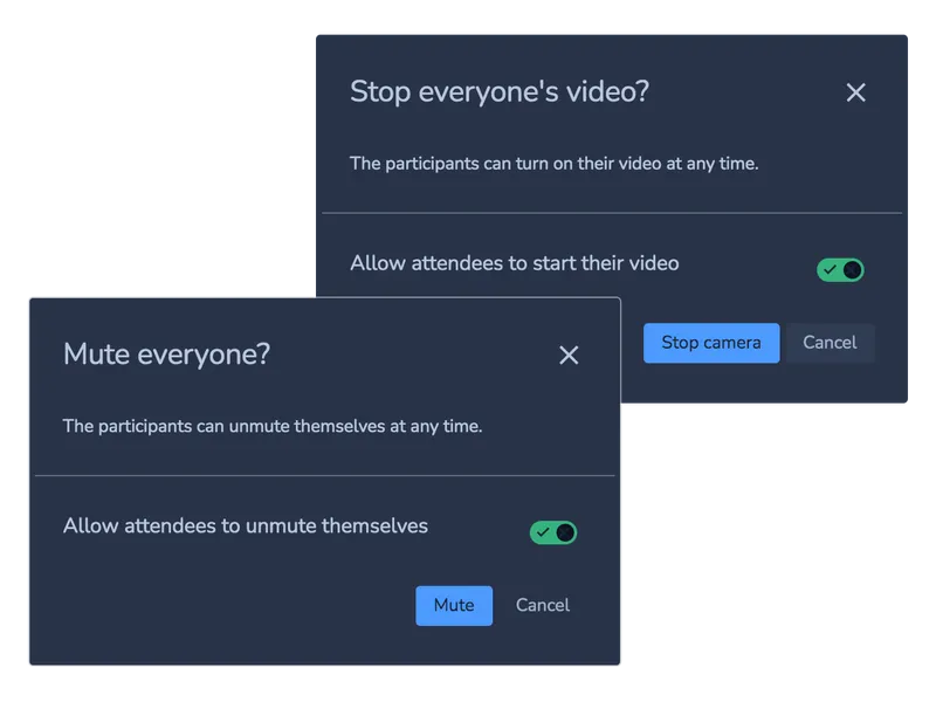 You can facilitate large meetings with 8×8's moderation tools. Source: 8×8
Call Queues
Several unified communications system providers offer call queues, which help businesses with high call volumes improve the caller experience. We like that 8×8 lets companies create primary and secondary members for each queue. This is a great way to ensure coverage during peak calling times. 8×8 call queues also allow admins to specify the max number of callers per queue. [Read related article: How to Win Customers Over the Phone]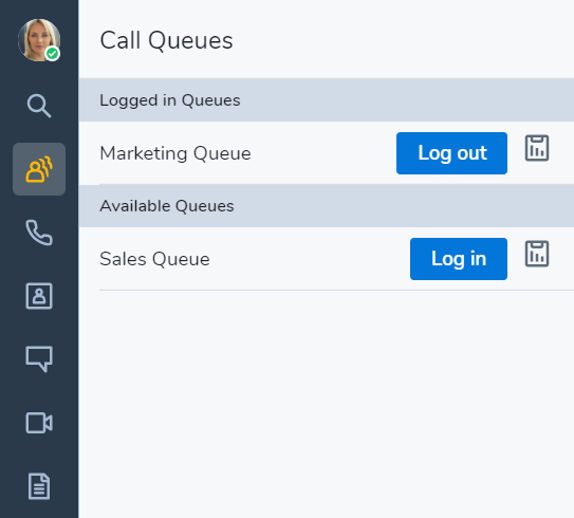 It's easy for employees to log in or out of call queues. Source: 8×8
8×8 X-Series Pricing
The 8×8 X-Series includes five service plans: two for unified business communications and three for contact centers. The per-user fees range from $28 to $140 per user per month. Companies can save up to 23 percent annually by prepaying for X2 and X4 plans. Unfortunately, unlike with other VoIP providers, you must speak with the 8×8 sales team before buying a subscription. 
Also, while current 8×8 Express plan users can continue using the service, the vendor no longer offers this package to new clients. This makes its current starter plan more expensive than Zoom, Ooma Office and Dialpad. It's worth noting that in our review of Zoom Phone, we found its Business Plus plan an excellent value. Like 8×8, you can mix and match subscriptions and scale services as your company grows.
All 8×8 X-Series subscriptions include video and audio conferencing with 500 participants, single sign-on support and voicemail transcriptions. Other business phone systems charge a premium for hot desking and higher video meeting capacity, whereas the 8×8 X2 plan is priced reasonably. Regardless of the package you choose, we love that users can leverage out-of-the-box integrations with CRM, support and productivity applications.
Here's how 8×8's pricing and features differ between plans.
8×8 X-Series service plan

Price with monthly billing (cost per user per month)

Price with annual billing (cost per user per month)

Key features

X2

$28

$24

Unlimited voice calling to 14 countries
Hot desking
SMS/MMS
Team chat 
Document sharing
Call recording

X4

$57

$44

Everything in X2, plus:

Unlimited calling to 48 countries
Barge, monitor and whisper
8×8 Frontdesk for receptionists and operators

X6

$85

Not available at annual rate

Everything in X4, plus:

Skills-based routing
Unlimited media storage
Supervisor analytics
Post-call surveys
Contact center reporting and analytics

X7

$110

Not available at annual rate

Everything in X6, plus:

Omnichannel routing of voice, chat, emails, SMS, social media and messaging apps
Communication via chat, email, SMS and social media channels
Unlimited extension-to-extension calling
Co-browsing

X8

$140

Not available at annual rate

Everything in X7, plus:

Auto-dialer: preview, progressive and predictive
Quality management and speech analytics
8×8 offers phone equipment for sale or lease, starting at $5 per month. However, it doesn't publicly disclose pricing for other add-ons — business phone system users can add 8×8 Voice for Microsoft Teams or Conversation IQ for speech analytics and quality management to the X2 and X4 plans. Meanwhile, rivals like Dialpad include business intelligence features in their packages for a lower cost. 
The vendor's Contact Center plans (X6, X7 and X8) offer the above add-ons as well as an auto-dialer, Intelligent Interactive Voice Response (IIVR) and 8×8 Secure Pay. We especially like the last option, a payment processing tool that lets your customers add payment information through a secure interface. 
Implementation/Onboarding
As with other cloud-based business phone services, you don't need special wiring or the hardware required by traditional solutions to use 8×8's services. Once configured, employees can access team messaging and calling tools using a desktop client, browser or mobile app. Administrators can add users individually or through the bulk-upload tools. We like how 8×8 automatically sends new users an onboarding email with download links and a quick tutorial.
Since 8×8 offers many advanced features, it can be time-consuming to configure. We recommend that business owners assign an account administrator to set up new users, company directory and business hours. 
Otto, the system's AI-powered assistant, helps with training and onboarding. It works in the 8×8 admin portal, knowledge base and the 8×8 support portal (My 8×8). 8×8 also provides free online training and paid courses through its 8×8 University, which is similar to what RingCentral offers. However, we preferred the free live training sessions offered by Vonage and found Nextiva's support center easier to navigate. 
Onboard your team quicker by creating a checklist for new users, provide links to role-specific tutorials and webinars (free through 8×8), and remember to give options for different learning styles, including videos and written instructions.
Customer Support
Although the 8×8 X-Series provides 24/7 customer support for all accounts, customer reviews suggest that reaching and understanding some agents is difficult. Users can submit a support ticket, chat online or call 8×8, but the availability and ease of use vary. For example, you'll have to jump through a few hoops (roughly seven to eight mouse clicks) to reach a human via the live chat tool. 
The vendor has eight U.S. and international customer service numbers. While phone support is available 24/7, 8×8 will route callers to Otto during peak hours. That can be a drawback for businesses that rather deal with a human agent than a virtual one.
Limitations
Some 8×8 features, like call barge, whisper and monitor, are found only in the platform's pricier plans. Competitors like Zoom Phone include these tools with metered and unlimited calling subscriptions. 
The higher monthly cost of 8×8 may also deter business users. If your employees are based in the U.S. but your customers live worldwide, look at our review of GoTo Connect, which we found to be the best phone system for international calling, and which comes with call monitoring features as well.
It should also be noted that 8×8 no longer supports overhead paging systems. Businesses with warehouses or shops may prefer another vendor. Check out our review of Ooma, which works with analog paging systems and physical fax machines. 
Methodology
We evaluated various phone systems, including unified communications platforms for small to midsize teams and VoIP services for solopreneurs, in our search for the best solutions on the market. Our process involved testing features, using mobile and desktop applications and interacting with customer service. With 8×8, we closely examined its tools that support businesses as they expand operations, including call center capabilities for handling higher call volumes. Also, we assessed 8×8's pricing, performance and ease of use. Review our guide on choosing business phone systems to learn how usability and ease of implementation should factor into your decision-making process.
FAQs
Yes, you can record your calls or those of trainees with 8×8. Save the recordings to your device, 8×8's cloud or your Dropbox account. 
Yes, you can use 8×8 on your smartphone. Download the 8×8 Work app for Android or iOS devices to make and receive calls from your cell phone. The app uses your phone's data or Wi-Fi. You can also use the app to send text messages and host video conferences. 
Bottom Line
We recommend 8×8 for …
Organizations with growing remote, onsite and hybrid teams.
Companies looking for high-capacity video conferencing.
Businesses with international customers or employees.
We don't recommend 8×8 for … 
Businesses that need monitoring features at a low price.
Small companies with 10 or fewer users.
Solopreneurs looking to add a second phone number.