8x8 Review
8x8 is our choice as both the best phone system for small businesses and the best video conference service in a unified communications system. It has everything small businesses look for in a unified communications system at a price that is hard to beat. What really sets 8x8 apart is its starting price, which is lower than all of its competitors' starting prices. The ability to use this service for as low as $12 a month per user will appeal to many small businesses and is something not many other business phone systems can offer.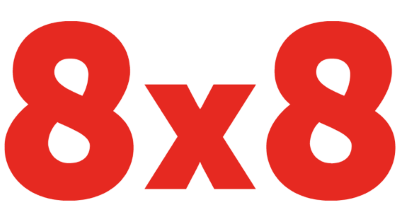 8x8
The Verdict
8x8 is our pick for the best phone system for small businesses because it is easy to manage and fits a variety of budgets. It is also our choice for the best video conferencing service within a unified communications system.
In addition to its affordable price tag, the system is easy to use and includes all of the calling, mobile, and conferencing features a small business needs. Each license includes video conferencing capabilities that give each employee the ability to host meetings with up to 50 people at a time.
Editor's note: Interested in a business phone system? Fill out this questionnaire to have our vendor partners contact you with more details.
8x8 Phone System Summary
| | |
| --- | --- |
| Hosting Method | Cloud |
| Features | 100+ |
| Free Trial | Yes |
| Monthly price range | $12 - $57 per user |
8x8 Pricing
The pricing options for 8x8 are a big part of its appeal. Its Express package is built with small businesses in mind and has one of the lowest per-user costs we found in our research of business phone systems. Such a low cost gives small businesses the ability to use a top-notch phone platform without hurting their bottom line. The other plans allow you to add on services as your business grows, so if you outgrow the Express plan, you can easily upgrade to one of the other options.
8x8 offers three small business service plans that differ in the included features and prices. However, all 8x8 plans include unlimited calling, text messaging, instant messaging, an auto-attendant, voicemail, cloud recording, team messaging, mobile and desktop apps, and calendar integrations with Google Workspace and Office 365.
Each plan also includes audio and video conferencing that allows for meetings with up to 100 people at a time.
Here's a breakdown of the plans:
The Express plan costs $12 per user per month. This plan is designed for very small businesses with just a handful of employees.


The X2 edition is $24 per user per month when billed annually, or $32 per user per month when billed monthly. This plan has a 14-country unlimited calling zone and includes personal call analytics, integration with Salesforce, online faxing, and call queues. It also has advanced calling features and a multilevel auto-attendant.


The X4 edition is $44 per user per month when billed annually, or $57 per user per month when billed monthly. It includes everything in the X2 edition plus a 47-country unlimited calling zone; supervisor analytics; call quality reporting; and barge, monitor, and whisper functions.
If your business requires contact center services, 8x8 offers three additional plans, which range from $112 to $219 per month per user.
Customers sign at least a 12-month contract.
8x8 Features
8x8 offers all of the calling, collaboration and mobile tools small businesses find most valuable. The system has more than 50 standard features and more than 20 optional features.
The features small businesses will find particularly useful are unlimited calling, texting and faxing, visual voicemail, call recording, music on hold, ring groups, call monitoring, three-way calling, caller ID, call blocking, and call queues.
The system integrates with a number of programs your small businesses might already use, including Office 365, Microsoft Outlook, Google Workspace, Slack, Salesforce, HubSpot, Zendesk and Zoho. 8x8 offers more than 25 built-in integrations in all, which is equal to or more than the integration selections many of its competitors offer.
Your employees can use the 8x8 mobile app to tap into their business phone lines from their smartphones. With the app, which is available on iOS and Android devices, employees can make and receive calls from their business lines, chat with other employees, check their voicemail, see the status of co-workers, join and collaborate in online meetings, and view their online faxes.
8x8 has a conference calling service built into its phone system service. With the conference bridge feature, which is included at no extra charge, each employee can hold their own conference call with up to 15 callers.
FYI: In addition to the mobile app, 8x8 has a desktop app that lets employees access the phone system straight from their computers. Not all business phone systems provide desktop apps.
Video Conferencing
Each user license includes video conferencing services. This means all users can host HD video meetings with up to 50 participants whenever they choose. What's nice is that all of the meeting's attendants are visible on the other users' screens. Other video conferencing services we evaluated limit the number of video feeds that can be on during a video conference.
8x8's video conferencing system has a variety of features, including both HD video and audio for crystal-clear picture and sound. One of the most useful tools is screen sharing. The meeting host can share their desktop with attendees, which is helpful when they're giving a presentation, highlighting information in a document or explaining how to use the software.
This video conferencing service also includes meeting recording options, integrated scheduling with Microsoft Outlook and Google Calendar, the ability to add co-hosts to a meeting, and team and private chat tools.
You can start or join an 8x8 video conference from a computer or mobile device, and you can add video conferencing equipment to a conference room to participate in meetings that way.
If attendees can't join a meeting over video feed, dial-in numbers allow them to connect by phone. While they won't be able to see what is going on, they can still hear the audio and join in the conversation.
All of 8x8's service plans include video conferencing; there is no additional cost for these services.
Did You Know?: You have the option to expand a conference's reach by streaming it over your YouTube channel. With this approach, which turns your conference into a webinar of sorts, up to 100 people can attend your meeting. However, in this scenario, not everyone can have their camera turned on.
8x8 Pros
Several factors make this an excellent phone system for small businesses. Most importantly, you don't need in-house IT staff to install it, because 8x8 is a cloud-hosted VoIP system that doesn't require any special equipment or wiring. 8x8 also handles all of the maintenance and upgrades.
Since the system runs on a data connection, all you have to do to use 8x8 is properly configure your routers and ensure your business has the necessary bandwidth to handle the volume of calls you expect. With that, it's as simple as plugging phones into an Ethernet port to start making and receiving calls.
For established businesses, 8x8 allows you to bring your current phone number with you to your new phone system for no additional cost. This process typically takes at least eight days for a local number and up to five weeks for a toll-free number.
The entire system is controlled through an online portal. Admins log in to the portal (which 8x8 calls the Configuration Manager) to assign employee telephone numbers and extensions, set up the automated attendant, and create ring groups. All of this can be completed on a self-service basis; it doesn't require the assistance of an IT team.
Employees can also log in to the portal to manage their phone features from anywhere. From the portal, they can access the softphone, check their voicemail, view a company directory, message other users, see which of their co-workers are free and which are busy, and conduct online video conferences. They can also download a desktop app to access the system.
To get businesses up and running smoothly with the system, 8x8 provides one free hour of training from a technical installation specialist. More hands-on and on-site training is available at an extra cost.
Did You Know?: 8x8 is an extremely reliable service. It has a 99.999% uptime, meaning the system is only down for a few minutes each year. In addition to its high uptime, 8x8 has 15 data centers worldwide. This built-in redundancy allows the company to easily move data around should one of its centers go down. All of the data centers are SSAE 16 audited.
8x8 Cons
There aren't many negatives with 8x8, but one downside is its status with the Better Business Bureau (BBB). As of March 2021, 8x8 had an F rating with the BBB. The company has 149 complaints closed in the past three years, which isn't an extremely high number. However, there have been 86 complaints that 8x8 has not responded to, which is part of the reason for the company's F rating. The BBB also states that 10 complaints went unresolved.
Customer Support
Despite the BBB rating, 8x8 provided some of the best customer service we encountered during our research. We contacted the company multiple times by phone, email and live chat, posing as a small business owner interested in phone systems over the past five years.
Our calls were always immediately answered, and the representatives we spoke with were extremely helpful. They answered our questions thoroughly and left us with a clear understanding of what the service offers and how it works. We never felt pressured to make an immediate decision on the service. Not all of the services we evaluated operated in that manner over the phone.
We followed up with some representatives by email. Each time, they quickly answered our messages, giving us the information we were looking for. In addition, they always offered to host a call with us to discuss the issue in more detail and answer any other questions we had.
We also tested 8x8's live chat support. While you are initially greeted by a chatbot that tries to answer your question first, you can request to connect with a live person. When we did so, our questions were answered right away.
Customer support is available by phone, email, chat and the 8x8 website. Additionally, the website features a number of valuable resources, including white papers, infographics, data sheets, videos and webinars.
Editor's note: Looking for the right video conference service for your business? Fill out the below questionnaire to have our vendor partners contact you about your needs.
Image Credit: scyther5 / Getty Images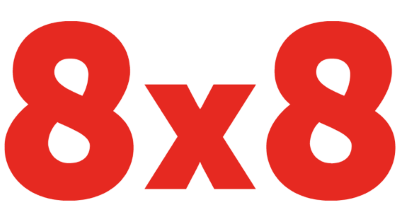 8x8
The Verdict
8x8 is our pick for the best phone system for small businesses because it is easy to manage and fits a variety of budgets. It is also our choice for the best video conferencing service within a unified communications system.

Chad Brooks
business.com Staff
Chad Brooks is a writer and editor with more than 20 years of media of experience. He has been with Business News Daily and business.com for the past decade, having written and edited content focused specifically on small businesses and entrepreneurship. Chad spearheads coverage of small business communication services, including business phone systems, video conferencing services and conference call solutions. His work has appeared on The Huffington Post, CNBC.com, FoxBusiness.com, Live Science, IT Tech News Daily, Tech News Daily, Security News Daily and Laptop Mag. Chad's first book, How to Start a Home-Based App Development Business, was published in 2014.