8x8 Review
By Chad Brooks
Last Modified: September 6, 2018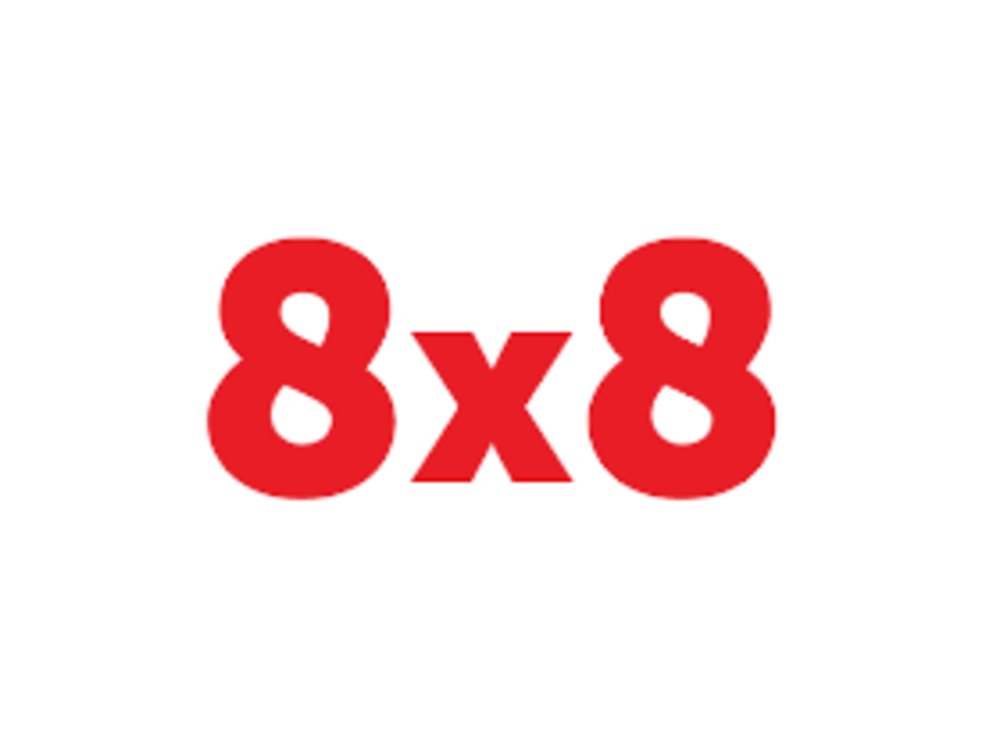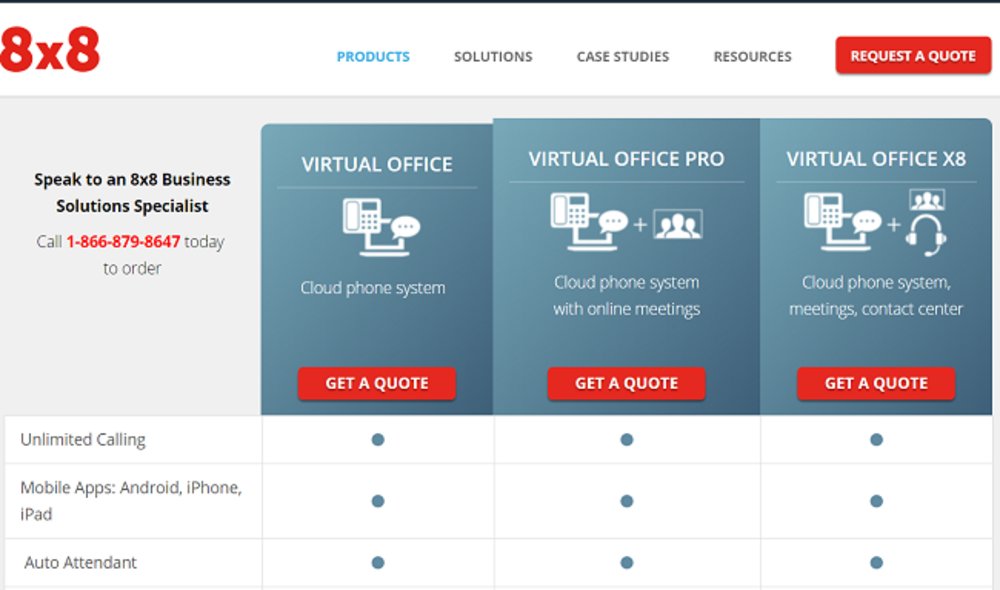 There are a few different levels of services offered. Business can choose the option best for them.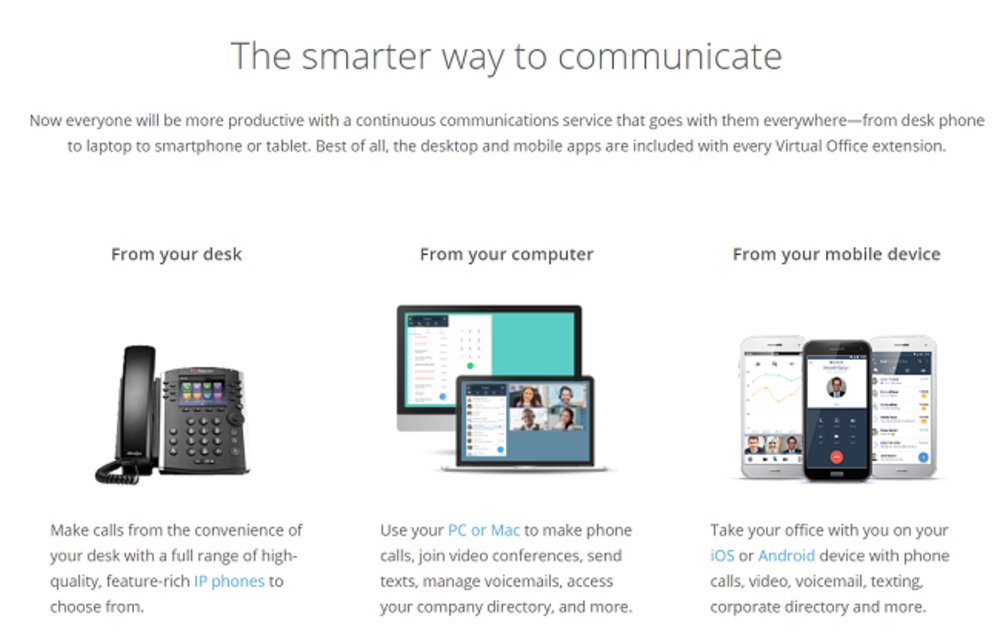 8x8 is easy to use, cloud-based and contains many features. The service is ideal for smaller businesses.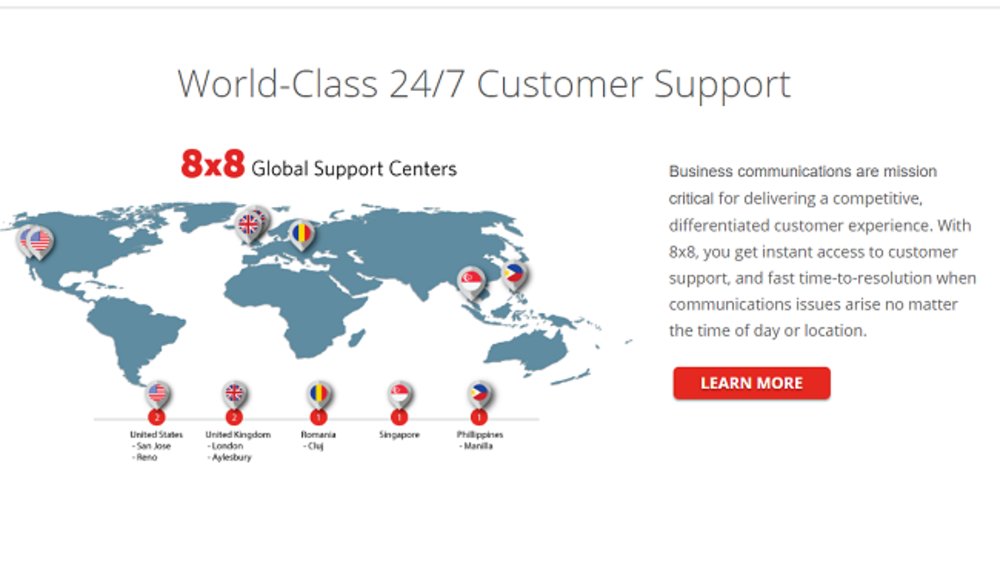 The company has customer service locations across the globe.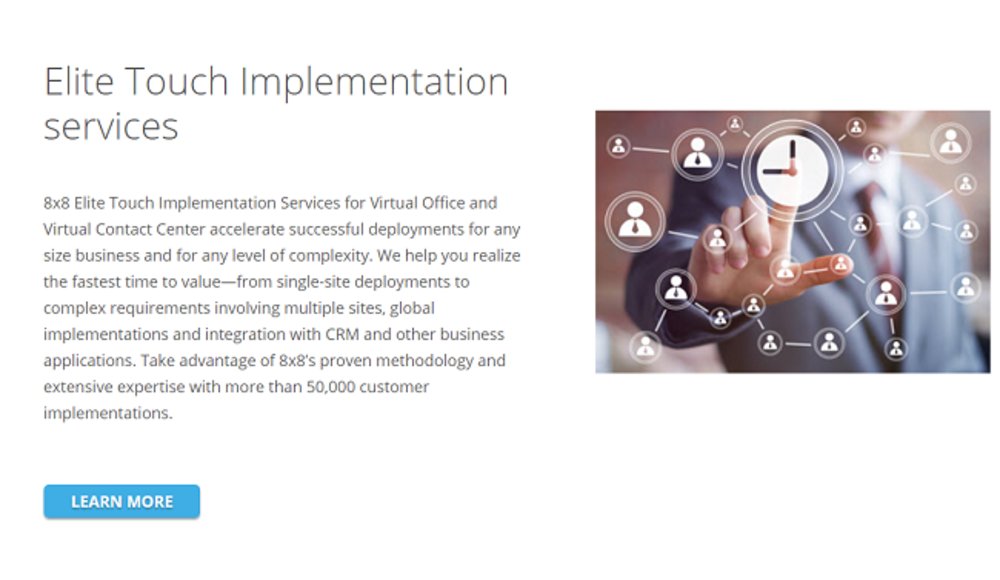 8x8 is one of the top business phone systems options for small businesses.
Small businesses looking for a phone system should be focused on a few factors. You most likely don't have a full-time IT staff to handle installation and maintenance, so you'll want a business phone solution that doesn't require much installation or upkeep. With this in mind, a cloud-hosted VoIP phone system is a good fit. There is nothing to install and the phone system provider handles all maintenance and upgrades. These types of systems all offer fixed monthly costs, so it's easy to budget for them.
Small businesses also want a phone system that is feature rich, but doesn't break the bank. Auto-attendants, voicemail, voicemail-to-email, ring groups, mobile apps, collaboration tools and conference calling are all features small businesses will want from their phone system. You can read more about why we believe 8x8 is the best business phone system for small businesses below.

8x8
Business Phone Systems
The Verdict
8x8 is our choice as the best phone system for small business because is easily managed via an online portal, doesn't require a trained IT staff to keep it up and running, and it's available in several service plans that fit a variety of budgets.
Compare Quotes ▶
Why 8x8
8x8 is our choice as the best phone system for small businesses because it is hosted in the cloud, easy to use, has a wide assortment of valuable features, is affordably priced and reliable, and provides excellent customer support. 8x8 also offers contact center services and supports business with multiple sites. This is an excellent phone system that is well suited for small businesses, especially those looking for a VoIP phone system that includes all the bells and whistles they could want.
View all our recommendations for business phone systems on our best picks page.
Competitive Pricing and Terms
8x8 offers three service plans that differ in the included features and prices. All plans include unlimited calling, text messaging, instant messaging, an auto-attendant, voicemail, single sign-on, mobile and desktop apps, access to call analytics, call queues, HD voice, and integration with Salesforce, Zendesk and NetSuite CRM.
Here's a breakdown of the three plans:
The X2 Edition is the cheapest at $25 per user, per month. This plan has a 14-country unlimited calling zone, 1 GB of media storage, and audio and video conferencing for up to five participants at a time.
The X5 Edition, $35 per user, per month, includes a 32-country unlimited calling zone, 5 GB of media storage, audio and video conferencing for up to 25 participants, call recording, and an operator switchboard.
The most expensive plan is the X8 Edition, which is $55 per user, per month. It includes a 48-country unlimited calling zone, 10 GB of media storage, audio and video conferencing for up to 50 participants, call recording and an operator switchboard. It also includes an assortment of contact center features, such as inbound and outbound contact center services, Salesforce analytics, supervisor analytics, 2,000 contact center minutes, 3 months of contact center call recording storage and a contact center visual IVR.
Customers sign at least a 12-month contract. However, fees are paid monthly and not annually.
8x8 Features
8x8 has an impressive set of features. It offers all the calling, collaboration and mobile features and tools small businesses find most valuable. In total, the system has more than 50 standard features and more than 20 optional features.
Calling features include automated attendants, hold music, directory assistance, ring groups, call forwarding, call waiting, caller ID, caller ID blocking, voicemail, voicemail-to-email, and extension dialing. Other call-related features that come standard with every plan include call transfers, three-way calling, do not disturb, group call pick up, intercom paging and call parking.
8x8 offers tools that make it easy for employees to work with their peers and clients. Collaboration tools include instant messaging, a presence feature that show employees which of their peers is available and who is busy, and the ability to host online meetings that allow for screen sharing.
The 8x8 system integrates with a number of programs many small businesses are already using, including eAgent, Click2Pop, Netsuite, Zendesk, Web Dialer, Skype, Desk.com, Google Calendar, Microsoft Outlook, Act!, Aryaka and Salesforce. These integrations allow for a wide range of added functionality, such as allowing employees to call contacts directly from some of those programs and keeping track of customer interactions.
With this service, employees can use a softphone that allows them to make and receive calls from their computer. All employees need to do is plug in headphones to start making calls. This feature comes standard with all plans.

8x8
Business Phone Systems
The Verdict
8x8 is our choice as the best phone system for small business because is easily managed via an online portal, doesn't require a trained IT staff to keep it up and running, and it's available in several service plans that fit a variety of budgets.
Compare Quotes ▶
The system has a mobile app that allows employees to tap into their business phone lines from their smartphones. With the app, which is available on iOS and Android devices, employees can make and receive calls, chat with other employees, check their voicemail, see the status of co-workers, join and collaborate in online meetings, and view online faxes.
Among some of the optional features that 8x8 offers include toll-free numbers, hot desking, 4-line appearance, virtual extensions, additional auto-attendants, switchboards, power keys service and deeper analytics reports. The company also offers audio production for businesses that are looking for professional audio recordings for their auto-attendants and IVR. Please note that there are added costs for the optional features.
In addition to the contact center services that are available in the X8 service plan, 8x8 also offers more robust contact center services. Three different contact center service plans are available: standard, pro and ultimate. Among the features and tools available in all three plans include skills-based routing, an FAQ knowledgebase, CRM integration, historical and real-time reports, internal chat for agents and supervisors, personal agent connect, live monitor, whisper and barge, standard IVR, queue callback, web callback, customer experience analytics, and post call surveys. Added features available in the Pro or Ultimate plan include proactive chat, enhanced IVRs, quality management, and additional wallboards.
For businesses with multiple locations, 8x8 offers a branch office feature that lets system administrators segment employee extensions based on their work locations. In addition, each location has its own unique employee directory, IVR script and presence management.
Conference Calling
8x8 has a complete conference calling service built into its phone system. With the conference bridge feature, which comes included for no extra charge, each employee can hold their own conference call with up to 15 callers. If your company is looking to host conference calls with more callers than this phone system provides for, you will need to use a conference calling service. These services allow for hundreds, and sometimes thousands, of callers on each call. You can find more information on these services on our conference call services best picks page.
Ease of Use
8x8 is a cloud-hosted VoIP phone system that doesn't require any special equipment or wiring. Since the system runs on a data connection, all businesses have to do to use 8x8 is properly configure their routers and make sure they have the necessary bandwidth to handle the volume of calls they expect. With that, it's as simple as plugging phones into an Ethernet port to start making and receiving calls.
A benefit of a cloud-based system is that you aren't responsible for any of the system's maintenance or upgrades. All of that is handled behind the scenes by 8x8.
For established businesses, 8x8 allows you to bring your current phone number with you for no additional cost. Please note, however, that this process typically takes at least 8 days for a local number and anywhere from two to five weeks for a toll-free number.
The entire system is controlled via an online portal. Those in charge can log in to the portal, which 8x8 refers to as the Configuration Manager, to assign employee telephone numbers and extensions, set up the automated attendant, and create ring groups. All of this can be completed on a self-service basis and doesn't require the assistance of an IT team to complete.
Administrators aren't the only ones who can take advantage of the 8x8 online portal. Employees can also log into the system in order to manage their phone features from anywhere. From the portal, employees can access the softphone, check their voicemail, view a company directory, instant message with other users, see which of their co-workers are free and which are busy and conduct online meetings. In addition to the online access, there is also a desktop app that employees can download in order to access the system.

8x8
Business Phone Systems
The Verdict
8x8 is our choice as the best phone system for small business because is easily managed via an online portal, doesn't require a trained IT staff to keep it up and running, and it's available in several service plans that fit a variety of budgets.
Compare Quotes ▶
To ensure businesses get up and running smoothly, 8x8 provides one free hour of training from a technical installation specialist. More hands-on and on-site training is available at an extra cost.
8x8 is an extremely reliable service. It has a 99.999 percent uptime, which is the highest uptime we discovered during our research of cloud-hosted business phone systems. The uptime data means the system is only down for just a few minutes each year. In addition to its high uptime, 8x8 has 15 data centers around the world. This built-in redundancy allows the business phone provider to easily move data around should one of the centers go down. All of the data centers are SSAE 16 audited.
Customer Support
8x8 provides some of the best support we encountered during our research of business phone systems. We contacted the company multiple times by phone and email posing as a small business owner interested in phone systems. Our calls were all immediately answered, and the representatives we spoke with were extremely helpful. They answered all our questions thoroughly and left us with a clear understanding of what the system offered and how it worked. We never felt that they were trying to pressure us into making an immediate decision on moving forward with the service; they always respected our timeline. Not all the other service we researched operated in that manner.
We also followed up with some representatives via email. Each time, our messages were quickly answered with all the information we were looking for. They also always offered to host a call with us to discuss the issue in more detail or answer any other questions we may have had.
Customer support is available via telephone, email, chat and online on a 24/7/365 basis. Additionally, the 8x8 website features a number of valuable resources, including whitepaper, infographics, data sheets, videos and webinars.
8x8 is an accredited member of the Better Business Bureau with an A+ rating. Over the past three years, 75 complaints have been filed against 8x8 with the BBB. Of those, 17 were resolved to the satisfaction of the complainant. The others were unresolved or the BBB had not heard back from the complainant on if they were satisfied with the resolution.
Drawbacks
While 8x8 offers round-the-clock support, there are times when the representative you are speaking with may be in another country. This can be a problem if you need service during an off hour and are unable to get the level of support you are immediately expecting. That being said, each interaction, regardless of the time we reached out, was a positive one.
8x8 recently changed its service plan offerings and raised some prices. Previously, the cheapest plan was only $19.99 per user, per month. Now, the cheapest plan available is $25. Additionally, 8x8 does make you sign a contract. Some of the business phone solutions we considered didn't require a contract, which allowed you to cancel at any time with no penalty.
Editor's Note: Looking for a business phone system? Click the Compare Quotes button below to have our sister site Buyer Zone connect you with vendors that can help.

8x8
Business Phone Systems
The Verdict
8x8 is our choice as the best phone system for small business because is easily managed via an online portal, doesn't require a trained IT staff to keep it up and running, and it's available in several service plans that fit a variety of budgets.
Compare Quotes ▶
Ready to choose your Business Phone Systems? Here's a breakdown of our complete coverage:

Chad Brooks
Chad Brooks is a Chicago-based writer and editor with nearly 20 years in media. A 1998 journalism graduate of Indiana University, Chad began his career with Business News Daily in 2011 as a freelance writer. In 2014, he joined the staff full time as a senior writer. Before Business News Daily, Chad spent nearly a decade as a staff reporter for the Daily Herald in suburban Chicago, covering a wide array of topics including local and state government, crime, the legal system and education. Chad has also worked on the other side of the media industry, promoting small businesses throughout the United States for two years in a public relations role. His first book, How to Start a Home-Based App Development Business, was published in 2014. He lives with his wife and daughter in the Chicago suburbs.