RingCentral vs. Nextiva Comparison
We compared RingCentral and Nextiva on pricing and essential VoIP phone system benefits. Here's how they measure up. 
RingCentral Telephony Features
Total call control: RingCentral offers call forwarding, call flip (transfer of the same call from one handset to another), call parking, call screening and many more calling features. We particularly liked its multisite management feature, which helps businesses connect different locations so they can act as a team.
Useful IVR features: We liked RingCentral's intuitive visual IVR Editor, which lets you customize how incoming calls and messages are handled. You can also program self-service options for callers, such as interactive menus.
Number flexibility: We were pleased that Nextiva lets you port an existing number over and add a local business phone number. This feature is particularly useful for service companies. You'll get between 100 and 10,000 inclusive toll-free minutes, depending on your subscription level.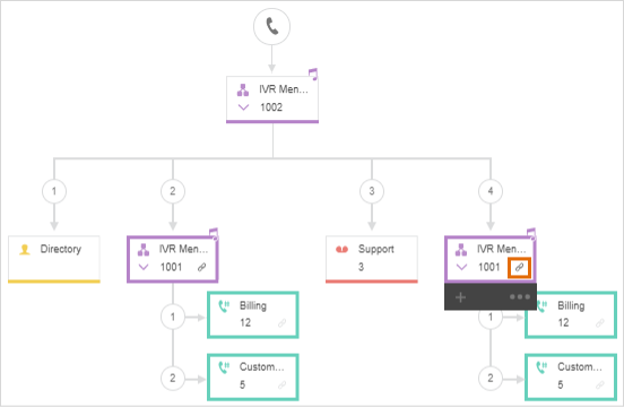 RingCentral's visual IVR Editor lets you customize how incoming calls and messages are handled. Source: RingCentral
Nextiva Telephony Features
Flexible call management: Nextiva offers advanced call-routing options like simultaneous and sequential ringing and call queuing. We like that the voicemail-to-text (or email) alert service ensures a quick response by notifying team members of new cases.
Well-executed IVR: We like that Nextiva's IVR system offers an automated menu to inbound callers. You can control how you handle incoming calls and direct calls to the most suitable representative, regardless of their location.
Brand-on-hold: We were pleased to see that businesses can project a positive brand image to waiting customers with custom voicemail greetings and ringback options. You can choose on-hold music or customize a recording for callers to listen to until their call is answered.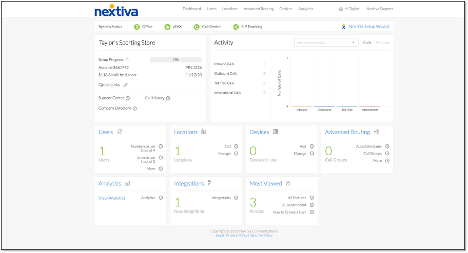 Nextiva's call-routing capabilities let you automatically forward all incoming calls to a specific number. Source: Nextiva
Winner
Both Nextiva and RingCentral offer advanced audio telephony, call routing and IVR features. Additionally, both make it easy to customize your phone system to suit your needs. We choose RingCentral as the winner for its telephony service because the vendor has more features and provides smart multisite management.
Cloud-based PBX phone systems use the internet and a VoIP service provider to maintain all the necessary phone system hardware and software.
RingCentral Communication and Collaboration Tools
Video conferencing: We like that RingCentral can help you get the most out of your video conferences. Its HD video conferencing system integrates with Google Calendar and Outlook, making it easy to schedule meetings and invite users. Robust features include screen sharing, waiting rooms, breakout areas (for smaller group sessions), closed captions for live meetings, virtual backgrounds and call-in audio.
Team collaboration: RingCentral's employee collaboration features impressed us. It offers multisite management, team messaging, conferencing and integrations with apps like Slack. These features make coordinating teams and improving communication easier, no matter how spread out they are.
Web chat: We really liked RingCentral's web chat feature. You can easily integrate web chat on your website, messaging apps and social media platforms. There are 20 ways to connect. Program your chatbot to answer common queries, easing your support team's workload. If human intervention is needed, the bot can send a message to the right agent based on query content and agent skill set.
Customer surveys: RingCentral lets you run customer surveys by email, SMS and chat, getting customer feedback at different points of the customer journey. Creating surveys for each channel is easy. You can also add a survey widget to your dashboard to see results and trends.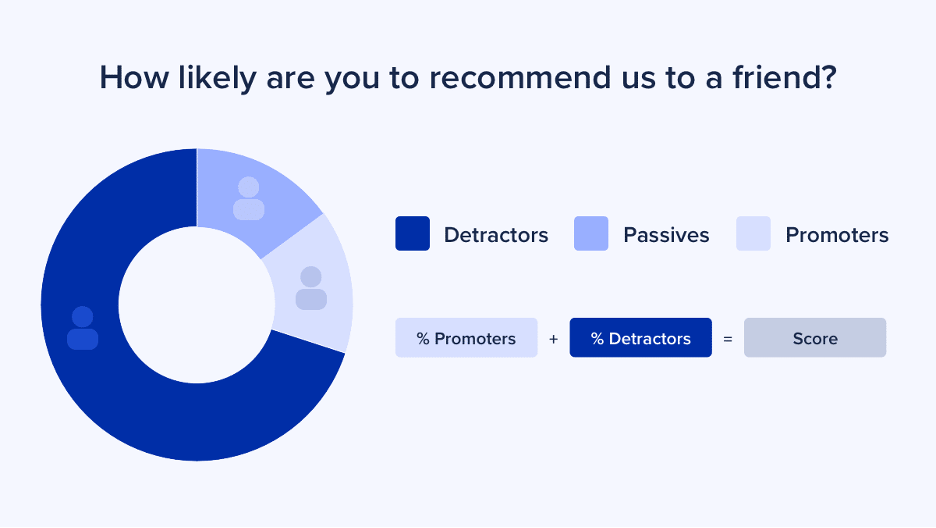 RingCentral's survey feature lets you check in on customers throughout the customer journey. Source: RingCentral
Nextiva Communication and Collaboration Tools
Video calls and conferencing: We like that Nextiva supports up to 25 video participants and up to 250 audio participants simultaneously in full HD video and audio for group discussions or one-on-one conversations. You can also create dedicated public and private rooms for enhanced team collaboration.
Live chat: We like that customers can use the web chat bot to create support tickets. Nextiva saves the chat logs to a customer's history if it knows their identity (and you enable the feature).
Customer surveys: Create and distribute customer surveys to find out what clients really think of your business and its service, gauge customer satisfaction levels, and learn where you can improve. 
If you need a stand-alone live chat solution, check out our reviews of the best live chat software to compare and contrast top providers.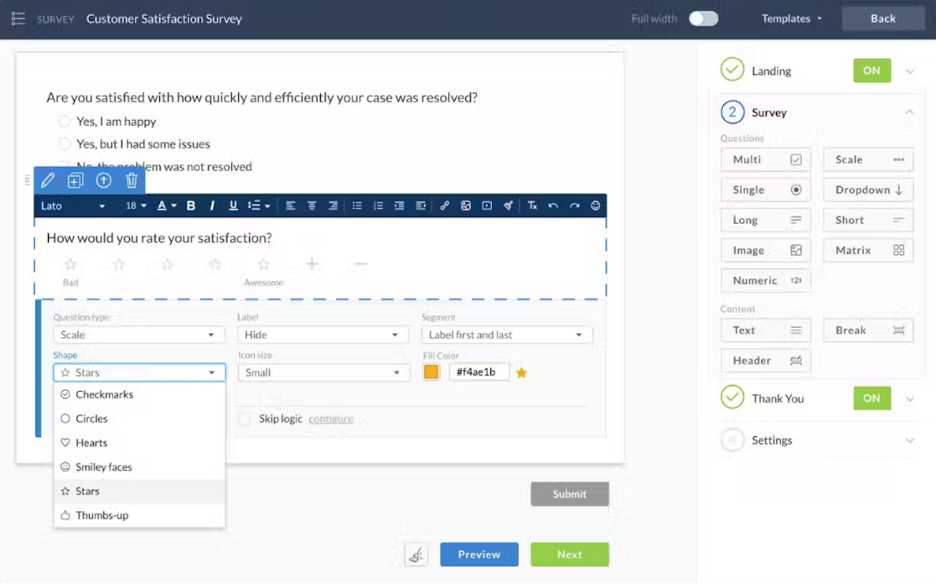 Nextiva's survey software allows you to customize surveys so they reflect your brand. Source: Nextiva
Winner
We prefer RingCentral's communication and collaboration tools. You can have up to 200 participants on a video call as opposed to Nextiva's 25. RingCentral's closed captioning is real time and impressive, allowing participants with hearing issues to participate. Both services offer excellent live web chat features. However, RingCentral's surveying features –  especially the ability to deploy surveys at different customer journey stages – are particularly valuable.
RingCentral Analytics and Reporting 
Call analysis and logs: We like that RingCentral delivers visibility on business performance through high-level and granular customizable insights on call volume and patterns. Business owners will benefit from an accurate overview of sales and customer support team effectiveness.
Customizable dashboards: RingCentral lets you monitor the data you want to see in real time on your dashboard. We like its range of customizable dashboard templates to help you get set up quickly. Set alerts to notify you promptly of issues like long call times, deteriorating call quality and compliance breaches.
Performance tracking: We also liked RingCentral's performance management tools that help you see how everyone on your team performs against the KPIs you set. This feature helps you maintain high standards across your business and can uncover valuable training opportunities to improve productivity and results.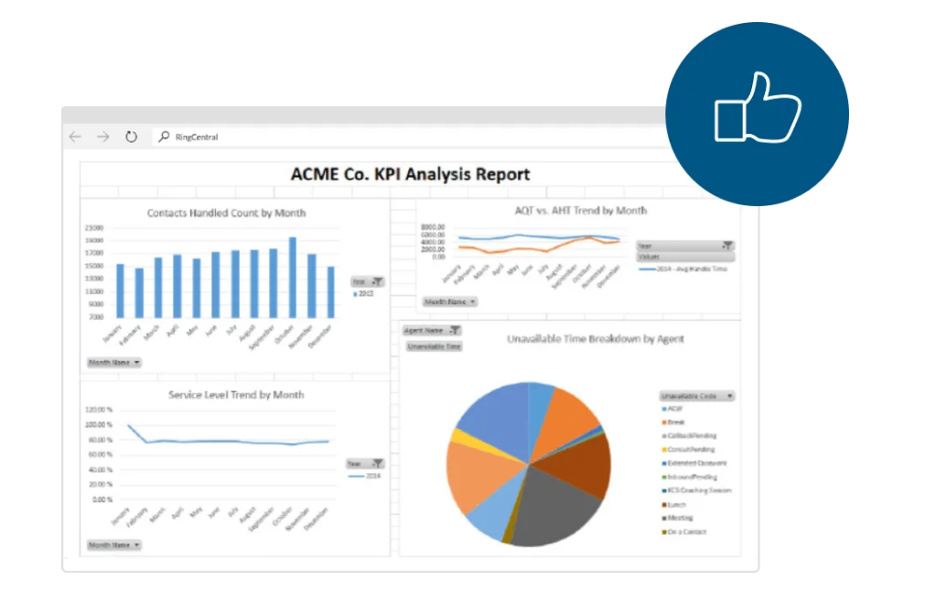 RingCentral provides predictive analytics to help you create better call flows and customer interaction strategies. Source: RingCentral
Nextiva Analytics and Reporting 
Comprehensive call analytics: We were impressed that Nextiva lets you choose from over 100 customizable templates to analyze areas like call routing effectiveness, staffing levels needed and customer journey drop-off. You can also get AI suggestions on metrics to measure and improve performance.
Customizable dashboards: Similar to RingCentral, Nextiva lets you build your own dashboards and wallboards to show co-workers and team members in real time how they stack up against company KPIs and metrics. We like that you can manipulate the visuals to make them more understandable. You can also filter reports and screens by individual and team output.
Marketing and campaign tracking: We really liked that Nextiva provides unique phone numbers for individual marketing campaigns so you can precisely measure response. This feature yields valuable data to help you maximize your marketing budget.
Motivation and gamification: Create custom scoreboards showing key metrics like talk time, handle time and first call resolution to encourage healthy workplace competition. We also like that you can connect Nextiva to office TV screens to display live rankings and recognize top performers publicly.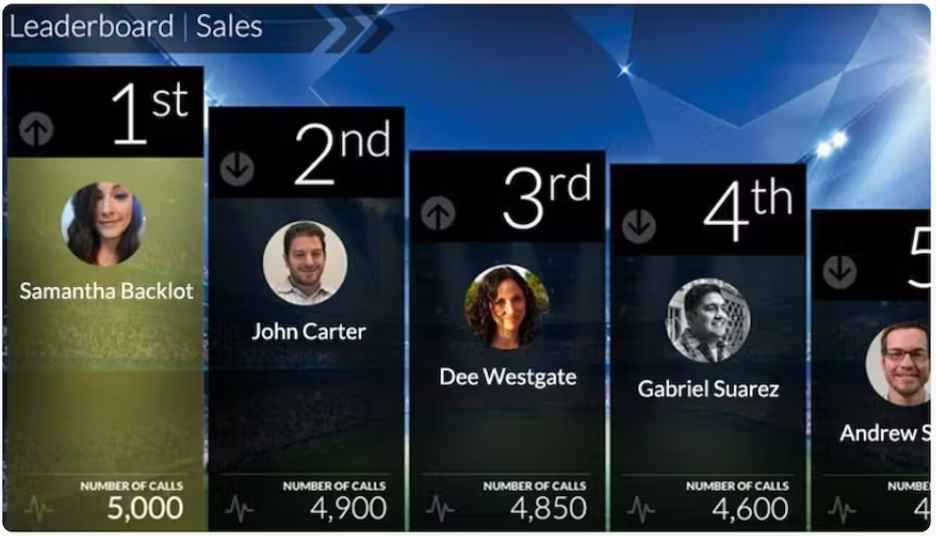 Nextiva lets you create custom scoreboards to display call metrics and encourage healthy competition. Source: Nextiva
Nextiva lets you sync marketing and campaign tracking data with Salesforce. Read our Salesforce Marketing Cloud review to learn more about this solution's wide-ranging capabilities.
Winner
Nextiva wins for analytics and reporting. While both platforms offer excellent call and activity analysis, customizable dashboards, and performance tracking, Nextiva's service is more in-depth and flexible. The gap between them is further widened with Nextiva's smart AI integration. We really liked that Nextiva's gamification and campaign-tracking features make it easier to improve employee performance.
RingCentral Onboarding, Ease of Use and Customer Service
Streamlined onboarding: We like that RingCentral's administrative portal is user-friendly; it's easy to set up new users and configure existing users' settings. We also like that the system is browser-based, so RingCentral requires no installation.
Intuitive usability: RingCentral's desktop dashboard features a smart and highly customizable navigation menu. Change the order of the menu tabs to suit your preference, and add new tabs for personal shortcuts. We were impressed by the unified inbox, which allows users to manage and retrieve client conversations from all channels in one space.
Leading customer service: RingCentral's customer support impressed us. The vendor offers 24/7 live phone support and chat for all account levels. Response times are excellent. There's an extensive online database of tutorials, training guides and webinars. There are also live training courses for an additional fee. RingCentral has an A+ rating with the Better Business Bureau, which it first joined in 2004.
Nextiva Onboarding, Ease of Use and Customer Service
Easy to get started: We appreciate that Nextiva's clear and comprehensive phone setup guide makes it easy for new users to add employees, create hunt groups, set auto attendants, assign phone numbers and more. You can download a specific desktop app (NextivaONE) or operate the system from a browser.
Simple to operate: The system neatly stores – and makes it easy to find – attachments, conversations, files and more. The NextivaONE interface makes getting the information you need straightforward without opening multiple windows. The analytics section is also very easy to use. Select Get Analytics to check out call volumes, call quality and more.
Great customer service: We like that Nextiva's customer service is available 24/7 by phone, email and live chat for customers on all tiers. The vendor recommends calling about urgent issues instead of using its ticketing system – an attentiveness we appreciate. We also like Nextiva's well-developed self-service options, including a searchable knowledge base, on-demand webinars and quick start guides.
Winner
Both companies excel when it comes to ease of use and around-the-clock customer service by phone, email and web chat. The knowledge base and self-service options are also exceptional. RingCentral narrowly wins this category because of its customizable dashboard, unified inbox and excellent BBB rating.
RingCentral Integrations
Many preexisting apps: We were impressed to see that RingCentral offers over 330 integrations, including CRM plug-ins, analytics tools and security-related services. Most apps are available to all subscribers no matter what service plan; some may incur additional charges.
Adaptive add-ins: We like that RingCentral add-ins allow you to complete tasks in other applications without toggling back and forth between windows.
API interface: We also like that you can use RingCentral's tools and software development kits (SDKs) to build your own apps with the precise functionality you want. There's an active developer community to help you if you need it.
Nextiva Integrations
Third-party integrations: Nextiva has over 100 popular app integrations, including Salesforce, HubSpot, Zendesk and Microsoft Outlook. However, we were disappointed that many integrations are available only with the Professional and Enterprise service plans.
APIs and SDKs: We like that Nextiva provides APIs and SDKs to help developers create custom integrations with other software. We also liked its Developer Portal and Developer Support service.
Webhooks: Webhooks provide you with notifications and alerts on specific events, like an incoming call or a voice message.
Nextiva used to have its own built-in CRM. However, it no longer offers this feature to new customers.
Winner
RingCentral wins this category thanks to its 330 integrations, overshadowing Nextiva's 100-plus offerings. We were also impressed that RingCentral doesn't require subscribers to select more expensive service plans to access most integrations. That said, Nextiva's apps will more than suffice for most companies on higher plans.
RingCentral Pricing
RingCentral offers a free 14-day trial for five colleagues with 250 free minutes.
Plan

Annual price (per user per month)

Monthly price (per user per month)

Features

Core

$20 

$30 

SMS and MMS
IVR
Unlimited domestic calling
Google and Microsoft apps
Single sign-on
Video meetings (up to 100 participants)
Access to APIs and IT administrator analytics

Advanced

$25

$35

Everything in Core, plus:

Advanced call monitoring and handling
Auto call recording
Multisite management
Essential business analytics
Internet fax
Access to Salesforce, Zendesk and 300-plus apps

Ultra

$35

$45

Everything in Advanced, plus:

Enhanced business analytics suite
Unlimited file sharing
Unlimited enterprise-grade HD video
Whiteboards
Messaging
Unlimited storage for files and recordings
Video meetings (up to 200 participants) 
Customizable business insights
The entry-level Core plan – $20 per month (billed annually) – has an impressive feature set, including SMS and MMS messaging, IVR functionality, and unlimited domestic calling. You also get single sign-on, video meetings with up to 100 participants and access to APIs. 
We like that all packages come with a business phone number, unlimited calls in the U.S. and Canada, AI "meeting insights" and live transcriptions, team messaging, and document-sharing features.
Although the service is more expensive than alternatives like Zoom and Dialpad, RingCentral's pricing is generally competitive. Jumps in price to higher tiers are slight; the additional features would be valuable add-ons for larger companies and businesses using a CRM system.
Nextiva Pricing
There are three primary Nextiva service levels: Essential, Professional and Enterprise. Prices vary by user number and whether you pay monthly or annually. (Prices noted are per user per month.)
Number of users

Essential

monthly/annual price

Professional

monthly/annual price

Enterprise

monthly/annual price

1-4

$30.95/$23.95

$35.95/$27.95

$45.95/$37.95

5-19

$29.95/$21.95

$33.95/$25.95

$43.95/$35.95

20-99

$25.95/$18.95

$30.95/$22.95

$40.95/$32.95

100+

$24.95/$17.95

$29.95/$21.95

$39.95/$31.95
The following features are available on these plans:
Essential: The Essential plan provides unlimited video and voice calling (up to 45 minutes per video call or meeting), toll-free numbers, voicemail, 1,500 toll-free minutes, email notification of voicemails, unlimited internet fax, and integration with Outlook and Google Contacts.
Professional: The Professional plan provides everything in the Essential plan, plus unlimited conference calls with up to 40 participants, screen sharing, mobile and desktop MMS and SMS (1,000 messages), unlimited video conferencing, multilevel auto attendant, 3,000 toll-free minutes, and advanced integrations with apps like HubSpot and Salesforce.
Enterprise: The Enterprise plan includes everything in the Professional plan, plus unlimited participants on video and voice conferencing, mobile and desktop MMS and SMS (2,000 messages), unlimited video conference recording, single sign-on, voicemail transcription, call recording, 12,500 toll-free minutes, enterprise integrations (a wider selection than the Professional level), and integration with Microsoft Teams.
The Essential tier benefits from valuable features, particularly unlimited video and audio conferencing and Outlook and Google contacts integration. We were disappointed that other features, like HubSpot and Salesforce integration, screen sharing, and mobile and desktop SMS and MMS, are available only to Professional-level subscribers. 
Winner
RingCentral offers more features on its entry-level plan. We like that the vendor is generous with feature availability, offering unlimited domestic calling and unlimited video meetings with no time limit and up to 100 participants. However, if your organization has over 20 staff members, you'll likely pay less with Nextiva.