If your business depends on any cloud-based technology services, your internet connection is a critical component of your day-to-day operations and hitting your revenue targets. Broadband internet service packages tailored exclusively for businesses can provide the added features, increased security, and dedicated support that companies need to operate efficiently and reach their goals.
Depending on the location of your workplace, you can find a business broadband package with a range of prices and speeds from many of the best internet service providers in the country. To assist you in your search for the most suitable high-speed internet service plan for your company, we'll break down everything you need to know before you sign a contract.
What is business broadband?
Business broadband is a high-speed internet connection for use in offices and other workplaces. Think of it as a commercial-grade internet solution with added features and dedicated customer support that's often backed by a strong service-level agreement (SLA). Reliability is usually guaranteed, with uptimes of more than 99%. While the term "broadband internet" most often refers to cable internet plans thanks to its wide availability, other business-grade broadband connections like fiber, dedicated internet, and enterprise-grade 5G fall under the same umbrella.
As you shop for broadband internet, it's worth noting that the Federal Communications Commission defined the term "broadband" in 2015 as an internet connection with a minimum download speed of 25 Mbps and upload speed of 3 Mbps. By today's standards, these download and upload speeds are generally considered too slow for small business use and most likely unusable in an enterprise setting. If you're using DSL through a phone line to get online, you're going to struggle with today's bandwidth requirements.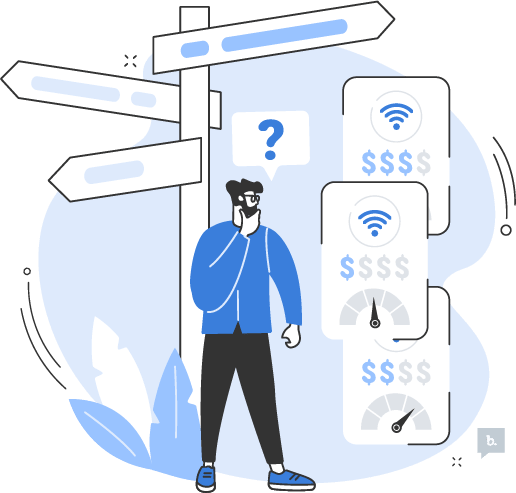 Benefits of business broadband versus other solutions
The biggest difference between home and business internet, with an example like a fiber service plan, is not necessarily the advertised speed, but the added features, level of customer support, easy customization, and higher price.
Business plans can give priority to different types of traffic or the key applications you depend on the most. For example, you can prioritize your network traffic for HD video conferencing and webinars over other applications that you deem less important, such as system backups. Your service provider may also be able to prioritize your business traffic over any competing residential traffic at peak times to guarantee you get the bandwidth you need. So, while speeds between residential and business plans may seem comparable at first glance, they often differ greatly once you consider the added features available for business clients and the throttling that happens to residential users.
Other features – including a static IP address and extra layers of security, such as firewalls and cloud-based DDoS protection – are also widely available from the major business broadband service providers.
Most business customers will be able to customize their plans much more than residential customers can, but it's the service-level agreements and customer support that really set the two options apart. These stringent SLAs are contractual obligations for performance that result in business clients receiving priority for customer service over the phone or onsite when they need it. Many SLAs guarantee internet uptimes of over 99%, with clearly defined means of compensation if the expected service level is not met.
What types of business broadband are available?
Unfortunately, the types of internet service for business are often limited by location. If you operate in a rural part of the country, true business broadband may not be an option. If that's the case, you could be stuck using DSL or deciding between a mobile hotspot and satellite internet. But if your business is located in a more populated area, cable or DSL internet, dedicated internet, and fiber are all viable solutions.
Cable
Cable should be considered the minimum technology requirement for businesses where it's accessible. Outside of rural areas, cable internet is widely available with high speeds and reliability.
For small businesses with no significant reliance on cloud-based services, a cable internet package with speeds over 100 Mbps could be enough. Larger businesses or companies that rely heavily on cloud-based systems should look to higher internet speeds for smooth HD video conferencing and uninterrupted communication with their cloud-based software.
Dedicated internet
Dedicated internet is a fixed-bandwidth connection that your business doesn't share with any other users. Since you're not sharing bandwidth with neighbors or even businesses on separate floors of the same building, downtime and inconsistencies in speed are far rarer.
It's an ideal broadband connection for companies that prioritize security and privacy, but it's also attractive to midsize and enterprise-level organizations that use demanding network applications in their day-to-day operations.
Fiber
If it's available in your area, you should definitely consider fiber for the best download and matching upload speeds. Fiber offers similar gigabyte download speeds to the best cable internet – and upload speeds up to 20 times faster. While fiber cable infrastructure is still rolling out across the U.S., you'll find that most major cities and large business centers are equipped for lightning-fast internet access. But with an average cost of $27,000 per mile to lay fiber cable, its rollout to less densely populated areas could be very slow.
Enterprise-grade 5G
For businesses that need broadband connections outside the office, mobile devices running on 5G networks can be a viable solution in the right circumstances. While strict data caps and lower speeds mean that smartphones and dedicated hotspots can't compete with other broadband solutions, they can offer HD video conferencing and plenty of capability for web browsing, email and chat when in range of a network tower.
How to choose a broadband provider
Determining what's available at your business address is the first step, since providers and speeds can vary widely by location. A location-based search online should give you a quick list of the options in your area. Service providers like Google Fiber have an address search function to let you know about availability quickly.
Also determine the best internet speed for your business. Are multiple people simultaneously participating in HD video conferences? Are you uploading large files to the cloud regularly? Look at how your business uses your internet connection and how many people use it at the same time to figure out how much speed you need.
If you have any custom requirements, communicate them to your potential providers to ensure your pricing covers everything you want in your plan. Do you handle security in-house, or would you like some help from your service provider? Do you need to prioritize traffic for customers during business hours? Study the SLA to see what you may be able to amend to better suit your company's needs.
Which providers offer business broadband?
Verizon, AT&T, Google, Comcast and Spectrum are some of the service providers offering broadband plans tailored to business customers. Depending on the location of your company, cable or even faster options like fiber and dedicated internet may be available. To judge these service plans against each other fairly, we'll focus on the top plans from each provider in terms of available speeds.
When you contact a potential service provider to discuss pricing, you can typically negotiate better terms with bundled packages or longer service agreements – so take their listed prices as a starting point with some wiggle room for your specific needs. Not all plans or speeds are available in every market, so you will have to reach out to service providers individually to determine what's accessible for your exact business address.
Pricing: Starts at $69 per month for Fios Internet plan; up to $855 per month for dedicated service
Speed: Up to 1,000 Mbps download and upload
Features: Traffic and application prioritization, flexible speed options, cloud-based security, 24/7 monitoring and reporting, strong SLAs, wireless backup, managed SD-WAN, managed network services, and long-term contract discounts
Pricing: Starts at $40 per month for Internet for Business plan (contact sales for enterprise pricing)
Speed: Up to 1,000 Mbps download and upload
Features: Dynamic/static IP, business-focused customer support, McAfee SaaS endpoint protection, IT support, PC backup, online fax, search engine assist, website ranking tools, consolidated invoice for multiple locations, and symmetric/asymmetric connection available for fiber
Pricing: Starts at $70 per month for Business Internet plan (contact sales for enterprise pricing and speeds over 200 Mbps)
Speed: Up to 1,000 Mbps download and upload
Features: Flexible plans, more than 99% service uptime, 24/7 support, business hotspot network access, guest and private Wi-Fi networks, and a full cloud-based security suite
Pricing: Starts at $70 per month for Business Internet plan (call for speeds and pricing over 600 Mbps)
Speed: Up to 1,000 Mbps download and upload with dedicated internet
Features: Flexible speeds, Border Gateway Protocol routing, 24/7 priority support and monitoring, static IP address, DNS hosting, SLAs with response times, and cloud-based security with geographically dispersed data centers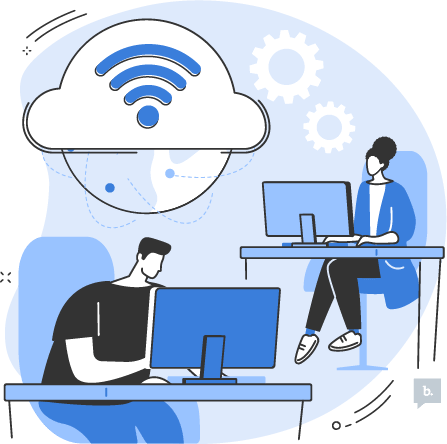 Pricing: Starts at $50 per month for Business Internet plan; up to $250 per month for top speeds
Speed: Up to 940 Mbps download and 35 Mbps upload
Features: Over 99.9% reliability, 30-day money-back guarantee, 24/7 U.S.-based support, wireless internet backup, static IP, and business Wi-Fi
Google Fiber Business
Pricing: Starts at $100 per month; up to $250 per month for top speeds
Speed: Up to 1,000 Mbps download and upload
Features: Professional installation, 24/7 customer support, a Network Box with built-in Wi-Fi (or use your own device), and no data caps or annual contracts