Comcast is the largest internet service provider in the U.S. with the biggest gig-speed network, making it the best business internet choice for enterprises with demanding network requirements for multiple office and retail locations across the country.
Pros
Comcast's1.25 Gbps maximum download speed is among the fastest available in the fiber category.
The vendor's ethernet-dedicated internet plans are available with symmetric speeds up to 10 Gbps.
The company offers discounted bundles with $25 to $45 off internet, phone and TV service.
Cons
Comcast's 35 Mbps maximum upload speed will be a limitation for some users.
The provider's prices in multiyear contracts escalate significantly each year.
The company's fees for internet add-ons and many other services aren't listed online.
Comcast is a business-focused internet service provider with ultrafast ethernet-dedicated connections that have symmetrical speed, high-speed fiber connections, 4G LTE internet backup, Voice over Internet Protocol (VoIP) calling and mobile phone service. Comcast offers the same 24/7 customer service and 99.9 percent uptime you can expect from all major internet service providers (ISPs), but it also boasts fiber download speeds of up to 1.25 Gbps, which make it one of the fastest fiber networks in the country for download speed. Comcast also includes free cybersecurity tools to help monitor threats against the devices on your network. We also love that the vendor doesn't cap data with its business internet plans, and all plans include a 30-day, money-back guarantee.
Comcast Business ISP Editor's Rating:
8.4 / 10
Pricing

7/10

Speed

9/10

Availability

9/10

Service plans and contracts

8/10

Customer service

9/10
Why We Chose Comcast for Enterprise Businesses
With 99.9 percent reliability, fiber download speeds of up to 1.25 Gbps, wireless backup, dedicated internet plans and the largest network in the country, Comcast has everything a large business or enterprise with multiple office and retail locations needs to stay connected. Comcast works with potential customers over the phone to help determine the optimal products and services based on each company's type of business, number of internet users, cloud-based software requirements and usage trends. Businesses can also bundle services like internet and phone for significant savings. For enterprise clients in certain areas, Comcast offers SLA-backed dedicated internet with static IP addresses and symmetric speeds of 1 Mbps to 10 Gbps, but pricing for this type of internet service is not publicly listed by Comcast or other dedicated internet providers. Still, with all of these features and services in mind, Comcast is the best business internet service provider for enterprise businesses.
Most national ISPs have similar available speeds, features and support offerings, which means the availability in your area and the cost per Mbps or Gbps are significant factors to consider when deciding which business internet service to choose.
Features
When buying a business internet service, you'll notice the same set of features for business customers as you'd expect for residential internet. While the most important internet feature is reliability, most ISPs like Comcast offer the same 99.9 percent advertised uptime with 24/7 customer support to resolve issues quickly. However, service providers do tend to differ in some of their add-on features, including their approach to internet backup, Wi-Fi, IP addresses and security tools.
Below are several areas where Comcast shines for enterprise businesses, though we must point out that the vendor's fiber offering is slightly limited with upload speeds capped at 35 Mbps, far slower than competitors AT&T and Verizon.
4G LTE Backup
According to an outage analysis report by IT service management company Uptime Institute, over 60 percent of outages cost businesses more than $100,000 in total losses. The Comcast Connection Pro add-on for $39.95 per month is an automatic wireless backup system to keep your internet connection up and running if you lose your normal power or service. Wherever your fiber internet connection or power is interrupted, the cellular route immediately switches to an available 4G LTE wireless connection to maintain basic internet service for up to 16 hours on computers or other devices, like point-of-sale registers, that keep your revenue flowing. This is a vital and valuable safeguard for businesses.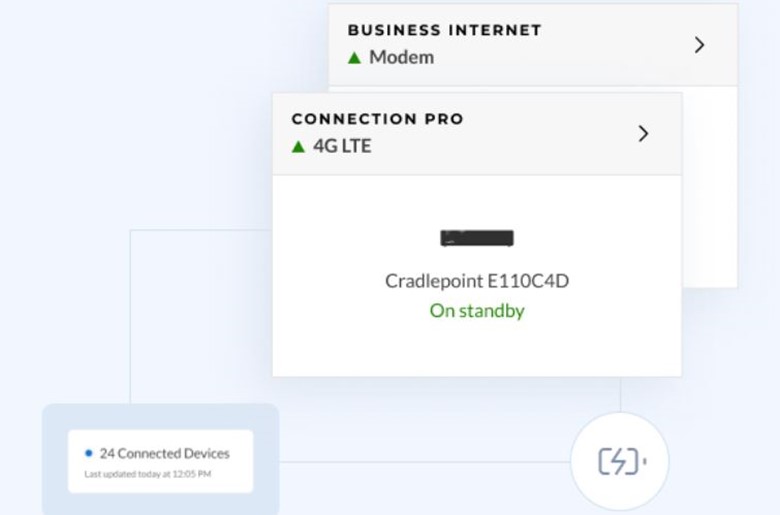 Comcast's Connection Pro backup service ensures you'll have a continued internet connection if an outage happens. Source: Comcast
Security
Most Comcast business internet plans include SecurityEdge to protect your network and inform you of any attempted breaches. This intelligent cybersecurity tool updates and refreshes every five minutes, pulling the most up-to-date information possible from a global threat database. According to Comcast, over 30 percent of SecurityEdge customers had a threat blocked in each quarter of 2021. The software blocked approximately 605 million botnets, malware and phishing attacks between February and March 2022. [Find out how to create a cybersecurity plan for your business.]
WiFi Pro
Comcast WiFi Pro provides wireless coverage for customers and your business devices on up to four separate networks you can control. The robust system lets you provide a reliable Wi-Fi connection for your customers, suppliers and guests, with the added ability to leverage promotional tools to enhance the in-store experience. You can add a custom splash page for when users connect to your internet, provide real-time offers, integrate your company's social media accounts, and provide valuable business information. We like that you can use the mobile-friendly control center to easily manage your networks, set schedules, limit bandwidth, and control access. [Read related article: How to Set Up Business Wi-Fi]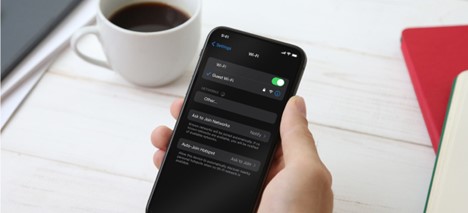 You can set up Comcast's Wi-Fi for customers to connect to the internet when they visit your store. Source: Comcast
Static IP Addresses
Comcast offers static IP addresses for all business fiber and dedicated internet clients. For business internet, a static IP address starts at $24.95 per month with the option to buy one, three or 13 permanent addresses for an additional charge. With dedicated plans, Comcast assigns up to two permanent IP addresses per circuit to run multiple servers or applications like a virtual private network (VPN). You can also purchase additional IP addresses for dedicated plans.
Pricing
Comcast divides the U.S. market between three regions — Northeast, Central and Western. The prices below reflect an address in the Western division. Our breakdown reflects discounts for autopay and paperless billing, and most plans include free professional installation. Unfortunately, some contracts require a multiyear commitment with escalating prices and early termination fees.
Plan
Download/Upload Speeds
Price
Essential
50/15 Mbps

$49 per month for 12 months

Standard
100/25 Mbps

$69.99 per month for 12 months with a three-year agreement that increases to $109.99 per month
$79.99 per month for 12 months with a two-year agreement that increases to $94.99 per month

Performance
250/25 Mbps

$99.99 per month for 12 months with a three-year agreement that increases to $149.99 per month
$109.99 per month for 12 months with a two-year agreement that increases to $124.99 per month

Advanced
500/30 Mbps

$139.99 per month for 12 months with a three-year agreement that increases to $194.99 per month
$189.99 per month for 12 months with a two-year agreement that increases to $194.99 per month

Premium
750/35 Mbps

$179.99 per month for 12 months with a three-year agreement that increases to $244.99 per month
$189.99 per month for 12 months with a two-year agreement that increases to $204.99 per month

Extra
1.25 Gbps/35 Mbps

$199.99 per month for 12 months with a three-year agreement that increases to $274.99 per month
$209.99 per month for 12 months with a two-year agreement that increases to $224.99 per month
In addition to the above business internet plans, Comcast also offers ethernet-dedicated internet with symmetrical speeds from 1 Mbps up to 10Gbs, static IP addresses, primary and secondary DNS hosting, service level agreements, and 24/7 priority support. However, pricing for the dedicated internet plans is not publicly available and requires a discussion with a Comcast representative.
Comcast's relatively low upload speeds won't cause connectivity issues for most businesses.
Implementation
Comcast's business internet installation is typically available within five to 10 days of placing your order, which is on par with the rest of the industry. If you sign up over the phone, you'll be able to get help from a product specialist to determine the appropriate internet speed for your business needs based on your type of company, number of internet users, application types and usage trends. Once a service technician is onsite for your implementation appointment, the installation process takes anywhere from 90 minutes to four hours depending on the complexity of your service and structure. Comcast recommends you provide at least two 110v AC outlets for service.
If you ask, you can usually have an installation fee waived if it's not already as part of a promotional package when you make your purchase.
Customer Support
All Comcast business internet plans include 24/7 support, which is something you'll find with most major ISPs. While the company's residential Xfinity customers may wait as long as 24 hours for a response to an outage, Comcast business customers receive priority service with a four-hour response window. We spent time speaking directly with Comcast's support team during our review process and found the staff knowledgeable, helpful and courteous in all of their responses to our questions about services and features.
Comcast also has an online self-service portal where you can check the status of a connection, troubleshoot your internet, configure your services, and reach a support specialist via chat. The Comcast website features additional resources and informative articles to improve the user experience. We appreciate that the vendor also offers the Comcast Business App through which you can manage your business internet without being onsite.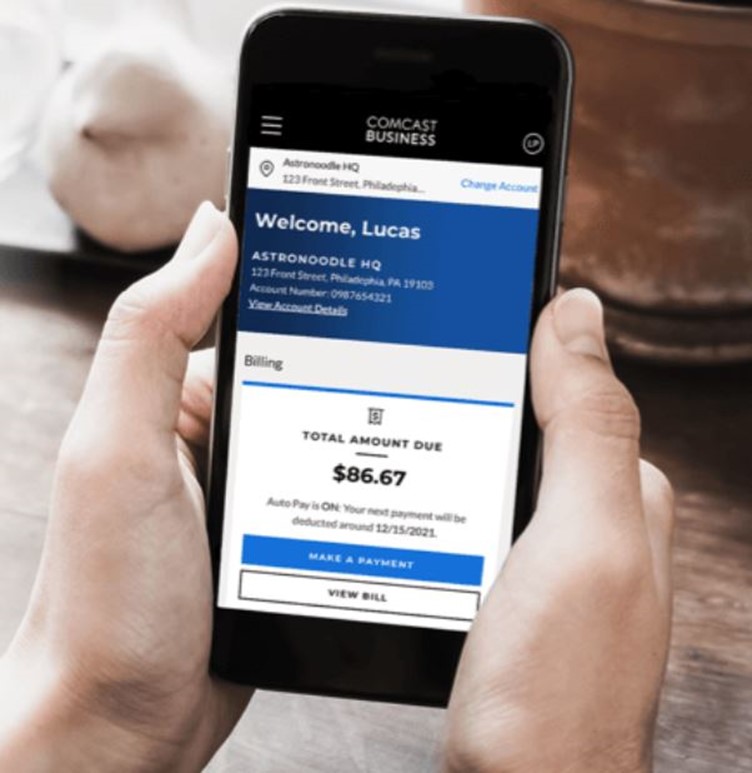 The Comcast Business app lets you make mobile payments on your service bill. Source: Comcast 
Limitations
The pricing for most Comcast business internet plans requires some attention to the fine print. The advertised price is usually what you'll pay only for the first year of service, with a significant price increase for each subsequent year. For example, a plan that starts at $139.99 per month will jump to $154.99 in year two and $194.99 for the final year of your contract. Keep that in mind when budgeting this expense.
You should also remember that Comcast's fiber plans are limited to a maximum upload speed of 35 Mbps, the same limit you'll find with Spectrum. If you're searching for a service provider with better fiber upload speeds, both AT&T and Verizon offer fiber plans with upload speeds that exceed 800 Mbps. Learn more in our detailed AT&T review and full review of Verizon.
Methodology
We independently researched major national business internet service providers, identifying the products and services that differentiate each company from one another. We also spent hours speaking directly with product specialists to gain insights into each vendor's limitations and advantages in a competitive market. We focused on factors like download and upload speeds, add-on features, pricing, the implementation process, and customer service options. For large businesses and enterprises with office or retail locations across the country, we found Comcast to be the best choice to cover the most locations under the same service contract and bill. Companies benefit from assistance with the buying process, reliable internet, bundle options and other perks.
FAQ
Comcast and Xfinity are not quite the same. Xfinity is the residential-only telecommunications brand under the Comcast Cable Communications umbrella. A home-based business can get Comcast's service with features like a static IP at a residential address. Comcast's business plan can be a separate internet connection from home services with a priority connection, service-level agreements for uptime and faster response times in the case of an outage.
No, Comcast bundles are not the same price everywhere. The company divides its market offers between the North East, Central and Western U.S., with different local promotions. The most popular "preferred" bundle provides about $25 to $45 off your standard monthly internet, phone and TV bill.
No, email is not included with Comcast's business internet plans. If this is a deal-breaker for you, consider our review of Spectrum instead.
Bottom Line
We recommend Comcast's business internet for …
Enterprises and large businesses with multiple offices or retail locations across the country.
Business owners seeking exceptionally fast speeds of up to 10 Gbps of symmetrical speed with an ethernet-dedicated access plan.
Organizations in need of hybrid-fiber business internet that can reach speeds up to 1.25 Gbps.
We don't recommend Comcast's business internet for …
Business owners looking for a long-term monthly price guarantee.
Media-focused businesses for which the relatively low upload speed of 35 Mbps could be a problem.
Companies not interested in building other connectivity services.