Spectrum Business Internet is a reliable and affordable no-annual-contract fiber connectivity service with add-on options for private business Wi-Fi and wireless backup. It's an excellent choice for business owners seeking month-to-month plans.
Pros
Spectrum has simple, high-speed fiber plans with month-to-month contracts.
There are no data caps or speed throttling with Spectrum internet.
The vendor offers bundled discounts for internet, phone, mobile and television services.
Cons
Spectrum's maximum upload speed of 35 Mbps could be too slow for some people.
With a minimum speed of 300 Mbps, it feels like the company is missing an entry-level plan for businesses without demanding internet needs.
There's no option for a dedicated internet connection through Spectrum.
Spectrum keeps its business internet service simple by offering three fiber plans with download speeds of up to 300 Mbps, 600 Mbps and 1 Gbps, none of which require an annual contract. If you only care about download speeds with your fiber connection, Spectrum is more affordable compared to rivals AT&T, Comcast and Verizon. You needn't worry about sacrificing reliability either, which is usually listed at 99.9 percent with any dedicated internet or fiber provider like Spectrum. Spectrum's add-on options include wireless backup internet, static IP addresses and a business Wi-Fi connection with the latest router. All of the company's business internet packages include 24/7 U.S.-based customer support and a 30-day, money-back guarantee. If you switch from another internet service provider (ISP), you may even be able to receive up to $1,000 to help with early-termination fees. For these reasons, Spectrum is the best option for business owners seeking month-to-month internet service.
Spectrum Business Editor's Rating:
8.8 / 10
Pricing

9.0/10

Speed

9.0/10

Availability

8.0/10

Service plans and contracts

9.0/10

Customer service

9.0/10
Why We Chose Spectrum for Month-to-Month Contracts
Avoiding lengthy software and service commitments is critical for lean and flexible businesses with strict budget controls. Spectrum grants businesses the freedom of a month-to-month broadband internet contract with the assurance of a 12-month price guarantee to plan for the future accordingly. Spectrum's simple billing approach is also reflected in its three straightforward fiber internet offerings, with download/upload speeds of 300/10 Mbps, 600/35 Mbps and 1 Gbps/35 Mbps. While you can also find month-to-month fiber-optic network options with AT&T, you'll likely pay a higher rate for the inclusion of faster upload speeds that you may not require.
Month-to-month options like those provided by Spectrum are also great for home offices and remote workers who don't feel comfortable committing to an annual or multiyear contract. We also appreciate that while the vendor offers residential and business plans, anyone with a residential address in an area supported by Spectrum can purchase one of the business internet plans.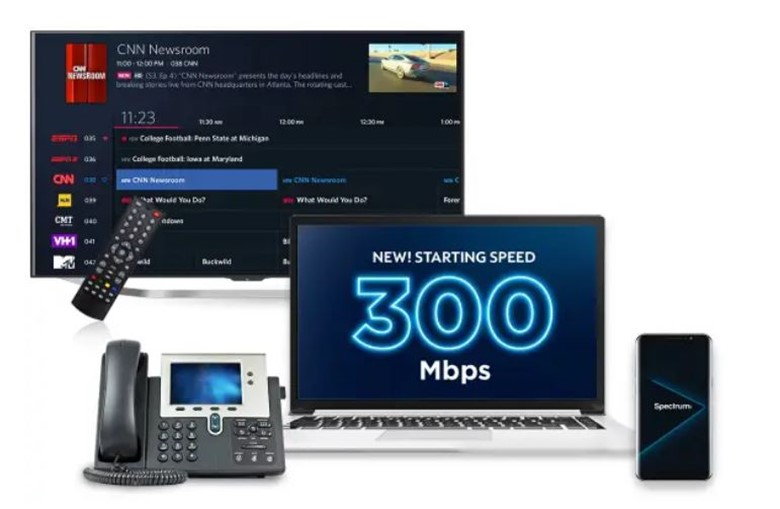 Spectrum's bundles for television, phone, mobile and internet service could be cost-efficient. Source: Spectrum
Spectrum Business Features
Simplicity, fast fiber speeds and low monthly prices are what make Spectrum such an attractive ISP, but that doesn't mean you have to go without a few other important connectivity features offered by larger, more expensive companies. However, be aware that Spectrum's upload speed caps at 10 Mbps for its lowest plan and 35 Mbps with its mid- and top-tier plans. For media-focused companies or large offices conducting webinars for big groups, these slower upload speeds could present an issue. Fortunately, for most business users, this won't be a significant concern, as the internet speed your business needs varies by company.
Wireless Internet Backup
You can avoid interruptions to critical tools like point-of-sale systems and credit card readers with a wireless internet backup option. Spectrum's wireless, battery-powered LTE modem can keep your business running during a power outage thanks to its automatic backup connection and unlimited data to support up to four devices for more than eight hours. Once power is restored, your connection will automatically revert to its standard settings. You can add this backup service to your Spectrum Business Internet plan for $20 per month, without any additional fees or equipment charges. Comcast has a similar backup offering that can power operations for up to 16 hours, but as noted in our review of Comcast's business internet, it'll set you back $39.95 each month.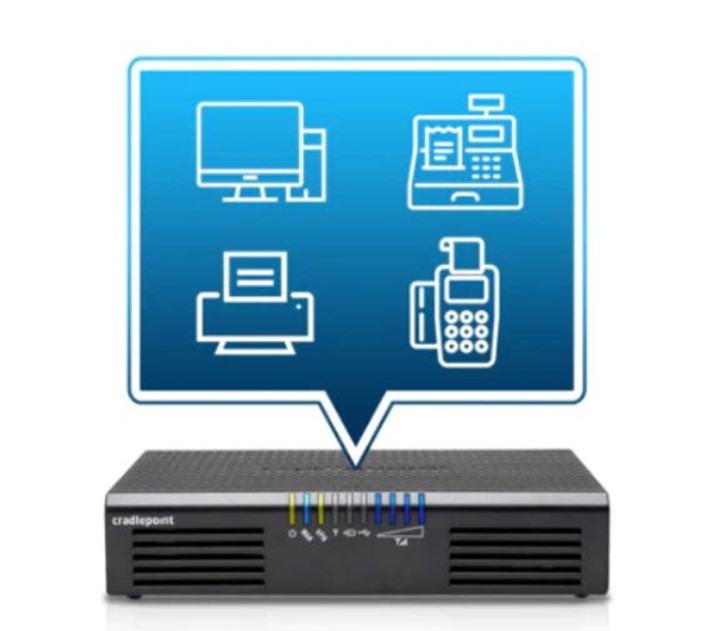 Using Spectrum's backup modem, you can power essential devices during an outage. Source: Spectrum
Security
All Spectrum Business Internet clients receive 25 licenses for F-Secure Desktop Security software. This online security solution for Mac and Windows devices provides real-time protection against cyber threats, including spyware, malware and hacker intrusions, with automatic updates. F-Secure is a Finland-based cybersecurity company founded in 1998; it has a global network of more than 170 partners representing 16 million protected customers. [Learn how to understand cyber risks.]
Business Wi-Fi
Spectrum Business Internet users can add on secure business Wi-Fi with the latest router for $7.99 per month. You can use your Wi-Fi network to securely connect all of your business devices and offer visiting customers a separate secure connection. However, if you'd prefer to purchase a compatible high-speed router for your Wi-Fi network, you could spend around $100 to $500 for the equipment and avoid the recurring monthly fee that Spectrum charges.
For smaller offices without an abundance of tech-savvy staff, the Spectrum-managed Wi-Fi hardware is likely the better choice.
Static IP Addresses
Spectrum offers static IP addresses as one of its add-on services, but you'll have to speak with a sales representative for a custom price quote. Unlike the dynamic IP addresses most often included with internet service, static IP addresses do not change. Once a device like a computer is assigned a static IP address, the address doesn't change until it's decommissioned from your network. With a static IP address, businesses can make it easier for remote employees to securely connect to a virtual private network (VPN), use Voice over Internet Protocol (VoIP) phone systems and manage DNS servers. [See our picks for the best business phone systems.]
Spectrum Business Pricing
While speed and costs for all business ISPs can vary by region, we found Spectrum to be among the least-expensive fiber service providers. What makes the company stand out even more is its month-to-month contracts. We love that Spectrum doesn't lock you into a long-term agreement. That flexibility can be very important in a world where business needs are always changing.
Spectrum's three business internet plans all include the same 24/7/365 dedicated support, 99.9 percent network reliability, free Wi-Fi for your customers, 25 email addresses with a custom domain name and a 30-day, money-back guarantee. Beyond that, the chart below outlines how the plans compare in speed and price.
| Plan | Download/Upload speeds | Price |
| --- | --- | --- |
| Business Internet | 300/10 Mbps | $64.99 per month with a 12-month price guarantee |
| Business Internet Ultra | 600/35 Mbps | $114.99 per month with a 12-month price guarantee |
| Business Internet Gig | 1 Gbps/35 Mbps | $164.99 per month with a 12-month price guarantee |
Business owners can add private, secure Wi-Fi to their business internet package to connect employee devices with Spectrum's newest router for $7.99 per month. Pricing for other add-ons, including wireless internet backup and static IP addresses, is not publicly listed and requires contacting the company. Impressively, in addition to its money-back guarantee, Spectrum will offer you up to $1,000 to help with early-termination fees if you're switching from another provider.
Spectrum's willingness to buy out your current internet contract (up to $1,000) isn't something you'll see with every major ISP.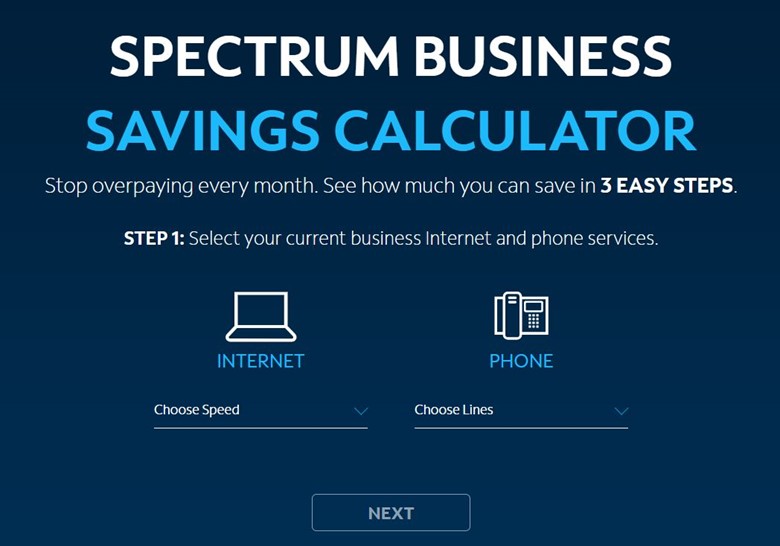 The savings calculator on Spectrum's website can help you determine how much money you could potentially save by switching to Spectrum. Source: Spectrum
Implementation
Spectrum internet customers can make an installation appointment for the same day they sign up for the service or the following day if there's availability, but it typically takes "no more than a week from the day you make your purchase," according to a Spectrum representative. That's faster than some competitors, including AT&T and Verizon. The implementation itself could take anywhere between one and three hours to complete, while service calls generally take about an hour.
After you place an order and schedule your installation appointment, you can elect to receive notifications by email, text or phone, which you'll need to confirm your appointment with some services. If you select email as your form of communication, you may need to call to confirm some service appointments. The day before your appointment, you should receive a reminder notification, and if you don't confirm, you'll receive another reminder on the day of your appointment.
Customer Service
You can call Spectrum directly to get started with the buying process or fill out an online form to request a sales representative call you. Associates are available Monday through Friday, from 8 a.m. to 11 p.m. ET. When we spoke with the provider's staffers, we received knowledgeable responses that helped us explore the available offerings.
All Spectrum Business plans include 24-hour dedicated, U.S.-based support every day of the year as well as advanced access to on-site technicians. If you're having an issue with your business connection, a customer service representative can first attempt to troubleshoot it remotely. If a remote solution cannot be found, an on-site service technician will address the problem in person.
If you'd prefer to resolve any issues on your own, the company has an online Spectrum Business Support & Help Center. This database houses numerous guides, educational articles, FAQs and tools, like the Spectrum Speed Test, which can measure your upload and download speeds. There are also step-by-step instructions for various troubleshooting procedures.
Limitations
Though Spectrum's pricing and monthly contracts are appealing, we'd be remiss if we didn't point out that the vendor's fiber upload speeds are far behind those of competitors, including AT&T and Verizon. Spectrum's fastest upload speed is 35 Mbps, while AT&T and Verizon can achieve over 800 Mbps for large file transfers or video conferences. When we talked with Spectrum's product specialists, we were told faster upload speeds and synchronous speeds are in the works with a 10 Gbps network planned for the future, but not every business owner may be willing to wait.
Additionally, Spectrum doesn't offer any dedicated internet plans. Businesses that need a dedicated internet plan with constant access to cloud applications to connect global offices and increase security should consider AT&T and Verizon. Find out why in our review of AT&T and our Verizon review.
Though Spectrum's relatively low upload speeds of 10 and 35 Mbps are a drawback, they're not likely to cause connectivity issues for most business users.
Methodology
To determine the best business internet service providers, we researched and analyzed a variety of companies. As part of this process, we spoke to product specialists when possible, and we compared and contrasted different aspects across vendors, such as pricing, the installation process, speed and connectivity type, additional services, and the quality of customer support. For most businesses without demanding uploading requirements, Spectrum shines as a cost-effective ISP with no long-term contracts, data caps or speed throttling.
FAQ
Spectrum Residential and Spectrum Business are different in the products available and the types of services they offer. For example, Spectrum's business customers have access to 24/7 dedicated support and on-site technicians. Spectrum's business plans also include Wi-Fi for your customers, 25 email addresses with a custom domain name and desktop security software. Notably, you can opt for a business internet account at a residential address.
Yes, Spectrum Business Internet is reliable. The company boasts of 99.9 percent network reliability, which is on par with other major ISPs, including AT&T and Verizon.
Spectrum offers business internet service in 41 states.
Bottom Line
We recommend Spectrum Business Internet for …
Business owners who want to keep their internet plans flexible without long-term service contracts.
Businesses looking for the highest fiber speeds at the lowest cost.
Companies that want to bundle internet, phone and television services at a discounted rate.
We don't recommend Spectrum's Business Internet for …
Business owners who want a guaranteed price for multiple years.
Businesses that require a dedicated internet plan.
Organizations, such as media enterprises, that could be hampered by a maximum upload speed of 35 Mbps.