With fast dedicated internet, fiber connections and 5G high-capacity capabilities, Verizon Business Internet provides some of the best internet and wireless broadband service to enterprises and small businesses across the country.
Pros
Verizon facilitates 5G Ultra Wideband, which uses high-band, ultrawide wave spectrum 5G to deliver speeds of up to 400Mbps with minimal lag.
The vendor offers 5G, dedicated internet, fiber-optic (Fios) and LTE plans to suit many business requirements.
The Fios Business Internet plan provides fiber-optic service at some of the fastest speeds available today with nearly equal upload and download speeds.
Cons
With Verizon providing a slew of add-ons and a variety of plan options, it can be overwhelming to figure out the best plan for your business.
Some of the company's plans increase in price after the first year of the contract.
The provider's fiber-optic network stretches across a limited area in the United States.
Verizon Business Internet is a dynamic service with fast dedicated internet, fiber-optic connections and impressive 5G wireless speeds. With a strong combination of fiber, 5G and LTE options, Verizon provides the connectivity and mobility businesses need to operate effectively. Companies can host clear, near real-time video conferences and webinars with large groups, enjoy rapid unlimited data sharing with fast upload/download speeds and back up data easily on the cloud. We particularly like that Verizon's 5G Business Internet is a scalable wireless connectivity solution with low latency, offering download speeds of up to 400Mbps and an industry-leading 10-year price guarantee without a long-term contract.
Verizon High-Speed Internet Editor's Rating:
8.6 / 10
Pricing

8/10

Speed

9/10

Availability

8/10

Service plans and contracts

9/10

Customer service

9/10
Why We Chose Verizon for Wireless Internet Service
Wireless internet is more powerful than ever before, and Verizon stands out from its competitors with its 5G Business Internet and LTE Business Internet services. We were impressed with Verizon's 5G Ultra Wideband product, which uses high-band, ultrawide wave spectrum 5G to deliver internet speeds of up to 400Mbps. This wireless solution provides an online experience with low lag time so businesses can enjoy high-quality video conferencing capabilities or seamless point-of-sale (POS) system operations with unlimited data. The LTE Business Internet service features plans with speeds up to 50Mbps and 150GB Premium Network Access. This offering is matched closely by AT&T for small businesses, those on the go, temporary sites and home offices. Overall, however, Verizon is the better option for your wireless internet service needs.
We like that Verizon provides its customers with fixed wireless access technology using radio frequencies instead of cables to enable high-speed connections where fiber-optic connections are not as strong or convenient. The 5G network Verizon uses was rolled out less than a decade after its predecessor, 4G and began transforming businesses by enabling technology like connected cars and smart factories. Verizon 5G powered the most immersive Super Bowl Halftime mobile experience to date, demonstrating the network has the capability to provide quality wireless service to businesses of many scales.
The basic tiers of Verizon's 5G and LTE business plans are great backup or redundancy options for larger enterprises, which otherwise should consider Comcast for their internet service. Learn why in our detailed Comcast business internet review.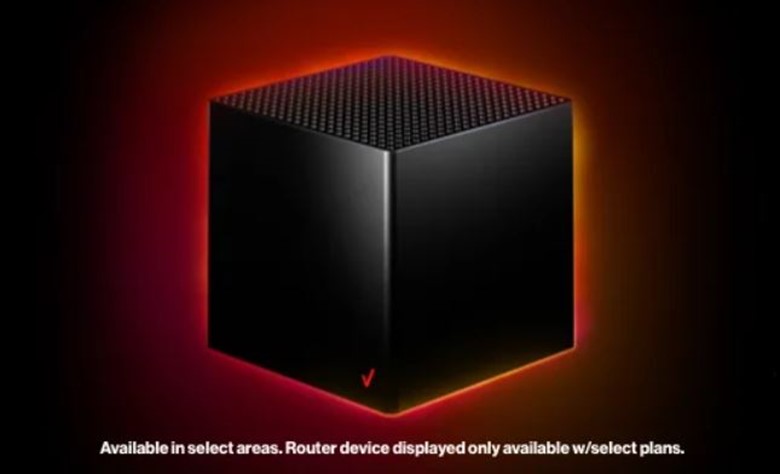 Verizon offers a sleek, modern router for its 5G internet service. Source: Verizon
Features
As one of the larger telecommunications companies, Verizon offers a broad range of business-focused connectivity tools. While the company's 5G Business Internet shines the brightest, there are other reasons to consider Verizon for your connectivity needs.
Customization
Verizon has a variety of solutions for internet access, which gives business owners the flexibility to choose the type of internet service, speed capacity, data provisions and add-ons that make the most sense for their unique needs. You can choose between the Fios plan, which utilizes a fiber network that works faster than traditional copper cables, the 5G plan, a scalable 5G Ultra Wideband solution for wireless connection and the LTE plan, which is designed for small businesses, mobile sites and backup services. Those who need more than just the internet can opt for add-ons like phone, video conferencing and television services. With all of these customization options, you can find the precise solution you need from one provider, although doing so may seem daunting at first. [Read related article: Business Broadband and How It Works]
Add-Ons
Verizon offers its business internet customers sensible add-ons to their internet plans, like video conferencing, digital or voice-over-internet-protocol (VoIP) phone service and TV for businesses. These solutions are designed specifically for improving business operations. For example, Business Digital Voice is Verizon's VoIP calling service that allows users to stream calls over a secure, cloud-based IP network for seamless transfers of calls between offices and mobile phones. This product includes more than 30 features that enhance communication and unlimited long-distance calling to anywhere in the U.S. Meanwhile, BlueJeans by Verizon is a video conferencing platform available with the Fios and LTE plans with smart audio, up to 150 participants allowed and a Slack integration. We also appreciate that Fios TV for Business is powered by the same fiber-optic technology as Fios Internet and includes up to 325 channels. [A key aspect of video conferencing etiquette is having reliable software, such as Verizon's BlueJeans platform.]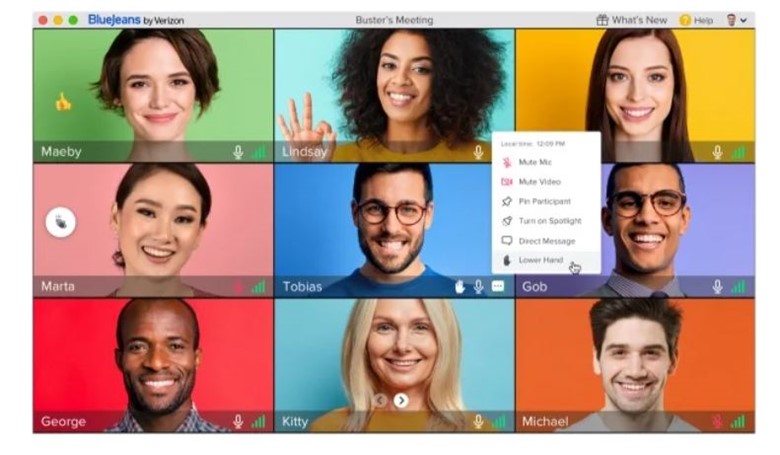 Verizon's BlueJeans platform makes it easy to video chat with colleagues and clients. Source: Verizon
Mobility
Verizon offers powerful wireless internet services with 5G Ultra Wideband, which provides the fastest wireless speeds on the market and allows you to connect to the internet wherever your business takes you. Verizon's wireless solutions offer video conferencing from a phone or tablet in almost real time, streaming speeds with nearly no lag time and efficient POS interactions from mobile devices. We like that in many locations, businesses can easily set up their internet without waiting for professional installation. The 5G Business Internet plan provides businesses with unlimited data and speeds up to 400Mbps. Verizon also offers an array of 5G-enabled mobile devices to help teams operate smoothly.
Verizon's 5G Ultra Wideband gives customers the fastest wireless connection available today.
Pricing
Because Verizon offers such a wide array of plans, the pricing can be challenging to understand at first. However, Verizon provides straightforward plan descriptions and cost information to help make the best option for your business clear. There are three plan types, each with varying price tiers: Fios Business internet, 5G Business Internet and LTE Business Internet:
Fios Business Internet: The Fios plans include glass fiber-optic cable internet connections with professional installation and unlimited data. Plans start at $69 per month with speeds up to 200Mbps, a one-year price guarantee and a 30-day money-back guarantee. The highest tier facilitates a high-capacity connection with a three-year price guarantee for $249 per month. There is a $49 activation fee for any plan under 500Mbps, but you may be able to have this waived during a promotion.
5G Business Internet: The 5G plans are a scalable wireless connectivity solution with fixed wireless internet access. Powered by 5G Ultra Wideband, this service can provide fast connections for any size business. All plans include unlimited data, and the lowest tier provides speeds up to 100Mbps for $69 per month. The most expensive 5G plan gives users speeds up to 400Mbps for $199 per month.
LTE Business Internet: The LTE plans, designed for small businesses, mobile sites and as a backup service, allow customers to set up their service without professional installation and connect on the go. For $69 per month, you can receive 25GB Premium Network Access and reach speeds up to 10Mbps. The highest tier lets users engage more seamlessly in video conferences and share large files more easily. It offers speeds up to 50Mbps and 150GB Premium Network Access for $199 per month. All LTE plans include 300GB of monthly data allowance.
Verizon also sells add-ons like its BlueJeans video conferencing system for $12.49 per month and Business Digital Voice for $35 per month. Like its peers, Verizon has bundle options with internet and phone service to help customers with cost savings. Plus, a $100 credit for new customers, a paper-free billing deduction and an $85 Business Digital Voice discount help make Verizon's internet service more affordable.
Verizon will often offer new customers up to $1,500 to assist with termination fees when leaving another service provider. Rival Spectrum has a similar incentive, although you'll find in our Spectrum review that it caps the payment at $1,000.
Implementation
Whether your business is a candidate for self-installation or requires a professional implementation, you'll have access to Verizon's My Business web platform and mobile app to assist with the activation of services and devices. Generally, all installations are completed within a week of your purchase. In the "View Orders" page of My Business, Verizon customers can track all equipment purchases and service orders. When you purchase Verizon Business Internet, you'll receive an email when the service is ready for implementation or you can view the status online. Self-installation is easy with a router and simple account activation steps are detailed online.
While Verizon's wireless options frequently allow for self-installation, the Fios Internet plan is a multistep process involving professional assistance. A typical installation takes four to six hours, and a Verizon worker must install the cables in the ground, connect the cables to a telephone pole and install above-ground equipment. The Verizon technician will run data to your router connecting your computers to the internet and guide you through the installation to ensure stable connections. For an additional fee, the technician can also configure your computers. [Find out how to set up business Wi-Fi.]
Customer Support
Verizon Business Internet customers receive business-class customer service around the clock. You can access assistance via phone 24/7 and web chat to troubleshoot issues quickly. On the My Verizon Business app, customers can chat instantly with a customer support representative and receive answers to questions about billing and payments, account management, orders and more.
Each service provided by Verizon Business is featured on online help pages for easily accessible self-guided support. There are written directions and video onboarding resources for everything from changing a router password and getting security tips to troubleshooting connections and adding new devices to the network.
Beyond technical help, we like that Verizon also provides educational resources and new insights on business technology on its website. You can even browse case studies and sign up for webinars.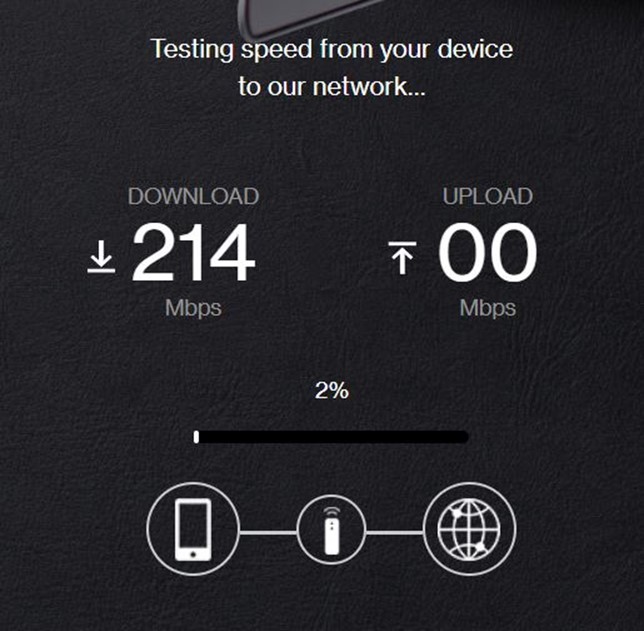 Among Verizon's online tools is a speed test that can measure how fast your download and upload speeds are. Source: Verizon
Limitations
While Verizon is a powerful, scalable and versatile internet provider, it is also expensive. The company offers an array of incentives and assistance with up to $1,500 in termination fees from your current provider, but its discounts and bundle deals only apply in select scenarios. To get the speed, unlimited data and reliability Verizon is known for, customers must pay higher rates for its higher-tiered plans. That could be cost-prohibitive for small businesses on tight budgets.
Verizon is a popular choice for businesses because of its fast 5G network, but its reach has geographical limitations. Not all of Verizon's services are available within its operating territories and businesses in particularly rural environments may not be able to access the high speeds they expect. In various rural locations across the country, the Verizon 5G service can't connect because there isn't a direct line of sight between the location and the 5G cell site. In that case, you may be logistically unable to use Verizon's internet service.
Methodology
During our search for the best business internet service providers, we evaluated vendors on the basis of their product offerings, pricing, setup process, customer support quality, drawbacks and other factors. Whenever possible, we spoke with company representatives and received demonstrations of various features and tools, keeping in mind the services businesses need based on their size, location, mobility and internet use. We identified Verizon as the ideal solution for business owners seeking wireless internet service because the provider's 5G Business Internet and LTE Business Internet are fast, reliable options that can meet a variety of business needs.
FAQs
Some Verizon Business Internet plans offer unlimited data, but after reaching a monthly threshold, speeds will be reduced. The threshold varies by plan.
Whether Verizon Business is better than residential internet depends on your needs. With Verizon Business Internet, customers enjoy faster speeds than residential customers and additional features like business-class customer support and account management capabilities. If you don't need these advantages, residential internet could suffice.
5G Wireless Internet for Business with Verizon is $69 per month for speeds up to 100Mbps. For $199 per month, customers can get speeds up to 400Mbps.
Bottom Line
We recommend Verizon Business Internet for:
Business owners looking for the fastest wireless business internet available.
Companies that want to bundle many connectivity services and save on cost.
Businesses interested in potential long-term wireless internet price guarantees.
We don't recommend Verizon Business Internet for:
Rural businesses that may not be in the direct line of a Verizon cell tower for a 5G connection.
Companies that need more than 850Mbps upload speeds.
Business owners seeking the lowest-cost fiber internet plan.