Access to free Wi-Fi networks was once something you would only expect to find in airports and coffee shops. However, as our day-to-day lives and operations become ever more dependent on broadband internet connections, our need for reliable mobile technology has increased immensely. Whether you are setting up a new business Wi-Fi network or making some long-overdue updates to your existing system, it is important to know how to properly set it up to protect your data and keep your users happy.
How to set up a Wi-Fi network for your business
Setting up a Wi-Fi network for your business is a fairly straightforward task. You will need a broadband business internet connection, some simple hardware, and a bit of thought about your network security management. Here is a step-by-step guide to get your business Wi-Fi service up and running quickly.
1. Choose a Wi-Fi service provider.
The search for the best Wi-Fi service provider for your network begins with learning which internet service providers are available at your exact business address. A location-based search online should provide you with a list of candidates. All of the major telecommunications companies – such as Verizon, AT&T and Spectrum – have competitive products and services that largely differ by market and the size of your business.
If you're signing up for a new business broadband service plan, pay close attention to the available speeds, pricing, contract terms, and assistance your provider offers with security and managed networks. When exploring speeds, note that a wireless connection is inherently slower than a wired connection, as the signal can suffer interference or degradation when traveling long distances or moving through your building's windows, walls and doors.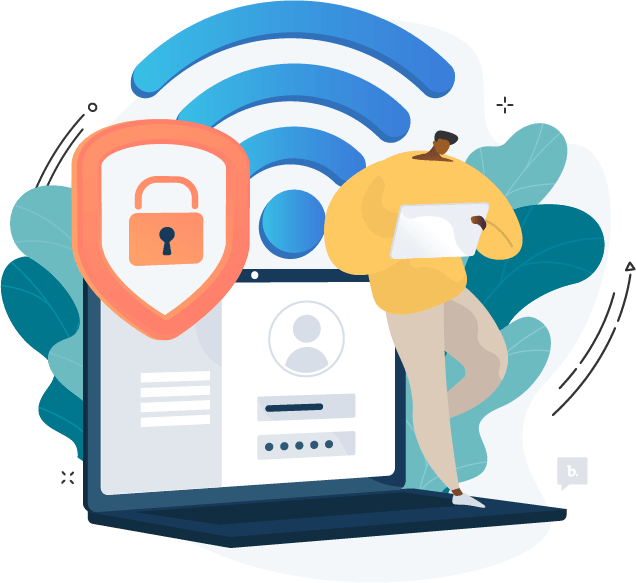 If you already have a business broadband internet provider for cable, satellite, or fiber, the transition to Wi-Fi will be as simple as purchasing the right equipment and setting up your network's security measures.
2. Purchase the right equipment.
Your business broadband internet connection will come installed with everything you need to access the internet through an Ethernet cable. However, creating wireless access points will require a wireless router and, if you're working in a large space, possibly a few Wi-Fi repeaters or extenders to expand the coverage area of your network.
You may be able to lease or purchase preconfigured equipment from your internet service provider – the most practical option for small businesses without dedicated IT staff. However, if you prefer to minimize your monthly costs or buy your hardware from another retailer, you need to understand a few key terms and details.
The best Wi-Fi adapters feature at least two radio bands: 2.4GHz and 5GHz. The 2.4GHz band operates at a lower frequency that's better suited to penetrate walls and other materials, making it the best option for longer ranges. However, it's also more congested because more devices support it. The 5GHz band's higher frequency does not penetrate materials particularly well but does transfer data at much higher rates, making it better for your most demanding devices and tasks.
In an office, assigning the right device to the correct frequency with a dual- or tri-band router will ensure that your network performs to its potential and manages your traffic efficiently. While the Federal Communications Commission has adopted new rules for the 6GHz band, it's still in the early adoption phase without many supporting devices.
The other technical aspect you will encounter is the family of wireless protocols. Wireless networks use a variety of 802.11 protocol standards (ax, ac, n, g, a, and b) to send and receive data through different frequencies with different speeds and limitations. The most widely adopted standard today is 802.11ac. It offers high speeds of up to 1,300 Mbps, dual-band capabilities, directional signaling to specific devices, backward compatibility with previous protocols, and MIMO (multiple-input and multiple-output) technology capable of sending and receiving up to eight independent Wi-Fi signal streams through multiple antennas. If you're purchasing a router for a small or midsize business, 802.11ac offers all the performance and features you'll need.
The next generation of 6GHz routers will run on the backward-compatible 802.11ax. If you're interested in future-proof tech, consider getting ahead of the curve to prepare for higher speeds, less congestion, and longer battery life for connected devices able to use the latest band.
Other useful features to consider when you're shopping for your business Wi-Fi router include wired LAN inputs, USB ports, removable antennas, guest-network functionality and quality of service (QoS) options that allow you to prioritize competing devices as you see fit.
3. Consider managed networks.
Broadcasting a wireless signal exposes you to a greater risk of data theft and manipulation. Knowing that many small businesses are not properly equipped for cybersecurity, most internet service providers will build and manage some or all of your network solution's needs through cloud computing.
Beyond offering you the full suite of security measures, managed network providers can help you streamline operations, improve your business processes' efficiency and enhance your customers' experience. Managed network providers have the technological expertise and dedicated resources to let you focus on your strategic goals with peace of mind about your network's performance and security.
Business Wi-Fi best practices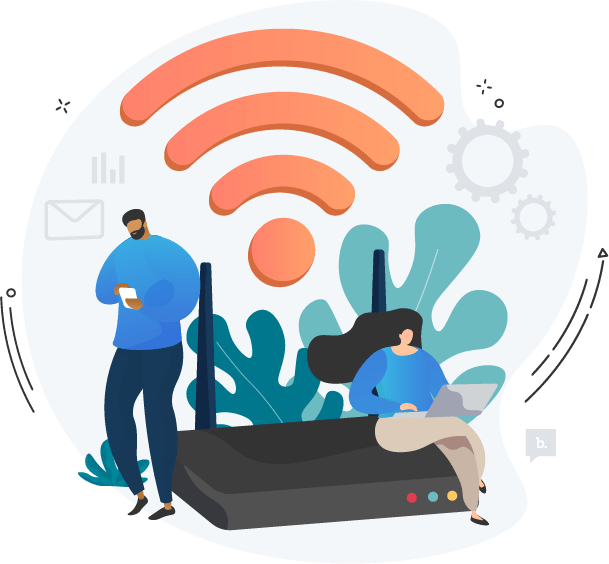 Regardless of the size of your business or the number of devices using your Wi-Fi service, everyone should follow a few best practices.
Security
During network setup with a new router, you should always change the name of the default service set identifier, or SSID. SSIDs are the names you see broadcasting when you attempt to connect to a new network in a densely populated area. The default name could provide hackers with valuable information about your identity and your network's hardware. You should also encrypt your network with Wi-Fi Protected Access 2 (WPA2) or better.
It's also important to choose a strong password. "Companyname2021!" won't suffice. It's a good idea to use a combination of symbols, numbers, and lowercase and uppercase letters. Your password needs to be unpredictable for it to be truly strong. However, that doesn't mean everyone needs the level of security provided by multifactor biometric authentication alongside a randomly generated 16-character string of symbols, numbers, and letters in different cases.
Performance
As you allow more users and devices to connect to your network, keep an eye on its overall performance. With the right router, it's not difficult to limit your guests, printers, and other equipment to a 2.4GHz network to free up your customer service team's laptops for better speeds and VoIP communication on your 5GHz network.
Test the range of your network and try switching from 5GHz to 2.4GHz as you move away from your router. If you're not getting a strong internet connection in certain areas of the office, consider installing a wireless range extender. For the best performance, it's always a good idea to pair a Wi-Fi range extender with a Wi-Fi router from the same manufacturer. However, most extenders can only provide about 50% of your router's speed.
Guest access
Take the time to build a custom landing page for guests who connect to your network. This captive portal is an easy opportunity for you to promote special offers or showcase your brand, products and services.
If you want to limit guest access to paying customers, you can email them the Wi-Fi network name and password or print this info on receipts, and you should update your password regularly. This increases security by limiting access while ensuring your paying customers get the best performance online.