Reliable business internet service is vital for all companies today. Without it, work grinds to a halt. Unlike residential internet, a business internet service provider (ISP) usually offers improved performance that is designed to enhance how companies communicate with clients or customers. And with an always-on, high-speed ISP, your business can save time and money.
Therefore, it is essential to know what to look for when you're choosing a business internet service. Learn more about the features and services offered by the best internet service providers.
Basic business internet features
Here are some of the key basic features to look for when you're searching for a top business internet service provider.
High-speed access
Perhaps the most important factor of any internet plan is speed. High-speed internet plans let your team do more in less time, even as your company grows and uses more bandwidth. There are several options for high-speed internet, but unlike residential customers, businesses don't have to contend with speed throttling, especially when uploading large files. Business ISPs offer similar upload and download speeds to help your team share files and view content throughout any project's life cycle.
With speeds of up to 10 Gbps, business ISPs can be up to 10 times faster than residential internet connections, although most businesses won't actually see transfer rates that fast. You may think you don't need that kind of speed, but those high-speed internet connections can help your business. Business ISPs support multistream workflows, so you can have more employees using the same connection without hurting network stability.
Business email accounts
Many business ISPs provide business email accounts. This not only helps to promote your organization but also adds credibility. While it may be an added cost compared with free email services such as Gmail or Yahoo Mail, it offers a large return on investment.
With a business email service, you usually get more storage to accommodate email attachments and, more importantly, to maintain a meticulous archive of all corporate communications. Better still, the security measures bundled with email services help improve safety for the entire company.
Self-service mobile apps
Mobile apps are more popular than ever, including for self-service tech support. Business ISPs that offer mobile self-service apps usually have that software integrated throughout their entire system, thereby providing painless support and quick solutions when technical problems occur.
Self-service mobile apps tend to focus on clerical functions, like paying bills, resetting passwords and updating profile details. However, they can also be used to send notifications about new features or promotions. More sophisticated mobile apps support cloud backup to help your team members save invoices and customer history while they are in the field; access top customer relationship management (CRM) tools, like analytics and order archives; and tap into documents stored on the corporate intranet.
Advanced business internet features 
In addition to the basics, there are other features, tools and services you may want to look for when shopping for an ISP.
Domain name registration
If you don't already have a domain name for your company, your business ISP can set that up for you. While it doesn't provide the tools to build your website, a business ISP does offer domain name registration and hosting services. Having an ISP that can search for available domain names and ultimately reserve and process the one you want can be a very valuable service if you're a new business just getting started.
If your business has a website, you'll need domain registration services anyway to manage, transfer and reserve any domain name. And if you're already using your business ISP to manage your business emails, it's easy to add your company's domain name selection and registration to your bundle.
Web hosting
A web hosting plan is another necessity for website building. A web host is the repository of all your files and content, although it doesn't necessarily offer the tools or functionality to build the website itself. There are many types of highly rated web hosts, including a dedicated web server, a virtual private server, and a service tailored to web hosting, like WordPress or GoDaddy. 
Many business ISPs offer cloud-based web hosting. The benefits of using a cloud-based solution are that it's easy to scale as your business grows and you're better prepared for surges in peak simultaneous users that may tax your web server. The pricing with cloud-based web hosting is fairly flexible, with plenty of options, so you pay only for what you use.
Additional business internet service factors
You should also make sure your business ISP provides the services your business requires. When you're considering an ISP, assess the following categories as well.
Customer service
When evaluating a business ISP, don't forget to check the customer support it offers. Network stability and uptime are key considerations, but the average time spent on support calls and technical support are other metrics worth investigating.
Verizon and AT&T are often front-runners in customer service, according to the American Customer Satisfaction Index. Both companies offer quick resolutions to technical issues and consistently receive positive customer support feedback.
Phone/internet/cable bundles
You'll often find the best value when you include additional services, like a business phone service, whether it's through promotional pricing or negotiated rates on a larger bundle. Many ISPs want to get you into their ecosystem and often provide deep discounts on bundled services, making it easy to manage your entire service suite from a single provider.
Wi-Fi and hot spots
Setting up a Wi-Fi connection for a business is no small feat, and if it's not done correctly, it can do more harm than good. If you're getting help from a reputable business ISP, you won't have much to worry about; the company will help you find the right equipment and service package. [Learn how to set up a hot spot for your business.]
A high-speed Wi-Fi network can help improve efficiency in your office by giving employees access to the information they need. Further, information is sent through an encrypted connection, so it's safe and secure. Your business ISP can also create an encrypted Wi-Fi protected access (WPA) hot spot to give guests protected access to your network.
Choosing an internet service provider
Once you have determined which business internet features and services you need, it's time to look for an ISP. Follow these steps: 
1. Determine which ISPs serve your area.
Not all ISPs — not even the very large national companies — provide service in all areas. To find the ones that do, start with a simple internet search for "business internet service in [area]." 
When you visit the website of an ISP from the search results, navigate to a page where you can check availability. You will be prompted to type in your address and told whether that ISP can service your location. Repeat this two to four times so you have three to five possibilities for internet service.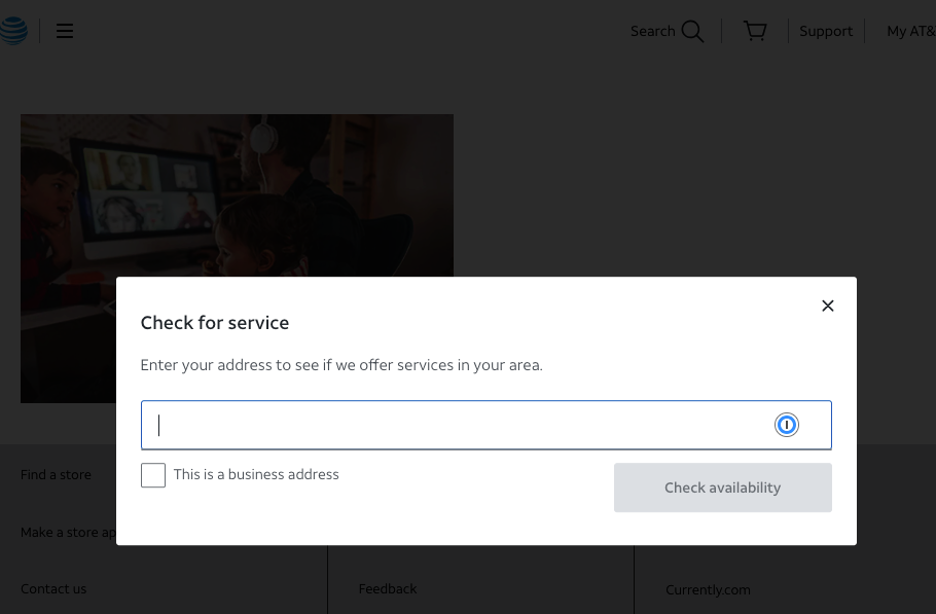 Source: AT&T
2. Evaluate each internet service provider's applicable plans.
ISPs offer various plans with different speeds, features and prices. Identify the plans that meet your needs, and note each plan's initial and monthly cost. Take into account specials and discounts, but also note when those promotions end and what the cost will be from that point forward.
If you already have service with a company for your mobile phones or entertainment — or you're willing to switch those services to a particular internet service provider — you may qualify for a lower bundle price.
3. Research each provider's service level.
Ask other business owners about their experiences with different ISPs. Have they had connection problems or slow speeds? How responsive is the customer service? Is it easy to get in touch with the company, and were the problems resolved quickly? Have the business owners had issues with security breaches recently? Is the service easily scalable? You can also get answers to these questions by reading online reviews.
4. Choose the internet service provider that meets your needs the best.
Now that you have all of the information, choose the ISP that fulfills your company's needs for the best price. Find out how long it will take to get the router and other equipment delivered and installed so you know when your internet service will be live.
The best internet service providers
To help you narrow down your selection, we've reviewed and selected the best business internet service providers. Here are a few of our top picks.
Spectrum Business
Unlike many other service providers, Spectrum offers business internet connectivity on a month-to-month plan with no annual contract. There are three plans, all of which are fiber-optic, differentiated by their top download speeds. Spectrum's service is more affordable than its rivals', and it has an excellent uptime of 99.9 percent. For an additional charge, you can get wireless backup, static IP addresses and a business Wi-Fi connection. Read our full Spectrum review to find out more.
Verizon High-Speed Business Internet
If your business needs lightning-fast broadband for frequent video conferences or webinars, you should consider Verizon, which offers fiber, 5G and LTE options with very little lag and download speeds up to 400 Mbps. In addition, a 10-year price guarantee sets Verizon apart from competitors. If your area doesn't have strong or nearby fiber-optic connections, Verizon also provides broadband using radio frequencies. Because of the vast selection of options, however, the plans can get confusing, so be sure to have a tech-savvy person review them with you. Learn more in our full Verizon High-Speed Business Internet review.
AT&T Business Internet
In addition to quick downloads, AT&T has extremely fast upload speeds, which is a distinct advantage for companies that frequently update their websites with heavy media such as video. If your connection ever goes down, the system automatically generates a service ticket for quick resolution. AT&T also gives business customers the option to add an internet backup service in case they experience a power outage. Dedicated internet plans include a static IP address for no extra cost; this is an add-on if you get a fiber plan. Find out more in our AT&T Business Internet review.
Comcast Business Internet
Comcast is the biggest internet service provider in the U.S., which means that if you have multiple locations, they will probably be in a Comcast service area. Comcast's business internet service has fiber download speeds up to 1.25 Gbps, one of the fastest in the nation. Plans include free cybersecurity tools, and there's no data cap with any business plan. All of Comcast's business plans for both fiber and dedicated internet include static IP addresses. Discover more in our Comcast Business Internet review.