For tiny businesses and startups that are short on staff but big on email marketing needs, HubSpot offers the best CRM solution out there.
Pros
HubSpot's shared dashboards offer excellent transparency, giving sales and marketing teams the information they need to cooperate on projects.
HubSpot has superior reporting and analytics tools that are fueled by AI and fed by data from the company's built-in omnichannel communication platform.
To create workflows and automations, you just drag and drop; no coding is required.
Cons
Much of the functionality that makes HubSpot a great CRM is locked away in a more expensive tier. The Free and Starter versions are probably suitable only for microbusinesses.
You pay extra for past-limit WhatsApp conversations, API calls and more, even on the most expensive service levels.
Telephone support is not available to Free and Starter plan customers.
Many businesses want their sales and marketing teams to work more closely to optimize results. HubSpot CRM is an excellent choice for these organizations. Its powerful, easy-to-use reporting and analytics tools provide you and your managers with the necessary insights to improve lead generation and achieve successful lead conversions. The platform lets colleagues see the latest, most accurate company data on shared dashboards to facilitate discussion, cooperation and collaboration. HubSpot's lead management, analytics and forecasting capabilities help sales teams drive higher revenue from their sales pipeline. 
HubSpot CRM Editor's Rating:
9.5 / 10
Pricing/value

9.2/10

Features

9.6/10

Customization, add-ons and integrations

9.8/10

Ease of use

9.4/10

Customer service

9.5/10
Why We Chose HubSpot as the Best CRM for Sales and Marketing Integration
Sales and marketing teams drive revenue and help businesses grow. HubSpot's tools are uniquely qualified to foster sales and marketing integration, making this customer relationship management (CRM) system an attractive option for many companies. For example, HubSpot provides shared dashboards and real-time sales and marketing information, which creates a trusted data source that promotes cooperation and the exchange of insights and opinions. Everyone involved in generating leads and closing sales can use concrete data to shape marketing efforts and sales processes. 
HubSpot's intuitive and comprehensive omnichannel functionality impressed us. Whether communication with customers is done by phone, email, WhatsApp, the company website, social media or another channel, HubSpot records interactions and updates the relevant client record with new information. 
Sales managers can use HubSpot to isolate calls between reps and customers and send the recordings to marketing managers and their teams so they can listen to real two-way interactions. Hearing common and genuine pain points and hopes expressed firsthand by customers provides more insight into purchasing motivations than even the best buyer personas allow. Marketers can use this information to sharpen messaging on email campaigns, website collateral and more.
We were also impressed by HubSpot's usability. Unlike some competitors, including Salesforce and Oracle NetSuite, HubSpot prioritizes intuitive navigation and a visually appealing drag-and-drop feature for building complex sales and marketing automations and workflows. 
For these reasons and more, HubSpot is our pick for the best CRM for sales and marketing integration.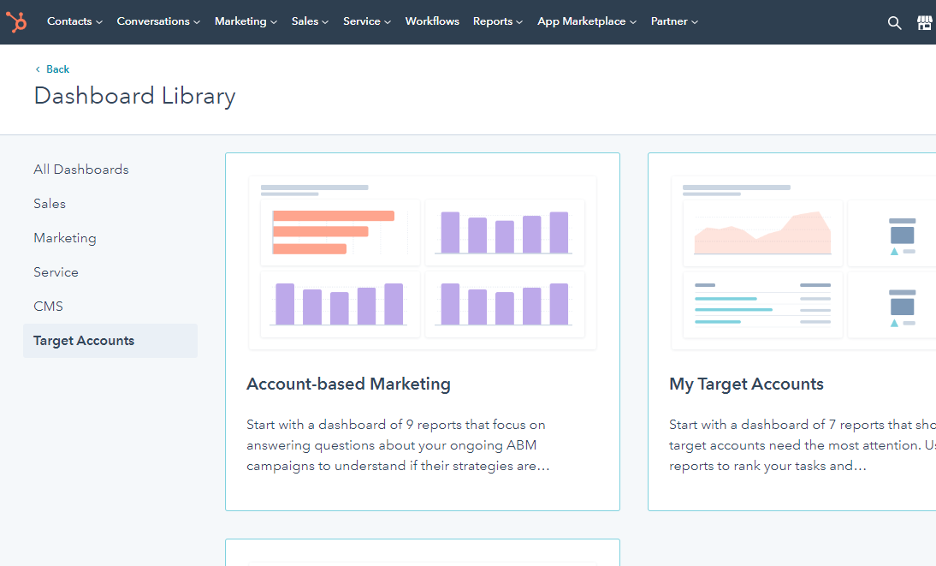 HubSpot allows easy access to a dashboard library for intuitive navigation. Source: HubSpot
HubSpot is a leader in CRM adoption trends, boasting robust AI tools, integrations, forecasting and reporting.
Ease of Use
We found HubSpot to be a very intuitive and easy-to-use platform, especially compared with the more complex competitors we reviewed. The company clearly wants clients to get up and running immediately. 
You use the horizontal menu at the top of the screen to access the main areas, including settings and the Marketing, Sales, Service, CMS, and Operations hubs. Navigating to various sections is easy using the vertical menu on the left side of the screen. The rest of the screen displays dashboards and information to help you perform and complete tasks. You can select the Help icon anytime to access guided training.
We like how you can use visually pleasing, intuitive drag-and-drop functionality to create and amend automations and workflows. To add to the system's functionality, HubSpot's marketplace contains thousands of apps, including integrations with many popular business apps. 
HubSpot's modern, uncluttered interface and seamless user experience are among the best of all the CRMs we reviewed.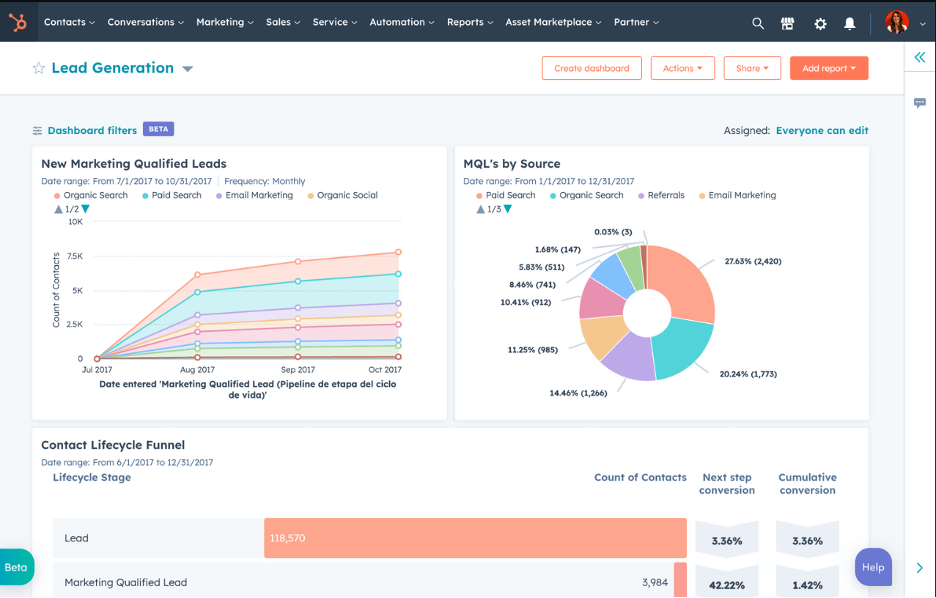 Access guided training by clicking the Help button on the bottom-right corner of the screen. Source: HubSpot
HubSpot Features
HubSpot's CRM features can help foster greater understanding and cooperation between the marketing and sales teams. Here are some features we particularly liked:  
Shared Dashboards
We like that you can build customized sales dashboards to display individual and team performance on metrics such as win rates and average deal size. Marketing dashboards reveal overall performance on engagement, as well as conversions overall and by campaign. HubSpot's attractive, functional dashboards stand out among the competition.
We especially like that teams can share dashboards. Shared dashboards create valuable engagement opportunities. For example, sales reps can share customer insights with marketing team members so everyone understands what led to the sale or why a marketing campaign failed. Marketers can take these insights and craft more targeted messages to address customer pain points and improve campaigns.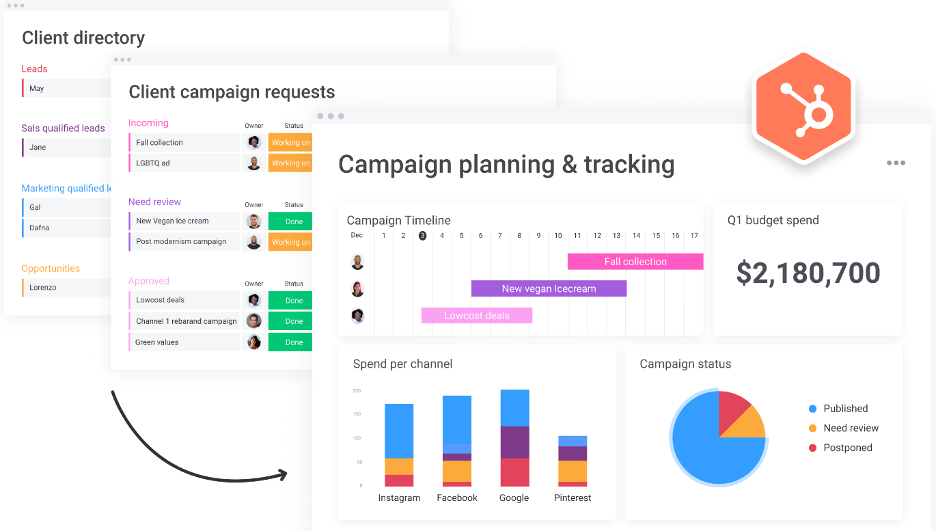 HubSpot's shared dashboards display lead information from origin to conclusion for sales and marketing teams. Source: HubSpot
Lead Generation and Nurturing
HubSpot's lead capturing and management tools impressed us. Here are a few highlights: 
Easily capture lead data via website forms. Add a HubSpot form to your website for visitors to complete; their data will create a new record in the CRM. You can set up follow-up email sequences to warm up leads and turn them into prospects. 
View all customer interactions. HubSpot can capture and log all customer interactions at every stage. Marketers can see which channels are most effective, and sellers can pinpoint the advertising methods and landing pages that persuade customers to sign up or make an inquiry. 
Set lead-scoring criteria. HubSpot lets you set lead scoring criteria depending on a customer's actions (or inaction). It also updates lead scores in real time. You define the actions that indicate positive or negative scoring criteria.
Capture leads via web chat software. HubSpot's live web chat software captures lead information. It automatically creates a new record and populates it with interaction details, including the products or services the lead was interested in and the questions they asked. This information is valuable to salespeople because it saves time in identifying prospect pain points and desires. You can also use the chatbot to book meetings and qualify leads. 
Capture leads via mobile devices. We like that HubSpot's mobile lead-capturing functionality makes it easy to capture leads while you're on the go. You can conduct web and social media conversations and other interactions through the HubSpot app or via an integration with communication software such as Slack. 
Create lead-nurturing automations. HubSpot's comprehensive lead-nurturing tools help move inquirers to solid prospects. We were particularly impressed that HubSpot's flexible CRM software lets you set up various lead-nurturing automations depending on lead scores and other attributes you control.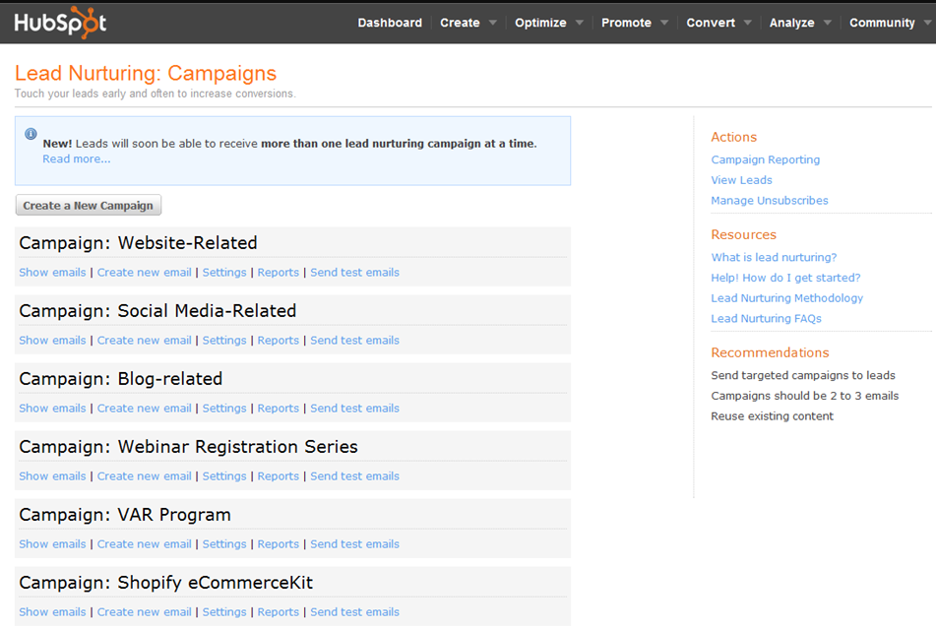 Run multiple lead-nurturing campaigns simultaneously with HubSpot. Source: HubSpot
Omnichannel Marketing Campaigns
We love that HubSpot offers powerful omnichannel communication, which is ideal for sales and marketing teams. You can interact with and market to customers via phone, text message, live chat, social media and email. 
Here are a few aspects of HubSpot's omnichannel capabilities that impressed us:
Email marketing tools: HubSpot boasts an impressive suite of email marketing tools that's much more comprehensive than many competing CRMs we reviewed. You can design emails using drag-and-drop tools and optimize them later to improve their performance after you view campaign results. HubSpot provides various goal-based email templates — many of which are free — with customizable layouts, branding, and calls to action. You can drop information from your database into marketing emails to personalize them, as well as run A/B tests to see which designs lead to better results. 
Telemarketing tools: Telemarketing is still a popular route to market. HubSpot includes VoIP functionality, although you can use your own carrier if you prefer. You can run outbound campaigns using the Campaigns tool, set goals, track performance by rep, and measure ROI. There's also a handy call-recording tool. HubSpot's AI tools can transcribe conversations and put them into a customer's record. Additionally, agents can call directly from the HubSpot browser with one click.
Text and other messaging integrations: Although HubSpot doesn't have built-in SMS integration, over 20 apps are available to add this functionality. You can also add integrations to send and receive messages via private messaging apps (like WhatsApp, Facebook Messenger, and Telegram), as well as send and receive direct messages on social media platforms. 
Read our Zoho review to learn about another CRM with built-in VoIP functionality, and check out our Oracle NetSuite review to learn about a system that requires a plug-in for VoIP.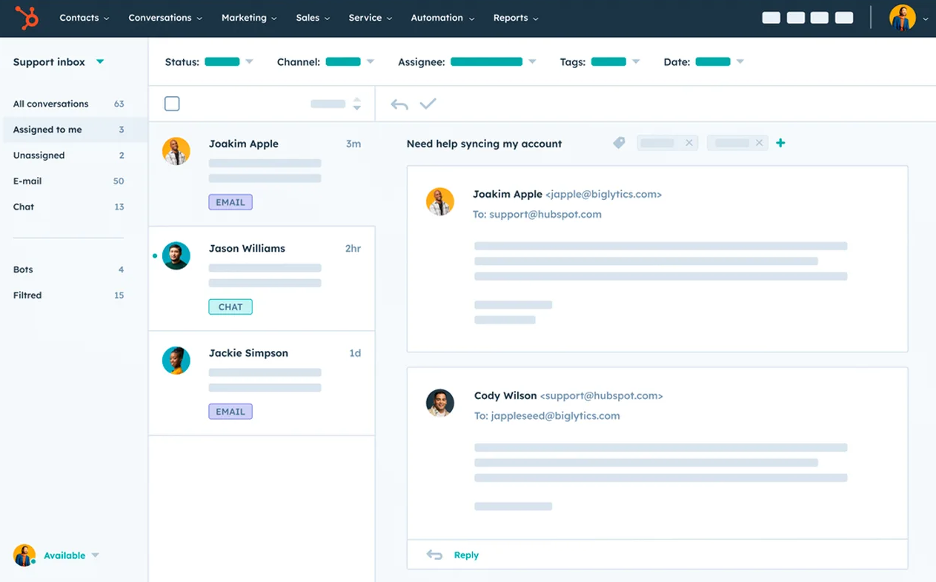 All interactions and conversations can be accessed via HubSpot. Source: HubSpot
Customer Segmentation and Personalization
We were particularly impressed by HubSpot's powerful customer segmentation tools. You can segment markets using desired attributes, including demographics, psychographics and previous interactions. 
HubSpot lets you create static and active lists — a feature that sets it apart from the competition. Static lists include people or companies who meet specific segmentation criteria, and active lists include people or companies added to or removed from the list, depending on their current state. 
This feature is helpful for both business-to-business (B2B) and business-to-consumer (B2C) companies. For example, a B2B company with a complex sales process could create separate segments based on the company type and sales funnel location (e.g., "visited the pricing page," "downloaded the Q4 whitepaper," "expressed an interest in a demo that has not yet occurred," etc.). Marketers can then use HubSpot's Smart Content AI feature to create personalized emails for each segment member. After sending the emails, you can create a follow-up calling list for your telemarketing team to reengage past clients or cold leads.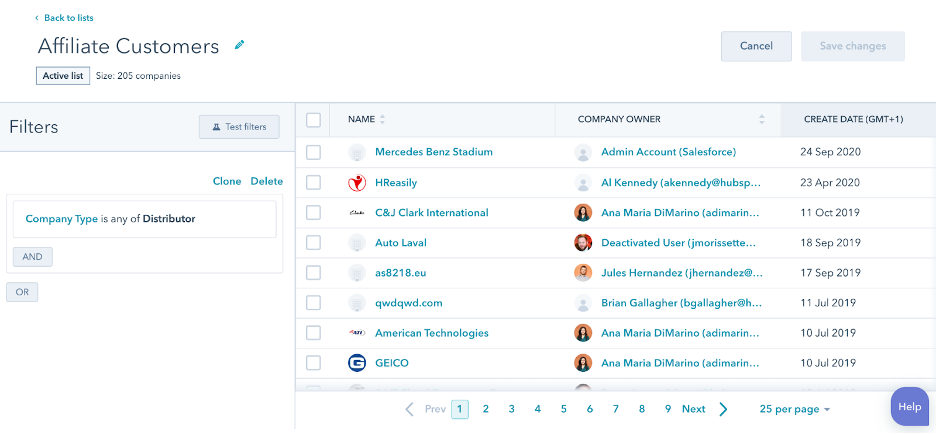 HubSpot allows you to segment customers by particular attributes. Source: HubSpot
Analytics, Forecasting and Reporting
We found HubSpot's data analytics, forecasting and reporting capabilities among the best in the sector for sales and marketing teams — and beyond. Here are a few features we found particularly impressive: 
Attribution reports: Attribution reports are especially helpful for your in-house marketing team. They'll link revenue to specific interactions and provide customer journey data that analyzes progress through the sales funnel at different touchpoints. This information can help marketing managers decide which promotional channels should get additional investment.
Sales forecasting tools: HubSpot executes its sales forecasting features particularly well. The system sets up deal stages by default; its forecasting tool uses these stages to gauge how likely a sale is to happen and what its potential value might be. This tool helps reps identify how to meet their revenue key performance indicators (KPIs) and helps managers uncover training opportunities. Additionally, marketing managers can use this data to understand which products and services are in demand and which channels are the best for potential sales.
Insight into sales tunnel problems: Sales and marketing managers can use sales forecasting data to identify sales funnel problems. For example, they may spot issues with lead quality if expected revenues are missed. This could indicate campaign messaging and targeting issues. Sales managers can also share the objections they've heard from prospects with marketing teams to provide insight into why and where leads and prospects drop out of the funnel.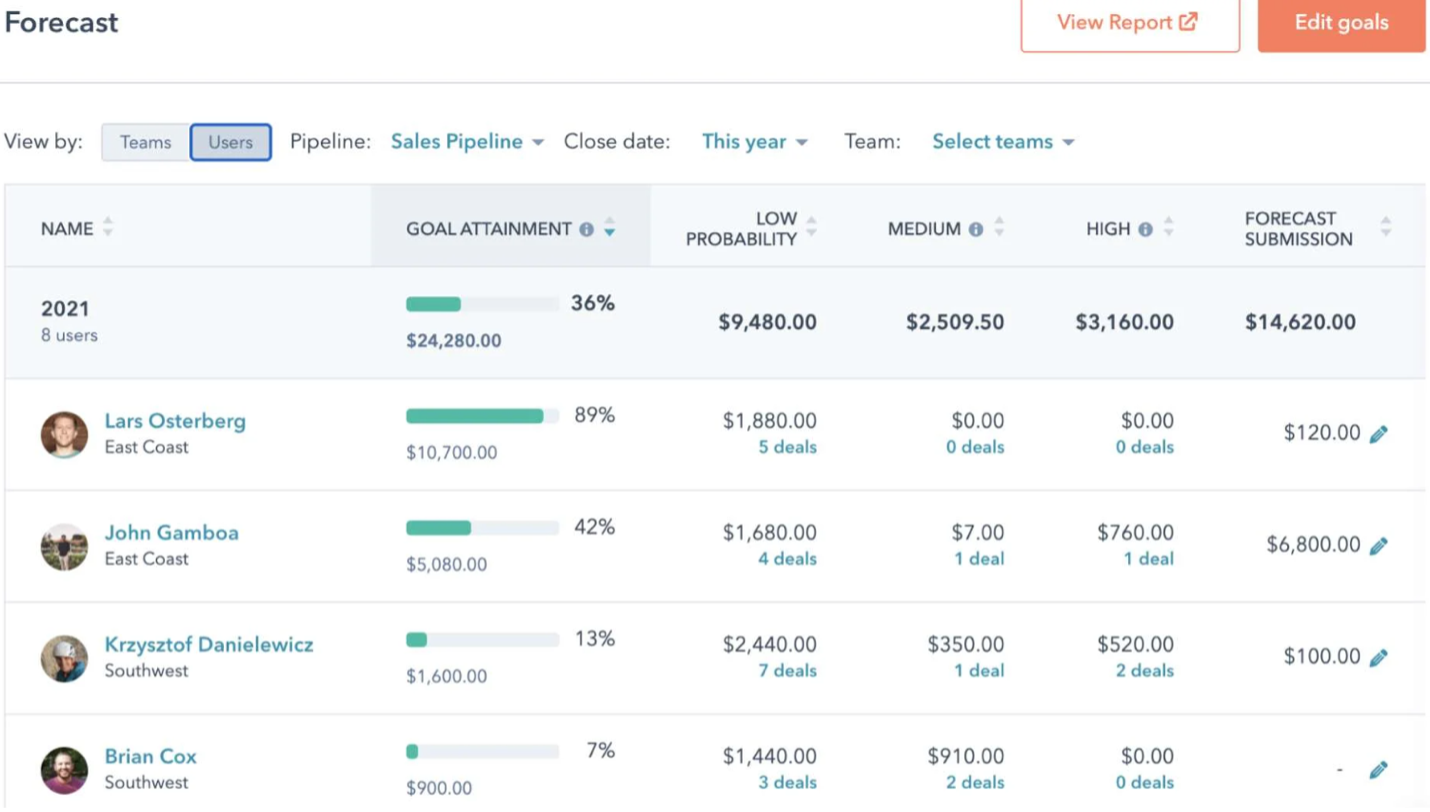 HubSpot's sales forecasting tools help you understand incoming revenue. Source: HubSpot
Workflows and Automations
HubSpot offers some of the most powerful workflow automation tools of any CRM provider we reviewed. These tools help companies optimize sales, marketing and customer service performance.
Automated workflows are actions that occur after a specified trigger or criterion is met. Consider this example:
A marketing manager sets a trigger to send a lead to the sales manager for follow-up after a prospect downloads a whitepaper or clicks a link in an outbound marketing email. 
The sales manager creates a workflow based on the lead's characteristics — such as industry, revenue, size and the product or service they're interested in — and transfers the lead to a rep with experience in that sector. 
Other actions include sending reminder emails or quotes or following up with a call to keep the lead warm.
Experimenting with automations helps sales and marketing teams refine their approach. For example, they can determine the ideal interval between contacting leads at various sales funnel stages to significantly enhance the likelihood of securing a sale. 
We like how easy it is to build automations in HubSpot using its drag-and-drop visual editor. We also appreciate that this function streamlines workflows and introduces the human experience into the marketing and sales processes.
Integrations
HubSpot's marketplace boasts over 1,000 apps that customers can use to customize the platform. We appreciate how easy it is to find and install the right apps on your system. 
Compared with other CRM marketplaces, we found that HubSpot has a much tighter focus on marketing and sales apps, which is one reason we chose the platform as the best CRM system for sales and marketing team integration.
If your business needs more extensive apps and integrations, check out our review of Zoho CRM to evaluate this vendor's comprehensive offerings.
HubSpot Pricing
HubSpot has five iterations: marketing, sales, customer service, CMS and operations. For simplicity, we're quoting prices from the CRM suite, which essentially bundles the vendor's functions.
HubSpot's Free Tier
We really like that HubSpot has a free service level — a rarity in today's marketplace. The features in this tier are limited but still quite generous. The free level allows you to do the following:
Access basic SEO recommendations and optimizations. 
Send 2,000 emails per calendar month (with HubSpot branding).
Utilize live chat (with HubSpot branding). 
However, the free tier lacks crucial features, like integrations, social media, the WhatsApp hook, campaign management and employee collaboration tools.
HubSpot's Paid Tiers
HubSpot offers a 14-day trial for new users to see if the system is right for their business. The paid service levels are listed below. (These are annual rates paid upfront.)
Starter: From $30 a month for two users. The Starter tier provides everything in the free tier but with HubSpot branding removed from live chat, email marketing, forms and landing pages. Records can have 1,000 properties, and you get 10 dashboards, each of which allows 10 reports. You get 25 active lists and 1,000 static lists, payment processing, form automation, and email retargeting tools. You can have two deal pipelines from the Sales suite, as well as document storage, sales content analytics and sales automation. However, much functionality is still missing with this package. Each additional user costs $25.
Professional: From $1,600 a month for five users. There is a significant leap in price between the Starter and Professional tiers. However, the Professional level has robust features, including customer reporting, contact center attribution, deal and company scoring, dynamic personalization, A/B testing and SEO analytics. There is also a one-time $3,000 onboarding fee. Each additional user costs $100 a month.
Enterprise: From $5,000 a month for 10 users. This level includes everything in the Professional package, plus 10,000 marketing contacts and additional tools. 
Additional Costs and Considerations
Although there are no setup or CRM implementation fees with HubSpot, consider the following additional costs and options: 
Annual versus monthly payments: You must commit annually for the Professional tier; the Starter level requires a rolling monthly commitment. You can pay monthly with an additional premium of around 20 percent on the Professional tier and 40 percent on the Starter package. 
Extra users: When you add users, the costs can multiply — but this is essentially the same pricing model most CRM providers use.
Onboarding packages: HubSpot offers onboarding packages that cost up to $6,000. The company doesn't promote this charge. However, customers have reported online that onboarding costs can be as little as $750 or run into five figures, depending on the product, tier, number of users, and desired configuration.
API calls: You must pay $500 monthly if you make more than 1 million API calls per day. 
Additional record costs: The Starter suite includes 1,000 marketing contacts — people you can send promotional emails to five times a month. You'll pay an additional $50 monthly for every 1,000 records. So, if you have 10,000 records, you'll pay an extra $5,400 yearly.
Additional Professional-level charges: When you move up to the Professional tier, dedicated IPs, list limit increases, transactional emails and WhatsApp conversations attract extra charges. This can make it challenging to understand how much you'll spend upfront.
Most other CRM providers cap the number of emails, instead of the number of contacts, making HubSpot an outlier in this area. For example, Salesforce allows 5,000 daily emails, and Zendesk caps emails at 300 per day. Read our review of Salesforce and our Zendesk review to learn more.
HubSpot offers a data migration service and import strategy that can help businesses that are switching CRM systems.
Limitations 
HubSpot is a full-featured CRM with many upsides. However, we identified some limitations: 
Lower levels lack features. While the number of features in the Starter level is good, you need access to the Professional tier to get full functionality and the best value. 
Pricing is relatively high. HubSpot's per-user pricing is more expensive than that of other providers we evaluated. Although HubSpot can provide significant value by aligning your sales and marketing teams, it requires a major financial commitment. 
Some charges aren't apparent. You may encounter unexpected charges with HubSpot if you use the Professional package — $3,600 a year for a dedicated IP for your marketing emails and $7,200 a year for transaction emails. That's more expensive than most specialist business hosting providers or email platforms.
The Starter tier doesn't include phone support. Although the Starter package is a good value, we think paying customers of any tier should be able to speak to a customer service rep.
Methodology
When evaluating the best CRM software, we pinpointed platforms with the necessary features to enhance sales, marketing and customer support. Our review process included reaching out to company representatives, testing features and functions, assessing pricing, and reviewing company tutorials and support materials. When looking for the best CRM for sales and marketing integration, we focused on contact and deal management, sales enablement, reporting and analytics, workflow and process automation, team management features, e-commerce modules, and available integrations. Our goal is to help you choose the right CRM for your business.
HubSpot FAQs
HubSpot CRM is an inbound and outbound sales and marketing platform that helps businesses generate and convert more leads. It also has a service element that helps companies manage customers after the sale. Customer data management for your business takes place in HubSpot, which makes the data available, subject to permissions you set for your employees.
HubSpot has a free tier that offers a limited range of sales, marketing and customer service tools. Paid tiers start at $30 a month for two users.
Bottom Line
We recommend HubSpot CRM for …
Businesses that want to generate more leads and convert them into sales.
Companies that want to drive more business from their website, social media marketing, and email marketing campaigns.
Marketing and sales teams that want better visibility into and control over the customer journey.
We don't recommend HubSpot CRM for …
Small businesses that are looking for a full-featured CRM on a limited budget.
Companies that don't want to be charged for overages.