Small businesses need user-friendly, capable customer relationship management (CRM) systems to help manage customer relationships, nurture leads and improve sales. Pipedrive and HubSpot are popular CRM solutions with a range of features that can help streamline operations. We'll compare their essential marketing, lead nurturing, communication and reporting features and more to help your business find the right CRM software for your needs. 
Pipedrive vs. HubSpot Comparison
Here's how HubSpot and Pipedrive compare in essential CRM features and pricing. 
Running Marketing Campaigns
HubSpot and Pipedrive have built-in marketing platforms that help you connect with and successfully convert leads. 
Pipedrive Marketing Campaign Features
Integrated email marketing: Pipedrive lets you send and receive standard emails and launch email marketing campaigns. We like its intuitive drag-and-drop editor and broad selection of email templates. You can save templates and share them with co-workers.
Omnichannel marketing: We like that Pipedrive helps you win customers over the phone and use SMS for marketing campaigns.
Lead-generation tools: We also like Pipedrive's lead generation tool, LeadBooster ($39 monthly). It captures contact information from online forms and chatbots on your website. You also get 10 inclusive target contact details from a database of over 400 million business-to-business (B2B) decision-makers. There's an additional fee for extra contact data purchases.
Marketing analytics: Pipedrive makes it easy to measure campaign engagement and conversion rates. You'll get helpful insights on how to improve campaign performance.
HubSpot Marketing Campaign Features
Integrated email marketing: We like how easy HubSpot makes it to create, personalize and optimize email campaigns. Professional-tier subscribers also get A/B testing and dynamic personalization features.
Omnichannel marketing: HubSpot's comprehensive campaign management tools impressed us. You can run SMS, telemarketing, content marketing, social media and paid search campaigns (like Google Ads). We really like that HubSpot's analytics tools can help boost your SEO strategy.
Dynamic lists: We like that HubSpot's active lists help you define the actions (and inactions) that make a lead hotter or colder. HubSpot can add and remove individuals from your list in real time, depending on their actions.
Customer segmentation: We were pleased to see market segmentation tools in HubSpot. You can group prospects and customers by specific characteristics — including certain demographics, psychographics and past interactions — for more targeted and effective marketing campaigns.
Winner
HubSpot wins this round. It offers more options and provides deeper insight into campaign data. The platform's A/B testing, dynamic personalization and segmentation functions are excellent. The unique and helpful dynamic list feature also impressed us. Still, Pipedrive's marketing platform is very good — better than those of most CRMs we've tested.
Lead Nurturing
Here's how Pipedrive and HubSpot compare for lead nurturing. 
Pipedrive Lead Nurturing Features
Sales automations: We appreciated Pipedrive's sales automation features. You can establish multiple funnels for each product and service, and set unique triggers to help deals progress. 
Sales Assistant: Pipedrive's Sales Assistant impressed us. It provides performance advice to reps at all stages of the sales process, tips on prioritizing deals, and suggestions on time-saving workflow automations.
Smart contact data: We like that Pipedrive enriches prospect contact data by matching it to social media profiles and company details, thus helping reps create customized, confident sales pitches and presentations.
Lead scoring: We were pleased to see lead-scoring features. The platform assigns quality scores to leads based on their profile, how they engage with emails, how often they visit your site, company size, location, line of business and more.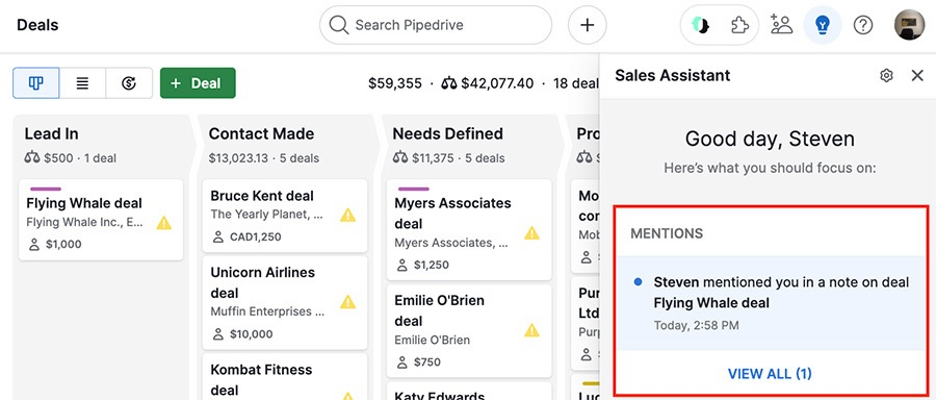 Pipedrive's Sales Assistant feature helps reps manage their days, pipelines and workflows. Source: Pipedrive
HubSpot Lead Nurturing Features
Sales automations: We like that reps and managers get 36 pre-built, customizable workflow automations. You can build new automations, amend existing automations and share automations with colleagues.
Predictive lead scoring: Get live estimates on a lead's chances of turning into a client based on their interactions. You can set specific criteria to signal lead strength.
Document sharing: We like that you can create, share and track documents. You can use HubSpot's templates and smart content to build new documents.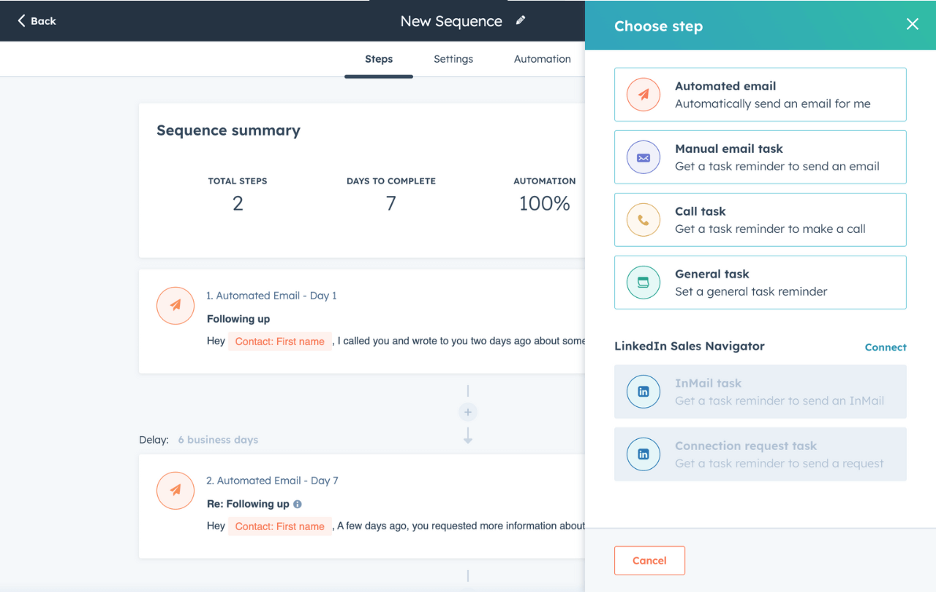 HubSpot makes it easy to create and set up custom sales automations. Source: HubSpot
Winner
Pipedrive's excellent lead nurturing tools give it the edge over HubSpot in this category. These tools are ideal for B2B sales teams that deal with multiple decision-makers, constant changes and multiple stages. However, HubSpot's lead nurturing tools are sufficient for more straightforward sales.
Omnichannel Communications
HubSpot and Pipedrive incorporate omnichannel, one-on-one communication very well.
Pipedrive Omnichannel Communications
Integrated email platform: We like that Pipedrive retains customer email interactions in a conversation history for easy reference.
Omnichannel capabilities: With a third-party plug-in, you can retain and reference conversations with customers via SMS, MMS, web chat, social media private messaging and messaging apps (like WhatsApp).
Voice calling: Apps such as Aircall, JustCall and Ringover enable phone sales and follow-ups. You can also use the Fireflies.ai and Tactiq apps to transcribe calls and save them to a customer's file.
HubSpot Omnichannel Communications
Integrated email and chat: We were pleased that you can conduct email and web chat conversations via the HubSpot platform and retain full access to each client's conversation history.
Social media, SMS and private messaging: Sales teams can talk to customers via a WhatsApp business account and hold conversations via SMS. All conversations are stored in the client's history with the relevant HubSpot plug-ins.
Telephone and messaging integration: We like that HubSpot has integrated VoIP; you can also choose your own provider, such as Aircall, RingCentral or Kixie.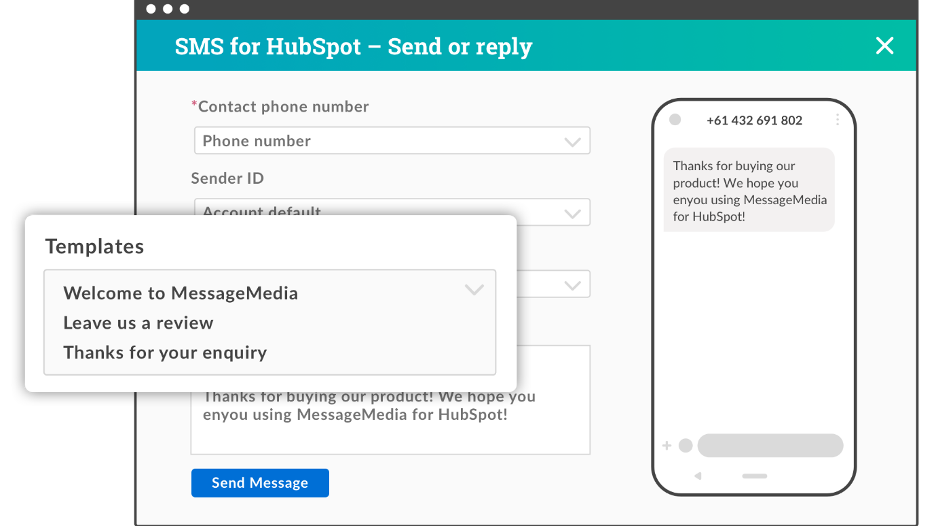 HubSpot makes it easy for sales and marketing teams to send text messages via the platform. Source: HubSpot
Winner
HubSpot's built-in email and VoIP functionality win this category. Additionally, HubSpot's expansive range of apps allows you to communicate with clients on more channels.
Reporting and Analytics
CRM reports and data insights are invaluable for small businesses. Here's how Pipedrive and Hubspot compare. 
Pipedrive Reporting and Analytics Features
Deal reports: We like that Pipedrive's deal reports let you monitor the progress of individual deals as well as overall sales pipeline performance. Managers and reps can see which deals are closest to completion. Twenty-five configurable dashboard widgets display real-time performance data.
Goal tracking: Pipedrive's goal-tracking features impressed us. You can set up and track company, team and individual goals. Managers can analyze performance at every deal stage and identify training opportunities for underperformers.
Sales forecasting: Pipedrive's excellent sales-forecasting tool helps businesses understand which deals to focus on first.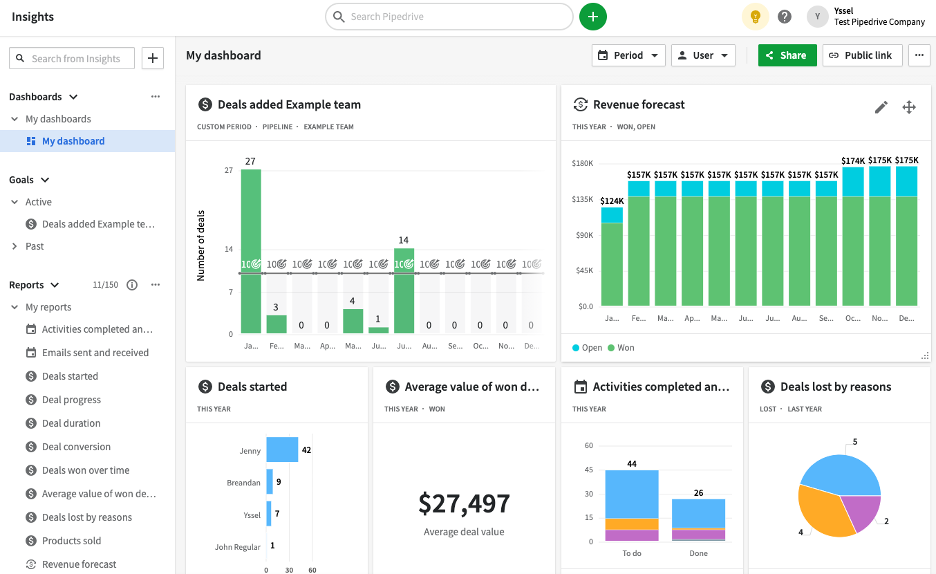 Add up to 25 widgets to your Pipedrive dashboard to stay abreast of the latest information. Source: Pipedrive
HubSpot Reporting and Analytics Features
AI-driven analytics: HubSpot's superbly integrated AI impressed us. It gives managers and teams valuable insight into engagement, conversions and performance.
Shared sales and marketing dashboards: Get a clear view of performance at each stage of the customer journey to see what needs improvement.
Attribution reporting: We liked HubSpot's attribution reporting, which links revenue to specific campaigns and helps companies decide how to spend their ad budget.
Winner
HubSpot wins this category because of its AI-driven analytics, attribution reporting and customer segmentation capabilities. However, Pipedrive's dashboard customization, deal reports and goal-tracking features are also very helpful. 
Integrations
Expand the effectiveness of Pipedrive and HubSpot with third-party integrations and APIs.
Pipedrive Integrations
Growing app marketplace: Pipedrive's marketplace has 400 apps that help you add new features and connect to software such as Zoom, Calendly and Microsoft Teams.
Sales-specific apps: We like Pipedrive's sales-specific apps, including ActiveDEMAND (sales call automation), Salespanel (advanced customer journey tracking) and WeMapSales (territory sales management).
API platform: Create custom integrations and automations that are specific to your business with pre-built webhooks and a dedicated API platform.
HubSpot Integrations
Massive marketplace: We were impressed that HubSpot has over 1,000 apps in its marketplace. Apps are logically ordered and easy to find.
Sales and marketing apps: Streamline your sales and marketing processes by integrating with social media accounts and apps such as WordPress, Canva, Shopify, LinkedIn Sales Navigator and Dedupely (for removing duplicates from databases).
Data-sync apps: Built by HubSpot, these apps create a two-way data sync between HubSpot and popular apps such as Google Contacts, Stripe, Airtable and accounting software.
API interface: HubSpot provides an extensive API section for managing contacts, automating campaigns and workflows, tracking web analytics, syncing data and more.
Winner
HubSpot is the clear winner for integrations, thanks to its 1,000 apps, data sync plug-ins and an easy-to-navigate app store. However, Pipedrive is catching up; it has over 400 apps, impressive pre-built webhooks and an API developer platform.
Pricing
HubSpot and Pipedrive offer various service levels. Impressively, HubSpot has a free service for new users.
Pipedrive Pricing
Pricing reflects annually billed costs. If you want to pay monthly, you'll pay up to 32 percent more.
Plan

Price

Features

Essential

$14.90 per user per month (billed annually)

Customizable pipelines
Lead and deal management
Sales Assistant AI tool
Data import and export
Deal reports
Email inbox
Company and user goals
Visual dashboards
3,000 live deals
One insights dashboard
30 custom fields per lead

Advanced

$27.90 per user per month (billed annually)

Includes everything in the Essential plan, plus the following:

Smart contact data
Automations
Web-to-mobile calls
Recurring revenue
Meeting scheduler
Email open and click tracking
100 custom fields per lead
30 active automations per user 
10,000 live deals

Professional

$49.90 per user per month (billed annually)

Includes everything in the Advanced plan, plus the following:

Team management
Deal card customization
Pipeline-specific deals
Automated lead assignment
Contacts timeline
300 custom fields per lead
60 active automations per user
Unlimited dashboards 
100,000 live deals

Power

$64.90 per user per month (billed annually)

Includes everything in the Professional plan, plus the following:

Access to an implementation program
Phone support
500 custom fields per lead
90 active automations per user
200,000 live deals 

Enterprise

$99 per user per month (billed annually)

Includes everything in the Power plan, plus the following:

Security alerts and rules
Unlimited custom fields per lead
180 active automations per user
Unlimited live deals
Pipedrive plans cost $14.90 to $99 per user per month. The Professional level ($49.90) delivers the best value with essential sales team features. Higher-level plans offer more flexibility and may suit companies with complex sales processes.
Note that some add-on services will incur additional costs. We were disappointed that Pipedrive doesn't offer a free subscription, but you can take advantage of a 14-day free trial. 
HubSpot Pricing
We were impressed that HubSpot offers a free service plan with marketing, sales, service, CMS and operations tools. Its paid plans are listed below. Note that the prices reflect monthly charges with an annual commitment. Month-to-month pricing is up to 40 percent more. 
Plan

Price

Features

Starter

$30 monthly for two users; $25 for each additional user 

HubSpot branding removed from live chat, email marketing, forms and landing pages
1,000 properties per record
10 dashboards with 10 reports each
25 active lists and 1,000 static lists
Payment processing
Form automation
Email retargeting tools
Two deal pipelines
Document storage
Sales content analytics
Sales automation

Professional

$1,600 for five users; $100 for each additional user; one-time $3,000 onboarding fee

Includes everything in the Starter tier, plus the following: 

SEO analytics
Deal and company scoring
Customer reporting
A/B testing
Dynamic personalization 
Contact center attribution

Enterprise

From $5,000 monthly for 10 users

Includes everything in the Professional package, plus 10,000 marketing contacts and additional tools
HubSpot's free tier is a rarity in the market and comes with a respectable feature set. The Starter package is also a good value, with features such as email retargeting and sales automation. The Professional level brings a significant cost leap and a one-time $3,000 onboarding fee. You also may need to pay for extra users, API calls and additional charges.
Winner
HubSpot's platform is more comprehensive; its Starter tier will give many companies the tools they need. However, Pipedrive is also competitively priced, particularly if your company is considering HubSpot's higher-level tiers. 
While HubSpot gives you more features for the money, it's not suited to all companies. For example, Pipedrive is a better value for businesses with complex B2B sales processes.