Pipedrive vs. monday sales CRM Comparison
Here's how Pipedrive and monday sales CRM compare in pricing and essential CRM features such as marketing, lead management, communications, workflow automations and integrations.
Marketing Campaigns
Both monday sales CRM and Pipedrive have built-in marketing platforms that allow you to connect with fresh prospects to turn them into leads.
Pipedrive Marketing Campaign Features
Integrated email marketing: Pipedrive's integrated email client and email marketing platform impressed us. This feature, available for a small additional monthly charge, allows users to send campaigns from their domain for added legitimacy. The platform's drag-and-drop editor and extensive template selection enable easy email campaign customization. We also like Pipedrive's ability to analyze campaign conversion metrics such as opens, clicks and subscribes.
Multichannel marketing capabilities: Third-party apps add omnichannel functions to Pipedrive. We were impressed that apps such as WhatsApp and Textedly (via Twilio) allow you to run text message marketing campaigns. You can also add VoIP functionality via providers like Aircall, JustCall and Ringover.
Lead generation tools: We like that you can use Pipedrive to generate sales leads and fill your sales funnel. LeadBooster ($39 monthly) helps businesses capture contact information from forms and chatbots on their website, acting as an effective first service line with excellent interaction quality.
Customizable campaign templates: We appreciate the platform's email analytics tool, which provides insight into standard metrics like email open rates and successful lead conversion rates, including recipient interaction details. You can also run historical analyses to check long-term engagement and conversion trends.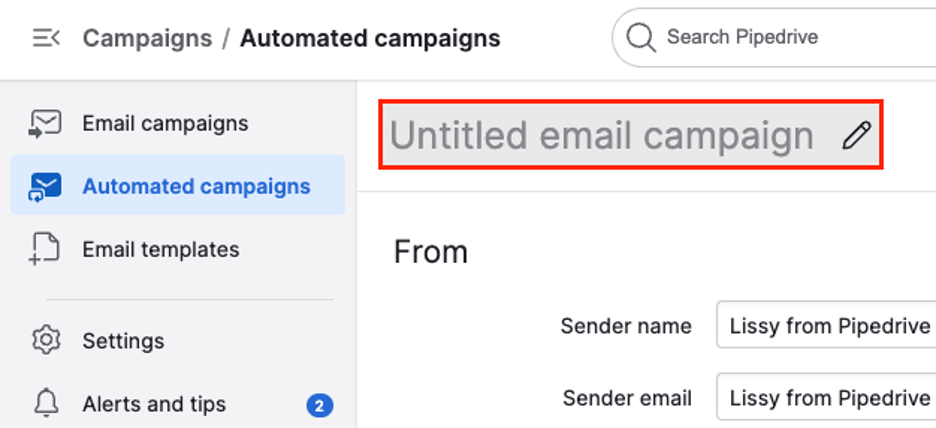 Businesses can launch various types of email marketing campaigns within Pipedrive. Source: Pipedrive
monday Marketing Campaign Features
Email marketing platform: Unlike Pipedrive, monday relies on integrations with platforms like Mailchimp and Outlook for email marketing. You can create email campaign designs with drag-and-drop editors, find premade templates and themes, use market segmentation tools, schedule sends, and track performance, but you must connect to third-party apps for this functionality.
Multichannel marketing: We like how easy it is to run text message marketing campaigns with the Twilio integration. You can also plan social media marketing content on monday and track its performance. 
Telephone marketing: We like that monday helps you win customers over the phone by connecting with third-party apps such as PhoneBurner. You'll gain features like outbound calling campaigns with auto-dialing, contact syncing, click to dial, call tracking and disposition logging.
Winner
Both platforms offer similar marketing functionality. However, Pipedrive's email marketing system is built in, and the platform includes broader marketing features. We also like that you can buy decision-maker data with Pipedrive's LeadBooster add-on.
Lead Management
Pipedrive and monday sales CRM provide companies with various tools to help sales teams work with leads and increase conversion rates.
Pipedrive Lead Management Features
Customized sales workflows: Pipedrive helps sales representatives easily establish customized sales workflows. The system has 36 ready-to-use, modifiable automations that team members can share. We like that creating new automations is straightforward via forms or a drag-and-drop editor.
Contact data: Pipedrive's Smart Contact Data feature impressed us. It automatically gathers prospect information from online sources like LinkedIn. This feature is particularly helpful for saving time when you're dealing with SMB inquiries.
Sales tools: Pipedrive offers advanced functionalities, including a CPQ tool, via integration with third-party apps such as GleanQuote and Mobileforce. These integrations make it possible to generate accurate, intricate quotes based on existing product catalogs within Pipedrive.
monday Lead Management Features
Lead management automations: monday has preset automations that use trigger-condition-action formulas to automate tasks such as setting rep reminders, moving deals through stages, and sending reminder emails. You can also create custom lead management automations.
Lead scoring: We like monday's flexible lead scoring function, which enables managers and sales reps to categorize and prioritize prospects. You can customize your lead-scoring criteria to suit your business.
Full-cycle management: We were impressed that monday lets you manage a lead through its entire life cycle, from initial generation, through custom stages, to the point of sale and beyond. Customizable dashboards with easy-to-understand data visualizations make it easy for reps and managers to track progress.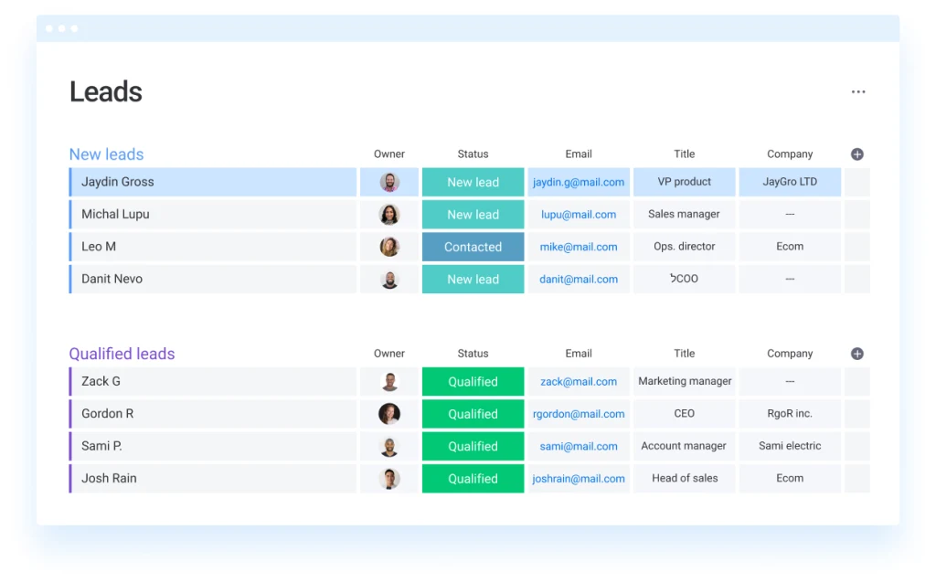 monday's lead management system lets you track leads throughout the customer life cycle. Source: monday
Winner
This category's winner depends on your organization. Pipedrive wins this category if your business has complex, rep-dependent sales processes. If you have a more standard sales process, however, monday is the better choice.
Omnichannel Communications
Pipedrive and monday sales CRM incorporate omnichannel, one-on-one communication very well.
Pipedrive Omnichannel Communications
Integrated email client: Syncing your existing email account with Pipedrive allows you to manage your messages directly from the platform's Mail tab. We like how you can personalize emails with attachments, snippets and templates and monitor when and how often recipients open your emails.
Omnichannel capabilities: Pipedrive allows you to communicate with customers via various channels, including SMS, MMS, web chat and social media messaging (via third-party plug-ins).
Voice calling: Pipedrive accommodates voice calls through third-party apps such as Aircall, JustCall and Ringover. We were impressed by the Fireflies.ai and Tactiq call transcription apps, which save phone-based conversations on customers' files for future reference.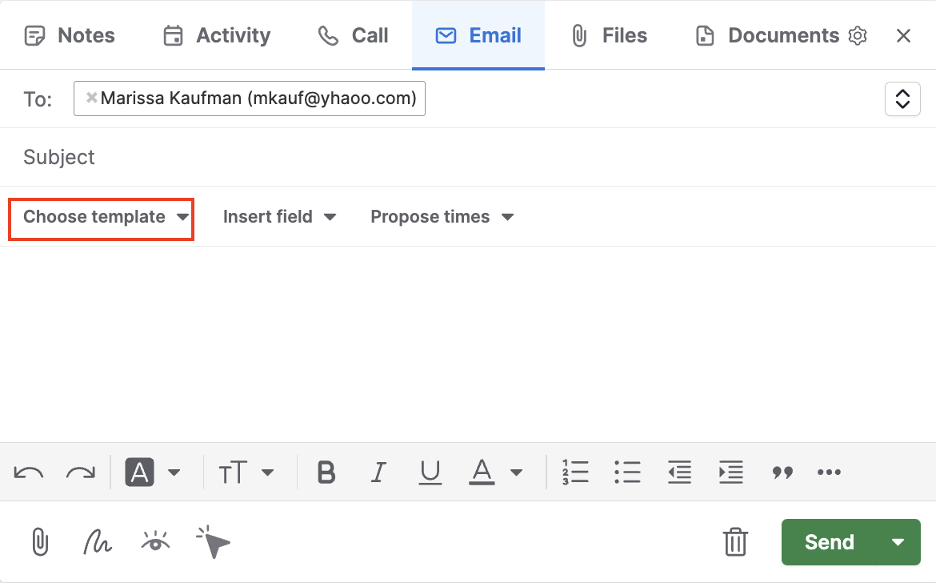 Pipedrive lets you choose how you communicate with prospects, including by phone and email. Source: Pipedrive
monday Omnichannel Communications
Email apps: We appreciate that monday centralizes all email communications (and other communication forms). Although monday doesn't have a built-in email client, you can easily integrate Gmail, Outlook and other email services. You can send, receive and manage emails and sync calendars without leaving your dashboard.
Voice integration: It's easy to make and receive phone calls on monday with apps like PhoneBurner, Zoom and Aircall. Your team can access and call contacts directly from the platform, set follow-ups, add notes, and record and log conversations.
Multichannel communications: Move beyond email and voice with SMS campaigns via Twilio integrations. Other apps allow team members to message customers on Facebook Messenger or WhatsApp from within their monday dashboards.
Winner
Pipedrive edges out monday in this category. It has a built-in email client, and its omnichannel functionality, particularly the voice call transcription, is executed better. However, for most SMBs, monday's features will be more than enough to stay in touch with clients.
Workflow Automation
CRM software records all staff and customer communications and analyzes this data to provide insights on how to improve business performance.
Pipedrive Workflow Automation Features
Pre-built and customizable workflows: Pipedrive offers 36 pre-built automations that users can adapt to their specific needs and share with colleagues. For example, you can initiate new client interactions with welcome campaigns and introduction emails.
Triggers and automations: We like that Pipedrive lets you create multiple sales funnels. Each can have unique triggers to initiate welcome emails, follow-up messages and follow-up calls.
Task assignment and notifications: Pipedrive's Sales Assistant is a digital assistant that provides real-time guidance to help sales reps manage their daily tasks and workflows. We like that this feature adjusts to a business's unique sales cycle, offering insight into automation and deal prioritization.
monday Workflow Automation Features
Template workflows: monday comes with various predefined automations and allows for custom workflow creation. We find its CRM-specific templates especially convenient for tasks such as organizing contacts, managing leads and creating optimized workflows.
Conditional triggers and actions: We like that users have the flexibility to create custom workflows that automate repetitive tasks.
Custom workflow creator: The platform offers extensive customization options. Although there's a learning curve, the principle is straightforward: Choose a trigger, select a resulting action, and refine it later to reflect your business processes more accurately.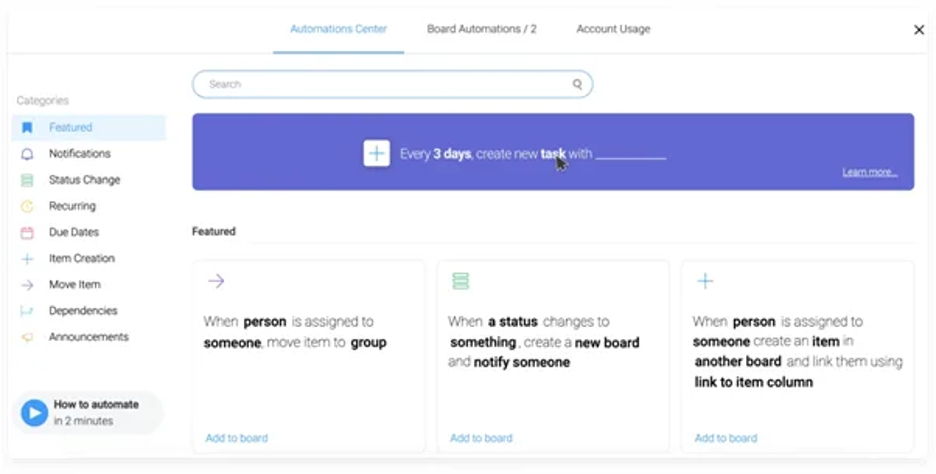 monday makes it quick and easy to set up custom workflow automations. Source: monday
Winner
Pipedrive takes the win for its comprehensive workflow features. While both platforms offer extensive and customizable automation options, the Sales Assistant's guidance is better for task management and revenue generation because of its ability to prioritize deals.
Integrations
You can connect Pipedrive and monday to other business software using third-party integrations and APIs.
Pipedrive Integrations
Pipedrive Marketplace: The Pipedrive Marketplace includes 400 apps categorized by function, such as analytics or customer service. You can easily install these apps and manage them directly from your Pipedrive account settings. This marketplace is a hub for connecting Pipedrive with everyday tools, like accounting software, making it a one-stop shop for all of your integration needs.
APIs: The Pipedrive API allows extensive customization through CRUD operations on resources like deals and organizations. It offers both RESTful and GraphQL APIs for general tasks and real-time updates, respectively. The API adds another layer of flexibility, letting businesses craft custom workflows or even develop their own Pipedrive-connected apps.
Partner community: Partners offer training and implementation services to help you make the most of the platform. You can search for partners based on location, language or ratings via the Pipedrive Marketplace. Partnerships can provide tailored solutions for your business, making it easier to reach your sales targets.
monday Integrations
App selection: monday has an extensive array of 150 integrations, including Slack, Microsoft Teams and Google's suite of business apps. Popular marketing tools — including HubSpot, Mailchimp and Hootsuite — are also available. The user-friendly integration center lets you add most apps in just a few clicks.
Zapier and Make: These platforms extend monday's capabilities with thousands of additional app integrations, including specialized industry tools and general business apps. 
API platform: monday's open API enhances the CRM's customizability and adaptability for different business requirements. The API's versatility means you can build a monday dashboard that consolidates data from multiple external services, such as accounting software and email marketing platforms.
Winner
Pipedrive wins in the integrations department. While monday offers 150 apps and extends its capabilities through Zapier and Make, the Pipedrive Marketplace boasts a broader range of 400 apps and a partner community for specialized support. Pipedrive's API also supports both RESTful and GraphQL for added customization, giving businesses more flexibility to tailor their workflows and connect to more apps.
Pricing
Pipedrive and monday sales CRM offer a range of service tiers.
Pipedrive Pricing
Prices reflect annual billing; you'll pay up to 32 percent more for monthly billing.
Plan

Price

Features

Essential

$14.90 per user per month (billed annually)

3,000 live deals
Sales Assistant AI tool
Visual dashboards
Email inbox
Deal reports
Company and user goals
Data import and export
Lead and deal management
One insights dashboard
30 custom fields per lead 
Customizable pipelines

Advanced

$27.90 per user per month (billed annually)

Includes everything in the Essential plan, plus:

10,000 live deals
Smart contact data
30 active automations per user
Email open and click tracking
Web-to-mobile calls
Recurring revenue
Meeting scheduler
100 custom fields per lead 
Automations

Professional

$49.90 per user per month (billed annually)

Includes everything in the Advanced plan, plus:

100,000 live deals
60 active automations per user
Deal card customization
Automated lead assignment
Unlimited dashboards
Pipeline-specific deals
Team management
Contacts timeline 
300 custom fields per lead

Power

$64.90 per user per month (billed annually)

Includes everything in the Professional plan, plus:

200,000 live deals
90 active automations per user
Access to an implementation program
500 custom fields per lead 
Phone support

Enterprise

$99 per user per month (billed annually)

Includes everything in the Power plan, plus:

Unlimited live deals
Unlimited custom fields per lead
Unlimited dashboards
180 active automations per user
Security alerts and rules
Pipedrive's pricing is midtier; there are both cheaper and more expensive alternatives. Pipedrive's lower-tier plans are less suitable for companies with complex sales processes. Note that you'll pay more for additional apps and extra functionality. There's no free subscription, but we like that the company offers a 14-day free trial. 
monday Pricing
monday's pricing is based on "seats," or users; there's a three-user minimum across all tiers. The prices below represent three seats billed annually. Monthly billing is an option, but it costs 18 percent more.
Plan

Price

Key Features

Basic

$30 per month

Unlimited free viewers
Unlimited items
5GB of storage
Customizable pipelines
One-board dashboard

Standard

$42 per month

Includes everything in the Basic plan, plus:

Timeline and Gantt views
Calendar view
Guest access
Five-board dashboard

Pro

$72 per month

Includes everything in the Standard plan, plus:

Private boards
Chart view
Time tracking
10-board dashboard

Enterprise

Call for a custom quote

Includes everything in the Pro plan, plus: 

High-level security
Advanced CRM reporting
Team quotas
Lead-scoring functions
250,000 automations and 250 integrations monthly
1TB of file storage
monday previously offered a free plan that allowed two users and limited functionality, but this option was discontinued in 2022. However, monday does offer a 14-day free trial. 
monday's pricing approach has some issues. You must buy a specific predefined number of seats: three seats, five seats, and then increments of five up to 30. You can then choose 40, 50, 100 or 200 seats. So, a company with 75 seats would have to either buy 25 more seats than needed or have 25 users go without the platform. 
Winner
monday has flexible pricing and a special rate for bulk annual payments. However, Pipedrive offers more granular control over features across its plans. monday's requirement for predefined seat numbers could mean paying for unused licenses, making the platform less cost-effective for some businesses. However, your business's size and specific needs will dictate your best option.