Monday.com is the ideal service for businesses seeking customizable email templates, workflow automation, calendars, views and helpful analytics tools that make it easy to track campaign requests and progress from start to finish.
Pros
Monday has a variety of tools that help the email campaign management process.
The system integrates with Microsoft Outlook and Gmail to send emails.
It's a great platform for teamwork and collaboration.
Cons
The software is pricey, so it may not be a good fit for businesses with a limited budget.
The service plans are complex.
There is an initial learning curve.
Monday goes beyond the features of a standard management tool to give business owners the most agency over their email marketing campaigns. Through the platform, users can manage their email marketing campaigns via a singular, intuitive dashboard that is customizable. Monday offers robust statistics and informative reports that marketers can use to make informed decisions about their campaigns. For these reasons, monday is our pick for the best email marketing service for businesses focused on campaign management.
monday.com Email Marketing Editor's Rating:
8.2 / 10
Pricing/value

8.2/10

Features

8/10

Customizations, add-ons and integrations

8.2/10

Ease of use

8/10

Customer service

8.8/10
Ease of Use
While monday has a relatively simple user interface, there are some complexities that may make it difficult, especially for newcomers to project management software. There are numerous settings and features to configure during the initial setup, and we found that adjusting to the system's templates and tools can take some time. However, the software gets easier to use as you go along, and training videos help by walking you through certain features.
If you need assistance using certain aspects of monday, you can contact the vendor's responsive customer service team by email.
Despite the initial learning curve, the platform offers exceptional customization options and lets you automate and improve many elements of your email campaign workflows. It integrates seamlessly with more than 40 commonly used platforms – such as Google Drive, Slack, Excel and Dropbox – to pull data from other business products so that you can keep all your campaign-related information organized and up to date in one location.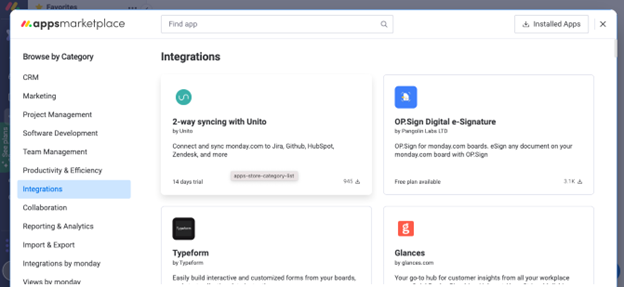 Monday Features
The monday features detailed below make it easy to plan and manage campaigns.
Campaign Ideas and Requests Board
The monday campaign ideas and requests board lets you record all activities and information throughout a campaign's life span, from ideation to launch. You can use this helpful board to organize requests from different parties, such as external clients or internal departments. Any team member with access to the board can add requests with detailed information. Managers and project owners can then approve them before moving each idea to the active project list. [Learn how to write an effective email campaign.]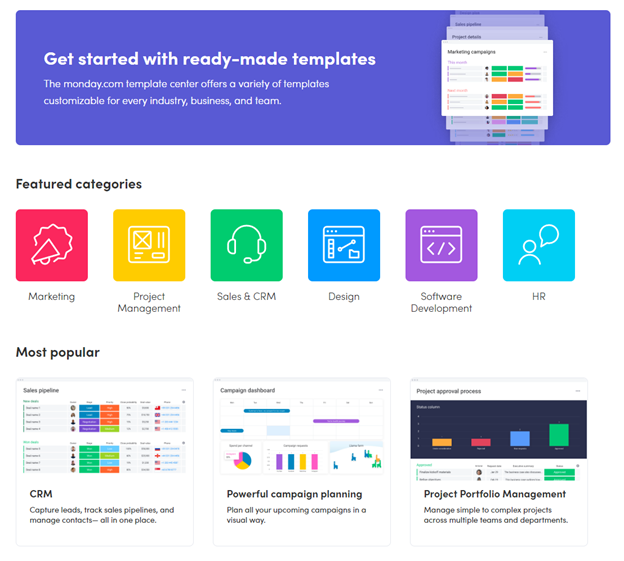 Forms
Monday's forms feature centralizes all requests you receive from both internal departments and external clients so that they are in one location for review. You can create campaign request forms that include the email campaign name and category, as well as space for employees to add other details about the idea. It offers questions as prompts to help you gather the necessary information and can be shared with team members or embedded on an internal website. Anyone with access to the link can fill out the form and submit it to the board, which means you can share it with external clients too. We appreciate that all stakeholders, whether internal or external, can have access.
Workflow Automation
Planning and managing an email marketing campaign can take a lot of effort and approval steps. With monday's workflow automation, you can reduce some of the manual work of approving requests and updating campaign progress. For example, you can configure triggers for notifying people involved in a campaign and for automatically updating the status of a request.
Status Board
The campaign status board lets you quickly visualize where each campaign is in the workflow process. We like that you can organize campaigns into different categories (e.g., upcoming, sent and stuck) and sort by column (e.g., people, status, date, numbers, formula). This feature allows you and your team to easily find and dive into details about each campaign for a more insightful and organized experience.
Email Integrations
Monday's Email & Activities app allows users to write, produce and schedule emails within their boards, once integrated with a Gmail or Microsoft Outlook account. Users can automate interactions via email throughout the sales cycle to keep customers engaged and leads warm, or create and send internal emails based on specific board action items.
The platform automatically keeps track of all customer interactions, sends emails and creates personalized email templates. You can also integrate monday with other email marketing tools like Mailchimp for even richer data about your email marketing campaigns, lists and performance. For instance, it offers the ability to automatically add contacts to your Mailchimp lists when they are updated in a monday board, as well as view statistics from recent campaigns.
Data-Powered Tools and Views
Monday can organize your data in numerous ways to help you get the most out of your campaign management process. For example, the handy calendar view maps out each task and campaign date in an interactive calendar. You can also use the chart view and workload view to break down data from your board in different ways. For instance, we were able to sort requests by priority (high, medium or low) and by status, as well as use the workload view to see how many tasks were assigned to each team member. If anyone is taking on too much work, you can redistribute tasks to other employees. These powerful tools can help you and your team assess data in the ways that are most useful to individual users.
Implementation and Onboarding
When you sign up for a free trial with monday, you can take advantage of unlimited boards and workflows. However, before you register for a paid plan, you'll have to decide how many seats you'll need, the level of service you'll require and whether you want to pay monthly or annually.
When you create your monday account, we recommend you click the "Notifications" section and choose which updates you want to receive communication about. Otherwise, you may get an email for every change that happens on your boards. This can be beneficial or annoying depending on how looped in to the nitty-gritty you want to be.
Once you've set up your profile and invited team members to join your board, you can begin developing your campaign processes and workflows. You can start with one of monday's useful email templates and customize it to suit your needs. We found that this might take some trial and error, and it might take time to organize your account the way you like it.
Customer Service
Monday's friendly, responsive customer service team is available via email anytime. The company's website also provides answers to frequently asked questions. However, there is no live chat support option for immediate help, and no direct phone number is listed on the company's website.
Limitations
The most significant limitation of monday is that it is not traditional email marketing software. While you can create and send out emails and manage campaigns, other platforms designed specifically for email marketing may be better suited for your needs. If you are looking for a more traditional email marketing service, check out our review of Benchmark. That said, monday is an excellent project management tool for marketing teams that want to keep their internal campaign workflow organized, streamlined and automated.
When using monday, you and your team may receive an overwhelming number of email notifications if you don't configure your settings properly from the outset. Users who are new to project management software may also find that monday has a bit of a learning curve. The software includes numerous templates, features and project boards, which may be challenging to manage at first and require some adjusting. Also, if you have trouble with the software, you won't be able to reach the support team by phone or live chat.
Additionally, monday's pricing and plans are a bit more complex than those of typical email marketing or project management software providers, so you may need to speak with a sales representative to fully understand what's included in each package.
Methodology
When searching for the best email marketing services, we put together a list of popular platforms based on online research before carefully examining each vendor's online reputation and narrowing down the options. We then spent several weeks researching each email marketing service by investigating its specific offerings, watching tutorials and how-to videos, trying the software (when possible), and reading user reviews. We also evaluated each service's packages, costs and customer service. When selecting our top pick for campaign management, we considered the features that would be the most important for managing a campaign, both in the short and long term, such as tools that help with ideas and organization.
Monday FAQs
Yes. Monday allows teams to send and receive emails within its platform. The software can integrate with Microsoft Outlook and Gmail to send automated emails and keep track of email-related action items. While the platform doesn't offer a robust set of email marketing adjacent tools, users can send emails to customers to manage relationships and keep their campaign workflow organized, streamlined and automated.
Monday is a project management product that offers CRM-style functionality.
Yes. Monday can integrate with other tools your company may use, allowing you to pull data from multiple apps, such as Slack, Google Workspace, Zoom and Excel, into the system.
Monday does offer a free trial for 14 days. At the end of the trial period, you may purchase a subscription or opt for the free Individual plan.
Bottom Line
We recommend monday for …
Small business owners looking for project management software to help organize their marketing tasks.
Individuals who want to expand their email marketing efforts.
Businesses with various departments that want to achieve a seamless workflow and collaboration.
We don't recommend monday for …
Business owners who want an all-in-one email marketing platform.
Companies with basic project management needs and workflows.
Teams that prefer to access customer support by phone or live chat.