Customer relationship management (CRM) software is no longer a "nice-to-have" component of your company's tech stack. Today, businesses need CRM software to navigate an increasingly competitive marketplace and consolidate customer data. Salesforce Sales Cloud and monday Sales CRM give businesses a 360-degree view of their customers, so they can tailor personalized experiences, forecast predicted behavior, and make data-informed business decisions. We'll compare each platform's pricing, features and usability to help you find the right CRM software for your needs.
Salesforce Sales Cloud vs. monday Sales CRM Comparison 
Salesforce and monday are both great companies with excellent reputations and similar feature sets, which means they're difficult to compare. However, the following lists illustrate their differences. 
CRM Features
Here's how Salesforce and monday compare in essential CRM features.
Salesforce Sales Cloud Features
Part of the Salesforce ecosystem: Salesforce Sales Cloud is part of a vast Salesforce ecosystem that includes product categories like Marketing Cloud and Commerce Cloud. As your business grows, you'll have easy access to the advanced solutions you need. 
Customization: Salesforce Sales Cloud is highly customizable. You can change how dashboards look, set object controls to customize the system, and use a developer console to create custom apps.
Productivity tools: Salesforce includes productivity-boosting tools like built-in project management features and visual dashboards that make it easy to monitor KPIs. 
Integrations: Businesses can access a vast collection of integrations and add-ons through the Salesforce AppExchange store. 
Learning platform: The Salesforce Trailhead learning platform provides in-depth guides and resources for admins, direct communication forums, and comprehensive product-related courses and certification opportunities.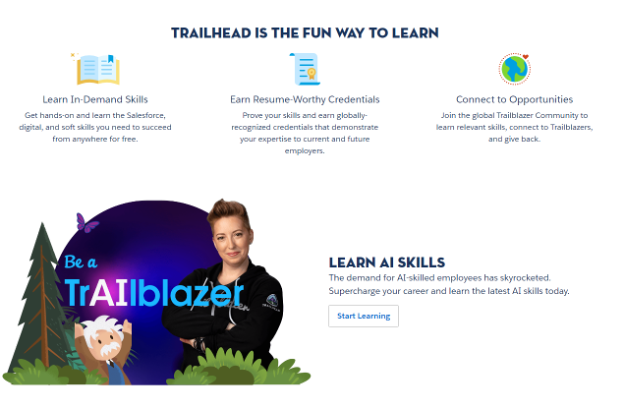 Trailhead is an interactive, self-paced online learning platform with modules, projects and super badges to help users improve their Salesforce skills. Source: Salesforce 
monday Sales CRM Features
Workflow automations: monday's workflow automation features help teams minimize busy work and automate tasks like email responses, reminders, notifications and more.
Lead management: monday's lead management tools help sales teams generate quality leads, nurture those leads, and boost lead conversions. You can also use lead scoring tools to ensure you're focusing on the right prospects. 
Customizability: monday makes it easy to create customizable dashboards and sales workspaces that reflect your business needs.
Integrations: monday has an extensive integration library to help you customize the solution and use your current business software to keep operations seamless. 
Winner
We're calling a draw in this category. It's hard to beat Salesforce's vast integrations, app library and features. However, its Professional plan starts at $80 a month per user, which renders the solution out of reach for many small businesses. monday's app library is smaller but still respectable, and its essential CRM features can help small businesses manage customer relationships throughout the customer life cycle. Its Standard CRM plan starts at $14 a month per seat, making it a much more affordable option. 
Pricing
Affordability is a huge concern for many small businesses. However, larger enterprises may find Salesforce's features worth the extra costs. 
Salesforce Sales Cloud Pricing
Salesforce has four service levels: 
Starter: $25 per user per month (billed annually). The Starter plan has account, contact, lead and opportunity management features, as well as email integration with Gmail and Outlook. 
Professional: $80 per user per month (billed annually). The Professional plan has everything in the Starter plan, plus forecast management.
Enterprise: $165 per user per month (billed annually). The Enterprise plan includes everything in the Professional plan, plus workflow and process automation as well as advanced sales pipeline management.
Unlimited: $330 per user per month (billed annually). The Unlimited plan includes everything in the Enterprise plan, plus built-in AI and premier support.
Salesforce also offers various flexible add-on features for additional costs, including the following: 
CPQ & Billing: $75 per user per month
Sales Cloud Einstein: $50 per user per month
Marketing Cloud Account Engagement: $1,250 per month 
monday Sales CRM Pricing
monday has four service plans:
Basic: $10 per seat per month billed annually; there's a three-seat minimum, which means your starting price will be at least $30 monthly. This package includes unlimited customizable pipelines, contacts and boards; lead, contact and deal management templates; one dashboard; and iOS and Android mobile apps.
Standard: $14 per seat per month billed annually; there's a three-seat minimum, which means your starting price will be at least $42 monthly. The Standard package includes everything in Basic, plus advanced contact and deal management, quotes and invoices, two-way email integration, five dashboards, and custom CRM and automations and integrations. 
Pro: $27 per seat per month billed annually; there's a three-seat minimum, which makes your starting price at least $81 monthly. This plan includes everything in Standard, plus sales forecasting, email tracking, mass emails, sales analytics and more.
Enterprise: You'll need to contact the company for a custom quote for this plan. Added features include lead scoring, advanced analytics, enterprise-grade security, HIPAA compliance, and more. 
Winner
monday wins this round with a bevy of features at an affordable price. For a mid-sized business with limited resources, it's hard to beat monday's pricing. While Salesforce is robust and comprehensive, monday has similar features without add-on services and high prices. 
AI Capabilities
Artificial intelligence is transforming industries, and the CRM space is no exception.
Salesforce Sales Cloud AI Capabilities
Salesforce's groundbreaking AI tool, Einstein, is available on upper-tier plans or as a paid add-on. Einstein has recently adopted generative artificial intelligence abilities that can improve the sales process by creating emails, summarizing calls and generating data-driven text. 
Einstein's AI functions go even deeper to actively capture and sync sales information to keep your CRM updated, make predictions about sales forecasts, identify customer signals, and more. 
Additionally, Salesforce's AI Cloud is dedicated to integrating Salesforce technologies to provide secure, generative services for enterprises. 
monday Sales CRM AI Capabilities
monday's AI assistant is primarily used to do the following: 
Generate text, such as composing emails.
Build custom monday formulas.
Summarize larger bodies of text into comprehensive bullet points. 
Winner
Salesforce Sales Cloud wins this category hands down with its groundbreaking AI functions. Salesforce has improved Einstein since its inception, incorporating the recent wave of generative artificial intelligence to become the premier AI in the CRM space. 
Einstein can gather data from user input and system use to support decision-making with decision-support systems that offer advice based on live analytics.
Ease of Use
Here's how Salesforce and monday stack up regarding ease of use.
Salesforce Sales Cloud Ease of Use
Businesses can tailor Salesforce to fit their specific needs with highly advanced features. However, this customizability comes with a steep learning curve. IT professionals must make a significant time investment to configure the platform. You may need expert support to ensure it runs smoothly for your company. 
However, this investment of time and money can be well worth it for businesses that can make full use of Salesforce's features. Additionally, you don't need to devise a complicated solution immediately; you can adjust the software and add features as you grow more comfortable with the system. Salesforce provides ample online resources to help you get started. You can also pay for extra guidance and coaching.
monday Sales CRM Ease of Use
monday users enjoy an easy learning curve and can use the software right out of the box. It has extensive online resources to help you get started and address any issues you encounter. Most businesses — even very small businesses — can get monday Sales CRM up and running quickly and manage the platform without expert guidance. Users who want to get the most out of the platform can access video tutorials and the monday Academy, which posts interactive courses and webinars. 
Winner
When it comes to ease of use, it's no contest: monday Sales CRM wins. monday's platform is straightforward and easy to use; you can be up and running in minutes and explore learning resources to dig deeper into the platform's usability. For the right businesses, however, Salesforce is certainly worth the initial setup headaches.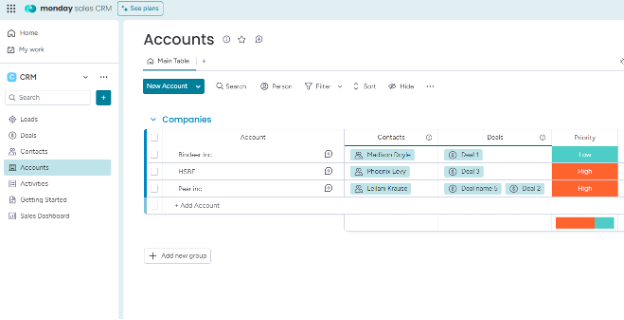 monday Sales CRM has a clean, modern interface that's intuitive to navigate and easy to learn. Source: monday 
monday makes it easy for businesses to switch CRM systems and migrate data. It keeps structures intact when you import spreadsheets from platforms like Excel, Google Sheets and Trello.
Salesforce Sales Cloud vs. monday Sales CRM Summary
Both Salesforce and monday are great choices. However, they're best suited for different company sizes. While they share many core CRM functionalities, their unique feature sets make them ideal for the following companies. 
Salesforce Sales Cloud is best for enterprises.
Salesforce Sales Cloud is a powerful CRM solution used by many large, enterprise-level companies across various industries. Salesforce offers an unparalleled suite of tools, integrations, and advanced artificial intelligence features to make organizations operate more efficiently and effectively. While its plans may be cost-prohibitive for small businesses, large companies can expect a high ROI by shortening deal cycles, highlighting probable opportunities and automating many tasks. 
monday Sales CRM is best for SMBs.
monday Sales CRM is a versatile platform that can unite different teams across a business to help make data-informed decisions. monday's pricing is affordable for smaller businesses, while its many features will help midsize businesses level up in their industry. The software is easy to use, so you can implement it quickly within your company and start improving your processes right away. 
FAQs
What is Salesforce known for? 
Salesforce was founded in 1999; it was one of the first cloud-based SaaS companies. Before entering the market, enterprise businesses with CRM software required custom-built, expensive computer systems. More recently, Salesforce was one of the first companies to invest heavily in consumer artificial intelligence with its AI, Einstein, which launched in 2016. 
Can monday Sales CRM replace Salesforce Marketing Cloud?
monday is an excellent platform for businesses that need to simplify their tech stack and save money. However, few companies can compete with Salesforce's vast feature set, integration capabilities and artificial intelligence tools. However, this high-level functionality comes with a steep learning curve — and an even steeper price tag. 
What skills are required to learn Salesforce CRM? 
Learning how to administer Salesforce effectively can take a few weeks. Depending on your business needs, you might require technical knowledge like database management, web development and even an understanding of Apex, Salesforce's proprietary programming language. Salesforce launched its learning platform, Trailhead, to help expedite setup and implementation. 
Can monday Sales CRM work like a spreadsheet?
monday can import and export data to and from spreadsheets; you can organize your data into tables similar to spreadsheets. You can also create spreadsheet functions. Not all businesses can say goodbye to spreadsheets, but CRM tools like monday and Salesforce make excellent additions to any organization's tech stack.