Going green makes commercial sense. Consumers want businesses to reduce their environmental impacts as much and as soon as possible, and there's growing government and regulatory pressure on companies to cut back fast on emissions. But transitioning from a fleet of internal combustion engine (ICE) vehicles to one composed of electric and hybrid vehicles is a complicated and time-consuming process.
Samsara provides managers and decision-makers with the tools, data and analysis they need to start to make the switch, which is why we found it to be the best GPS fleet management system for businesses interested in sustainability. Samsara boasts a fully featured, user-friendly, intuitive GPS fleet management platform that's just as capable of monitoring electric and hybrid vehicles as ICE ones. As with competing platforms, the service helps you save money, reduce fuel costs, get more life out of your vehicles and improve driver safety. 
Samsara Features
Samsara is a fully featured GPS fleet management system that enables companies to target sustainability as they transition over time to an electric fleet. Below are some of our favorite features related to sustainability and the service in general.
Guidance for transition to EVs and hybrids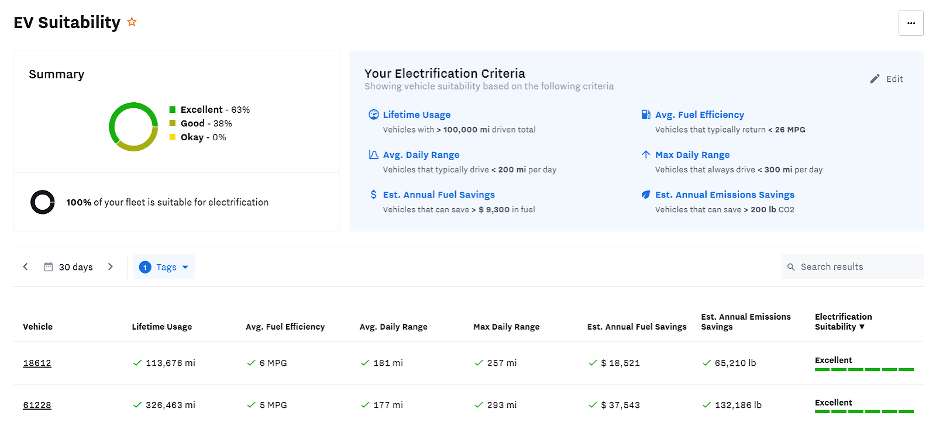 Samsara's "EV Suitability" report helps managers decide where electric vehicles may be better used than ICE vehicles. Source: Samsara
To help fleet managers plan for a transition to electric vehicles (EVs), we love that they can use the "EV Suitability" function in Samsara's "Reports" section. There, they can set their own criteria to determine which vehicles should be replaced first using four different criteria: maximum lifetime mileage, average fuel efficiency, average daily range and maximum daily range. 
You can click to a broad overview of your fleet and see which vehicles may be most suitable for electrification based on your criteria. For example, it might be economically worthwhile to invest in a new vehicle if doing so offers fuel savings of $25,000 or more per year. Next to each vehicle, you can see how each one performs against each criterion. You also see an estimate of average fuel and emissions savings. At the end of the row, Samsara rates each vehicle from "not suitable" for electrification (if 15 percent or less of your qualifying criteria are met) to "suitable" (if 80 percent or more of your criteria are met).
You can also access information like charging trends to show how many times an EV or hybrid vehicle has been charged, for how long and the total kilowatt hour (kWh) charged. Built into the vehicle diagnostic report is a battery health algorithm that can alert you to excessive battery degradation too.
General fleet reporting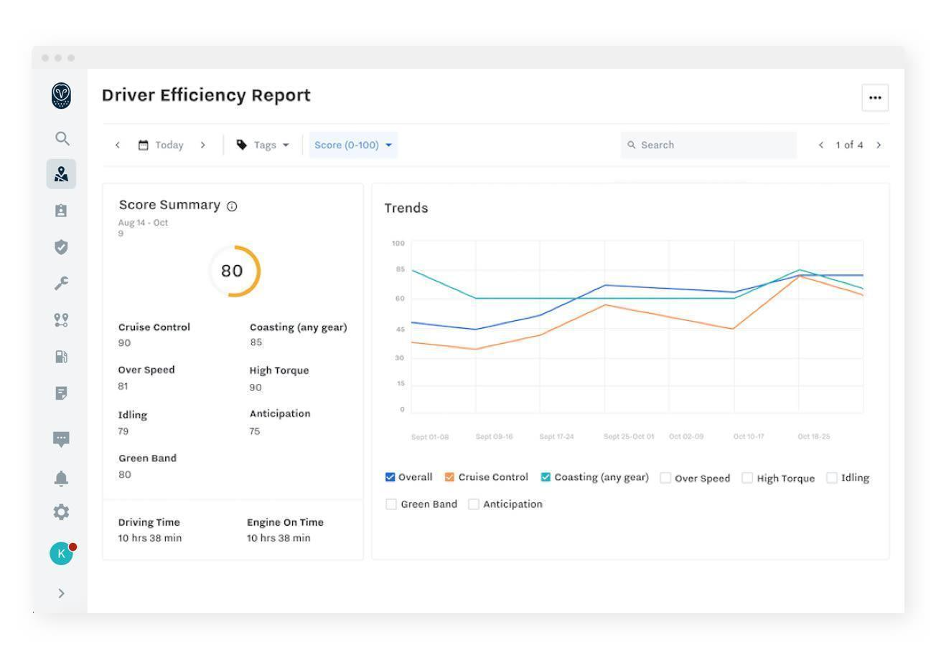 Samsara gives users some of the most in-depth fleet and driver management reporting on the market. Source: Samsara
Samsara's tracking units and dashcams send information on all types of vehicle every second to your desktop and app dashboards. That is significantly faster than competitors. On top of viewing this live data, you can run reports on the following components of your fleet:
Activity and fuel: There are 25 aspects monitored, including fuel consumed and cost, high engine torque, idling time, distance, driver efficiency, coasting and speeding. EV and hybrid monitoring metrics included in this part of the dashboard show the total distance traveled using electric power and energy consumed in kWh in total per vehicle.
Safety: This report includes 15 categories, like acceleration, braking, speeding and harsh turn counts, maximum speeds and safety scores.
Compliance: The seven actions tracked in this report are when drivers are on and off duty, time spent driving on company business, personal driving, time in the sleeper berth, time waiting and yard move time.
Maintenance: This report delivers driver vehicle inspection report (DVIR) information, including safe and unsafe submitted DVIRs.
To run reports, simply select whether you want a report on a driver or a vehicle/asset and then choose the aspects you want to include. Set start and end dates for the period of time you're interested in and then click "Run." It's really that easy.
Samsara records and presents vehicle diagnostic information, which is helpful with preventive maintenance to reduce the chance of an unexpected breakdown and calculates driver efficiency scores. With the latter, drivers' performances are evaluated in real time so that you can improve fleet efficiency.
A handy new feature is the "route versus actual route" metric. Samsara calculates the difference between distances across locations versus actual routes taken by drivers or vehicles between those locations. We love how this helps small businesses identify how much fuel could be saved by selecting optimal routes. It's a great opportunity to maximize your return on investment and fleet performance.
Whether you buy or lease a company car, your organization is responsible for executing maintenance, but such upkeep expenses may be covered under a lease.
Alerts and notifications
You can choose to receive alerts on events relating to compliance, device health, driver behavior, equipment, location and routing, maintenance, safety and security. Alerts always appear on your Samsara dashboard, but we like that you can also get them via email and text message if you want.
When you implement the Samsara system, there are 34 built-in alerts that you have to switch on to activate. These cover events like dashcam disconnection, vehicle fault codes, unsafe driving (including speeding and abrupt braking or hard cornering) and hours of service violations.
You can also choose to receive an alert of an EV battery charge level going up or down by a value you specify.
Tracking and dashcam equipment

Samsara has two types of dashcams, including one with dual cameras. Source: Samsara
The sensors on Samsara's GPS tracking unit record and transmit driver and vehicle data to your dashboard via a 4G cellular signal or a high-speed Wi-Fi connection. It offers a dual-facing dashcam (with one camera monitoring the driver's cab) and a single-facing dashcam that records only the driver's view. We like how it has incorporated artificial intelligence (AI) into its cameras in recent years. In high definition and powered by AI, these cameras detect and film events like erratic driving or blowing through a stop sign. Recorded video is then sent back to the Samsara platform, where it can be easily accessed. We appreciate that you can use these videos to help drivers eliminate bad habits and defend against insurance claims. Impressively, the cameras are also equipped with highly effective night vision technology, which captures a lot of detail even when it's dark. 
A recently added feature to Samsara's dashcam is its driver alert function. If the dashcam detects that the driver is distracted or is engaging in dangerous behavior, an audible warning will let them know. A record is made of that on the trip history, too, which fleet managers may find useful. Panic buttons are also available, which can send video back to the base in case a driver gets into a compromising or emergency situation. 
Perhaps coolest of all, administrators can use the livestream function to remotely watch whatever the dashcam is recording live and hear audio. Each dashcam can livestream for five minutes a month, but you can obtain more time by purchasing Samsara's livestreaming license for an additional cost.
Live vehicle and asset tracking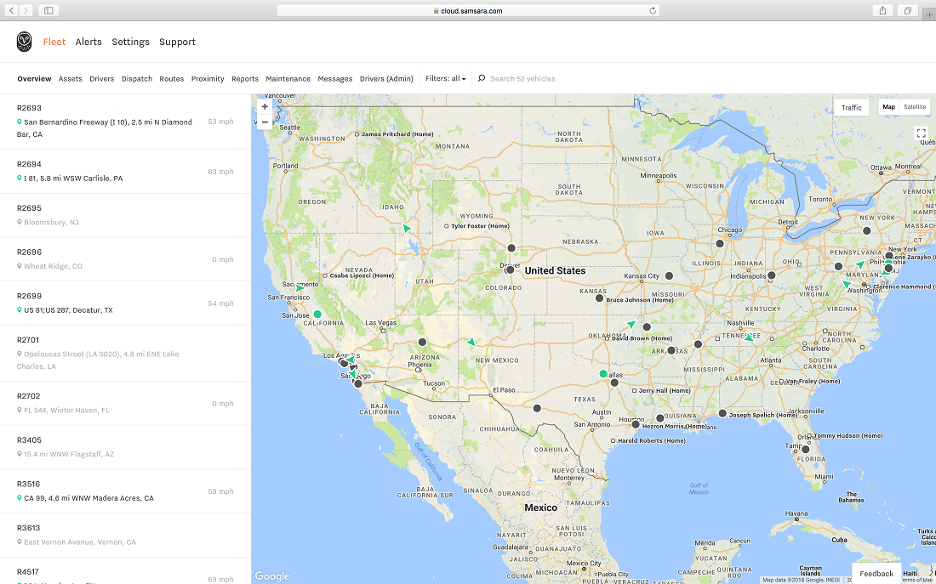 Samsara's live GPS mapping lets you see your entire fleet's locations in real time. Source: Samsara
You can click on the "Fleet" tab on the Samsara dashboard to see where all your vehicles are at any given time. Drilling down further, you can click on the dots on the map to see the exact location together with other data like the driver name and vehicle identifier. We love that Samsara offers second-by-second tracking, so what you see on the map is as close to real time as you can get. This sets it apart from other providers whose routes show breadcrumbs reflecting their slower refresh rate. You can choose the default map view or get a look by terrain or satellite. We like that you can also overlay current traffic to see the local conditions your drivers are facing.
If a driver is having trouble getting to their end location, you can help guide them via the mobile app. You can also warn drivers of traffic jams or bad weather so they can choose a different route. You can even share the live map with customers so they can see where the vehicle is and when it's expected to arrive.
Samsara's one-update-a-second refresh rate is the best among the GPS fleet tracking services we reviewed. In comparison, FleetUp and Force by Mojio update every 10 seconds; Verizon Connect, every 30 seconds; and Azuga, every 30-120 seconds, depending on the plan you're on. In our Motive review, you'll see that its 1-3 second refresh rate is Samsara's closest competitor.
You should read our Force by Mojio review if you run a services business like electrical work, plumbing or heating, ventilation, and air conditioning. That platform is specifically designed to support those types of companies, whereas Samsara is ideal for other industries — learn which in the frequently asked questions (FAQs) below.
Mobile app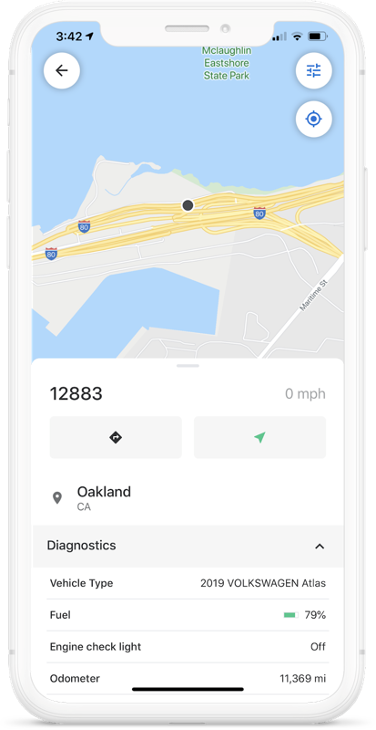 The Samsara Fleet mobile app lets managers monitor fleets while on the go themselves. Source: Samsara
Samsara has two apps: Samsara Fleet for fleet managers and Samsara Driver for drivers. Both are available from the Apple App Store and Google Play.
With Samsara Fleet, you can update drivers' schedules, add new jobs and adjust the order in which they complete jobs and they'll see the changes on their app. We appreciate that the Fleet app offers the same functionality as the desktop dashboard. You can see where your fleet and individual vehicles are at any time, share driver locations with delivery recipients, receive notifications and message team members, including other administrators. This is great for small business owners and fleet managers who aren't always in the office.
Samsara Driver streamlines driver tasks with guided workflows, route and job information, electronic DVIRs and inspection reports filing, hours-of-service tracking, electronic device logging and routing information. It also enables two-way messaging with fleet managers. A recent addition to the Driver app that we like is workflow automation that, for example, can remind drivers of end-of-day tasks they need to complete or specific documents they need to collect on a job.
Geofencing
Want to know whether a vehicle or asset enters or leaves a particular area? With Samsara, you can define these areas as geofences, which then alert you when the parameters are crossed. Some common geofence uses include the following:
Unauthorized usage: A geofence can mark the area in which your fleet is expected to be. If a vehicle or asset leaves the area you've set as a geofence, that could indicate it's been stolen.
Compliance: With the help of geofences, you can monitor and enforce compliance with regulations related to restricted areas, such as when transporting hazardous materials.
Client arrival/delivery information: You can trigger an alert when a vehicle gets close to its destination so that, for example, a receiving warehouse can be ready for arrival. This gives on-site staffers time to prepare and can reduce the time needed for loading and unloading goods. With Samsara's platform, you can add regular destinations to your address book so your contacts receive a geofencing alert when your vehicle is near their premises.
Large marketplace and API integrations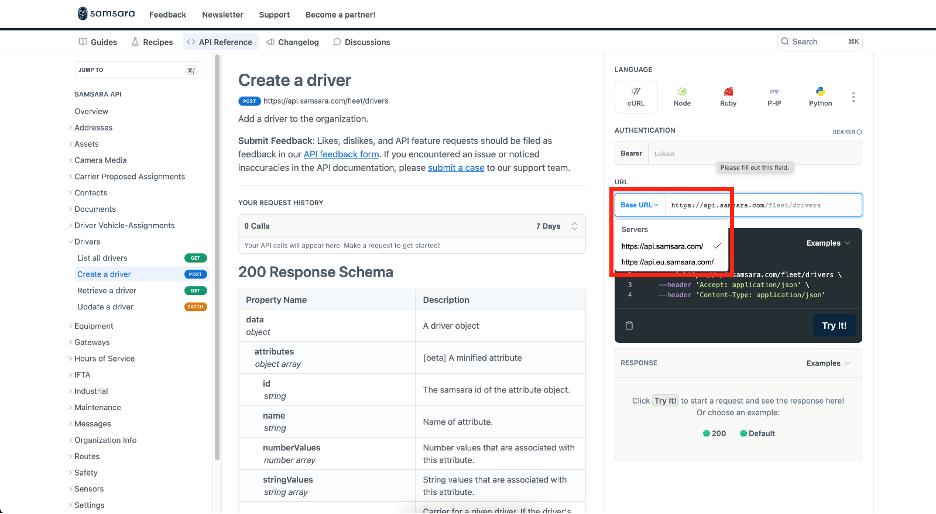 Samsara offers a full REST API option for integration with other software and apps. Source: Samsara
Samsara has one of the largest third-party marketplaces of all the GPS systems we reviewed, with 75 available integrations. Standout examples include apps from Ford and General Motors that allow companies to access manufacturer-grade data for more efficient fleet management. Ryder offers a similar app for vehicles leased from them. We like that you can choose from apps that help you improve compliance, routing and dispatch and fleet safety, but be aware that some have separate costs.
Some of the apps can even help you reward good driving behavior among your vehicle operators and score lower insurance premiums. As you choose business insurance for your company, specifically commercial auto insurance, see if the insurer's app integrates with the Samsara system. This synergy can benefit small businesses looking to cut costs and simplify operations.
We also liked Samsara's application programming interface (API) a lot. You can integrate all of your fleet data into other business apps and software programs for an interconnected technology suite that streamlines operations. There are also a number of prebuilt webhooks that allow system notifications to be integrated into other technology solutions you use. As our Azuga review notes, that vendor also has an impressive API, but Samsara's marketplace is a bit more extensive. That said, as noted above, some of the apps have add-on fees. Furthermore, Samsara's documentation is not as comprehensive, but it should be fine for most developers.