Samsara Review
Samsara had small and midsize businesses in mind when developing its GPS fleet tracking solution, cramming a ton of features into an easy-to-use interface. With all your safety, tracking, and monitoring tools accessible from one dashboard, you can easily manage your fleet, increasing productivity and reducing costs. Samsara only requires you to have three vehicles and caters to a variety of industries, making it a viable choice for a lot of America's small businesses. If you need to add more vehicles, not a problem – Samsara makes it easy to scale, something small businesses will appreciate as they grow.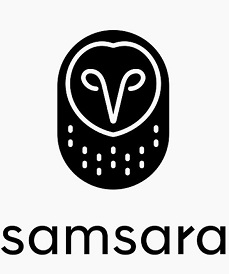 Samsara
The Verdict
Samsara is a one-stop shop for your GPS fleet tracking needs. Its low vehicle requirements, advanced technology, real-time tracking and scalability combine to make it our best pick for small businesses.
Samsara Editor's Score: 9.45/10
| | |
| --- | --- |
| Refresh rate | 9/10 |
| Contract length | 9/10 |
| Dashcam | 10/10 |
| Free trial | 9.25/10 |
| Hardware type | 10/10 |
Why We Chose Samsara as Best for Small Businesses
Small businesses won't stay small forever. They need a GPS fleet tracking vendor that can support them when they are small and scale as they grow. They also need one that can provide a ton of features for safety and tracking to ensure cargo gets to its destination in the fastest and cheapest way possible. Samsara checks off both boxes, which is why it's our best pick for small businesses.
Small businesses with as few as three vehicles to as many as several hundred can use Samsara to manage their fleets. This vendor provides a bevy of advanced tracking, monitoring and reporting tools in one central dashboard. That saves small businesses time and removes some of the complexity, freeing them up to focus on finding new routes, improving driver safety, or reducing fuel costs. That is not true of all the GPS fleet tracking solutions we reviewed; some have a lot of features and functionality but are difficult to navigate.
Did you know? Samsara is one of the few GPS fleet vendors to offer true real-time monitoring. You can view your fleet from one second to the next, enabling you to react in near-real time.
What We Like
Samsara can support small businesses with as few as three vehicles.
Samsara recognizes that even small fleets can be complex to manage.
There is a slew of fleet tracking and safety features in one central dashboard.
Samsara is one of the few vendors we examined to offer integration with third-party apps. That enables you to use data from deliveries to inform your other business decisions.
What We Don't Like
Samsara requires you to sign a three-year contract. We prefer shorter contracts, although three years is in line with many of the GPS fleet tracking vendors we reviewed.
Very small businesses with only one or two vehicles can't use Samsara's software. That is not true of others. For example, our review of ClearPathGPS found it has no vehicle minimum.
Ease of Use
While other solutions we reviewed have refresh times ranging from one to three minutes, Samsara truly provides information in real time. This is essential for fleet managers that need accurate and timely reporting. As a result, Samsara is best suited for small businesses in transportation and logistics, food and beverage, construction, higher education, K-12 school transportation, state and local government, utilities, passenger transit, and field service fleets. We like that it caters to industries that include a lot of small businesses; this shows Samsara's support of the small business market.
Samsara's tracking software is intuitive and easy to use. Additionally, it has open API and third-party integration capabilities, which allow you to seamlessly use it with other business applications. That can enhance your business reporting and help you optimize routes to increase safety, productivity, and fuel efficiency.
Samsara also helps businesses easily maintain compliance with its ELD, IFTA and DVIR. It offers several other easy-to-use products (e.g., dashcams, routing and dispatch, reefer monitoring, trailer tracking, and asset tracking), making it an ideal all-in-one solution for many businesses.
FYI: Samsara lets you integrate its software with your other business apps. That can be a viable way to improve your reporting, reduce costs and optimize productivity.
Features and Services
Samsara offers some of the best services in the GPS fleet tracking industry, making it an ideal pick for small businesses.
Hardware and Installation
Samsara offers a wide selection of hardware, which gives small businesses a lot of power and flexibility to create a custom tracking solution that fits their needs and budget. For instance, Samsara offers plug-and-play OBD II port devices as well as more advanced tracking hardware. It is things like that which made us select it as the best GPS fleet tracking system for small businesses. You can start with an easy plug-and-play device and scale up to more sophisticated tracking software as your business grows. Samsara also has in-cab cameras, so you can get an immediate view of a driver's field of vision. Other hardware accessories include environmental monitors, wireless door and cargo monitors, panic buttons, privacy buttons, engine immobilizers, auxiliary input hubs, ID card readers, dashcam lens covers, and windshield shims.
Driver Safety and Performance
The company has a comprehensive app that logs information like hours of service (HOS) and driver's vehicle inspection reports (DVIRs). Samsara provides driver safety scorecards in real time, so you can identify drivers engaging in unsafe behaviors such as speeding, tailgating, and distracted driving. The driver efficiency score tool monitors fuel usage and offers tips on how drivers can reduce fuel costs. We like this feature a lot. Small businesses care about saving money, and anything that can help them do that is a welcome feature.
A cool safety add-on to Samsara is its dashcam. While this costs extra, Samsara can outfit your fleet with dashcams, so you can review incidents after they occur and work with drivers to improve their safety behind the wheel. You can set up this feature to view both the driver and the road in front of them. This isn't something all GPS fleet tracking solutions offer. Our review of Force by Mojio found that, at least for now, its users can't connect a dashcam to the system.
Vehicle Conditions, Maintenance and Optimization
With Samsara, you can analyze your fuel consumption and utilization patterns. Samsara can help you plan better routes and coach your drivers to adopt more fuel-efficient habits. Samsara's service has a documentation component, so you can log fuel receipts. You can view vehicle diagnostics and monitor fault-code alerts in real time. This kind of access helps you plan and schedule necessary vehicle maintenance to prevent breakdowns – and to manage accidents and breakdowns quickly if they do occur.
Alerts and Reports
Samsara is one of the few telematics solutions we reviewed that offers second-to-second tracking. Many companies claim to offer real-time tracking, but, in reality, their software updates every one to three minutes. A real-time view of your fleet allows you to react quickly, saving you time and money.
Besides viewing your fleet in real time, you can set up text and email alerts to keep you informed. Samsara also provides reports (e.g., time-on-site reports, utilization reports) that can help you make informed business decisions.
Location and Navigation
Samsara allows you to set up geofences to keep your fleet within a predetermined perimeter. Unlike competitors, Samsara also lets you stay connected with a high-speed Wi-Fi hotspot. This ensures wireless connectivity and reduces your cellular data costs – another feature that makes Samsara a standout.
Bottom line: Whether you care most about identifying unsafe driving behaviors or reducing transportation times, Samsara has you covered. The software has all the features you need to manage a fleet of any size.
Pricing and Contracts
When we evaluated Samsara previously, you had to contact the company's sales team to obtain pricing; it didn't list prices online. Now, Samsara has added a price configurator to its website. You input a few details, including the number and types of vehicles you have and the features you want, then provide your email address, and the company calls you with a price quote.
Samsara will require you to sign a contract, which lasts three years. This is on par with industry standards for telematics solutions. The company also requires a three-vehicle minimum. You can watch a series of demo videos on its YouTube channel to get a feel for how the software works.
Customer Service
Samsara offers customer support by phone, email, live chat and help ticket. It also has helpful online resources like blogs, webinars and a searchable knowledge base. When we contacted Samsara representatives, posing as a fleet manager for a small business, we were extremely pleased with how quickly and professionally they answered our questions.
Samsara also has strong reviews on various telematics review sites, and it is accredited with the Better Business Bureau with an A+ rating.
Limitations
Samsara offers small businesses a lot of ways to improve safety, productivity, and fuel efficiency, but this isn't a vendor you can test out. It doesn't offer a free trial, and it requires you to sign a three-year contract. While that contract length is common in the industry, it does mean you are locked in for a long term. That kind of commitment may not appeal to all business owners.
The three-vehicle requirement also prevents very small businesses from using its software. We considered that when selecting Samsara as our best pick for small businesses. With its many features, various industries served, and low vehicle requirements, we were more than willing to overlook the three-vehicle minimum. For small businesses with only one or two vehicles, FleetUp or ClearPathGPS, two of our other best picks, are more suitable options.
What Is GPS Fleet Tracking Software?
GPS fleet tracking software enables businesses to keep tabs on their company vehicles and drivers in near-real time. The software is designed to improve safety, reduce transportation times, and lower fuel costs. Most of the software lives in the cloud and communicates with in-vehicle plug-and-play or hardwired devices.
Methodology
When determining our best pick for small businesses, we looked at a number of the best GPS fleet tracking systems. The first thing we analyzed was their vehicle requirements. We homed in on the ones that had little to no minimum as to the number of vehicles you need in your fleet. After narrowing down our list, we looked at the services these vendors offer that cater to small businesses. We only reviewed solutions with the ability to maintain and improve driver safety, track and monitor in near-real time, and identify ways to reduce transportation times and increase fuel efficiency.
We also looked at ease of use. A GPS fleet tracking app can offer all the features in the world, but if it's hard to navigate, it will go unused. That's particularly true for small businesses – they don't have time for steep learning curves. They need software that is easy to implement and use.
FAQs
What is Samsara's GPS tracking feature?
Samsara offers the Vehicle Gateway, which includes real-time GPS tracking. With it, you can instantly locate a vehicle. That enables you to monitor your fleet in real time and provide more accurate ETAs for your customers. Through the company's GPS tracking app, you can receive alerts when engines are idling, create more efficient routes, set geofences to prevent unauthorized activity with your vehicles, and track fuel and energy usage.
Who uses Samsara's GPS fleet tracking software?
Samsara supports several industries, including transportation and logistics, food and beverage, construction, government, education, field services, and utilities. It focuses on serving small and midsize businesses; however, it also has an enterprise solution for larger organizations.
Bottom Line
We recommend Samsara for ...
Businesses that have three or more vehicles to monitor and track.
Small businesses that expect to grow and want a vendor that can easily support increases in a fleet's number of vehicles.
Small businesses looking for a platform that is easy to use.
We don't recommend Samsara for ...
Small businesses that want the flexibility to cancel service at any time (Samsara locks you in for three years and does not offer a free trial).
Very small businesses with only one or two vehicles to track.
Those who want to see clear, upfront pricing without contacting the company (while you can get a price quote quickly, it does require talking to a sales rep).
Image Credit: vitpho / Getty Images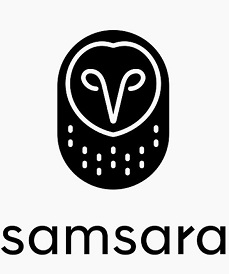 Samsara
The Verdict
Samsara is a one-stop shop for your GPS fleet tracking needs. Its low vehicle requirements, advanced technology, real-time tracking and scalability combine to make it our best pick for small businesses.

Donna Fuscaldo
business.com Staff
Donna Fuscaldo is a senior finance writer at business.com and has more than two decades of experience writing about business borrowing, funding, and investing for publications including the Wall Street Journal, Dow Jones Newswires, Bankrate, Investopedia, Motley Fool, and Foxbusiness.com. Most recently she was a senior contributor at Forbes covering the intersection of money and technology before joining business.com. Donna has carved out a name for herself in the finance and small business markets, writing hundreds of business articles offering advice, insightful analysis, and groundbreaking coverage. Her areas of focus at business.com include business loans, accounting, and retirement benefits.