Samsara Fleet Management Review and Pricing
One way small businesses can bring down the costs of running a fleet is to use a GPS fleet management system. Samsara is among a handful of GPS fleet management solution providers that work with small businesses with as few as one company vehicle; many other vendors require a lot more. As your fleet grows, you can scale up your system with Samsara vehicle by vehicle. It's that flexibility, combined with Samsara's ease of use, incredibly fast refresh rate, volume of useful data it collects and 30-day free trial, that makes Samsara our choice as the best GPS fleet management service for small businesses.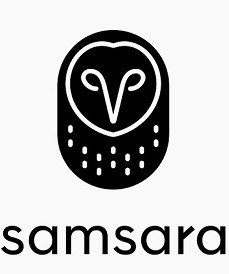 Samsara Fleet Management and Pricing
The Verdict
Samsara is a one-stop shop for your GPS fleet management needs. Its low vehicle requirements, advanced technology, real-time tracking and scalability combine to make it our best pick for small businesses.
Samsara Editor's Score: 9.2/10
| | |
| --- | --- |
| Contract length | 8.0 |
| Price | 8.0 |
| Refresh rate | 9.9 |
| Customer service | 10.0 |
| Hardware type | 9.0 |
| Functionality | 10.0 |
Why We Chose Samsara as Best for Small Businesses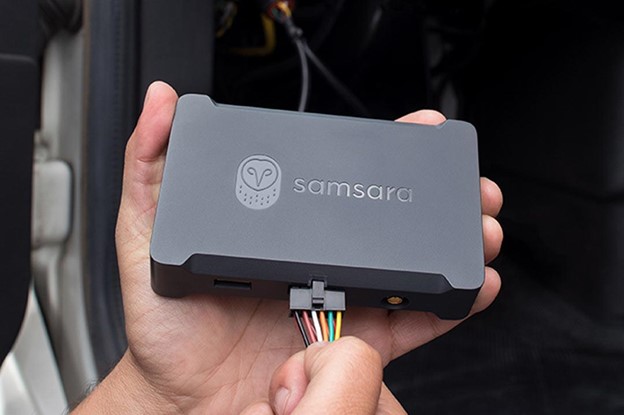 Samsara facilitates plug-and-play vehicle and asset connectivity. Source: Samsara
Every new vehicle and driver you add to your fleet increases your costs. With Samsara's user-friendly dashboard, you can find ways to save money on fuel and maintenance, improve driver safety and maintain compliance with electronic logging, the International Fuel Tax Agreement (IFTA) and driver vehicle inspection report requirements. Even better, Samsara is happy to work with you whether you have one vehicle in your fleet or 100.
You can install the plug-and-play hardware in minutes and then stay in control of your fleet via the easy-to-use desktop control dashboard or the Samsara app. No matter where you are, it's easy to add jobs to drivers' schedules. If one of your drivers is running late, you can send a live map to your customer, complete with an ETA.
Overall, its resourcefulness, portability, easy setup and scalability are among the reasons why we've selected Samsara as our best pick for small businesses seeking a GPS fleet management service.
Samsara used to have a three-vehicle fleet minimum. This requirement has since been dropped, and it now welcomes companies with just one vehicle.
What We Like About Samsara
Samsara offers near enterprise-level driver and vehicle monitoring to small businesses while making its system very easy to use.
You can try the service free for 30 days to see if it's right for your company.
There are more than 200 third-party integrations available and a REST API.
What Don't Like About Samsara
If you want to sign up for Samsara after the free trial, you have to commit for three years.
You can't use hard-wired GPS tracking units, which are more secure.
Some of the available app integrations require extra fees.
Ease of Use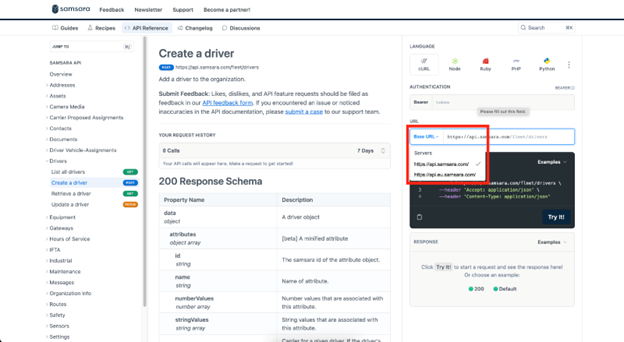 Samsara offers a full REST API option for integration with other software and apps. Source: Samsara
When you open Samsara's desktop dashboard, you can access the compliance, safety, maintenance, dispatch, fuel and energy, mobile device management, and documentation controls via the tabs on the left of the screen in icon form. When you click on a tab, the navigation bar helpfully stays on the left. The dashboard has a landscape configuration, and the clickable elements are well presented and spaced. All in all, it's a straightforward system to use.
We also liked Samsara's API interface a lot. You can integrate all of your fleet data into other business apps and software programs for an interconnected technology suite that streamlines operations. There are also a number of prebuilt webhooks that allow system notifications to be integrated into other apps you use. As our Azuga review notes, that vendor also has an impressive API, but Samsara's marketplace is far more extensive. That said, some of the apps have add-on fees, and Samsara's documentation is not as comprehensive, but it should be fine for most developers.
Samsara Features
Samsara offers a wide range of services in addition to GPS vehicle tracking. Below are some of our favorites.
Tracking and Dashcam Equipment
The sensors on Samsara's GPS tracking unit record and transmit driver and vehicle data to your dashboard via a 4G cellular signal or a high-speed Wi-Fi connection. It offers a dual-facing dashcam (with one camera monitoring the driver's cab) and a single-facing dashcam that records only the driver's view. Powered by artificial intelligence, these cameras detect and film events like erratic driving or blowing through a stop sign. Recorded video is then sent back to the Samsara platform, where it can be easily accessed. You can use these videos to help drivers eliminate bad habits and to defend against insurance claims.
Panic buttons are also available, which can send video back to the base when pressed together with windshield mounts and lens covers. Perhaps coolest of all, administrators can use the livestream function to remotely watch whatever the dashcam is recording live. This is a great way to coach your team, virtually ride along with your drivers and get a visceral sense of how vehicle operators are performing.
In-Depth, Customizable Reporting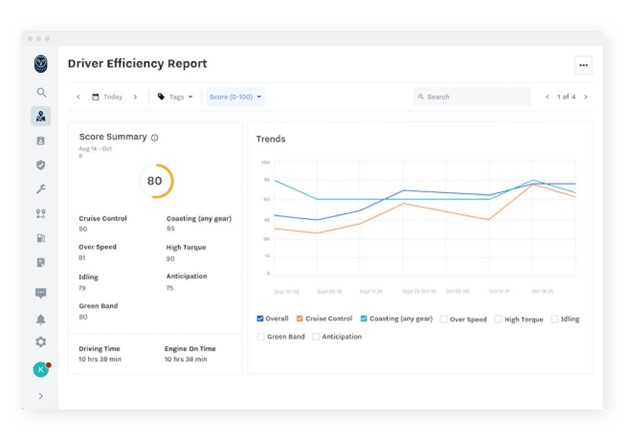 Samsara gives users some of the most in-depth fleet and driver management reporting on the market. Source: Samsara
Samsara's tracking units and dashcams send information every second to your desktop and app dashboards. As well as viewing this live data, you can run reports on:
Activity and fuel: There are 25 aspects monitored, including fuel consumed and cost, high engine torque, idling time, distance, driver efficiency, coasting, and speeding.
Safety: This report includes 15 categories, like acceleration, braking, speeding and harsh turn counts, maximum speeds, and safety scores.
Compliance: The seven actions tracked in this report are when drivers are on and off duty, time spent driving on company business, personal driving, time in the sleeper berth, time waiting, and yard move time.
Maintenance: This report delivers DVIR (driver vehicle inspection report) information, including safe and unsafe submitted DVIRs.
To run reports, simply select whether you want a report on a driver or a vehicle/asset, and then choose the aspects you want to include. Set start and end dates for the period of time you're interested in and then click "Run."
Samsara also records and presents vehicle diagnostic information, which is useful with preventive maintenance to reduce the chance of an unexpected breakdown, and calculates driver efficiency scores. With the latter, drivers' performances are evaluated in real time so you can improve fleet efficiency.
Whether you buy or lease a company car, your organization is responsible for executing maintenance, but such upkeep expenses may be covered under a lease.
Alerts and Notifications
You can choose to receive alerts on events relating to compliance, device health, driver behavior, equipment, location and routing, maintenance, safety, and security. Alerts always appear on your dashboard, but you can also get them via email and text message if you want.
When you implement the Samsara system, there are 34 built-in alerts that you have to activate to switch on. These cover events like dashcam disconnection, vehicle fault codes, unsafe driving (including speeding and abrupt braking or hard cornering) and hours of service violations.
Live Vehicle and Asset Tracking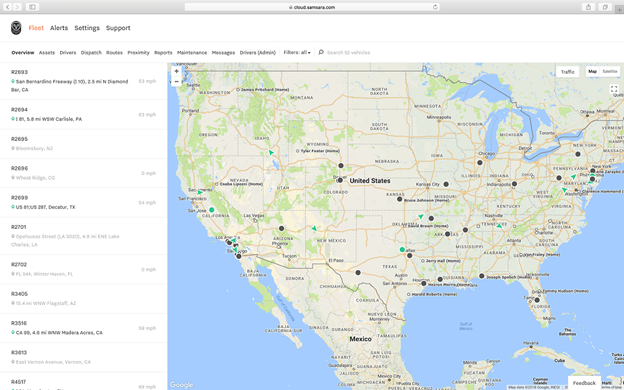 Samsara's live GPS mapping allows you to see your entire fleet's locations in real time. Source: Samsara
You can click on the "Fleet" tab to see where all your vehicles are at any given time. Click on the dots on the map to see the exact location together with other data like driver name and vehicle identifier. Samsara offers second-by-second tracking, meaning that what you see on the map is as close to real time as you can get. This refresh rate is the best among the top GPS fleet management services we reviewed. In comparison, FleetUp and Force by Mojio update every 10 seconds; Verizon Connect, every 30 seconds; and Azuga, every 60 seconds, depending on the plan you're on.
We also like the fact that you can switch on the helicopter view to see a composite image showing a vehicle's location in real time against a satellite photo of the area (similar to Google Maps' aerial view). If your driver is having trouble getting to their end location, you can help guide them via the mobile app. You can also warn drivers of traffic jams or bad weather so they can choose a different route instead. You can even share the live map with customers so they can see where the vehicle is and when it's expected to arrive.
Mobile App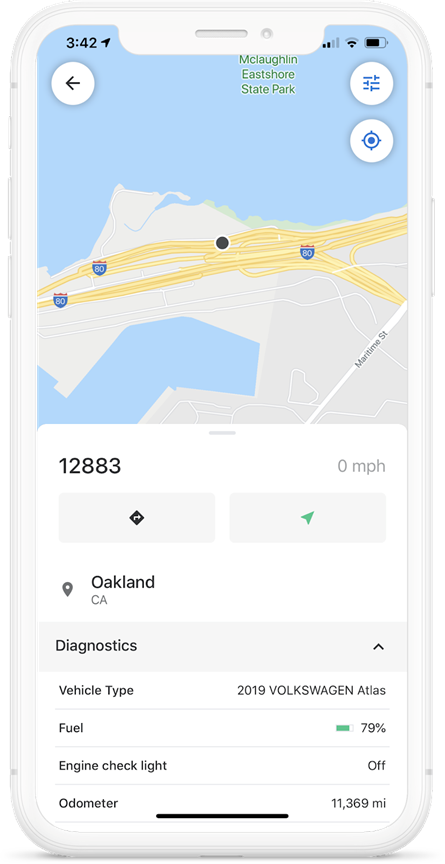 The Samsara Fleet app lets managers monitor fleets while on the go themselves. Source: Samsara
Samsara has two apps: Samsara Fleet for fleet managers and Samsara Driver for drivers. Both are available from the Apple App Store and Google Play.
With Samsara Fleet, you can update drivers' schedules, add new jobs and adjust the order in which they complete jobs, and they'll see the changes on their app. The Fleet app offers the same functionality as the desktop dashboard. You can see where your fleet and individual vehicles are at any time, share driver locations with delivery recipients, receive notifications, and message team members, including other administrators.
With Samsara Driver, drivers can run DVIR inspections, record the results in the app and track their safety scores in real time. The app is also useful for compliance, such as electronic device logging and recording hours of service. The app can be used to chat with managers too.
Geofencing
Want to know whether a vehicle or asset enters or leaves a particular area? With Samsara, you can define these areas as geofences, which then alert you when the parameters are crossed. Two common geofence uses are:
Theft monitoring: A geofence can mark the area in which your fleet is expected to be. If a vehicle or asset leaves the area you've set as a geofence, that could indicate that it's been stolen.
Client arrival/delivery information: You can trigger an alert when a vehicle gets close to its destination so that, for example, a receiving warehouse can be ready for arrival. This gives on-site staffers time to prepare and can reduce the time needed for loading and unloading goods. With Samsara's platform, you can add regular destinations to your address book so your contacts receive a geofencing alert when your vehicle is near their premises.
Large Marketplace
Samsara has the largest third-party marketplace of all the GPS systems we reviewed, with more than 200 available integrations. Standout examples include apps from Ford and General Motors that allow companies to access manufacturer-grade data for more efficient fleet management. Ryder offers a similar app for vehicles leased from them. Choose from apps that help you improve compliance, routing and dispatch, and driver safety, but be aware that some have separate costs.
Some of the apps can even help you reward good driving behavior among your vehicle operators and score lower insurance premiums. As you choose business insurance for your company, specifically commercial auto insurance, see if the insurer's app integrates with the Samsara system.
Samsara Pricing
Samsara separates itself from its peers in the GPS fleet management space because it is the rare vendor to offer a 30-day free trial to test its software and equipment. In contrast, most competitors don't provide free or even paid-for trial periods. That said, if you'd like to continue using the Samsara system after your test run, you have to commit to a 36-month contract, which is the standard contract length for this sector.
Pricing is unclear on the Samsara website, but based on user reviews, costs seem to start at $40 per month per vehicle. This is toward the top end of the pricing scale and similar to the costs you'll find in our review of Verizon Connect. Some customers report they had to purchase the GPS equipment separately as opposed to it being included in the contract, but that's on par with industry standards for telematics solutions. To get a price quote, you have to complete a form on the vendor's website and wait for a sales representative to call or email you.
Implementation and Onboarding
Getting started with Samsara is extremely straightforward. After signing up for the service, you can create an online account, download the apps, set up administrator accounts and driver/vehicle files, and install the GPS tracking unit, dashcam and any other hardware you've ordered. Installing the equipment shouldn't take long, and you can speed up the process by using the Samsara Fleet App. But since these models are plug and play, implementation is really as simple as plugging in the device and then pairing it with the software.
The process will take longer depending on the number of apps you want to integrate. If your business wants to use the API to develop integrations between Samsara and other software, this will possibly add significant time to the setup procedures. For onboarding, the Samsara website includes product tours, webinars and a video library.
Customer Service
Samsara provides 24/7 support, but if you want to speak with a representative over the phone, it's not easy to find the support number on the website. Instead, the vendor pushes you toward its live chat and ticketing function first. For self-help, Samsara's online knowledge base is extensive, giving customers in-depth instructions, tips and advice on a variety of topics, from hardware to compliance to workflows to telematics. As an example, there are nearly 50 articles in the "Driver Safety" section. Only Azuga and Verizon Connect's knowledge bases are as large.
Notably, Samsara is accredited with the Better Business Bureau (BBB), which gives it an A+ rating. Not only is that remarkable because it's the top rating you can get from the BBB, but many of the company's rivals aren't accredited at all. This is a great indicator of how well Samsara serves small businesses. Plus, online customer reviews score the service highly as well, with the average rating being around 80% over nearly 1,000 reviews.
While we really appreciate that Samsara offers 24/7 customer service, read our FleetUp review to find out why we named FleetUp the best GPS fleet management service for businesses prioritizing customer support.
Limitations
Samsara's hardware is plug and play, not hard-wired. While plug and play is less expensive and doesn't require professional installation – two definite advantages – it should be noted that hard-wired equipment is less prone to tampering and requires lower maintenance. Given these considerations, it would be nice if the company allowed clients to choose between the two types.
Samsara's app marketplace is quite large, but many of the apps, particularly those related to maintenance and tire monitoring, require you to pay an additional fee. This can limit the system's potential for small businesses on a budget.
Methodology
During our search for the best GPS fleet management services, we examined a range of vendors, taking a close look at features that help improve driver safety, reduce transportation time, allow near real-time driver and vehicle monitoring and tracking, and increase fuel efficiency. We also sought systems that were simple to install and easy to use, and we considered pricing, refresh rate, customer service, and equipment, among other factors. We named Samsara the top provider for small businesses because of its all-around capabilities, superior refresh rate, free trial and the fact that your fleet can consist of a single vehicle.
Samsara FAQ
Do Samsara's dashcams record all the time?
Samsara's dashcams record when a vehicle is traveling 5 mph or more. The dashcams also send a still image to the Samsara cloud every five minutes, and you can access these photos via your dashboard. There are also livestreaming capabilities.
What does Samsara detect?
Samsara's AI-powered dashcams are designed to detect policy violations (like not wearing a seatbelt), tailgating, distracted driving, and sudden events (turning, acceleration, braking and crashes).
What is Samsara's GPS tracking feature?
Samsara's GPS tracking feature tracks drivers and their vehicles in real time using its "Vehicle Gateway" service. Fleet managers can monitor vehicles' current location and send links to customers showing them this and providing an ETA. This tool also tracks fuel usage, sets geofences to prevent unauthorized activity, creates more efficient routes and receives alerts when engines are idling.
Who uses Samsara's GPS fleet management software?
Although Samsara's GPS fleet management software is suitable for all small and midsize businesses, it specializes in working with the transportation and logistics, construction, food and beverage, passenger transit, and utility industries. The company also focuses on working with field services firms, the government, K-12 schools and higher education establishments. It also provides an enterprise solution for larger organizations.
Bottom Line
We recommend Samsara for …
Small businesses that want a GPS system that can grow with their fleet.
Businesses that may now or in the future want to track equipment and assets on the same platform as their vehicles.
Organizations that want the ability to send customers live vehicle location maps and ETAs.
We don't recommend Samsara for …
Businesses that want hard-wired GPS tracking equipment.
Companies on a budget that don't want to commit to three years of service and pay extra app fees.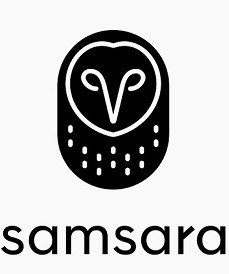 Samsara Fleet Management and Pricing
The Verdict
Samsara is a one-stop shop for your GPS fleet management needs. Its low vehicle requirements, advanced technology, real-time tracking and scalability combine to make it our best pick for small businesses.

Mark Fairlie
Contributing Writer
Mark Fairlie has written extensively on business finance, business development, M&A, accounting, tax, cybersecurity, sales and marketing, SEO, investments, and more for clients across the world for the past five years. Prior to that, Mark owned one of the largest independent managed B2B email and telephone outsourcing companies in the UK prior to selling up in 2015.