FleetUp Review and Pricing
FleetUp offers a data-rich, easy-to-use GPS fleet and asset tracking system that customers rate very highly. FleetUp can help businesses use telematics to improve work-site productivity, as well as reduce labor, fuel and maintenance costs. The features and ease of use make FleetUp competitive with other highly rated GPS fleet management services, but it's the company's investment in after-sales service that really stands out, making FleetUp our choice for the GPS fleet management service with the best customer support.

FleetUp and Pricing
The Verdict
FleetUp Editor's Score: 8.3/10
| | |
| --- | --- |
| Contract length | 8.0 |
| Price | 5.0 |
| Refresh rate | 8.0 |
| Customer support | 10.0 |
| Hardware type | 9.0 |
| Functionality | 10.0 |
Why We Chose FleetUp as Best for Customer Support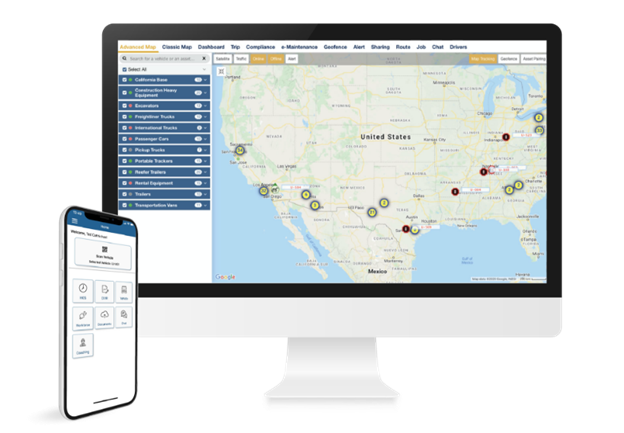 FleetUp's desktop and mobile app interfaces allow you to monitor drivers whether you're in the office or on the go. Source: FleetUp
FleetUp is one of several vendors we reviewed that offers 24/7 customer support. But this company really distinguishes itself from its competitors by answering call queries 97% of the time. FleetUp also assigns you an engineer to help integrate the service. For ongoing assistance, a company representative will check in with your business quarterly.
This dedication, regardless of the size of your fleet – in addition to a relatively robust online self-help database – makes FleetUp the best GPS fleet management service for organizations that prioritize customer support. FleetUp's website states, "Customer experience is our passion," and it shows.
FleetUp originally sold electronic logging devices (ELDs) and, over the years, built GPS, job management, driver safety and vehicle maintenance into its offerings. The company also expanded into asset, equipment and container management.
What We Like About FleetUp
FleetUp believes in "proactive support," in which the company guides you through setup and provides ongoing assistance.
The desktop and mobile control dashboards are extremely intuitive, helping users quickly get the information they need.
The supervisor and driver apps integrate very well, allowing two-way conversations and job changes.
What We Don't Like About FleetUp
A lack of transparent pricing makes it hard to compare FleetUp's value to that of other providers.
There is no free trial, so businesses can't test the software before committing to a contract.
Ease of Use
FleetUp is quite user-friendly. The software has a clean, crisp interface where the information and reports you want are no more than a click or two away. The system is incredibly customizable, so you can configure it to easily get the information that's most useful to your business. On the whole, FleetUp's dashboards are easy to navigate, and the hardware is plug-and-play. Setting up alerts is straightforward, as is monitoring your fleet in almost real time.
FleetUp works in a standard internet browser; there is no separate PC or Mac desktop application. Updates are carried out server-side, so your IT team won't need to check for patches. There are two mobile apps – one for drivers and one for supervisors – that can be downloaded from the App Store or Google Play store.
For companies that want to integrate the FleetUp data, reporting and features into their other business software, the company has an application programming interface (API). There is extensive API supporting documentation, similar to the REST API offerings from rivals Azuga and Force by Mojio. If you need help integrating the API with your other software, you can book a time with a FleetUp engineer to assist you in achieving the outcome you want. No other provider we reviewed offers this service, which goes to show the company's outstanding level of customer support.
While our review of Azuga explains why we picked that vendor as our best pick for ease of use, FleetUp is a worthy competitor.
Features and Services
FleetUp is a data-rich fleet management platform that helps businesses quickly and easily save money by reducing fuel, better controlling maintenance costs and improving driver safety. Here are some of the features that stood out to us:
Clear and Intuitive Dashboard
In our review of Force, we praised the platform's uncluttered and intuitive interface. We have a similarly high view of FleetUp's software, which has an easy-to-use desktop dashboard and strong reporting tools. Across the top of the dashboard are the following sections:
Advanced map: Get a live view of where all of your fleet vehicles are, and drill down into the details of each journey.
Dashboard/reports: View the most important statistics from the past 30 days based on data generated from your vehicles and drivers.
Trips: Access the details of every trip made by every vehicle being monitored.
Compliance: Review statistics on legal compliance (like hours of service), ELD data, and compliance with company policies (for example, unsigned logs and unsafe driving).
E-maintenance: Manage preventive and reactive maintenance, and get notifications of new diagnostic trouble codes (DTCs).
Geofencing: Create alerts for when vehicles enter or exit predefined areas, and access current and historical instances.
Alerts: Set notifications to be sent to system supervisors based on driver behavior and vehicle information.
Sharing: If you allocate company vehicles or assets to partners and want them to be able to monitor the property but not see your other vehicles and assets, you can set up partner accounts under this option.
Job: Supervisors can add new jobs and assign drivers and vehicles to each one.
Chat: Initiate two-way live chat with drivers.
Drivers: Access records of when drivers clock in and out, as well as driver safety data.
Dashcam: Receive reports of unsafe or hazardous driving when they're detected by the dashcam.
Settings: Modify alert settings and device settings.
When you choose a section, you see further options in a second navigation bar placed underneath the main menu. The screen layout makes it easy to view vital information and perform tasks.
Highly Customizable Alerts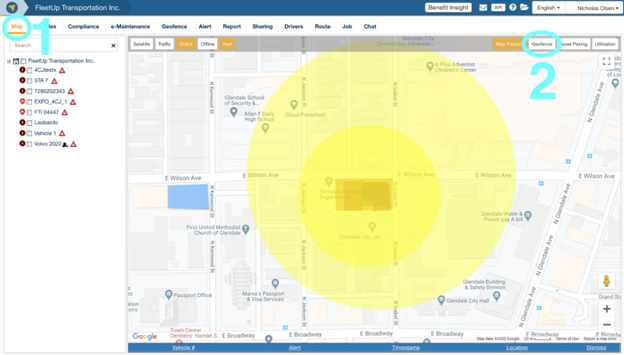 You can set up customized alerts for specific geographic areas. Source: FleetUp
FleetUp's built-in and customizable alert system is incredibly detailed and contains more than 30 options. When an alert is triggered, you and your colleagues can receive a notification by email, the FleetUp app, text message or a sound on the desktop dashboard. You can set the hours and days during which you receive alerts, as well as who receives them.
That last point is particularly important. If you set up a geofence alert to, for example, let a warehouse know that your vehicle is close by, you can instruct the platform to message only the nominated person at the warehouse rather than all users. Also, by knowing that a vehicle is nearby, the staff there have time to prepare the goods for loading or off-loading.
Supervisors can also set up alerts to capture speeding, revolutions per minute (RPMs), idling, hard acceleration, hard braking and sharp turning. They can also monitor DTCs, engine temperature and low battery voltage, and get alerts when a panic button is pressed and when a FleetUp device is plugged or unplugged.
We also liked that users can send an alert to clients with the vehicle's estimated time of arrival (ETA), which is particularly useful for keeping open, clear channels of communication with customers. You can send these alerts via email or text message, both of which contain a link to a live map showing the vehicle's location and the time the driver is expected to reach the customer.
Vehicle Maintenance and Management
FleetUp lets you schedule preventive maintenance to help keep your vehicles on the road. You can set up servicing events, like oil and oil filter changes, as well as checks on transmission systems, brakes, tire rotation, cooling systems, alignments, belts and hoses, brake fluids and more. You can choose servicing intervals by miles driven, engine hours or time intervals.
FleetUp's hardware detects DTCs in each vehicle, presenting the DTC in the vehicle's record next to a plain-English description of what might be wrong. You can also inspect the maintenance history of each vehicle at any time. When a vehicle goes in for maintenance, you can assign a maintenance category and add notes, as well as run reports on vehicle maintenance costs as a whole or focus on specific groups of vehicles and specific types of maintenance to understand how much you're spending and where.
Route Optimization and Better Driving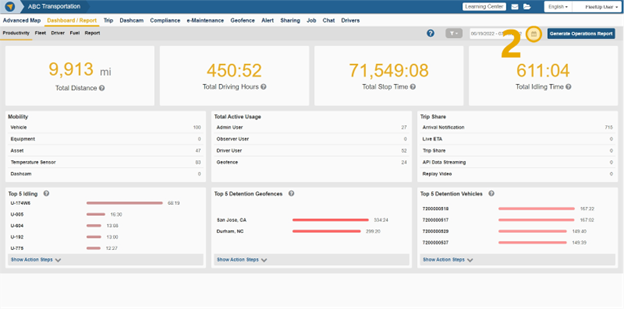 FleetUp's fuel analysis report is designed to help you identify which drivers are costing you fuel with excessive idling. Source: FleetUp
FleetUp's route optimization feature cuts miles driven and the time taken to reach destinations to increase the number of trips a driver can make each day. For recurring journeys, you can use the desktop software to set a preferred route, and that information will be fed to the driver's app. FleetUp also helps drivers avoid toll roads, travel along roads permitted for the type of vehicle they're driving, and divert away from road restrictions or anticipated traffic.
You can improve the efficiency of your fleet by training drivers to avoid bad habits. On the Fuel tab within the Dashboard/Report section of the control dashboard, supervisors can see which drivers waste the most fuel because of poor driving behaviors, including idling, hard braking, hard acceleration, high RPMs and speeding. Based on that information, companies can identify the drivers who need training and those who should be rewarded for efficient driving.
FleetUp Equipment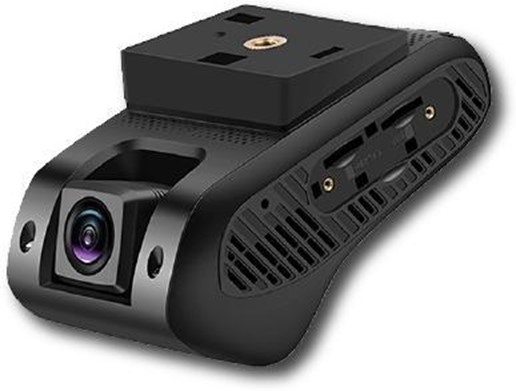 FleetUp's AI-powered dashcams have dual cameras. Source: FleetUp
FleetUp offers two GPS tracking devices: one standard model and one enhanced model that measures temperature and humidity to prevent cargo damage and spoilage. The vendor's dashcams feature cab-facing and road-facing cameras that start recording when the built-in artificial intelligence (AI) detects an unsafe event. The video is then transmitted to the control dashboard for later review. The AI rates each incident as low-risk, high-risk or critical. Supervisors can even connect directly to the dashcams to get a live view of the driver and their road conditions via 4G.
FleetUp's equipment sends data back to your dashboard every 10 seconds – the same rate as Force but faster than Verizon Connect and Azuga. However, Samsara's data updates the most frequently – every second. Get all the details in our full Samsara review.
Mobile Apps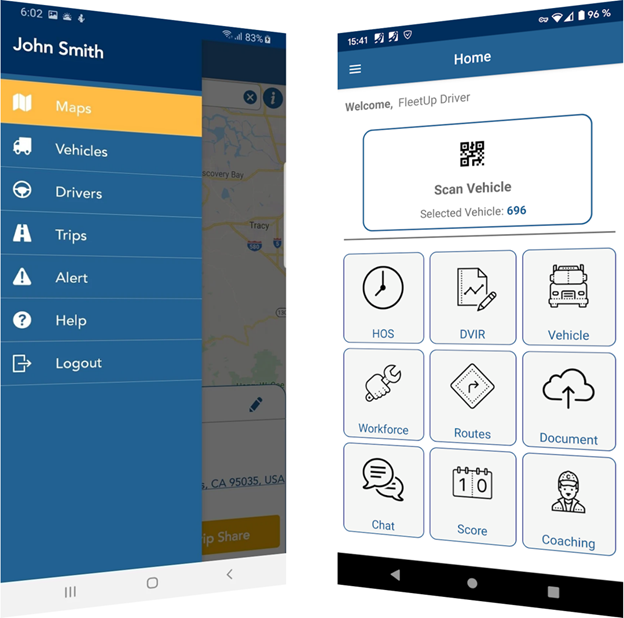 FleetUp's mobile apps are available for both office staff and vehicle operators. Source: FleetUp
There are two FleetUp apps: one for drivers and one for supervisors. The supervisor app provides many of the same functions as the desktop control panel. For example, it gives supervisors access to real-time data and dashcam videos, two-way communication with drivers, the ability to see your fleet on a map, and the opportunity to share trip data and ETAs with clients.
Drivers can use their app to log hours of service for legal compliance and perform driver vehicle inspection reports. They can clock in and out, specify if they're operating a vehicle for personal use or performing yard moves, and note if they've retired to the sleeper berth. The app also has a built-in AI-powered driving coach that provides on-the-road training to drivers. This is a valuable way of helping vehicle operators eliminate risky or wasteful behaviors.
Pricing
Most of the GPS tracking platforms we reviewed provide custom quotes to potential clients upon application and don't share pricing information on their websites, and FleetUp is one of them. That lack of upfront transparency may turn off some businesses, but it could also indicate that the vendor will work with you to create a custom package for the right price. That said, these are the typical package options:
FleetUp Standard: This plan includes fleet management software and GPS vehicle tracking, with tools such as detailed trip reporting and advanced geofencing.
FleetUp Compliance: In addition to the Standard features, you get electronic monitoring to ensure your drivers are operating within federal guidelines.
Fleetup Advanced: Here, the Standard plan is enhanced with remote maintenance monitoring, fuel analysis and engine diagnostics.
FleetUp Professional: This package combines all of the above plans for the most complete software suite.
There are two equipment packages (FleetUp Equipment Standard and FleetUp Equipment Advanced) as well as three add-ons for asset management (FleetUp Asset Container, FleetUp Asset Reefer and FleetUp Portable).
Although FleetUp is happy to do a demo of the system before you sign up, the company doesn't offer a free trial, nor does it advertise information about minimum contract lengths. This makes it harder to gauge the cost of the services and whether your organization will get enough return on investment. [See the additional costs to keep in mind with commercial car insurance.]
Implementation/Onboarding
Once you've signed up with FleetUp, you can log in to the desktop dashboard and enter the password given to you in your introductory email. You can then create accounts for each driver in your company. Also upon sign-up, you'll be appointed a personal FleetUp representative who can help you start implementation and onboarding. This rep will also contact you once per quarter to check in on your experience and provide any additional help you require.
FleetUp sends out plug-and-play hardware that fits into the OBD-II slots in your vehicles. The vendor estimates an installation time of 10 minutes per device. We love that for help with this and other implementation aspects, customers can pull up FleetUp's YouTube channel for step-by-step instructions.
Customer Support
FleetUp goes above and beyond the 24/7 support offered by some rivals. While it's great that the company offers phone, email and online chat around the clock, we were really impressed by the company's response rates: Representatives answer 97% of calls and typically respond to emails within 30 minutes. That timely, personalized support is also evident in the representatives FleetUp makes available to you.
As noted, each new client is paired with a representative who will steer your organization through installation and onboarding and then continue to check in with your team quarterly to ensure you're getting the most out of FleetUp's services. Additionally, you have access to engineers to help with the technology integration. Plus, you can (for an added fee) be connected with a telematics professional who will seek to learn all about your business so they can recommend how to optimize your fleet's performance. This support person can not only help set up the telematics aspect of your system but also monitor staff and maintenance schedules. This kind of assistance is why FleetUp shines brighter than competitors when it comes to customer support.
For online help, FleetUp's website features blog posts, user guides, reference cards, videos, whitepapers, FAQs and data sheets.
When you're choosing a GPS fleet management solution, consider how much customer support your team may need and whether the vendors you're eyeing charge extra for dedicated assistance or have other downsides related to customer service.
Limitations
One downside of FleetUp is that it does not offer a trial. While it's nice that the company can provide a free demo, it would be better if potential customers had the opportunity to try the system themselves on one or two vehicles before committing their company to a contract, especially when the vendor isn't upfront about pricing.
FleetUp is not accredited with the Better Business Bureau, which may be a red flag for some organizations. However, FleetUp is not the only provider we reviewed that has not received BBB accreditation, and this vendor does score highly on many customer review sites.
Methodology
To determine the best GPS fleet management services, we closely examined a variety of providers based on the type of equipment offered, software capabilities, scalability, ease of use, pricing and refresh rates. We also took into account customer service and online reviews. When searching specifically for the best vendor for customer support, we paid particular attention to opportunities for one-on-one guidance, online resources, and contact methods and availability. FleetUp was the clear choice because it combines the typical customer service access you would expect with multiple opportunities for hands-on help.
FAQs
Can you run a fuel analysis report in FleetUp?
Yes, you can run a fuel analysis report in FleetUp. Go to your dashboard, click the calendar button and select the time period you want the report to cover. Then, select Generate Operations Report. You can save the report as a PDF or Microsoft Excel file and have the system email it to you directly.
How long does FleetUp keep data for?
FleetUp keeps data for six months. You can access the past six months of data via your dashboard. FleetUp recommends you save your data and reports every quarter.
Bottom Line
We recommend FleetUp for…
Businesses that are looking for ways to reduce costs associated with labor, maintenance and fuel.
Organizations that need dedicated customer support.
Companies that want to share ETAs with clients, suppliers and partners.
We don't recommend FleetUp for …
Companies that need transparent pricing.
Businesses that want to test the software before signing a contract.

FleetUp and Pricing
The Verdict

Mark Fairlie
Contributing Writer
Mark Fairlie has written extensively on business finance, business development, M&A, accounting, tax, cybersecurity, sales and marketing, SEO, investments, and more for clients across the world for the past five years. Prior to that, Mark owned one of the largest independent managed B2B email and telephone outsourcing companies in the UK prior to selling up in 2015.