From its detailed tracking to its real-time alerts, Force by Mojio takes driver accountability seriously. With a 10-second refresh rate, detailed trip history, and affordable pricing, Force is our best pick for driver accountability.
Pros
Force by Mojio no longer has restrictions on fleet size.
The ability to share live driver locations builds trust with customers.
The vendor's pricing is very attractive, as is the option to leave the service with just 30 days' notice.
Cons
Dashcams are an increasingly common feature among GPS fleet tracking vendors, but Force by Mojio doesn't provide them.
It would be great if the platform could track much larger vehicles, like 18-wheelers.
While the Housecall Pro integration is valuable, businesses would benefit from additional native integration options with other third-party companies.
If your business is growing, it's likely your fleet will too. Force by Mojio serves such companies well by providing scalable GPS fleet tracking services that are ideal for businesses that either deliver packages or provide services to local homes and businesses. Users can enjoy a 10-second refresh rate, informative trip histories and a valuable Housecall Pro integration for home services businesses. With affordable pricing and an emphasis on driver safety and performance, we found Force by Mojio to be the best GPS fleet management service for expanding local businesses.
Force by Mojio Editor's Rating:
9 / 10
Contract length

10/10

Price

10/10

Refresh rate

9/10

Customer service

7/10

Hardware type

9/10

Functionality

9/10
Why We Chose Force by Mojio for Expanding Local Businesses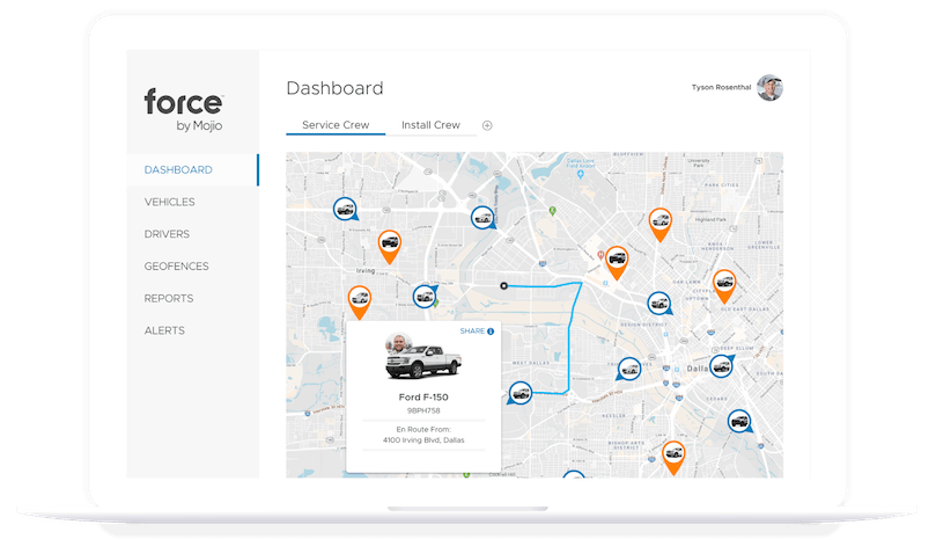 Force's dashboard is minimalist and easy to use for vehicle tracking. Source: Mojio
Force by Mojio is an intuitive, well-executed system that gets our recommendation for expanding local businesses seeking a GPS fleet management service. This offering is competitively priced and has a wide variety of features that small businesses need. The platform isn't as comprehensive as other GPS tracking solutions, but, in truth, most growing businesses don't need all of those features just yet. Force tells you what you need to know at a glance, like where your vehicles are and how safely they're being driven. The system helps you optimize dispatching, job allocation and route planning, which are all essential factors in reducing delays and maximizing overall fleet performance. 
Up until recently, Force was suited to businesses with smaller fleets only, as it capped capacity at 30 vehicles. Now that that restriction has been lifted, more companies will find its scalable services appealing. Businesses tend to expand organically to cover wider geographical areas. Now, as you open each new branch or service more areas, you can add as many vehicles as you need to your Fleet system and assign them to specific use cases for easier management. 
It's also worth noting that while Force's reasonable pricing, functionality and usability are great for expanding local businesses, companies serving a local clientele but with no desire to expand can also find value in its services.
Home services businesses, like those served by Force, should also take a look at our picks for the best CRM software, which is a vital tool for managing customers and tracking leads.
Ease of Use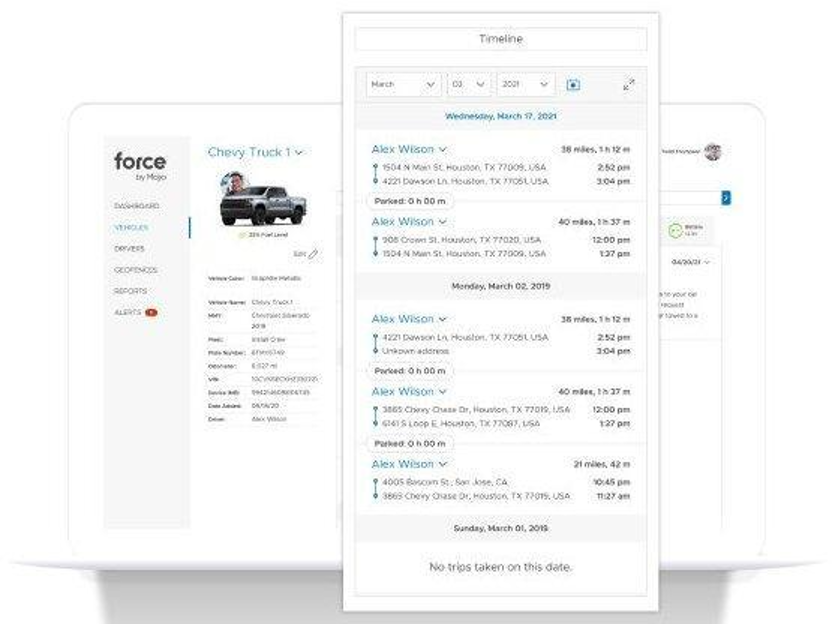 Force has an informative user interface that doesn't compromise ease of use. Source: Mojio
Once you've logged in to the Force by Mojio platform, getting around is easy. The use of space on both the desktop and mobile screens is very intelligent, as is the paring down of options to make finding your way to what you want easy. In comparison, some solutions overwhelm users by offering too many navigation choices.
The main control panel appears on the left and is permanently on screen. To the right, you're presented with a dashboard showing a map of where your drivers and vehicles currently are. You can assign drivers to different groups and switch between those groups just above the map.
The other options down the left navigation are:
"Vehicles," where you can access current and historic trip and vehicle health information
"Drivers," containing information on drivers' individual performances, including individual scores and risky behaviors
"Geofences," where you can set virtual boundaries so you get alerts if drivers leave or enter those specific areas
"Reports," which is your gateway to a wide variety of statistics on vehicles and drivers from the last seven days, although you can change this timescale if you want
"Alerts," where you can choose to receive alerts on a variety of issues, including, but not limited to, unplugged devices, geofence entries/exits, low fuel, diagnostic codes, maintenance information, breached speed limit, disturbances (like bumps, collisions and towing), battery levels, air filter status and even whether a vehicle is subject to recall.
Force by Mojio Features
Force by Mojio's value proposition is particularly well positioned for its target market: growing businesses providing deliveries and services to domestic and commercial clients in their local areas. Below are some of the features that help Force excel as a GPS fleet management system for such companies.
Housecall Pro and Steermatics Integrations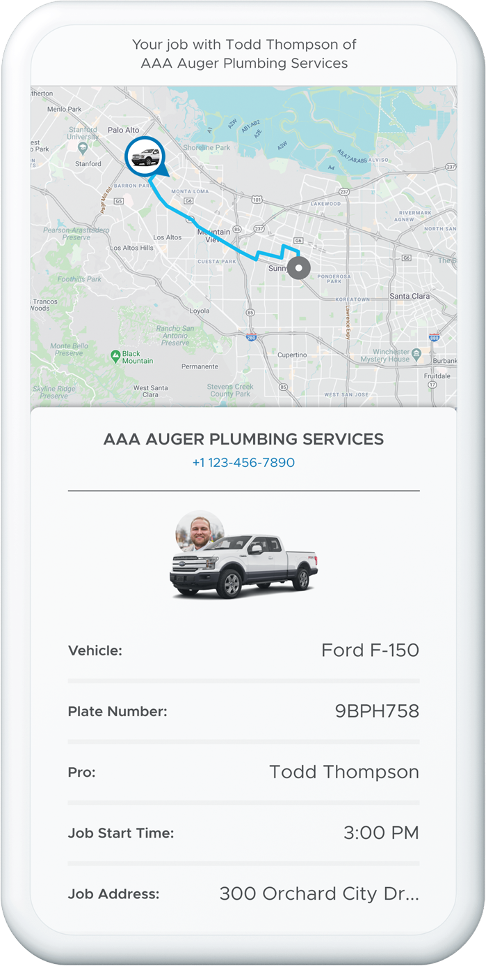 Force's integration with Housecall Pro is perfect for businesses in home services industries. Source: Mojio
Housecall Pro is a small-scale enterprise resource planning (ERP) platform for home services businesses like electrical contractors, plumbers and HVAC companies. The software includes a calendar function, dispatching functionality, and estimates and invoicing so small business owners in the home services sector can operate their fleets and other services with ease. 
Through this integration, Housecall Pro users can access Force's features and data. You can send messages to let customers know your representative is on their way, as well as schedule and move around appointments to fit more jobs in efficiently. Combining the best of both programs allows you to streamline operations and keep different aspects of your business in sync. Given Force's target audience, integrating its fleet tracking solution with Housecall Pro's ERP system is very smart and very helpful.
We also like that Mojio has teamed up with Mechanic Advisor for Steermatics, a data-driven auto repair shop solution. Auto repair shops can purchase 4G LTE-connected OBD-II devices that can be installed in your fleet's vehicles. They gather telematics data from the vehicles, allowing technicians to remotely monitor their health. You and your drivers will receive automated alerts when a service is due, and the auto repair shop will be notified as well.
Besides Housecall Pro and Steermatics, there are no other integrations available for Force by Mojio users. If you want access to the widest choice of integrations, check out our review of Motive, which details some of the 100-plus apps users can connect to.
Vehicle Efficiency and Maintenance
As your business expands, it's easy to add additional vehicles to your Force system, which you can do on the "Vehicles" tab. When adding a new vehicle, you can record details like the VIN, IMEI number of the onboard diagnostics device, odometer reading, license plate number, and make, model and year of the vehicle. To ensure this expansion isn't making your business less efficient, we like that Force lets you assign vehicles to particular fleets, such as vehicles covering certain geographical areas or types of jobs. Plus, when in the program's map mode, you can click on individual vehicles to see trip histories, length of time parked between jobs, mileage, battery levels, how much fuel is left in the tank and more. 
Force detects diagnostic trouble codes in your fleet and alerts you immediately. You can set up alerts to prompt tire rotations, oil changes and the like to keep on top of any potential issues. You'll also be alerted to any manufacturer recalls or, for instance, if the oil level is low. You can also use the vendor's app to scan vehicle tires to monitor tread depth and check for defects. With this suite of proactive and preventive maintenance tools, you can keep your growing fleet running smoothly so you can fulfill your appointments with customers.
Job Scheduling and Vehicle Tracking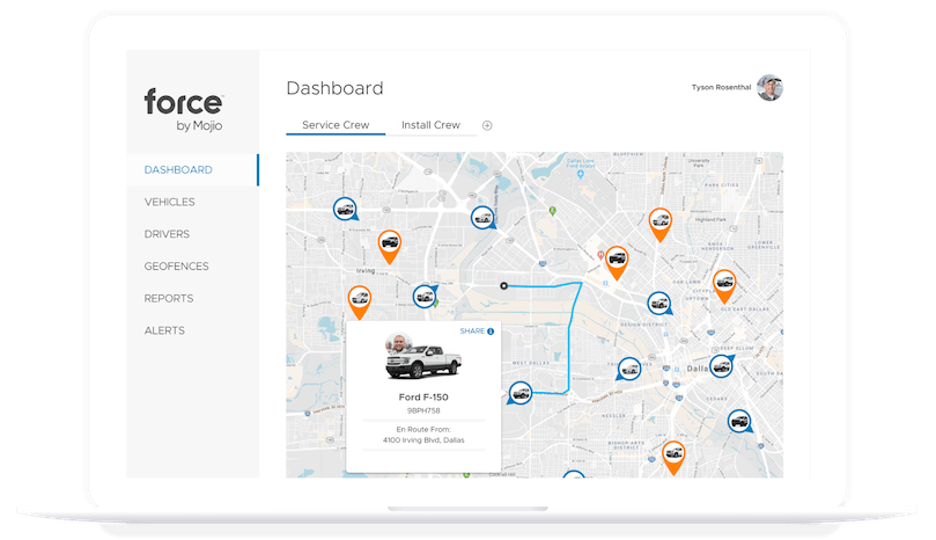 Vehicle trails on the Force dashboard let you see exactly where a driver has traveled. Source: Mojio
The Force platform features many different job planning and route optimization tasks. Conveniently, fleet managers can create and assign jobs and tasks via the desktop platform or mobile app, while drivers get job details and any updates in real time through the driver mobile app. Managers and drivers can message each other through the system too. 
Feeding into the dashboard constantly is up-to-date traffic information that can help a supervisor determine which driver can get to a newly scheduled or emergency appointment the fastest. We also appreciate Trails, a new feature in Force's web dashboard and mobile app. It makes viewing a specific vehicle's trips for any given day easy with the full details of each trip. This tool was introduced to help managers operate their fleets more sustainably, efficiently and safely by being able to spot driver errors and assess distances traveled. 
Force's driver app assists in providing drivers with more efficient routes to get to their destinations, which lowers both travel time and fuel consumption. We especially like that the driver app can be set to block calls and text messages when in transit to reduce the number of potential distractions. Additionally, you can demonstrate to customers that you deliver as expected by sharing live location links so they can track their driver and see the estimated arrival time. This shows customers that you're accountable and transparent and that you hold your drivers accountable too. Force will even let you know if a driver has unplugged their vehicle's GPS tracking device. [For more on driver accountability, learn about the Department of Transportation's background checks.]
Hardware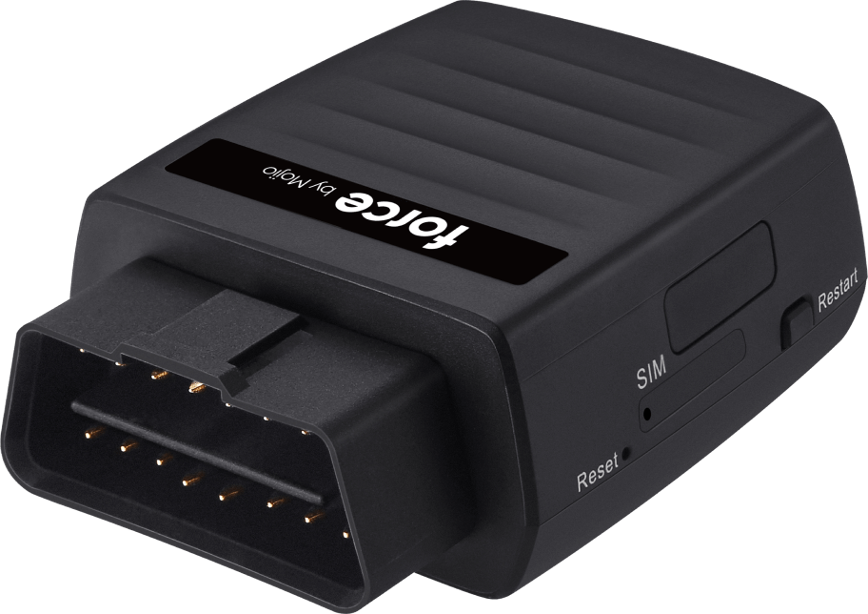 Force's hardware plugs directly into your vehicle. Source: Mojio
We love that Force doesn't charge for hardware on top of its subscription fee, as other providers in this space unfortunately do. Their GPS tracking device slots into the OBD-II port of modern vehicles (post-1996 models) and sends GPS, vehicle diagnostic, fuel and battery level, driver behavior (like hard braking, aggressive cornering and rapid acceleration), and physical disturbance data to your dashboard via 4G cellular networks. Force's hardware sends data back every 10 seconds, which is more frequent than most of its peers. However, unlike a number of competitors, Force doesn't offer dashcams yet, so videography isn't an option.
Driver Safety and Accountability
Although not the most feature-packed system, Force really shines with driver safety and accountability, especially if you're expanding your fleet. You can create profiles for individual drivers, adding them to a specific fleet and vehicle, and then the system keeps track if a driver uses a vehicle they wouldn't normally use. All driver trips are recorded, including start/end location and time, the trip length in time and distance, average speed, and their RoadScore, which is a metric based on the driver's performance.
On each trip and overall, Force uses journey data to update the driver's RoadScore rating. Drivers are scored out of 100, losing points for speeding, rapid acceleration, abrupt braking and aggressive cornering. The time and location of each instance of unsafe driving are recorded. Based on a driver's average RoadScore, you can identify whether they need additional training or have earned a reward for safe driving behavior. And because drivers know they're being monitored, they're motivated to perform well and complete their jobs in a timely, safe manner.
You can check individual trips and drill down into specific trip RoadScores for instances of unsafe vehicle operation. This data can also help improve productivity. Furthermore, you can set the system up to alert you to a crash, speeding or vehicle theft, as well as if someone bumps into the vehicle, breaks into it or tows it away. [Read related article: How Telematics Can Improve Worksite Productivity]
Force by Mojio Pricing
Force by Mojio charges $18 per vehicle per month, which makes it one of the most competitively priced GPS fleet management providers we reviewed. The subscription price includes a plug-and-play tracking device and all of the platform's features; there are no additional fees for extra services. There are also no shipping fees to pay on tracking devices. We really appreciate how honest Mojio is about its pricing and that its services are so budget-friendly. With such an affordable rate, businesses can expand their fleets without a significant added expense.
We also appreciate that Mojio is one of the few GPS fleet tracking companies that offers a free 30-day trial, so you can test the system to see if it's the right solution for you. Further, there are no contracts involved, even when the free trial ends. We love that you can cancel your Force service with just 30 days' notice, regardless of whether you've been signed up for six months or six years.
Implementation and Onboarding
Getting started with Force by Mojio is simple. Once you've subscribed to the service, the company will send you the GPS tracking devices you ordered. You'll receive setup instructions by email, and the implementation process from there is straightforward. With the vehicle switched off, you'll plug the device into the OBD port and then go for a short drive to initialize it. 
You then sign in to the Force dashboard using the logins you were sent and click the activation link associated with the device. Then your fleet will appear in the software. After that, you can start pairing your vehicles with the platform, adding information about them and your drivers. Force insists traditional training to use its service isn't necessary because of how intuitive the system is, but if you do need help implementing the technology and onboarding your team, we recommend you call the vendor and speak with one of its support agents.
Once you've activated and registered your GPS tracking devices, you can connect to Force's browser-based desktop dashboard; no software downloads are required. For mobile operations, there are apps for both iOS and Android devices. The dashboard interface is minimalist, pleasing to the eye and easy to use. It's worth noting that in our Azuga review, we deemed Azuga the easiest-to-use platform, beating out Force purely because it packs in more features with high usability.
Customer Service
You can call, email, send a ticket or do a live chat with the Force customer service team between 9 a.m. and 9 p.m. ET on weekdays. No support is currently offered on weekends, even though some of Force's competitors deliver 24/7 customer service.
For support outside the company's open hours, there is an online help center with sections on getting started, using the service and troubleshooting. However, there are only 29 articles, many of which are no more than two or three paragraphs long. Consequently, Force's knowledge base pales in comparison to those of other providers. See our review of Verizon Connect to find out why that vendor, which we deemed the best for midsize fleets, stands out in the customer service department, and check out our FleetUp review to learn why we named that provider the absolute best for customer support.
Limitations
It's surprising that a GPS fleet tracking service emphasizing driver safety and accountability doesn't use dashcams. The cameras used by many of Force's rivals are powered by artificial intelligence and can record both inside the driver's cab and the road ahead. This is extremely valuable for monitoring driver behavior and managing trips, so it's disappointing that Force doesn't have this tool. We're told this technology is in the works, but there is no release date.
Force is also lacking the many native integrations offered by companies like Samsara and Azuga. While the Housecall Pro and Steermatics integrations are great, users are missing out on additional functionality provided by other third parties. Likewise, the lack of APIs is disappointing. For a solution with integration and API options, check out our Samsara review.
Commercial car insurance is a must-have when operating a fleet. Fortunately, some GPS fleet management services work with insurance providers to help businesses score premium discounts based on driver performance.
Methodology
When evaluating the top GPS fleet management services, we considered which size fleets would be best served by which companies. We were pleased to see that Force by Mojio eliminated its 30-vehicle maximum, making it a great solution for local businesses that expect their fleets to grow. We also factored in other criteria, such as pricing, ease of use, hardware and software, mobile access, and customer service. We further considered the types of industries served and online distinctions, such as Better Business Bureau accreditation and customer reviews. Find out more about choosing a GPS fleet tracking solution.
Force by Mojio FAQs
Small businesses that use Force by Mojio include HVAC companies, cleaning contractors, construction firms, construction contractors, couriers, electrical contractors, junk removers, landscapers, lawn and tree care companies, painters, pest control agencies, plumbers, pool and spa service providers, restoration companies, and roofing contractors.
Force by Mojio is different from other fleet tracking products in that it is geared toward small and midsize field and home services companies concerned about ensuring driver safety and accountability while expanding their operations. The vendor often emphasizes the safety features and functionality most needed by its target clients. Mojio also sets itself apart by providing transparent, upfront pricing.
You can use RoadScore to hold drivers accountable by letting the Force system calculate scores based on driver performance. Quality driving earns higher scores, while risky behaviors like fast cornering and abrupt hard braking, rapid acceleration and speeding cause reduced scores. With this information, business owners can let drivers know exactly how they're performing and offer coaching, incentives or rewards to ensure vehicle operators meet the company's high standards.
Force lets customers track drivers' movements for accountability and convenience. Whether waiting for a business delivery or home service, people often feel left in the dark when it comes to estimated arrival times. With live location links, Force allows customers to see exactly where the driver headed their way is on the route. This transparency keeps the customer informed, strengthens the client relationship and shows that you're committed to delivering as promised.
Bottom Line
We recommend Force by Mojio for …
Businesses seeking driver safety and accountability tools to manage expanding fleets.
Companies needing contract-free fleet tracking services.
Home services companies that can benefit from the Housecall Pro integration.
We don't recommend Force by Mojio for …
Organizations requiring vehicle dashcams.
Companies using very large vehicles like 18-wheelers.
Businesses seeking a high number of integration options.