The Motive GPS fleet solution is a customizable system that scales with your business. It stands out for fostering driver accountability, which it achieves through an AI-driven dashcam, driver training program, and human assessments of driver infractions.
Pros
Motive's DRiVE scoring system is by far the fairest way of monitoring driver quality, thanks to the way it factors in traffic and weather conditions.
The vendor's smart dashcams and video safety inspectors put Motive way ahead of the rest of the market in terms of monitoring driver and vehicle safety.
The system's one- to three-second refresh rate ensures you're working with the very latest information.
Cons
Motive's relatively hidden pricing and absence of a free trial is disappointing.
The company isn't accredited with the Better Business Bureau.
The growth of home shopping and international trade has made businesses and consumers more reliant on delivery vehicles than ever. For companies that regularly transport goods, the best way to manage a fleet of delivery vehicles on ever-more-crowded roads and freeways is with a GPS fleet tracking system that's always updated. Motive sets itself apart from other vendors in this market by balancing the standard commercial needs businesses have with the importance of driver accountability. The platform is scalable, so it can grow as your fleet does, and it also offers customizable reporting and alert options based on the vehicle and driver information fleet managers want to monitor the most. With intelligent routing, AI-powered camera recordings reviewed by actual humans, and smart driver scoring and training, Motive is the best GPS fleet management service for businesses emphasizing driver accountability.
KeepTruckin Editor's Rating:
9.3 / 10
Contract length

9/10

Price

9/10

Refresh rate

10/10

Customer support

10/10

Hardware type

9/10

Functionality

9/10
Why We Chose Motive as Best for Driver Accountability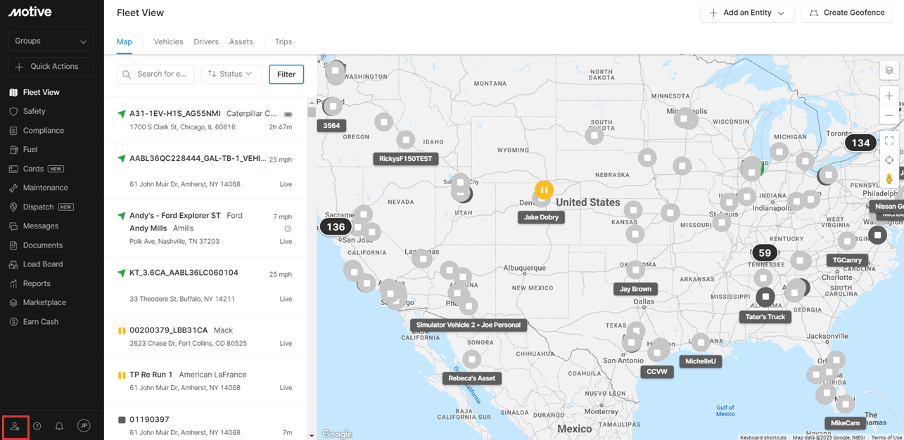 See your entire fleet or selected vehicle groups with Motive's Fleet View feature.  Source: Motive
We love that Motive has built-in driver accountability and safety features throughout its platform. Key to this is their CSA (Compliance, Safety and Accountability) Insights feature, designed to meet the specifications set by the Federal Motor Carrier Safety Administration (FMCSA). Motive harnesses FMCSA data to make it easier for the vendor's AI-powered cameras and sensors to identify driver behaviors that present a safety risk. It goes further than that, too: The CSA data also helps the system improve your electronic logging device compliance, which is useful in case you're audited.
The footage that Motive's dashcams collect  is reviewed by their own company representatives, who can provide additional context so fleet managers fully understand exactly what is at issue. Combined with ongoing scoring of driver performance, businesses that use Motive's fleet management services can ensure their drivers are operating vehicles as expected and guide them to any needed training.
Driver and vehicle safety have improved a lot in the last five years thanks to GPS fleet tracking platforms, and as you can see in our Force by Mojio review, their driver accountability features are also superb. However, based on our investigation, we believe Motive's execution is superior, which makes it our pick for businesses seeking a system that prioritizes driver accountability.
Motive was formerly known as KeepTruckin. The vendor rebranded in 2022.
Ease of Use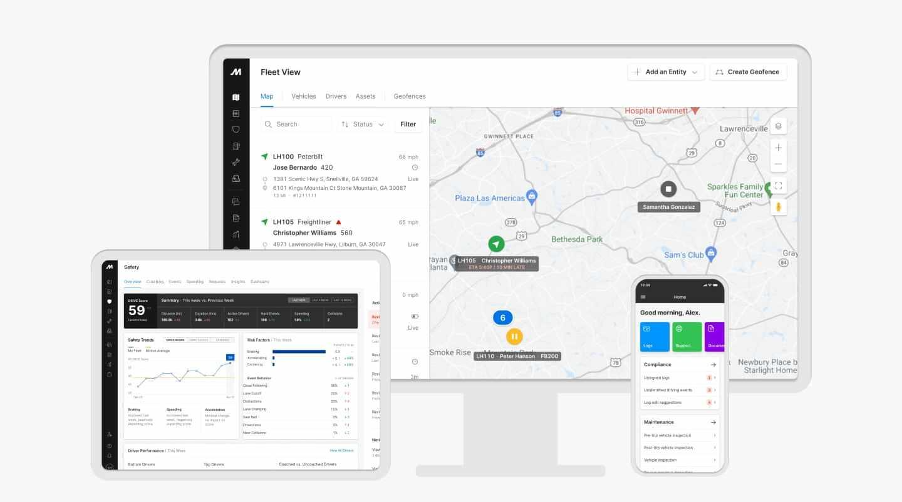 The Motive dashboard for fleet managers and administrators is accessible on desktop, tablet and mobile devices. Source: Motive
Motive's monochromatic interface is attractive and functional. Nearly all screen space is devoted to displaying fleet, driver and vehicle information. A narrow navigation menu down the left of the screen contains icons that lead to different parts of the program. When you select an option, the top sixth of the information pane tells you which section you're in and presents related choices. For example, in Fleet View, you can use the additional buttons to see your whole fleet or sub-fleets you've previously designated.
Here's an overview of the system's main sections.
Fleet View: This offers a live look at where your vehicles are with up-to-the-minute traffic information from Google. We like how weather information has been integrated too. This could be useful for advising construction fleets not to travel to a particular site on a day where rain is expected.
Safety: All dashcam video recordings and safety-related events are in this section. It's easy to search for particular incidents, vehicle/driver reports and incident logs from here.
Compliance: This section is reserved for managing and monitoring electronic logging.
Fuel: Here, you can access live and historic fuel data from each vehicle to get an overview of fleet and individual vehicle fuel efficiency. 
Cards: Uniquely, Motive has teamed up with Mastercard to infuse its solution with a spend management tool and credit card. This helps manage driver and vehicle spending and makes fraud easier to spot (like if the credit card was used at a location where the vehicle was not). We like that you can download financial records in CSV or Excel and upload them into top accounting software platforms like QuickBooks and Xero. 
Maintenance: This section is further split into two categories: daily vehicle inspections (useful for when Department of Transportation mandates apply) and preventative maintenance.
There are also dispatch, messaging, document retrieval, reports, a marketplace and an Earn Cash option accessible on the left-hand menu.
Like a lot of its peers, Motive has two mobile apps; one for drivers and one for managers. We appreciate that managers can do virtually anything on the app that they can on the desktop dashboard, including tracking, monitoring and drawing down reports. In addition to providing directions and behavior advisories, the driver app helps drivers complete inspections on their vehicles and log hours-of-service documentation and other legal requirements. These apps are available for both Android and Apple phones.
Features
While we found Motive's driver accountability and safety tools to be the vendor's high points, you can learn about other features we like below.
DRiVE Driver Scoring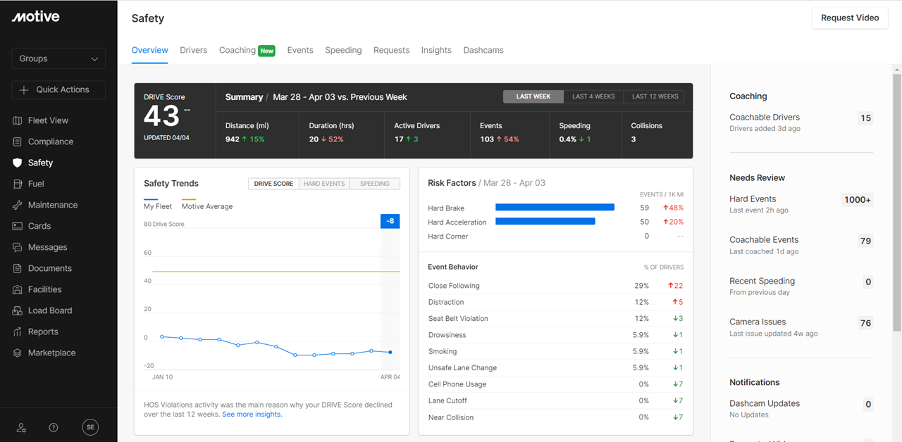 The DRiVE risk score interface on the Motive platform shows how your fleet is performing. Source: Motive
Nearly all GPS fleet tracking platforms incorporate driver scores. And like other programs, Motive awards drivers a score out of 100 based on their behavior on the road. What sets Motive apart is DRiVE, its unique predictive risk model that allows a fair and far-reaching comparison of driver behavior. Drivers are not only measured against their colleagues in your fleet, but also the hundreds of thousands of other drivers connected to the vendor's database.
The system marks driver behavior and performance as very poor, poor, fair, good or excellent, and excels at identifying high-risk behaviors specific to drivers' normal routes. DRiVE draws on the following five factors when calculating a driver's score:
Driver behavior, including fatigue, compliance violations, hard braking, hard acceleration, incidences of speeding and so on.
Road conditions, including obstacles, terrain and the grade of the road. 
Video evidence, specifically AI interpretations of footage from both forward and dual-facing cameras. The road-facing camera looks for instances of close following (tailgating), unsafe lane changes and near misses.
Vehicle aspects, including performance telematics figures, maintenance records and vehicle age, model and make.
Environmental factors, including visibility, time of day, traffic conditions, weather and road surface conditions.
We appreciate how DRiVE recognizes that drivers making journeys on congested roads have a harder time of it than drivers on quieter, more remote freeways. That way, no one is unfairly penalized due to the driving behaviors their routes may require. Motive makes it possible to hold drivers accountable for poor vehicle operation and acknowledge the circumstances in which they were driving.
DRiVE is the first attempt by a leading GPS fleet management provider to factor context like this into driver safety scores. This shines a greater spotlight on driver behavior and increases the chance that drivers will be put through more appropriate remedial training to improve safety. Motive even asserts that its system is five times better at predicting accidents than other safety scoring methods.
AI Cameras With Human Backup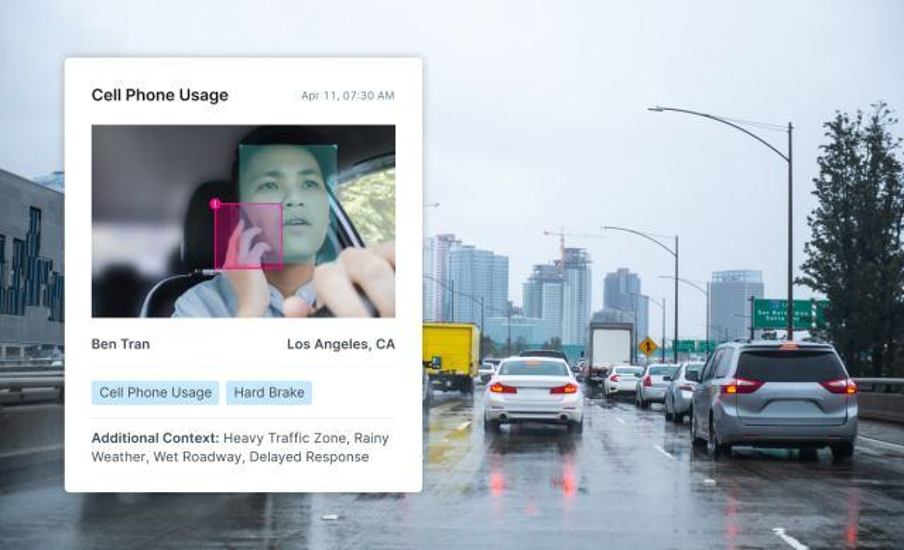 Motive employees tag each item of dashcam footage with infraction details and additional context. Source: Motive
Motive's HD dashcam (up to 1440p) is built with artificial intelligence that detects high-risk activity on the road and in the cab. Its powerful batteries can continue to record even when there is a power cut in the vehicle or the engine is switched off. It stores up to 100 hours of footage in its internal memory, and it's easy for fleet managers to retrieve video.
When Motive's AI-powered dashcam detects either a particular driver behavior or an event, the footage is sent back to both your business's dashboard and Motive's in-house safety team. This highlights to fleet and safety managers the incidents that need the greatest and most immediate attention. 
All AI-powered dashcams record incidents of lesser severity as a matter of course, but the problem for fleet managers looking at a dashboard containing dozens of videos is figuring out which one to look at first. We love that Motive solves for this by providing human backup via its employees. The vendor's safety team examines every bit of footage uploaded to the platform to add context that can help you better understand what you're seeing and which incidents need immediate attention. 
There are 60 different metrics by which Motive's team analyzes driving incidents. This is useful because it's always possible the AI has delivered a false positive (i.e., wrongly deeming something unsafe behavior) or failed to notice additional infractions when sending a video for review. On average, it takes less than 10 minutes for a Motive employee to assess a video.
If you want dual-facing, AI-powered dashcams for your fleet, check out our Verizon Connect review to learn about their powerful cameras.
Driver Training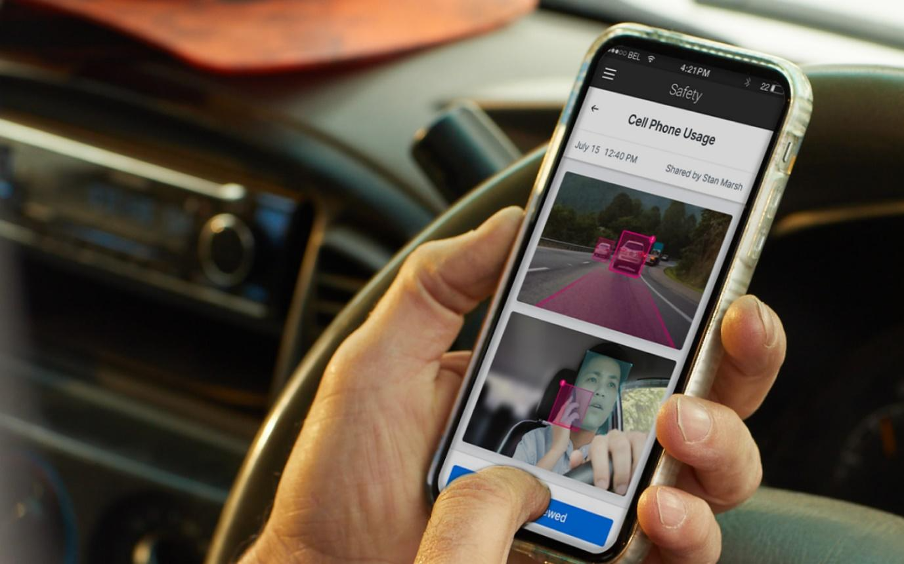 Drivers can see videos of their infractions and receive related training via the Motive app. Source: Motive
As part of your driver training program and Motive package, drivers can receive videos of particular infractions on their phones. An automatic message is sent for videos deemed serious enough to warrant a "coachable event" via the dashboard. You can switch off the messages if you prefer to engage in face-to-face coaching. In that case, sit down with your driver and highlight the particular videos on Motive's platform instead. Either way, this solution provides the educational material you need to improve driver behavior.
If the videos are sent to the driver's phone, they can leave notes that give their version of events. They also have an opportunity to explain what they did wrong and what they'd do differently if in the same circumstances again. Assuming you're happy with their answer, you can mark the incident as "coached." We love this way of holding drivers accountable.
As with many other GPS fleet solutions, you can also use Motive to incentivize each driver to improve their vehicle operations by awarding them points based on whether they successfully avoid dangerous driving behaviors like hard braking, accelerating quickly and speeding. Drivers can see each other's scores and compete for gift cards and other prizes to raise driving standards across the fleet.
Fleet Manager Reporting and Oversight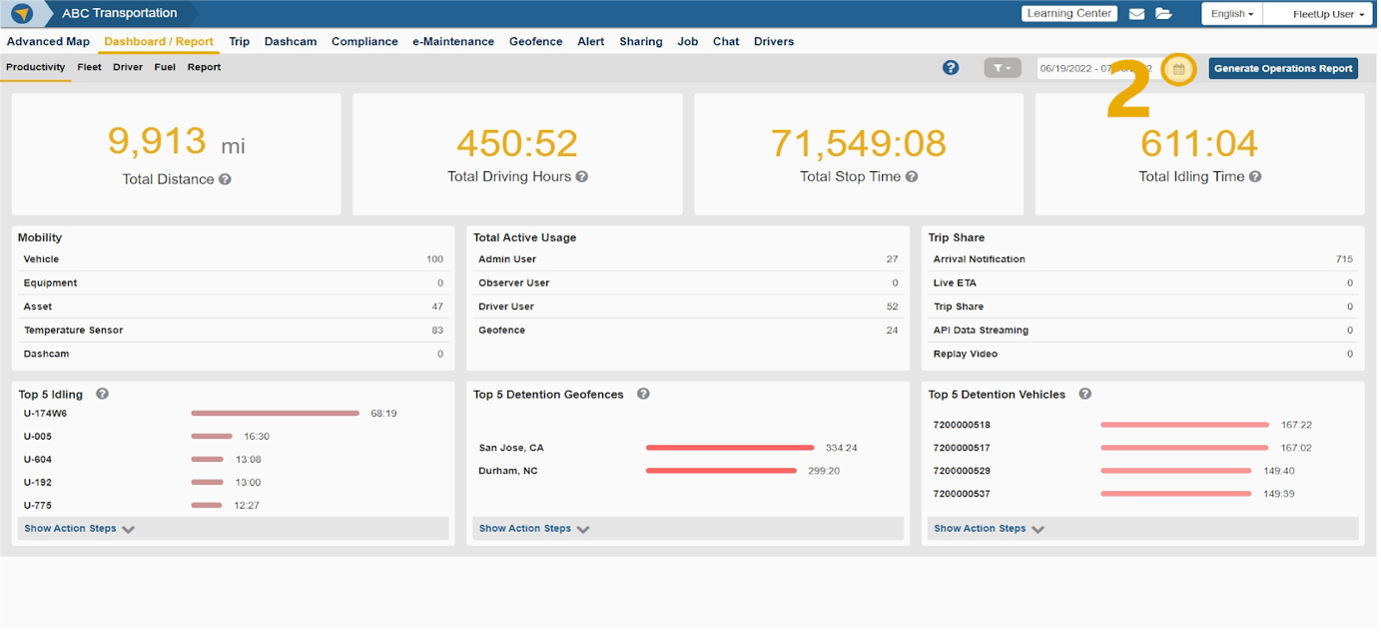 Motive's fuel analysis report is designed to help you identify which drivers are costing you fuel with excessive idling time. Source: Motive
Motive is, of course, a full-featured fleet management platform that does more than make sure your drivers are behaving as they should. Fuel efficiency is also a critical aspect of fleet management that the platform can help with. The Fuel Hub  area of the program allows managers to track fuel consumption by vehicle, driver and the entire fleet. It pinpoints behaviors like idling and hard cornering, which can negatively affect miles-per-gallon metrics, and identifies the drivers (and vehicles) in greatest need of improvement. We like that fuel performance is benchmarked not only based on your own fleet but against the 700,000+ vehicles that Motive monitors.
When running custom reports on Motive, fleet managers can analyze fuel use, vehicle maintenance, driver behavior, compliance issues and more. The platform's Fuel Hub allows you to analyze fuel efficiency by driver, vehicle make and model, age, vehicle class, fuel type and year of vehicle production. You can also analyze trends over time to see if performance is getting better or worse. This is the detailed information fleet managers need to improve performance in the short term and that would inform the types of vehicle they choose to make up their fleet in the future.
Other fleet manager features in Motive include the following.
Driver management: Track compliance with hours-of-service (HoS) rules, electronic logging device (ELD) requirements and safety alerts.
Dispatch management: Gain real-time visibility of trip progress and driver location, in addition to the ability to send trackable links to end destinations. You can also message drivers in real time from the dashboard. We like that Motive has started to automate many management features, such as confirmation of outcomes (like a successful delivery) and job assignments.
Asset tracking: You can monitor the movement of assets in real time, as well as track asset usage patterns and identify dormant assets.
You can also send out group messages to your fleet and subfleets via the dashboard.
Intelligent Routing
Fleet managers see the real-time location of each driver, vehicle, trailer and equipment on their Motive dashboard. In addition to these locations, the system includes driver status, vehicle health and HoS considerations in its decision-making structure when determining optimal routes.
Traffic and hours remaining in a shift are also considered. Even though one driver might be closest to a target destination, the platform may suggest assigning a different one because, although further away, the first driver doesn't have enough time left in their shift to complete the job.
Motive's vehicle equipment sends data back to your dashboard every one to three seconds. Samsara's data similarly updates every second. Get all the details in our full Samsara review.
Fleet Maintenance Tools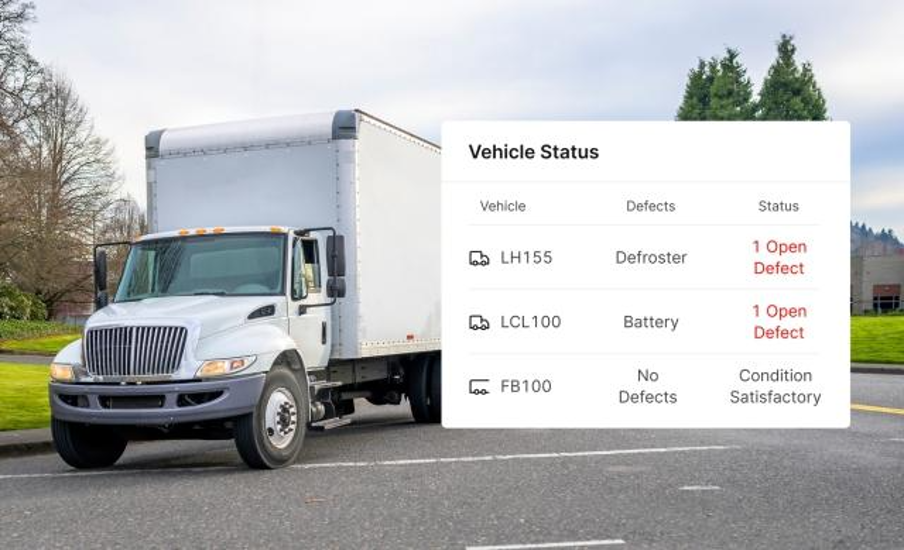 Motive's mobile apps are available for both office staff and vehicle operators. Source: Motive
The greater the number of vehicles you have off the road due to maintenance problems, the more pressure your drivers are under to meet demand and client expectations. Fortunately, with Motive, Fleet managers receive immediate alerts when a diagnostic code issue is flagged with a vehicle. Small issues today may become larger issues in the future, so the vendor has built preventative maintenance tools into its platform. 
When you're managing fleet health, it's easy to update and retrieve full inspection records for both vehicles and assets via the dashboard. You can see onscreen alerts when maintenance is either coming soon or overdue. When conducted with guidance via Motive's driver app, vehicle inspections are easy to carry out. The Inspection mode on the app allows drivers to check off various maintenance tasks on their phones as well as report potential emerging issues that might start to affect vehicle performance. This mode also  makes it much easier for drivers to meet HOS requirements and complete other compliance-related documentation.
Third-Party Integrations
The Motive platform is packed with native functionality, but we appreciate how the provider has opened up their software for third parties to develop useful integrations. It offers over 110 integration options on the platform, which makes it the largest app marketplace of all the GPS fleet management services we reviewed.
There are five safety-related integrations, like Nirvana Safety, which managers can use to gain further insights into driving behaviors and which drivers present the greatest risks. Apps to help you improve compliance, fuel consumption and fleet maintenance are also available. You have a choice of 10 insurance-related apps, which can reduce your commercial auto insurance premiums when you allow the insurers to see actual driver data. Visibility tools, transportation management systems, navigation and original equipment manufacturer apps are also available to download.
Pricing
Motive's pricing is listed on its website, but you have to look hard to find it. With some digging, we discovered that the company's electronic logging device costs $150 and GPS tracking costs $25 a month on top of that.
There are three ELD plans — Starter, Pro and Enterprise — that range in price from free to $50 per month. The Starter package meets basic ELD needs, while the Pro level allows International Fuel Tax Agreement reporting and has Wi-Fi availability. The Enterprise plan offers advanced features for the largest fleets.
Motive doesn't offer free trials, but they do offer free demos. They have a minimum contract length of 12 months, so it's worth trying the demo first to see if this is the right platform for you, though we wish they offered a trial version as well.
Implementation/Onboarding
Implementation with Motive is straightforward. For drivers, plug-and-play device connectivity via OBD-II slots means setting up each vehicle with the required equipment shouldn't take  more than a few minutes. If a driver needs help with downloading and using the app, Motive's website provides lots of easy-to-read user guides. Clear instructions on procedures like document and receipt uploads, creating driver vehicle inspection reports, and managing HOS requirements are available too.
We like how scalability is built into the system. You can add new drivers straight away by creating a profile for them in the software. To add a new vehicle, simply go to the dashboard and assign it its own Vehicle Gateway (the brand name of Motive's in-vehicle tracking hardware device). Then you install the hardware in the vehicle and it automatically pairs with the dashboard when activated in an area with cellular coverage.
We also like that there are specific knowledge bases on the Motive website covering dashboard usage and app functionality to help onboard managers and dispatchers. The site offers an extensive section on the site about API connectivity as well. APIs allow the platform to talk to other software you may use, like transport management systems. They also let you integrate data from other solutions for reporting and other purposes.
Customer Support
As noted above, Motive provides an extensive online knowledge base with specific help guides for drivers, fleet managers/administrators and installers. In addition to instructions on fitting and using the hardware, there are guides on operating the platform's compliance, dispatch, fleet safety, telematics and maintenance features.
If you need help from a customer service representative, we appreciate that such assistance is available 24/7. You can phone the vendor, email the company, send a message via their site, or use their online chatbot. We also like that there are direct links within the dashboard (both on desktop and the mobile apps) to all customer contact channels.
Notably, Motive has also partnered with Sentry Insurance to save businesses 5 percent on their insurance premiums. To qualify, your drivers must share log information and dashcam data.
When choosing a GPS fleet tracking solution, consider how much your business stands to gain — or lose — financially due to the provider's services. With Motive, for example, the insurance discount may offset some of the costs of using the platform.
Limitations
Investing in GPS fleet tracking can run into tens of thousands of dollars and sometimes more every year. It's a shame that Motive doesn't offer businesses the opportunity to test their system on a handful of vehicles so you can check that it's the right solution for your company. You may want to read our review of ClearPathGPS and our GPS Trackit review instead — these alternatives operate on a 30-day rolling contract, which makes it easy to evaluate their services over a short period and then move on if necessary.
In customer reviews online and from our experience testing the system, it's clear why people like Motive. We think it's an outstanding resource for driver accountability and impressive in several other areas in comparison to its competitors. However, the vendor is not accredited with the Better Business Bureau. This may not be a dealbreaker for all businesses, though, and as you'll see in our review of Azuga, they're not the only GPS fleet provider to be unaccredited.
Methodology
During our investigation of the best GPS fleet management services, we evaluated a variety of providers on the basis of their equipment, platform features, scalability, usability, refresh rates and integrations. We also factored in pricing and customer service quality. After our examinations, it was clear Motive was the best choice for businesses prioritizing driver accountability tools, thanks to the DRiVE scoring, human-reviewed dashcam videos and driver training options.
FAQs
Motive's asset tracking is tied to its ELD equipment that sends GPS data back to the dashboard. The device costs $150 and GPS tracking costs $25 a month on top of that.
The Motive driver app is free, even for non-Motive customers. To get the most benefit out of it, however, we recommend connecting it via Bluetooth to Motive's Vehicle Gateway tracking hardware.
Bottom Line
We recommend Motive for…
Businesses focused on driver accountability for safety and financial reasons.
Companies that want access to always-available customer support.
Organizations that need a fleet management system that works out of the box.
We don't recommend Motive for …
Companies that need easy-to-find pricing.
Businesses that want to test the software before signing a contract.