GPS Trackit is a low-cost platform with robust features that are ideal for small business. Its safety features and online reputation are noteworthy.
Pros
GPS Trackit's selection of dashcams and GPS tracking equipment is first-class, with the unique ability to stream up to four cameras from one vehicle.
GPS Trackit is a low-cost solution with robust features.
There are no long-term contract requirements.
Cons
Although there are plenty of third-party driver training apps you can connect, they lack full integration with the GPS Trackit platform, so they're hard to personalize.
The GPS refresh rate of 60 seconds is slow compared with those of many competitors.
GPS Trackit is not accredited by the Better Business Bureau, although it does have an A+ rating with the agency.

GPS Trackit is a budget-friendly fleet management platform that stands out for many reasons, including its 30-day rolling contract and low per-vehicle prices. What makes GPS Trackit especially remarkable is that it's a budget-friendly provider that's chosen to invest more heavily in video telematics than its more expensive competitors have. You can see this in GPS Trackit's often-superior dashcam hardware, particularly the VidFleet AI+ model with built-in eye-tracking technology. You also have the ability to livestream in high definition from up to four cameras with one vehicle rig. GPS Trackit is a superb choice for businesses that are interested in a video-based GPS fleet tracking system.
GPS Trackit Editor's Rating:
8.8 / 10
Contract length

10/10

Price

10/10

Refresh rate

7/10

Customer support

8/10

Hardware type

9/10

Functionality

9/10
Why We Chose GPS Trackit for Video Telematics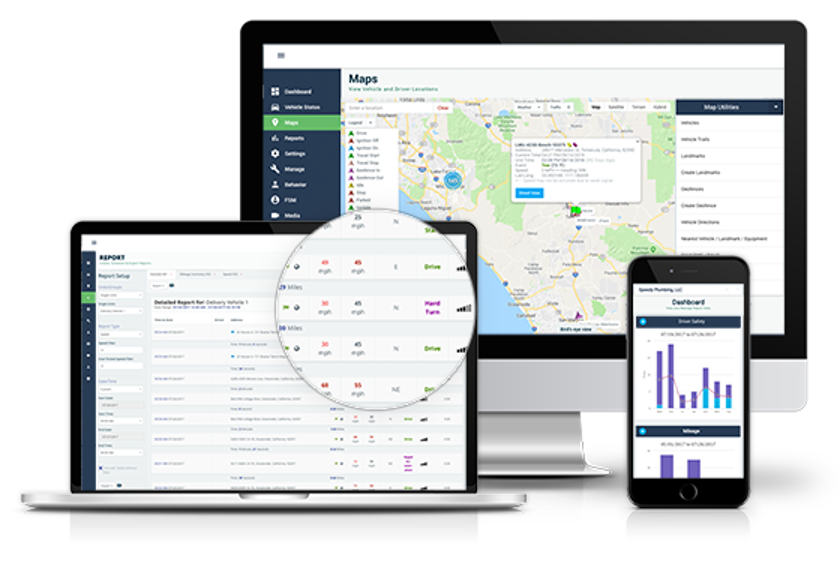 GPS Trackit's user interface on desktop, laptop and smartphone makes great use of video and data. Source: GPS Trackit
GPS Trackit is a well-executed fleet tracking and management platform with an intuitive dashboard and suite of functions that managers and administrators can master quickly. The vendor's pricing structure is highly competitive, but that's not what makes the platform stand out most. Instead, it's the wide range of high-quality dashcam hardware options for stellar video telematics. 
The VidFleet AI+ dashcam, in particular, is a sophisticated camera rig. It detects and records incidents on the road and in the cab using its artificial intelligence and eye-tracking technology. We particularly like the splitter, which allows live transmission of up to four HD cameras at once and is quite different from what the rest of the market provides. For businesses that are interested in using video to monitor and improve fleet operations, GPS Trackit is the best GPS fleet management service.
In addition to the remarkable hardware, GPS Trackit offers everything you'd expect to be able to track with such a solution, including maintenance issues, fuel efficiency, vehicle health and driver safety. Users can also enjoy route optimization tools, customizable alerts and the ability to integrate the service with fuel cards. That means you'll get a GPS fleet tracking system with all of the typical features, with the bonus of outstanding video telematics. [Learn how telematics can improve worksite productivity.]
Ease of Use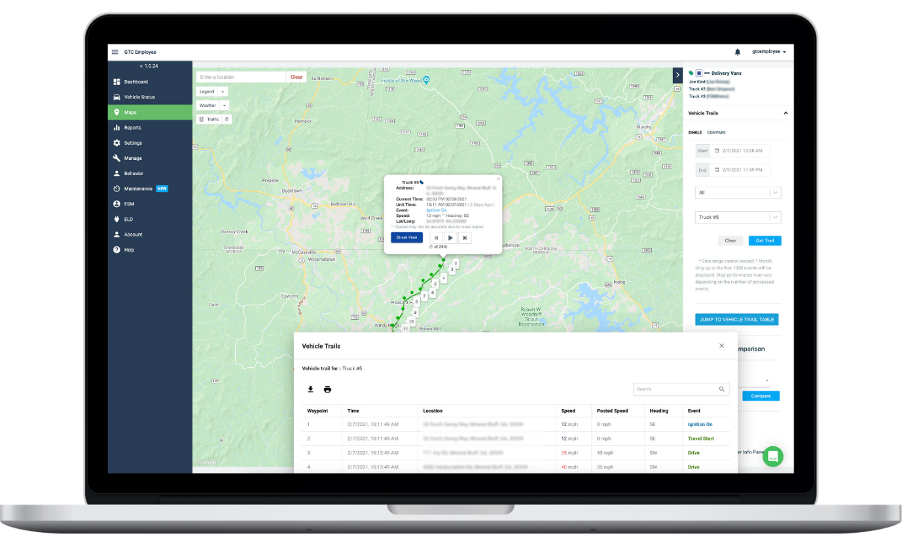 The GPS Trackit dashboard for fleet managers and administrators can show where vehicles have traveled. Source: GPS Trackit
We found the GPS Trackit desktop fleet manager interface to be clear and inviting. The software is efficient and elegant and should be easy for new users to pick up. 
The following options appear on the left side of the screen at all times:
Status: See current vehicle location and status information as in the Maps tab, but in list form.
Maps: View current vehicle location and status information in map form.
Reports: Prepare and schedule driver, vehicle and fleet reports from this tab.
Video: Review footage sent back by the vendor's VidFleet cameras
Manage: Create and assign drivers, add locations and adjust unit settings.
Behavior: View and run reports on general driver behavior and see driver scorecards.
Maintenance: Manage vehicle maintenance, as well as driver maintenance, like Department of Transportation physicals or license renewals.
FSM: The acronym stands for "field service management"; this is where dispatchers and employees in the field can communicate with one another via the dashboard and app.
ELD: Manage all electronic logging device (ELD) functions within the platform.
Account: Create and edit profiles for users, roles and third-party contacts.
Marketplace: Get access to third-party integrations, but note that many have an additional charge.
When you click a tab, relevant information and functionality appear on the right side of the screen. We like the way the screen sometimes splits into a third area to provide more granular information when required so you don't have to leave the page and navigate elsewhere.
GPS Trackit can be used on desktop and mobile devices, so you can check in on your fleet from anywhere. As outlined above, the dashboards feature maps, metrics and all the relevant information for your fleet. It also breaks down key analytics into simple graphs and digestible information so you can get the most relevant insights out of your data.
Features
GPS Trackit has a growing app marketplace where you can add functionality to the platform. But if you want to use the service exactly as it is, you'll like these aspects as much as we did:
Dashcam Hardware
The GPS Trackit VidFleet AI+ camera is an exceptional tool for recording fleet operations. Source: GPS Trackit
The dashcams used by GPS Trackit are among the best in the sector. All of the three options, detailed below, are excellent choices for businesses that prioritize the ability to get comprehensive, high-quality recordings of driver and vehicle behavior.
VidFleet One: This model features a 360-degree field of view with forward, driver and side views. The camera can detect tampering, geofences, sharp turns, speeding, acceleration, harsh braking and vehicle impact events. We like that the driver also has an event trigger button they can press in an emergency. VidFleet One automatically uploads safety-related video footage and responds to fleet managers' requests for videos. It comes with a 128GB SD card that can be upgraded to 512GB, a built-in microphone for audio recordings and a speaker for driver alerts.
VidFleet AI+: This is largely the same as the VidFleet One device, but its forward view is 130 degrees at 4K Ultra HD (HDR) and the driver field of view is full HD. It also has an impressive eye-tracking camera, which can detect driver cell phone use, seat belt wearing, smoking, drowsiness and distractedness.
Forward-facing: This camera has built-in audio recording and a 150-degree wide-angle lens. There is 128GB of local storage.
Whereas most GPS fleet tracking providers rely on a single dual-camera dashcam, we love that GPS Trackit's multichannel splitter can record and transmit images from up to four HD cameras back to the dashboard. This means you can get, quite literally, a well-rounded view of driver behavior and vehicle events. 
High-quality footage can be priceless should an accident occur. At the very least, these video telematics are valuable for assessing where and how your drivers need to improve so you can save time and money. While virtually all vendors in this space facilitate some level of telematics, almost no others do it with the kind of dashcam hardware and video quality offered by GPS Trackit.
Safety Reports

Instances of bad driving behavior are logged on GPS Trackit. Source: GPS Trackit
We like that GPS Trackit provides multiple reports on your fleet. You can view drivers' safety reports, vehicle health reports, onboard temperature reports, speed reports and other vehicle diagnostics indicators. The reporting features are impressive, which is one reason GPS Trackit is such a strong value pick — it doesn't sacrifice quality at the expense of a reasonable price. That said, you may want to consider our ClearPathGPS review if you're looking to get the most bang for your buck.
Fuel Performance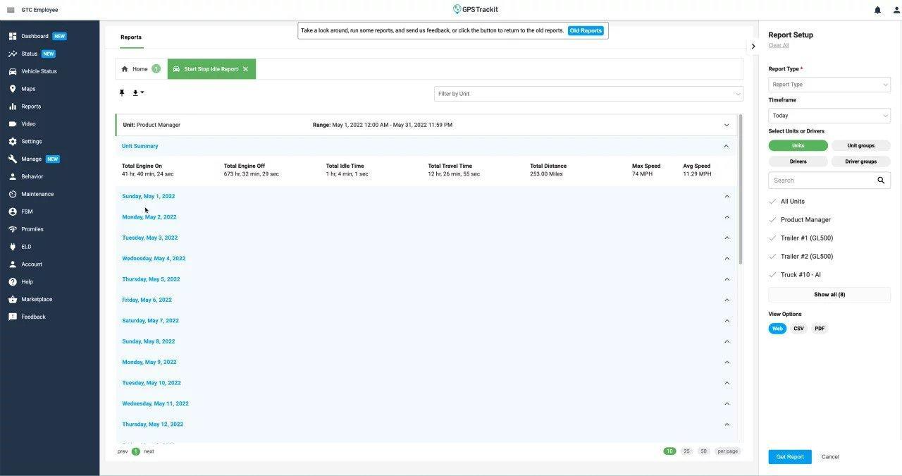 You can reduce fuel costs through GPS Trackit's partnership with Wex Fuel Cards, an integration that rival ClearPathGPS also offers. Source: GPS Trackit
In addition to getting several safety reports, you can use GPS Trackit to analyze and optimize your fleet's routes for smarter fuel usage. You can view driver behavior and safety through a fuel performance lens, prevent idling and coach drivers to be more fuel-efficient. Additionally, GPS Trackit provides a fuel card integration with Wex and syncs with ProMiles so you can closely manage fuel spending, control access and monitor your fleet's fuel consumption. [Read related article: How to Reduce Idle Time for Your Fleet]
Maintenance
As with the company's safety reporting features, GPSTrackit can generate reports for vehicle diagnostics. It can handle basic management of key vehicle components, like airbags, brakes, coolant, cruise control, ignition, oil pressure and other marquee diagnostics. You can also troubleshoot engine issues and set alerts to manage preventive maintenance.
Alerts
GPS Trackit's software works on tablets and mobile phones, so you can manage your fleet from anywhere. You can set alerts for idling, speeding, ignition power, maintenance reminders and driver behavior and receive notifications while on the go. We like that you can also customize your alerts around driver behavior so you can stay up to date on the most pertinent information about your fleet.
Pricing
The GPS Trackit website prompts businesses to request a custom quote, but based on our research, GPS Trackit costs $23.95 per vehicle per month. This isn't as cheap as ClearPathGPS and Force by Mojio, but it's less expensive than Azuga's starting price of $25. Something else to consider is that some other companies, like Samsara, will tie you down with a three-year contract, whereas you can take advantage of a 30-day rolling contract with GPS Trackit. We also like that you can try the system for 30 days with a money-back guarantee.
Considering GPS Trackit's VidFleet video telematics service is the best video-driven fleet solution you can get, we expect businesses won't mind paying less than $1 a day extra to add this component to the vendor's standard GPS tracking package. If you want multiple dashboard cameras, four-channel video or asset/trailer trackers, these also cost extra. However, as you can see with the affordability of its standard GPS fleet tracking and VidFleet services, GPS Trackit's prices stay competitive across its range of offerings.
Implementation/Onboarding
Like most GPS fleet management systems, the GPS Trackit platform is browser-based, so you don't need to download software to your PC or Mac. However, you will have to download the iOS and Android apps for phones and tablets from their respective stores if you'd like mobile access.
Much of the company's equipment can be self-installed into your vehicles' OBD-II ports, although some technology may need hardwiring, particularly if you're fitting multiple devices. While we like that the vendor will deploy installation teams for hands-on implementation assistance, they're likely to charge for the service. 
GPS Trackit offers more than 40 third-party integrations for accessories; asset tracking; cameras and advanced driver assistance systems; compliance; driver management; field services; insurance and warranties; maintenance and diagnostics; and telematics apps. This puts the service in the middle tier when it comes to marketplace breadth.
We like that GPS Trackit's open API allows the easy and quick transfer of vehicle location, performance and engine diagnostic data to other business software you use. Its backbone is LTE, Google Maps and Amazon Web Services cloud technology, all of which provide quick data transfer and maximum uptime. The platform permits deep integration of its data across apps, but you may have to use a developer to take full advantage of this capability.
Customer Support
The GPS Trackit customer service team is available 24/7 by phone, email and the platform dashboard. We like how the company promotes its phone number right on the website's contact page; telephone support is still vital for many people even in this digital-first age.
Still, there is an extensive online knowledgebase for users who want to seek answers themselves. It contains hundreds of short, to-the-point articles demonstrating how to use the features and functions of the platform. To get to exactly what you want, just use the search bar in the support section. Not every provider offers an online knowledgebase with this level of depth; for example, Force's online resources pale in comparison to GPS Trackit's.
GPS Trackit is one of several GPS fleet management providers to offer 24/7 support; see our Samsara review, FleetUp review and Motive review for some of the others. With that aspect being equal, we recommend comparing these vendors based on other factors, like features and pricing, to determine which solution is best for your business.
Limitations
GPS Trackit's GPS equipment has a 60-second refresh rate. As you can see in our Azuga review and Verizon Connect review, only their refresh rates are slower. For some companies, it may not be necessary to have second-by-second information coming in on the whereabouts of their fleet and assets. But if getting near-instantaneous data is one of your top interests, GPS Trackit may not be the right service for your business.
Also, similar to ClearPathGPS, the GPS Trackit system lacks an integrated training component. Although there are six training apps, including CarriersEdge and ClearDrive, in the vendor's app marketplace, these courses aren't capable of providing customized remedial training for an individual driver's common infractions. 
Methodology
In our search for the best GPS fleet management services, we investigated numerous options, using a consistent set of criteria. Our examinations focused on pricing, hardware, desktop software and mobile apps, the setup process, ease of use, features and refresh rates. We also considered customer support quality, integrations and scalability. GPS Trackit's investment in video recordings, including its advanced hardware — together with its relatively low pricing — made it the top option for businesses seeking a GPS fleet tracking solution that emphasizes video telematics.
FAQs
Though pricing is not readily advertised on the vendor's website, our research indicates that GPS Trackit's services start at $23.95 per vehicle per month for GPS fleet monitoring. Additional features — like video telematics, asset tracking and trailer tracking — cost extra.
You can track someone using a combination of GPS and cellular phone technology. The GPS pinpoints the person's location, and the cell phone signal sends that information back to you. This is the technology GPS Trackit uses for its fleet management system.
Yes, you can use a GPS tracker without a subscription, but there are limits. GPS tracking hardware relies on cell phone signals to send back information about the location of a person or vehicle. You can buy hardware that includes a year's worth of free tracking, but to continue using the service after the free period has ended, you usually have to subscribe.
Bottom Line
We recommend GPS Trackit for…
Businesses that are interested in using high-tech video telematics to monitor and improve their fleets.
Companies on a budget.
Businesses that don't place a high importance on refresh rates.
We don't recommend GPS Trackit for …
Businesses that need up-to-the-second fleet location updates.
Companies that want a system that automatically customizes training courses based on driving behavior.